Realme GT Neo 3 150W review: is it fast enough?
World-first fast-charging and MediaTek power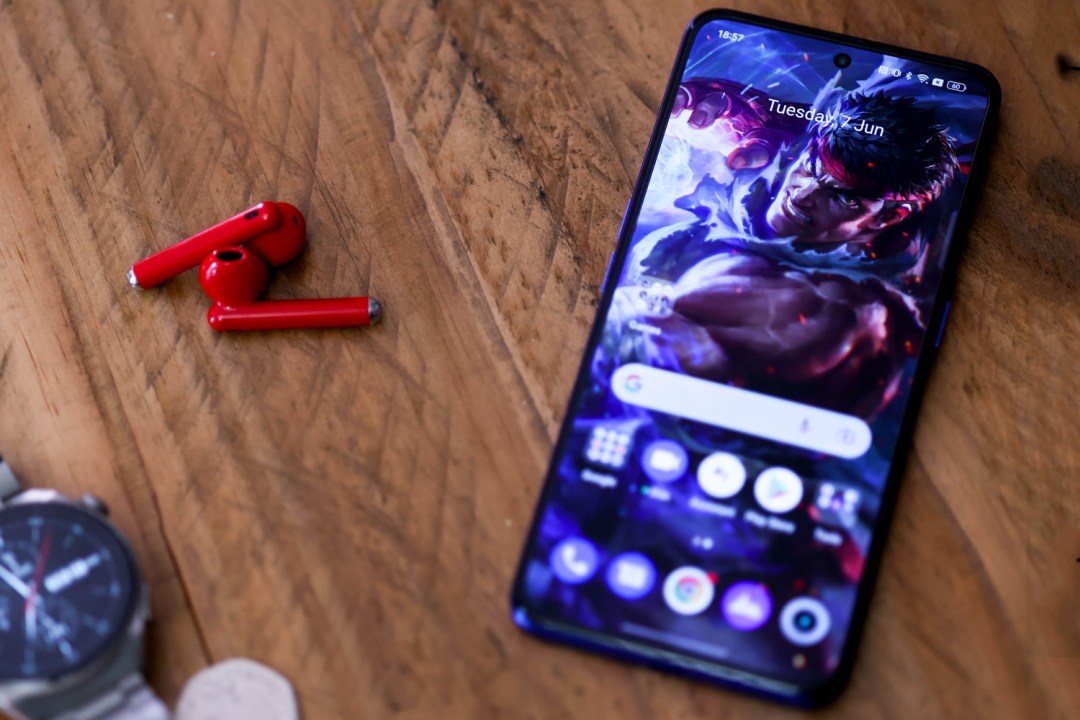 Let's kick off with some honesty: we're not entirely sure how the GT Neo 3 fits in with Realme's ever-swelling smartphone portfolio. But if you're a fan of fast charging, it's third time's the charm for the Neo series, which brings world-first, 150W speeds. This fills up the battery halfway in just five minutes – according to Realme.
Rapid juicing isn't the only debut for the GT Neo 3. It also comes loaded with a MediaTek Dimensity 8100 CPU – the first phone to hit our shores with this Qualcom-petitor, which promises upper midrange power at a more paletable price.
At £599, the GT Neo 3 isn't cheap. It'll set you back more than a Google Pixel 6, and the Snapdragon 8 Gen 1-packing Poco F4 GT costs less. But that screen is a 10-bit AMOLED treat, and the primary camera is a solid 50MP performer.
So how much is the fast charging premium really worth to you?
Realme GT Neo 3 design: Racing stripes
Realme's gotten smart to the fact not everyone loves brash, bold colours, and the Realme GT Neo 3 is available in a frosted, demure black. Not that we've got one of those – our racing striped alternative supposedly pays homage to Le Mans, but borders on boy-racer in the flesh. Still – you've got options.
The phone's back is curved glass, so feels rich, though interestingly for a £600 phone, the sides are plastic. Not a deal-breaker, but when set against the metal Pixel 6, Realme's offering does feel cheaper.
Dotted around the frame is a USB-C port and SIM tray at the base, alongside a loudspeaker. The power button is on the right side and volume controls are on the left. A second speaker sits up top, and around the back is a relatively subtle (by today's standards) camera surround.
Realme opts for a responsive under-display fingerprint scanner, and the screen's shielded by a pre-fitted screen protector. While there's also a case in the box, the phone isn't IP dust or water-resistant – something some lower-cost phones like the Samsung Galaxy A53 5G offer.
Realme GT Neo 3 screen and speakers: Another flatscreen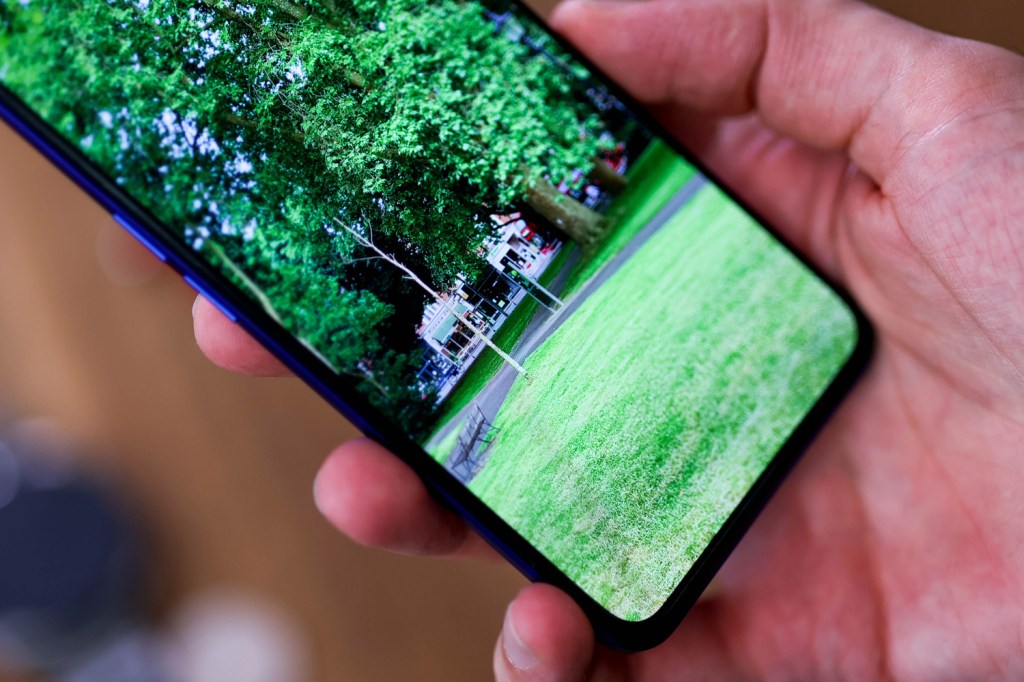 No brand has resisted the curved-screen trend quite like Realme. Despite teetering into affordable flagship territory with its GT 2 Pro and now, the GT Neo 3, Realme remains steadfast in delivering high-quality, oftentimes AMOLED flatscreens.
The 10-bit panel on the Realme GT Neo 3 is a treat. It's large, measuring 6.7in – only slightly smaller than the expansive Galaxy S22 Ultra. It's also packed with vibrancy and excellent contrast, complete with HDR10+, and with its 120Hz refresh rate, is smooth too.
This isn't the same panel we saw on the GT 2 Pro, given the fact it's Wide Full HD, with a resolution of 1080 x 2412 – the GT 2 Pro's QHD+ display is sharper. Nevertheless, it is high-quality, with its maximum manual brightness besting the Galaxy S22 Plus in our tests.
The bezel framing the screen is minimal, making for an expansive view when watching content. This immersion is helped by the two speakers that bookend it. They sound loud, and given the fact this is a pretty long phone, sound separation is decent. That said, their performance is thinner than the iPhone 13 Pro Max – so don't expect them to topple the loudspeaker champ.
Realme GT Neo 3 performance: MediaTek who?
A few years ago, the idea of spending around £600 on a phone powered by a MediaTek chip would have seemed ridiculous. But while the Taiwanese chipmaker is best known for mediocre low-cost phones, lately it's been making 5G phones more affordable than ever, with its chips powering stonkers like the Realme 9 Pro+ and OnePlus Nord 2.
The Dimensity 8100 and Realme GT Neo 3 mark MediaTek's bold move into flagship territory in the West, taking the fight to arch-rival, Qualcomm. In real-world use, we experienced no slowdown in our time with it. Across the UI, with the refresh rate maxed out at 120Hz, the phone was nippy whether multi-tasking or using intensive apps like video editors.
The phone's benchmark scores are interesting. The MediaTek chip lost out to the Snapdragon 8 Gen 1 in Geekbench single-core scores, but managed to beat its multi-core score. While the GT Neo 3's 3D Mark Wildlife score was just 5489 (versus 9914 on the 8 Gen 1-equipped Poco F4 GT), its Work 3.0 score consistently outperformed 8 Gen 1 phones.
In real-world use, we were able to play Genshin Impact at 60fps on maxed-out graphics settings, with minimal slowdown and less heat than we experienced on flagship Qualcomm phones like the Xiaomi 12 Pro. So while the GT Neo 3 doesn't have as much graphical grunt on paper as some of the competition, it absolutely nails day-to-day tasks and gaming, leaving us seriously impressed.
Loaded up with 256GB storage and 12GB RAM, this is one area the GT Neo 3 really edges ahead of much of the £600 competition. The ample space also makes the lack of an SD card slot more forgivable. Also of note, the storage in the Neo 3 is fast, scoring on par with top-tier flagships in speed benchmarks.
Realme GT Neo 3 battery: No more waiting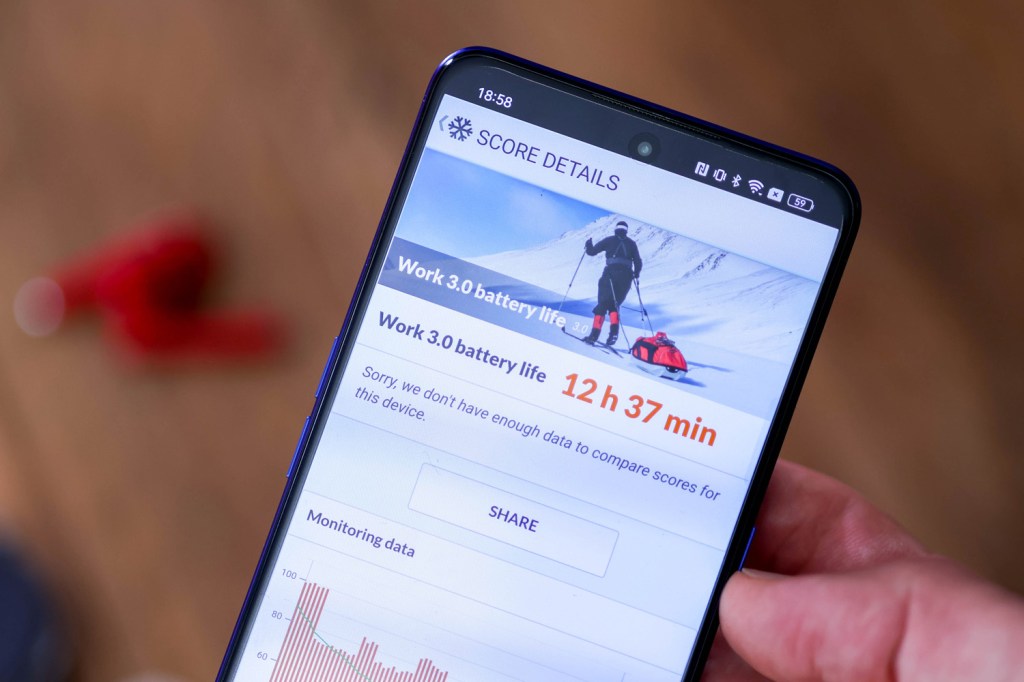 The Realme GT Neo 3 charges very quickly in its 150W variant. Our tests didn't match up exactly with Realme's claim of 50 per cent power in five minutes – it took us seven minutes. That's still mighty fast, though.
10 minutes took the battery to 64 per cent, 15 minutes to 80 per cent, and the Neo 3 fully charged in under 20 minutes. We've seen rival phones with 120W charging come close to this, withe difference being a matter of minutes.
The phone packs a 4500mAh battery, so not as high-capacity as some competitors, but still makes it through a full day with about 10-15 per cent left in the tank. In our battery benchmark, it took 12 hours and 37 minutes of screen-on time to deplete the battery by 80 per cent, which is worse than battery champs like the Oppo Find X5 Pro, but bests the S22 Ultra by a couple of hours.
Realme GT Neo 3 camera: Deja vu
The Realme GT Neo 3 uses a virtually identical camera mix to the much cheaper Realme 9 Pro+. That's good in a way – the 9 Pro+ is best-in-class. That said, you can pick it up for just £349 – little over half the price of the Neo 3.
Here you're getting a flagship main camera, a decent ultra-wide and a budget macro lens. The primary 50MP camera is head and shoulders above the other two with its large, flagship-grade sensor, optical image stabilisation (OIS) and phase detection autofocus.
Day or night, it grabs a good amount of detail, shallow depth of field when shooting close-up objects, and Realme loads up smart shooting modes to help you eke out the most from it.
The Realme GT Neo 3 can also shoot HEIF 10-bit photos, just like the iPhone 13 Pro. That means it can capture up to a billion colours – showcased beautifully on its 10-bit screen, so gradients look smoother.
While there's no telephoto camera, the main camera's quality means you can pinch in two or three times and get great results. As for the 8MP ultra-wide, it's more than capable of grabbing a punchy image with decent detail but isn't best-in-class, losing out to phones like the Oppo Find X5.
The final piece of the camera trinity is the 2MP macro, which captures close-up photos at 4cm. In mediocre light, you might as well forget this camera exists. In bright scenes, it's fun to play about with, but will likely get ignored in favour of the main camera.
While the phone's 16MP selfie camera is adequate on paper, we struggled to snap sharp selfies unless we held our hands perfectly still. Once we did, selfies packed decent detail, contrast, and colours looked punchy.
Realme GT 3 Neo verdict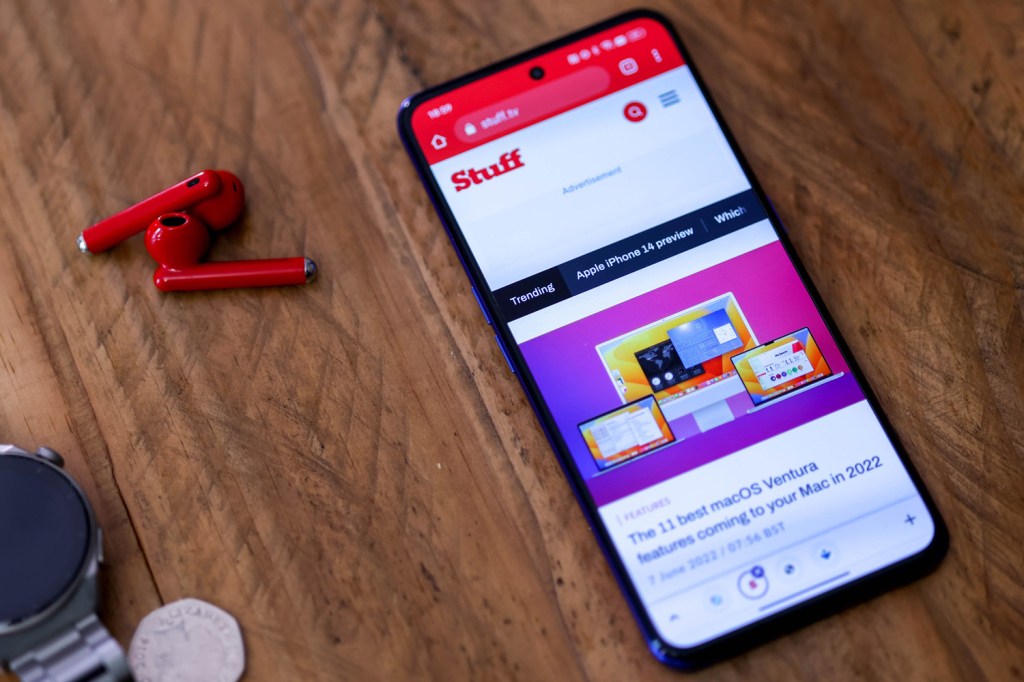 There's very little wrong with the Realme GT 3 Neo. It's a nippy phone that looks fun or sophisticated depending on which colour you go for, has a great screen and good primary camera, loads of storage, decent battery life and the fastest charging we've ever tested.
The GT 3 Neo doesn't feel as premium as some other phones in its price range, and its cameras can be had for much less in the Realme 9 Pro+. In fact, the ultra-wide, macro and selfie camera performance are the areas we felt the Neo 3 is weakest.
If Realme opted for slower charging and better secondary cameras, the Neo 3 would have probably been a five-star phone. That said, it's a mighty proof of concept that puts a price on world-first tech while still delivering a great experience.
Stuff Says…
A great phone that charges quickly – we just wish the camera mix was a bit better given its £599 price
Good Stuff
Incredibly fast charging
Great screen and performance
Bad Stuff
Mediocre secondary cameras
Plastic frame feels cheap
Realme GT Neo 3 150W technical specifications
Screen
6.7-inch 120Hz AMOLED w/ 120Hz refresh rate
CPU
MediaTek Dimensity 8100 octa-core
Memory
12GB RAM
Cameras
50MP primary (f/1.8), 8MP ultra-wide (f/2.2), 2MP Macro (f/2.4) rear.
16MP (f/2.4) front
Storage
256GB on-board
Operating system
Android 12 w/ Realme UI 3.0
Battery
4500mAh non-removable
Dimensions
163x76x8.2mm, 188 g