OnePlus Nord 2 review
Flagship killer or failed assassin?
Our favourite OnePlus phones of old got you 95% of the flagship good stuff, only for hundreds of pounds less than their super-expensive competitors.
Alas, OnePlus' 9-series models just aren't that cheap any more. Which means the Nord 2 is an ideal opportunity for OnePlus to make a phone like the ones we used to recommend time and again, back in its early Android glory days.
For the most part, OnePlus has nailed everything with the Nord 2. It makes Android sing, dancing through games that trip up rivals, while its camera can take great photos, day or night.
In fact, it's a top performer in just about every category, apart from battery life. If you're looking for a smartphone for 2-day use, it's not the OnePlus Nord 2. But if you're not bothered about a quick 5pm top-up on heavy days, this one could be a winner – and a classier pocket partner than the Nord CE 5G.
OnePlus Nord 2: price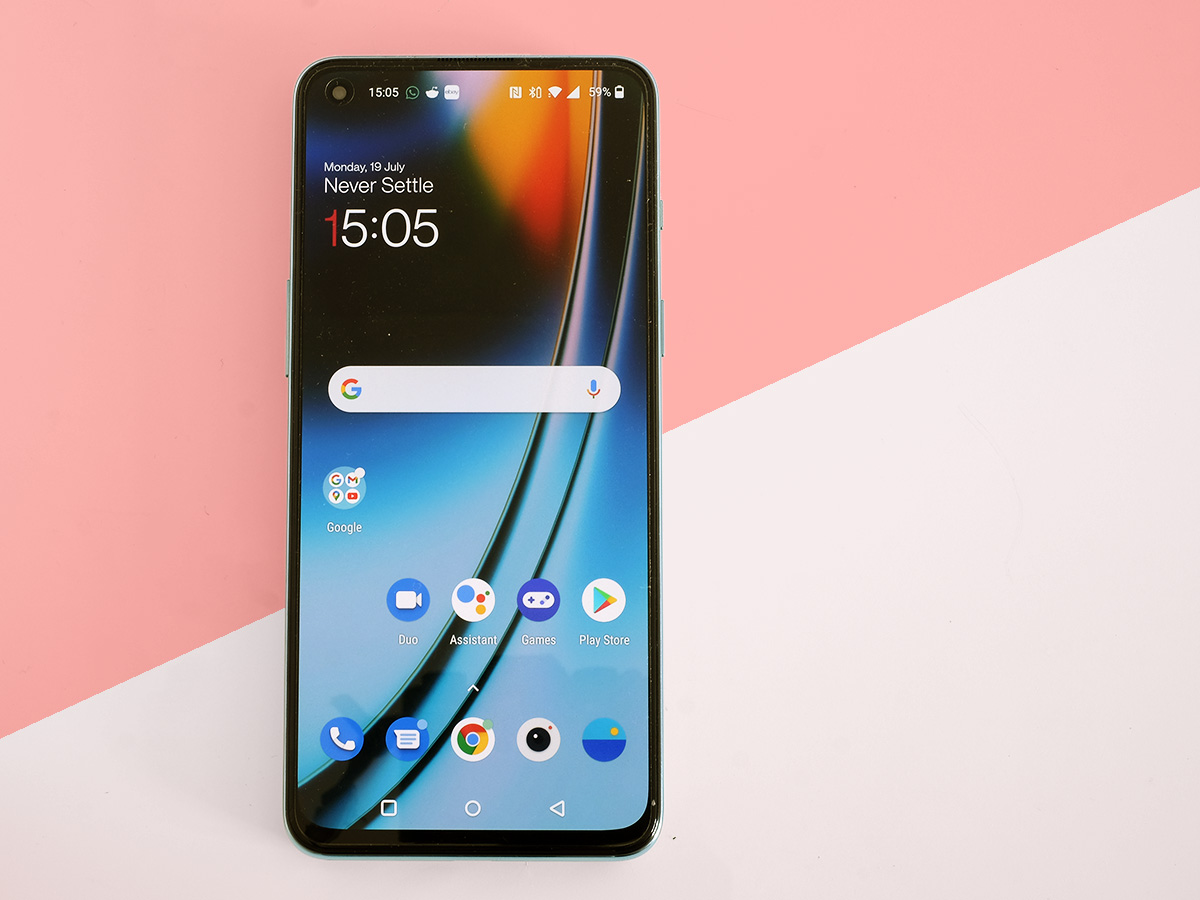 As with its other smartphones, OnePlus offers the Nord 2 in two specs – both of which promise plenty for their respective price tags.
You can pay £399 for the OnePlus Nord 2 with 8GB RAM and 128GB storage. Or you can shell out an extra £70 for the Nord 2, which bags you 12GB RAM and 256GB storage.
There's no microSD slot on either version, so the internal storage really does matter. You have a choice of three colours, too. Blue Haze is the one you see here and it's similar to the turquoise hue of the original Nord. There's also a green version, plus Grey Sierra for those who prefer the shallow side of the Pantone pool.
Whichever spec you select, you're looking at a £230 saving versus a OnePlus 9. And given how close the Nord 2 gets in many respects, that makes it something of a steal.
OnePlus Nord 2: design & display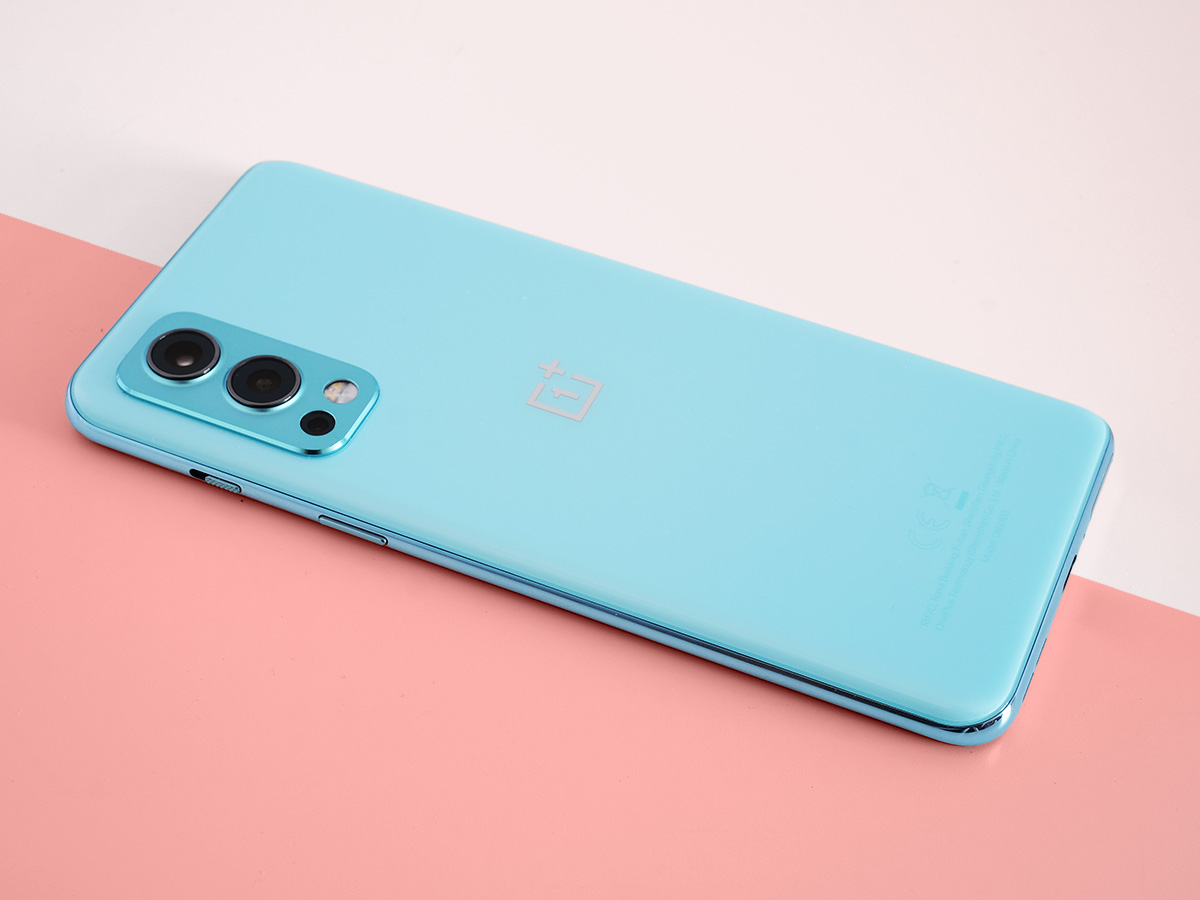 Emulating the OnePlus 9 was always going to make the Nord 2 a winner. And it does this in a few ways.
First up: build quality. The OnePlus Nord 2 features Gorilla Glass front and back, with 'fibreglass reinforced polymer' down the sides. That's plastic to the uninitiated – and it's exactly the same as what you find on the OnePlus 9. The Nord 2 looks a delight.
You also get the classy and understated design you'd expect from a OnePlus, with a feel that's much higher-end than the all-plastic Nord CE 5G.
Up front, you'll find a Full HD 6.43-inch OLED screen, which is a mid-grade size for Android smartphones in 2021. It's marginally smaller than the display on the OnePlus 9, but plenty bright enough for use on a sunny day. In fact, it actually seems brighter maxed-out than the screen on its flagship sibling.
Colour is great, contrast is perfect, plus it supports HDR video. And although you don't get the 120Hz refresh rate on offer in some cheaper Androids, 90Hz is still enough to deliver a smoothness bump over standard 60Hz.
OnePlus Nord 2: cameras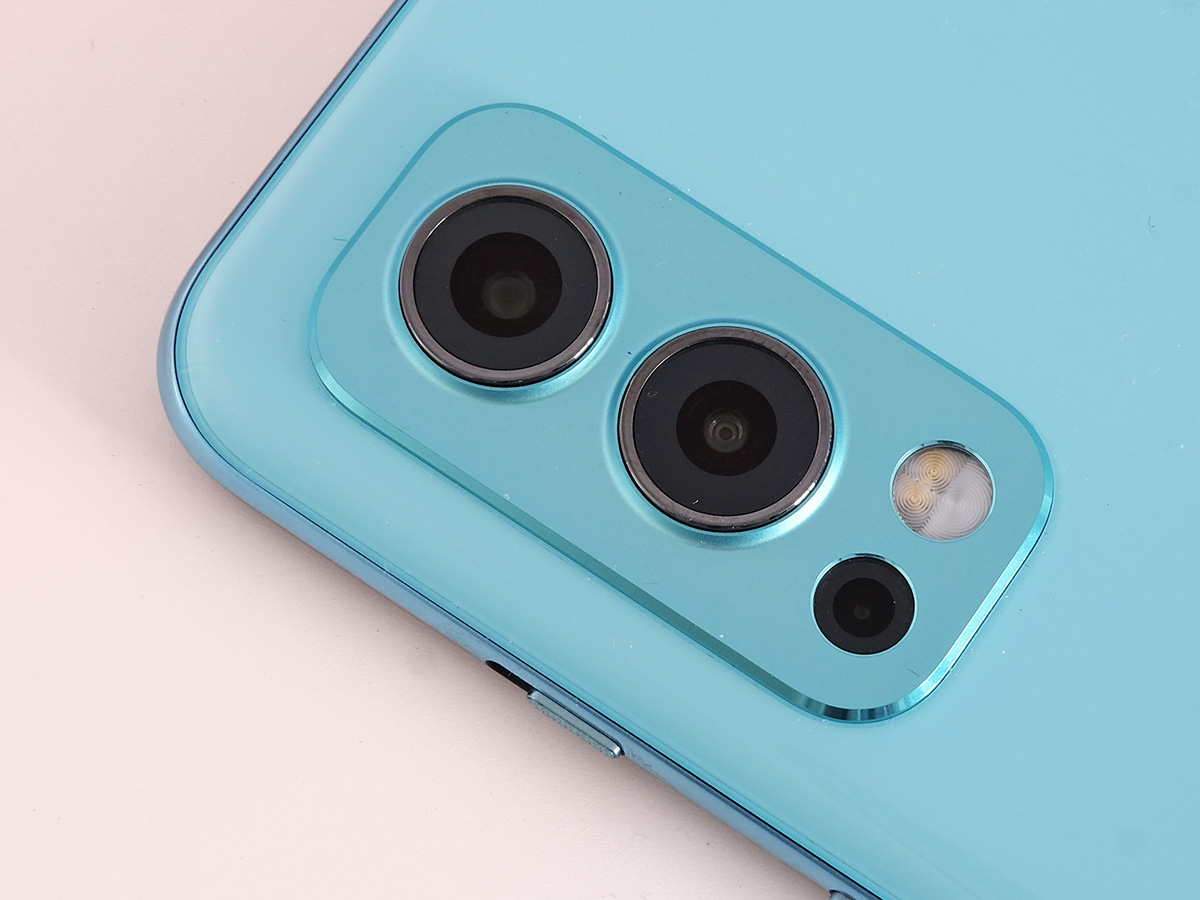 Next up, the camera. As with just about every mid-range phone, only one of the Nord 2's lenses is a killer: the main 50-megapixel stunner, complete with optical image stabilisation. Oppo uses similar hardware in its top-end Find X3 Pro.
The Nord 2 camera is an all-round joy to use. It's fast, with almost no shutter lag – and HDR processing is so good that it's almost impossible to take a duff photo. Unless you get some grease on the lens, which is tricky to clean courtesy of the cartoon camera setting.
While the OnePlus 9 can just about pip it in daylight, the Nord 2 actually produces clearer results at night. It's not a colour tone purist like the Pixel 4a 5G, but almost every shot felt ready to share.
That said, you don't get everything present in the OnePlus 9 twins. Where their ultra-wide cameras are awesome, the Nord 2's 8MP wide lens is just fine. It uses budget hardware, which is clear in the way it handles colour and contrast. And while the main camera's night photos are great, the ultra-wide's are rubbish, even if clever software processing does a lot to lift them.
There's no optical zoom here, either – and the 5x digital zoom preset makes your shots look like they're covered in iron filings. 2x results aren't quite as bad, and this mode is the one to use for macro snaps, because the main lens just doesn't get you close enough.
So there are signs that the Nord 2's rear camera array isn't top-tier. But use it to shoot everyday photos and the experience is flagship-like. The 32-megapixel selfie camera is also a star. Surprisingly, it wipes the floor with the OnePlus 9's 16-megapixel equivalent. Keen to celebrate your freedom with questionable nightclub selfies? No problem.
OnePlus Nord 2: performance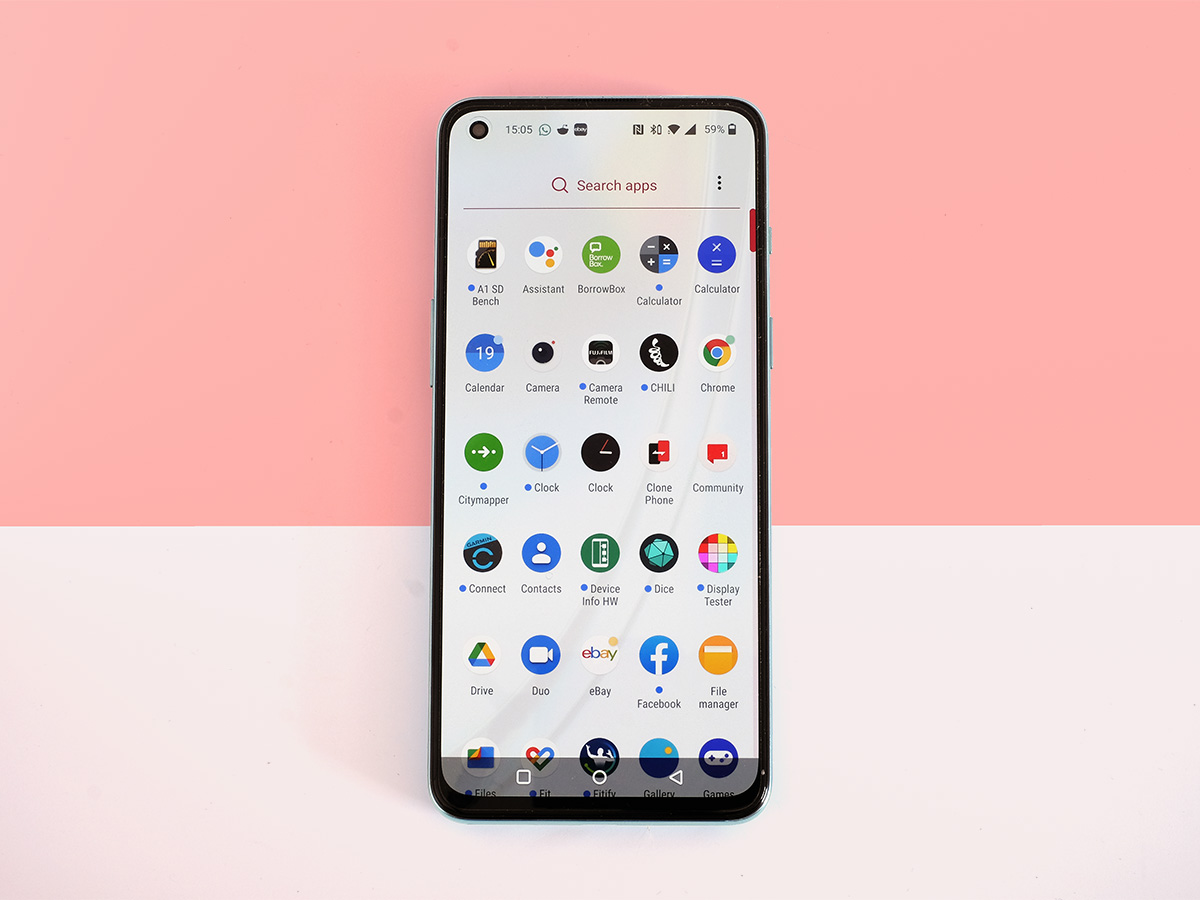 Its display might be a wee bit smaller than the OnePlus 9's, but the Nord 2 is still a killer gaming phone. We tasked it with a bunch of Fortnite matches and it took every graphic setting in its stride. Epic at 30fps, maximum resolution? Not a problem. 60fps at Medium? There were some drops down to 50fps, but we saw the same with the Samsung Galaxy S21.
This kind of performance was never guaranteed: the Nord 2 is the first OnePlus phone not to use a Qualcomm chipset. Instead, it has a MediaTek Dimensity 1200-AI processor under the hood. Newsflash: it's awesome.
Android feels as slick and responsive on the Nord 2 as it does pretty much anywhere else. It's well-equipped for gaming, handles photos rapidly and generally gets the job done.
The Nord 2 also features a fairly impressive set of pipes, with stereo speakers that offer good maximum volume and at least a hint of lower-frequency punch.
OnePlus Nord 2: battery life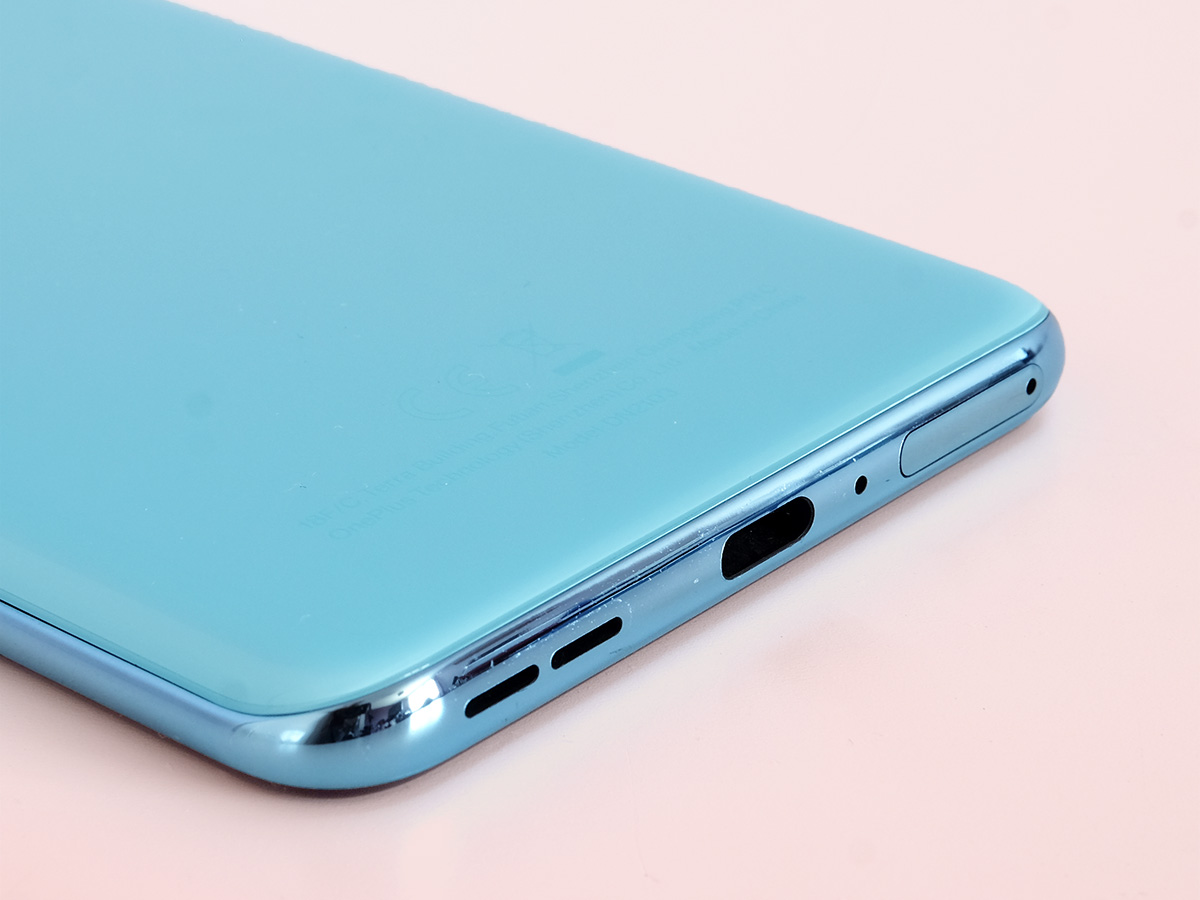 So, where's the catch? There's always a catch. Here, it's the battery life: the OnePlus Nord 2 does not have great longevity. You won't have significant charge left by the end of the day. In fact, the Nord 2 frequently required a top-up in the late afternoon or early evening.
We're not talking about testing days that start with super early mornings and end with long nights out. No, this is the standard performance on days where activity peaks with a trip to ALDI, a run in the park and bed before midnight.
So the Nord 2 is no battery life trooper. Side-by-side video and stress tests suggest it drains at up to 1.5x the rate of the OnePlus 9 in certain situations. Shame.
We're going to cling on to the Nord 2 team banner, though, because we like so much else about this phone. Plus there's the 65W Warp Charger riding to the rescue: this gets you from flat to 50% in just 13 minutes, according to our tests. And it'll hit 100% in 32 minutes.
It's the power adapter equivalent of a pressure washer. The real question is whether you can accept the need to use it regularly.
OnePlus Nord 2: comparisons
Should you buy the OnePlus Nord 2 or spend less on the OnePlus Nord CE 5G? In short, no. We think the Nord 2 is well worth the extra cash over the Nord CE. It has a much better camera, plays games more smoothly and the glass back adds a touch of class that's lacking on the CE. You get much, much closer to the flagship experience with a Nord 2.
What about spending more on the OnePlus 9? Despite being further apart in price, the OnePlus Nord 2 and OnePlus 9 feel closer in use. They look similar and their real-world performance isn't that different. However, the OnePlus 9 does last longer between charges and its ultra-wide camera is miles better. As in so many areas of tech, that last 10% improvement ends up costing more.
What else can you get for similar cash? There's the Sony Xperia 10 III, a smaller phone with a solid 2x zoom cam. Its camera is a laggy mess, though, taking far less consistent images than the OnePlus. The phone itself is noticeably slower than the Nord 2, making it less enjoyable to use. Battery life is better, but doesn't make up for the phone's issues.
Then there's the Samsung Galaxy A52 5G, which features IP67 water resistance and might well last longer between charges. However, the plastic-back design won't get any pulses racing and it doesn't run games as well. The primary camera isn't in the same league, either.
You could equally consider the Pixel 4a 5G. It is, again, a plastic phone, but it also has a great camera – plus it runs Google's totally pure take on Android. Charging is slower, mind, and it doesn't have quite the same gaming pep.
Still not satisfied? The Xiaomi Poco F3 might fit the bill. At £300, it's one of few phones that's arguably better value than the Nord 2. It runs a superior Snapdragon 870 CPU which should deliver longer battery life. The screen is larger and has that zippy 120Hz refresh rate. However, the main camera's hardware isn't at the same level as the Nord 2.
OnePlus Nord 2: verdict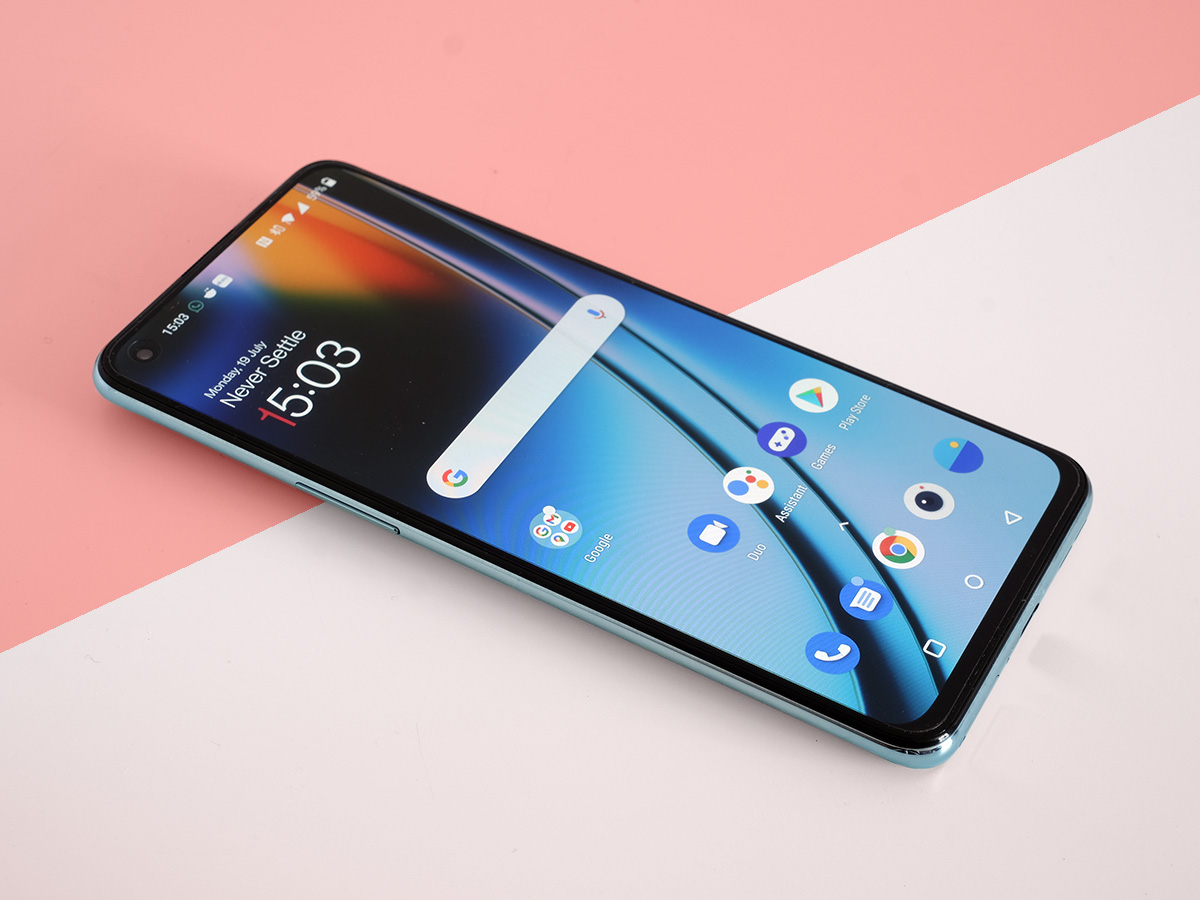 OnePlus struck a great balance with the Nord 2. You can play top-end games with stereo sound. Photos turn out great, day or night. A Gorilla Glass back gets you away from the all-plastic build that Samsung and Google offer at the price.
All of which only makes its relatively short battery life all the more annoying. If you can shrug off visits to the plug as a necessary chore of smartphone ownership, the OnePlus Nord 2 offers outstanding value. But if two-day battery life is a dealbreaker, this isn't the flagship killer for you.
Tech specs
| | |
| --- | --- |
| Screen | 6.43-inch 90Hz OLED |
| CPU | MediaTek Dimensity 1200-AI |
| Battery | 4500mAh |
| RAM | 8/12GB |
| Front camera | 32MP |
| Rear cameras | 50/8/2MP |
| Storage | 128/256GB |
Stuff Says…
This flagship killer is here for a good time, but not a long time.
Good Stuff
Good value
A top-notch gaming phone
Vibrant primary camera
Ultra-fast charging
Classy design
Bad Stuff
Battery life ain't great