OnePlus 9 Pro review
OnePlus enters the big league camera phone race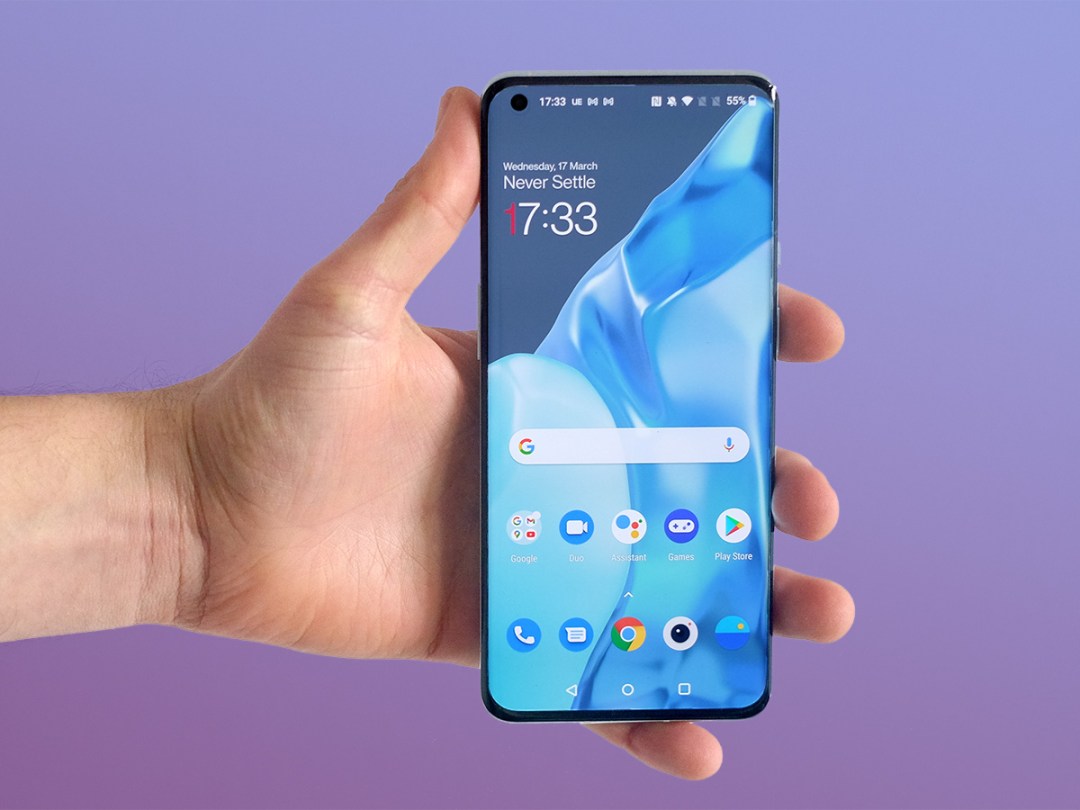 The OnePlus 9 Pro is the first true top-end OnePlus phone in a year. Forget the OnePlus 8T, this is the real follow-up to the OnePlus 8 Pro.
You'll pay £30 more for the OnePlus 9 Pro, and in return you get an upgraded main camera with Hasselblad branding, a redesigned 3x zoom and a new ultra-wide.
What's not to like? Well, the OnePlus 9 Pro doesn't have particularly amazing battery life compared to some of its Chinese rivals. But given it lasts as long as similarly powerful Samsungs, we're not going to sling the thing in the sin bin for one less-than-jaw-dropping element.
Design: No plastic allowed in the club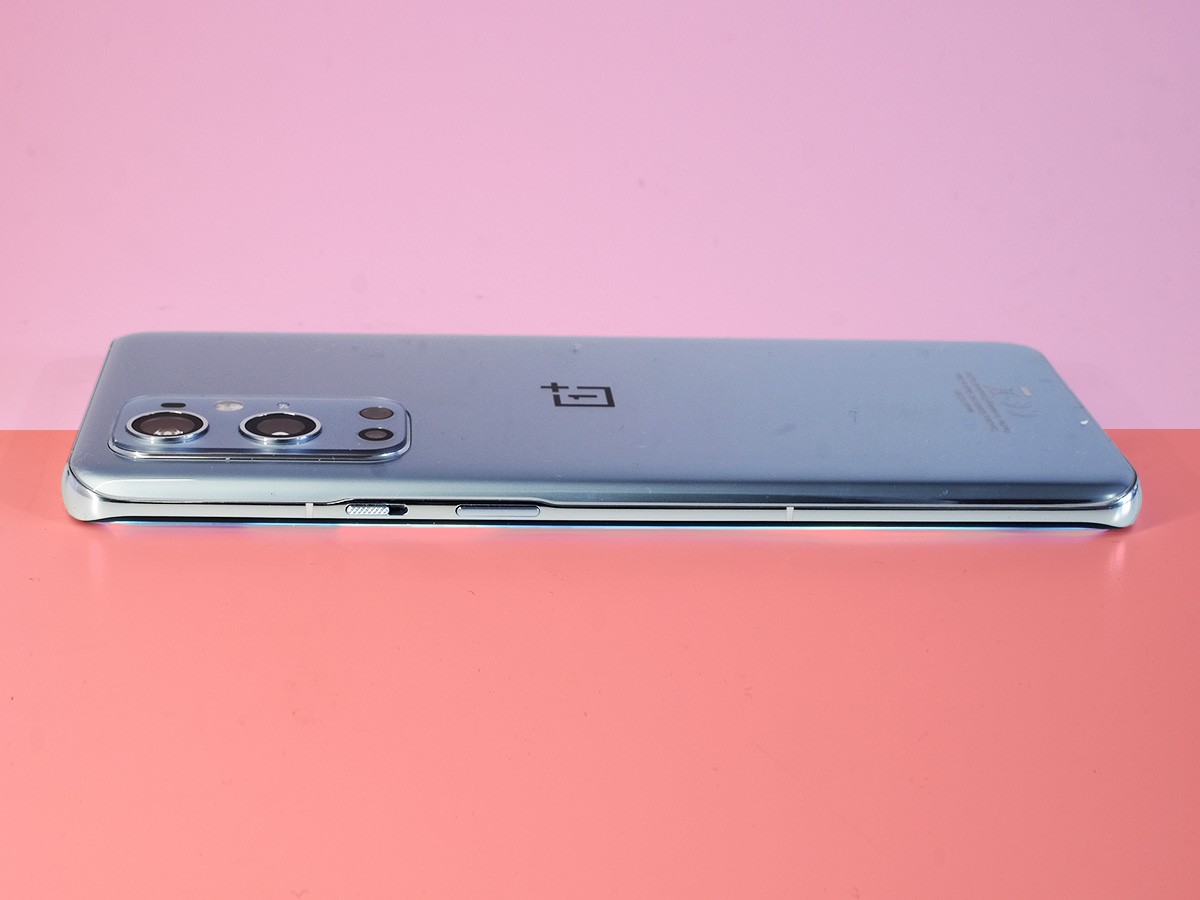 OnePlus spent the last year spreading its tendrils further into other areas of phones. We got a cheaper OnePlus Nord, then a bunch of even cheaper offspring, as if these things multiply like a virus and shed pounds with each generation. The OnePlus 9 Pro doesn't go in for any of that cheap stuff, though. This is actually the only zero-compromise design OnePlus now makes.
It has a lovely curved glass back, shiny metal sides and a curved glass front. These are much like the OnePlus 8 Pro's, although OnePlus has tamed the front curve a bit, perhaps to let a little more of the budget go elsewhere, as curving screens and glass doesn't seem to come cheap.
The look of the "Pro" is different this time around, though. Its camera housing looks like a relative of the iPhone 12 family, and has the Hasselblad logo etched permanently under the glass.
OnePlus has teamed up with one of the grandaddies of the camera world. Hasselblad makes photography kit expensive enough to cause dehydration from the amount your eyes water at the sight of the prices. We'll get onto what it actually means later, but a big part of this is marketing gravitas: OnePlus wants to be seen as one of the big players in phone cameras.
You can get the OnePlus 9 Pro in three finishes. The one you see here is Morning Mist, which is creative director speak for a sort of blueish-grey that is metallic-looking glossy at the bottom, working its way up to a matt finish at the top. It's like a mirror getting half-way to steamed up. It also comes in black and green if this sort of post-shower chic isn't your thing.
Other parts of the OnePlus 9 Pro are business as usual. You get loud, slightly bright sounding stereo speakers, a fast in-screen fingerprint scanner and no headphone jack.
Display: You couldn't ask for a better screen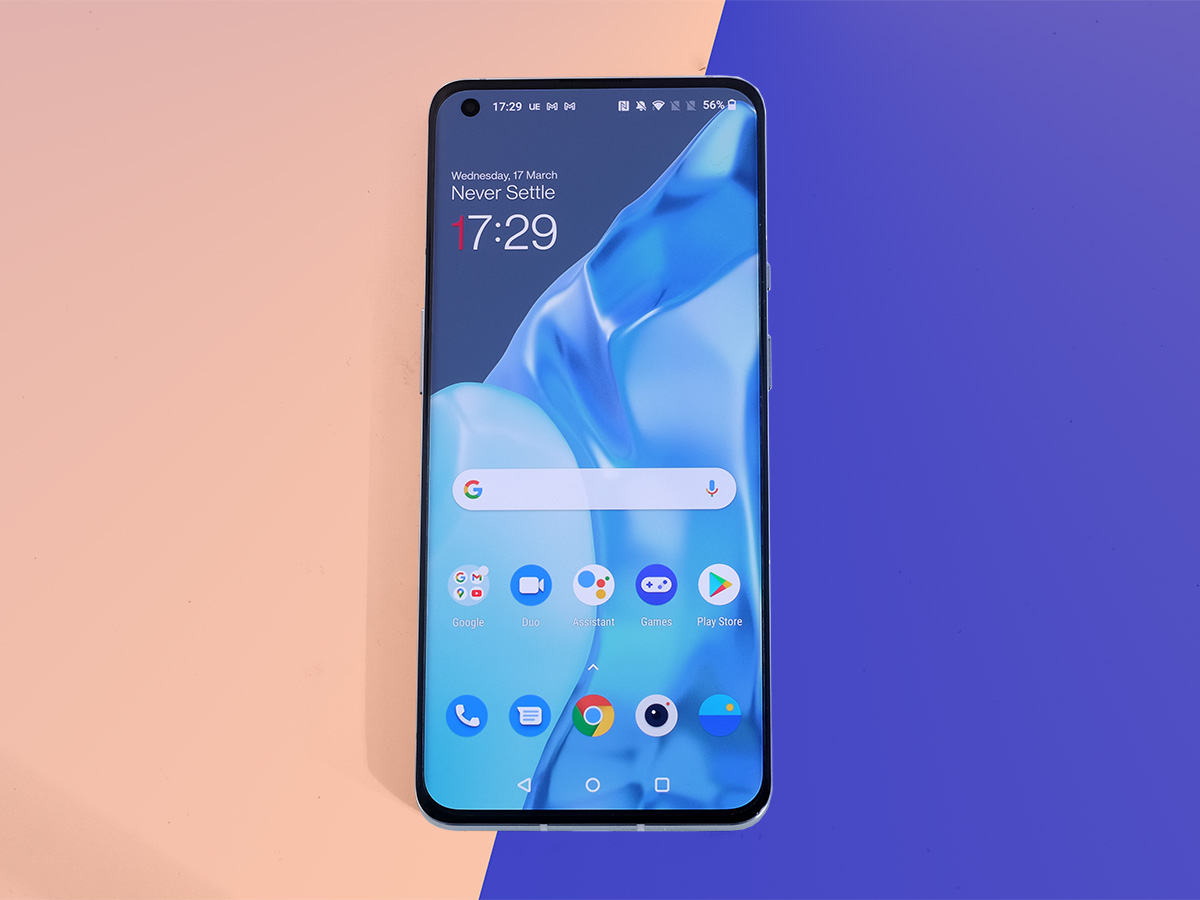 There's not much progress in the OnePlus 9 Pro screen, but only because there's not much more OnePlus could offer us at this point.
It has a 6.7in display, one slightly smaller than the 8 Pro's. Resolution is a pin-sharp 3216 x 1440 pixels, colour is terrific. And as this is an OLED screen, contrast is effectively perfect. You also get, just like last time around, a 120Hz screen. This makes Android move with the smoothness of an old time movie star.
OnePlus says the 9 Pro automatically alters its refresh rate, from 1Hz all the way to 120Hz, depending on what's on the screen. But using the phone's dev mode to make it display the refresh rate, it seems to use 120Hz the whole time apart from in the camera app where it sits at 60Hz.
Is this feature not switched on yet? Is the OnePlus 9 Pro reporting a different refresh rate than it's actually using? We don't know. But we hope it's the first one, as that could mean we'll see a battery improvement in a future software update.
Camera: A kind of magic?
The OnePlus 8 Pro marked a big step up for OnePlus cameras, and so does the OnePlus 9 Pro.
You might assume this is all about the partnership with Hasselblad, but the new hardware is more important if you ask us. We get new sensors and lenses all round, and this is comfortably the best camera array OnePlus has put in a phone to date.
First up is the primary 48MP sensor. It's a Sony IMX789, a generation on from the IMX689 used in the OnePlus 8 Pro and OnePlus 9. Here are some of the improvements we noticed. The OnePlus 9 Pro is much better at rendering those warm tones of a sunset than the OnePlus 9 and 8 Pro. All those lovely orange and red colours that many phones seem to ignore get a proper spotlight here.
This phone is also a champ at dealing with scenarios that really test a phone's HDR skills, such as shooting right into the sun as it peeks through cloud cover. The foreground will look that bit brighter, clearer, better resolved than in the OnePlus 9's photos, without the tonal flattening you might see in a phone that lets its dynamic range techniques run riot – see sample images below. A lot of work seems to have gone into retaining HDR contrast.
Night photography has been levelled-up too. Like other recent OnePlus phones, the OnePlus 9 Pro can take low-light shots either using its Auto mode or Nightscape. This takes a little longer, but the capture part is just a second or two. The OnePlus 9 Pro takes better night photos in "Auto" than the OnePlus 9 does using Nightscape. It took a while but OnePlus has entered the big leagues of phone photography, and the OnePlus 9 Pro's best photos have some of the semi-magical character you only see in the word's top phone cameras.
So, how much of this is down to Hasselblad? In all honesty, we don't know. We do know the Hasselblad tie-in gets you an orange shutter button, a new shutter sound and some little visual changes in the Pro mode. But if the OnePlus 9 Pro colour improvements are down to the collaboration, it does start to look like OnePlus 9 buyers get a little short-changed.
Its main camera photos look pretty similar to the OnePlus 8 Pro's, to our eyes at least. Still, both camera arrays offer great performance at their respective prices so it's not worth getting too upset about.
The OnePlus 9 Pro also has a 3.3x zoom camera. That's a similar magnification to the OnePlus 8 Pro, but we're dealing with different hardware here. Sometimes the old camera performs better, sometimes the new one does. Feed the OnePlus 8 Pro a scene with fairly flat lighting and it'll shoot a sharper, more detailed photo than the new OnePlus 9 Pro. It seems to have a better lens/sensor combo in that respect. But the new camera produces images with much better dynamic range, and seems to switch to a cropped view of the main sensor in poor lighting.
It seems like we get slightly worse hardware this time, but it produces more consistent results. The wide camera is a straightforward upgrade, however, and that's good news as the OnePlus 8 Pro ultra-wide was already one of the best around. This new setup has improved dynamic range, and better image quality at the corners of the frame as it has a new kind of low distortion lens.
Shoot in lower light and the OnePlus 9 Pro wide shots can look a little noisy. But this is no major issue as you can use the Nightscape mode if you like, which gets rid of most of the grit with just a slight hit to the detail of some textures. This wide is a class act.
The OnePlus 9 Pro comes with numerous video upgrades as well. You can shoot at 8K resolution, 30 frames per second, using either the main camera or the ultra-wide.
Its IMX789 sensor has a feature called DOL-HDR that lets it shoot HDR video whenever necessary. Traditional HDR imaging involves snapping successive frames at different exposure levels, then merging 'em. DOL-HDR lets the OnePlus 9 Pro do this in one go, capturing the two sets of information at the same time as each line of sensor pixels is read. It's pretty nerdy, but makes HDR video a standard feature to switch on when need, not an optional extra that might cause ghosting issues. The OnePlus 9 Pro can even shoot 4K video at 120fps.
We have just a couple of criticisms of this phone's camera array. The preview image isn't anywhere near as good an indication of the final results as what you see in an iPhone or top Samsung. And the main camera is a little more susceptible than most to lens flare, the artefacts of which can lower contrast in parts of the picture and introduce a purpley hue.
Make sure those lens surfaces are clean to minimise this.
Performance: OnePlus's usual star turn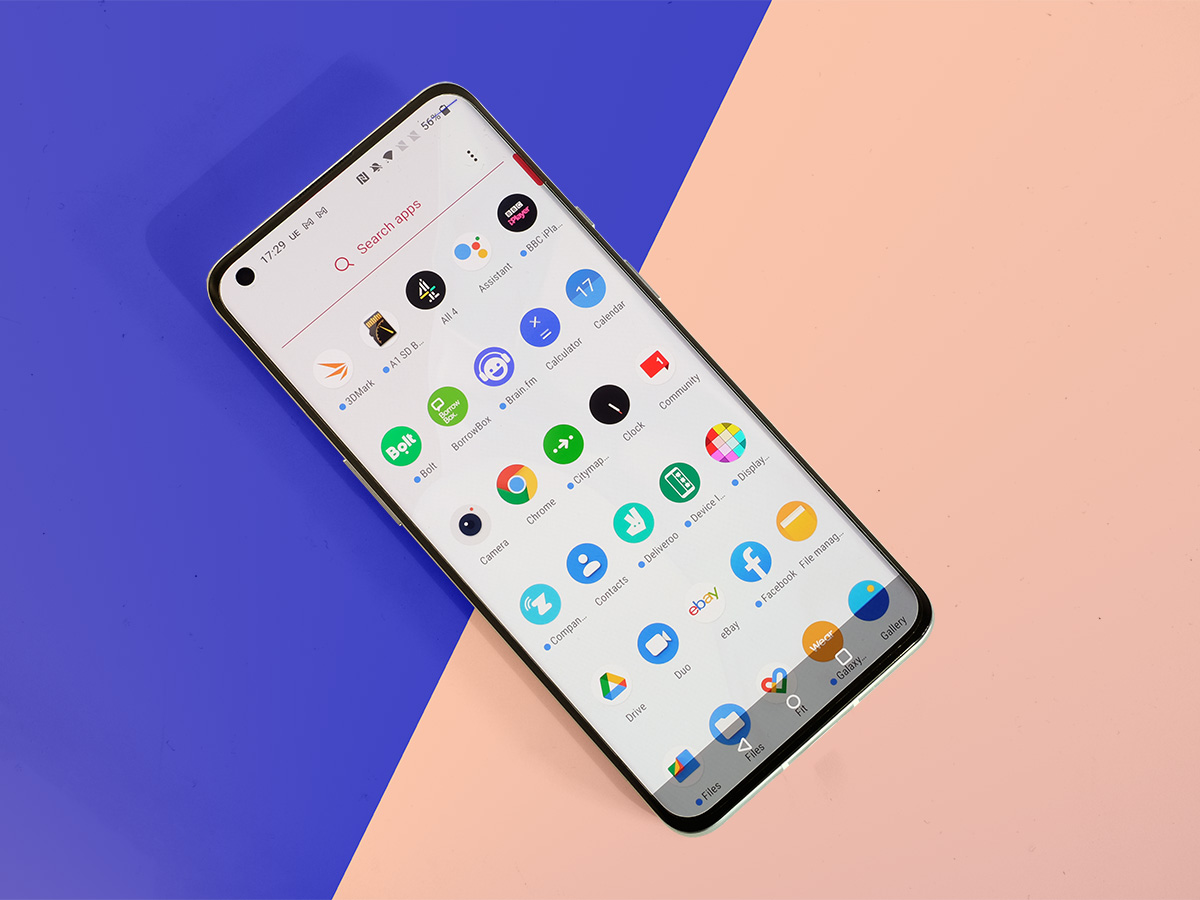 We've never had any reason to complain about the performance of OnePlus's main-line phones. They always have top-end Qualcomm processors, the ones we'd pick if we were to build our own Android phone, Lego style.
This time we get the Snapdragon 888, the latest performance chipset made for the best Androids. Match that with fast internal storage and (up to 12GB of) fast RAM and you have a recipe for pretty much perfect real-world results.
Already own a OnePlus 8, 8T or 8 Pro? We don't think you'll notice any world-changing differences. Apps load quickly, Android feels responsive and games run well. We did notice particularly noteworthy performance in Fortnite, though. Turn everything up to "max" and it still spend 95% of the time at 60fps. There's even a 90fps mode too, although this makes you tone down the graphics so is only for the speed fiends out there.
The OnePlus 9 Pro once again proves you don't need to spend upwards of a grand to get some of the latest, greatest phone tech around. But it does not have killer battery life. We've used the phone mostly with its 120Hz mode switched on, as it has a big part in making the OnePlus 9 Pro feel fast and smooth. It's only fit for a full day of use like this, with very little "insurance" battery left to see you through nights out and days when you use battery-sapping GPS to help you navigate around streets, or when driving.
The OnePlus strategy is more about asking you to accept only reasonable battery life, in exchange for charging speed that makes quick top-ups genuinely fast. You get a 65W charger in the box, and the OnePlus 9 Pro's battery is actually two battery units, charged at the same time for better efficiency. For example, a five minute charge at 47% battery took us all the way up to 67%. OnePlus says you can get a full recharge in 28 minutes. It seemed to take us a tiny bit longer, but we're still dealing with charge speeds far better than any iPhone or Samsung phone.
It even supports wireless charging at 50W, twice the cabled speed of a Samsung Galaxy S21.
Verdict: The OnePlus 9 Pro
The OnePlus 9 Pro is a clear case of OnePlus doing what it does best. It offers top-end hardware for less money than you'd pay for a comparable iPhone or Samsung. Hasselblad is involved this time too, but the camera feels more like a smooth generational upgrade from the OnePlus 8 Pro. That is no bad thing. The OnePlus 9 Pro has the best camera array of any OnePlus phone, with image quality to challenge the best out there, day or night. Well, bar the zoom, which won't worry the drastically more expensive Samsung Galaxy S21 Ultra.
The OnePlus 9 Pro has the performance and style we've come to expect from a top-end OnePlus too. And while battery life is not the best around, at least you get ultra-fast 65W charging. It makes every 10-minute top-up count.
Tech specs
| | |
| --- | --- |
| GPU | Snapdragon 888 |
| RAM | 8/12GB |
| Storage | 128/256GB |
| Rear camera | 48/50/8/2MP |
| Front camera | 16MP |
| Display | 6.7in 3216 x 1440 pixel OLED screen |
| Battery | 4500mAh battery, 65W charging |
Stuff Says…
This is OnePlus's best phone camera to date, and also nets you higher-end display hardware than Samsung and Apple phones near the price
Good Stuff
A primary camera with a touch of magic
Smooth and bright 120Hz screen
Loud stereo speakers
Bad Stuff
So-so battery life at 120Hz
Not the sharpest zoom camera around