Samsung Galaxy S21 review
Plastic passion is great to handle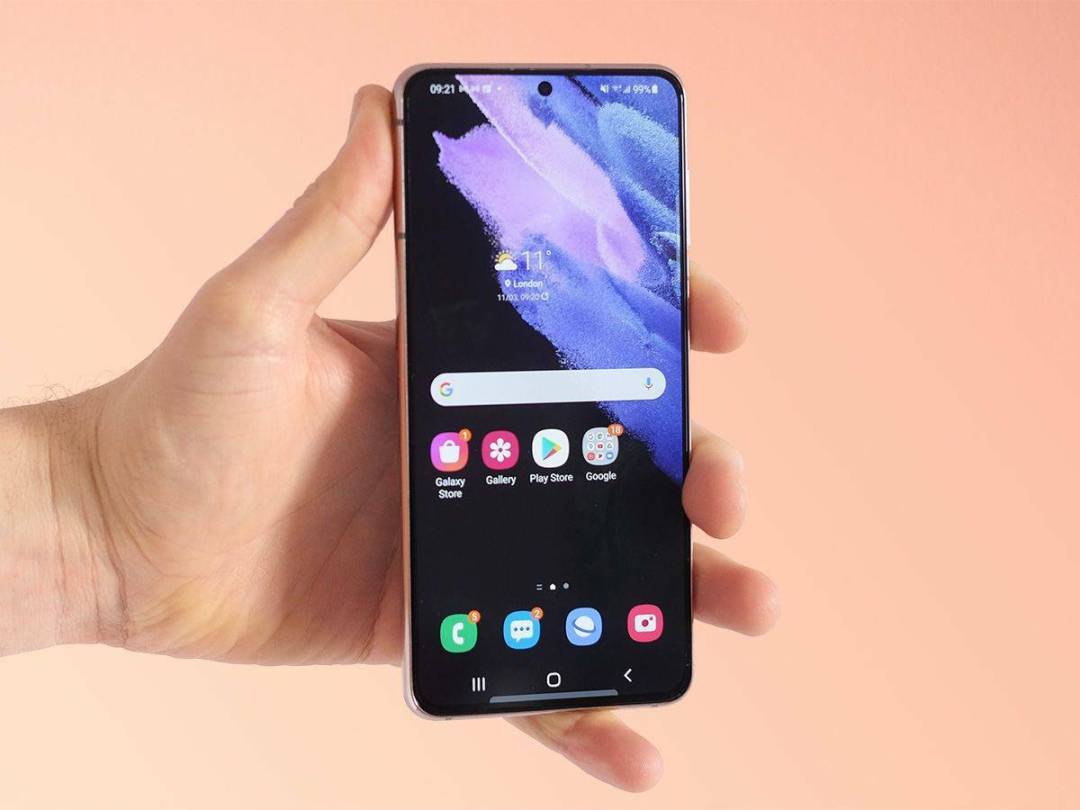 Just when we thought we'd have to remortgage the flat to buy any sort of high-end Samsung phone, up pops the Samsung Galaxy S21.
The whole point of the Galaxy S21 is you get most of the important stuff of a wallet-drainer like the Galaxy S21 Ultra, but it doesn't cost as much. You won't have to restitch your jeans to make the pockets bigger either.
While the £769 starting cost is not pocket change, it starts to seem like a solid deal when you try out the Galaxy S21's fantastic camera and realise this is one of the best-looking phones ever made. Your eyeballs' mileage may vary, of course.
There are two compromises. The Samsung Galaxy S21's back is plastic. And while this is in the running for the best plastic backs ever slapped on a phone, its matt finish scuffs much more easily than Gorilla Glass. That's a relatively small issue. Battery life is the one to dwell on. The Samsung Galaxy S21 is pretty easy to drain in a day. And not only does it not support the ridiculous charging of some of the top cheaper phones from OnePlus, Oppo and Xiaomi, you don't get a charger in the box either. Saving the planet one add-on accessory at a time, right?
Design: A perfume ad in phone form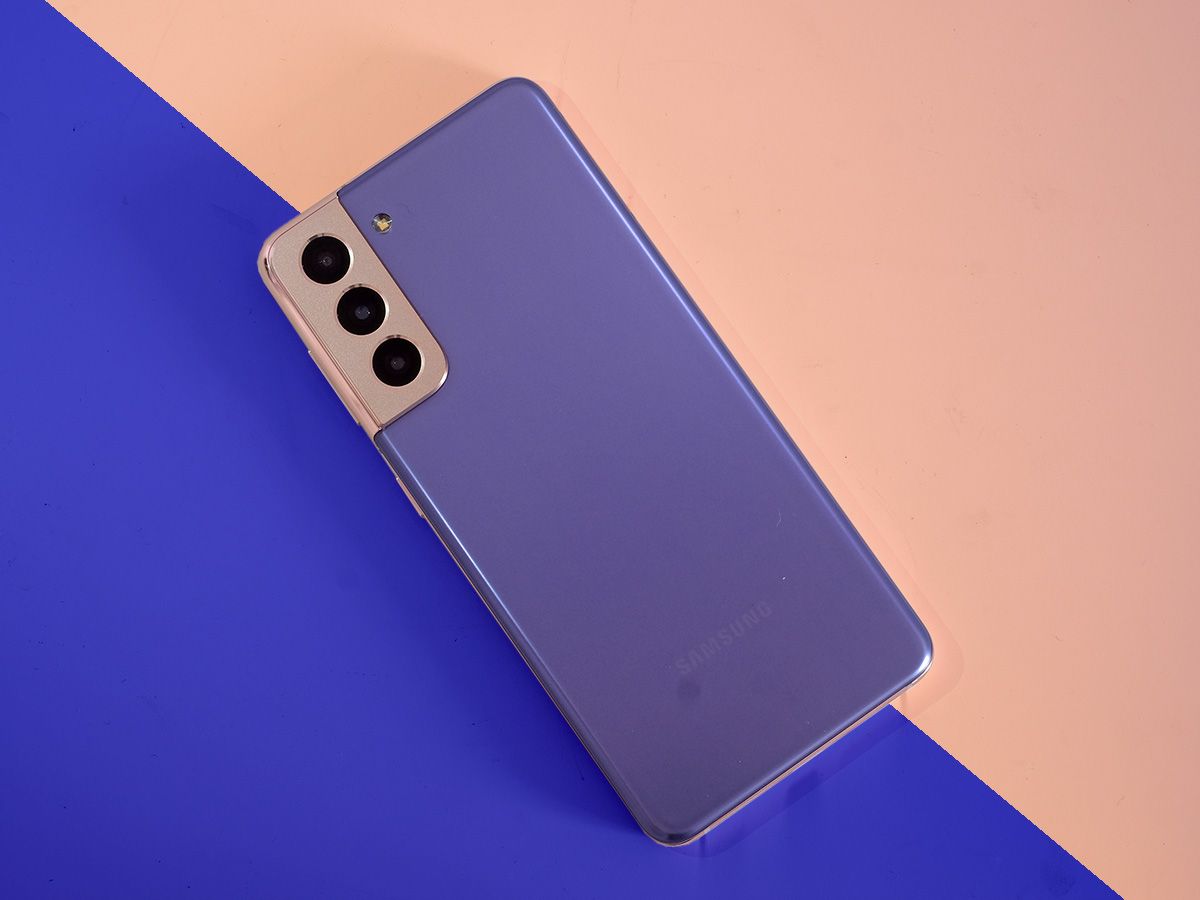 The Samsung Galaxy S21 looks like a prop made for a perfume ad with the production budget of a small country's GDP. That sounds like an insult, but it isn't one.
The Samsung Galaxy S21 is one of the few legitimately stylish phones. Designers of "luxury" phones that stud the backsides of the things with diamonds and gaudy bling could learn a lot from the S21 family. Part of it is down to the bold but elegant camera housing, which styles-out a multi-camera array better than any other. It actually looks superior in the Galaxy S21 over the S21 Ultra, as the platform doesn't rise up out of the back like the stage at a gig venue.
Samsung's two tone colour schemes are fantastic as well. Ours is Phantom Violet, gold on purple. You can get gold on pink too. Pure dark grey and white are options, if you want to miss out on part of what makes the Samsung Galaxy S21 look special. Of course, this phone is also part of Samsung's latest unfortunate campaign, making plastic phones expensive again.
The Samsung Galaxy S21's back is plastic. Sure, the smooth, soft touch texture feels fantastic and you could mistake it for glass for weeks if someone didn't tell you. But plastic like this is not as durable as glass, so it will pick up scuffs more easily. Use it without a case and the pretty matt finish may go a bit glossy in the corners eventually.
An £800 plastic phone isn't our idea of a dream Android, but it's clearly one of Samsung's main tactics in making a tech-packed phone slightly more affordable. And at least it won't smash when you drop it. The sides are still metal, thankfully. So there you have it. The Samsung Galaxy S21 looks like a million bucks, but has a cheap side.
There's no quibbling about its size and shape. This is a relatively small phone, one easy to handle if you're fed up of designs that seem to get larger every year. It has a solid in-screen fingerprint scanner, IP68 water resistance, and a good 'n' loud set of stereo speakers despite the small frame. But the Samsung Galaxy S21 doesn't take a microSD card and has no headphone jack. No surprises there.
Screen: Some mostly invisible tech cuts
There are a few cuts in the Samsung Galaxy S21's screen too, compared to the S21 Ultra. But most won't notice without looking for them.
It's a 6.2-inch Super AMOLED screen with 1300 nit max brightness, 2400 x 1080 resolution and 120Hz refresh rate. Unless you're a bit of a phone nerd, you might ask: where are the cuts there, then? The Ultra has stacks more pixels, can go up to 1500 nits of brightness has a better adaptive refresh rate mode. This controls how many times the screen image is refreshed. The Ultra can go right down to 1Hz, updating one time a second. The S21 can reportedly only go down to 48Hz, although the phone actually has a tool that lets you see the rate and we've never seen it go below 60Hz.
The Galaxy S21 seems to use 120Hz whenever you interact with the screen, for the uncanny smoothness of that high refresh rate. And it settles back down to the standard 60Hz when displaying a static image, or a game that already struggles to hit 60fps. The Ultra gets you an extra 5% of techy goodness, but don't worry too much about that.
This phone is still dead clear in direct sunlight, looks sharp, and has the ultra-smooth scrolling of that tasty 120Hz refresh rate. Colour and contrast are on point too, thanks to Samsung's always-impressive OLED screens.
Camera: A trio of cameras desperate to please, and they do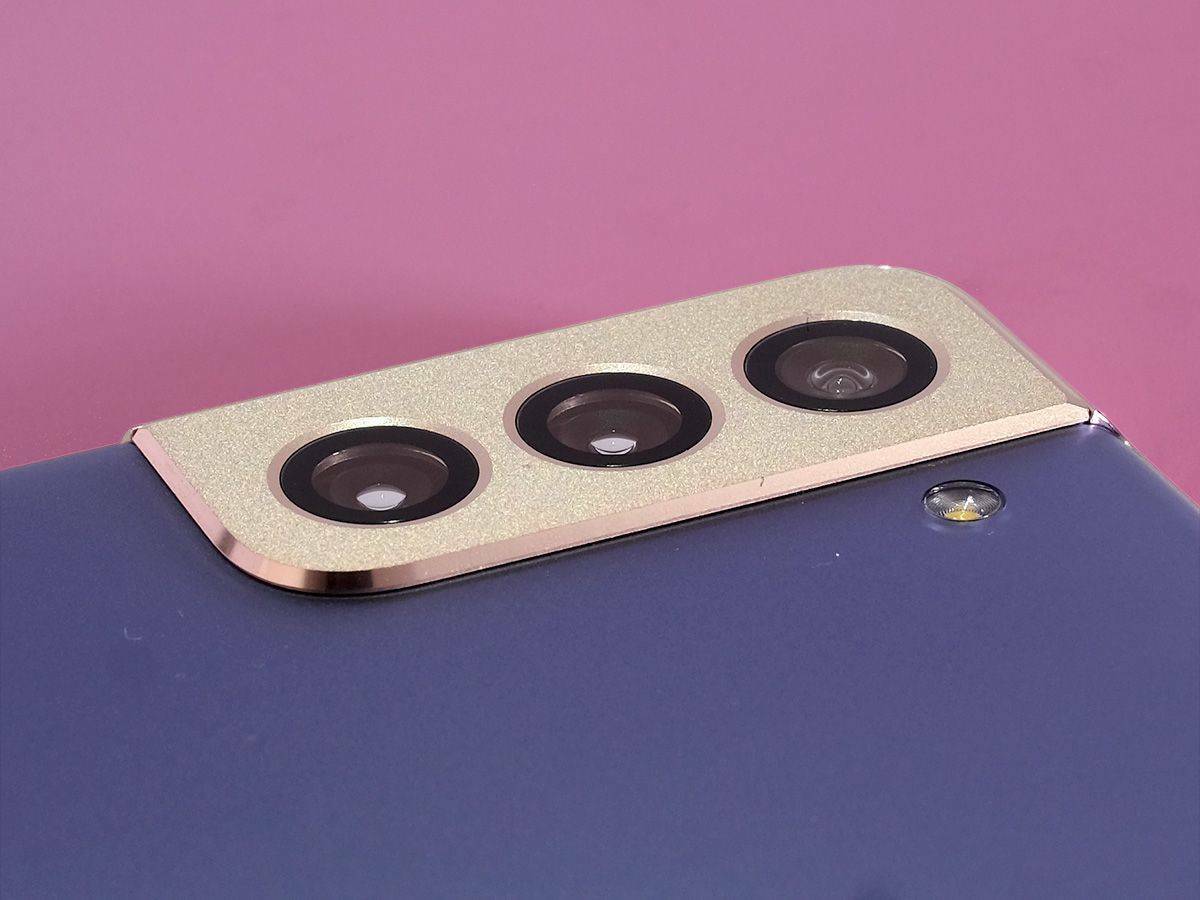 How about the cameras? The Samsung Galaxy S21 has three on the back, one on the front. And this is one of the best photo-shooters you can get for under £800.
Highlights include a fast, responsive feel as you take photos, great image quality and almost ridiculous levels of HDR tweaking.
HDR is what lets you shoot directly into the sun and still get visible detail in the foreground, not a bunch of shadowy blobs. The Samsung Galaxy S21 digs out so much shadow detail it's even willing to reveal a bunch of fine-grain noise in the foreground. But the result is photos that never look dull or bland. It's the kind of image you'd need to spend a few minutes fiddling around in Photoshop to get when using a DSLR.
Samsung also put a very good ultra-wide camera into the Galaxy S21 – a 12MP sensor. It captures plenty of detail. And while the colour tone is sometimes a little different from the main camera, the wide leaning a little cooler, there's no sense your images suddenly get a massive downgrade just because you switch to the wide view.
The Samsung Galaxy S21 has a 3x zoom view too. Samsung's tech gets a little funky here. Instead of trying to squeeze in a legit 3x lens, it has a 64MP sensor and a just slightly zoomed in ~1.1x zoom. So, yeh, the 3x is mostly a digital zoom. But the Samsung Galaxy S21 can still take pretty impressive 3x zoom shots. You can even shoot 64MP photos at the native 1.1x zoom, to slurp all the goodness out of the hardware.
Why doesn't Samsung just use this 64MP camera for both the main and zoom? The main 12MP cam has better dynamic range and far better image integrity at the corners of the frame. The Samsung Galaxy S21 lets you zoom in all the way to 30x, but don't bother. They look terrible. Stick to 3x.
Samsung's S21 Ultra is still the zoom king, able to shoot good images at 10x. For more proof there's not one dud camera here, all three are also used for video. And in more ways than you might imagine. The 64MP "zoom" is used to take 8K video at 24fps, because the main camera literally doesn't have enough pixels for the job. Our ultra-wide is used for a super stable mode, the plus-size field of view fuelling electronic image stabilisation.
These extras are great. But the main event is still 4K video, which uses the main camera and looks good. It's stabilised too.
Even the Samsung Galaxy S21's front camera is great. It has a 10MP sensor, and can render your facial hair and craggy bits even when the lighting isn't perfect. If you're not bothered about ultra-long periscope zooms or macro cameras that can pap the microbes on your kitchen sponge, the Samsung Galaxy S21 absolutely offers a flagship-quality camera experience.
Performance: Not the most power around, but more than you need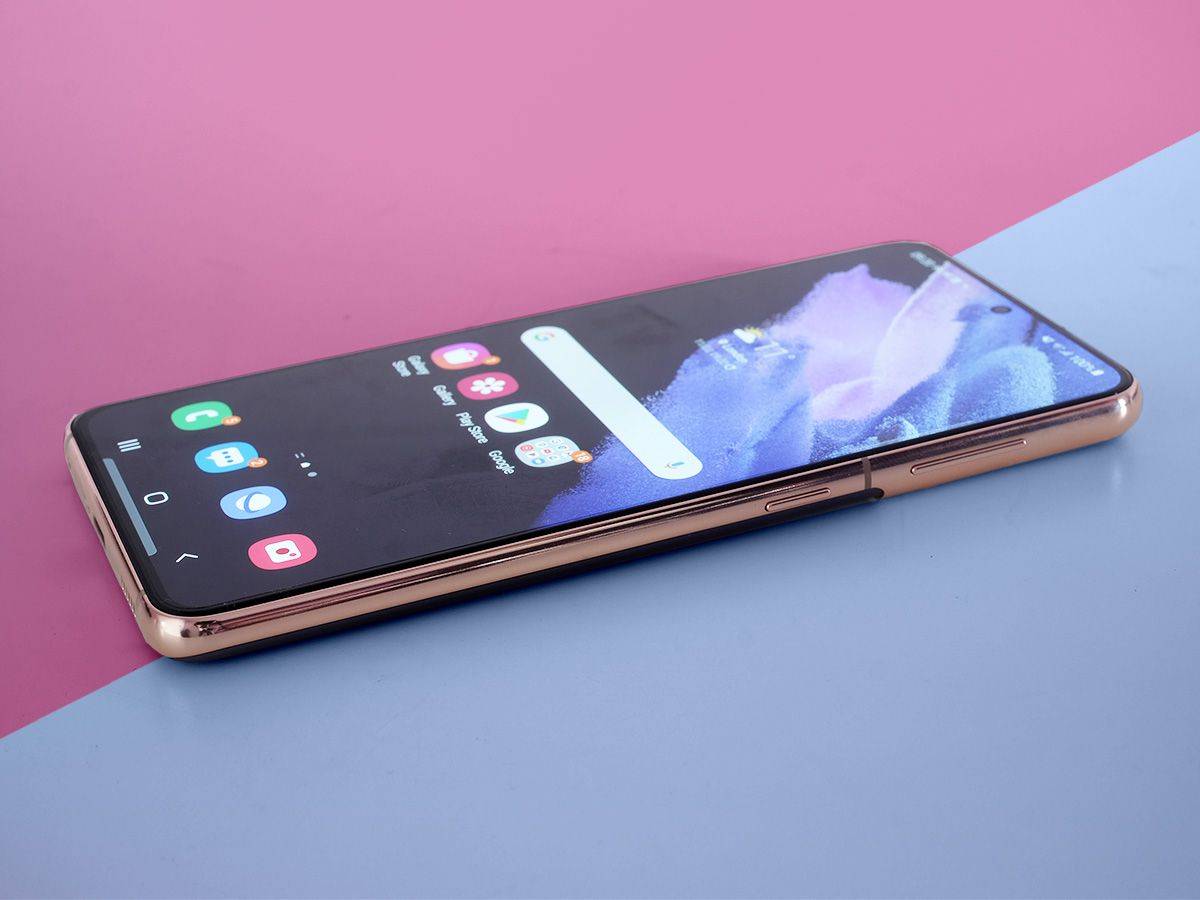 The Samsung Galaxy S21 also has the same processor as the S21 Ultra, the Exynos 2100. It scores 3269 points in Geekbench 5, around 10% less than you're likely to see from the upcoming Snapdragon 888 phones. It's fast, it's powerful and it lets Android 11 run perfectly.
Gaming is, no surprise here, great too. We did notice that 'Fortnite' has the occasional drop from 60fps to the 20fps-ish zone, but it mostly runs smoothly. The OLED screen is your favourite game's best friend too, letting colour pop more than it probably does on your TV.
The Galaxy S21 software will seem very familiar if you've used any Samsung of the past few years. Samsung puts more of its own stamp on Android that most, jamming it full of extra apps and using the paginated apps draw almost no-one else uses these days. But we still like it.
Samsung's software comes across clean and stylish, even if some of you might consider all the app bloat the polar opposite of "clean".
Battery Life: Don't expect two days of use (or a charger)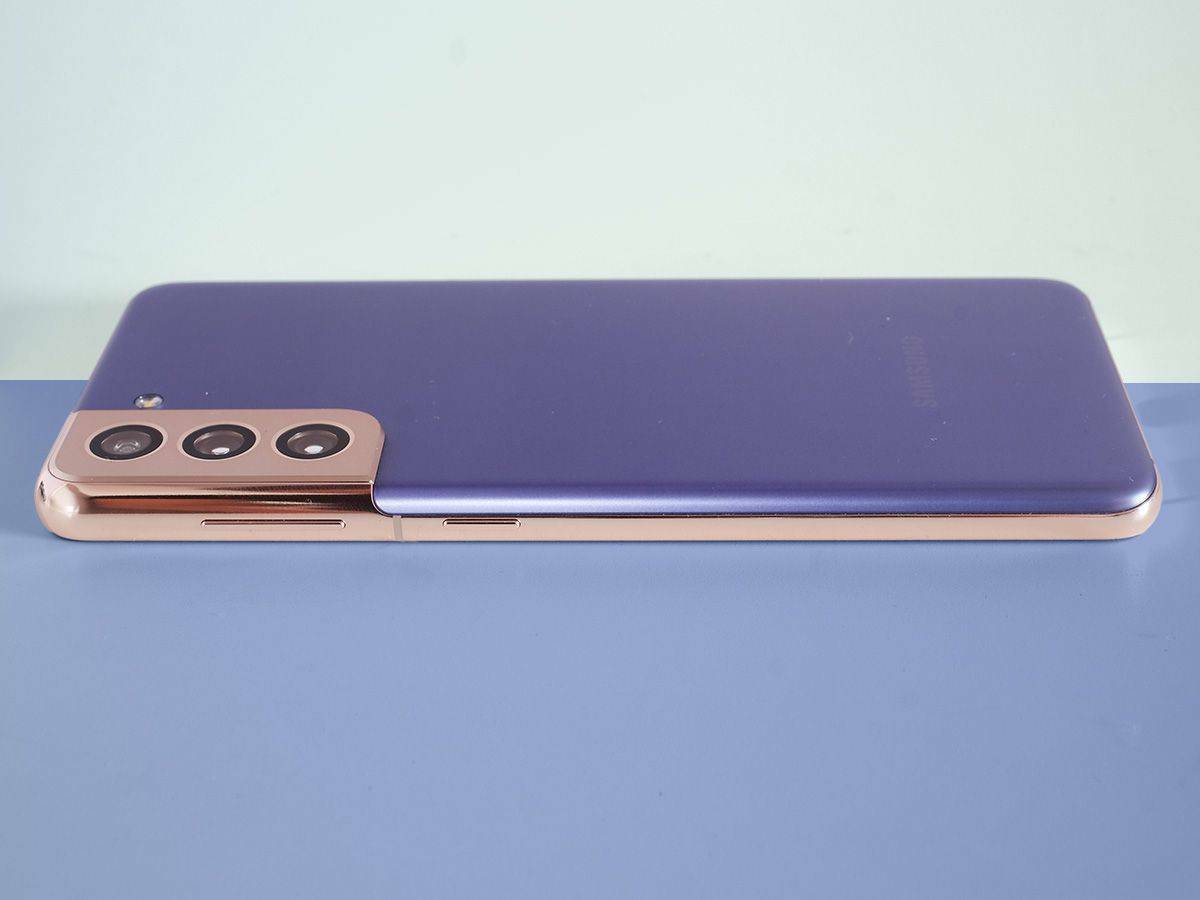 Now we come to the Samsung Galaxy S21's most significant issue, if the feel of plastic doesn't make you feel physically sick, anyway. This phone doesn't have particularly great battery life.
It has a 4000mAh battery, which sounds reasonable enough for a phone with a screen far smaller than some. However, we just find it distressingly easy to drain down in a day, to the point you'll have to give the Samsung Galaxy S21 a healthy top-up before a night out. Y'know, when those are a "thing" again.
Samsung's Exynos processor is probably, in part, to blame. Its chips have had worse real-world power efficiency than the Qualcomm Snapdragon for a while now. And although our time with the Galaxy S21 Ultra suggested some real progress had been made with this latest lot, we don't think the Galaxy S21 is the best fit for people who hammer their phone all day. It can usually make it to lights-out, but by the time you're setting the alarm for the next morning it may be sputtering away on its last few percent of battery.
You don't get a charger either. Samsung and Apple sell this as a way to cut down on waste. But if you don't already own a 25W charger it's a way to persuade you to spend and extra £20 on a charger. As usual, Samsung doesn't offer particularly fast charging either. It offers 25W max with the Galaxy S21, nowhere near the 65W of the OnePlus 8T, and gets you from flat to full in about an hour and a quarter. Still, you can use a wireless Qi charging pad if even 25W sounds a bit too fast for you.
Samsung Galaxy S21 verdict
Phones have been status symbols for ages, even before iPhones were a thing. Who could forget the slider hotness of the Nokia N95 back in '06? Just us? OK.
Samsung has come up with a phone that actually looks like a status symbol here. And while the Galaxy S21 has a slightly naff-sounding plastic back, this is arguably the best-looking of the entire S21 family. No ridiculous excess of cameras, and the smaller frame gives the funky camera array even greater prominence on the back.
The Galaxy S21 is perhaps more a style icon than a tech one, as it is actually a downgrade from the Galaxy S20 in some respects. However, we love its rear camera array. There's zero bloat, Samsung squeezes every last bit of photographic utility from each sensor and these cameras just try so hard to please your eyeballs with every frame they capture.
Battery life may be a sticking point for some of you. It's no big surprise from a slightly smaller phone, but if you want an Android that might last up to two days between charges, the Samsung Galaxy S21 isn't it.
Tech specs
| | |
| --- | --- |
| CPU | Exynos 2100 |
| RAM | 8GB |
| STORAGE | 128/256GB |
| DIMENSIONS | 6.2in 2400 x 1080 Super AMOLED screen |
| CAMERA | 12/64/12MP rear cameras, 10MP front camera |
| Battery | 4000mAh |
Stuff Says…
The Galaxy S21 is one of the most striking phones money can buy, and the price won't knock you out. Just don't expect 2-day battery life.
Good Stuff
It's as stylish as phones come
Great cameras
Pocket-friendly size
Bad Stuff
Relatively short battery life
It back is plastic, not glass