Samsung Galaxy S21 Ultra 5G review
Samsung goes extra with the Ultra
If the Samsung Galaxy S21 Ultra 5G was a burger, it would come with all the trimmings. Cheese, bacon, the finest organic greens, flecks of gold leaf just for effect, and the sweetest gherkins sourced anywhere around the globe.
But while some can't stand a pickle, there's nothing to dislike about the extras loaded onto the Samsung Galaxy S21 Ultra 5G. You get two zoom cameras, including a frankly unbelievable-sounding 10x optical zoom, and Samsung's own Exynos 2100 chipset that seems around 20% faster than its predecessor.
Samsung's variable refresh rate 120Hz OLED screen is also more useful this time around, but is the Samsung Galaxy S21 Ultra 5G worth the £1149 starting price?
The brand's line-up of pricey 2021 phones is flat-out worse than last year's in some ways. It wants us to pay almost £800 for a plastic Samsung Galaxy S21, and the Samsung Galaxy S21+ doesn't have the lovely curved glass the company has used for almost forever.
Are phones, like life in general, getting worse by the year? The Samsung Galaxy S21 Ultra doesn't think so.
This is Samsung's one true ultra-high-end mobile of early 2021 wirth one of the best curved glass screens in the world and cameras allowing you to see what your neighbours are doing during lockdown.
There's only one major missing part: a charger. But when the Samsung Galaxy S21 Ultra costs less than last year's Galaxy S20 Ultra, we can suck that one up, so maybe it deserves to give the iPhone 12 Pro Max a run for its money.
Design: Samsung Galaxy S21 Ultra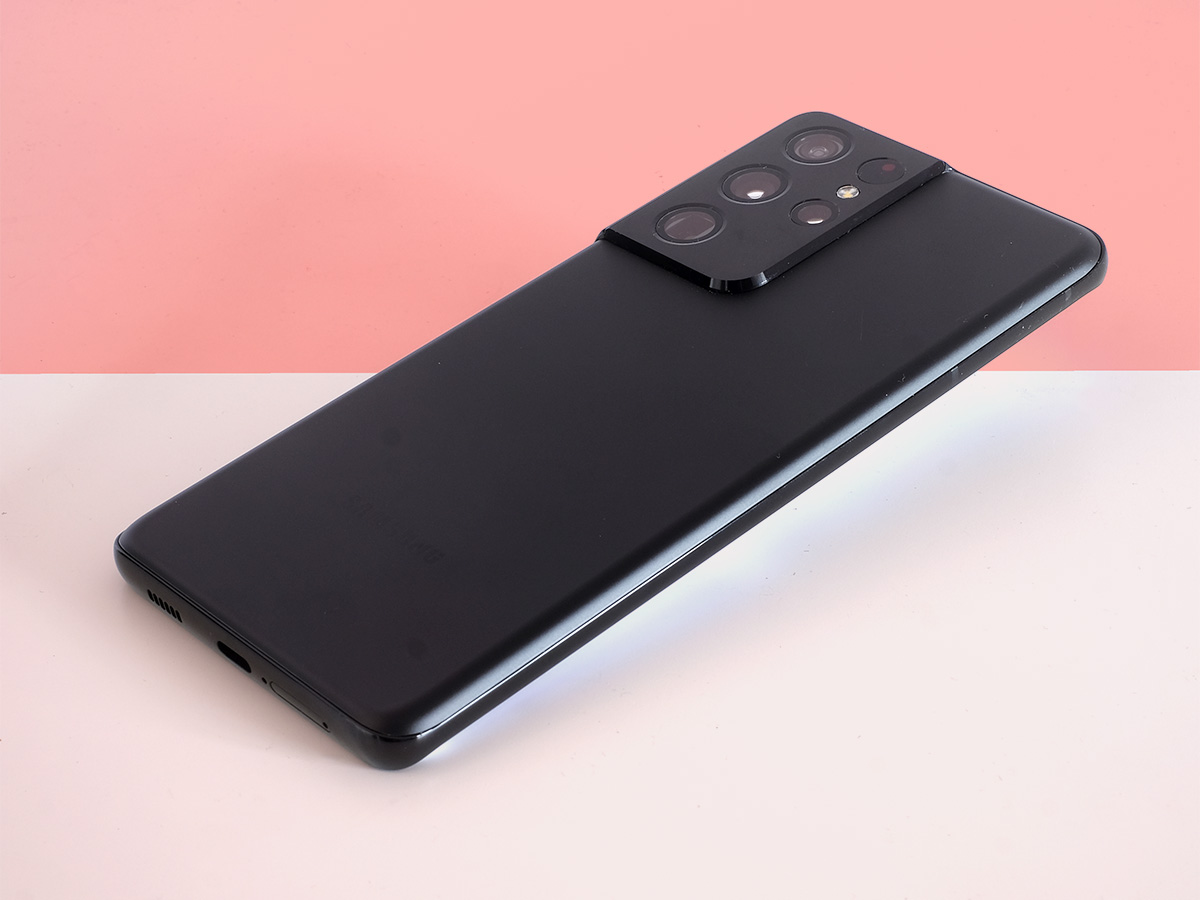 Enough praise already. Let's kick off with a moan.
The first things you'll notice about the Samsung Galaxy S21 Ultra are not particularly positive. At 227g this phone is heft and you will immediately register the weight unless you already use a hulking great thing like the iPhone 11 Pro Max.
Not everyone will instantly fall in love with the camera housing either, which juts out of the back like a piece of Brutalist architecture. Give this one a minute, though, because there are reasons to like it.
There's a heck of a lot going on behind the camera's little aluminium stage, and most Galaxy S21 Ultra cases slot around the bump. This means it'll look less like it's actually in a case, if you buy a nice one anyway.
Most of all, though, we like that the Samsung Galaxy S21 Ultra doesn't look like everything else out there. Our one is in all-black and Samsung has somehow made a plain black phone that doesn't look boring.
Those oversized camera rings, arranged like some Instagrammer's aerial photo of a tapas dinner, positively scream "tech" and if you're not buying a phone as expensive as the Samsung Galaxy S21 Ultra for that reason, get something cheaper.
It's a shame we don't get some of the two-tone colour styles seen in the lower-end Galaxy S21 family members, instead just silver and black. This is Samsung's super serious big boy phone for grown-ups, clearly.
Tip: Samsung does offer some exclusive colours from samsung.com, including crowd favourite Brown. Check 'em out.
Aside from a slightly more striking design than some, the Samsung Galaxy S21 Ultra is just what we expected. It's big and heavy, uses top-quality materials like curved Gorilla Glass Victus and gloss-painted aluminium, but there's another hidden feature too.
The Samsung Galaxy S21 Ultra supports the S-Pen, the stylus series used by Samsung's Note phones. You can get this bundled with Samsung's own S-View cover, but we recommend buying a slimmer, normal case and an S-Pen separately if the idea appeals.
Yes, it'd be nice if Samsung included an S-Pen, but we don't even get an adapter with the phone, so that's a pipe dream.
We tried the Note 20's S-Pen with the Galaxy S21 Ultra and found it works beautifully. Press the side button and the S-Pen nav menu pops up as if this were a Note phone, and both pressure sensitivity and tilt recognition work as you'd hope in Autodesk Sketchbook Pro.
The Note's Air gestures and remote control features don't work. Apparently an S-Pen Pro is coming later on, but you can bet that will cost significantly more than the £34.99 you'll pay for the standard one made for the Galaxy S21 Ultra. To be honest the only time we've actually used the S-Pen's magic wand gestures is during a review.
This is the S-Pen made for how we actually use it — occasional doodling sessions — and not the studious note-taking and handwriting we imagined we'd do when the Note series first arrived.
Display: Samsung Galaxy S21 Ultra
The Samsung Galaxy S21 Ultra has a 6.8-inch OLED screen with curved sides. That curve isn't as pronounced as the OnePlus 8 Pro's or Oppo's Find X2 Pro.
A dramatic bend makes a display look futuristic and fancy, but it's probably good news for image quality as a lighter one means you don't get such clear dimming in the last millimetre or two of the screen.
Most elements you'll actually notice are the same as last year, and that's no bad thing. This is an ultra-sharp 1440p screen with fantastic colour depth, killer contrast and 1500 nits brightness, which means the Samsung Galaxy S21 Ultra shrugs off bright days at least as well as the iPhone 12 Pro Max and Galaxy Note 20 Ultra.
The change for 2021 is all about refresh rate. Last year's Galaxy S20 Ultra had a 120Hz screen just like this one, but you had to choose between that refresh rate or the max 1440p brightness.
This year you can have both, presumably because this is now an ultra-adaptive screen. That means it can change how often the Samsung Galaxy S21 Ultra refreshes its image on the fly, from 10 times-a-second to 120. Why? It saves battery.
The OnePlus 8 Pro let you have pretty much this same experience last year, but it does at least mean the Galaxy S21 Ultra has caught up.
Cameras: Samsung Galaxy S21 Ultra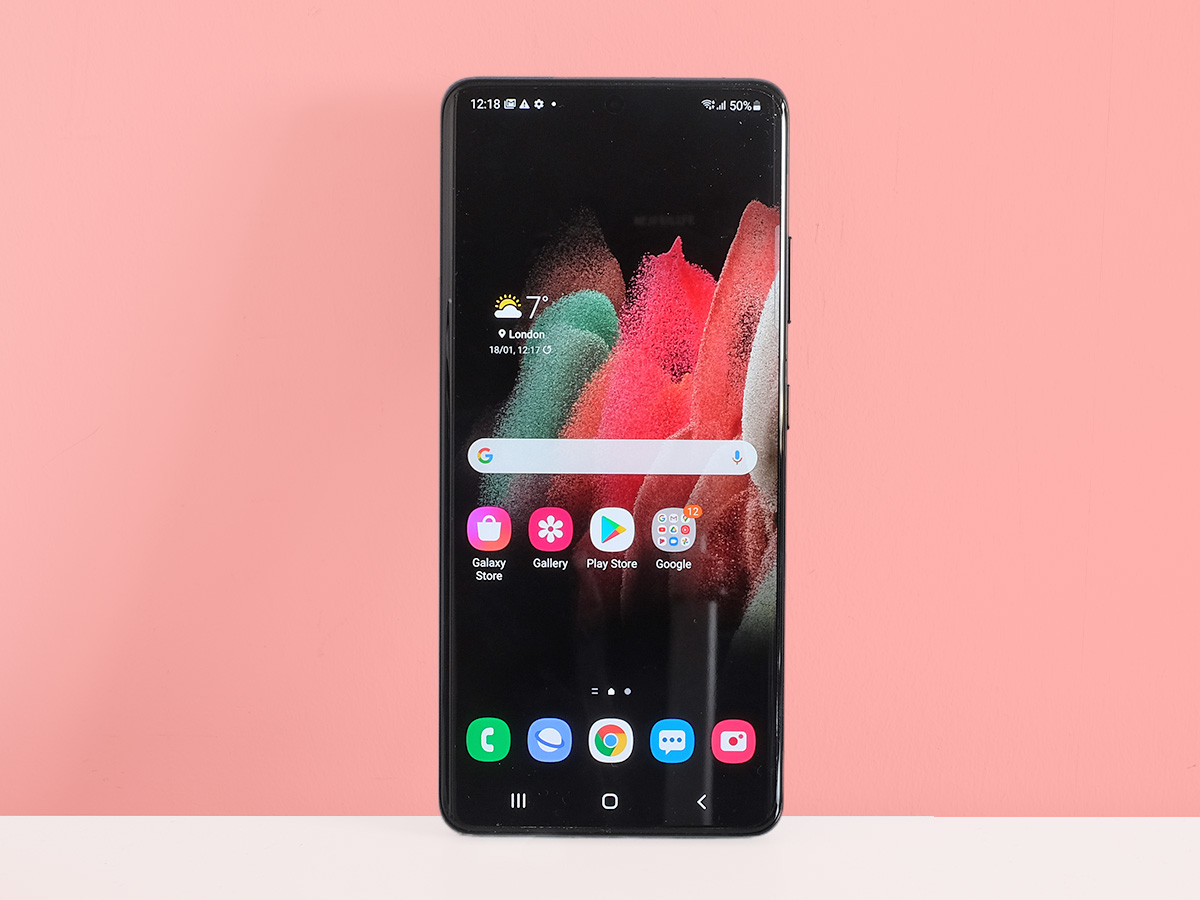 There's much more exciting stuff going on in the Samsung Galaxy S21 Ultra's cameras. Samsung went all-out on zoom tech, even more so than in the Galaxy Note 20 Ultra.
You get a 10MP 3x zoom and a 10MP 10x zoom. This isn't the "fake" hybrid zoom Samsung packs into the Galaxy S21 and S21+. You get twice the legit lens magnification we've seen in other top Androids to date.
This is the one part that made our jaws drop when Samsung announced the S21, so is it a world-class banger?
For the most part, yes. Comparing it to the Oppo Find X2 Pro, the best pericope zoom camera we could lay out hands on in time, the Samsung Galaxy S21 Ultra renders more detail when you really dig in to 20-30x zoom. Try that with a 2x or 3x zoom and you end up with photographic Ready Brek.
Stills look great at 15x zoom and we've been bowled over by some of the stuff the Samsung Galaxy S21 Ultra has captured, like the beautiful and complicated patterns in someone's iris, and the somewhat less beautiful micro-veins on their eyeball. Seriously, check out our gallery.
You can treat the 10x zoom like a remote macro camera, which is damn impressive. This stuff just isn't on the menu in most other phones.
The only real issue we have with the super zoom is it has a habit of not engaging at 10x, so you end up with mushy digital zoom shots. However, this smells like a launch software bug. Oh, and despite that crazy lens, Samsung's Space Zoom 100x images are still poor.
This feature was introduced in the Galaxy S20 Ultra, which has a higher-resolution 4x zoom. 100x images may have improved a bit, but they are still mushy in the extreme.
How about the main camera? The Samsung Galaxy S21 Ultra has a 108MP sensor, spitting out the usual 12MP images. There's no groundbreaking change in image quality here. You still get the great, clean and contrasty photos we expect from a top Samsung, complete with the tendency to amp up the colour just a little too much for some tastes.
The main change we noticed is about HDR, used in photography to bring out shadow detail without blowing out the highlights. Samsung seems to push it further than ever in the Samsung Galaxy S21 Ultra.
This phone almost never takes a dull-looking photo, but sometimes even the darkest-looking shadowy areas look a little smushy. It may be a great sensor, but this is still a phone sensor, and one with teeny-tiny sensor pixels and only ok native dynamic range.
Samsung mitigates this in low light using the multi-exposure technique you see in every top-end phone these days. You may have to wait a few seconds and hold the phone still, but the results speak for themselves.
The Samsung Galaxy S21 Ultra doesn't quite reach the awesome heights of the Huawei P40 Pro when you're dealing with virtually zero light, but you can use a night mode with the ultrawide camera, the 3x zoom and even the 10x. Out in the real world, that kind of flexibility is more important.
Oh, and the ultrawide camera wipes the floor next to the iPhone 12 Pro Max. It might just be the best ultrawide you can get in any phone right now. It's great for macro shots too, so is the main camera, as it lets you focus far closer than almost every other top Android.
The list goes on: video is impressive. You can shoot at up to 8K resolution at 24fps and this is even stabilised. It's an actual usable 8K video mode, however, most of you should stick to 4K at 60fps or below as 8K uses a sensor crop and the motion at 4K is significantly smoother.
Want to bail out of all decisions, completely? There's a mode for that, called Single Take. This shoots a bunch of photos and little video clips while you just hold the camera there, or move it around.
It sounds like a junk feature, but ask a friend to do something silly as Single Take does its thing and you end up with a bunch of shareable moments, complete with quick-fire editing and a soundtrack. It's fluff, but tasty fluff.
Before we end up writing a Haynes manual on the Samsung Galaxy S21 Ultra, let's just quickly touch on the selfie cam. It's excellent. You get a 40MP sensor, which uses the high res to offer two fields of view. Detail is terrific in daylight and — like every other camera on the phone — it can use the Samsung Night mode. This camera array is simply ridiculously capable.
Performance: Samsung Galaxy S21 Ultra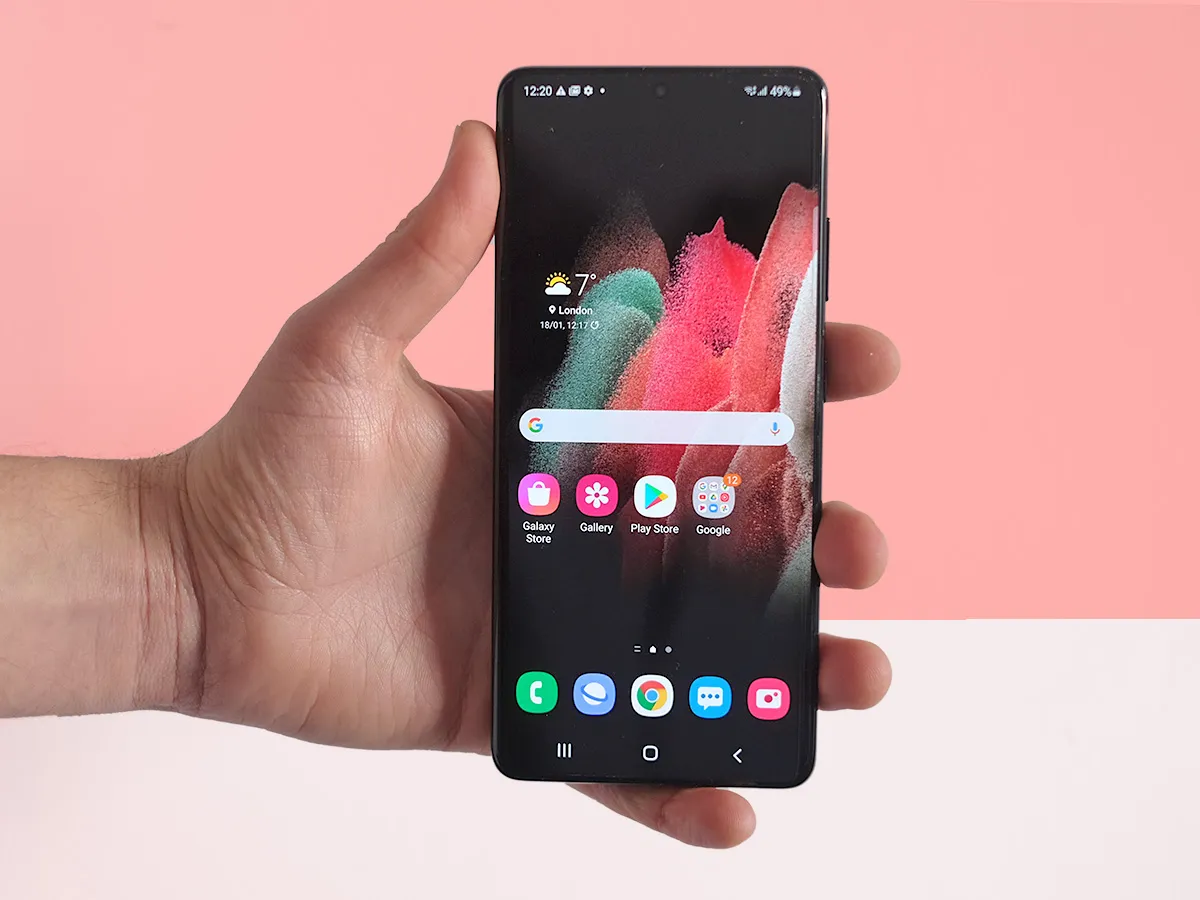 Time for another subject. There's never usually much interest in a top-end phone's power unless you're really into numbers and know what a 3200 Geekbench 5 score actually means. That's what the Galaxy S21 Ultra earns, by the way, but there is something important to know about this phone.
In the UK, and the rest of Europe, we get the Samsung Galaxy S21 Ultra with an Exynos 2100 processor. Those lucky folks in the US and China get a Snapdragon 888, which has more graphics grunt than the Exynos.
If we had a choice, we'd choose the Snapdragon, but the Samsung Galaxy S21 Ultra still runs like a dream, has up to 512GB storage, enough that we don't really care that there isn't a microSD slot, and Fortnite even lets you run the game in a 90fps mode.
Sure, it doesn't actually hit that if you use the highest graphics settings, and spends a fair amount of the time well below 60fps, but phones don't have the equivalent of an Xbox Series X's graphics power, no matter what Samsung and Apple's sales pitches might suggest.
The real worry we had about the Samsung Galaxy S21 Ultra's Exynos processor was battery life. Last year's top Samsungs didn't hold up too well, so does this one?
It has a 5000mAh battery, just like last year's Galaxy S20 Ultra. We find it usually lasts a solid day unless you go hard with your screen time with the 1440p and 120Hz modes switched on. This can still make the battery drop like a stone.
But is there a real improvement here? We used an app called Generic Battery Drainer (catchy, right?) to see how the Galaxy S21 Ultra and slightly earlier Galaxy Note 20 handled a half-hour with the screen on, the CPU given a workout, and Bluetooth/GPS/Wi-Fi all popping off.
The S21 Ultra lost 11% charge, the Note 20 was 16% down. That's a big difference, and one that can't be explained solely by the bump up in battery capacity.
Good news is these new Samsung processors seem to be more efficient than the last and it results in solid, if not excellent, battery life, even if phones like the Oppo Find X2 Pro, iPhone 12 Pro Max and Huawei P40 Pro still last longer.
Samsung is also way behind in terms of charge speed. The OnePlus 8 Pro and the latest Oppos can suck up juice at more than twice the speed, and if you're upgrading from an old phone you'll likely need to buy a new adapter to get the full 25W charge rate.
Verdict: Samsung Galaxy S21 Ultra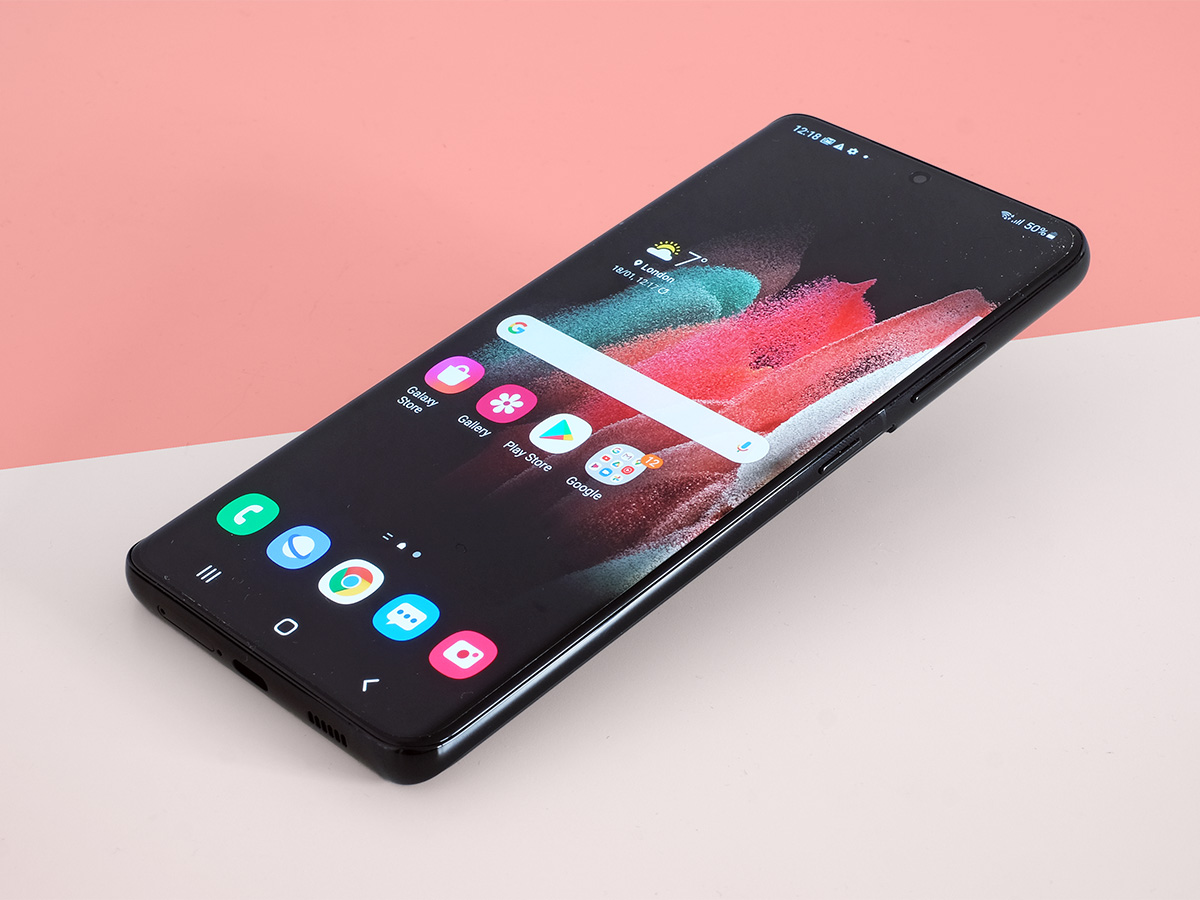 Samsung has stripped back some parts of the Galaxy S21 range for 2021, but the Galaxy S21 Ultra gets away with just one: there's no charger in the box, just like the Apple iPhone 12 series.
Sure, we get a Samsung processor in the UK, not the Snapdragon we'd rather have, but it's a bit easier on the battery this time around and has enough power to keep us smiling.
There's only one killer reason to buy this particular phone, though. The Samsung Galaxy S21 Ultra's camera is crazy good. It's probably the most versatile phone camera for stills we've ever used.
The draw isn't raw image quality, which doesn't take any major leaps forward, but how this mobile doesn't mind if your subject is 3cm away or 300m.
You might not be able to get close to the action at the moment thanks to this bloody virus, but with the Samsung Galaxy S21 Ultra, you stoll still can.
Tech specs
| | |
| --- | --- |
| Storage | 128/256/512GB |
| RAM | 12/16GB |
| Processor | Exynos 2100 |
| Screen | 6.8in 3200 x 1440 120Hz WQHD+ Dynamic AMOLED |
| OS | Android 11 |
| Camera | 108MP main + 12MP ultrawide + 10MP telephoto (10x & 3x optical zoom) + 40MP selfie camera |
| Build | Gorilla Glass Victus + IP68 water resistance |
| Battery | 5000mAh |
| Network connectivity | 5G |
| Dimensions | 165.1 x 75.6 x 8.9 mm |
| Weight | 227g |
Stuff Says…
An Android that earns its "ultra" title with an incredible camera array allowing you to capture moments other phones will simply miss
Good Stuff
Awesome camera zoom capability
Smooth, ultra-bright screen
Supports the S-Pen like a Galaxy Note
Bad Stuff
No charger: a cheap move
Some alternatives last longer between charges
UK Exynos version not as powerful as upcoming Snapdragon phones