Samsung Galaxy Note 20 Ultra review
Ultra beautiful but lacks ultra battery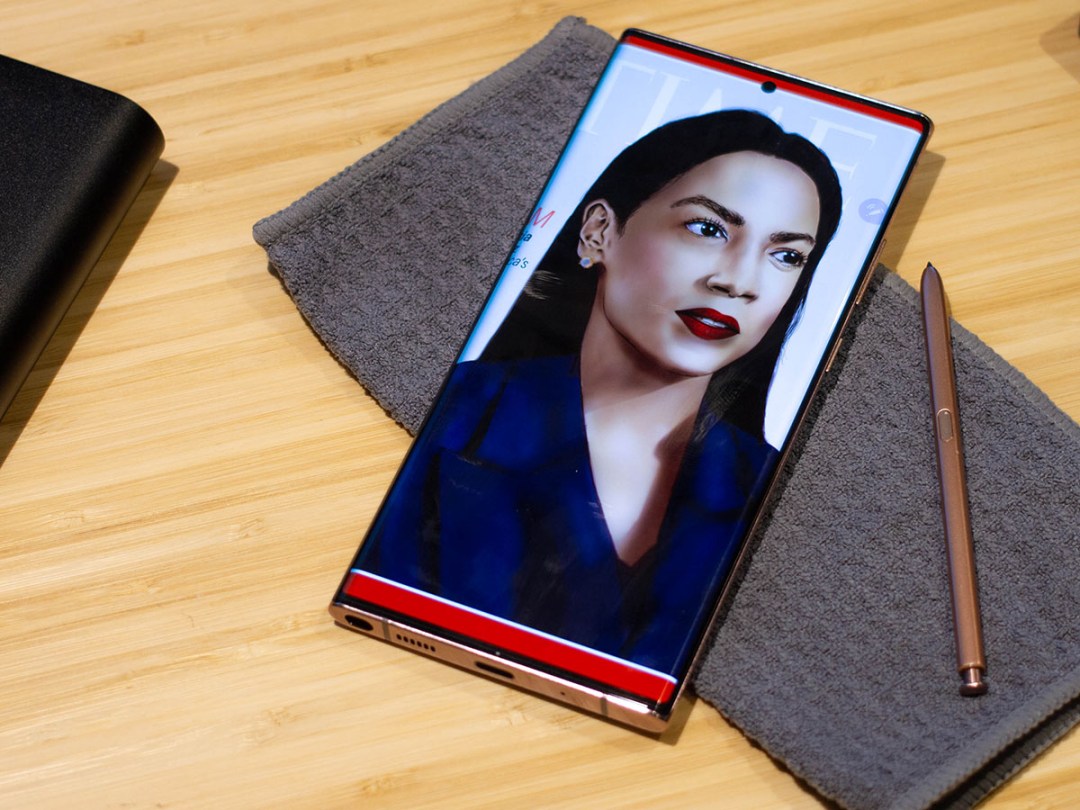 Samsung's been making pen-packing Notes for over a decade now, and we blinking love them.
A smartphone that isn't just an uncharacteristic slab? The novelty alone wins it for us. That said, every year as prices climb, so do expectations, and with the Note 20 Ultra 5G costing £1,179, our expectations are sky high.
Why bother with a pen on a phone?
Because this isn't just any pen, it's an S Pen. You can wave it in the air and stuff happens, write notes with it that transform into selectable text, and it makes for a pretty incredible sketching tool too. All this is nothing new though.
What the Note 20 Ultra adds to the line is a boosted camera system, a smoother screen refresh rate, a fancier finish and more power. The power conversation's a weird one though. In the US, Notes get a Snapdragon chipset. In the UK and the rest of the world, however, it's Exynos. This shouldn't matter, but as we flagged when reviewing the S20 Ultra, it does. How much? Who's to say until we can get them side by side, but one thing's for sure, amongst all the excellence in the Note 20 Ultra (Exynos version) we reviewed, there were some gremlins.
Design: Bumpy Space Princess
From the front, not much has changed on first glance – the Note 20 Ultra's screen is the same size as that of the Note 10 Plus – 6.9-inches; in other words, huge.
Flip it around and things get very pretty very quickly; but also, bumpy. The Note 20 Ultra's matte finish, available in Mystic Black, Bronze and White, looks very fancy. The back panel also repels fingerprints incredibly well, which is great, though there is a ginormous growth on its upper left side – the most statement piece camera bump we've ever seen. The camera bump actually deserves its own paragraph.
Sure, the S20 Ultra had a big camera bump, but it was a lifeless, black lumpy void on the back of a soulless grey slab. This time around, the Note 20 Ultra's camera bump is worth celebrating. First off, the entire rectangular camera surround sports a deep bronze trimming.
Next, the flat, glass portion has a bronzed blush to it. Finally, each camera lens gets its own bronze halo. Celestial work Samsung, and a very clever way to make the inevitable heft of a zoom camera system so much less ugly.
As for materials, the Note 20 Ultra sports Gorilla Glass 7 around the back and front, a stainless steel frame sandwiched in between, and a stylized flat top and bottom.
At 208g, the Note 20 Ultra is a big boy, larger than an iPhone 11 Pro Max, albeit a bit lighter. The S Pen is spring-loaded into the lower-left side, while a USB-C port and loud-speaker sit alongside it. It goes without saying – if you don't want a big phone, don't get the Note 20 Ultra, but if you do, we reckon, like us, you'll love the design, big camera bump and all.
Screen: Smooth or sharp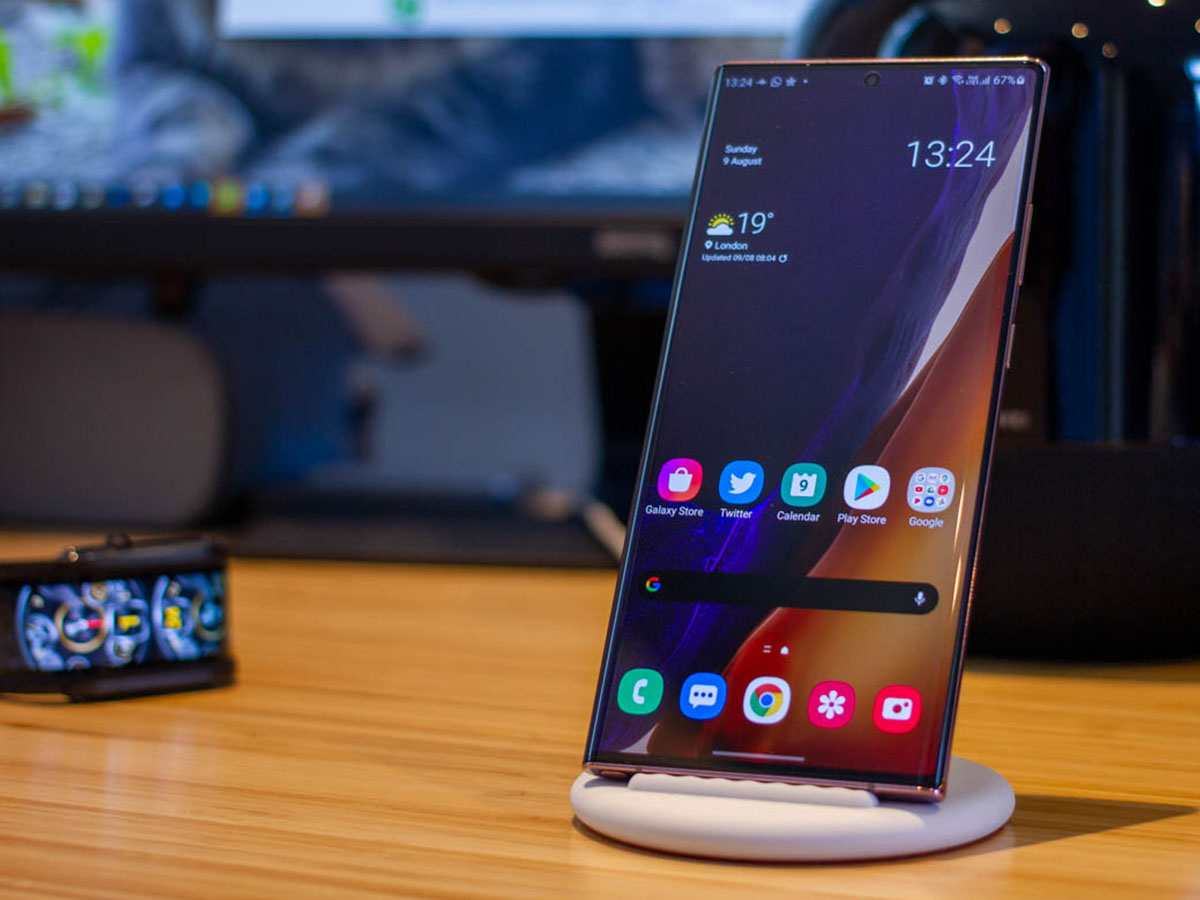 The Note 20 Ultra's screen is as smooth as silk or pin sharp, but never both at the same time. While Samsung loads the Note with a 120Hz refresh rate, bringing it up to speed with the OnePlus 8 Pro and iPad Pro, you can only access it if you drop the output screen resolution to Full HD. So, while you can enjoy everything at wide QHD (1440 x 3088) at 60Hz, you'll need to drop it to FHD (1920 x 1080) for the floaty feeling of high refresh rate swiping.
The phone's dual-curved screen also suffers from poor palm edge-detection, which should be simple enough to fix in a software update – but it's definitely an issue right now. Get past the refresh rate compromise and accidental edge presses, and you're onto a winner, with the Note 20 Ultra packing a Dynamic AMOLED panel loaded up with HDR10+ credentials and a stunningly immersive 91.7% screen to body ratio. Viewing angles are top-notch, as too is brightness, and thanks to smart Wacom tech under the glass, you also get 4,096 levels of pressure sensitivity when combined with the S Pen.
S Pen: Draw your own conclusion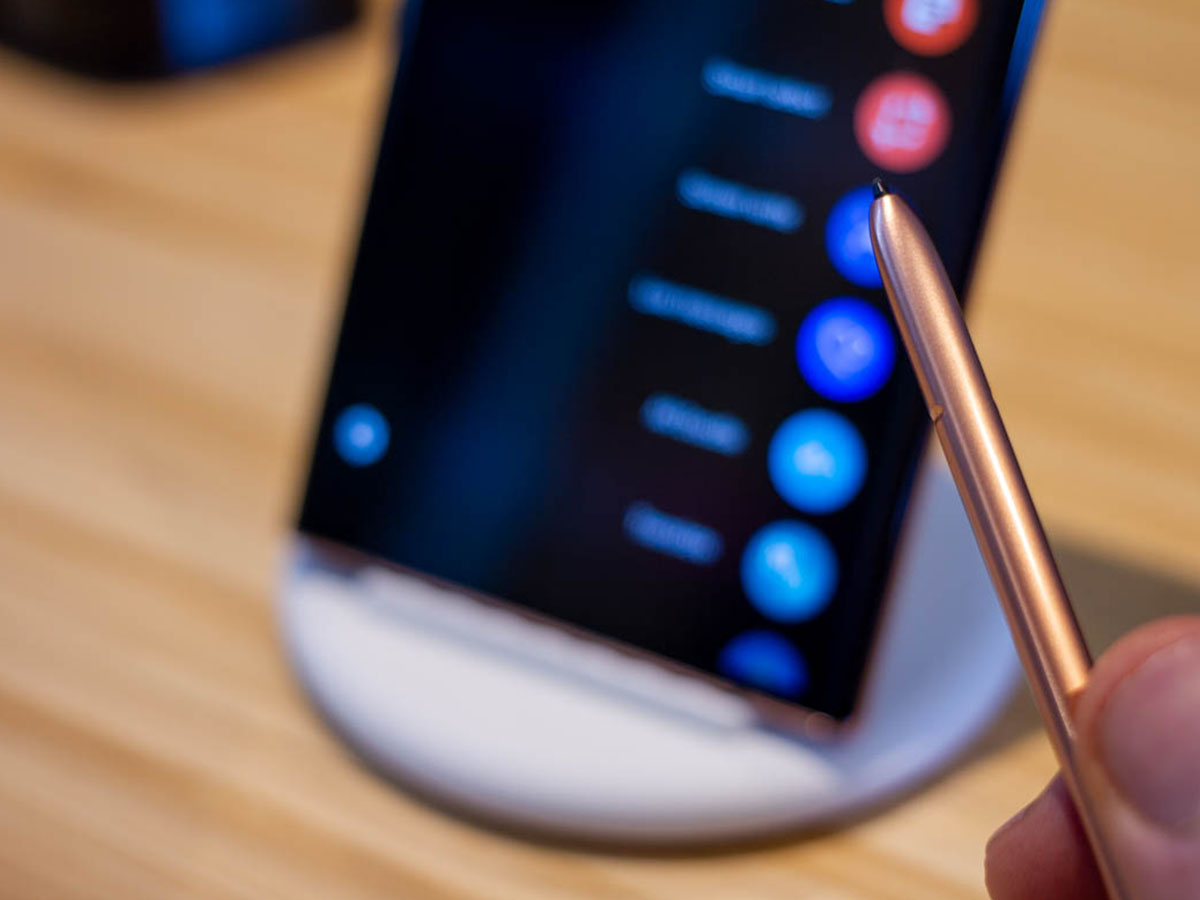 When you unsheath the S Pen, a menu pops up with shortcuts to tools that help you get the most out of it: view your notes, make a new one, write on a screenshot or convert unselectable on-screen text into words you can freely copy and paste – very clever.
With a 9ms latency, the Note 20 Ultra's S Pen is 80 per cent more responsive than predecessors.
Air Actions haven't gone anywhere either, so you can still wave your pen around like a wizard to navigate through your gallery and take snaps when your phone's on the other side of the room.
S Note, Samsung's own note taking app will be your main tool for scribing off the bat, and it's seen some improvements, with support for voice notes, as well as PDF files, photos and more. The app can even straighten out your handwriting now, not to mention convert it to selectable text. As for third-party apps like Autodesk Sketchbook, they're perfect for anyone who wants to eke a bit more creativity out of their smartphone, with the Note 20 Ultra's ample power resulting in smooth as butter performance.
The whole S Pen aspect of the Note 20 Ultra is in turn, exceptional. While we wouldn't say it justifies an upgrade from a Note 10 Plus, nothing outside the Note-line competes.
Cameras: Frikkin lasers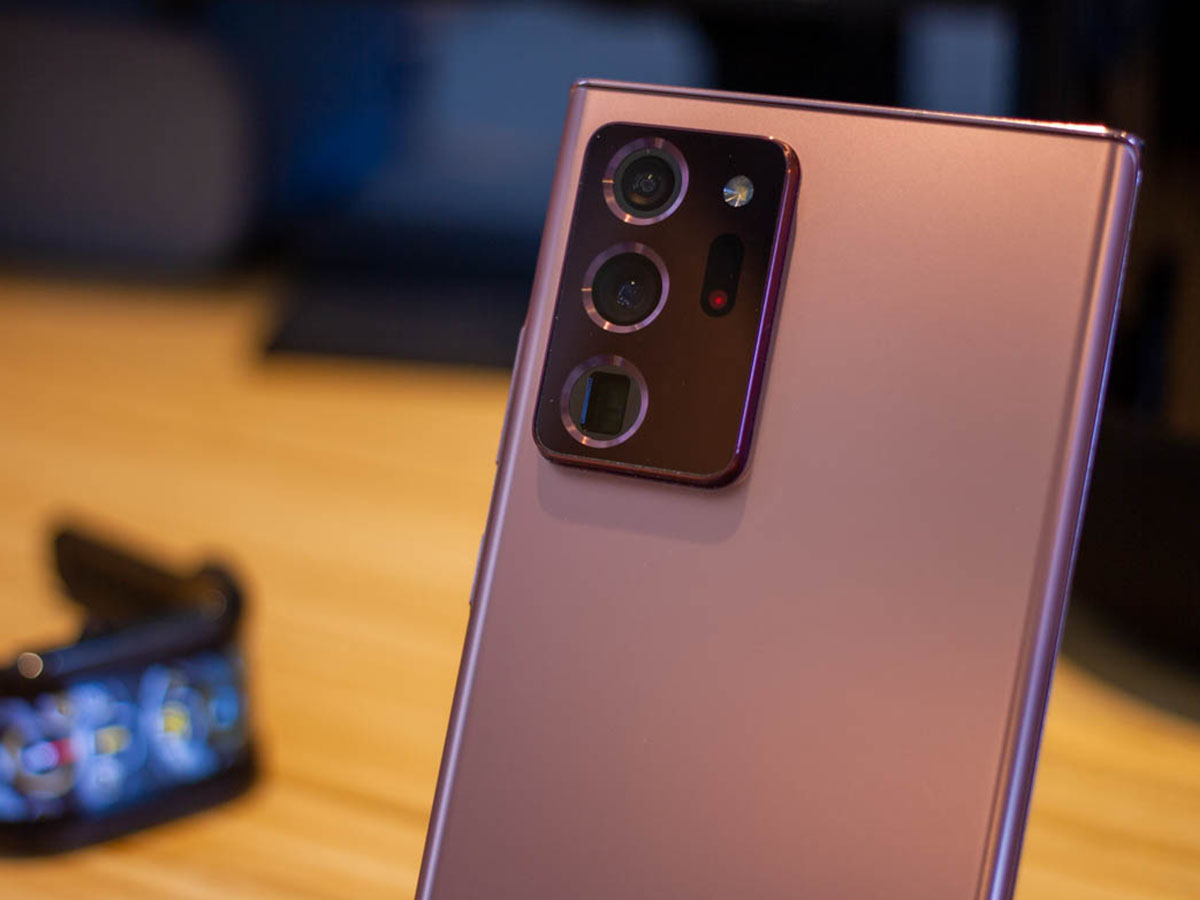 The new headline camera feature of Samsung's Galaxy Note 20 Ultra is an all-new laser autofocus system which makes video focusing lightning fast. But don't discount the actual cameras, they've also seen some improvements compared to past Samsung phones.
For starters, there's a 108MP main camera with an f/1.8 aperture and a 26mm wide angle. We've seen it before on the S20 Ultra, so we know to expect a lot.
Next, a 12MP ultrawide camera, which is one of the widest ultrawides on the market, and finally, the 5x zoom, 120mm telephoto camera is a first for Samsung. The fact Samsung's photos have always been very punchy means, if you're a Samsung lover, you'll love the photos on the Note 20 Ultra. Saturated, dramatic, and sharpened with processing, they're as Instagram ready as unedited smartphone photos get, for better or worse.
Folks who like editing their photos will want to shoot in pro mode. This lets you dial back processing and, of course, shoot RAW, not to mention tweak manual settings so you can get the exact shout you're after.
There's also a pro video mode that's been upgraded to support 8K video, multiple audio sources and more. With a very competent night mode that works across all three cameras, the Note 20 Ultra is a low-light contender.
While it can't beat out competition from Huawei in auto mode, it will still out-perform most phones around. The phone's ultrawide and telephoto camera are also colour matched beautifully to the main camera, and with more detail in shots at 50x zoom than the S20 Ultra 5G. It won't topple the zoom champ – the Huawei P40 Pro Plus, but it definitely gets the silver medal when it comes to getting close to the action.
If you love shooting video, then the Note 20 Ultra could be the best smartphone on the scene for a certain kind of videographer. 8K capture means tonnes of detail, perfect if you record in well-lit conditions and want to crop in.
The autofocus is also class-leading, and the pro mode lets you control manual focus with a slide of the screen – very intuitive. As for the selfie camera, it's 10MP, packs an f/2.2 aperture and can shoot 4K video. Is it the best we've ever used? No, that accolade still goes to the P40 Pro, but it's up there nonetheless, with decent clarity, autofocus and a portrait mode for mighty fine selfies.
Specs and performance: Feelin hot hot hot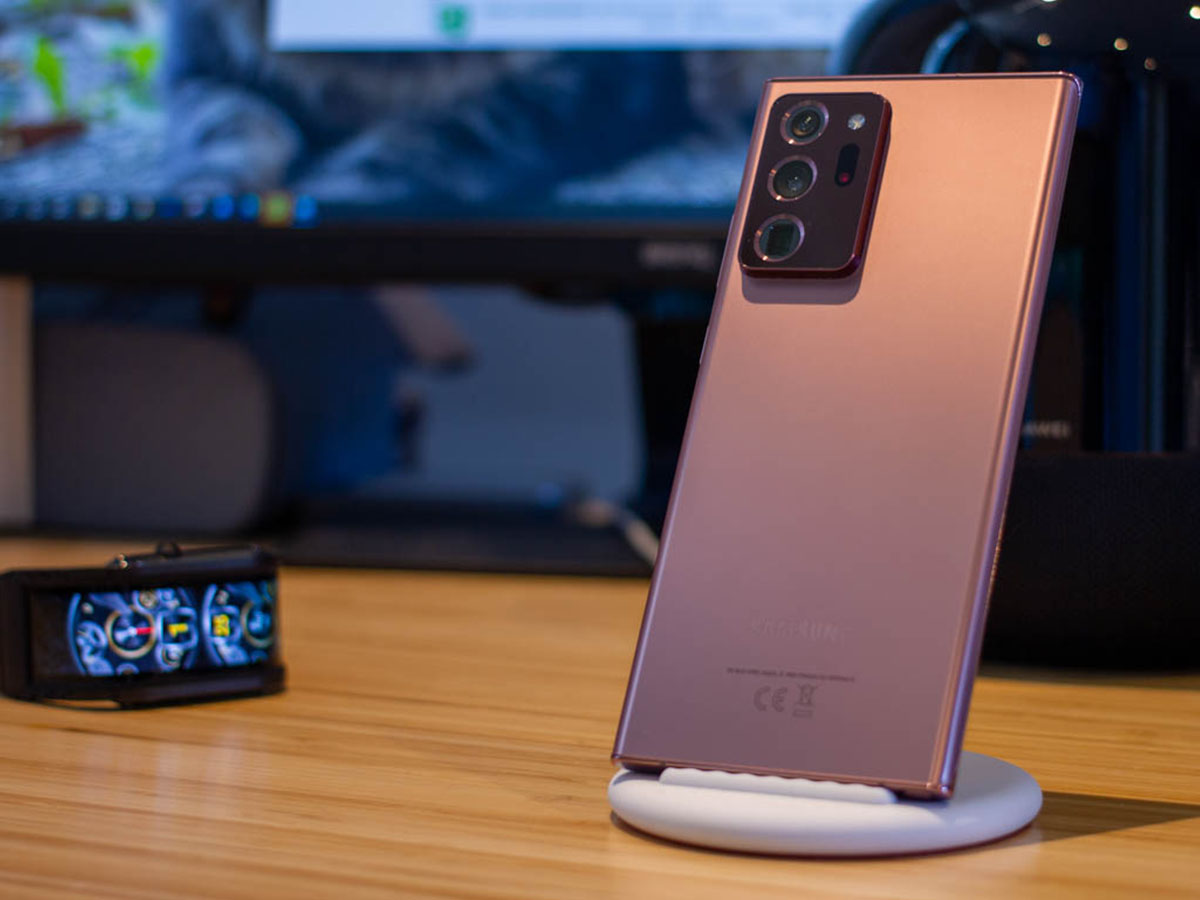 So far so good; the Samsung Galaxy Note 20 Ultra is a great looking, premium phone with a stellar screen and a seriously good camera, what could possibly go wrong? Overheating and middling battery life, that's what.
The first few days using the Note 20 Ultra and it got seriously hot, clocking in at 44°C when charging and in use. That's too hot for a phone. A week into use and it's started to cool off, thankfully. Aside from during video calls, it was able to keep to a moderate temperature, and performance generally was solid.
While the Exynos 990 chip inside doesn't benchmark as well as its Qualcomm Snapdragon 865+ counterpart in US Note 20 Ultras, you won't experience any slowdown when using it, even when 3D gaming.
Running Android 10, it's loaded up with Samsung's OneUI 2.5, and does a decent job of delivering a competent, customisable, stable user experience with great app support. The Note 20 Ultra's 4,500mAh battery is big, but when the phone's screen is set to 120Hz, and you're using it a lot, it won't make it through a full day.
With medium to heavy use, we were averaging 8am-6pm on a single charge. On one specific occasion, a 58-minute, a video call and 12 minutes of Twitter use drained the Note's battery by over 20%, leaving us incredibly underwhelmed.
Change your screen refresh rate to 60Hz and pare back your phone's brightness and you will make it through to the end of the day with medium use, but this certainly isn't a battery champ. Nor does it charge as quickly as much of the Android competition, capping out at 25W (the OPPO Find X2 Pro charges at 65W), however, you do get wireless charging and reverse wireless charging which is handy.
Luckily for the Note, everything else checks out well. Storage is ample at 256GB or 512GB, depending on the version you buy, and there's a microSD card slot too. With 5G, WiFi, NFC and a new wireless DeX experience, which projects a desktop UI to miracast devices wirelessly, connectivity is where it needs to be.
The in-display fingerprint scanner is snappy and secure, and there's basic face unlock support too, which works well.
Samsung Galaxy Note 20 Ultra verdict
With its middling heat management and battery life, despite everything it does so well, the Galaxy Note 20 Ultra isn't without its compromises.
That would be easier to stomach if it didn't cost £1,179; but at the same time, there's still no getting around the fact, this is a beautiful phone and the best pen-packing mobile money can buy.
Stuff Says…
A beautiful phone with a great camera and smart pen integration, though it's undeniably held back by inconsistent heat management and middling battery life.
Good Stuff
Bold attractive design
Great camera system
S Pen is best-in-class
Bad Stuff
Mediocre battery life
Inconsistent heat management
Palm edge rejection issues