Best coffee machines 2023: coffee makers for budding baristas
The best coffee machines to to hit your caffeine fix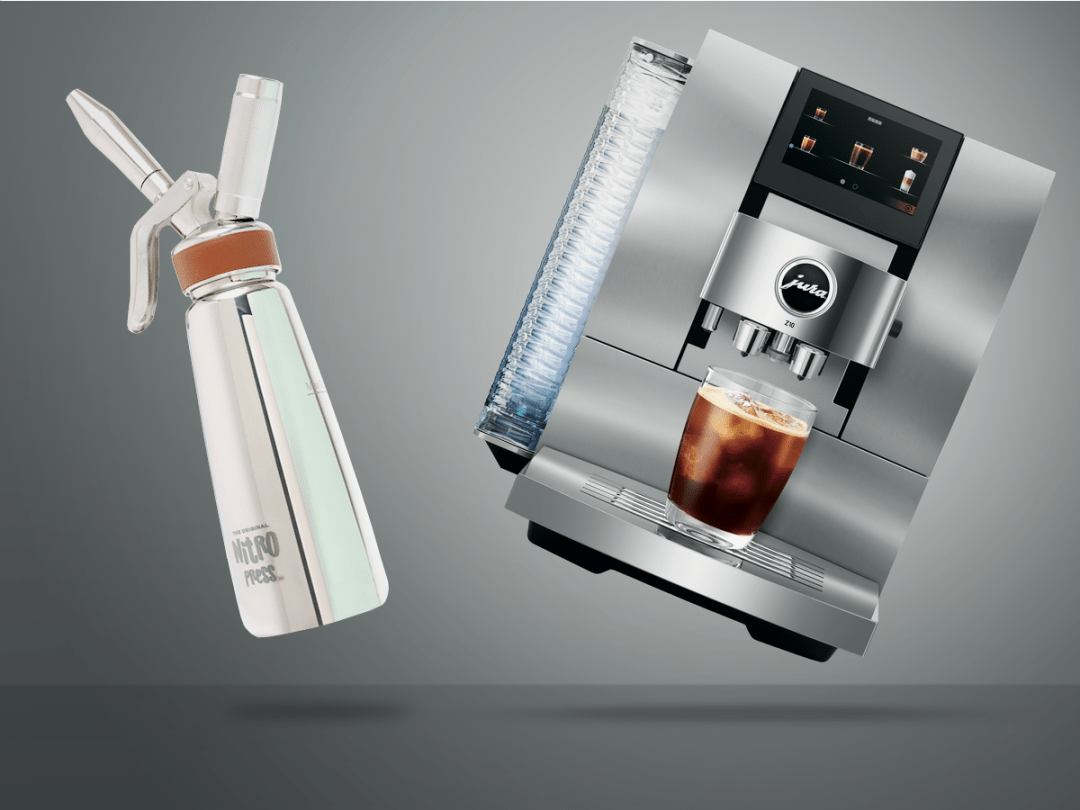 Instant granules might be the definition of convenient coffee, but even the best stir-in stuff can't rival the results you'll get from one of the best coffee machines. So, if you're keen to kick your caffeine routine up a gear, from espresso makers to drip filters, these coffee machines make it easy to brew up better batches at home.
In search of superior swill, we've picked out our favourites. So put the kettle on, make yourself a mug of the good stuff and prepare for top-notch jitter juice.
How to buy the best coffee machine
Clickbait stories suggest skipping your morning coffee purchase is enough to save a deposit for a home. That's just not true. But switching your daily grind to a home brew will save you enough to justify one of these beauties.
A good bean-to-cup machine gives you the coffee shop experience at home. If you can spare the worktop space, they're amazing. You get stunning coffees at the touch of a button, without the hassle of a traditional coffee maker or the wastefulness of capsules. None of these bean machines takes up the same space as the industrial brewers down your local café. But be sure to check the fit before you buy – some are quite a bit bigger than others.
Change it up and you could commute with a barista-quality coffee of your choice. Some machines here even make iced coffees or syrup-infused speciality brews. Coffee snobbery knows no limits. If you sit high up the hierarchy of obsessiveness, you'll want extra control over water temperature and coffee strength – so go for a machine with settings to tweak.
Most of the machines here feature a thermoblock (for precise, fast water heating on demand) and a burr grinder (for an even coffee grind, delivering a consistent flavour that you can tailor). They all include a pump to pressurise the water too. This is essential for making a delicious espresso – at the heart of all coffees – with a rich flavour and good crema, the delicious froth on top. The ideal pressure by the time the water hits the grinds is 7-9 bar, but machines are specced higher because the pressure is lost on the way. The higher pressure the pump delivers, the faster the brew should be… and yes, we got our stopwatch out.
Three machines on the test (De'Longhi, Gaggia, Jura) also feature a chute to use a scoop of ground coffee instead. For example, a speciality blend or decaf. The Siemens goes one better though with dual hoppers for two types of coffee bean.
Consider your caffeine capacity. 10 cups a day may give you the shakes, but if you like a lot of swill then get a machine with a generous water jug, for regular refills without frequent trips to the tap.
Finally, some lingo. We talk about the brewing group. That's the internal gubbins that turn your grinds and hot water into delicious coffee. You may need to pull it out sometimes for cleaning. But on the whole, bean-to-cup machines clean themselves, prompting you when it's time to use a cleaning or descaler tablet. You will top up the water tank and bean hopper, and empty the tray when told, but mostly you just press a button and then drink delicious coffee.
The best coffee machines you can buy today:
1. De'Longhi Eletta Explore
What's the story?
De'Longhi's first and only bean-to-cup machine that makes cold brew and cold coffees as well as hot. Scroll through icons on the 3.5-inch colour touch screen for more than 50 beverages, each with three sizes. The water container slides out and must be removed to be filled. Its fill hole is a good size. The brewing group is accessible for cleaning when the container is out and it promises cold brew coffee fast, in under 5 minutes.
After grinding beans and tamping them, it infuses the coffee with room temperature water at very low pressure, extracting all the nuances for light, refreshing cold brew drinks on demand, best served with ice. The machine even comes with an ice cube tray.
You can use a steam wand or swap for a milk carafe. It comes with two: one to make sweet and velvety microfoam for cold drinks, one to make hot and creamy microfoam for hot drinks. Both work with plant-based milks but if you're using dairy, the cold carafe only works with skimmed milk. You can stow them in the fridge between uses and they're different colours and shapes, so you won't get them muddled.
A WiFi-connected Coffee Link app lets you manage the machine remotely, set extraction preferences and access more than 100 recipes. You can also set favourites in four user profiles.
Is it any good?
The setup is intuitive, with on-screen instructions and even a QR code to find the app. This downloaded fine but WiFi pairing, with a PIN code, took several attempts. The screen is intuitive with lots of options. A simple 'coffee' was long at 180ml, so a bit bland and with weak crema. But the 130ml americano was better and the 80ml double espresso, made in under a minute, tasted excellent. Cappuccino was tasty, striped and good-looking.
Move the coffee dispenser up and down for cups of 80-145mm, fold up a flap from the drip tray to accommodate up to 180mm. It even comes with a 16oz insulated travel mug. The 3.5-inch touchscreen is in the centre. But it looks wider because colour pictures on each side act as touch controls, taking you straight to hot, cold, 'to go' and favourites.
The machine pre-heated and then did everything straight into the cup. It prompts you to add the hot carafe and talks you through the process. Again the touch screen guides you to make cold drinks. Faffing with ice cubes and cold milk took 1.5 minutes, then dispensing a cold brew coffee took 2.5 minutes, so a cold latte took 4 minutes in all. It was gloriously refreshing and would cost a packet in a coffee shop.
The machine auto cleans well after use, but if you're fridging the milk carafes, you'll need to clean them every couple of days too.
Stuff Says…
Save on cold brew coffee and iced drinks, as well as specialty hot coffees.
Tech spec:
385x260x450mm (HxWxD), 19 bar pump pressure, 1.8 litres water, 300g beans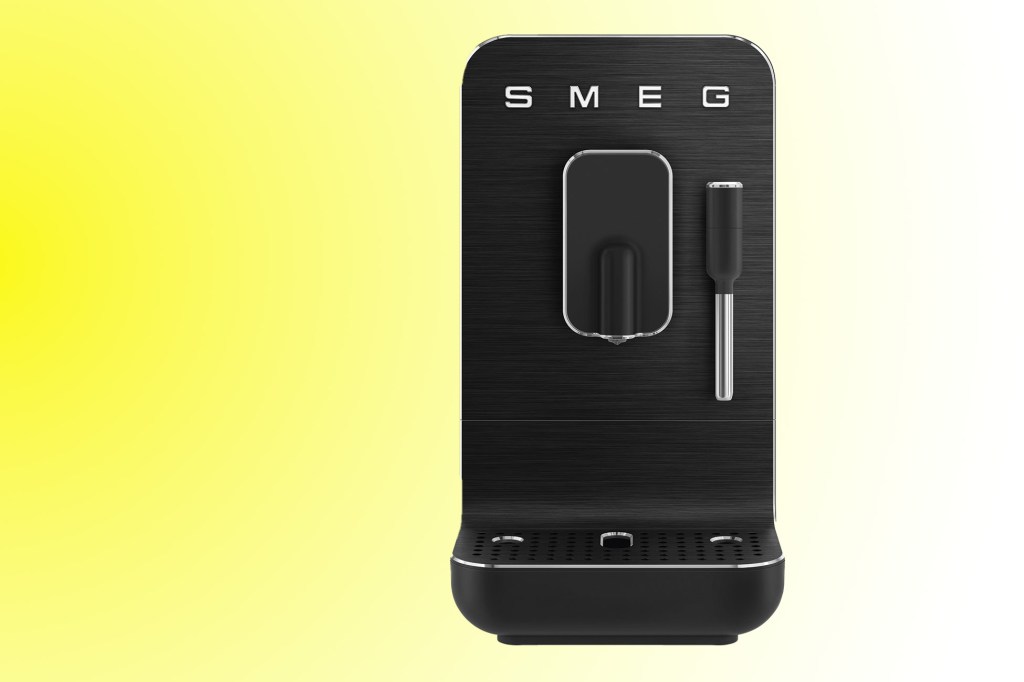 2. Smeg BCC02
What's the story?
The smallest and most affordable bean-to-cup machine on test, this is just 18cm wide. Its coffee brewing specs aren't cut down: you get a thermoblock water heater and burr grinder. You can tailor the grind with a simple, manual control at the top of the grinder. It's also good-looking, with curvy fifties styling in a choice of six finishes. The water tank and bean container are both covered.
But it's a simpler machine than others. It's the only machine here that can't make two drinks at once. Controls are just a series of buttons on the top, to pick from eight beverages. There is no app. And the milk frother is a steam wand – so you need a little jug to froth milk in, then pour it onto your cup of joe. Bigger, pricier models do the whole shebang straight into your cup and have touchscreen controls.
Is it any good?
Eight beverages is an exaggeration: there are four buttons across the top, to make three lengths of black coffee plus hot water. Press a fifth button and they light up orange and make 'light' versions of the same three drinks (mellower, taller but with the same single shot of coffee) plus steam. So basically you get six different lengths of single coffee. If you want, say, a double espresso, you must wait and then press the button a second time.
The coffee dispenser moves up and down to accommodate 85-130mm. But you can pull off the drip tray – leaving the grounds container in place – for flasks and coffee pots up to 180mm high.
Icons are annoyingly basic, it's hard to remember which button does what. But you can reprogram the coffee lengths to suit your preferences. Considering the machine's size and price, it makes a decent coffee with a good crema. The steam wand has a slight delay but foamed a cup of cold milk well and cleaning is as simple as a wipe with a wet cloth. Pop off a door on the left side of the machine to pull out the brewing group and clean it. An LED on the top of the machine tells you when to do this.
So you feel like a barista, making your own cappuccino froth, but cleaning is minimal. Nothing is dishwasher-proof but the machine largely cleans itself. Lights alert you when it's time to do more: clean the brewing group, use descaler. But the machine doesn't talk you through it, so when an LED lights up on the top, you'll need to RTFM.
Stuff Says…
Compact, simple, stylish. A good first bean-to-cup machine that uses very little worktop space.
Tech spec:
336x180x433mm (HxWxD), 19 bar pump pressure, 1.5 litres water, 200g beans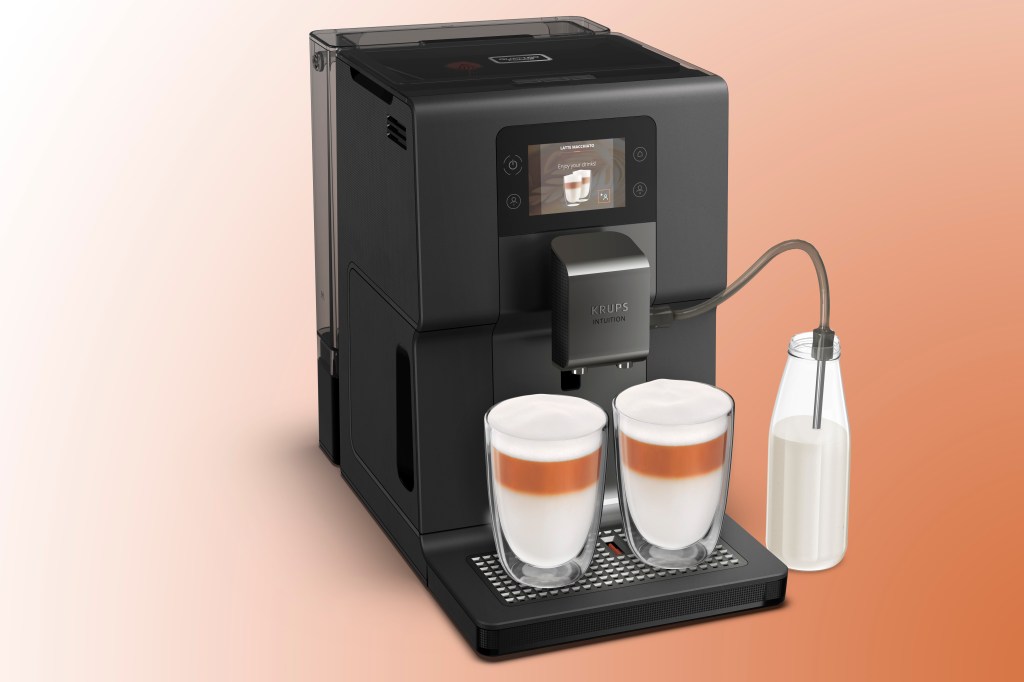 3. Krups Intuition Preference+ EA875U40
What's the story?
The name of this model says it all: controls on the 3.5-inch touchscreen are intuitive and it's designed to let you tailor coffees and save personal preferences, so your morning cup of joe is perfect for you. There are 15 beverage types, bespoke lengths and two personal user profiles.
In fact, you can micromanage its coffee-making brilliantly. Set the ground coffee dose (6-9g), grind level, choose from three water temperature levels, set milk quantity, adjust length and strength. You can also prepare two drinks at once. But there is no app, it's all done on screen.
The cup height range is 85-135mm. And unusually, instead of the grounds container coming out of the bottom with the drip tray, it's separate and pulls out from the left-hand side of the machine.
It comes with a stylish milk carafe that can be stowed in the fridge when not in use. It's plastic (but looks like glass) and dishwasher safe. The tube and straw can also be used to take milk straight from a bottle or other container.
Is it any good?
The looks are classy: matt black with clean lines. It would suit a modern kitchen or even a small office: the 3-litre water tank is huge, so it won't need refilling too often. You can fill the tank in situ or it has a good handle and fill hole if you want to take it to the sink. It comes with an optional water filter.
On first use, the Krups takes 5 minutes to clean itself. On-screen instructions always update you on what it's doing or what you need to do. You can control every coffee-making variable on screen. The machine then cleans itself after each use. On-screen instructions tell you when to pop a tablet in a hole at the top to deep clean. You can't remove the brew group to clean it.
There are four buttons beside the screen: power, home (for a full menu of coffee options) and profiles one and two. Each profile lets you type your name, set a personal backlight colour and pick seven favourite drinks, made your way. You can even give them keywords.
We saved a 'morning espresso' and could pick length from 40-70ml and one, two or three shots. A 60ml double espresso took 50 seconds, had a good crema and tasted very flavourful. Cappuccino tasted great too.
Stuff Says…
Fine-tune every parameter, and even pick your own backlight colour, for truly bespoke brews.
Tech spec:
360x240x400mm (HxWxD), 15 bar pump pressure, 3 litres water, 250g beans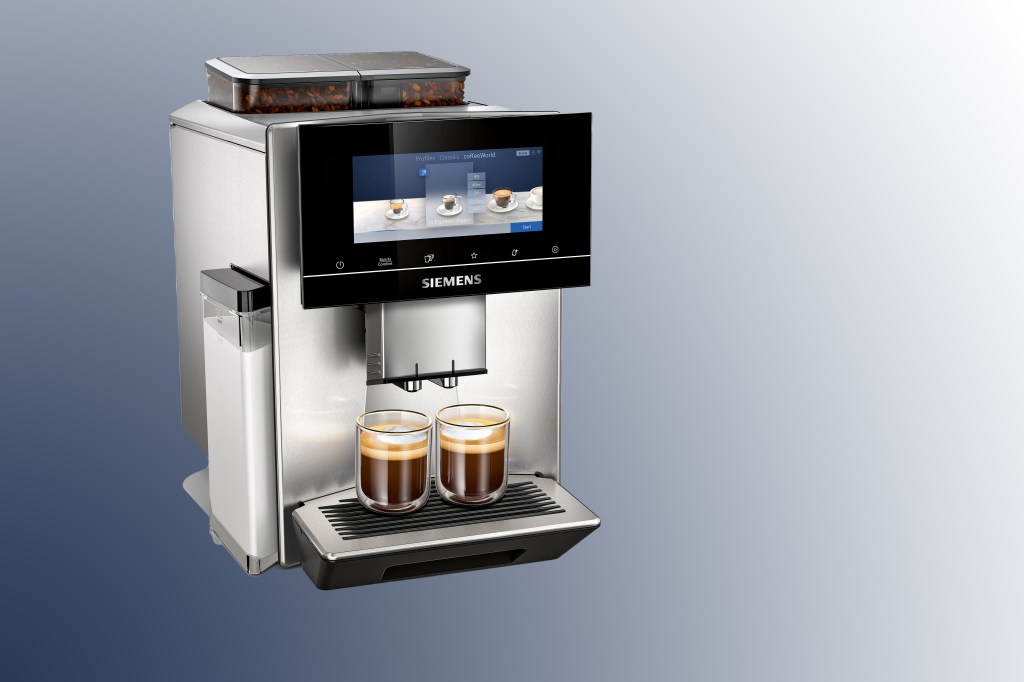 4. Siemens EQ900 TQ907GB3
What's the story?
There are three EQ900 models, starting from £1,499, but we tested the top-of-the-range TQ907GB3 (£1,799) with dual bean containers and a stainless steel finish. A 0.7-litre milk container pops into the left side or can be kept in the fridge.
You can control all the variables for its 33 beverages, on the large 7-inch touch screen or via the Home Connect app. The app even lets you add Amazon Alexa or Google Home voice control. Add an Alexa skill for your Siemens coffee maker and you can make your brew part of a smart home routine: get your morning coffee and weather report served at the perfect time.
An optional Siemens Milk Adapter (£33) replaces the milk container with a tube to poke in any milk bottle or carton. Great idea, but on a pricey machine you'd expect it to be included.
It would be a classy addition to any kitchen but its large capacities, lush screen and intuitive controls mean it could also serve a small office. There's even a cup warmer on top that you can turn on or off. Drink heights are 75-150mm. There are a dozen beverages on screen, but more in the app.
Is it any good?
The Siemens took a minute to boot up and its wide screen went ominously black at times. A QR code led us to app download and WiFi pairing but then the screen suggested a software update would take up to 15 minutes. It took 11. Hal 9000 saying "I'm afraid I can't make that coffee, Dave" sprang to mind and we yearned for something lower tech.
The screen's guided tour includes comfortMode (makes popular drinks at one touch) and baristaMode (you precisely pick strength, length, temperature, milk ratio and more). You can dispense one or two of the same drinks at a time. Via app there's even a Playlist mode. It's not what you think: it lets you line up multiple drinks for visitors.
When it rinses itself, the video of water on screen is impressive, but it feels like you should watch TV, news or social media feeds on screen as you wait for your brew. Double espresso (65ml as standard) took 52 seconds, long enough for a few headlines or memes. The crema was robust and flavour rich enough to rival your favourite coffee shop. Its cappuccino took just under 1:30 minutes and looked and tasted beautiful.
You tell it when you want the milk system cleaning. Everything is self-cleaning and on-screen instructions walk you through how to use tablets for deep cleaning and decalc when needed.
Stuff Says…
Dual bean hoppers and a lush widescreen give the Siemens a semi-pro feel.
Tech spec:
Dimensions 392x315x470mm (HxWxD), 19 bar pump pressure, 2.3 litres water, 2x 270g beans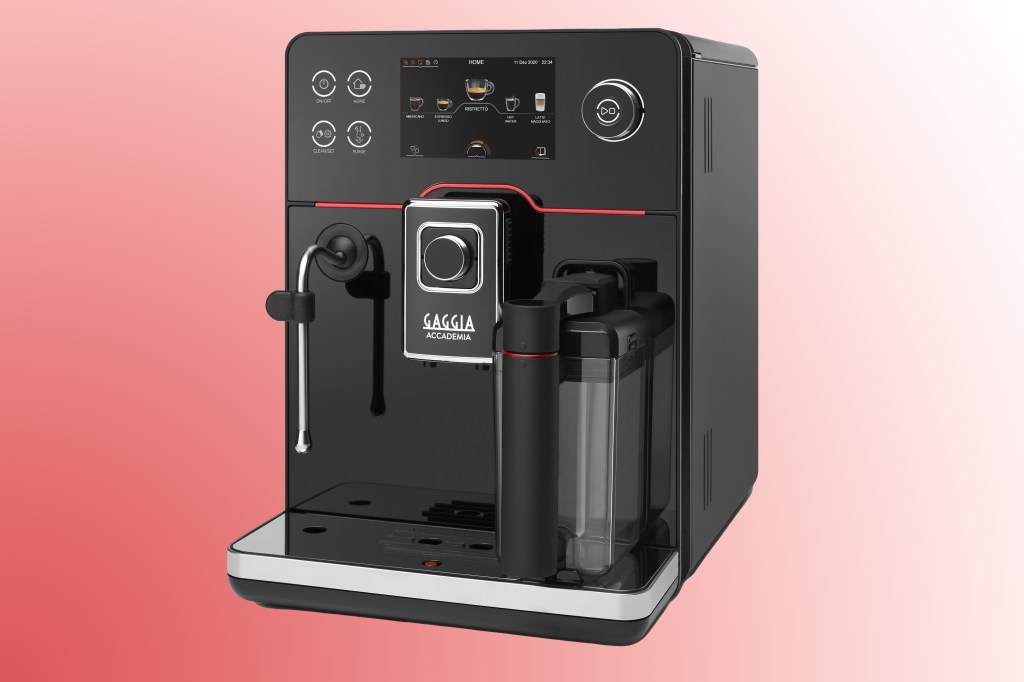 5. Gaggia Accademia
What's the story?
Proudly made in Italy, this top-of-the-range Gaggia comes in black glass or brushed INOX (stainless steel). The signature red line lights up. It's a large, premium machine with the emphasis on drinks customisation. So you can fine-tune quantities, temperature, foam level, grind and the level of pre-brewing.
All mod cons include a cup warmer and optional water filter. The 5-inch touchscreen lets you select from 19 beverages, far more than previous models. These can be tailored. Favourite settings can be saved in four user profiles that appear on its start screen, so each drink is available four ways. You can even tailor foam level, choosing from four different densities.
Milk foam can also be made two ways. It comes with both a 0.6-litre milk carafe for auto frothing and a steam wand for the home barista experience. The top of the steam wand meets the machine with a ball joint, so you can move it with ease to any angle while pretending to be a barista.
There is no app, but touch controls on the left of the screen help navigation. A knob on the right lets you select drinks, or scroll and tap the touchscreen.
Is it any good?
The Gaggia is both brilliant and disappointing. It's well-featured but you can feel bewildered by choice. For each drink, five variables appear on screen. And the machine is powerful but feels overengineered – the whole front opens like a door, giving access to the brew group, grounds container and internal drip tray. Other machines do the same thing more simply.
The double dispenser fits cup heights of 70-110mm, 160mm if you slide the doubler back and serve a single. And we found we could remove the external drip tray for a max height of 195mm. A simple double espresso was 80ml as default and tasted good, with good crema, but it took 1:25 minutes and tasted no better than faster machines. Of course, all the variables can be adjusted: you can dial back pre-brewing for a faster drink and save it as a favourite.
Sadly the milk carafe repeatedly failed us, delivering steam but no foam. The design is clever (you fold an arm across over the cup to dispense foam) and self-cleaning, but it just refused to behave. Thankfully there's a second option with the steam wand. This worked well, making a decent froth for cappuccino, and the purge cleaned it quickly afterwards.
Stuff Says…
This high-end machine is powerful but feels over-specced. It's less user-friendly as a result.
Tech spec:
385x282x428mm (HxWxD), 15 bar pump pressure, 1.6 litres water, 350g beans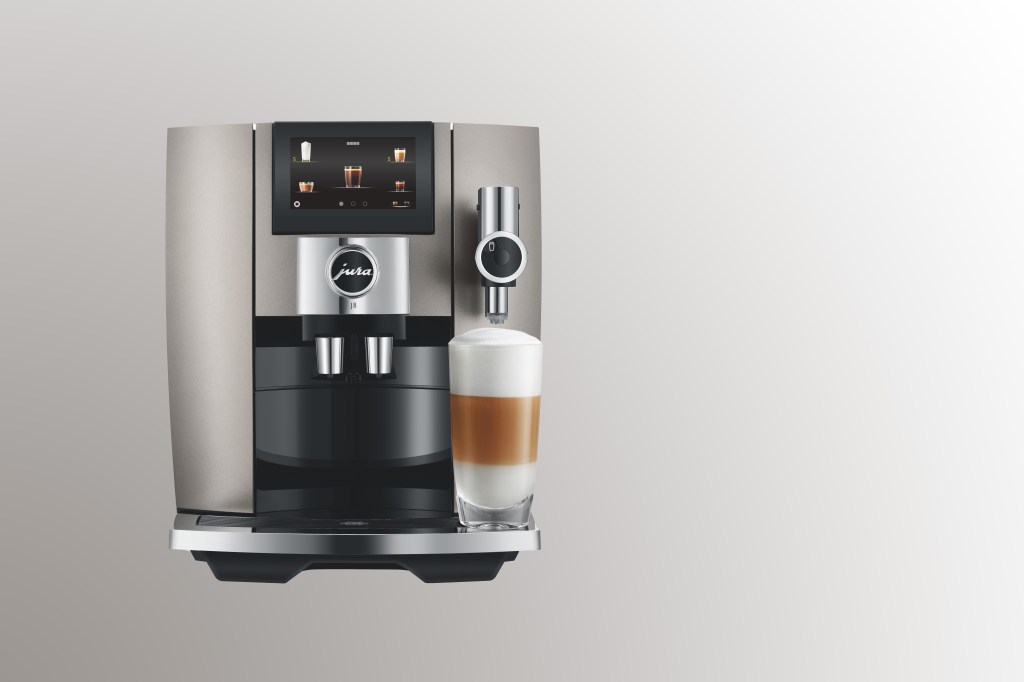 6. Jura J8
What's the story?
The fanciest machine on test, the Swiss-made Jura lets you make specialty coffees at home. It even comes with a Sweet Foam function. You can adjust the sweetness, flavour and intensity of milk foam through a syrup attachment, a world first. Customise flavour, sweetness and intensity. Make sweet lattes like a pro.
It offers 31 beverages, selected on a 4.3-inch touchscreen. You can fine tune the dose (5-16g), choose from ten coffee strengths and three brewing temperatures. Its Coffee Eye sensor detects the cup, and whether it's under the coffee or milk spout, offering drinks accordingly.
You can fill the water tank in situ or take it to the sink. It comes with an optional water filter.

Is it any good?
Jura says the grinder features 'sound design inspired by Formula 1 technology'. We didn't think it racy, but the whirr is high-pitched and a bit classier than most. The machine's looks are sleek too and the simple, glass milk carafe can be stored in the fridge when not in use.
The JOE app (Jura Operating Experience – see what they did there?) connects via WiFi. First download the app, then use the QR code on screen to pair. Sadly we tried this multiple times, with the QR and typing the password, to no avail. Thankfully the J8 works fine without JOE.
A double espresso (90ml, though you can tailor it) took 1:30 minutes and had good crema and flavour. For a frothy coffee, we filled one of the two small syrup containers with vanilla syrup and clipped it to the underside of the milk frother. We followed on-screen instructions but were a bit unsure whether to put the cup under the coffee or milk dispenser first. Turns out it was a trick question because coffee can be dispensed on the right too.
The coffee and hot water dispenser in the middle can accommodate heights of 65-111mm, the milk dispenser 107-153mm. The two slide up and down together.
The Jura boasts one-touch auto cleaning, and cleaning is thorough, but sometimes fiddly. You're expected to use a cleaning agent daily if making milky drinks. For simple cleaning, it rinsed the milk dispenser but not the tube in the carafe, so we cheated, put water in and then dispensed 'hot milk' to clean it.
The dial on the front of the milk dispenser selects fine milk foam or hot milk. On-screen instructions remind you which way to turn it. The vanilla latte was classy, no doubt about it, but we liked the De'Longhi with its iced drinks more. It's a matter of personal preference though.
Stuff Says…
If you're all about coffees with sweet syrups, this premium machine is for you.
Tech spec:
348×318×446mm (HxWxD), 15 bar pump pressure, 1.9 litres water, 280g beans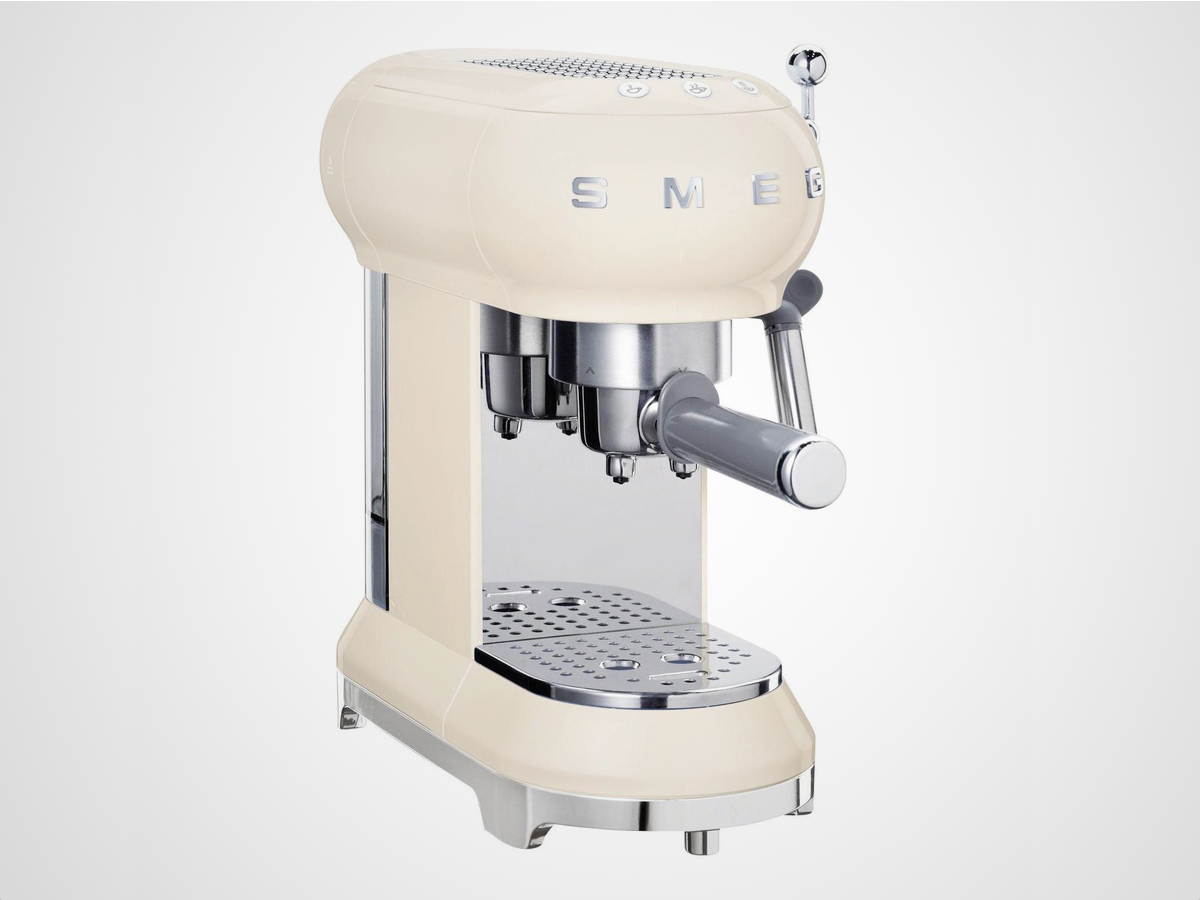 7. Smeg ECF01
With sweeping curves and that signature chrome lettering, Smeg's coffee machine is every bit the Fifties revival. More than just a looker, it's got all the skills to please bona fide baristas – including a cup-warming surface and lever-activated steam wand. Pair it with Smeg's CGF01 coffee grinder for the full vintage experience.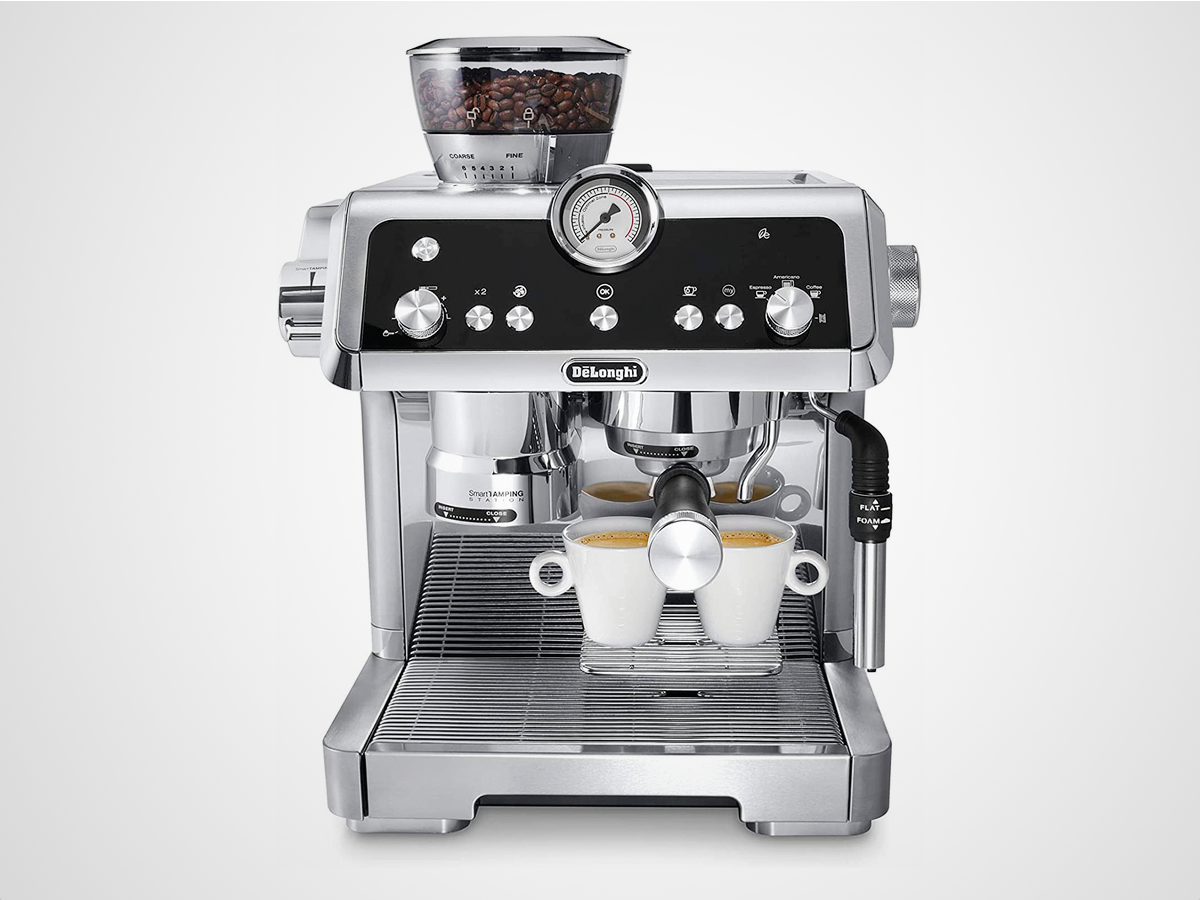 8. De'Longhi La Specialista Maestro
This brushed stainless steel behemoth (not to be confused with the similarly-named De'Longhi La Specialista Arte) demands a considerable chunk of your countertop space. It also requires quite a bit of input to master. While its interface might look foreign at first, the Maestro's dials and digital display do plenty to help you create perfectly frothy lattes. And while 'proper coffee' is clearly the preference, it'll also deign to work with ESE pods.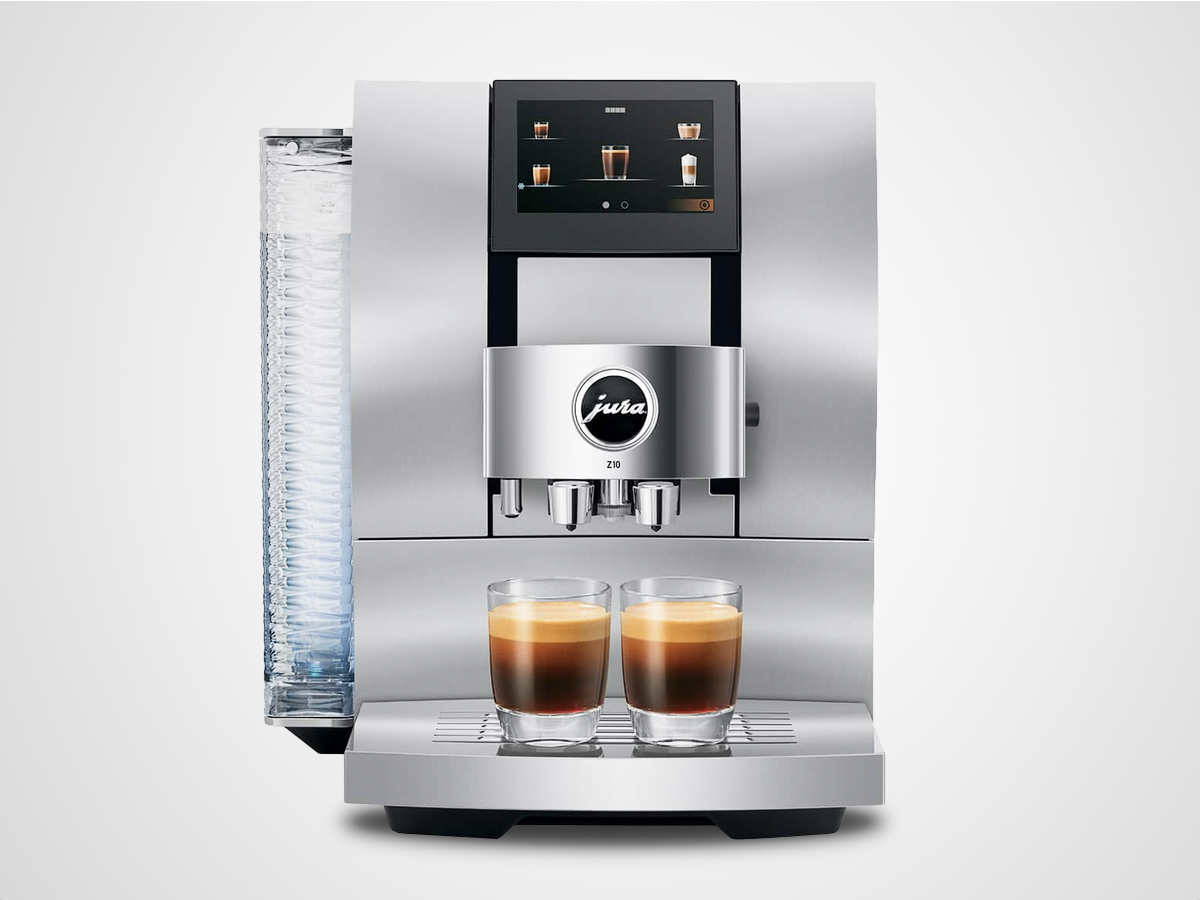 9. Jura Z10
People who blow hot and cold are mighty annoying, but for a coffee machine it can be an extremely useful trait. Jura's Z10 is capable of both hot and cold extraction, offering 32 options to suit every taste and temperature preference – from the usual lattes and cappus to an assortment of icy brews for the summer months. It's all controlled via a 4.3in touchscreen display on the front – or you can trigger it from your phone using Jura's JOE app.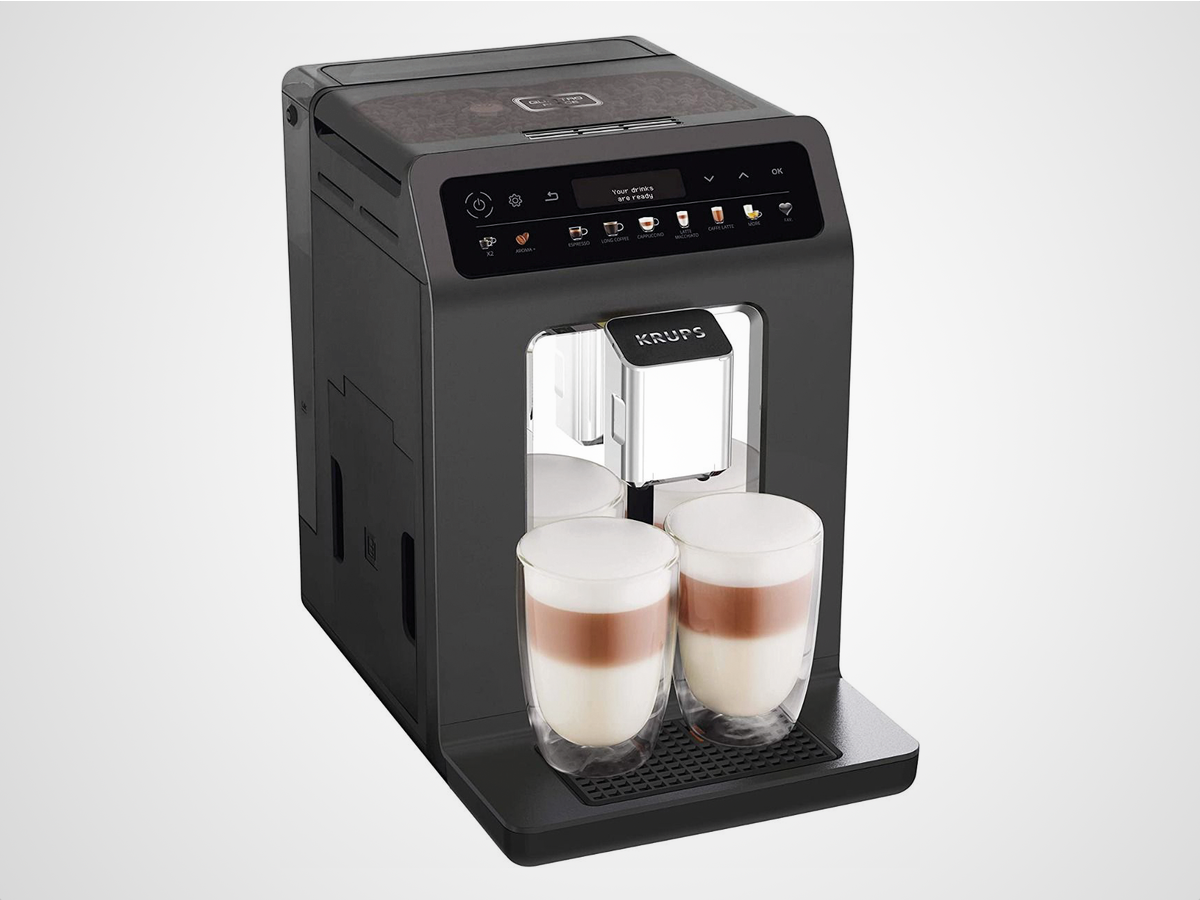 10. Krups Evidence One
This classy Krups machine offers 12 bean-to-cup recipes and 17 drink options via its stylish OLED display. It's also self-cleaning, handsome and doesn't hog too much worktop space. Plus it can sputter out two drinks simultaneously, so it's a real crowd-pleaser. Simply fill the 260g container and get grinding.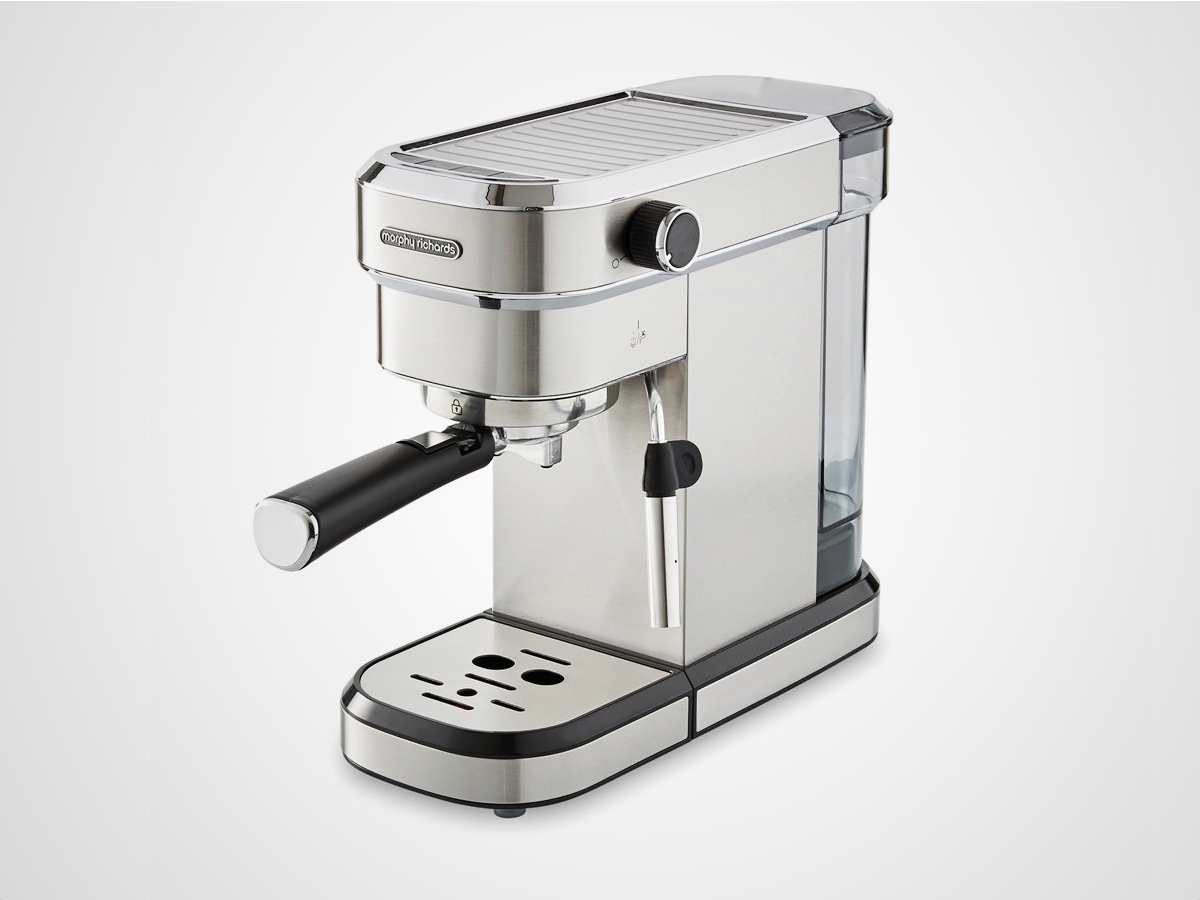 11. Morphy Richards Espresso
Countertop space is prime kitchen real estate. For full-bodied brews with a compact footprint, try this all-metal espresso maker from Morphy Richards. Despite its affordability, it can make two coffee shots at once – plus there's a steam wand for foamy milk. It uses ground coffee or ESE pods for hassle-free rocket fuel.
12. KitchenAid Drip Coffee Maker
Drippers get a bad rep for burnt brews in the workplace. Done right, they can deliver delicious coffee. Take this machine from KitchenAid: a 29-hole spiral showerhead saturates grounds for ultimate flavour extraction. So you can wake up, shower yourself then shower your beans for Joe to get you going. You can customise brew time, strength and quantity on its LCD display – and like a proper office pot, you can schedule brews and it'll keep them hot for up to 40 minutes.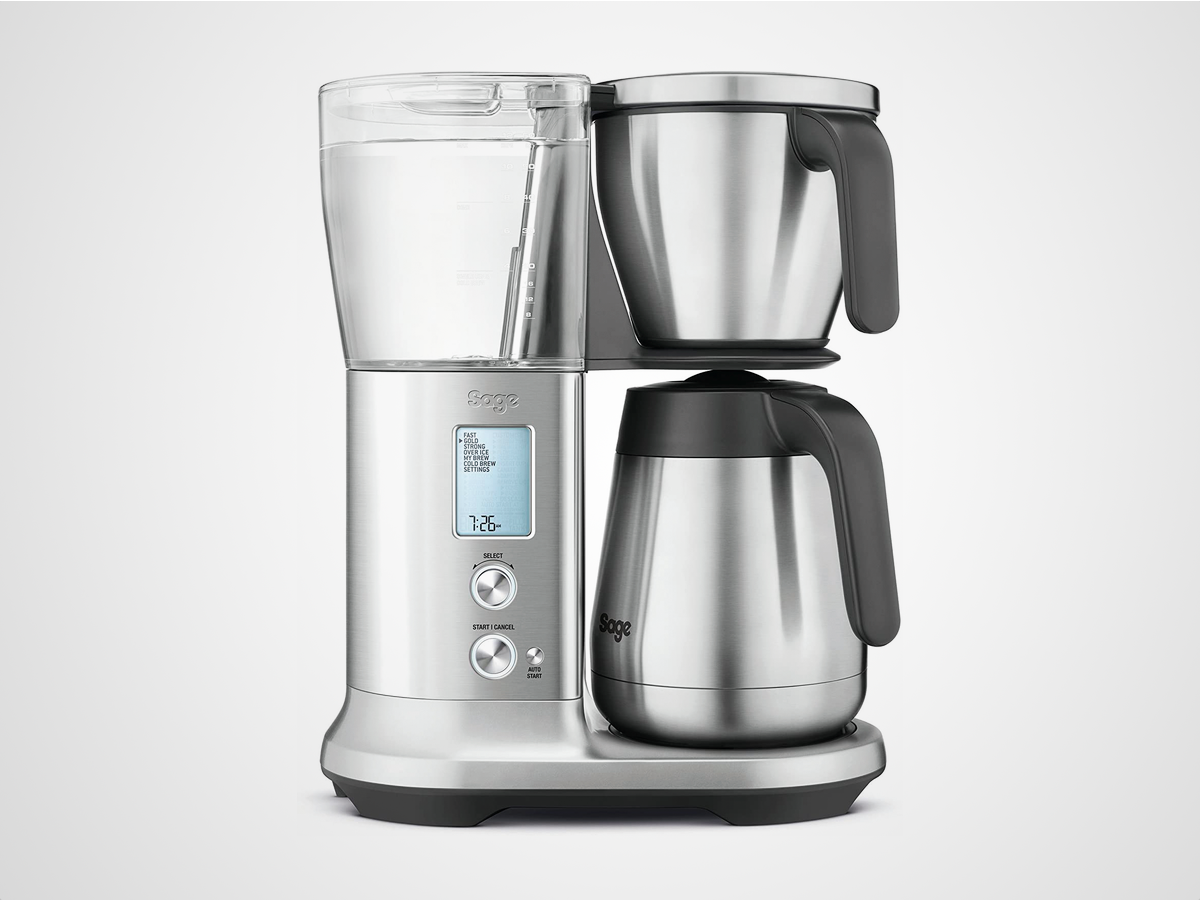 13. Sage Precision Brewer Thermal
Get the whole house caffeinated using this generous 1.7-litre insulated carafe. And if your housemates have a specific flavour preference, simply switch up the filter basket: according to Sage, the paper shape brings out different notes in the coffee – so you can easily tweak to taste, from floral to fruity. You can also adjust the dripping speed, water temperature and 'bloom time' to suit your chosen blend.