Samsung Galaxy S20 Ultra 5G review
Can you really have too much of a good thing?
No limits. No compromises. The Samsung Galaxy, as designed by Jurassic Park's John Hammond. We've spared no expense.
The S20 Ultra is Samsung out to prove it's the undisputed king of smartphone hardware – regardless of cost. It takes everything we've come to expect from a Galaxy phone, then gives it a stunning high refresh rate screen and a set of cameras that could embarrass a digital SLR.
Throw in an absurdly fast CPU, 5G connectivity, more memory and storage than your desktop PC, and a colossal battery, and you've got the blueprint for what flagship phones are going to look like for the next few years. Only you can put an S20 Ultra in your pocket today.
But when a vanilla S20 looks almost as powerful on paper, and lands some £400 cheaper, is the Ultra a flagship too far?
DESIGN & FEATURES: SLIM WHEN YOU'RE WINNING
It's instantly recognisable as a Galaxy phone, with Samsung's familiar mix of glass and metal, but the S20 Ultra feels a little conservative in the styling stakes.
The bezels have shrunk even further to the edges of the phone, but the screen itself doesn't curve as prominently any more. Even the black and grey colour choices are fairly humdrum. Then again, if you want design evolution, you can always pick up the folding Galaxy Z Flip.
There's also no escaping just how big the S20 Ultra is. A 6.9in screen makes it both taller and chunkier than an iPhone 11 Pro Max, and you'll struggle to use it one-handed unless you've got mitts like Andre the Giant. At least the ultrasonic in-display fingerprint sensor has been bumped higher up the screen to make it easier to reach than it was on the Galaxy S10, but the tech can still be a little sluggish to pick up your digits. Optical scanners on other phones manage it faster.
The much-maligned Bixby button has been ditched, and while the 3.5mm headphone port has gone along with it, you do at least get a pair of USB-C headphones in the box. IP68 water resistance keeps you safe from an accidental dunking, too.
It's the chunky camera bump that sets the Ultra apart from other S20 models, taking up a sizable amount of space on the back of the phone, and bulging prominently out from the glass. You'll definitely want to invest in a case to help it blend in better.
CAMERA: ZOOM FOR THE MOON
That camera bump is there for a good reason: it holds no fewer than four lenses, if you count the depth sensor that's onboard purely to give portraits a pleasing bokeh blur.
The numbers are undeniably impressive: the 108MP main snapper is joined by a 48MP telephoto good for 100x hybrid zoom and a 12MP wide-angle. There's also a 40MP front-facer for selfie shooting. It's a combo that should wipe the floor with every rival, and is the biggest reason to buy an Ultra over a vanilla Galaxy S20.
It's not all that clear cut, though. The main camera's 108MP sensor is physically bigger than anything else you'll find in a phone right now, and uses algorithm-based cleverness that results in 12MP images. During the day, it takes brilliantly detailed and vibrant photos with expertly judged exposure and well-balanced HDR. There's also the usual image processing we've come to expect from Samsung, with somewhat aggressive sharpening that can counteract the detail gained from the high pixel count. More troubling is the overblown skin smoothing and dramatic shifts in white balance when the sensor detects a face – something that doesn't happen in the manual mode.
Inconsistent focus searching can also be an issue, though Samsung is reportedly working on a software update that promises a fix. Low-light photos are a real improvement over the previous generation, but brute-forcing things with a massive sensor hasn't made enough of a leap to beat Google's excellent Night Sight or Apple's Night Mode. Colours lean too far towards warm hues and noise increases a lot, so while usable, they aren't the very best around.
More impressive is the ultra-wide camera, which matches the main sensor for exposure and colour, and doesn't have as much of a fish-eye effect as some rivals. The front-facing camera is a slam-dunk, too, taking detailed selfies that show few of the smoothing issues of the main sensor.
Zoom is the real head turner here, with the 48MP telephoto's lens using a periscope-style setup that allows for 4x optical, 10x 'hybrid', using a combination of multiple images, and up to 100x with sensor cropping. At between 5x and 10x, it is hands down one of the best phone cameras around, with an uncanny ability to make the efforts of an iPhone 11 Pro Max look positively amateurish.
Beyond that, up to 30x images are usable, but clearly processed and fairly artifact-heavy, while 100x photos are frankly not worth the storage space they take up. Not only does the viewfinder shake so much in this zoomed view it's near impossible to focus on a far away subject, any shots you do take have the clarity of a 200s-era webcam. 100x zoom is a gimmick, and not a reason to buy the phone.
The camera app does at least make it easy to swap between each camera and zoom level, with a neat Single Take mode that uses every sensor simultaneously to capture multiple stills and video of a subject. The huge pixel count also allows for 8K video recording, but with so few ways to watch your clips back at full resolution, it's better used for pulling still images from your footage.
DISPLAY & SOUND: SMOOTH OPERATOR
It might lose the eye-catching curved edges of previous Galaxy phones, but the S20 Ultra's screen is otherwise better in every way.
The 6.9in, 3200×1440 AMOLED delivers impeccable brightness, ultra-vibrant colours, and unbeatable viewing angles. Bezels are thinner than ever, and HDR10+ videos look sublime, with infinite contrast and amazingly bright highlights.
But the real story is the silky smooth 120Hz refresh rate. Turn it on and animations suddenly flow like water, with every single bit of motion becoming so much easier on the eye. Even scrolling through your Twitter feed is suddenly a treat for the eyeballs. You just have to make a few sacrifices in the process.
The screen can't change refresh rate on the fly, so you've got to pick between 60Hz and 120Hz. Clever scaling means you won't notice 120Hz forces you down to a Full HD+ 2400×1080 resolution, but having a screen update itself twice as often was always going to have an impact on battery life.
Sound quality isn't quite on the same level, but the S20 Ultra's stereo speakers still get plenty loud. The earpiece handles more of the high frequencies, while the down-firing loudspeaker takes care of bass and mids. Crank things too far and the back of the phone starts to vibrate a bit, though.
BATTERY LIFE: HERTZ HURTS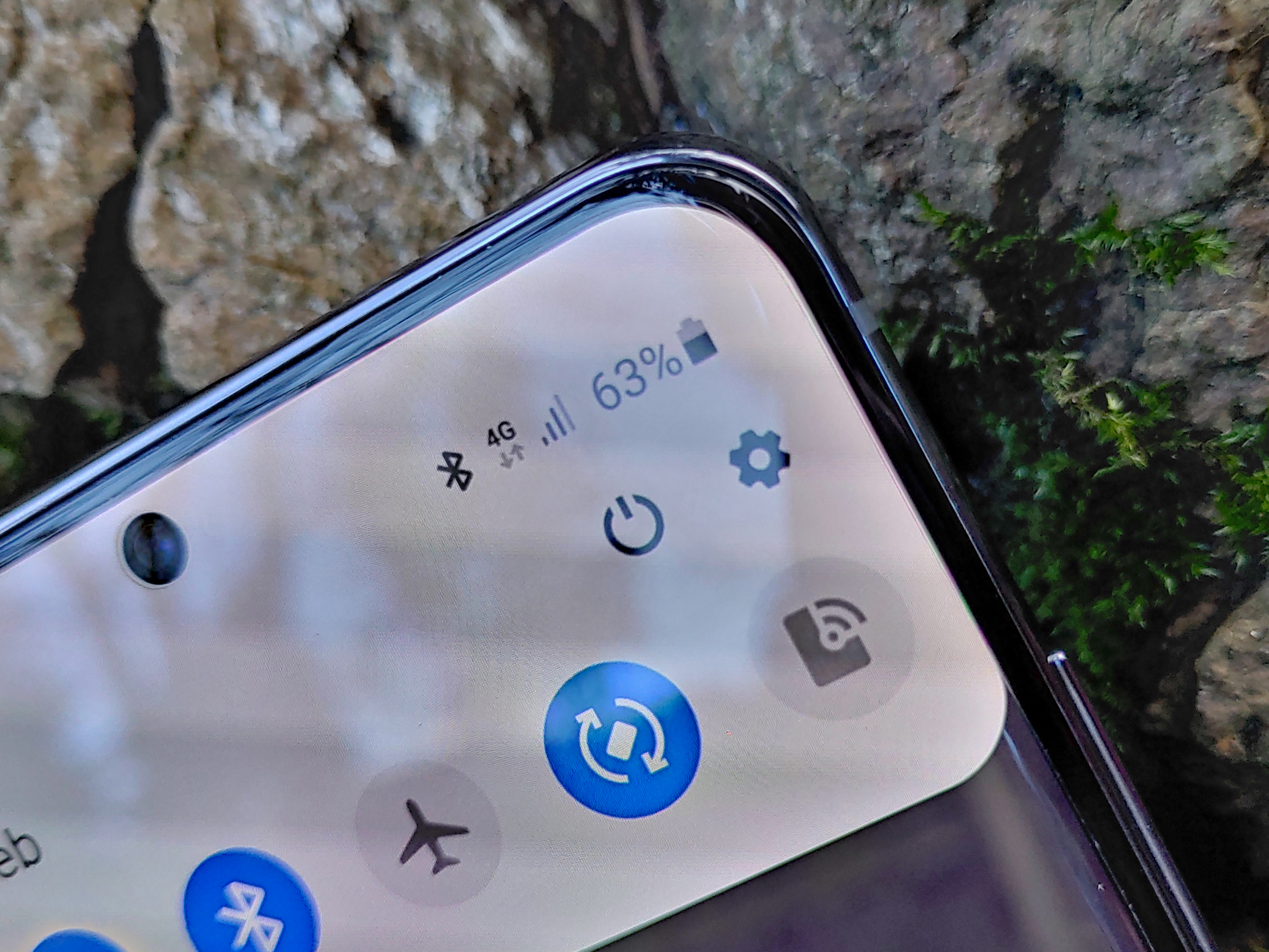 How much time the S20 Ultra can spend away from a plug socket is down to you. If you can't get enough of gorgeous 120Hz, expect a 25-30% bigger battery drain over the standard refresh rate. Throw in some 8K video recording into the mix and it's possible to be out of juice in twelve hours.
That's despite the colossal 5000mAh battery, which contributes to the S20 Ultra's significant bulk. It has to power the biggest phone ever seen in a Samsung phone, as well as that separate 5G modem, so heavy users could be looking at rationing power to get through the day. Drop down to 60Hz though, and it's quite easy to last from breakfast to bedtime. It's no endurance runner, but given how much power is on tap, it's hardly a disappointment either.
The bundled charger can manage a full top-up in a little under an hour, but third-party 45W adaptors can go even faster if you're in a hurry. 25W wireless charging is about as rapid as it gets, too.
PERFORMANCE: IT'S A G THING
A new phone generation needs new silicon, so every Galaxy S20 gets Samsung's octa-core Exynos 990 CPU (at least here in the UK – worldwide versions are rocking a Qualcomm Snapdragon 865 chip instead).
It's paired with a massive 12GB of RAM and 128GB of built-in storage, but up your budget and you can have a handset with an almost ridiculous 16GB of memory and 512GB of room for apps, games and media. A microSD card slot leaves room to grow, too.
Unsurprisingly it's a real powerhouse, showing no signs of slowdown at any point and running anything you care to throw at it smoothly. You can pin three apps to memory so they never need to reload, but it's so quick to multitask that there's little reason to do it.
Benchmark figures suggest the Exynos version isn't quite as blazing fast as the Snapdragon S20 Ultra, but there's not much in it. Will you notice the odd stutter when playing the most demanding of 3D games? Maybe, but this still puts 99% of other Android handsets to shame in the performance stakes.
Mobile data is also super-fast, as long as you're on a 5G network. And in an area with 5G coverage. And are standing in the right direction, or the wind is blowing the right way. It's been nearly a year since the UK got its first 5G service and the networks are still flakey, showing 200Mbps on a Vodafone 5G SIM on certain streets but dropping to barely better than 4G speeds just a few feet down the road. Early adopters in cities with 5G coverage will love the speed increases when they get them, but it's still not yet a reason to buy a new phone.
OS & SOFTWARE: A FAMILIAR FEELING
Galaxy flagships used to turn up with very different versions of Samsung's custom Android interface than the phones that came before them. Not the S20 Ultra: it's running the same combination of Android 10 software and One UI 2.0 skin that the Galaxy S10 debuted in an update last year.
That means existing Galaxy owners won't need to spend hours relearning shortcuts and memorising app icons, but there are a few new additions. Focus Mode disables distracting apps while you get on with your day, and Link to Windows shows phone notifications on your Windows PC.
Samsung virtual assistant Bixby doesn't have a dedicated button any more, but is still lurking in the background, while a new Samsung Daily screen sits to the left of the home screen in place of Google Now. There's a surprising lack of pre-installed Google apps, too – you'll need to head to the Play store to get staples like Google Drive, Keep notes or Play Music.
After a few years of dialling back the overbearing Touchwiz UI, this feels like a bit of a backwards step, but you can at least disable and hide a lot of the superfluous Samsung features you won't be using on the daily.
SAMSUNG GALAXY S20 ULTRA VERDICT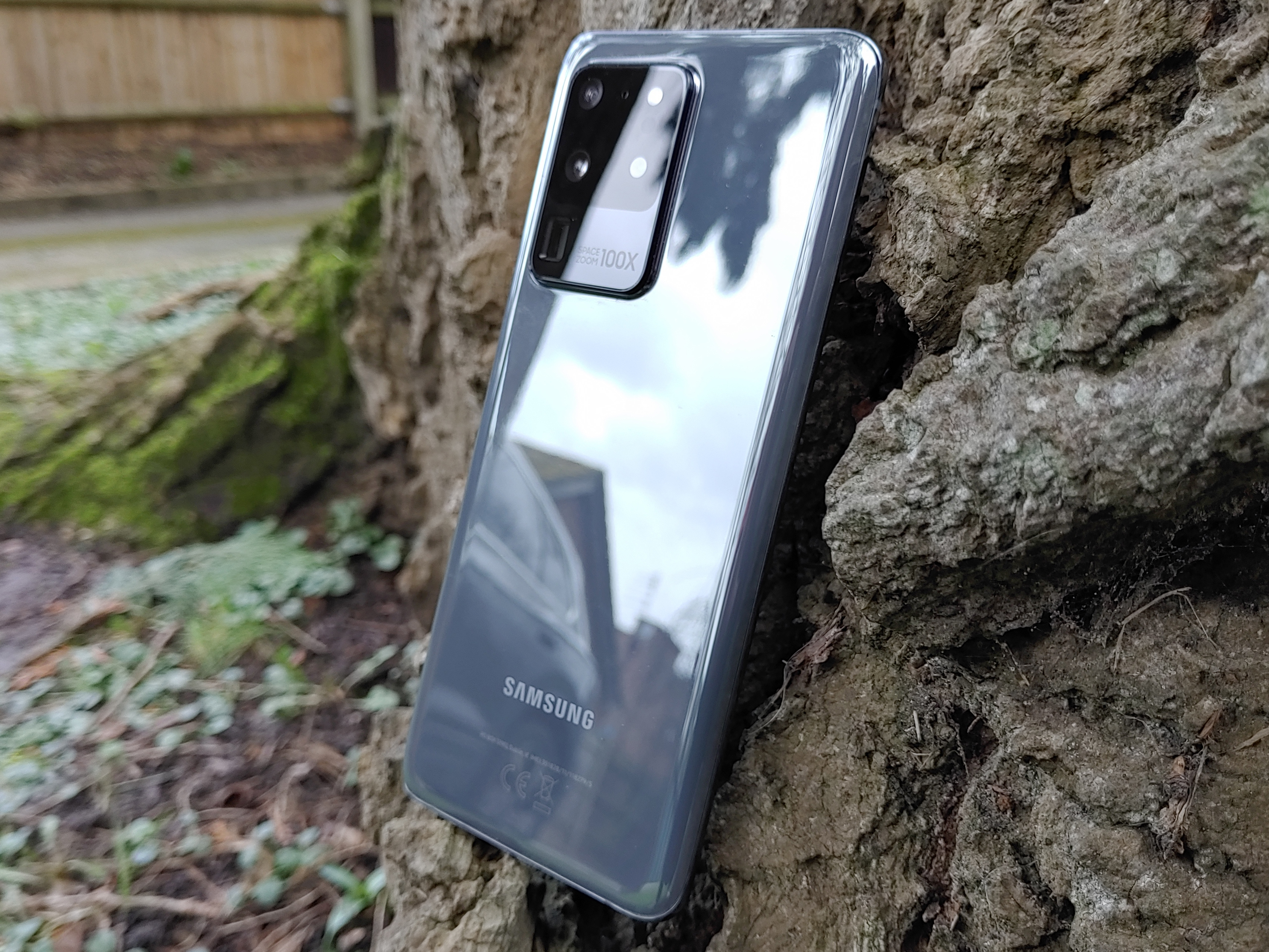 As a device purpose-built to prove Samsung still rules the roost when it comes to Android handsets, the S20 Ultra certainly gets the job done. It shows you don't need a fancy folding screen to stake a claim as the most impressive phone in the world right now, too.
Impressive, yes – but not perfect. The high refresh rate screen saps battery, and the 100x zoom isn't all that useful. At launch, image quality is a bit inconsistent, especially when it comes to face detection. Oh, and it's eye-wateringly expensive.
Samsung's more mainstream models have identical performance, 5G connectivity and an equally gorgeous display, but cost significantly less cash. The Galaxy S20 and S20+ might arrive with reduced camera hardware, but are still sure to deliver flagship-level photo quality, and so should be more than enough phone for most people.
Still, for anyone that simply has to have the best, the S20 Ultra is as good as it gets.
Tech specs
| | |
| --- | --- |
| SCREEN | 6.9in, 3200×1440 Dynamic AMOLED 2X w/ HDR10+, 120Hz refresh rate |
| CPU | Exynos 990 octa-core (2×2.73GHz, 2×2.5GHz, 4×2.0GHz) |
| MEMORY | 12GB RAM |
| CAMERA | 108MP, f/1.8 main w/ PDAF, OIS, LED flash. 48MP, f/3.5 periscope telephoto w/ PDAF, OIS, 10x hybrid optical zoom. 12MP, f/2.2 ultrawide. 0.3MP, f/1.0 time-of-flight depth sensor. 40MP, 2.2 front w/ PDAF |
| STORAGE | 128GB on-board, microSD expansion |
| OPERATING SYSTEM | Android 10.0 w/ One UI 2 |
| BATTERY | 5000mAh non-removable w/ 45W rapid charging, 15W wireless charging, 9W reverse wireless charging |
| DIMENSIONS | 167x76x8.8mm, 222g |
Stuff Says…
A few camera niggles at launch and breathtaking price that limits mainstream appeal, but still outmuscles just about any other Android phone you care to name. One for spec junkies with deep pockets
Good Stuff
Unparalleled camera quality and flexibility
Stunning display
Colossal battery life – with the right settings
Bad Stuff
120Hz screen saps battery
No headphone jack
Eye-wateringly expensive