Realme 9 Pro Plus Review: Camera clout on a budget
Low-cost flagship-grade photography is finally here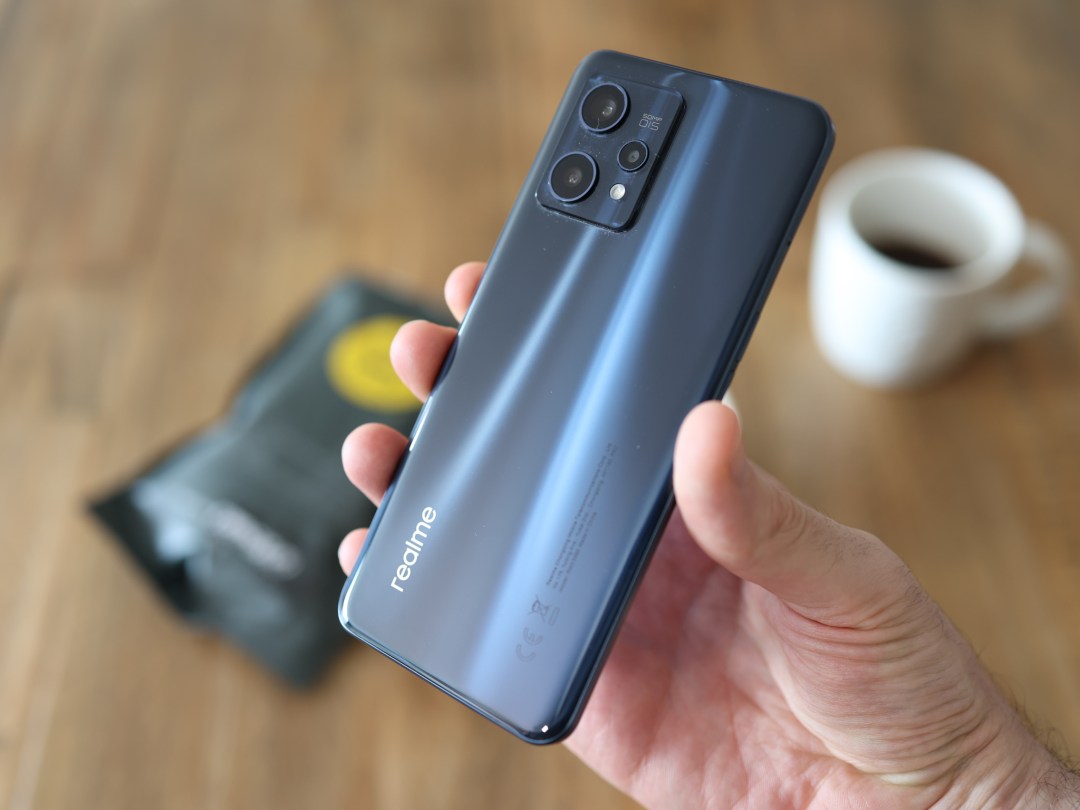 Realme was once a little-known smartphone brand that hit the scene in 2019 with the Realme 3 Pro, a four-star phone that offered undeniable value. Since then the brand, which is part of the same group as Oppo and OnePlus, has been relentlessly blasting out phones at virtually every price point under £550.
Somewhere in the middle of its mix is the Realme 9 Pro+, a £349 phone with midrange specs in all areas but one – its primary camera. It packs the same hardware as the Oppo Find X3 Pro – a 50MP Sony IMX 766 sensor with OIS.
From the offset, we know to expect great things from the 9 Pro+'s photos and videos, but what about the rest of the phone?
Design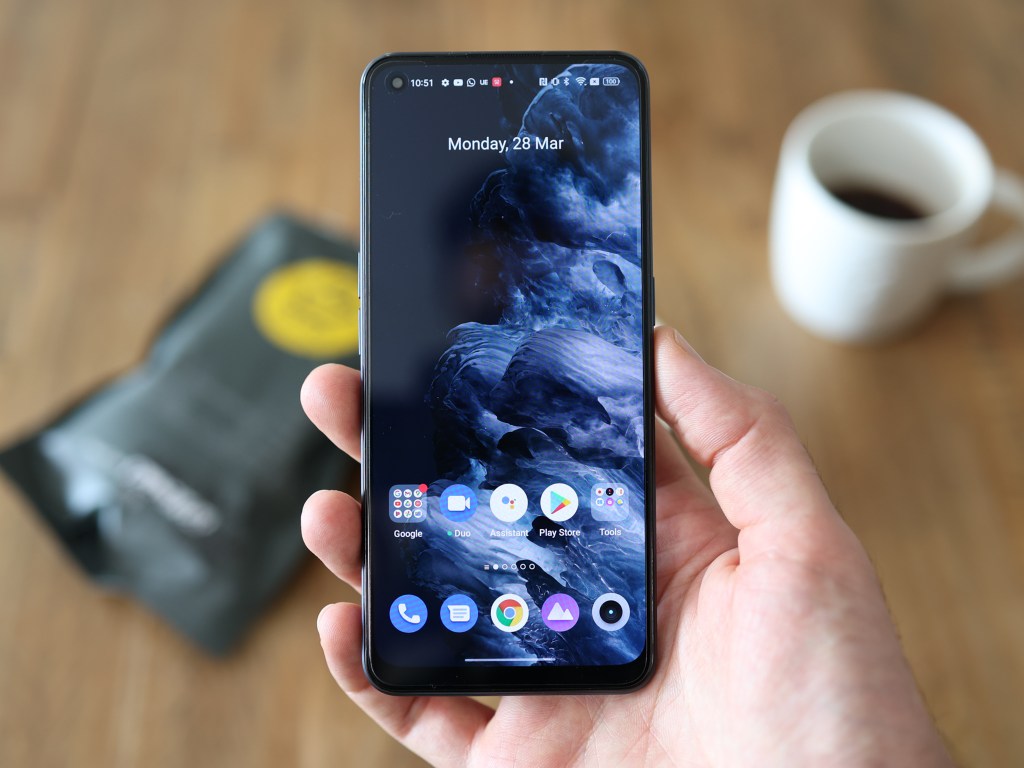 There's a notion that once you've seen one budget smartphone, you've seen them all, but that's not the case with Realme. With emblazoned 'Dare to Leap' insignias and gritty textures on some more experimental designs, the brands' designs have been hit and miss. Thankfully, the Realme 9 Pro+ is as safe as things get. Glass back, plastic sides, glass front – simple.
Available in Aurora Green, Midnight Black and Sunrise Blue, the Realme 9 Pro's back is reflective, rounded, polished glass. With flat sides that have a matte plastic finish, the phone is relatively grippy with its two textures, and it's well-weighted at 182g – just slightly heavier than the 174g iPhone 13.
Other highlights include a case in the box and a pre-fitted screen protector, USB-C and headphone jack connectivity and an under-display fingerprint scanner. All this ultimately makes the Realme 9 Pro+ a simple, good-looking midrange package.
Screen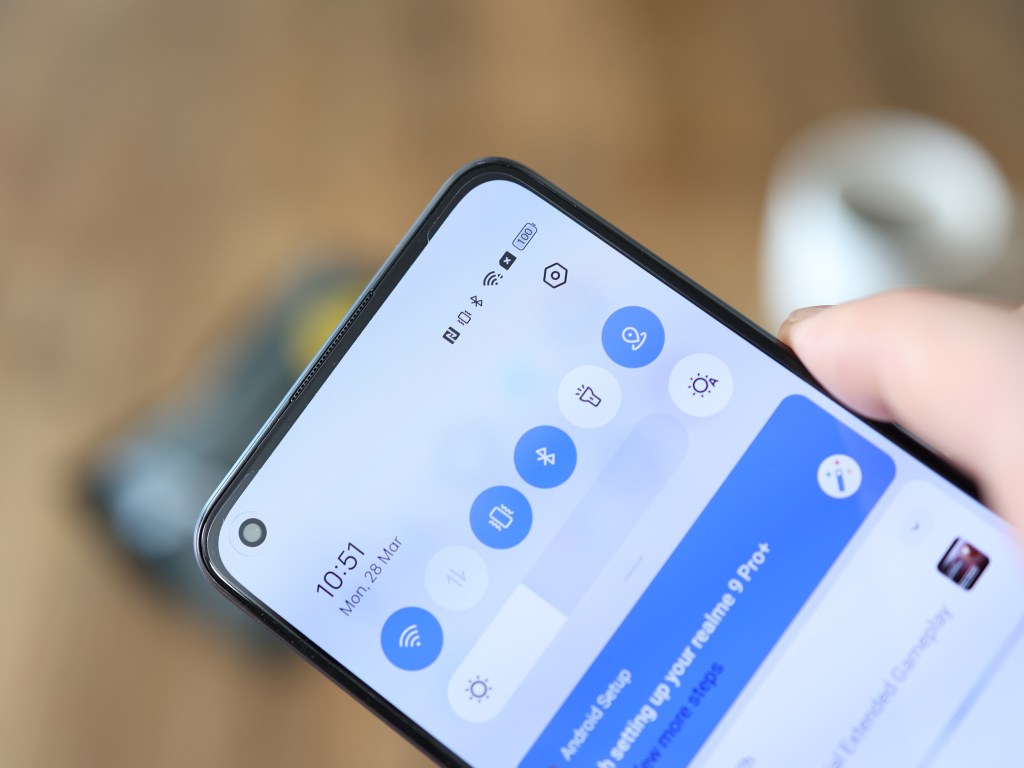 We've seen some great screens on budget phones before. The cheaper Redmi Note 10 Pro packs a fast 120Hz refresh rate and AMOLED tech – so we know on paper, the Realme 9 Pro+ isn't the best out of the gate. It doesn't need to be the best to be great though – and great it is.
At the heart of the experience is a 6.4-inch Super AMOLED panel with a 90Hz refresh rate. Its quality is great, with bold colours and inky blacks, and 90Hz is smooth enough to make menus, web pages and feeds glide smoothly.
With a max manual brightness of 430 nits (600 nits in High Brightness Mode), outdoor viewing is decent, but you might struggle in the sunniest scenes. The phone's also nice and sharp with a 411 pixel-per-inch pixel density.
Camera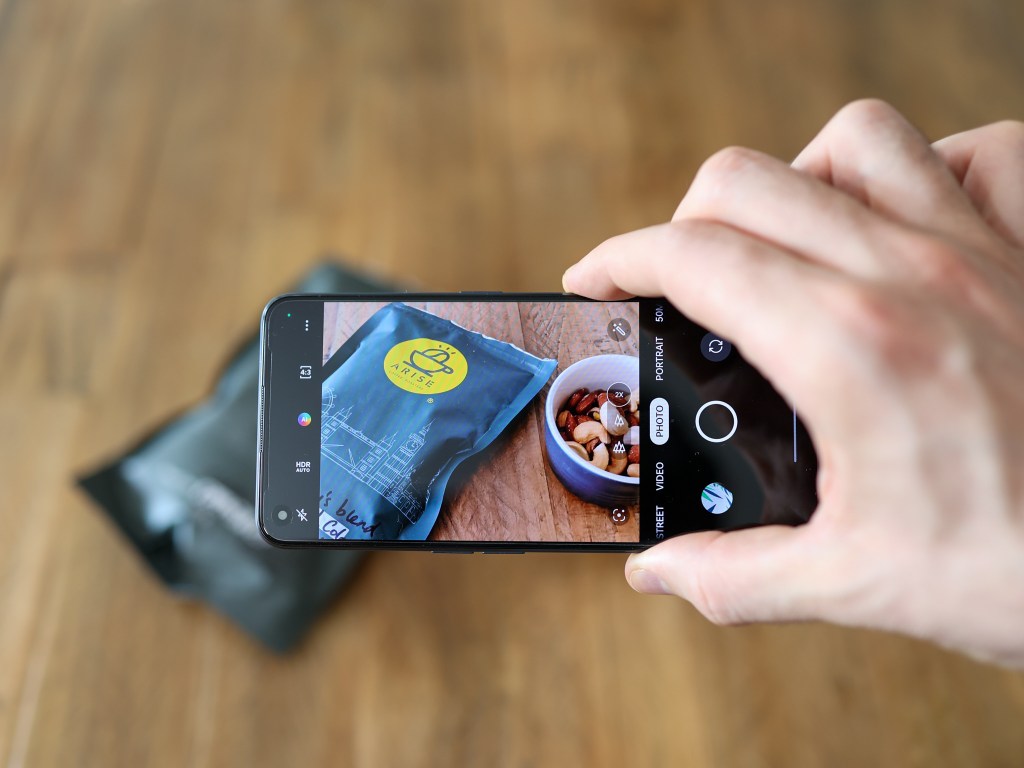 Realme mixes things up with the cameras on the 9 Pro+. Rather than use a full midrange camera setup, the phone marries a flagship main camera with a decent ultra-wide and budget macro camera.
The primary 50MP camera can be reviewed standalone, as it's head and shoulders above the other two cameras with its large, flagship-grade sensor, optical image stabilisation and phase detection autofocus. In other words, expect best-in-class photos from the Realme 9 Pro+. Day or night, it grabs loads of detail, shallow depth of field when shooting close-up objects, and Realme loads up smart shooting modes to help you eke out the most from it.
The Realme 9 Pro+ can also shoot HEIF 10-bit photos, just like the iPhone 13 Pro. That means it can capture up to a billion colours, so gradients look smoother and RAW photos give photography enthusiasts more room to edit their photos.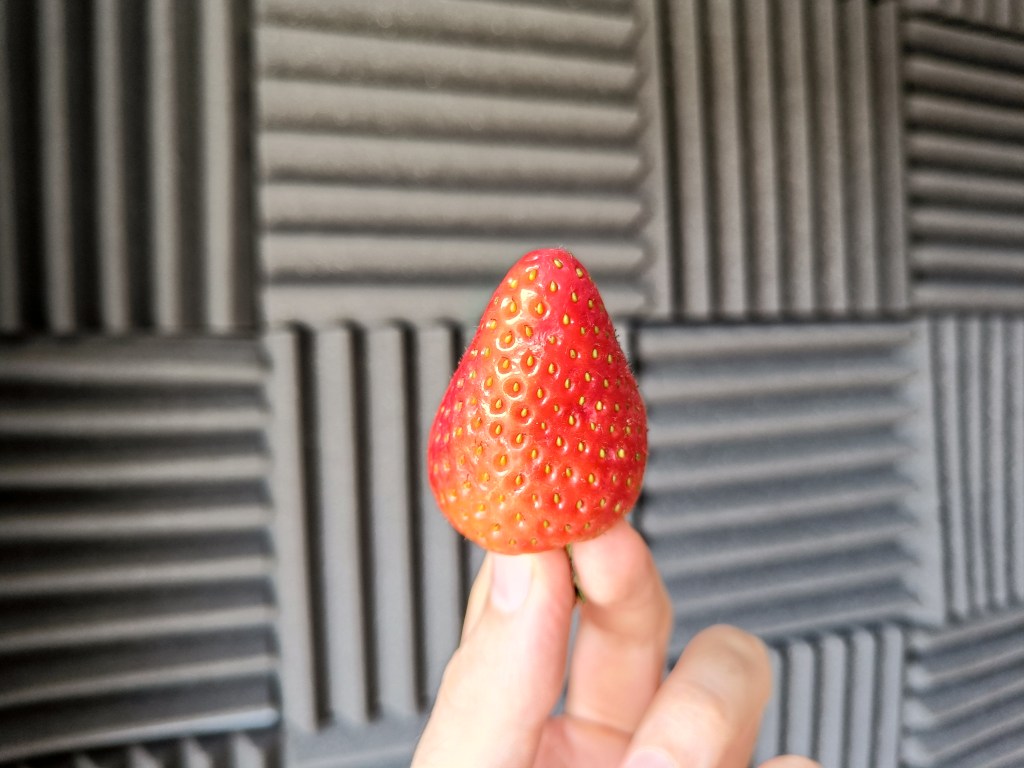 Thanks to the quality of its main camera, the digital zoom on the Realme 9 Pro+ is perfectly adequate, compensating for the lack of a telephoto camera. As for the 8MP ultra-wide, it's more than capable given the phone's price, even if it misses out on mod cons like autofocus.
The final piece to the camera trinity is a 2MP macro camera, which captures close-up photos at 4cm. In mediocre light, you might as well forget this camera exists. In bright scenes, it's fun to play about with, but will likely get ignored in favour of the main camera.
While the phone's 16MP selfie camera is adequate on paper, we struggled to snap sharp selfies unless we held our hands perfectly still. Once we did, selfies packed decent detail, contrast, and colours looked punchy.
Performance
You've heard of Intel, and probably Qualcomm, but now there's another main player in town making smartphone processors – MediaTek. Truth be told, the Taiwanese chipset maker's been around for years, and is also behind the chips powering most Alexa kit. That said, now – arguably for the first time, its chips are low on compromise as well as being low on cost.
The MediaTek Dimensity 920 5G in the Realme 9 Pro+ does an excellent job when it comes to gaming and day-to-day performance. While we experienced some issues with it when we started using it – for example Netflix wouldn't work – after a software update, it ironed things out and now the phone works a treat, even when playing all but the most demanding games.
With Android 12, app compatibility is excellent, and Realme's interface, which is virtually identical to OPPO's ColorOS, is comprehensive and stable.
With stereo speakers to match that big screen, the Realme 9 Pro+ is a decent multimedia device, and you can pick it up with 256GB storage as standard matched with 8GB RAM. That's loads of space, which means the lack of an SD card slot isn't too big a deal.
Battery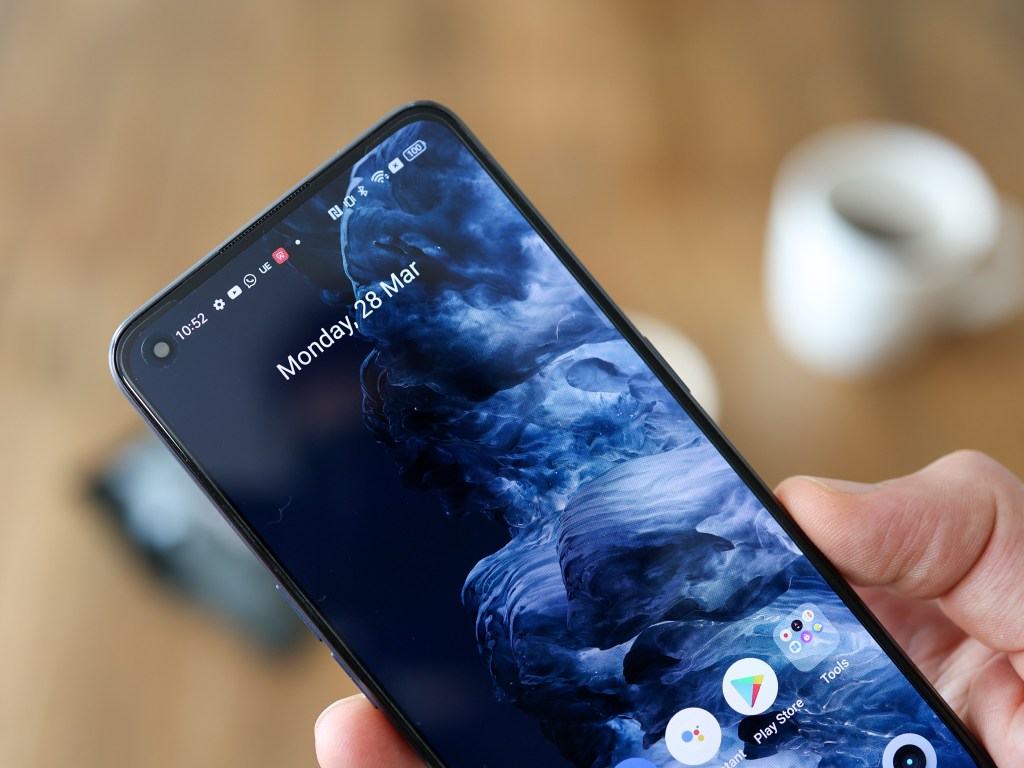 With Realme's 60W Super DART fast charging, we were able to power up the 9 Pro+ by 72 per cent in 30 minutes, and achieve a full charge in little over 45 minutes. The 4500mAh battery inside the phone isn't the highest capacity cell in the Pro+'s price bracket, but it easily got us through a full day.
Unsurprisingly, the phone misses out on wireless charging – seldom seen at this price point and on any Realme phone, but there are plenty of power-saving modes that should help you eke out a couple of days from a single charge if used sparingly.
Verdict
We loved the OnePlus Nord 2, and our only real gripe with it was that mediocre battery life. With the 9 Pro+, Realme gives us a very similar phone, but improves upon the battery life thanks to a more efficient chipset. You still get a glass back and front, flagship imaging and reliably good performance, not to mention very fast charging.
The Realme 9 Pro+ also edges ahead of the Nord 2 by packing double the storage. In the UK, it's available in a 256GB version, and costs £50 less than the Nord 2. This makes the phone excellent value.
As for other competition, much of it comes from the Realme camp – the cheaper Realme GT2 Master Edition packs a much more powerful processor but a worse camera. Finally, Xiaomi's budget brands, Poco and Redmi offer viable alternatives, with the Poco F3 out-classing the 9 Pro's power and screen quality, and the Redmi Note 11 Pro costing less.
Despite all these alternatives though, we'd pick the Realme 9 Pro+ over most of the competition given its excellent camera and ample storage.
Stuff Says…
A killer camera makes the Realme 9 Pro+ a winner
Good Stuff
Best-in-class main camera
Bright, vibrant, smooth screen
60W fast charging
Bad Stuff
Poor macro camera
No SD card slot
No zoom camera
Tech specs
| | |
| --- | --- |
| Screen | 6.43-inch 90Hz OLED |
| CPU | MediaTek Dimensity 920 5G |
| Battery | 4500mAh |
| RAM | 8GB |
| Front camera | 16MP (f/2.4) |
| Rear cameras | 50MP primary (f/1.8), 8MP ultra-wide (f/2.2), 2MP Macro (f/2.4) |
| Storage | 256GB (UK spec) |