Xiaomi 12 Pro review: as premium as it looks
A snap happy and style-conscious flagship
A new year, a new start for one of China's biggest smartphone exports. Here's our Xiaomi 12 Pro review.
The 12 Pro is Xiaomi's first flagship to ditch the long-running "Mi" branding, and one of a trifecta of handsets meant to give established European front-runners Apple and Samsung some serious competition.
It's a no-compromise flagship, but one that doesn't go big on gimmicks. Instead, the firm is hoping a sleek design, class-leading display and some eye-raising quick charge abilities will be enough to tempt customers away from their Galaxies and iPhones. 
Oh, and it's one of the first handsets to land in the Stuff inbox with a Snapdragon 8 Gen 1 CPU. No pressure, then…
Design and features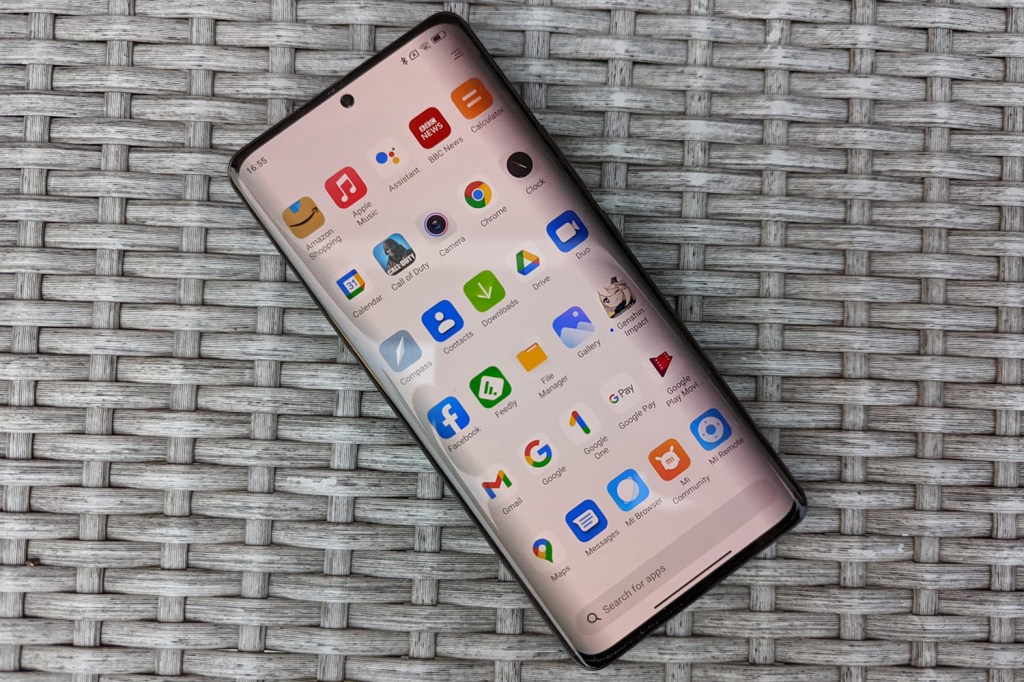 From the frosted glass rear that shimmers in the sunlight, to the expertly machined speaker grilles that almost look like sound waveforms, there's no denying the 12 Pro is a premium phone.
Don't worry if you're the clumsy type and have priors with all-glass phones: Gorilla Glass Victus is the toughest stuff on the market, so should hold up reasonably well under stress, and the finish manages to keep fingerprint smudges well hidden.
The gunmetal grey frame is subtle, rather than the blingy chrome seen on older Xiaomi phones, and the glass curves inwards towards it on both sides, making it particularly comfortable to grip onto. The minimal styling continues with the fingerprint scanner, which sits invisibly under the screen and detects your digits with impressive speed.
Xiaomi is one of the few holdouts when it comes to IR blasters, meaning the 12 Pro can save you from The Chase reruns if you can't find your TV remote, but it does without a 3.5mm headphone port. There's also no official water resistance rating, although the rubber seal around the SIM card tray suggests a dunking might not be a complete disaster.
This is a fairly dense handset, but also impressively skinny, even with that prominent camera bump around back. The three lenses are stylishly integrated and give the phone a mature, almost businesslike appearance.
Camera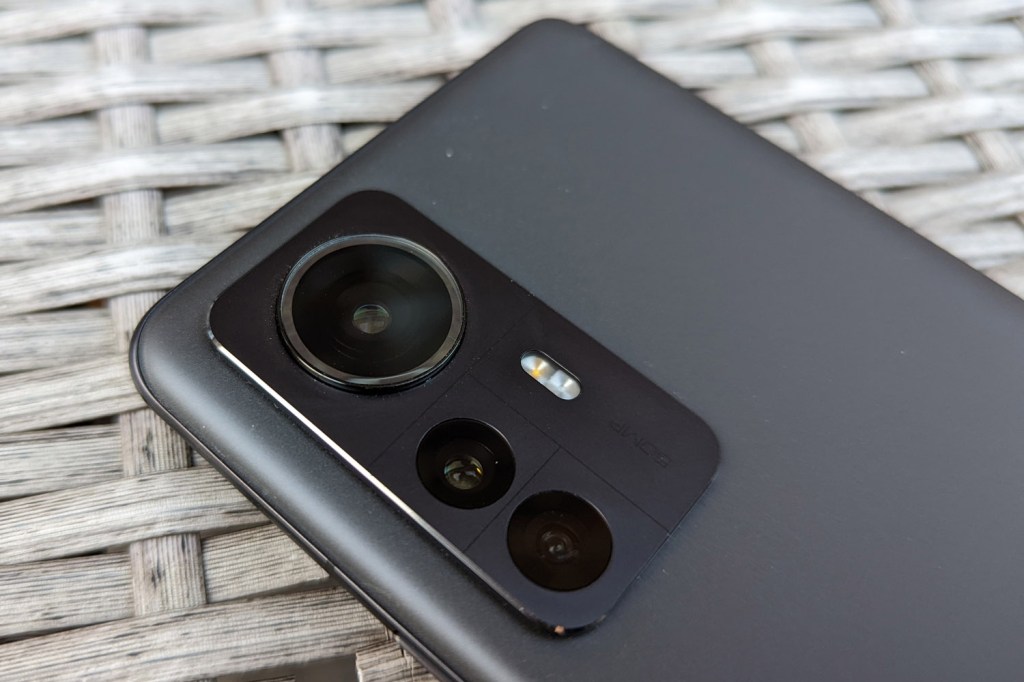 With all three of the 12 Pro's rear cameras packing 50MP sensors, there's no weak link in terms of pixel count. Whether you're shooting normally, zoomed in or ultrawide, there shouldn't be any dip in image quality, although only the main sensor gets optical image stabilisation.
A 2x optical zoom feels like an odd choice for the secondary snapper, though. Given the main camera's huge pixel count, a purely digital 2x zoom would surely have sufficed, and freed up the second sensor for a stronger optic. Last year's Mi 11 had a 5x optical setup that put it on a better footing compared to rivals.
Xiaomi has put serious work into its image processing algorithms this year, and the results speak for themselves. Colour intensity and contrast have both received a welcome boost, producing vibrant and striking images that might not always be true-to-life, but are undeniably easy on the eye. Exposure is well-judged in almost every scenario, with HDR able to rescue the highlights in especially bright skies, and detail is well preserved as light levels fade.
The ultrawide sensor may not have the largest field of view, but it has excellent dynamic range, and largely avoids chromatic aberrations. Colour temperature and exposure are consistent between the three sensors, so you can be confident you'll get the end result you were expecting regardless of which one you shoot with. A few focus tracking mode can lock onto people and animals to help keep subjects locked even when they're moving about, which should help cut down on blurry snaps.
Digital zoom is excellent up to 5x in good light, but detail drops off rapidly as you zoom in further, and the lack of OIS on the telephoto lens rules out nighttime shooting at long distances.
In general, though, Night mode is very good, taking much less time to snap each picture than last year's Xiaomi flagships. Results are realistic and pack an impressive amount of detail, placing the 12 Pro towards the top end of the smartphone pile when it comes to low-light shooting – if not quite on par with Apple and Google's best efforts.
Video caps out at 8K at 24fps, but only with the main sensor. 4K recording at 60fps is possible across all three lenses, with HDR10+ available too. The real fun can be found with the optional movie modes, which includes a "Dolly zoom" effect that any wannabe Steven Spielbergs are sure to love.
Display and sound
At first glance, the 12 Pro's 6.73in screen looks like a downgrade on last year's effort – but a slight size reduction aside, it actually scores a big upgrade with second-gen LTPO display tech.
The panel has more flexibility when it comes to dynamic refresh rate now, plummeting down to as low as 1Hz when showing static text, boosting up for video playback, and hitting 120Hz for fast action. It can react faster, too, meaning it spends more time at lower refresh rates and consumes less battery power as a result, although Android's developer settings seem to suggest it only gets as low as 10Hz rather than 1Hz as advertised. Still, scrolling always appears silky smooth, and there's no brightness flicker when reading walls of text, making it impossible to spot the changes.
What you can't miss is the drop-dead gorgeous colour and impeccable image detail, courtesy of the AMOLED panel and its 3200×1440 resolution. Contrast is exceptional, with inky blacks and bright highlights that give Dolby Vision and HDR10+ content real atmosphere. Out of the box, the default Vivid colour profile leans a little towards overly saturated hues, but the P3 and sRGB modes are exceptional.
Brightness is fantastic, with a 1500 nit outdoor peak pretty much guaranteeing good visibility in all conditions, and viewing angles are among the best around. It's comfortably among the best smartphone screens around right now.
If you wanted to nitpick, the holepunch selfie camera isn't as slick as the under-display snapper seen in the China-only Mi Mix 4, but it isn't distracting when streaming videos or playing games.
The 12 Pro's audio chops are equally impressive, as long as you're careful how you hold it: the stereo speakers sit at the top left and bottom right edges, making it all too easy to block half the sound when held in landscape view. Still, they pack a punch, with ample volume and a clear mid-range that isn't overwhelmed by the higher frequencies.
Dolby Atmos is on-board (if you've got a pair of compatible headphones, and subscribe to a streaming service that supports it) but there's no headphone jack or USB dongle included.
Performance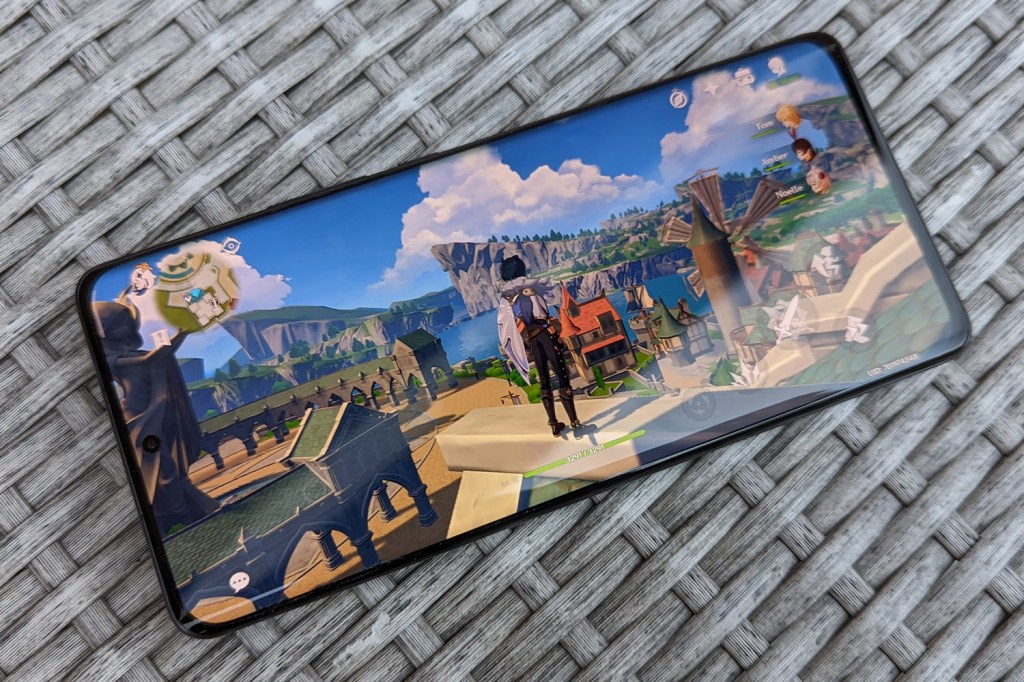 With a Snapdragon 8 Gen 1 CPU running the show, there's no denying the 12 Pro's flagship credentials – especially as our top-end handset is also packing a lofty 12GB of RAM and 256GB of on-board storage.
This is one of the first phones we've tested with Qualcomm's latest silicon, and… yeah, it's powerful. Even if raw CPU muscle hasn't improved massively from last year, this is still comfortably quicker than any non-Apple handset in synthetic benchmarks. It can handle any app you'll find in the Play Store with ease, and multitasking is a treat too. Don't expect to ever spot any slowdown or stuttering in daily use.
The Adreno 730 GPU is supposed to deliver a big step up on the gaming front, but it's here the 12 Pro shows its limitations. While less demanding games are able to run flawlessly for hours, more intensive titles either struggle to hit the high frame rates seen on rival handsets, or throttle after a certain amount of playtime. Your mileage may vary depending on your game library: PUGB Mobile was fine, while Genshin Impact wasn't as smooth as we'd expect given the hardware.
It's impossible to ignore how toasty the phone gets during heavy use, too. The new silicon really can chuck out heat when pushed, and the 12 Pro can't seem to get rid of it quickly enough. Whether firmware updates can help, and whether other Snapdragon 8 Gen 1 devices will perform similarly, remains to be seen.
OS and software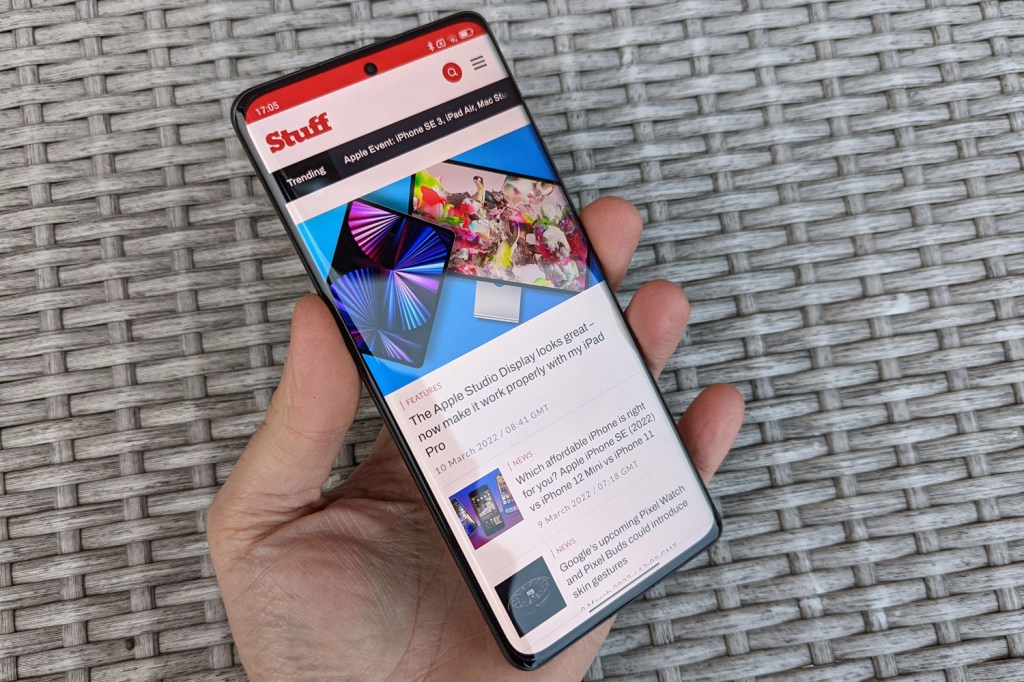 The 12 Pro's home-grown MIUI Android skin has now reached version 13, but don't expect major changes – performance and security upgrades were the order of the day for Xiaomi's software team.
It now sits atop Android 12, which brings niceties like one-handed mode and an extra-dim screen brightness option for those late-night scrolling sessions. The overall appearance hasn't changed, though, meaning the usual mix of Google and Apple-inspired features. The hybrid notification tray/command centre in particular is guaranteed to divide opinions.
Aggressive battery saving has been a pothole for previous Xiaomi phones, and that's still the case here, with multiple power modes, prompts and hibernation settings that can prevent push notifications from appearing, but at least the extensive customisation options let you disable these extras if you like.
There's an extensive list of own-brand apps waiting for you in the app drawer, but the majority can be uninstalled if you prefer to grab Google's versions from the Play Store.
Battery life
Rapid charging has been a Xiaomi speciality for a while now, and the 12 Pro is no different. The bundled power brick is good for a colossal 120W, which translates to a 0-100% top-up in just 18 minutes. That thrashes the iPhone 13 Pro, and is comfortably more than twice as fast as the Samsung Galaxy S22 Ultra's advertised speeds.
It's achieved here using a single battery cell, unlike previous efforts that charged two cells simultaneously. This cuts down on complexity, but total capacity also took a hit in the process. 4600mAh puts it slightly behind the S22 Ultra, although when you can claw back an entire day's worth of charge in the time it takes to make a cup of tea, you're unlikely to notice.
50W wireless charging is also fairly rapid, needing around 45 minutes for a complete top-up, and reverse charging is always handy for refuelling a set of supported wireless earbuds on the move.
Battery life in general is a pleasant step up over last year's Mi phones, comfortably lasting for an entire day of general use away from the mains, with enough in reserve to get you through to the next morning. Video playback at 120Hz and gaming in particular can put a major dent in your uptime, though. An hour or more of Genshin Impact will definitely have you reaching for the power adaptor.
It's merely on par with the top-end competition then, albeit with a clear win on the charging front.
Verdict
With a sharp design, premium build and absolutely gorgeous display, the 12 Pro is a true flagship phone – but one that makes a few missteps with its uncompromising approach to hardware.
High internal temperatures hamper performance when gaming, and although its photos are on par with other top-end handsets, the choice of secondary lenses mean it isn't quite as flexible as its periscope-packing rivals.
Xiaomi has avoided prioritising specs above all else, and the 12 Pro is a better handset as a result, but it means that unless you're seriously jazzed about the prospect of unmatched charging speeds, it does little to stand out against similarly-priced alternatives.
Stuff Says…
A refreshingly gimmick-free flagship with a stellar screen and best-in-class rapid charging, but performance hiccups hold it back
Good Stuff
Feels as premium as it looks
Impeccable display quality
Main camera takes fantastic day and nighttime photos
Bad Stuff
Gets really toasty when gaming
2x zoom lens an odd choice
No IP rating
Tech specs
| | |
| --- | --- |
| Screen | 6.73in, 3200×1440 LTPO AMOLED w/ 120Hz, hole punch camera, HDR10+ |
| CPU | Qualcomm Snapdragon 8 Gen 1 |
| Memory | 12GB |
| Camera | 50MP, f/1.9 wide w/ dual pixel PDAF, OIS + 50MP, f/1.9 48mm telephoto w/ PDAF + 50MP, f/2.2 ultrawide rear. 32MP front |
| Storage | 256GB |
| OS | Android 12 Pie w/ MIUI 13 |
| Battery | 4600mAh non-removable, 120W wired charging, 50W wireless charging |
| Dimensions | 164x75x8.2mm |
| Weight | 205g |