Top 4 Sound Bars
You want a bar that will satisfy your hunger for great sounding TV and movies. You want a bar that means you don't have to mess around with cables and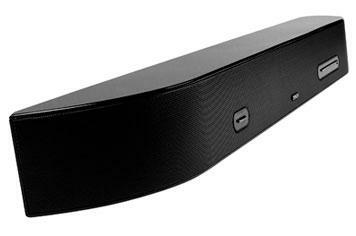 You want a bar that will satisfy your hunger for great sounding TV and movies. You want a bar that means you don't have to mess around with cables and speaker placement. Take a moment to chew over these tasty sound bars.
Marantz ES7001 £900
The best to listen to here by far, despite not coming with a sub, the Marantz has six digital power amps, six speakers and three 32-bit digital processors, and it can strip surround and stereo audio from HDMI. Sound has thunderous drive and the optional sub and rear speakers are convincing.
Stuff says: 5 stars
Denon DHT-FS3 £700
With three digital audio inputs and surround audio decoding, you can hook up your DVD player, Sky box and games console. It uses six drivers, six digital power amps and 'X-Space' processing to generate a decent surround effect from just one speaker, and supports Denon's ASD-1R iPod dock. Includes separate sub.
Stuff says: 4 stars
Q-Acoustics Q-AV 3.1 £520
This Q-Acoustics offering differs from its rivals in that it's a passive system, so must be used with an external amp. It's so clever it still deserves attention, though: the flat-panel front speaker array has a huge, wall-of-sound presentation and eerie clarity, while the expanding, fits-any-TV design is ?a work of genius. A separate sub is included, while matching rear speakers are available.
Stuff says: 4 stars
Boston TVee £270
The TVee has no digital audio ins, and makes no attempt to 'surround' you with sound. Instead, it turbocharges your TV's standard stereo sound – and it does it superbly. Analogue phono connections link it to any telly's outputs, and you can control it with your existing TV handset. The wireless, Wi-Fi subwoofer rounds things off rather nicely.  
Stuff says: 4 stars
See these sound bars and lots of other gadgety goodness in the August issue of Stuff Magazine – out now!