Apple iPhone 11 preview: Everything we know so far
UPDATED: Benchmark testing shows a potential power (and RAM) bump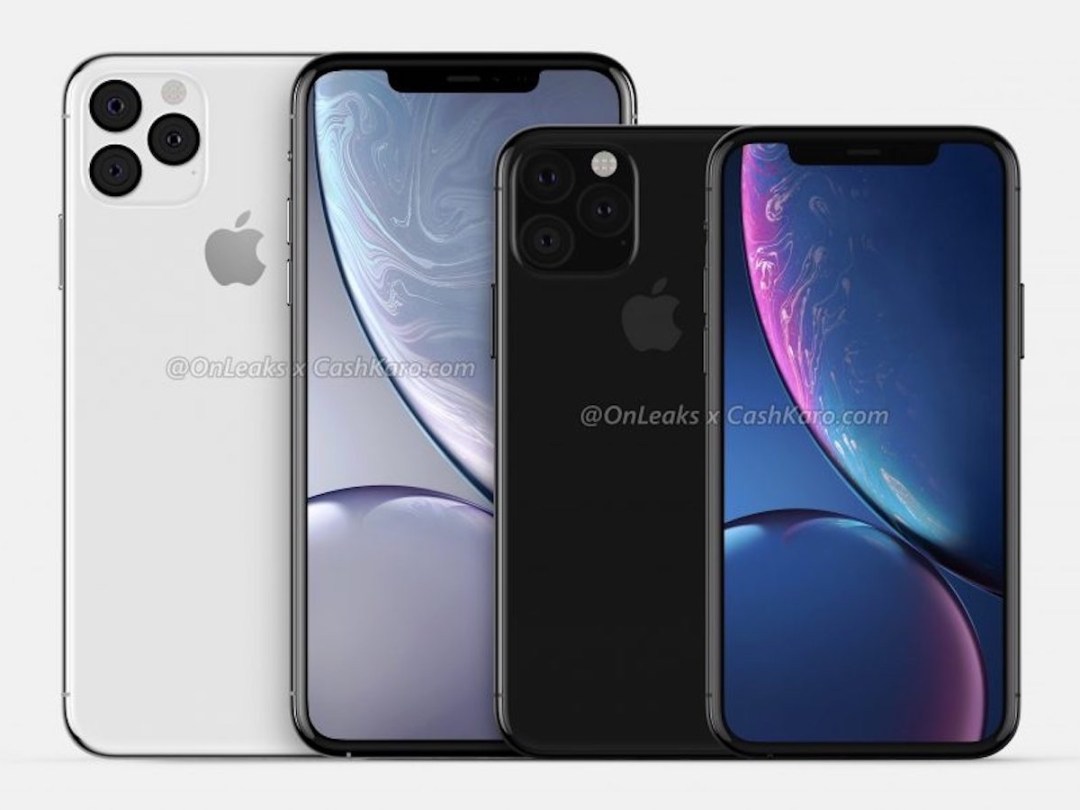 It's the end of summer, and that means new iPhones are just around the corner.
That's our assumption, at least; Apple hasn't officially announced an event as of this writing, but after years and years of September reveals, we've come to expect such a thing in our lives. And the rumour mill has been spilling details for months now, giving us a potentially strong idea of what to expect from the iPhone 11 line.
Here's what we think we know so far about Apple's new iPhones in 2019 ahead of the impending reveal.
(Concept renders via OnLeaks/CashKaro)
When will the Apple iPhone 11 be out?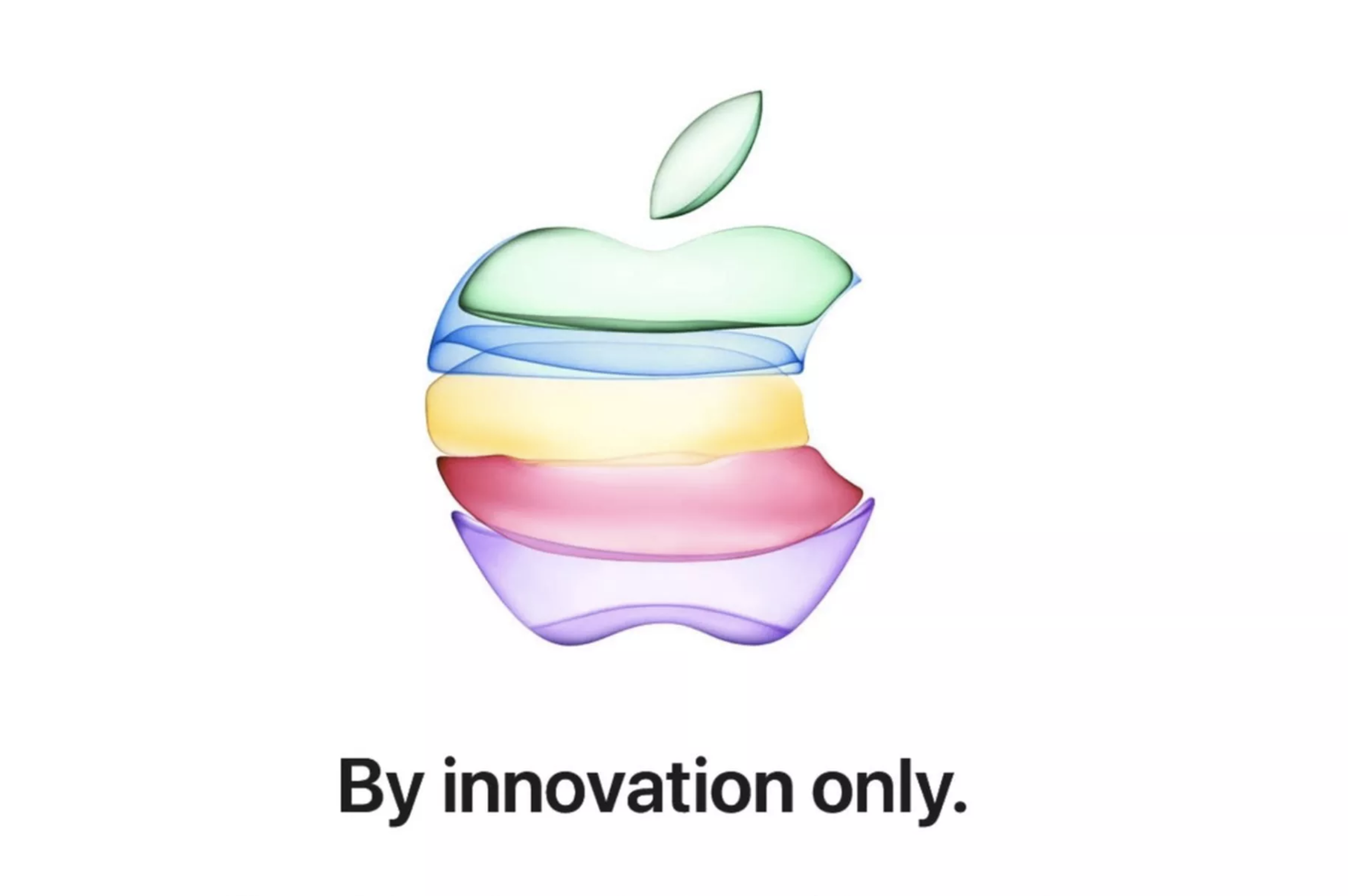 Mark your calendars! Apple just announced an event for 10 September, and it's sure to be where we'll see the iPhone 11 models in the flesh.
Rumours had suggested a 10 or 11 September launch ahead of a 20 September in-store rollout, so we're looking good on the back part of that holding true. As for naming, it looks like the "X" era could be at an end. Recent reports point to iPhone 11 naming for the iPhone XR successor, iPhone 11 Pro branding for the XS follow-up, and finally iPhone 11 Pro Max for the largest 6.5in model. The last one's a bit awkward, but we suppose the "Pro" tag is a reasonable way to differentiate the higher-end models this time around. Bloomberg has since affirmed the reporting about the "Pro" branding for the XS successors.
Fact or fiction?
It's official: stay tuned for the debut on 10 September.
How much will the Apple iPhone 11 cost?
All of these things are true: Apple sold a huge amount of iPhones in 2018 and made a boatload of money on them. Apple has also revised its earnings forecast due to expected underperformance, and customers widely grumbled about the new iPhone prices.
In short, Apple will still sell millions of iPhones at £999+, but there's a sense that the wider consumer pool isn't happy about the continual rise in pricing and that the iPhone XR didn't find quite the market that Apple expected at £749.
Does that mean that the 2019 iPhones will see a price drop? Not necessarily. Apple might believe that other economic factors are at play and that the higher spend-per-device is ultimately a metric worth holding onto. But given the response this year, we'd be truly surprised to see Apple raise prices this time around.
Fact or fiction?
Purely speculation for now. We'll have to wait for solid leaks here.
What will the Apple iPhone 11 look like?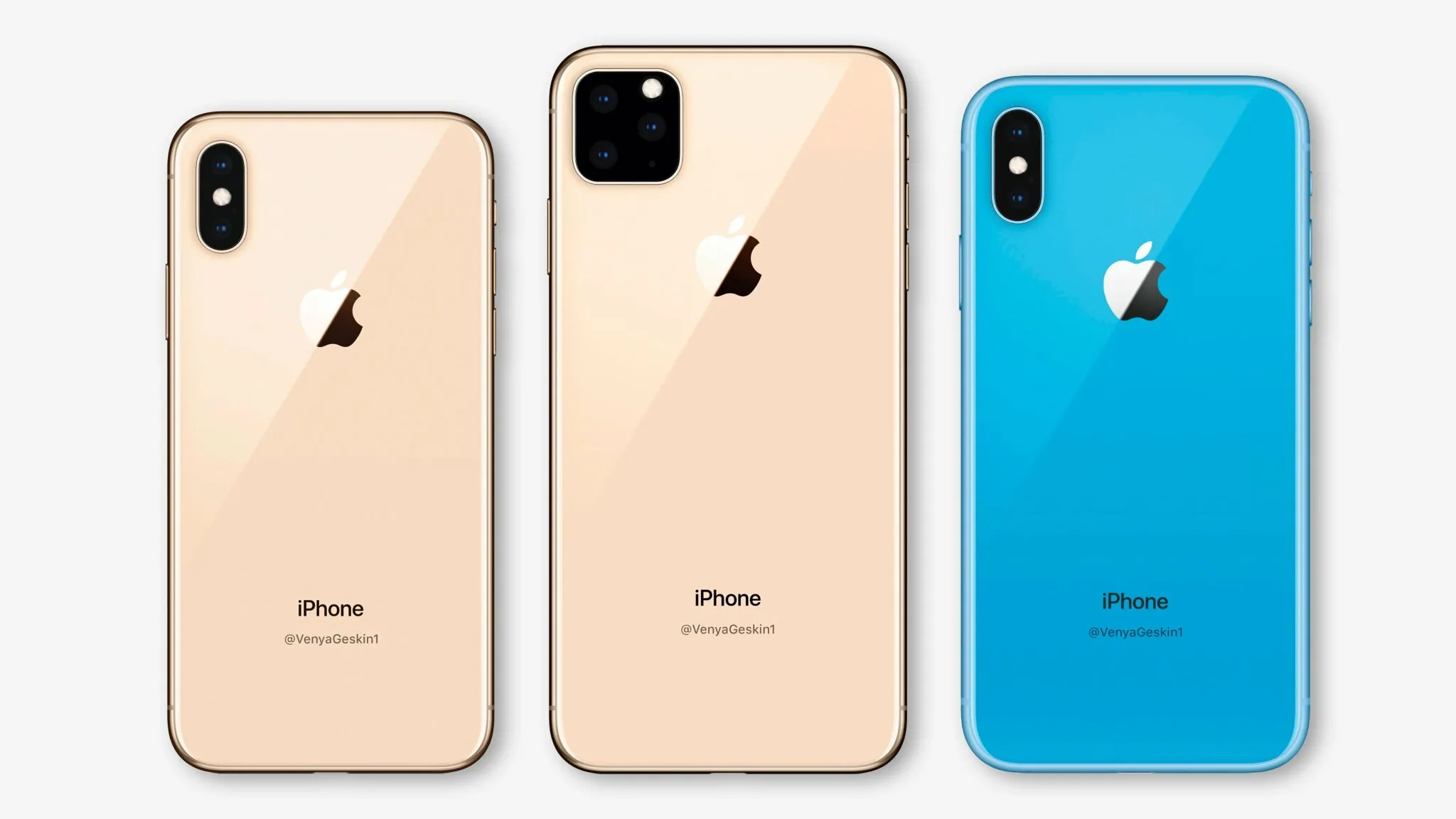 There's a growing expectation that 2019's big Android flagship trend is going to be punch-hole screen cutouts for front-facing cameras, rather than larger notches. That's what we got with Samsung's Galaxy S10 and the Honor View 20. One leaker says that Apple won't be going that route – not this year, at least.
That's according to Ice Universe, a noted leaker with a proven track record, who suggests that Apple will keep the familiar iPhone XS notch in 2019… but opt for a hole in the display in 2020. If true, then it seems fair to assume that 2019 will be another revision year, and 2020 will see the next major shift in iPhone design.
As the above concept image – designed by Ben Geskin based on current leaks – shows, there may be a larger change on the back. That enormous camera bump on the iPhone XS Max successor comes from renders leaked by OnLeaks and Digit (see below in the Camera section), who claim that they are Engineering Validation Test (EVT) stage renders produced by Apple.
9to5Mac adds that the EVT stage is followed by design validation test (DVT) and production validation test (PVT) – in other words, these aren't final if they are legitimate at all. However, key features should be mostly locked down by now, pending further testing.
To be honest, it doesn't look quite as refined as what we'd expect to see from Apple. Surely there's a lot more finesse that can be put into presenting a triple-camera array… right? IceUniverse says that they are legit based on his own knowledge, however.
Interestingly, Google has since officially confirmed a similar-looking square module for the Pixel 4 following a slew of leaks on the topic. The Pixel 4 and new iPhone could look awfully similar once more…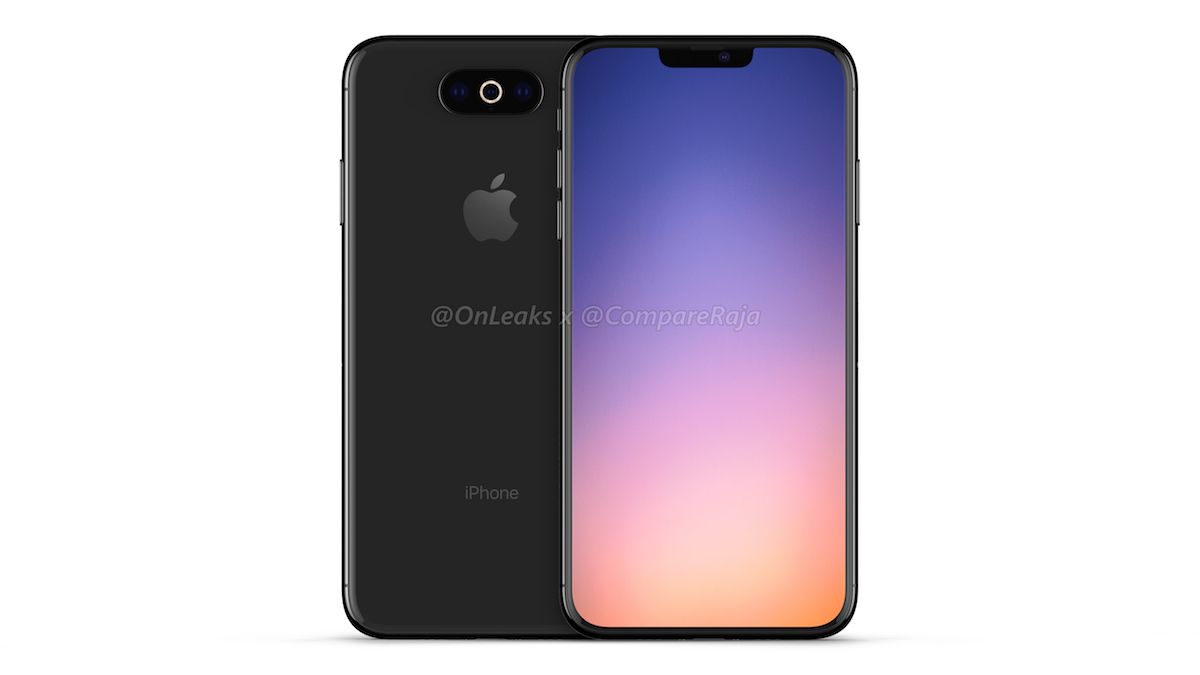 On the other hand, there's this design. Developed by OnLeaks and shared via CompareRaja, this concept render is purportedly based on a completely different Apple leak.
Instead of the clunky, square-shaped triple-camera setup seen in the previous render, this one shows a sleeker horizontal module in the upper center. It includes a circular flash around the middle camera, and is definitely less awkward-looking in the process. As you'll note, both of these design leaks point to a smaller notch on the front, although Apple analyst Ming-Chi Kuo believes the notch won't shrink for 2019's iPhones.
Why are there two very different designs attributed to an Apple leak? Well, one possible scenario is that one of them is based on bad or false information, which is always possible with early leaks – although OnLeaks claims that it is legit. Another possibility is that Apple has been playing around with multiple designs, but will only go with one for the final version.
OnLeaks also suggests that it could be showing two different models, with the successors to the iPhone XS and iPhone XS featuring significantly different backing designs, but we'd be surprised if that's the case.
Another potential shift in design could be frosted glass on the back, instead of the usual glossy finish. That's what analyst Ming-Chi Kuo suggests, and it could help differentiate 2019's iPhones from the previous models without more dramatic tweaks in the mix.
Here's one more potential look at the new iPhone via concept renders OnLeaks and CashKaro. The site suggests slightly thinner bezels and notch, but not significantly enough to be noticeable at a glance, and claims that the backing glass will feature a single panel with the camera module included.
Meanwhile, if you look closely at the sides, you'll see a tweaked mute switch that's closer in design to that of older iPads. All of this is still pretty well in line with previous leaks, but the fact that we're getting edging closer and closer to an official launch (albeit still months away) and this is still the prevailing concept lends some credence to the designs.
Bloomberg also suggests that the iPhone XS and XS Max successors will be about half a millimeter thicker than before, also confirming the larger square-shaped camera module.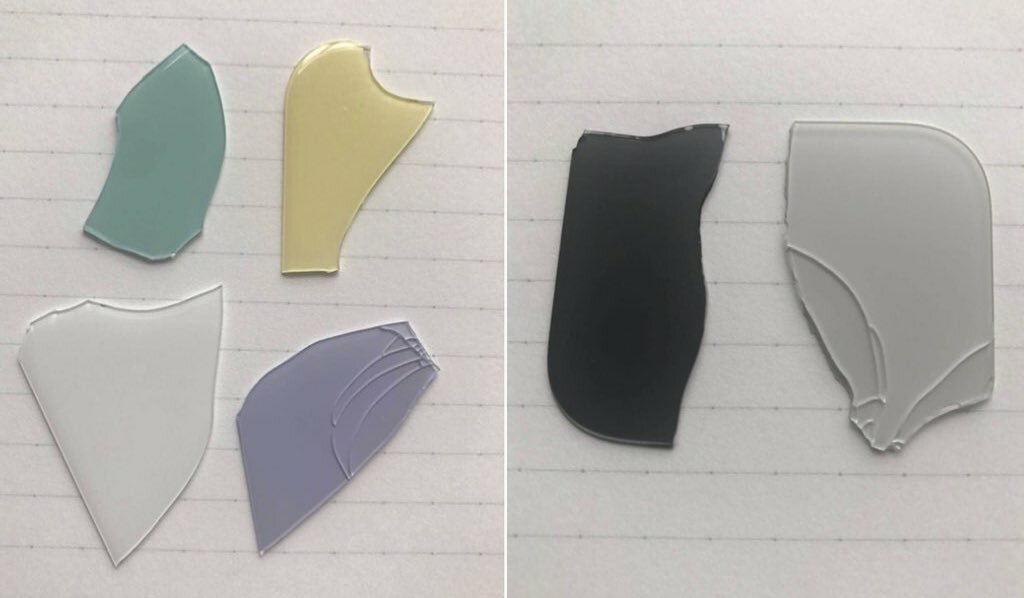 Above you'll see various-coloured glass fragments that are purported to represent the various colour choices for the iPhone XR's successor. That's according to Bloomberg's Mark Gurman, noted Apple leaker extraordinaire, with lavender purple and green colours replacing the bright blue and coral colours from the current iPhone XR.
They're definitely more subdued than the colours they're supposedly replacing, which could lend a slightly more sophisticated allure to Apple's next "entry-level" iPhone.
Fact or fiction?
There's still a few months left before we see the real thing, but the leaks and reports are all pointing in the direction of a similar overall X/XS design – albeit with a thick, triple-camera module on the back.
What about the Apple iPhone 11's screen?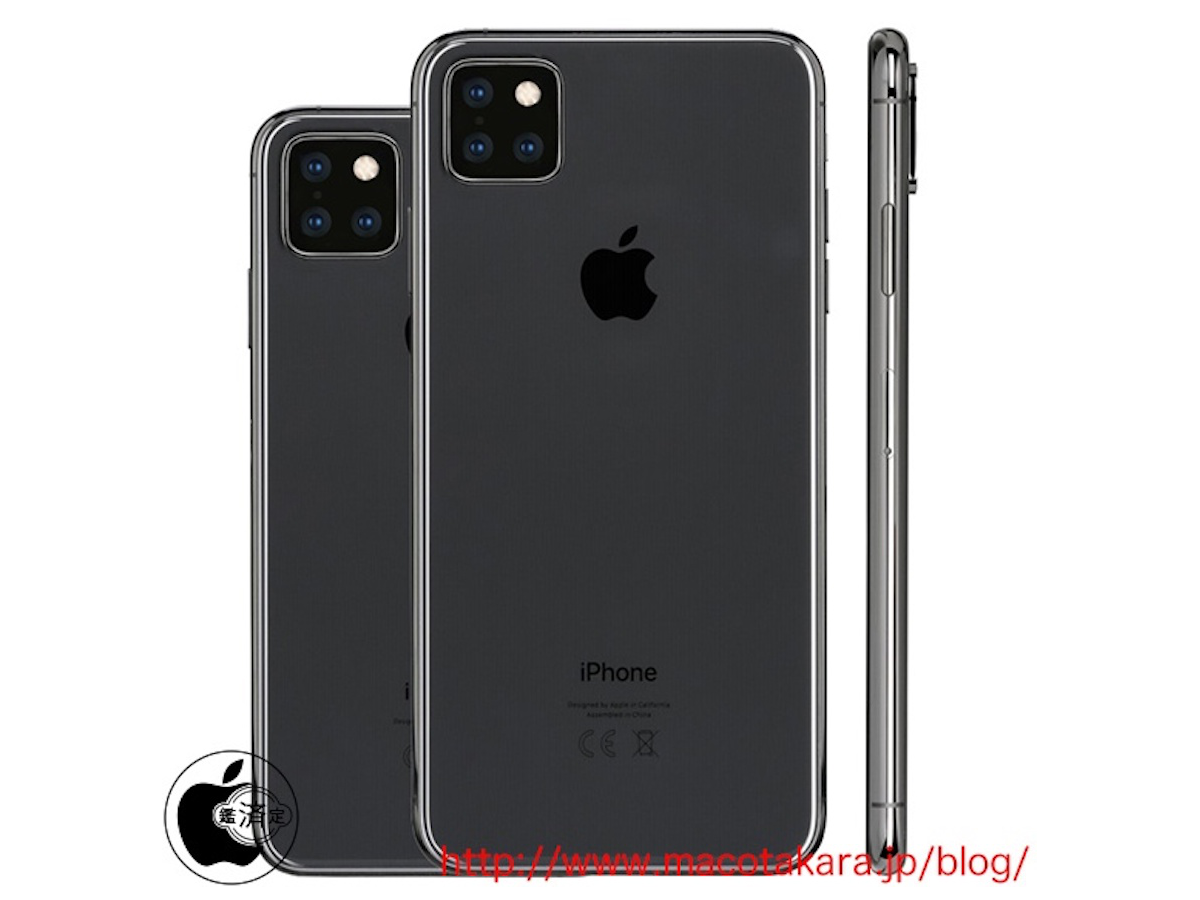 The iPhone XS and XS Max have two of the best-looking smartphone screens today, with crisp OLED panels at 5.8in and 6.5in respectively. We don't expect any dramatic changes there.
However, the technology behind the panel could help reduce some heft from the iPhone. ETNews reports that Apple will use Samsung's touch-integrated OLED panels in 2019, which could make for thinner and lighter iPhone XS successors.
The other big question is: Will Apple improve the iPhone XR screen this time around? The 750p LCD panel still looks decent enough, but it's vastly under-specced for a £749 flagship phone. That's especially true with the new Samsung Galaxy S10e, which beats it on both screen quality and price alike.
The Wall Street Journal suggests that Apple will stick with an LCD on the iPhone XR successor, but there's no word on whether it will see a resolution bump in the process. Given Apple's tendencies in this department, we won't be shocked if there's little change on that front.
Here's an interesting twist, though: Macotakara, which has nailed some scoops in the past, suggests that Apple will release 6.5in and 6.1in OLED iPhones this year… which could mean that the iPhone XS successor could have a screen the size of the iPhone XR. Where does that leave the iPhone XR, then? We don't know!
Rumours and leaks also point to the end of 3D Touch pressure-sensitivity technology in the iPhone XS and iPhone XS Max successors' screens. That's been rumoured for some time now, and the iOS 13 beta has a surprising lack of 3D Touch functionality included, with some past features moved to long-press maneuvers instead.
What you're seeing above is a new speculative render based on the square-shaped triple-camera module rumour, with this one taking on more of the shape of the Huawei Mate 20 Pro. It's from Macotakara, which says that Chinese suppliers leaked info of a design like this.
Fact or fiction?
We're just speculating for now, but we expect modest enhancements to the iPhone XS line's screens… and hope for larger enhancements to the iPhone XR successor.
How much power will the Apple iPhone 11 pack?
As of this writing, Apple's A12 Bionic chips rule over the smartphone field, just like the A11 Bionic chips before them. They're vastly powerful, and we expect that trend to continue.
Apple will surely unveil an A13 chip with the new iPhones, which will promise more processing speed and enhanced capabilities, and arrive alongside a silky-smooth iOS 13 update. Whether the A12 Bionic remains the smartphone power champ before the A13 arrives remains to be seen, but Apple's put up an ever-growing benchmark lead with these latest chips.
In May, Bloomberg reported that Apple began testing on its A13 chips in April and could begin full production as soon as May. 9to5Mac reported in July that the A13 chip has the codename "Cebu" and is model T8030, but provided no further details about what to expect from the chip's prowess. In August, Bloomberg reported that the A13 chip has a new "AMX" or "matrix" co-processor designed to handle certain tasks, such as those related to augmented reality and computer vision.
A purported iPhone 11 benchmark shared to Geekbench suggests that the iPhone XR successor will have 4GB RAM (vs. 3GB on the XR), with about a 12% increase in single-core performance (according to 9to5Mac) but little change in the multi-core score. Of course, the A12 processor is already crazy-fast, so any upgrade should just feel like the cherry on top. That is, unless next spring's new Android processors leapfrog the A13…
Meanwhile, CompareRaja suggests that the 5.8in iPhone XS successor will see a big battery bump – up to a whopping 4,000mAh.
That's close to some other flagships of late, but Apple has long been stingy about battery capacity, even shaving off a little bit in recent iterations since software efficiencies helped maintain the same average uptime total as the previous device. The iPhone XS has just a 2,658mAh cell within, so that would effectively be a 50% boost if true. Analyst Ming-Chi Kuo also believes that this year's iPhones will see larger battery packs, and has since speculated that the 5.8in model will get a 20-25% boost, the 6.5in model will see a 10-15% bump, and that the iPhone XR successor may only see as much as a 5% increase.
He also points to bilateral wireless charging – in other words, the kind of "reverse charging" seen on the Huawei Mate 20 Pro and Galaxy S10 models. That allows your phone to wirelessly charge another phone, or the new AirPods case. Kuo suggests that the larger battery packs are intended to enable that feature, although it would be a nice bump even for those who never use the functionality.
Fact or fiction?
Apple's own silicon is leading the smartphone pack, and that's unlikely to stop anytime soon. We're dubious about the battery life claim, however. We'd love to see it, but that's just not Apple's style…
What kind of cameras will the Apple iPhone 11 have?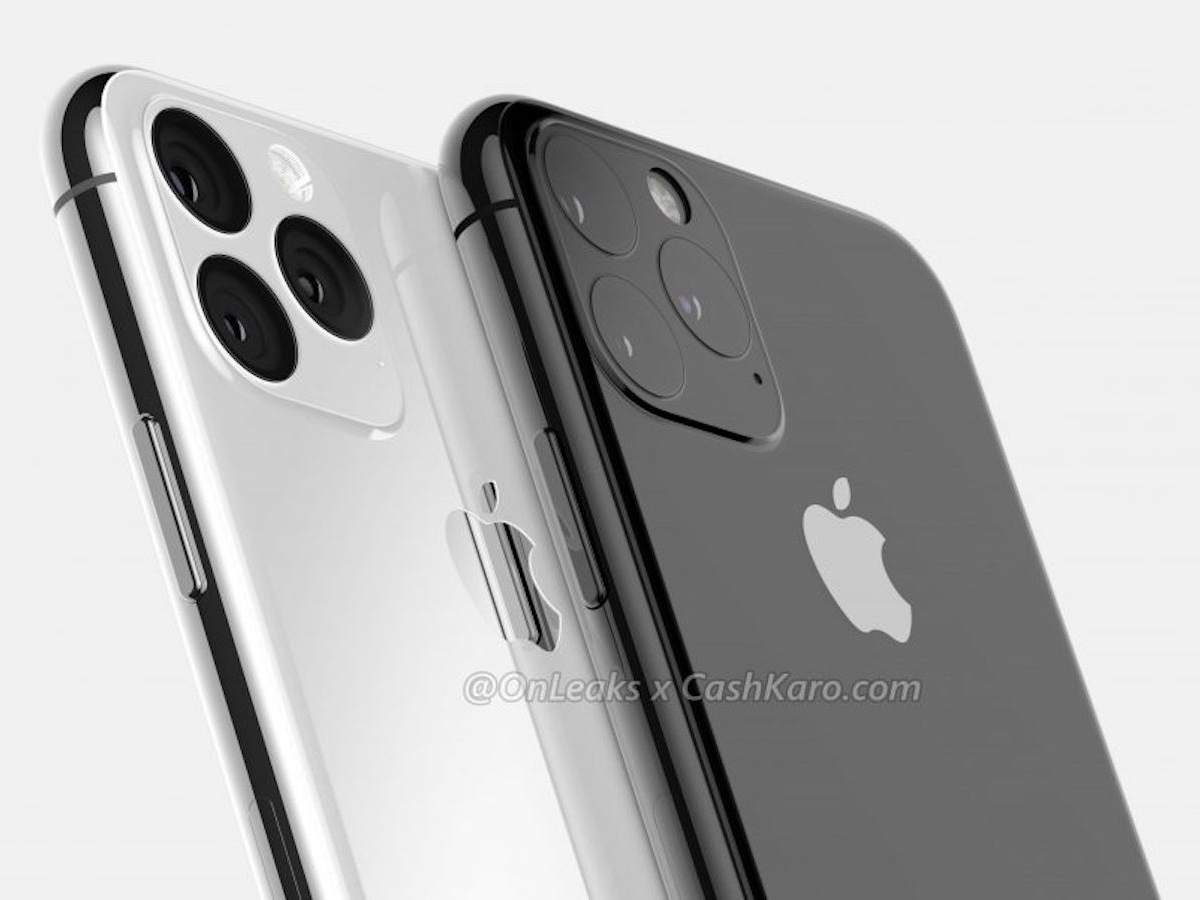 Given the rise in triple-camera setups in Android flagships, it's not that surprising to think that Apple might follow suit in 2019. And as you've seen above, there are a couple of potential leaked designs going around right now.
The Wall Street Journal affirms that Apple is considering a triple-camera setup, but suggests that it might only be on the largest model, the iPhone XS Max successor. That would continue the earlier trend of the Plus models having a camera advantage over the core iPhone, although the iPhone XS and XS Max opted for feature parity the last time around.
Macotakara suggests that both the iPhone XS and XS Max successors will pack the triple-camera module, and have a slightly slimmer body thickness to accommodate a thicker module. However, OnLeaks points to an unconfirmed source suggesting that all three 2019 phones could have the triple-camera module.
Macotakara's report also claims that the lenses will be the largest to date for an iPhone, and also pack larger sensors to deliver improved shots.
Bloomberg reported in December that Sony's latest generation of 3D camera sensors, which use time-of-flight technology to measure distance, have drawn interest from Apple. That might be what we're seeing in these renders, and what we'll see on the new iPhones.
OnLeaks and CompareRaja suggest that two of the back sensors will weigh in at 14 megapixels and 10MP, respectively. Additionally, they expect the front-facing camera to be at 10MP, with analyst Ming-Chi Kuo suggesting a new front-facing flood illuminator in tow to improve Face ID functionality. Kuo believes that the front-facing camera will actually bump up to 12MP, though. He also suggests that both the front-facing camera and new super-wide back camera will be coated in black to make them blend into the phone better. Meanwhile, 9to5Mac says that the front-facing camera will add 120fps slow-motion recording.
Bloomberg also points to "an auto-correction feature" that can squeeze people back into a photo if it seems like they've been cut out of a shot. 9to5Mac has reported on a feature called "Smart Frame" that automatically captures additional area around your intended shot using the wide-angle camera, letting you amend the framing afterwards. This may be the same feature that Bloomberg suggested.
The concept render above comes from OnLeaks and CashKaro in late April, showing slight tweaks to the triple-camera module design that makes it look a bit more appealing than earlier concept renders and leaks.
Bloomberg's late August reporting points to the third sensor on the iPhone 11 Pro and iPhone 11 Pro Max being an ultra-wide sensor, giving them a similar-sounding setup to what the Galaxy S10 and OnePlus 7 Pro offer. The site also corroborates the previously-mentioned reports about an auto-correction feature, noting that all three cameras will snap an image at the same time with the ability to automatically restore subjects that were cut out along the edges.
That report also suggests improved image quality and better low-light shooting, along with "significantly improved video recording capabilities." It points to updated software that will let you crop, touch up, and add effects to live video as it is recorded. Bloomberg also suggests an improved "multi-angle Face ID sensor" that has a wider field of view.
As for the iPhone XR follow-up, The Wall Street Journal claims that it may bump up to dual back cameras, like the current iPhone XS and XS Max. And Kuo has since affirmed that belief, with Macotakara and Bloomberg also suggesting that it's true.
Leaker Max Weinbach of XDA Developers, meanwhile, suggests that the new iPhones will have a nighttime shooting mode like Google's Night Sight, and he believes that it will be an improvement over such features from Huawei, Samsung, and even Google itself.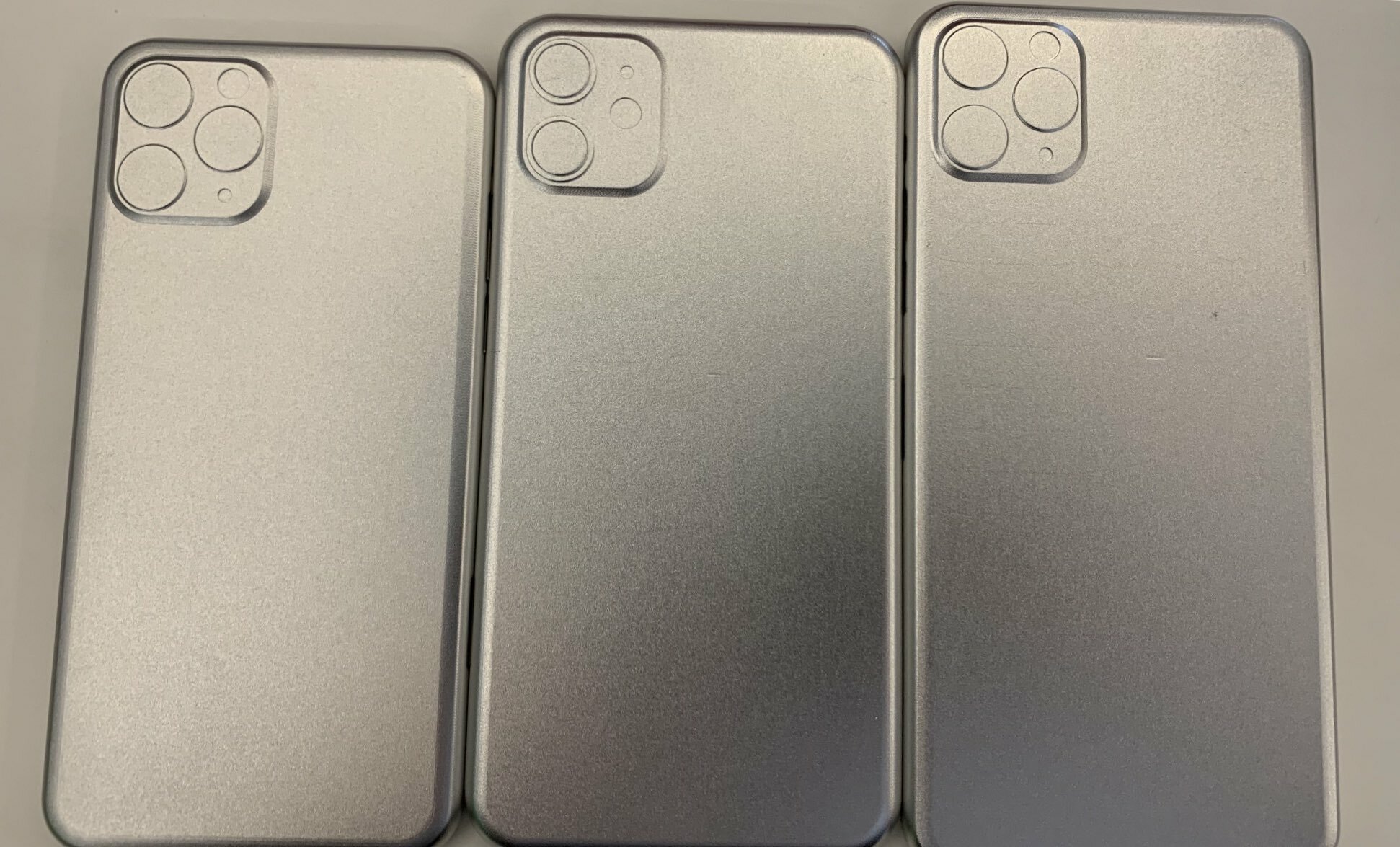 These alleged 2019 iPhone case mouldings seem to show off the camera modules for all three models, with each adopting the square shape while the new iPhone XR has just two lenses within. This comes via Bloomberg's Mark Gurman.
Fact or fiction?
A triple-camera setup on both OLED iPhones, and a double on the new XR? That all makes sense to us.
Is there anything else I should know about the Apple iPhone 11?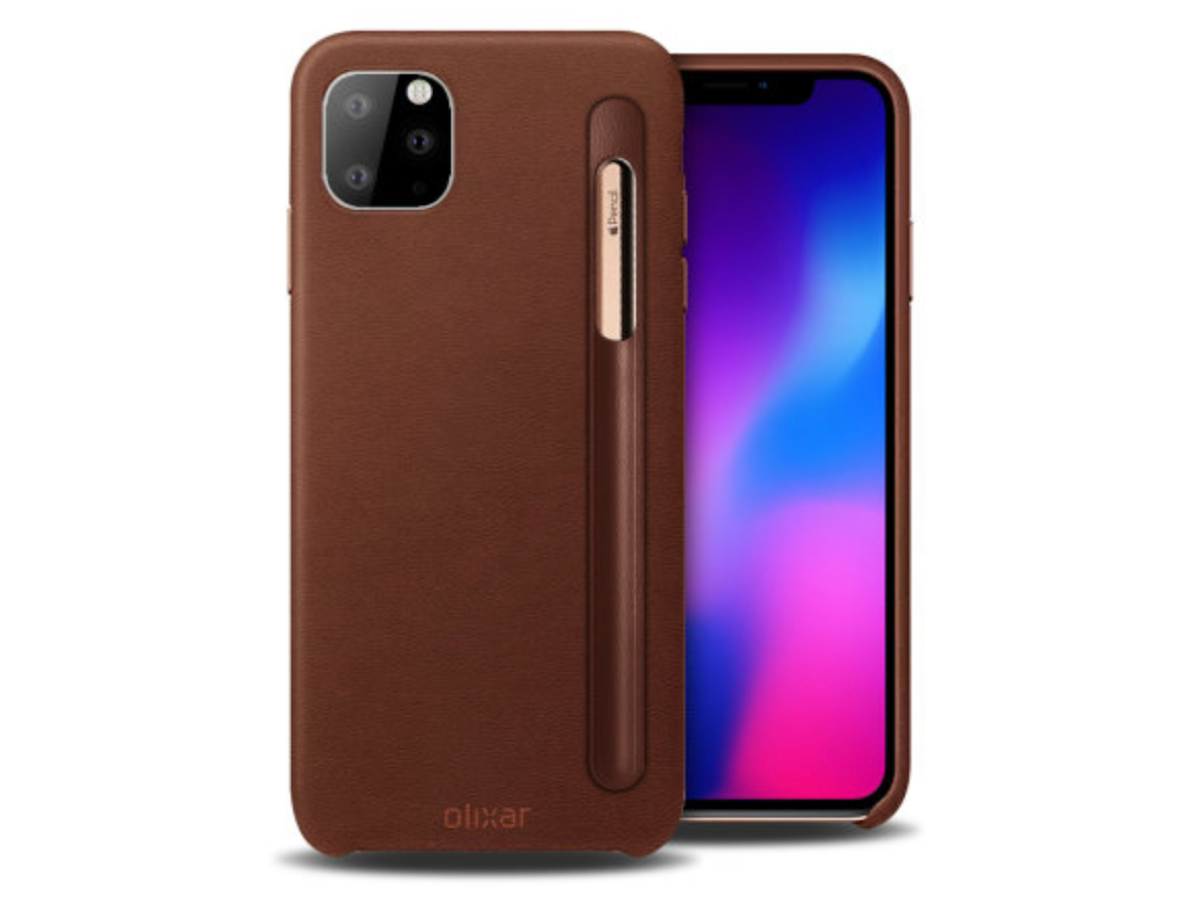 5G network connectivity is now arriving, and there are many handsets that will carry the technology this year, including Samsung's Galaxy S10 5G and the LG V50 ThinQ 5G. However, Apple's next iPhones reportedly won't be among that batch.
That's according to Bloomberg, which reports that Apple plans to wait until at least 2020 to add 5G connectivity to new handsets. The report suggests that Apple wants to avoid issues like inconsistent initial coverage and other hitches, as it did by waiting for 3G and 4G LTE to ramp up before adopting those earlier technologies.
On the other hand, it might have to do with Apple's alliances and the tech available this year. Bloomberg suggests that Apple's switch away from Qualcomm chips will play into the decision, as new supplier Intel won't have 5G chips ready for a full-scale rollout in the next iPhones. Apple and Qualcomm have since patched their spotty relationship and Apple will again use its chips, but it's unlikely to have an effect on this year's models.
According to Barclays, via 9to5Mac, the new iPhones might incorporate Wi-Fi 6 technology – so while you may not get faster 5G speeds on the go, at least you might get speedier service at home if you have a compatible Wi-Fi 6 router. Additionally, Barclays suggests (via MacRumors) that the 4×4 MIMO antenna design from the iPhone XS and XS Max will also make its way to the iPhone XR successor.
Macotakara also reports that Apple may switch to a USB-C connector for the new iPhones, like it did with last year's new iPad Pro models, although that has reportedly not yet been finalised. CompareRaja and OnLeaks, on the other hand, suggest that current prototypes still feature a Lightning port, and TF International Securities analyst Ming-Chi Kuo agrees that all three models will stick with Lightning this year.
More recently, Macotakara suggested that the phones will keep the Lightning port, but ship with a USB-C to Lightning cable and an 18W fast-charging power brick – a dramatic improvement over the small, weak 5W brick shipping with current iPhones.
9to5Mac has also said that its sources confirm the existence of the Lightning port. The site also points to the inclusion of an upgraded Taptic Engine, perhaps to help compensate for the reported removal of 3D Touch.
Macotakara believes that the new iPhones will pack in more internal storage, although it's unknown whether that'll be more starting storage or simply more on the super-expensive top end.
Oh, and one more from Macotakara: supply chain sources suggest that the new iPhones will pack in dual Bluetooth audio streaming, letting them send music and audio to multiple headsets or Bluetooth devices. This isn't a new concept, as it's been seen in past Samsung and Huawei phones… but it'd be new to Apple, at least.
Also, the new iPhones will undoubtedly ship with iOS 13, which was unveiled at WWDC in June. Here's a look at the biggest features you'll find within the refreshed OS.
And here's an interesting rumour. Mobile Fun listed the above case from Olixar, which shows a slot for the Apple Pencil on the back of an iPhone 11 Max case. Why carry a Pencil? Because the company believes the iPhone 11 Max will support it, naturally.
We've heard a few rumours like this over the years, even though Steve Jobs famously hated the idea of a stylus with a phone ("If you see a stylus, they blew it"). We're not convinced that it's actually happening; this seems like a company creating a concept just in case, but hey… anything is possible.
Bloomberg also suggests that the phones will have improved shatter resistance, as well as "dramatically enhanced water resistance" that may allow them to stay submerged underwater for more than 30 minutes.
Fact or fiction?
Unfortunately, we believe it: Apple has never seemed in a big rush to adopt the latest cellular advances, so anyone eager to jump on the 5G train in 2019 might be looking elsewhere for a new handset.
What about 2020?
Is it too early to start talking about 2020's new iPhones? Probably. But that won't stop the rumour mill from churning, so here's what we've heard.
DigiTimes issued a report in early April that suggests that Apple will release three iPhones with OLED screens in 2020. Right now, the iPhone XS and XS Max use OLED screens, while the cheaper iPhone XR uses lower-quality LCD panels.
It also suggests different sizes for these models' screens, at 5.42in, 6.06in, and 6.67in. Today's range spans 5.8in (iPhone XS) to 6.5in (XS Max), with the 6.1in iPhone XR in the middle. If true, the report points to Apple looking back down the size chart after committing to larger devices.
The report claims that Samsung will likely remain Apple's primary OLED supplier in 2020, and that its Y-Octa technology – or perhaps LG's TOE touch technology – could provide cheaper panels for the 5.42in model.
Noted analyst Ming-Chi Kuo confirmed similar specs in mid-June, with 5.4in, 6.1in, and 6.7in models planned for 2020 release. He believes that the 5.4in and 6.7in models will have 5G support, while the 6.1in version (the successor to this year's iPhone XR revision) will not.
Fact or fiction?
We're not putting much stock in anything at this point in time, but 2020 would be a reasonable time to refresh the iPhone lineup and potentially introduce new sizes along the way. Stay tuned for more rumours and leaks as they come…