Power up your iPhone and iPad with these essential iOS 8 extensions and widgets
Stuff reveals the very best keyboards, Today view widgets, and extensions for Photos, actions and Share sheets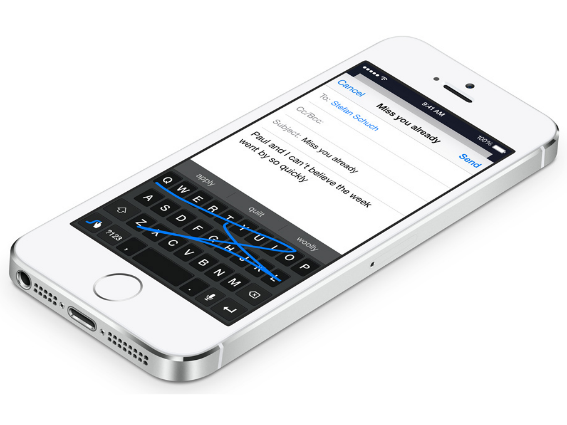 With iOS 8, Apple opened its mobile operating system up a bit. It's still not the free-for-all that you get on Android, but we ended up with third-party keyboards, Today view widgets, and a slew of extensions for the Photos app and Share sheets.
The only thing is, now there are loads of extensions littering the App Store, so how are you supposed to know what to install? By reading this feature, that's how!
So join us as we delve into the sometimes murky world of powering up an iPhone and iPad, picking the very best extensions the App Store has to offer.
The best third-party iOS keyboards
We were surprised Apple allowed third-party keyboards in iOS; even as the system became more extensible, the potential for daft, hideous keyboards didn't seem very Apple. And as it turns out, iOS keyboards aren't without limitations.
Apple's default must be used for password fields, and the 'globe' key that displays a full list of active keyboards is only available to Apple's own keyboards. Others usually (but not always) have a globe key, but it merely moves you to the next keyboard in the list. This means there's no point in having loads of keyboards installed – and especially novelty ones – because it takes an age to cycle through them.
There are also questions regarding data policies with some developers who require 'full access' for their keyboards. This doesn't always seem essential for functionality, so you should remain vigilant.
£free • iPad/iPhone
Hunting and pecking tiny keys on a virtual keyboard isn't much fun. SwiftKey does away with such nonsense, instead enabling you to swipe in the vague areas the keys should be and let the app figure out what you meant. It's surprisingly accurate and learns from you over time.
Swype
£0.79 • iPad/iPhone
Swype is very similar in concept to SwiftKey, except you have to pay for it, and you get themes (most of which you have to pay for as well). However, for your initial 79p, you do get better access to a range of accented letters, an optional number pad, and a keyboard that'll work without full access being activated.
Nintype
£3.99 • iPad/iPhone
Nintype is totally mad. On the initial install, it's a bewildering journey into a trippy undulating keyboard with pretty out-there ideas about digital typing. But force your way through the tutorial, stick with it (and dial down the animation) and you end up with a clever, customisable typing experience with all kinds of neat tricks (quickpaste, Spacebar cursor, layout adjustment, flick autocomplete, and more).
TextExpander 3
£3.99 • iPad/iPhone
On the Mac, TextExpander is a useful time-saver. You define abbreviations (such as addr1), which then expand in any app to become frequently used blocks of text (such as an address), optionally including dynamic variables such as the time and date. But on iOS, this always felt pointless, because few apps added direct support; for the most part, you had to write within the TextExpander app itself to expand snippets.
The iOS keyboard offers a cunning workaround, bringing snippets to any app, hugely increasing TextExpander's scope. The keyboard is a touch basic, with autocorrect in part relying on a list of autocorrect snippets; additionally, the parent app appears unstable on trying to format snippets beyond bold/italic type or text size. Still, it beats shoe-horning text-expansion into Settings > Keyboard > Shortcuts, and is a decent alternative keyboard to have ready if you regularly need access to boilerplate copy.
£0.79 • iPad/iPhone
For the emoji-obsessed, Emoji++ is a perfect replacement for Apple's equivalent keyboard. Instead of pages of icons, you get a big scrollable list with a speed-search bar, and can tap-hold any character to add it to your favourites. It doesn't need 'full access' either.
Minuum
£2.99 • iPhone only
Although it offers themes (its reason for 'full access'), Minuum's big feature is markedly shrinking the keyboard's height. It looks squashed, but remains surprisingly usable due to strong autocorrect (in use, it's somehow reminiscent of a great dumbphone keyboard), and leaves more screen space for content.
unicodr and Symbols
£0.79 each • iPad/iPhone
For anyone sick of being unable to find extended characters on iOS, two options: unicodr has a handy and effective search but otherwise a slightly awkward page-based nav; Symbols is like Emoji++ but for Unicode – very elegant, but lacking search. Maybe someone should mash them both together.
READ MORE: iCheapskate – 38 great free apps for iPhone and iPad
Add widgets to your iPhone and iPad
A feature of Android loved by tinkerers, widgets – tiny glanceable apps usually offering time-sensitive information – had remained stubbornly absent from iOS. Apple changed course as of iOS 8, although widgets remain strictly confined to Notification Center's Today view.
A widget is in fact an extension of an app, which might be a 'shell' with instructions or a more expansive product. Widgets are accessed and activated by tapping Edit in Today view.
Widgets also appear to be a headache for Apple, largely through developers stretching the notion of what the 'Today' view should be for. There have been arguments Apple encouraged innovation, even talking about Today view games at WWDC. Nonetheless, PCalc was told to remove its calculator widget, because "widgets on iOS [should not] perform any calculations". Similarly, Drafts was told to delete its widget's buttons because Today view is "for information presentation only", which will come as news to countless devs creating widgets with buttons, including relative giant Evernote.
Apple later relented in both cases, but not all devs were so lucky: Launcher (an app/contacts launcher) was permanently removed, despite similar products remaining on sale. Here's hoping Apple's rules and reviews settle down soon.
Wdgts
£free/£0.79 • iPad/iPhone
You get five widgets here, including a currency converter and a simple but handy calendar month view. Pay 79p and you unlock monitoring tools (network; battery; memory and disk), and can add up to five items to a time zone widget. Each widget is independent within the Today view sort order.
Vidgets
£free/£2.29 • iPad/iPhone
Vidgets is a highly configurable set of icon-like widgets. Using the Vidgets app, you add and configure system monitors, barometer readouts, weather and sunrise/sunset indicators, and world clocks. You can reorder these and add separators, and the £2.29 'pro' IAP enables you to remove headings to save space.
Fantastical 2 for iPad and iPhone
£7.99 (iPad)/£3.99 (iPhone)
Apple's Calendar widget displays the day's schedule, but Fantastical goes further, adding a month view calendar. It's fully browsable and shows coloured dots to represent calendar entries, thereby giving you an overview of the month's tasks. (The Fantastical app also betters Apple's Calendar. Buy it!)
Forecast+
£0.79 • iPhone
Plenty of weather apps have a Today view widget, but Forecast+ is only available from within Notification Center. It provides a strong balance, in being fairly compact yet also showing plenty of information. You get current conditions, and can optionally show the forecast for the next five days.
PCalc
£7.99 • iPad/iPhone
Bizarrely threatened with App Store expulsion while it was being featured as an example of a good widget, PCalc expanded what people thought the Today view could be for. In short: it's a great readily available calculator. Skinflints will be delighted, too, since freebie PCalc Lite also includes the widget.
Sky Guide
£1.99 • iPad/iPhone
The prettiest and most usable stargazing app now comes with a widget that displays at-a-glance rise and set times for the sun and moon, along with moon illumination details. Expand the widget and it adds rise/set information for planets and a graph detailing relative above-the-horizon altitudes.
NoteDash
£free • iPhone
NoteDash is an absurdly simple widget that also happens to be very handy and flexible. Type a short message into its app and your words will then instantly appear in Notification Center. It's great for reservation numbers, shopping lists, and anything else you need to remember when you're out and about.
Dropbox
£free • iPad/iPhone
Although Apple's muscled in on Dropbox's turf with iCloud Drive, Dropbox remains the go-to product for people doing work with their devices. The widget is simple but beneficial, listing recently added and edited documents. Tap one and it opens within the Dropbox app.
Hours
£2.29 • iPhone
One of the very few time-trackers you'll actually want to use, Hours provides idiot-proof multiple timers and a lovely bar-chart of the day's productive output. In Today view, you get instant access to the same timers from anywhere, without having to launch the app.
Day One
£3.99 • iPad/iPhone
There are quite a few apps that add photos to Today view, but most seem largely pointless. Day One, though, is an exception, in reminding you of journal entries from this point last year and two years ago. You also get a graph outlining entries per day for the past 50 days.
OmniFocus 2 for iPad and iPhone
£22.99 (iPad)/£14.99 (iPhone)
For people seriously into task management and GTD, OmniFocus has become extremely popular across OS X and iOS alike. The iOS apps are capable and feature-rich, but the widget is designed to inform and not distract; it merely shows today's tasks so you can, well, Get Things Done.
XE Currency
£free • iPad/iPhone
If your life revolves around how well Sterling's doing against the Euro or Yen, XE Currency's widget will be a boon. You get fast access to current exchange rates, and can quickly and easily switch between all the currencies you've listed in the app itself.
The very best sharing and action extensions
Sharing extensions are no longer restricted to services Apple has baked deep into iOS. Many social network, journalling and note-taking apps now provide an extension, activated via the More button in the Share sheet. We've therefore picked two slightly different highlights, which stand out from the crowd in important ways.
Transmit for iOS
£7.99 • iPad/iPhone
Few people use an iPad or iPhone for web design, and so the idea of FTP client Transmit for iOS seemed odd. And then we used it. Immediately, we realised the app was the missing link for iOS file management. With the share extension, organising and managing files becomes so much easier, because you can immediately upload content either to Transmit's own documents space or any defined servers. This includes Macs on your local network, enabling you to, for example, share Photos to your Mac if Photo Stream has temporarily fallen over, or a Figure composition to FTP, for safe-keeping and web-based sharing.
Instapaper
£free • iPad/iPhone
Apple's Reading List is fine, but Instapaper was always the best read-later system, due to it efficiently storing only text and images. Before, it required a nasty kludge to work on iOS; now, share to Instapaper from Safari and the article will be added to your archive in seconds.
Extensions for actions
Extensions for actions are a touch rarer than for sharing, but some great examples exist. The best of them is 1Password, now a system-wide means of securing important data. However, there are also handy actions for converting content to PDF, duplicating photos, and more.
1Password
£free • iPad/iPhone
Apple's iCloud Keychain secures passwords and payment details, which are shared across iOS and OS X via your iCloud account. However, 1Password is now a better bet on mobile. Previously awkwardly requiring its own built-in browser, 1Password now has seamless Safari integration by way of its action extension, and Touch ID makes it easy to access your vaults. The system further beats iCloud Keychain in enabling you to edit login details and store software licenses and secure notes. On mobile, it's also free, making the 35-quid Mac version's price-tag rather more palatable.
View Source
£0.79 • iPad/iPhone
Open a page in Safari, use View Source, and you get access to web page source code. But that's not all: an Assets button lists images, links and style sheets, and you can write custom JavaScript to be executed when you close the widget. Great for devs; fun for the nosey.
Zip-it for iPad or iPhone
£2.29 • iPad/iPhone (separate apps)
It has a slightly oddball interface that feels like it's dropped in from another universe's iOS, but Zip-it contains useful functionality. Use its extension to gradually create ZIPs from multiple sources; in the app, ZIPs can subsequently be explored and edited, without decompressing them.
PDF Converter
£2.29 • iPad/iPhone
The PDF Converter extension takes whatever you're currently looking at, converts it into a PDF and then bungs the result in the Documents section of its parent app. From there, you can print the PDF, delete it, or open it in another app. Simpler and much sleeker than the competition.
Duplicate Photo
£0.79 • iPad/iPhone
You'd imagine duplicating photos is possible in the iOS Photos app. Nope (bizarrely). But Apple's baffling omission is a dev's 79p extension opportunity. Grab a copy if you plan to heavily edit anything in your Camera Roll, and remember to allow the app itself access to Photos.
Enhance your iOS photos with powerful filters and editing tools
Image editors can 'inject' features into Photos, thereafter accessed via the (…) button in Edit mode. Be wary: Photos edits are non-destructive, but some extensions reduce an image's resolution during output. Use duplicates, which you can create with Duplicate Photo (see previous page). Also note you will need to launch each app and grant it access to your photos before using its Photos extension.
Pixelmator
£7.99 • iPad
Pixelmator's capabilities within Photos are photographic in nature, such as applying noise, vintage filters, light leaks, bokeh, and vignettes. Most effects can be carefully fine-tuned, unlike its rivals' tendency towards one-tap application. However, the extension can annoyingly only apply a single effect per edit.
Camera+
£2.29 • iPhone
Pretty much the entire Camera+ editing feature-set comes along for the ride here. Where there's overlap with Photos itself — cropping; filters — you get more of everything; but Camera+ adds further effects, such as duotones and fine-grained colour/exposure controls. Note that the iPad version currently lacks an extension.
Camera Plus
£1.49 • iPad/iPhone
Camera Plus is worth adding to your Photos extensions toolkit for one reason: text. Ignore the 'Pix'd' auto-adjust and run-of-the-mill filters. Instead, tap Text and delve into the excellent tools for adding words to your images, including the means to adjust fonts, colours, spacing and opacity.
Fragment
£1.49 • iPad/iPhone
Fragment isn't the most practical photo effects extension, but it can result in dazzling imagery. The tools within smash your photo into 'prismatic art', collages of glass-like shapes, reflections and colour that can have their tints and angles fine-tuned. It's lightning-fast and enthralling.
ProCam 2 for iPhone or iPad
£3.99 • iPad/iPhone (separate apps)
ProCam has the usual selection of adjustment sliders and filters, but the real prize is a set of lens effects. Now right from within Photos, you can add tilt-shift, fisheye, macro and kaleidoscope effects; a before/after button enables you to quickly switch between the original and edited photo.