OnePlus 5 vs Samsung Galaxy S8: Which is best?
Can the latest OnePlus really match wits with Samsung's powerhouse?
Flagship smartphones are, by their nature, not particularly affordable – but the OnePlus One changed all that, and the company has been refining its approach ever since.
And the OnePlus 5 is the company's most accomplished device to date, albeit at a higher price point than ever before. You'll pay more for it than past OnePlus models, but you'll also skimp less on components than in past models – it's closer than ever to being a full-bodied, top-of-the-line handset. 
However, the competition is stiffer than ever, and it's led by the stunning Samsung Galaxy S8 and S8 Plus. Samsung's dual devices offer up the most beautiful flagship design on the market, and given the price tag, it's appropriately loaded with high-end tech and plenty of perks.
But once you factor value in, does Samsung retain the throne? Now that we've reviewed the OnePlus 5, here's how this battle shakes out.
Design: Samsung is unrivaled
Have you seen the Galaxy S8? For our money, it's the best-looking phone on the market today, and the S8 Plus is identical aside from slightly larger dimensions to handle the additional screen size.
The extra-tall design is atypical, but what really shines on the Galaxy S8 is the way the minimal bezel just seamlessly blends with the curved screen. All glass and metal, it's the most premium-looking and premium-feeling handset on the market today.
And the OnePlus 5? Well, it's definitely a step up from the OnePlus 3T. It's super-slim and refined, with antenna lines that blend in nicely with the phone colour, but otherwise the look is fairly common: it's iPhone 7-esque, with a fingerprint sensor on the front bottom and a little more bezel on the sides than the Galaxy S8. It's a nice-looking phone, but it's not the most surprising or original approach.
Sadly, the OnePlus 5 still doesn't have waterproofing, which most of the other big flagship phones have adopted over the last year or two. That's one compromise that you might regret when you find your phone face-down in a puddle… or dropped into the loo. The Galaxy S8 is IP68-rated water and dust resistant, meanwhile.
Winner: Samsung Galaxy S8
Screen: Different classes
While most of the pricier Android flagships these days have embraced sterling Quad HD (2,560×1,440) panels, OnePlus has resisted the urge in order to save on both money and power consumption – and that holds true with the OnePlus 5.
Still, even for a 1080p panel, this AMOLED display is a looker. At 5.5in, it's plenty large, and the 401ppi (pixels per inch) is still incredibly sharp. It's vivid and has great viewing angles, and you won't find a better screen at that resolution.
But you will find a slightly better screen on the Galaxy S8, which is indeed a Quad HD panel (at 2,960×1,440 due to the larger display) and a real looker through and through. Not only does it continue Samsung's trend of really beautiful Super AMOLED flagship panels, but it also has mobile HDR (high dynamic range) support, which better differentiates the colours and makes compatible content look pretty phenomenal.
And because the screen is extra tall, the dimensions may seem deceiving: it's 5.8in tall for the standard model, but it doesn't feel huge in our hands. The 6.2in Galaxy S8+ is a bit wider, though. In any case, paying more here gives you the slightly crisper display on a Galaxy.
Winner: Samsung Galaxy S8
Camera: Closer than expected
Likewise, OnePlus cameras are typically a couple steps behind Samsung, but the OnePlus 5 very nearly closes the gap. Here, you'll find a dual-camera setup like the Apple iPhone 7 Plus or Huawei P10 Plus, featuring a 16-megapixel main sensor at f/1.7 flanked by a 20MP sensor at f/2.6. That setup pumps out a huge amount of pixels.
And you'll see it in the results, which are largely crisp and clear, with realistic colours and contrast plus a speedy HDR shooting mode. Low light results aren't great in auto mode, but shift to the RAW-shooting pro mode and you can tweak for better images.
Samsung's hardware might not seem as impressive at a glance, with the single back camera rated at 12MP (f/1.7), but it benefits from an array of smart camera tweaks that really do pump out better images than the Galaxy S7. The Galaxy S8 takes three images every time you tap the shutter button, and then cleans up blur and noise to give you one oft-brilliant result.
Nearly everything looks amazing with great lighting, but even the low-light shots are pretty good. The OnePlus 5 is close, and perks like electronic image stabilsation and blurred-backdrop portrait images are great – but everyday shots are a little less sharp than on the Galaxy S8.
Only the most die-hard mobile shooters will probably see enough benefit from spending another £200+ on the Galaxy S8 just for the camera, but we do say that Samsung has a slight, slight edge here all the same.
Winner: Samsung Galaxy S8
Performance: Pretty equal
Now here is one department in which the OnePlus 5 didn't skimp at all: it's packing the top-of-the-line Snapdragon 835 processor within, and it is fast. You'll zip around Android without snags and be able to run high-end games and apps with ease. That's especially true due to the slightly mad 8GB RAM on the pricier model (£499) – not that 6GB in the base model (£449) should let you down in any way.
Of course, Samsung is also carrying top-end hardware: we get the Exynos 8895 chip here, but some territories have the same Snapdragon 835 as the OnePlus 5. In both cases, the 4GB RAM within is plenty enough to keep you speeding along without any hitches.
Both devices are among the most powerful Android phones out right now, and neither really stands apart from the other in terms of everyday usage – so this one's even.
Winner: Draw
Battery and perks: So much Samsung
The Galaxy S8 is a strong all-day performer when it comes to battery life, typically leaving us about 30% of life spared once we plugged in – or popped it onto a wireless charging pad – for the evening. And if you're a lighter user, the 3,000mAh cell might get you into a second day, as well. Meanwhile, the Galaxy S8 Plus bumps up to 3,500mAh for that larger screen, but you can eke out a little extra life over the standard model.
The OnePlus 5 falls right in the middle of the two with its 3,300mAh battery pack, and with a lower-resolution 5.5in screen to power, we found that it really did last a bit longer than the Galaxy S8. It should give you about 20% more uptime than the OnePlus 3T, which is good, since the 3T underwhelmed a bit compared to the original OnePlus 3 model.
However, the OnePlus 5 lacks wireless charging – that's one of the bonus perks of paying for a Galaxy S8. At least you get speedy Dash Charging, much like Fast Charging on the Galaxy S8.
As for storage, you'll find 64GB within both devices, or 128GB on the pricier OnePlus 5 model – but there's a bigger key difference. The OnePlus 5 doesn't have a microSD slot, while the Galaxy S8 does. You can't get more internal storage than 64GB, but that means you can put much larger and much more affordable memory cards within.
And the Galaxy S8 platform comes with other perks, whether it's the great Gear VR headset for immersive games and apps, or the solid DeX dock, which turns your phone into a proper PC-like computing experience using an external screen. Neither of those are critical elements of a smartphone – but owning a Galaxy S8 brings additional options. The OnePlus 5, on the other hand, sticks to the basics; and that's great for most users.
The OnePlus 5 has a small nudge up in terms of battery life, but everything else sways this category in favour of the Galaxy S8.
Winner: Samsung Galaxy S8
Verdict: Best of the best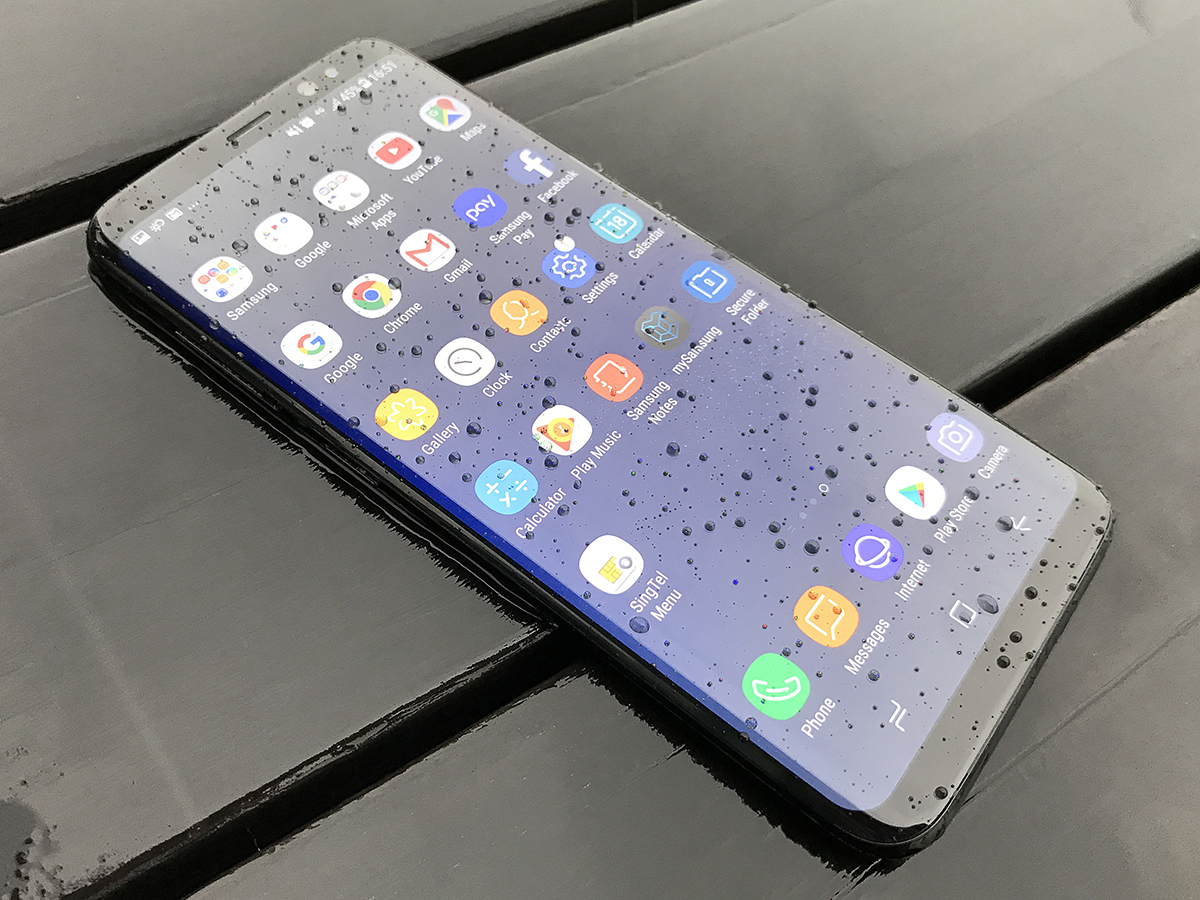 Samsung's Galaxy S8 is the ultimate premium smartphone, featuring top-of-the-line everything and dazzling looks. If money isn't an issue right now, then buy this phone. Or spend a little extra and buy the Galaxy S8+, which is just as brilliant while being a smidge larger.
But how many of us can really say that money isn't a concern in a decision like this? Of course it is, and the £240 price difference between the £689 Galaxy S8 and the £449 base OnePlus 5 is nothing to laugh at.
That's especially true when you think about the extremely minor trade-offs you'll endure for picking the OnePlus 5 over Samsung's flagship. You'll get a slightly less-crisp screen, which is barely noticeable, a little less visual flair, and a back camera that is almost as good. And you'll miss out on some bonus perks, too, such as the Gear VR.
There is no shame whatsoever in buying a brilliant £449 OnePlus 5 and saving the extra cash for something else. It's our #2 favourite phone in the world, but as you might infer from that ranking, Samsung still holds onto the top spot.
We strongly believe that the Galaxy S8 is the better overall phone when everything is considered, but honestly, the price point is the most dramatic difference between them. If you favor value and thriftiness over being on the absolute cutting edge, then go for the OnePlus 5. Otherwise, you can't go wrong with the greatest Galaxy to date.
Winner: Samsung Galaxy S8
Buy the Samsung Galaxy S8 SIM free here from Amazon, or check out the best deals on contract here