HTC U12+ vs OnePlus 6: Which is best?
Two of the newest Android flagships battle it out for your cash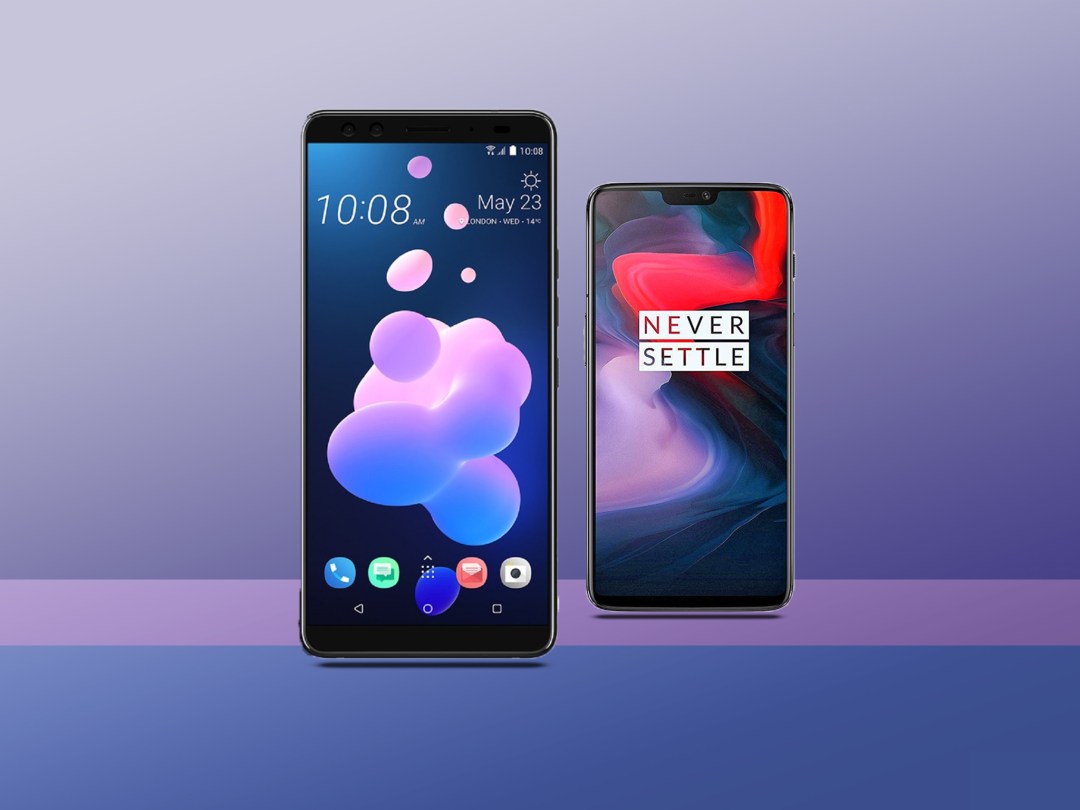 It's been a busy few weeks for major smartphone releases, and the OnePlus 6 and HTC U12+ are two of the biggest of the bunch.
The OnePlus 6 chucks the design of previous models in favour of a notched screen and glass backing, keeping check with many Android contemporaries despite the expectedly lower price than much of the competition. Meanwhile, the HTC U12+ builds upon the strong U11+, but packs it with four total cameras and more emphasis on the squeezable Edge Sense sides for triggering tasks and pulling up apps.
If you're trying to decide between these two handsets right now, which is most deserving of your money? Here's what we think, based on our review experiences with both phones.
Design: Notch or not?
The OnePlus 6 isn't the most distinctive flagship out there because it follows the recent Android trend of a notch and a chin on the front, with glass on the back. Still, for a sub-£500 phone, it's rather elegant and sleek – it matches the competition while undercutting it on price.
On the other hand, the HTC U12+ just isn't all that distinctive… period. Not from the front, at least: it's pretty bog standard. The layered "Liquid Glass" finish on the back is nice, but otherwise, the phone comes across as a pretty common brick. It just doesn't pop that much.
But if you hate notches, then your decision is already made here. That said, you can "hide" the OnePlus 6's notch via a software setting, which puts the black status bar on either side. But it's still really there, of course.
Verdict: OnePlus 6
Screen: Both big, but different
This one's a tricky decision. See, the HTC U12+ has the higher resolution Quad HD (2880×1440) 18:9 display, which means the 6in panel packs in more pixels and looks a hair crisper. But it's an LCD screen, so it lacks the deeper blacks and incredible contrast of OLED.
OnePlus opted for a 6.28in AMOLED screen, and it looks fantastic – but it's a lower-resolution 1080p (2280×1080) 19:9 display. That said, the resolution difference isn't dramatic in person, plus we found the HTC U12+'s screen to come up short on brightness, which can be an issue when out and about in daylight and snapping photos.
Verdict: OnePlus 6
Camera: Not the sharpest shooters
To be honest, neither of these cameras is the best of the best in the smartphone world today. At the very top of the ladder sits the Huawei P20 Pro, with the Google Pixel 2 just behind and the Apple iPhone X and Samsung Galaxy S9 right after.
But they're both pretty good dual-camera options overall, albeit with caveats on both ends. The HTC U12+ has a 12-megapixel main sensor at f/1.7 with a 16MP f/2.6 lens alongside to enable 2x zoom and bokeh effects. The HDR processing is superb, blending multiple exposures to pull out more detail.
In the automatic mode, the colours can be blown out – so you might want to use manual mode to get things more natural-looking. And night photos are weaker than with the OnePlus 6. But our main issue came from shutter lag that makes it feel like you're grabbing a snap a moment later than desired. That's frustrating and honestly unexpected from a 2018 flagship.
The OnePlus 6, meanwhile, has a 16MP main and 20MP secondary sensor, both at f/1.7 aperture. Photos tend to be punchy and packed with detail, plus the cameras handle skin tones well. That said, we found the colours overdone here as well, and we think the image processing could use a boost.
But it's much cheaper than all of the phones that beat it on photo quality, and the OnePlus 6 remains a very good shooter despite deficiencies. Overall, given their placement in the order of things, we'd say they're about even in this regard.
Verdict: Draw
Performance: All even
You can't get much more even than this: both phones rock a Qualcomm Snapdragon 845 chip along with 6GB RAM in the base model. You can bump up to 8GB RAM in a pricier model of the OnePlus 6, but we don't expect any clear upgrade in speed or multitasking ability; 6GB is more than enough for a smartphone today.
And overall, these phones are very comparable, despite differently-skinned takes on Android Oreo. They're both super-fast and entirely capable of handling games, apps, media, and whatever else you might throw at them.
Verdict: Draw
Battery and perks: Mixed results
The HTC U12+ has a slight advantage when it comes to total battery capacity, with 3,500mAh versus 3,300mAh in the OnePlus 6 – but somehow it comes up short.
Maybe it's the higher-resolution panel or just some much-needed optimisation, but the U12+ drained quickly in our testing and heavy users may routinely need top-ups before bedtime. Meanwhile, the OnePlus 6 came exactly as expected: it can give you a day and a smidge with solid usage.
Both phones offer 64GB in the base model with higher-capacity variants available on both ends, but the HTC U12+ is the only phone in this comparison that has a microSD slot for expandable memory. That's a big perk on their end of things.
HTC also has the Edge Sense pressure-sensitive panels on both sides, letting you squeeze the phone to pull up the Google Assistant or launch the camera, for example. But to be honest, we accidentally triggered them more than we intentionally used them. Your interest may vary, but we don't see them as a particularly crucial benefit.
The OnePlus 6 keeps the 3.5mm headphone port while the HTC U12+ loses it. On the other hand, the HTC U12+ has a proper IP68 rating for dust and water resistance, while the OnePlus 6 offers some unclear level of water resistance but probably isn't primed for a trip into the pool.
Lots of ups and downs in this category result in a draw overall.
Verdict: Draw
Verdict: OnePlus prevails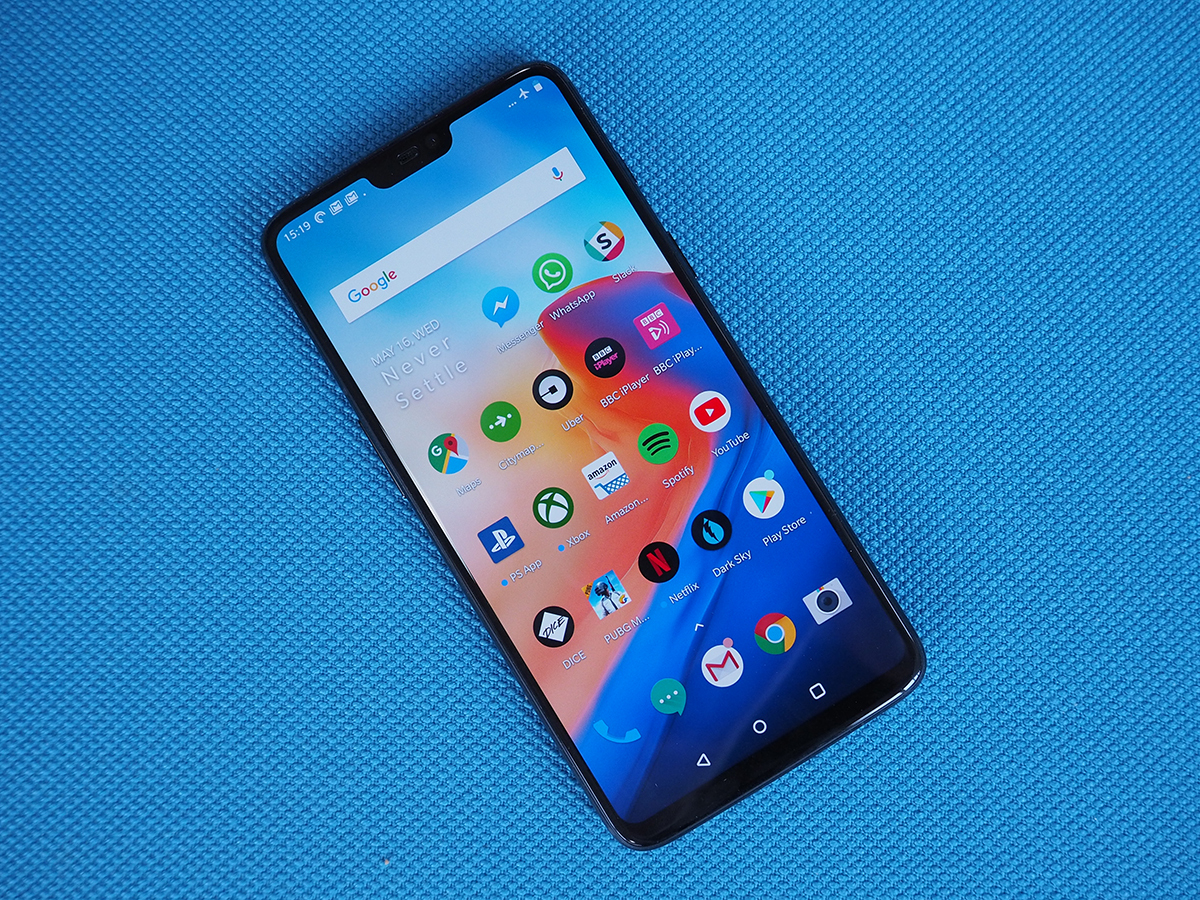 Each phone was reviewed with price in mind, and the OnePlus 6 was naturally evaluated differently at £469 than the HTC U12+ was at £699.
But to be honest, we actually like the OnePlus 6 more regardless of pricing. The HTC U12+ has plenty of high-end components, and yet it has odd deficiencies with the screen, camera, and battery life, and a somewhat ho-hum design to boot. It just doesn't have the polish of some other several-hundred-quid handsets.
The OnePlus 6 also has a couple camera qualms, but otherwise it holds its own when it comes to power, design, screen quality, and battery life. It's a fantastic handset that we'd say is only second to the Huawei P20 Pro in overall appeal, and at a price that is incredibly compelling compared to the competition. It wins this comparison outright, but it's also the much better value.
Winner: OnePlus 6