HTC U12+ review
The HTC U12+ gets a lot of things right, but a so-so battery life holds it back from greatness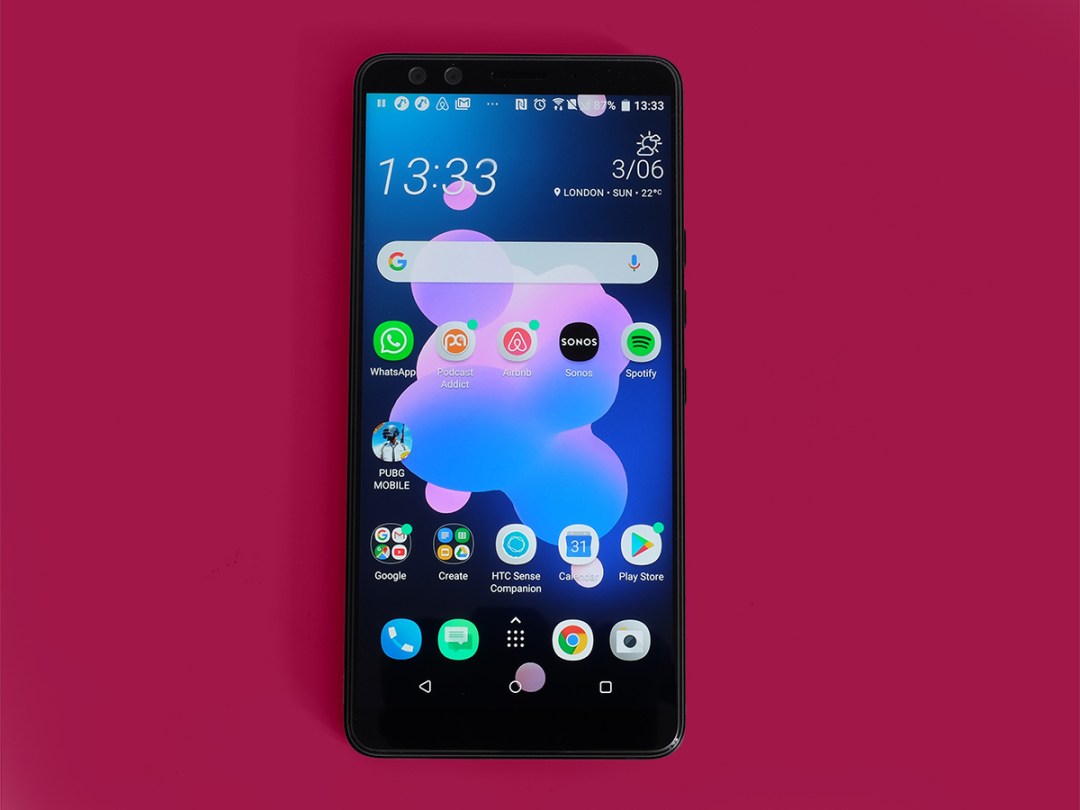 Why would you buy an HTC? Back in 2014 this question had an obvious answer. HTC made awesome phones.
Since then, well, let's just say the last four years haven't been all that kind. Like a YouTuber who never seems to get a viral break, HTC hasn't come up a smash hit to compete with Apple and Samsung since the HTC One M8.
The HTC U12+ (there's no smaller U12 to look out for by the way, this is your lot) has a crack at luring us back in with some unusual features like haptic buttons and HTC-favourite squeezy sides. These are unlikely to turn HTC's luck around, but the dual camera, bigger screen and updated internals that this phone brings to the table are arguably much more tempting.
Plus, if you're a notch-hater, this phone doesn't have one. And aside from disappointing battery life the HTC U12+ is well worthy of consideration.
HTC U12+ design: The art of glass
There are a couple of important stand-outs to note, though. The HTC U12+ does not have a notch. LG, Huawei, OnePlus and Honor have all been sucked in by this design trend, but here HTC has stuck with a normal rectangular screen.
It's still the longer 18:9 kind though, so it doesn't look dated. The display just doesn't push to the edges as much as a Galaxy S9+ or OnePlus 6, so you get slightly less screen inches per inch of phone than some. The HTC U12+ also feels fairly large, and at 8.7mm thick isn't super-thin.
A rectangular brick of phone this thick would usually feel flat-out chunky, but the curved "Liquid Glass" finish on the back avoids this. The HTC U12+ is big then, but still feels good. And its multi-layered glass aesthetic that changes as it catches the light looks the part too.
Looking for something a little different still? You can even get the HTC U12+ with an unusual translucent finish that reveals the gubbins hidden under the surface, like that Game Boy Colour from way back when. Very cool indeed.
Phone-makers currently experiment with all kinds of glassy finishes, and you might like this one if you think the Honor 10 looks like someone wrapped it in metallic wrapping paper.
HTC U12+ features: Old squeeze
Pressure-sensitive sides are what really set the HTC U12+ apart from the rest. The HTC U11 had these too. You can squeeze the phone to start the camera, wake the Google Assistant or launch an app. HTC calls it Edge Sense.
One obvious issue is that unless you set it to require quite a firm squeeze you're likely to set it off accidentally. Even normal hand pressure can start off the Edge Sense animations unless you calibrate it properly.
As I found in the HTC U11, this has happens more often than I've actually used the feature.
HTC has taken the Edge Sense tech a step further here too. Look at the HTC U12+'s buttons. Seem normal, don't they? Look a little closer and you'll soon realise that they aren't though.
Rather pressing down, they simply sense the pressure of your finger and then set off a haptic pop to simulate the feel of pressing a clicky button. A bit like Apple's home button.
But while Apple seems to have made the non-button button thing work, we're not so sold here. It ends up feeling disconcerting, a bit weird. Like digging into your favourite supermarket sandwich to find they've added anchovies to it, with no mention on the packaging. Who puts anchovies in a sandwich?
HTC says its to help with the durability but I'm not so sure. It feels like another gimmick that doesn't really pay off in real-world use. It certainly doesn't add to the experience.
The HTC U12+ also lacks a headphone jack, which is sure to put off a few more of you, but at least it comes with a pair of serviceable USB-C in-ears in the box.
There are some features just about everyone can appreciate, though. The HTC U12+ is water resistant to IP68, meaning it can be dropped in water with no damage. There's a good fingerprint scanner on the back. And it has stereo BoomSound speakers: one on the bottom, another by the earpiece.
This is great for gaming and watching videos. But while HTC's BoomSounds speakers used to be mobile audio royalty, the Samsung Galaxy S9 now shows them up with much smoother, thicker sound. In 2018, they've lost their edge.
HTC U12+ screen: Sticking with LCD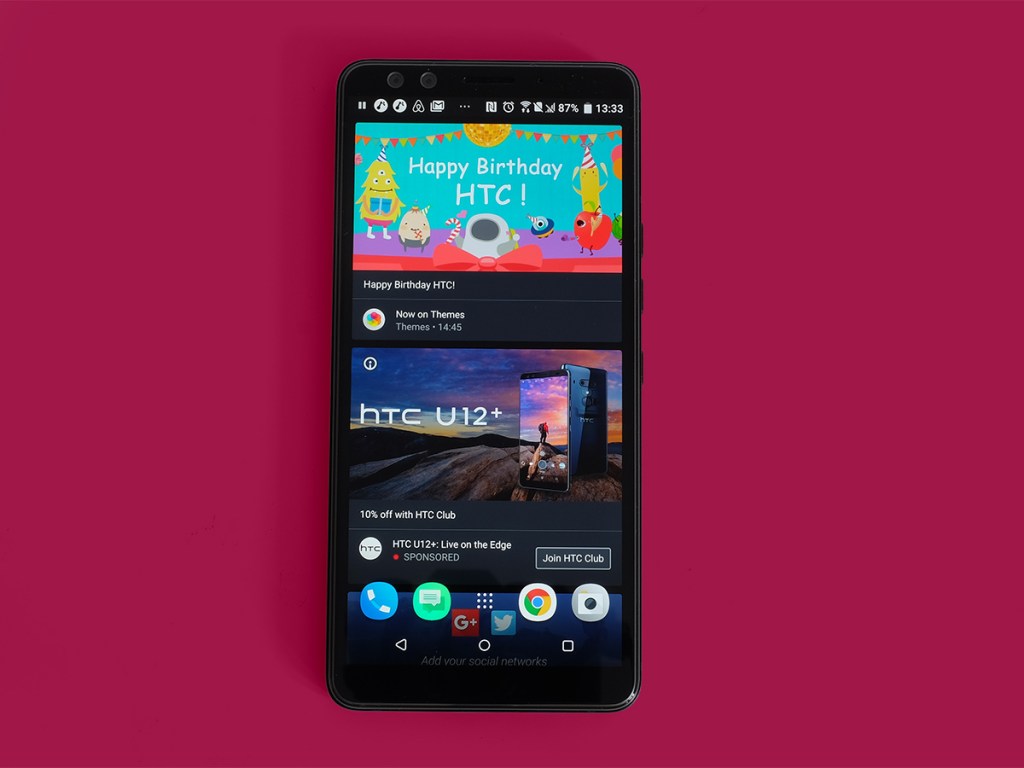 The HTC U12+ screen compares pretty well with the top contenders, despite using an LCD screen rather than an OLED. It's a 6-inch 18:9, 2880 x 1440 pixel display with higher pixel density than the OnePlus 6. It'll also support HDR10 out of the box.
Screen snobs will find its colours oversaturated at the default settings, and the colour temperature a little cool. However, you can change this.
Head to settings and you'll find a purist's sRGB mode and temperature sliders. Switching to sRGB makes the HTC U12+ look more grown-up. And like switching from drinking Coke to green tea, you can smugly tell people about it. If you're that kind of person.
However, the screen doesn't go nearly as bright as the LG G7 ThinQ or Samsung Galaxy S9, which is noticeable on a super-bright day. The screen just isn't as clear, particularly when you're out taking photos.
HTC U12+ software and performance: par for the course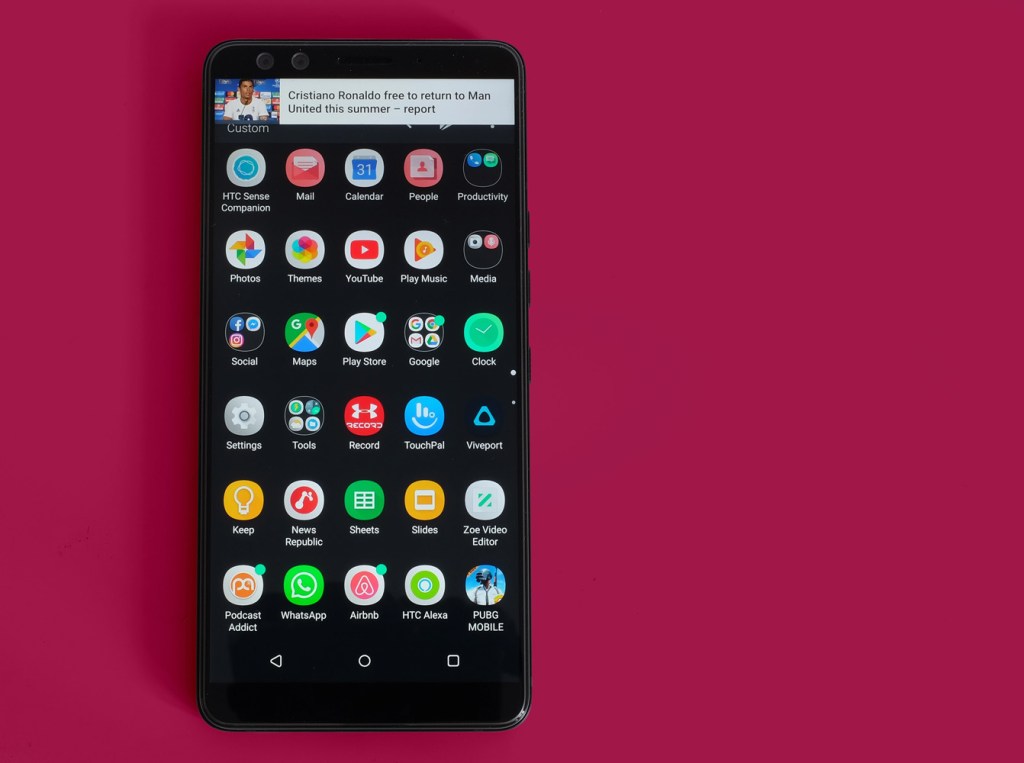 The HTC U12+ runs Android 8.0.0 and, like all HTCs, the Sense interface. Its basics are similar to those of normal Android.
You can jump over to the apps menu with an upwards swipe and it's mostly clean-looking. HTC is still keen for us to use HTC Sense homescreen, though. This is a feed of news and social updates that sits to the left of your standard homescreen.
You choose what goes in there. But when you do, it also starts taking over your lock screen with updates, like a needy partner begging for attention. "Did you know this woman traded a pot of McDonalds Szechuan sauce for a used car?" says HTC Sense. "I don't care," says every HTC U12+ owner.
Thankfully HTC Sense updates can be switched off, though.
The HTC U12+'s general performance is excellent, because it has one of the fastest mobile processors in the world right now. It's the Snapdragon 845, an octa-core CPU that earns the phone a Galaxy S9-matching 8825 points in Geekbench 4.
Android feels smooth, games like PUBG run at top graphics settings and during testing, the phone hasn't crashed or stuttered once.
HTC U12+ camera: Dual cameras all round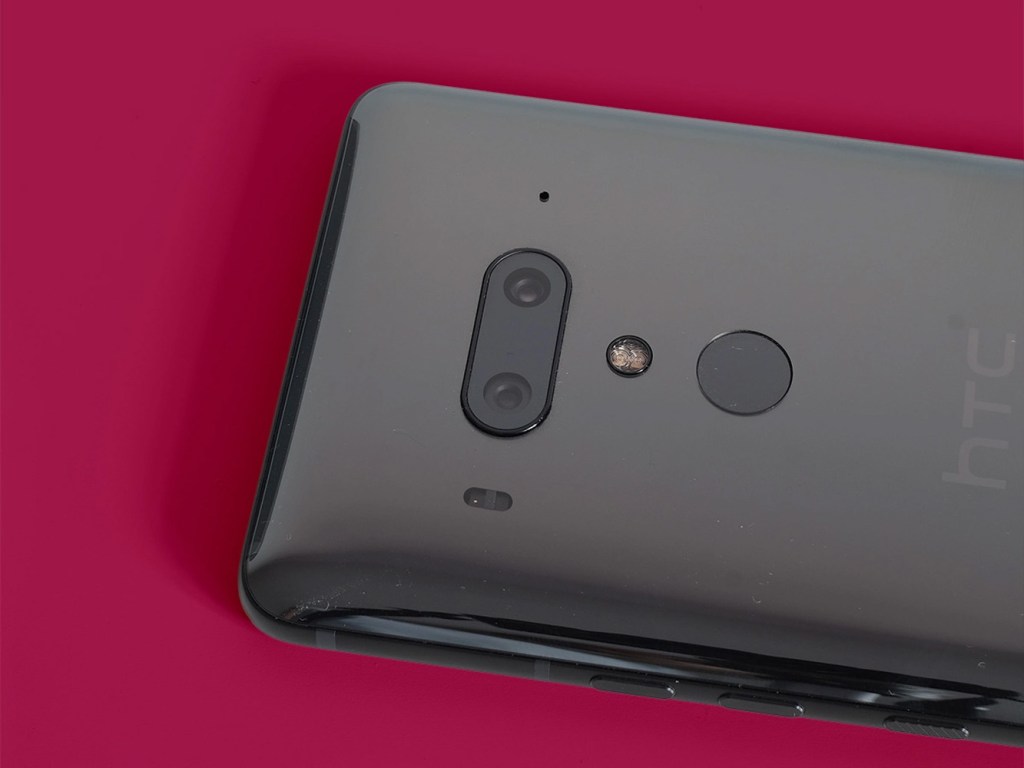 That said, it's over with the camera that I find the only performance issue worth complaining about.
The HTC U12+ suffers from a little shutter lag. You want to feel a phone takes a photo as soon as you hit the shutter button, but there's a half-second lag here.
There's otherwise a lot to like about the U12+'s camera, though. I say camera, there's actually four of them, with dual cameras front and back.
On the back you get a 12-megapixel main sensor with optical image stabilisation and an f/1.8 lens, plus a 2x zoom 16-megapixel sensor with a slower f/2.6 lens. Taking the HTC U12+ to shoot out in the park was a reminder of how useful a zoom can be, letting you compose shots that just aren't possible with the standard 27mm-ish view.
Not unless you jump in a lake, anyway.
The HTC U12+ also has superbly effective HDR processing. This is where a phone uses multiple blended exposures to bring out more detail in scenes where there's a big difference between the darkest and brightest areas.
It does aim for impact, though, occasionally blowing-out highlights to make sure shadow areas look clear and bright. However, switch to the Manual mode and you can capture raw DNG files and get the best of both with an application like Photoshop. Some of the results we've squeeze out of the HTC U12+ are seriously impressive.
Night photos are good too, although don't quite match either the OnePlus 6 or Galaxy S9.
Around the front, the HTC U12+'s two selfie cameras are used for creating bokeh background blurring rather than zoom, with two 8-megapixel sensors at your disposal.
This should in theory give it a better blur effect than phones like the Honor 10 that use one front camera for the same job. However, switching on the mode also results in much softer images, smoothing-out fine details like facial hair too much.
Given how well other phones get by with a single camera and facial recognition, it seems like dual front cameras aren't all that necessary for nicely blurred-out portraits anymore.
HTC U12+ battery life: Prepare to charge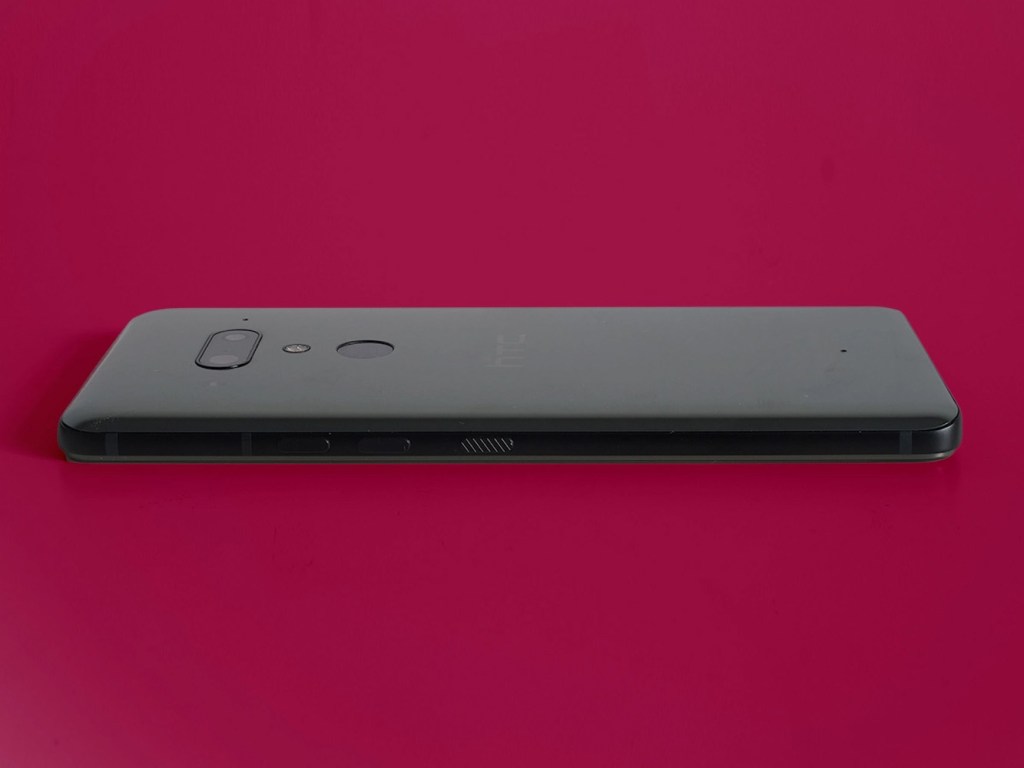 Aside from the HTC U12+'s weird non-moving buttons and the just-OK screen brightness, all complaints so far have been issues most can handle. However, its battery may test your patience.
The HTC U12+ has a 3500mAh battery. That sounds decent, with 200mAh more than the OnePlus 6.
However, in reality stamina is only just passable. Draining the HTC U12+ in a day is a cinch. Just a few hours of podcast streaming and some photo capture sees the battery drain almost to nothing before bed time.
It's a head-scratcher. The HTC U12+ doesn't have an ultra-bright 1000-nit screen and all its innards are up-to-date, but it seems to fall a way short of the best. This is a phone you'll need to charge every day.
The HTC U12+ does have fast charging, though. It takes you from 50% charge to 100% in under an hour.
There's no wireless charging here. HTC says the phone would have to be thicker, or the battery smaller, to fit it in. Given the HTC U12+ is already 8.7mm thick and the battery life isn't great, it made the right choice.
HTC U12+ verdict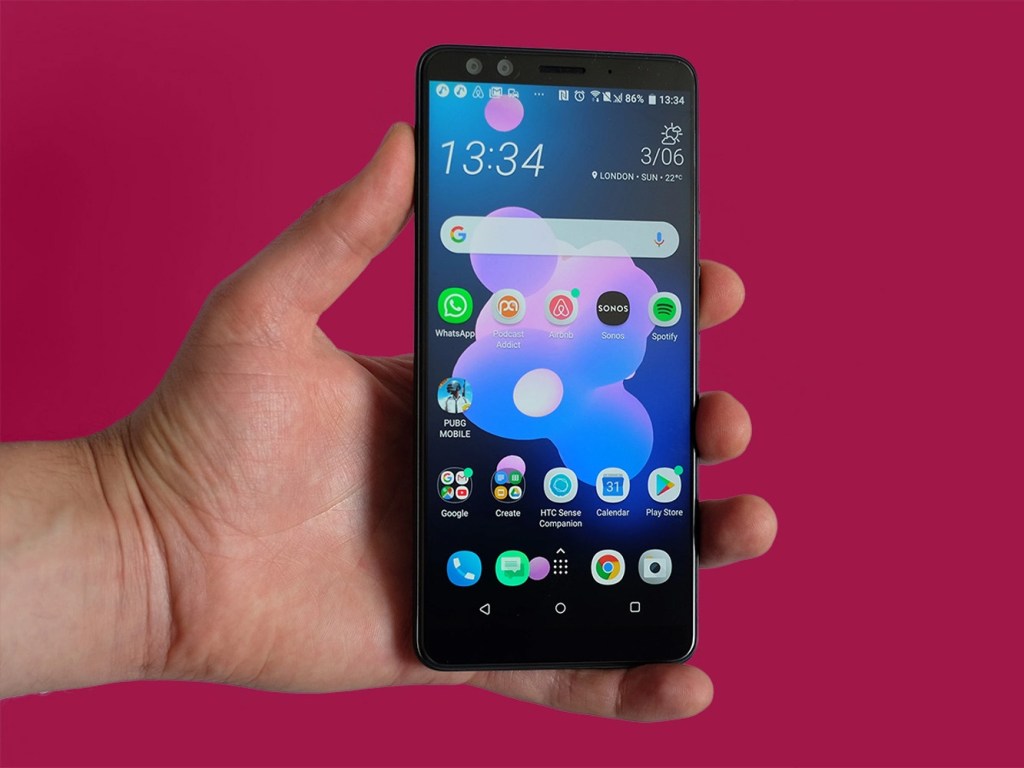 The HTC U12+ was a chance for HTC to tell us what its vision of Android is. What did we get? Pressure sensing quirks that don't necessarily seem much better than what we had before.
Add just passable battery life and the HTC U12+ doesn't get close to rivalling the Galaxy S9 or, more importantly, the cheaper OnePlus 6. However if you like HTC's style, a great camera, loads of power and high-quality build still make it a solid choice.
And while it may not be as great value as a OnePlus 6, it's still a lot cheaper than a Huawei P20 Pro or iPhone X.
Stuff Says…
Its unique features are more gimmick than genius, but the HTC U12+ is a solid phone for notch-haters
Good Stuff
Good rear camera
Notch haters will like the design
Water resistant
Bad Stuff
Mediocre battery life
Squeeze features more quirky than useful
No headphone jack