Bose QuietComfort Ultra Earbuds vs Sony WF-1000XM5: which is best?
Two pairs of top-tier true wireless in-ears face off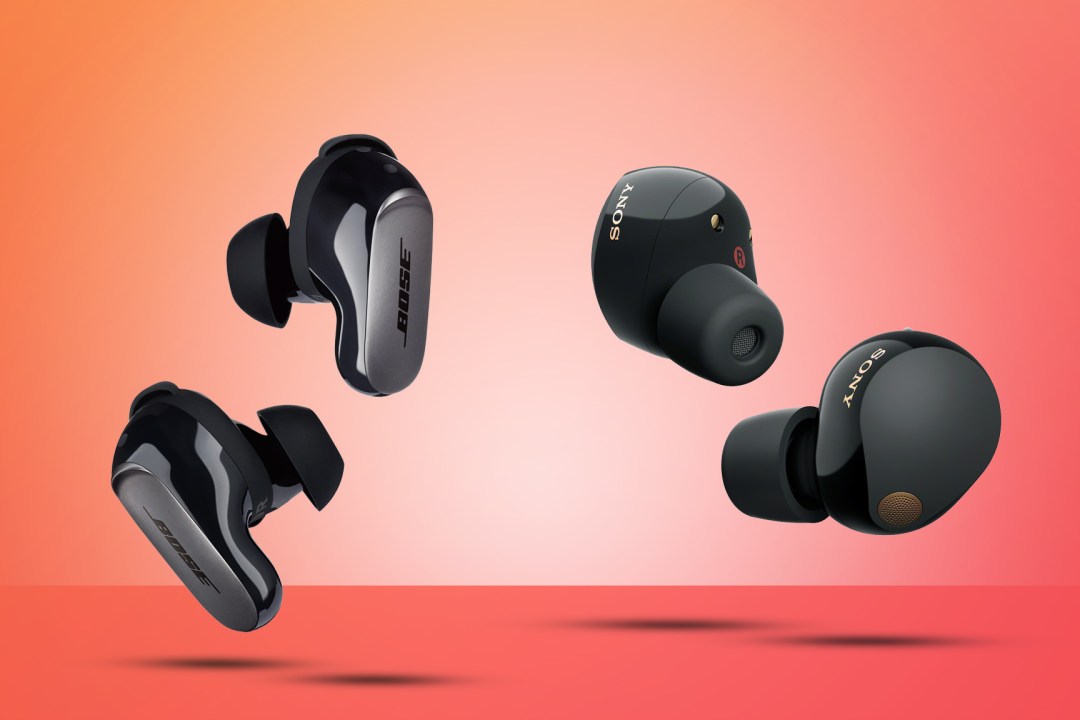 Bose and Sony have been engaged in a generations-long game of oneupmanship where noise cancelling headphones are concerned. Each firm reckons it knows best how to silence the outside world, while still sounding great and staying comfortable to wear for all-day listening.
The QuietComfort Ultra Earbuds and WF-1000XM5 are the latest pairs to face off.
Sony struck first, squeezing uprated ANC into an even slimmer earbud. But now Bose is fighting back with its own take on spatial audio, on top of its already excellent cancellation. But which is best?
Design & function
Both pairs of earphones are a welcome step up from their predecessors in terms of looks. Bose has kept the same basic shape as the outgoing QuietComfort Earbuds II, but added a metallic finish that hints at a more premium device. They have stubby stems that contain all the hardware, and give you something to grip on when twisting the tips into your ear. Stability bands around the edge of the tip have a new interlocking fit, which should stop them from slipping off quite as much. They are IPX4 sweat resistant, too.
The case is more of the same, being a little on the large side compared to some rivals but still slim enough to slip in a pocket. You can get the QuietComfort Ultra Earbuds in Black and White Smoke colours.
Sony has gone with more of a bulbous shape, with no stem and a mix of matte and glossy materials. Gold trim adds a hint of bling, and the shape has been optimised to better fit inside the concha of your ear. Hybrid ear tips made of foam and rubber provide more passive noise isolation than before, and should be comfortable to listen to for as long as the built-in batteries will hold out. An IPX4 rating means it'll survive sweat and light rain showers, but nothing more.
The case is slightly smaller than the firm's previous-gen effort, putting it more on par with the competition. The WF-1000XM5 is available in black and silver colours.
Features & battery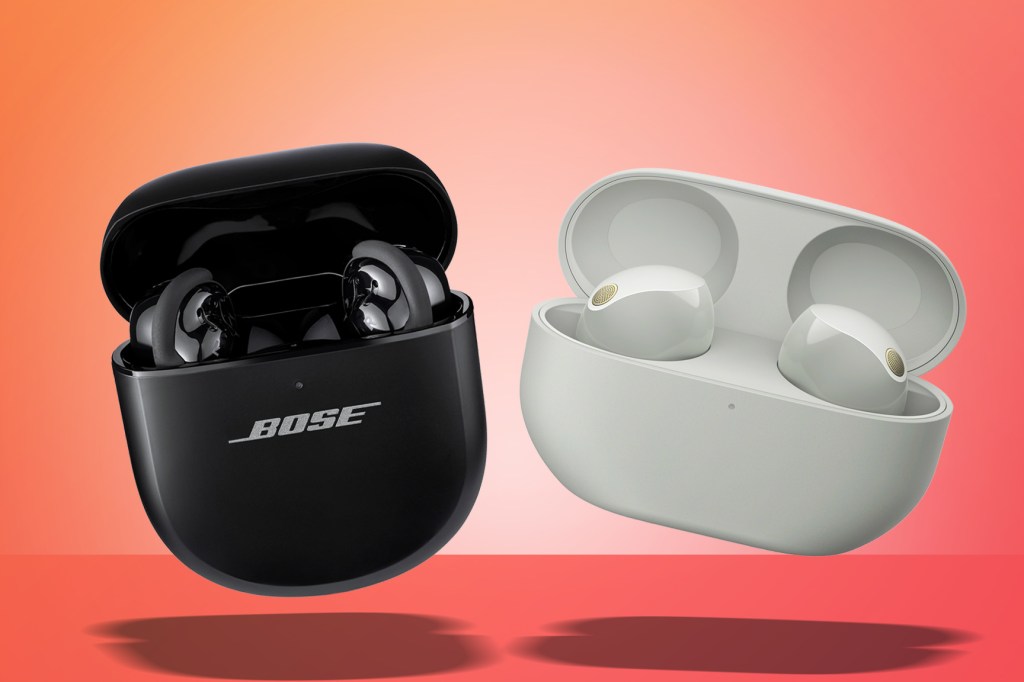 Immersive Audio is the big new addition in Bose land, with the firm saying its spatial listening tech will stop music from sounding "collapsed into your head, between your ears". Until we've tried it out in person it's unclear how effective it'll be, and whether the 'Motion' mode that moves the soundstage around while you're walking will be engaging or irritating.
Sony has spatial sound of its own, in the form of 360 Reality Audio upmixing. It's done the rounds for a few generations now, but the WF-1000XM5 added head tracking to the mix for the first time. The feature is meant to bring extra immersion to your music, but it divides opinions on its effectiveness.
Bose falls into second place where battery life and charging are concerned. The QuietComfort Ultra Earbuds only claim six hours of playback with Immersive Audio switched off; turn it on and you're looking at four hours. The case holds enough in reserve for three full charges, so you're still looking at 24 hours of listening. That's on par with the Sony, as the WF-1000XM5's case only has two full charges. However, the buds themselves can last eight hours before they'll need a top up, which is more convenient.
Sony's charging case also supports wireless charging, whereas the Bose only does USB-C wired refuelling out of the box. You can buy a silicone cover that adds wireless charging support, but it's a $50/£50 extra on top of the cost of the Earbuds themselves.
Sound
We can't give a verdict on the QuietComfort Ultra Earbuds' sound quality just yet, but seeing how the 9.3mm driver returns from the last-gen model, we're expecting a similar performance here. That should mean big and bold bass notes, an engaging (if a little safe) high-end and the ability to cope well with big dynamic shifts. It'll be Immersive Audio that makes all the difference as far as soundstage is concerned.
The WF-1000XM5 are much more of a known quantity at the time of writing. They deliver fantastic clarity across the board, with nuanced bass and and impressive level of detail. The soundstage is fairly wide, even before reaching for the 360 Reality Audio toggle, and there's no shortage of volume on tap.
Price
Currently the WF-1000XM5 will set you back $300 in the US, or £259 in the UK. That puts them towards the top end of the price range for ANC in-ears from mainstream brands, and more than rivals including the Apple AirPods Pro (2nd Gen).
Meanwhile, the QuietComfort Ultra Earbuds are priced at $300 and £300 respectively. That's an especially bad deal for British buyers – and that's before you consider the $50/£50 extra Bose wants for the wireless charging case upgrade. The Sony pair includes that as standard, making it the clear winner here.
QuietComfort Ultra Earbuds vs WF-1000XM5 verdict
Before this generation, you could argue Sony had the sound advantage and Bose took the lead on noise cancellation. Things look a lot closer this time out, with the WF-1000XM5 stepping up on ANC and the QuietComfort Ultra Earbuds adding spatial audio upmixing to deliver a more engaging listen.
Both should deliver a high-end wireless listening experience, with plenty of custom calibration options through their companion apps. Comfort should be excellent regardless of which model you go for.
How well Immersive Audio works could be what tips things in Bose's favour – but when you take value into consideration, it's Sony that comes out on top. It includes wireless charging as standard, and in the UK it's also considerably cheaper.