Bose QuietComfort Ultra Earbuds review: sound that surrounds
Third generation of QC buds deliver some seriously impressive sound thanks to Bose Immersive Audio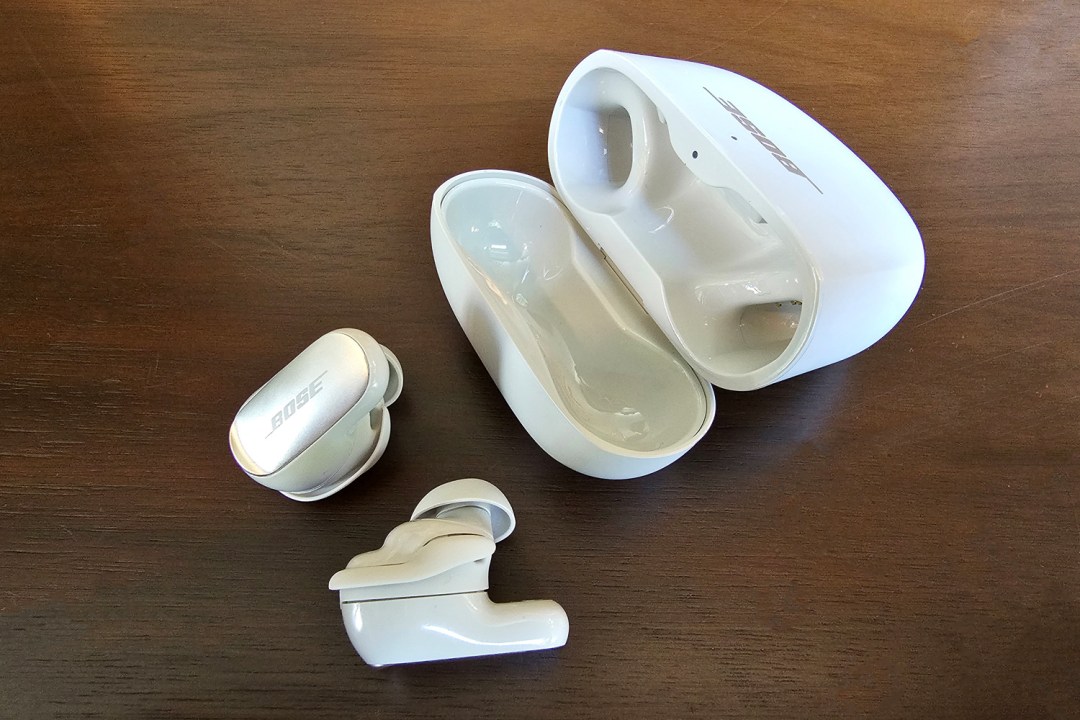 Stuff Verdict
A top-notch pair of in-ears that takes audio experiences to the next level while still delivering that industry-leading ANC. Are they worthy of an upgrade over their predecessors though? Probably not.
Pros
Top-notch noise cancellation
Big, detailed and engaging sound
Impressive spatial technology
Cons
Average battery life
Pricier than closest rivals
Introduction
If you don't like listening to music unless it's the only thing you can hear, Bose has long been the company to call. The QuietComfort Ultra Earbuds are its latest effort wireless earphones, but at first glance it doesn't seem like much has changed from the outgoing model.
The QuietComfort Earbuds II were a course correction for a brand that always specialised in active noise cancelling (ANC), but hadn't always been celebrated for its, let's say, svelte design. Instead of the embarrassingly cumbersome and by no means comfortable original QuietComfort Earbuds, here were more sensibly sized in-ears that still managed to hang on to the same top-quality ANC.
This new pair looks familiar, but also promises new "Immersive Audio" tech. Is it any good – and does it warrant an upgrade for existing Bose Earbuds users?
How we test headphones
Every pair of earphones and headphones reviewed on Stuff is used for a minimum of a week's worth of daily listening. We use a playlist of test tracks made up of multiple genres to assess sound, and use our years of experience to compare to other models. Manufacturers have no visibility on reviews before they appear online, and we never accept payment to feature products.
Find out more about how we test and rate products.
Design & Build: Nothing to see ear
The QuietComfort Ultra Earbuds maintain an almost identical shape and size compared to their predecessor, with one noticeable enhancement – a sleek metallic finish that adds a touch of luxury. Our "white smoke" model has a smooth matte texture, giving it a premium feel. The best part is they don't collect fingerprint smudges, unlike their over-ear equivalents, the Bose QuietComfort Ultra Headphones, which we recently got some hands-on time with at a launch event.
The ear hooking stability bands have been improved with a smarter interlocking design, which ensures they stay firmly in place and won't fall off. It's hard to see what changes have been made visually, but this is still a welcome improvement – both pairs of Bose's previous Earbuds could wiggle loose over time. During our time with them, this new pair have stayed glued in the ears and refuse to fall out, even during exercise. It's worth noting that while they can handle a workout here and there, they aren't marketed as sports earbuds so they may not stay put during super-intensive activities. Nevertheless, they're exceptionally comfortable and don't feel like they're weighing your lugs down like some ANC earbuds can.
As we saw in the QC Ultra Earbuds II, the Ultra buds retain a host of responsive touch controls that allow you to control the skipping, volume and pausing of tracks, alongside the same IPX4 rating, meaning they're resistant to water splashes as well as the occasional aforementioned sweat.
Features: Time for your spatial
While Bose's latest buds don't offer much new to gorp at, we do have a fresh audio feature to wrap our ears around. Immersive Audio is a spin on spatial audio that aims to elevate your listening experience with an expansive, multi-dimensional soundstage. It surrounds you virtually, rather than just feeding sound from left and right channels.
It gives a heightened sense of realism, where music feels all-encompassing; like it's being performed in the room you're in. Impressively it achieves this without altering the fundamental character of your favourite music, instead enhancing every nuance and detail. It really does help elevate your audio, but equally it doesn't feel so revolutionary that QC Earbuds II owners will be getting FOMO.
Bose Immersive Mode is split between two nifty listening modes, switchable using the Bose Music app. 'Still' mode keeps things steady with a fixed sound profile, so you can enjoy your music without any wobbles; 'Motion' mode ensures the sound stays right in front of you, even when you're on the move; and the battery-saving 'Off' option is a real lifesaver for extended listening sessions. These all work as intended, although we can't imagine why you'd ever need to use Still mode unless you're planning to not move your head for several tracks of music.
Call quality has also been improved from the last-gen model. Dynamic mic mixing and adaptive noise filters work in tandem to figure out which bud's microphone is experiencing the least noise and use it to strip out any background chatter. The result is a much clearer voice, where those on the other side can also hear you clearly. In our experience, there seemed to be a discernable improvement over calls experienced on the QC Earbuds II, if not a major one.
As for battery life, the QuietComfort Ultra Earbuds pretty much match Bose's claims of six hours with ANC on but Immersive Audio turned off, and about four hours when both are turned on. You can listen with ANC off, but there's literally no point in owning these if you're planning on using them with noise cancelling enabled.
Sound quality: A whole lotta nothing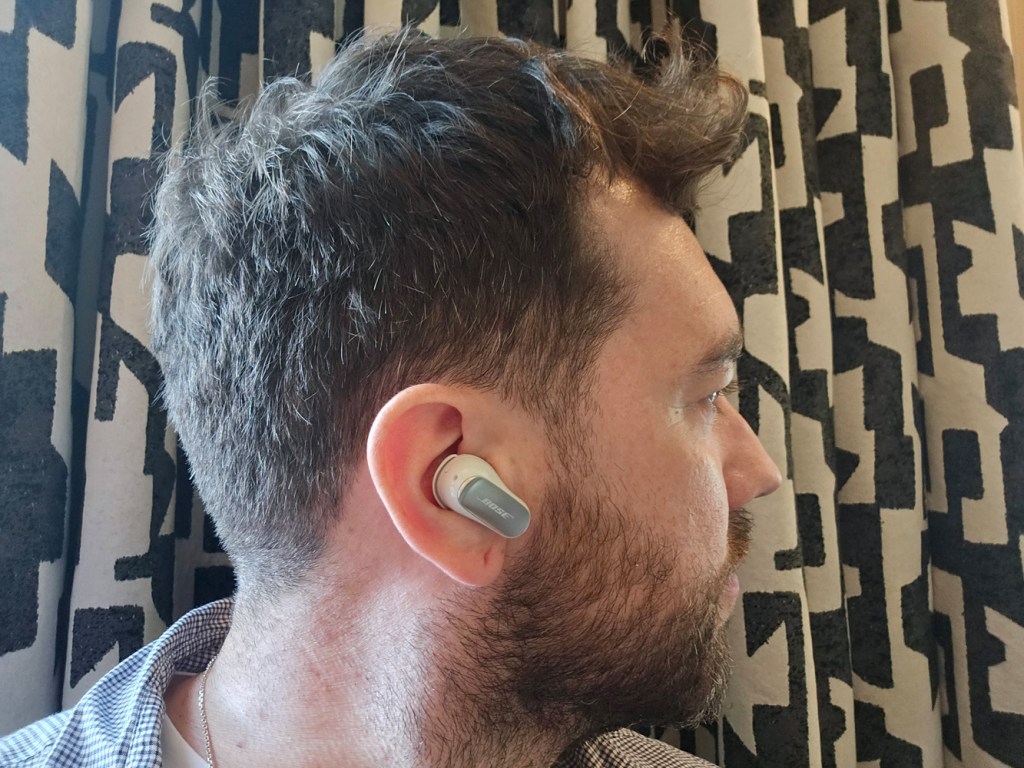 Despite the new focus on Immersive Audio, fans of Bose's noise cancellation will be relieved to hear the company hasn't let its ANC standards slip. The sound-blocking tech is as impressive as ever, and still some of the best we've heard in a pair of in-ears.
The new 'Immersion' listening mode is meant to offer outside silence while also delivering all-encompassing audio; we don't think it goes quite that far, but after taking the QuietComfort Ultra Earbuds on trains, planes and busy shopping streets, screaming babies included, neither the ANC nor the Immersive Audio experience falters.
General audio performance is pretty much what we've come to expect from Bose. Like their predecessors, these earbuds' bass frequencies are like bouncers at the club – bold and in control, while ensuring a natural rhythm and tempo. They provide the low-end detail you need and maintain momentum without feeling overwhelming.
At the other end of the audio spectrum, the treble tones, while not exceptionally crisp, offer vivid details and maintain a smooth texture even at higher volumes. In the midrange, the expansive soundstage gives vocalists plenty of space to shine. Bose provides a wealth of detail on vocal technique and emotions, seamlessly integrating with the rest of the audio spectrum.

Bose QuietComfort Ultra Earbuds verdict
The Bose QuietComfort Ultra Earbuds don't provide much of a design upgrade over their predecessors, but they do deliver a fresh audio experience. Rivals may have it beat for nuance or engagement, but the spatial sound is put to great effect here.
Apple's AirPods Pro 2nd Gen and Sony's WF-1000XM5 both cost less, though, while also delivering effective ANC and a fantastic listening experience. If you're willing to sacrifice a little bit of silence in return for sound quality, the Sony gets our vote, and if you've already got a pair of QC Earbuds II, this new version probably isn't worth the upgrade.
Tat said, top-notch ANC still makes these earbuds a top choice for anyone who prioritises audio with minimal interruptions.
Stuff Says…
A top-notch pair of in-ears that takes audio experiences to the next level while still delivering that industry-leading ANC. Are they worthy of an upgrade over their predecessors though? Probably not.
Pros
Top-notch noise cancellation
Big, detailed and engaging sound
Impressive spatial technology
Cons
Average battery life
Pricier than closest rivals
Bose QuietComfort Ultra Earbuds technical specifications
Drivers
9.3mm dynamic
ANC
Yes
Bluetooth version
Bluetooth 5.3
Codecs supported
SBC, AAC, aptX Adaptive
Durability
IPX4
Battery life
6 hours (buds, ANC ON) 18 hours (case)
Dimensions
30x17x22mm, 6.24g (buds)
66x59x27mm, 59.8g (case)