Logitech G Cloud review: gaming on cloud nine?
A dedicated cloud gaming handheld that feels good in the hands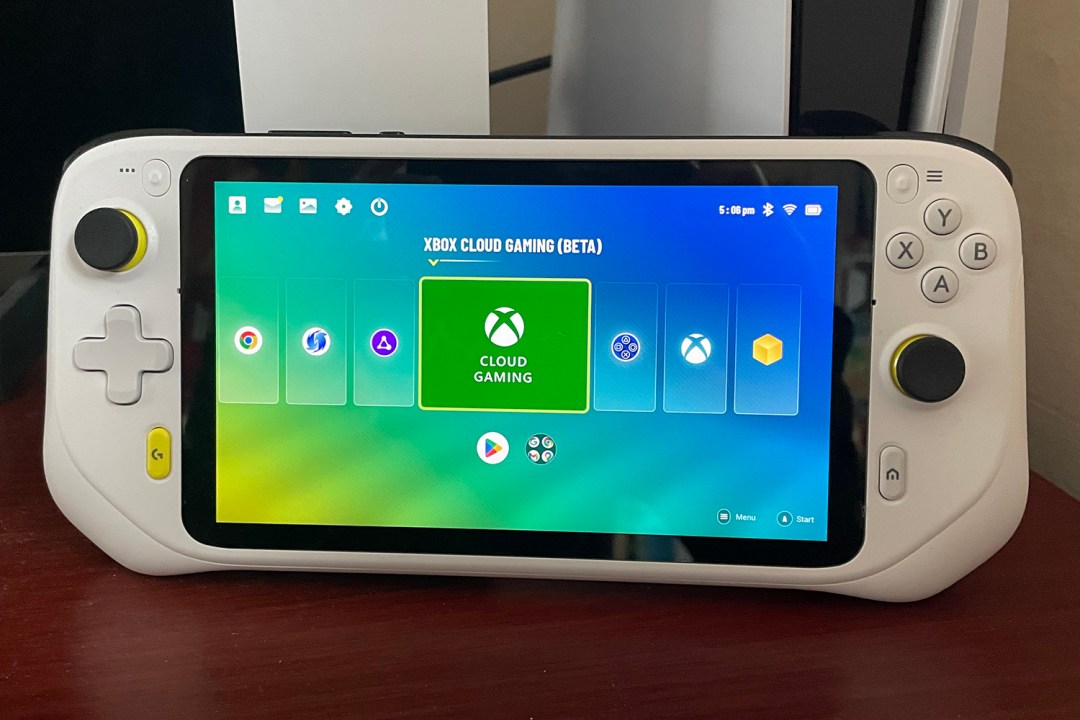 Cloud gaming has had some growing pains (RIP Stadia, we hardly knew you) but the future of gaming is looking ever more like we needn't be tied down by bulky and expensive hardware to get the best bleeding edge gaming experience. The Logitech G Cloud is then at ground zero to position itself as a dedicated cloud gaming handheld, rather than just a tablet with controls attached to the side like the more expensive Razer Edge.
After releasing in the US last September, Logitech's first console finally launches in the UK on the 22nd of May. A launch promotion bundles in 6 months of Xbox Game Pass Ultimate, 1 month of GeForce Now and 1 month of Shadow to get you started. The hardware may not use all the latest technology such as Wi-Fi 6 or 120Hz, but it's still got the right stuff to make cloud gaming feel good today.
But if the idea of cloud gaming is being able to use any device, why you wouldn't just use your phone and save the price on a native gaming handheld like the Nintendo Switch OLED or the lowest tier version of the Steam Deck? Time to find out.
Design & Features
Once in your hands, the Logitech G Cloud feels like a premium device from a company with a proven track record for high-end gaming hardware. It has all the sticks and buttons you'd expect from modern controller, including analogue triggers, a D-pad, and the same ABXY face buttons as an Xbox controller. They're all of a similar size to a standard game pad, rather than the miniaturised versions found on many mobile controllers.
This is an Android-based device with mobile internals, so weighs a little more than a Switch OLED at 463g. Still, it feels better in the hands for longer gaming sessions owing to the very comfortable textured grips on the back. It's considerably smaller and lighter than the massive Steam Deck.
Volume buttons, a sliding power button (which makes a nice latching sound when putting the device into sleep mode) and a microSD card slot line the top edge. The latter lets you expand the console's modest 64GB of on-board storage, though as a device primarily for cloud gaming you probably won't need to. A USB-C port is at the bottom for charging, as well as an audio jack for connecting wired headphones.
The Logitech G Cloud has a pretty bare bones bundle, arriving with the console and USB-C power adaptor but no protective case. The 7in display at least comes with preinstalled screen protector.
Screen & sound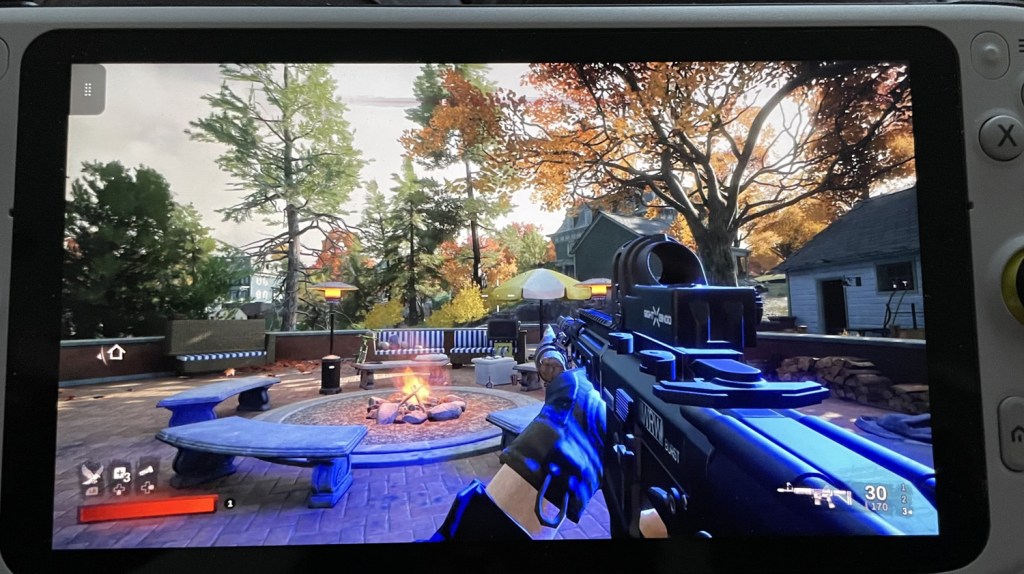 At 7in the G Cloud's screen is similar in size to both the Switch OLED and Steam Deck. It uses an IPS panel, but takes the lead on resolution. The 1080p display is beautifully sharp, although whether you'll get the full benefit depends on which cloud gaming service you use. We ran Cyberpunk 2077 via GeForce Now, which also comes with ray-tracing as an option, and could barely distinguish it from the real thing.
While it only has a 60Hz refresh rate, this is perfectly fine given that most streaming services only provide up to 60FPS framerates. The important thing is that those framerates have been fairly consistent for the games we've played, both via the cloud and local remote play.
The stereo speakers offer clear if unspectacular audio, but we were impressed with the versatility of other audio devices you can use. Wired headphones provide lag-free audio, Bluetooth connectivity lets you cut the cord at the expense of latency, or you can use the USB-C port with supported wireless devices such as Logitech's own G Fits earbuds, using their Lightspeed wireless transmitter.
Interface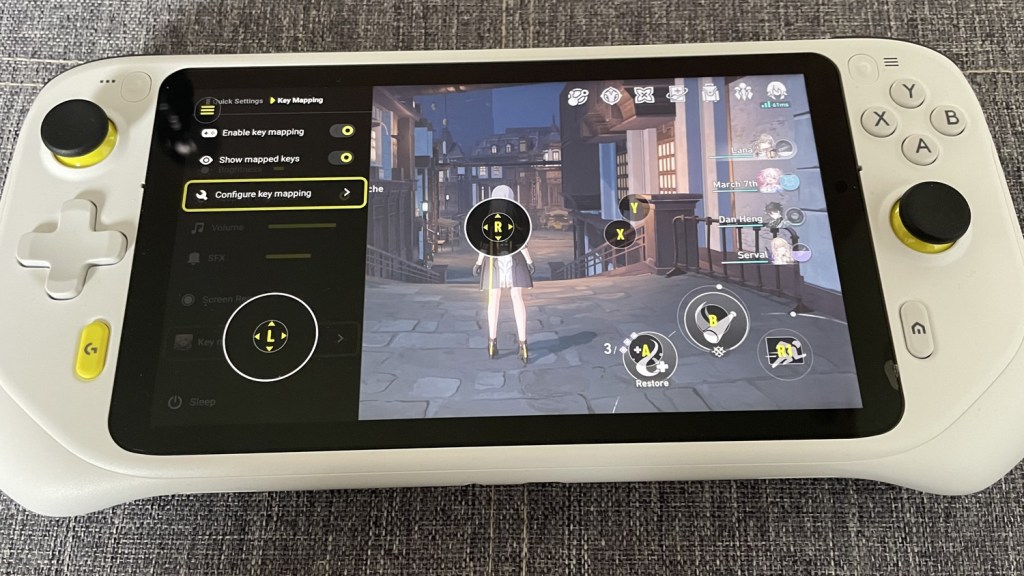 The G Cloud has been out in the US for a while, but it's still a relatively new handheld. So it's puzzling to see it arrive running Android 11, which is two generations old. Even the crowdfunded Abxylute console will ship with Android 12.
Still, the UI is responsive, with a layout that's similar to the Switch. Your most recently used apps are easily selected with the d-pad, while a "More Apps" option at the end expands with more icons, like a regular Android tablet. You can even switch the handheld to pure tablet mode, though we wouldn't recommend having multiple apps running as it could interfere with the quality of cloud streaming.
The handheld comes preinstalled with the Xbox Cloud Gaming, GeForce Now, and Shadow cloud services, which in theory means you can jump straight in provided you have an existing subscription. It's easy enough to jump in to Chrome and set one up if not. Other Google apps come pre-installed, although YouTube would sometimes be confused about its orientation when opening. Thankfully you can turn off notifications if you prefer not to be bombarded by Gmail alerts while gaming.
Naturally, you can still access other cloud services such as Amazon Luna, which includes a small selection of games for Amazon Prime subscribers, or also download more apps via the Google Play store, as you can still use it as a native offline device.
Performance and battery
The strength of cloud gaming depends on factors beyond the console itself, such as your internet speed and connection, as well as the quality of the cloud gaming service you're using. One potential drawback with the Logitech G Cloud is that it doesn't feature Wi-Fi 6, but having tested it with a 250MB internet connection, both while sitting near the router as well as in another room with an extension router, we've found the results to be near-flawless.
GeForce Now, which supports a large library of PC games you already own, essentially streams the power of an RTX 3080 rig to your screen in full HD, and with no input lag or artefacts we can scarcely tell the difference. Xbox's Game Pass library on the cloud is attractive but its video compression on mobile sadly results in resolution far blurrier than the 1080p claimed, though we still manage to play games like Halo Infinite and Wo Long: Fallen Dynasty in smooth 60FPS without any compromise to our reflexes.
You can also turn the Logitech G Cloud into a remote play device, which we tried for PS5. Although the PlayStation's Remote Play app isn't officially supported and also rather shoddy maxing out at 720p/30FPS, we opted for third party paid app PSPlay, which does support 1080p/60FPS streaming. Playing Star Wars Jedi: Survivor and the Street Fighter 6 demo from the toilet was revelatory.
With the cloud doing most of the heavy lifting, battery life is great. The G Cloud can last up to 12 hours per charge, and if you only use it for short bursts you'll still find it with plenty in reserve after being left in sleep mode for days at a time – unlike the Steam Deck.
The battery drains much faster when running games natively. The G Cloud's Snapdragon 720G processor would be fairly old hat i the phone world, but we could still run Vampire Survivors without a sweat. Even 3D games like Honkai Star Rail ran at medium settings, and it's also capable of running retro emulated games from the Dreamcast era with little fuss.
While the mobile version of Honkai Star Rail is touch control-only, you can get by without awkwardly reaching your fingers past the controllers to the screen thanks to virtual button mapping. The workaround will vary depending on the app you're using, but we were happy just being able to control our camera and move the camera with the thumbsticks this way.
Logitech G Cloud Verdict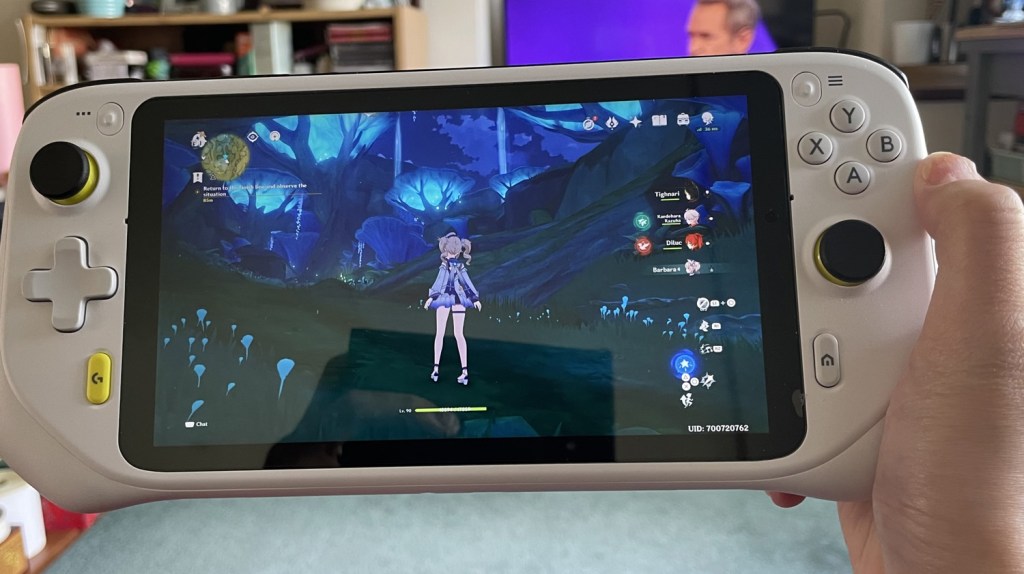 Critics may have been bemused and dismissive of its announcement last year, but now that it's finally out, the Logitech G Cloud is an impressive cloud gaming handheld. While it's rather pricey compared to the Switch OLED, its bright 1080p display, 12-hour battery and comfortable grips for long gaming sessions mean you're neither paying for more than you need, but still get decent mileage from natively run Android games.
If you've been sceptical of cloud gaming, not helped by the shuttering of Stadia last year, then the Logitech G Cloud is a great starting point to experiencing its benefits. Just remember to bear with the Android-based limitations, such as Xbox cloud gaming's muddy resolution.
A bit of tinkering is required to get the best out of it, but when used for cloud gaming, remote play, mid-range Android games and emulation, the price feels just about right to have all that in your hands.
Stuff Says…
A comfortable cloud handheld that also works brilliantly for remote play, Logitech G Cloud impresses with its display, performance and battery, while still good enough to play locally.
Good Stuff
Good comfortable form factor
Bright and sharp 1080p display
Hardware sufficient for native games and includes virtual button mapping
Bad Stuff
Not all cloud/remote services available out of the box
Android-based limitations
Quite pricey if only used for cloud gaming
Logitech G Cloud technical specifications
| | |
| --- | --- |
| Screen | 7in, 1920×1080 LCD |
| CPU | Qualcomm Snapdragon 720G |
| Memory | 4GB RAM |
| Storage | 64GB on-board, microSD expansion |
| Connectivity | USB-C, 3.5mm headphone port, Bluetooth, Wi-Fi |
| Battery | 6000mAh |
| Dimensions | 257x117x33mm, 463g |