Steam Deck review: PC gaming goes portable
Two hands on Deck for our full review of Steam's epic handheld console
Handheld gaming became a very big deal when the Game Boy came along in the late '80s and has been going strong since – but right now it's really having a moment.
The Nintendo Switch is on track to become one of the best-selling consoles ever made, the smartphone likely occupying one of your pockets right now is powerful enough to play console-style games natively or from the cloud, and more niche products like the Analogue Pocket and Panic's upcoming Playdate are offering exciting new handheld experiences for games both old and new.
And now PC gaming is getting in on the act, too. Valve's new Steam Deck is by no means the first handheld gaming PC – Browse Indiegogo or Kickstarter for 10 minutes and you'll find plenty vying for your cash – but by marrying eye-opening tech with the largest digital distribution platform in the space, it surely has the best chance to make it really take off. If you want to reserve one, you'll need to go to Valve directly.
It feels a bit lazy to call the Steam Deck the Nintendo Switch for those who do most of their gaming while chained to a desk with a mouse under their hands, especially when the two devices are ultimately competing for the attention of very different audiences – but that's pretty much the pitch.
Imagine being able to take Steam's vast library of games, including any you already own, and play them anywhere on a powerful portable PC that can be just about anything you want it to be. If you'd rather play on a big screen you can dock your Deck and instantly do so, just like you can with Mario and Zelda on the Switch. But unlike the Switch, the ability to install other launchers, game stores and operating systems means you're not walled in by anyone or any rules.
\That's the Steam Deck, or at least it will be eventually. It's still very early days for Deck, and it doesn't feel like a finished product just yet.
But the Steam Deck doesn't need to be flawless to be one of the most exciting gadgets we've tested for years – here's our full Steam Deck review.
Price: Choose your weapon
True to its PC gaming roots, not all Steam Decks are created equal. If you want to buy one (you can currently only purchase directly from Steam and any new pre-orders will only become available some time after Q2 2022) you'll need to decide how much storage you're going to want out of the box.
All Steam Deck variants have the same AMD APU, which we'll get to shortly, but you pay for more or less storage. The entry-level Deck comes with 64GB of eMMC storage and a carrying case. Be warned that that's going to fill up with games very quickly indeed. Pay £459 and you a faster NVMe SSD with 256GB of storage, and that doubles to 512GB with the top-tier £569 model, which also gets you an anti-glare coating on the glass display, an exclusive carrying case and an exclusive virtual keyboard theme.
We were sent the variant that houses the 512GB NVMe SSD and it's so far just over half full with about 20 games of varying sizes installed. That'll no doubt soon be loaded up, but Micro SD support makes it easy to add more if needed.
The Steam Deck isn't cheap, then, but it's incredibly affordable when compared to an even half-decent desktop gaming PC or laptop. If you want to get into good quality PC gaming, the Steam Deck is the cheapest way to do it.
Design: Big ambition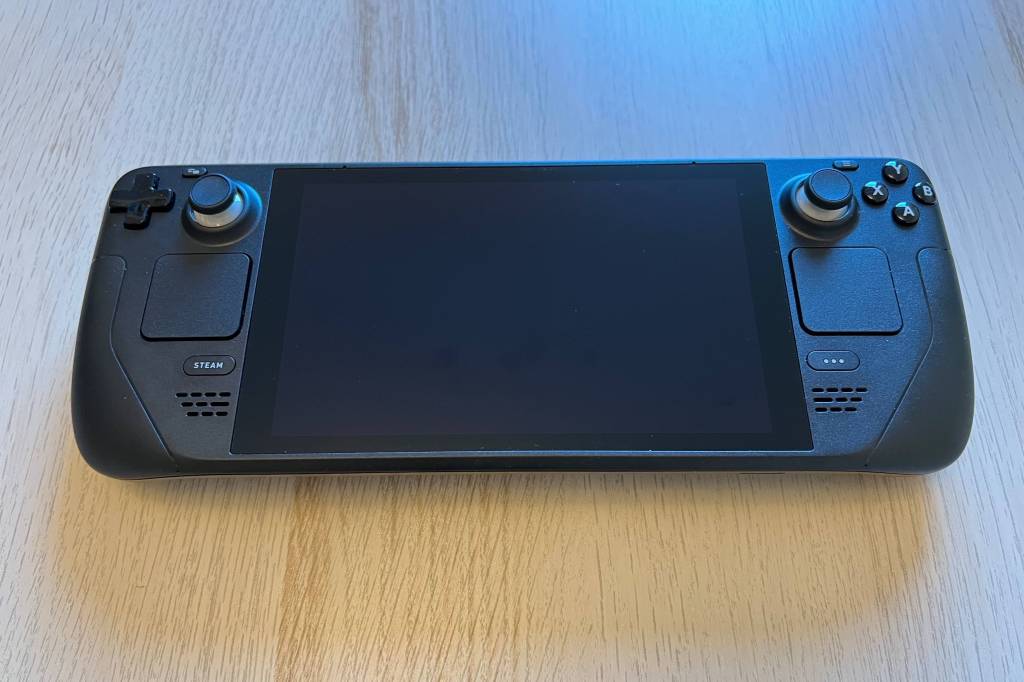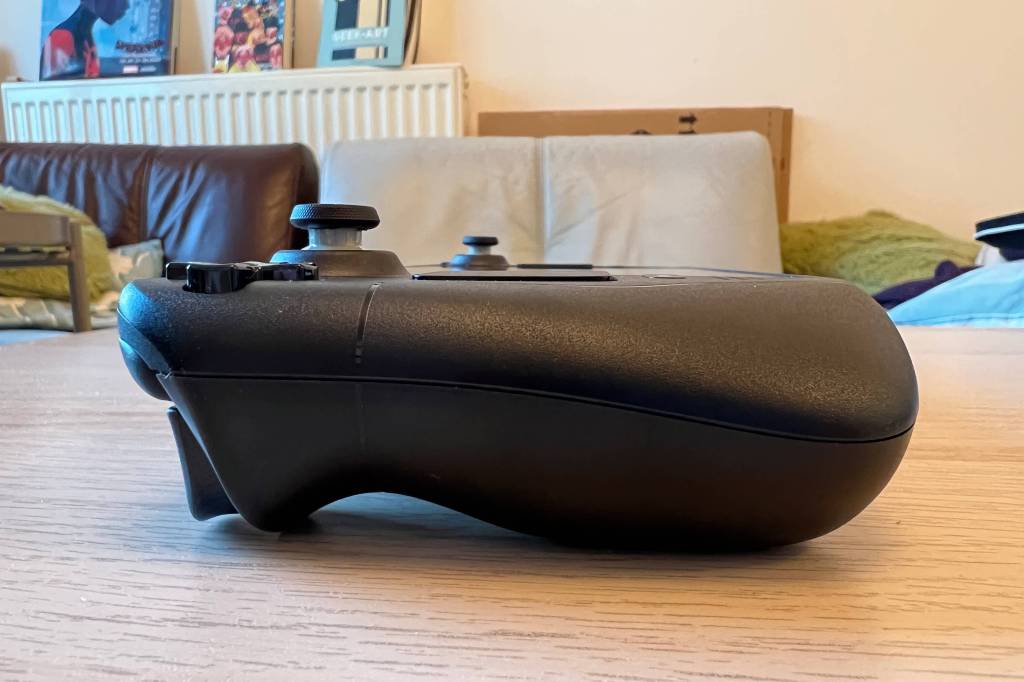 Let's get this out of the way quickly: the Steam Deck is big. Very big. The Nintendo Switch OLED, which is hardly a diminutive piece of handheld hardware, looks and feels teeny by comparison, and we're slightly terrified to even see how the Deck looks next to something like the PlayStation Vita.
The Steam Deck measures 11.7in in length and is just under 2in thick, and it's impossible not to be struck by its sizeable dimensions when you pick it up for the first time. In fact, we've been using ours every day for over two weeks and still wouldn't say we're completely used to the chunky boy's presence. At 669g it's well over 200g heavier than the Switch OLED too, although the weight strangely hasn't bothered us too much, presumably because it's usually propped on our lap while we lie on the sofa or the bed. This is obviously no Game Boy Advance, though; if you're sitting down for an extended session of Cyberpunk 2077 you're going to feel the hand fatigue after a while, and the Deck is too heavy to comfortably hold in front of your face for a long period of time.
While obviously demanding nowhere near as much room in your backpack as the average gaming laptop would, the Steam Deck definitely pushes portability to its limits, especially once it's inside a case, and if you're brave enough to whip it out on a plane then people are going to notice.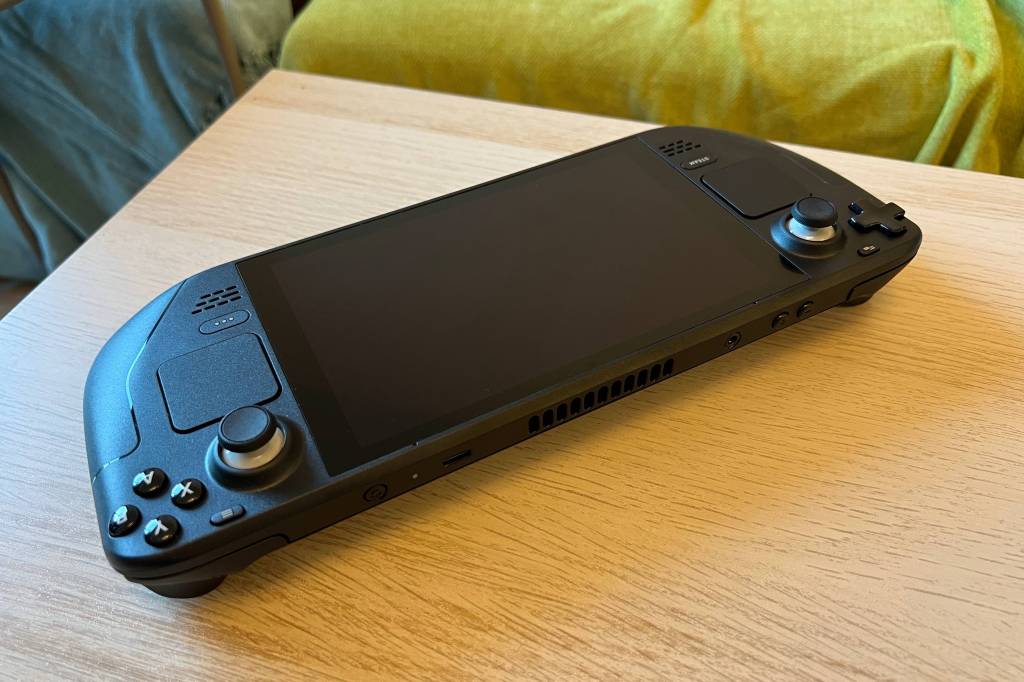 All that said, the Steam Deck is a really well-designed piece of kit that feels really good in the hands. The all-black matte plastic design is unfussy and decidedly Valve, although we do wish the white colourway shown off on stage was a retail offering, too. The rounded corners of the portable PC sit nicely in your palms, and rather than a flat back like the Switch's, the Deck has grooves that your fingers wrap around, which feels more comfortable. That does mean, however, that they naturally rest on the four rear mappable grip buttons, and it's easy to press one when you don't intend to. In one game we played, the R5 button was pre-programmed as an alternative jump button, and that quickly had to change.
The Steam Deck's D-pad and four face buttons are positioned at the top right and left corners of the device, which we think might be too high for some, especially if their hands are on the smaller side. It's not uncomfortable but feels noticeably different from the gamepads we're used to holding. The textured, touch-capacitive sticks are nice and grippy, and we like the chunky triggers and bumpers, too.
To aid with the transition from more traditional mouse and keyboard PC games, the Steam Deck also has two trackpads on either side of the display. We haven't had to use them too much yet, but they might feel a bit on the small side if you're trying to replicate mouse controls. They feature haptic feedback too but don't go expecting anything on a level with the PS5's DualSense. Gyro aiming is also supported, and if you're really struggling to kick the PC habits, you're more than welcome to plug in or pair with a keyboard and mouse. All the controls are re-mappable and customisable, and we're still trying to get our head around the dizzying array of options at our disposal.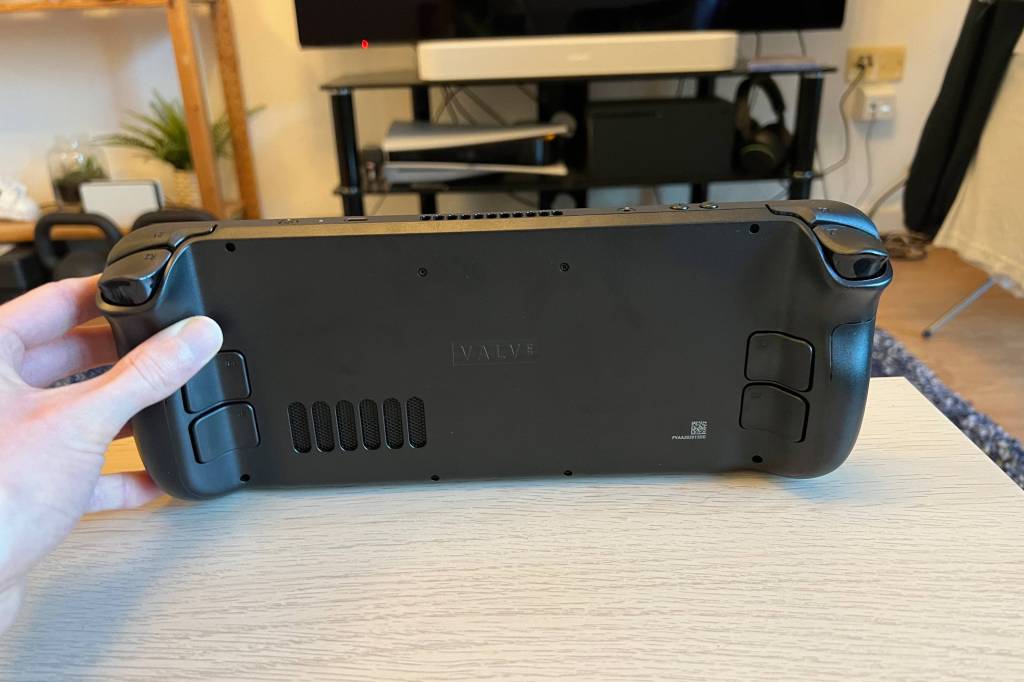 You also have a Steam button that brings up your game library, online store, friends list and advanced settings, and on the opposite side another quick access button that allows you to make adjustments to brightness and volume, check your battery status and notifications and join friends online.
Volume buttons sit on the top of the Deck, with a 3.5mm headphone jack just next to them. A bit further along you've got a USB-C port and the power button. If you want to add a microSD card for some extra storage, the slot is conveniently located on the bottom of the device. No kickstand gymnastics are needed here (looking at you Switch OLED).
Screen and sound: Size matters
The Steam Deck's 7in LCD touch display has a 60Hz refresh rate, a 16:10 aspect ratio and a native resolution of 1280 x 800, which is only slightly better than the Switch's. Some may be disappointed that the panel isn't 1080p, but we think Valve was probably right to focus on performance above pixels.
What is initially slightly disappointing if you're coming from a Switch OLED, or even just a half-decent smartphone, is the fact that it's an LCD. We're now used to our handheld devices enjoying the deep blacks and vastly superior contrast afforded by OLED. Everything just pops more.
But the Steam Deck's affordable price point would no doubt have taken a considerable whack if Valve had gone this way too. What you get here is a very nice screen all the same, and from our testing 400 nits seems to be plenty of brightness. Games look fantastic on this panel. There is an ambient light sensor built in, but we've tended to leave it off, manually adjusting brightness when we move to a different room.
When you dock the Switch the handheld's 720p resolution is upscaled to 1080p, but while an official Valve dock will eventually arrive, you won't see any boost in power when connecting the Steam Deck to your 4K TV or monitor, something we haven't really experimented with. Valve predicts that for most people the Steam Deck will be a secondary, go-anywhere PC, rather than their primary one, so its focus was on handheld. You'll need a compatible USB-C hub if you do want to go big screen before the dock arrives. We'll update the review when we get our hands on one.
As for the built-in stereo speakers, they're surprisingly impressive, and we were more than happy enough to play a few rounds of current Steam sensation Vampire Survivors without using anything else. For meatier games, though, you'll probably be grabbing headphones, so it's a good thing the Steam Deck supports Bluetooth 5.0. Connection issues have been a problem in early software builds, but we're hoping they get ironed out soon.
OS: It's getting Steamy in here
It's all well and good squeezing a gaming PC into something you can hold in your hands, but if you're trying to do the same with a desktop UI then you're going to have a problem. The Steam Deck, then, ships with a new version of SteamOS, Valve's Linux-based operating system. The idea is that you get PC open-endedness with the ease of use of a handheld console.
Once you've connected to Wi-Fi and logged into your Steam account your entire library will appear on your Deck, allowing you to download games to the device as you please. Much like the desktop version of Steam, your Home screen shows you your recent games, new updates, friend activity, store additions and recommended titles based on your interests. You can use any of the control inputs to navigate the UI, including the touch screen, and cycle between sections using the bumpers.
The Steam Deck's most valuable asset, though, is that Steam button located in the bottom-left corner. Whether you're spending all your hard-earned in the Store or playing a game, tapping this button brings up a menu that allows you to quickly go somewhere else on the device, without needing to manually back out of whatever it is you're doing. It can take you back to the Home screen or straight into the Store, and makes getting around the Steam Deck very easy.
When you're in your Library you're able to browse between all of your owned games, those installed on Deck and the games badged "Great on Deck". More on that shortly. Games are all accompanied by cover art, just like they are on a desktop, so you can quickly find what you want to play.
Everything you'd expect to find on Steam, from remote play to cloud saves and friend chat, is all on the Deck, too.
While Valve has wisely ensured the Steam Deck is as user-friendly out of the box as possible, this thing does a lot more than a handheld games console. It's a PC, and therefore is whatever its owner decides it is going to be. By holding the power button you can switch to a standard desktop and install new software and browsers, which can be added to a "Non-Steam" tab on the standard UI for faster access. This allowed us to add Chrome straight away.
When in desktop mode you can use either your finger or the trackpad for the mouse, but the virtual keyboard wasn't ready during the review process, so we had to connect a physical keyboard to do any proper browsing.
The Steam Deck is perfectly capable of accommodating alternative OS's and stores too if you prefer Windows to Linux, or the Epic Games Store to Steam. This theoretically means that tinker-happy Microsoft gamers could turn the Deck into a fully-fledged portable Xbox if they wanted to, but moving to Windows means giving up the custom-built SteamOS, and as Valve warned us that Windows is not yet an optimised experience on Deck, it's something we're yet to try. We did manage to get Xbox Game Pass cloud streaming running through Chrome (there's no app support at the time of writing), but it failed to pick up the Steam Deck as a supported controller. We're told that this will soon change, though.
It's important to note that since we've had the Steam Deck, updates to the OS and UI have been coming in on a near-daily basis, so there have naturally been bugs, occasional audio issues and some sluggishness to contend with along the way that'll likely be long gone by the time any lucky recipients of the first batch of units get theirs. But we do have to flag that it's not been a painless experience so far, and even now the Steam Deck is technically out we still encounter problems with games randomly not downloading or cutting out during installation on a fairly regular basis. If you're an early adopter you're probably braced for this stuff anyway, but that doesn't excuse it.
Game library: Verification needed
The Steam Deck might be designed to play your entire Steam library on the go, but it's not yet able to run every game the intimidatingly vast Steam store has to offer without a hitch. The Steam Deck relies on a compatibility tool called Proton, which makes it possible to run games built for Windows on Linux and the Steam Deck without any input needed from developers.
There are a lot of games on Steam, and ahead of launch Valve has been testing as many of them as it can, addressing bugs and any compatibility issues to ensure players are getting the best experience when they boot something up. But that'll take a bit of time. The Steam Deck arguably has the biggest and best launch lineup of any gaming platform in history, but you shouldn't expect everything to work flawlessly out of the box.
To make things easier for new Deck owners, Valve has badged every game both in the Steam Store and your library with a current compatibility rating. A green tick means that game is Verified, which means it supports the Steam Deck's native 1280×800 or 1280×720 resolution, has good default settings and offers full controller support and a virtual keyboard when prompted. It should work, basically.
The yellow "i" badge means the game is currently playable but might require some tweaking from the player, and the question mark badge means that the game is yet to be tested. A lot of games in the Store currently still fall into the latter category, but that doesn't mean they're not worth trying. An early access rhythm game called Rhythm Doctor was badged as untested but already runs really well on deck. But when we excitedly fired up Batman: Arkham Asylum we sadly couldn't get beyond the menu screen. It's a bit hit and miss at the moment.
The final rating, which is suitably illustrated with a no entry sign, means a game is currently straight-up unplayable. There aren't many, but we know that Proton's incompatibility with the anti-cheat software built into many multiplayer games is a hurdle Valve is working on. We were looking forward to dipping into Lost Ark, the MMO action RPG taking Steam by storm in 2022 while half-watching a football match on the telly, but right now the game simply doesn't work.
But this is hopefully just a matter of patience. And at launch, there are hundreds of games that sit in the handy Verified section of the Steam Store, including Psychonauts 2, Disco Elysium, God of War and even Elden Ring, which only came out last week. You're probably wondering how they run, huh?
Performance and battery life: In a word, wow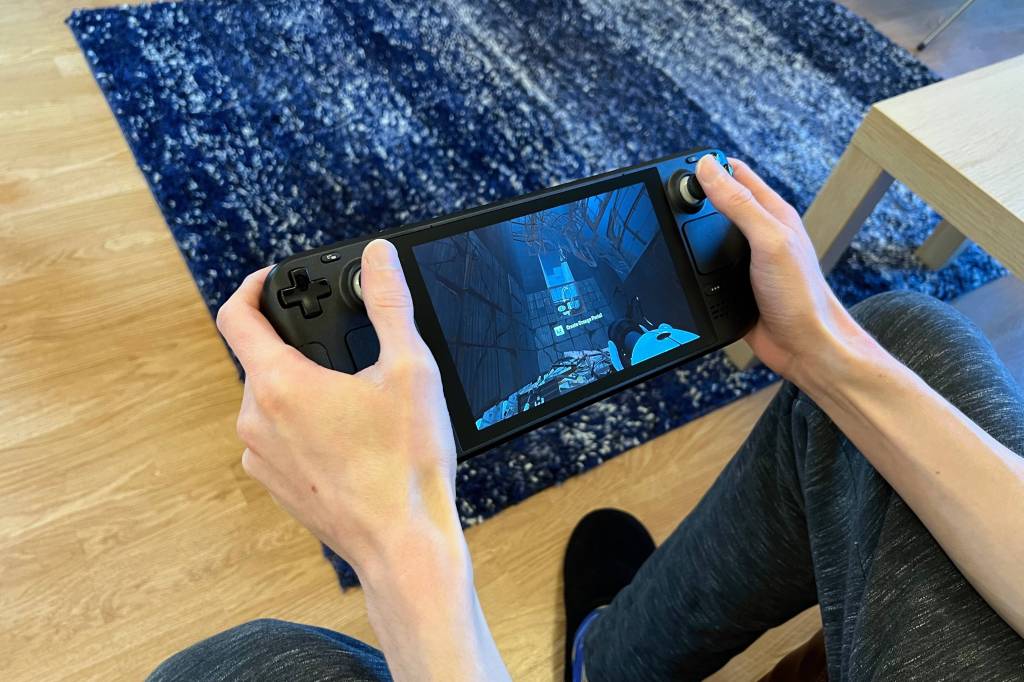 The Steam Deck's custom APU was built in collaboration with AMD and is optimised for handheld play. You're getting a Zen 2 CPU and RDNA 2 graphics, with 16GB of LPDDR5 RAM. There's plenty more techno-waffle to dive into for those that want it, but the bottom line is this: the Steam Deck is designed to play everything from the made-in-a-bedroom £2 indies to AAA blockbusters without them moving or looking like offensive sludge. And it really is seriously impressive to behold.
This being a Valve-made handheld, we felt obligated to make Portal 2 the first game we tested. It might be nearly 11 years old, but it's still a wildly inventive masterpiece in game design and straight away showed up in the Verified list in our library. Even if it isn't the busiest or most processor-intensive 3D game you're likely to want to play on your Steam Deck, Valve's best title runs at a silky smooth 60fps in the Deck's native 800p with most settings on high and looks superb on the 7in screen. So good, in fact, that we nearly forgot to try other games.
A newer game like God of War gives the Deck a bit more of a workout, but the results are still eye-opening. Kratos' PS4 epic only landed on PC at the beginning of this year, but on Steam Deck's default graphics settings with V-sync turned on it easily maintained the 30fps floor Valve is working to, and a lot of the time seems to comfortably outperform it. We were getting 40fps with decent settings. Crank things up a bit and you'll naturally see the game start to dip a bit, but it's when you start playing a flagship console title like this that you realise that comparisons with the Nintendo Switch, which has to call upon the cloud for a lot of its AAA ports, are a bit ridiculous.
Fallout: New Vegas is currently badged as untested on the Steam Deck, and we had some issues with the keyboard inputs when trying to enter a name, but once you're in the game it runs at a smooth 60fps and looks great. Disco Elysium, as much a novel as it is a game and therefore one that always felt like it would be an ideal handheld experience, struggled to run on the Switch. Here it's possible to play at 60fps without having to dial much back at all. The list goes on. There will be big open-world games or fast-paced action titles with a lot happening on screen that inevitably put some strain on the Steam Deck, but in our experience so far the majority of modern games run well at a bare minimum 30fps with medium settings, and that's pretty incredible for a first effort.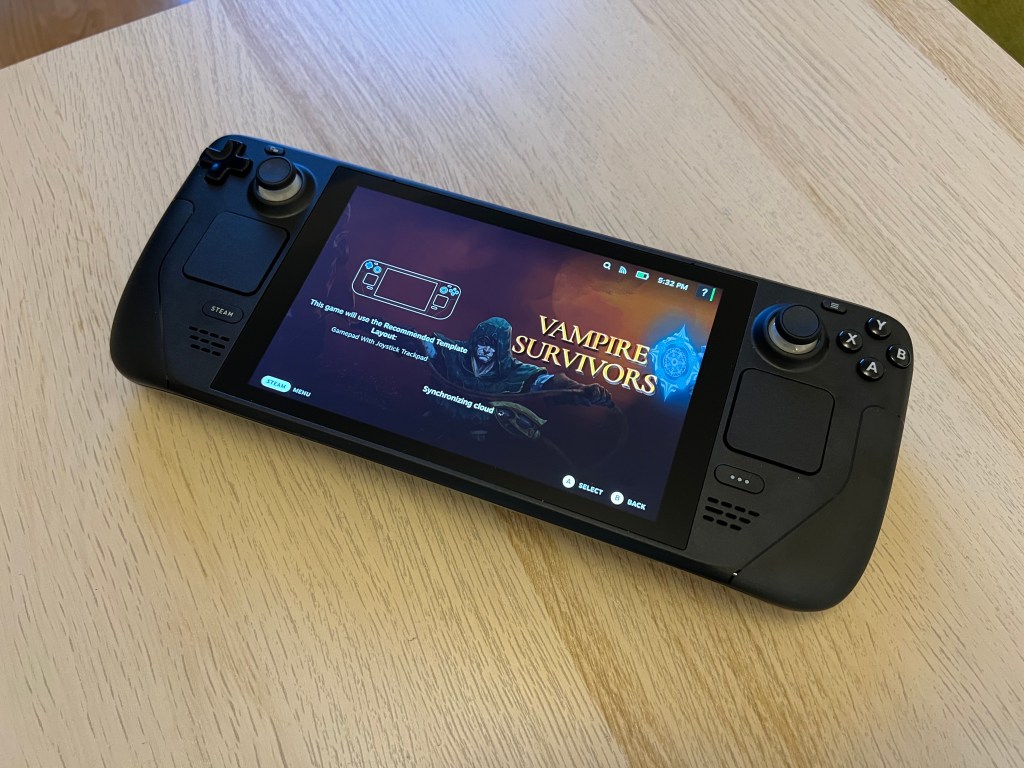 What we will say, though, is that if you're hoping to play your library of games with the highest frame rates possible on a bright display then you can expect the battery to take a serious beating, and battery life, in general, is probably our biggest concern with the Steam Deck. Valve estimates you should get between 2-8 hours of gameplay between charges if you're capping the framerate at the 30fps baseline and keeping the brightness and volume at about 50%. But we've got nowhere near eight hours yet, and a lot closer to the lower end of the spectrum than we'd like.
If you're planning to take your Elden Ring adventure with you, don't hope for more than a couple of hours between charges. If your Steam Deck is going to be primarily an indie machine, it'll fare much better. While you're in the process of downloading all of your games you should expect regular trips to the nearest plug socket, too. SteamOS does allow you to check how much juice is being guzzled while you play, which is handy.
The Deck can get warm, though crucially not around the controls, and very noisy indeed pretty quickly too, but so far it's handled everything we've thrown at it. Good job, fan.
The console-like suspend and resume feature, which will pause your game when you put the Deck into sleep mode and carry on from the same point when you come back to it, also works really well. You can jump out of a game to do something else on the machine, but the machine advises you quit before booting up a different game to keep performance in check.
Steam Deck verdict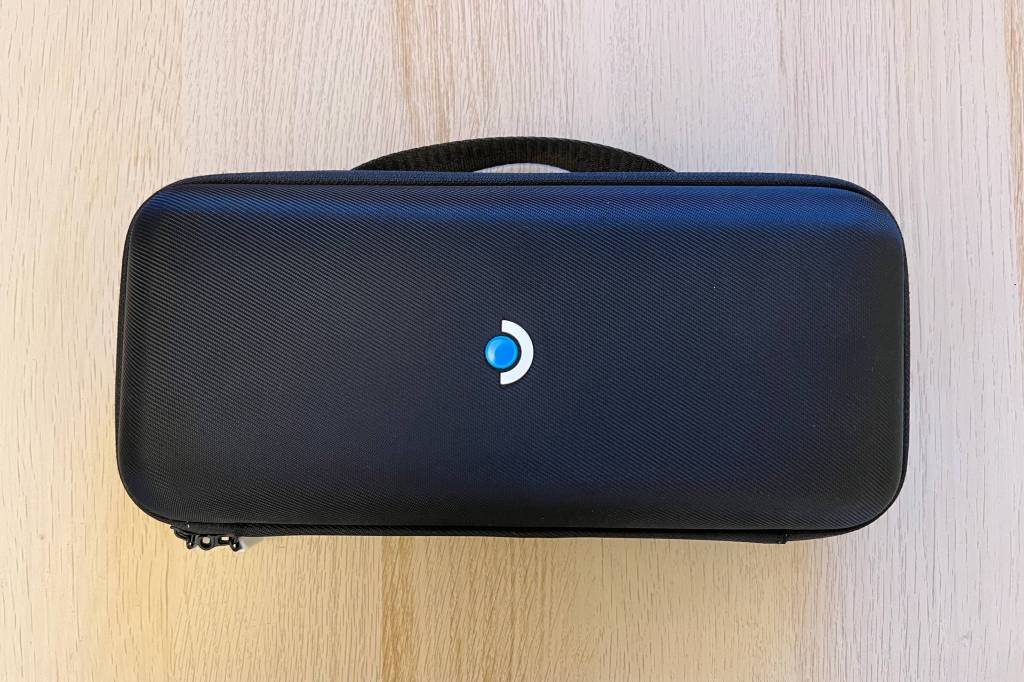 We've had a great time with the Steam Deck so far. It's far from the most portable handheld gaming device you can take on the road, but you soon forget about those slightly off-putting dimensions when you're playing Hitman 3 on the toilet. SteamOS isn't a flawless UI at the moment and it'll be a while before the entirety of Steam's library is optimised for Deck, but we appreciate Valve making it very clear which games are going to perform best on the device while it's still in its relative infancy.
Right now we've stuck to the stock experience, but eventually, Windows will be approved for this thing and with a little bit of know-how you'll be able to turn it into a handheld Xbox if you want to. That's pretty exciting to say the least. Battery life is a concern, but when isn't it when it comes to handheld gaming?
The inevitable Steam Deck 2 will no doubt remedy most of the problems we have with the first-gen model, but that's not to say you should wait. Already the Steam Deck is a brilliant addition to the gaming landscape, for both PC players who want a bit more freedom in where they play, and those who consider the Steam Deck an affordable entry point into PC gaming. We can't get enough of it.
Stuff Says…
It's early days for Steam Deck and battery life is a worry, but this do-anything device could revolutionise PC gaming
Good Stuff
Amazing performance
Endless control configurations
Intuitive UI
Great display
Bad Stuff
Battery doesn't last long
Lots of software bugs
Very large
Fan gets quite loud
Tech specs
| | |
| --- | --- |
| Screen | 7in 1280×800 60Hz IPS LCD touch display |
| Processor | AMD APU: Zen 2 CPU and RDNA 2 GPU |
| Memory | 16GB LPDDR5 |
| Storage | Min 64GB eMMC / Max 512GB NVMe SSD |
| Software | SteamOS 3.0 |
| Battery | 40Whr (2-8 hours) |
| Dimensions | 298mm x 117mm x 49mm, 669g |