Elden Ring review: a majestic masterpiece
The word masterpiece gets bandied around a lot these days, but Elden Ring is a crowning achievement
The word masterpiece gets bandied around a lot these days, but a true masterpiece is a rare thing, and even the art that deserves such praise isn't always easy to warm to. Just try asking who's managed to get through reading Moby Dick or Ulysses, or anyone who actually understood what was going on in Mulholland Drive. Welcome to our Elden Ring review.
The same can be said of the Souls games, a series many perceive as impenetrable to play but one that is often celebrated as some of the greatest games of all time. But while FromSoftware has stayed uncompromising with its goal on challenging players to their limits, the mass hype and anticipation that's come with its latest take on the dark fantasy action RPG, Elden Ring surely means it's willing to relent a little to ensure more players stand a chance to see all that it has to offer. Especially when it's a collaboration with Game of Thrones creator George R.R. Martin.
Changes to the now-famous formula – which has spawned its share of imitators that belong to a genre we know now as Soulslikes – are also necessary as Elden Ring is a move away from the labyrinthian dungeon designs of the past into a full-blown open world, which widens the ways you can approach a challenge or completely pick and choose your battles.
Of course, this doesn't mean you'll suddenly have an easy ride of it. This remains as punishing a challenge as any game in FromSoftware's illustrious library; your new currency of runes will still be dropped when you die and lost forever if you die before you recover them. But once you take your first step into the majesty of the Lands Between, you're going to want to brave every danger to see every last square inch of it.
Tell me lore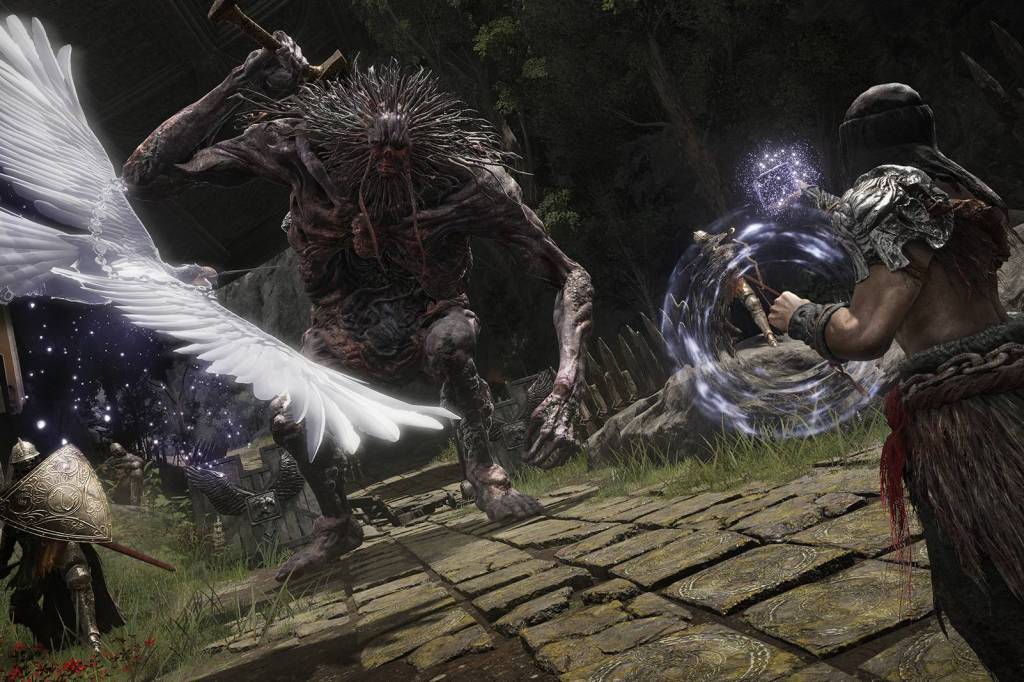 For those new to FromSoftware's games, don't expect a storytelling experience guiding you with cutscenes or massive lore dumps that grinds the action to a halt. Even with GRRM's involvement, Elden Ring keeps its meticulous narrative pretty hands-off, simply setting the gears in motion for your character, the "Tarnished", to embark on an epic quest to become the new Elden Lord.
Deep storylines
While you'll get some dramatic introductions to other legendary heroes – more often than not also happen to be the precursor to a frightening boss fight. There's a deep and complex web of storylines going on here that largely stays buried beneath the surface unless you're willing to excavate it for yourself.
Not to worry however even if the plot specifics go over your head because you can still see the worldbuilding for yourself quite literally in the vast world of the Lands Between. Everything may have gone south following a cataclysmic event that led to the shattering of the titular ring. But there's nonetheless a spine-tingling sense of majesty and tragedy surveying these fallen castles, and an eclectic cast of fallen lords, shadowy conspiracies, and a race of sentient jars.
As a cross-gen game, it doesn't quite have the graphical lustre of, say, the Demon's Souls remake. Playing on PS5, the open world can suffer from technical issues, with frame stutters even when playing with framerate prioritised, while prioritising 4K graphics still doesn't prevent texture pop-up of the flora that's noticeable in the early areas. Yet just marvel at the opening area in its melancholic beauty and any technical hitches shrink away, and the art direction never fails to make your jaw drop.
It's been a cliché for developers to boast about how you can see that mountain over there and go to it, but FromSoftware goes one better by giving you a magnificent view of a castle or manor in an impossibly high and fortified location and then says off you go.
Full of grace
With the story often staying cryptic, it does mean you sometimes run the risk of knowing what exactly to do next, although a hub called the Roundtable Hold does let you visit certain characters who can offer you a nudge or upgrades for your gear.
While you do get pointed in a general direction with the guiding ether emitting from certain Sites of Grace – the game's checkpoints where you can rest, level up and fast travel to – you're often left to your own devices, with no arbitrary invisible wall blocking your way if you wanted to find a different route, In our case, we reached one area of the game despite completely missing a story critical path.
Some players would probably wish for a bit more of a guiding hand as it can be easy to get lost even when you've found map fragments that unlock the world map. In particular, the legacy dungeons, which are more like Dark Souls' tightly designed environments, are mazes with multiple paths that you may find yourself running around in circles trying to figure out the path forward.
Nonetheless, that freedom of approach is how Elden Ring manages its challenges. In past games, if you were struggling against a hellish corridor of enemies, your only recourse was to "git gud". Here, however, you can get smart by finding another path, while stealth-crouching can let you sneak up on unsuspecting foe for a backstab, or you can avoid encounters entirely.
Run into a boss that might as well be a brick wall, then pick another direction to explore, a mini-dungeon whose mini-boss will drop a weapon or item that you might find useful, or quest lines that lead you somewhere unexpected, while there's a gleeful satisfaction of being higher level but running into a low-level area for the first time and decimating everything with one hit.
FromSoftware with love
Of course, this is still a FromSoftware game so its bosses will definitely stomp you if you go in carelessly, with the late game home to arguably the most epic challenging bosses in the studio's history (think dramatic introductions, attacks that can finish you in one or two hits, and multiple phases).
But while purists can still enjoy it like a typical Dark Souls experience, the wealth of options give even a novice who can't time parries to save their life a fighting chance. A great addition is guard countering, so that after holding to block you can immediately follow up with a powerful counter.
In fact, you'll find all kinds of weapons or upgrades to replace parrying with another skill that would better fit your playstyle. And that's just when discussing melee builds since the deep level of customisation means you can also excel in magic or ranged weapons.
Summoning other players for co-op remains an option (also far more streamlined than in Dark Souls), but you can summon a variety of AI-controlled characters who while not hard hitters nonetheless prove an invaluable distraction. As the challenges step up where you can be fighting multiple bosses at once, only the most hardcore will want go it alone.
Perhaps the best companion is Torrent, a ghost horse who you can summon out of thin air. He's not only great for bolting it from tough encounters or traversing and exploring the open world (with an absurd ability to double jump), but fighting on horseback is also a fun time. In fact, it's essential if you're going to attempt to take on enormous creatures out in the open, such as a flying fire-breathing dragon.
But while Torrent is available early on, everything else, from items to upgrade materials, you'll need to find yourself. It's simply staggering just how much there is teeming in this world even when you think you've got a handle on its scope. Even if you don't make it to the end of the game's most fearsome challenges, the discoveries you make are already a reward. With so much more poking at your curiosity, the path to Elden Lord can wait.
Elden Ring verdict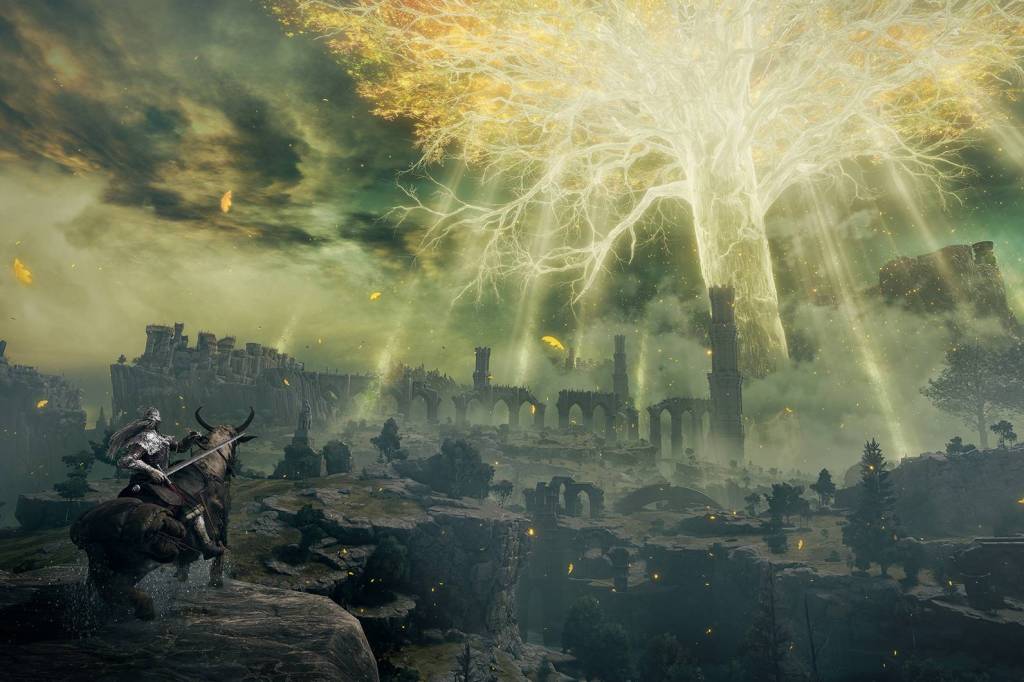 Elden Ring is a crowning achievement for FromSoftware, taking the rich, imaginative world-building it's been acclaimed for over the past decade and expanding it into staggering scope on an open world that takes lessons not from Ubisoft but Breath of the Wild in the way that it doesn't hold your hand, but gives you the freedom to confidently go out into its world and take on its challenges and secrets your way.
Newcomers might yearn for something more digestible and authored, such as Horizon Forbidden West, and some bosses may still feel insurmountable at least on the first few attempts. But with so many more ways to approach exploration and combat, and a vast and epic world that's teasing your curiosity at every turn, there is just so much to absolutely lose yourself in the Lands Between.
Lore hunters will have a field day combing through the world's mythology, speedrunners and those who thrive on challenge will be relishing every encounter and figuring out the best weapons and build and where to find them. For even most of us mere mortals, Elden Ring is an event, an invitation to greatness. Arise, Tarnished, and savour every moment of this new modern masterpiece.
Stuff Says…
An open world action RPG epic like nothing else, with FromSoftware's majestic world-building and daunting challenges completely intact.
Good Stuff
Vast and richly realised open world
Staggering amount of secrets and areas to discover
Epic boss fights, and more options to overcome them
The ghost horse
Bad Stuff
So much freedom you don't always know where to go or what to do next
Noticeable texture pop-up and frame stutters in the open world (tested on PS5)