Nintendo Switch OLED review
As well as a new OLED display, the new Switch boasts a handful of other hardware tweaks that should have been there from the beginning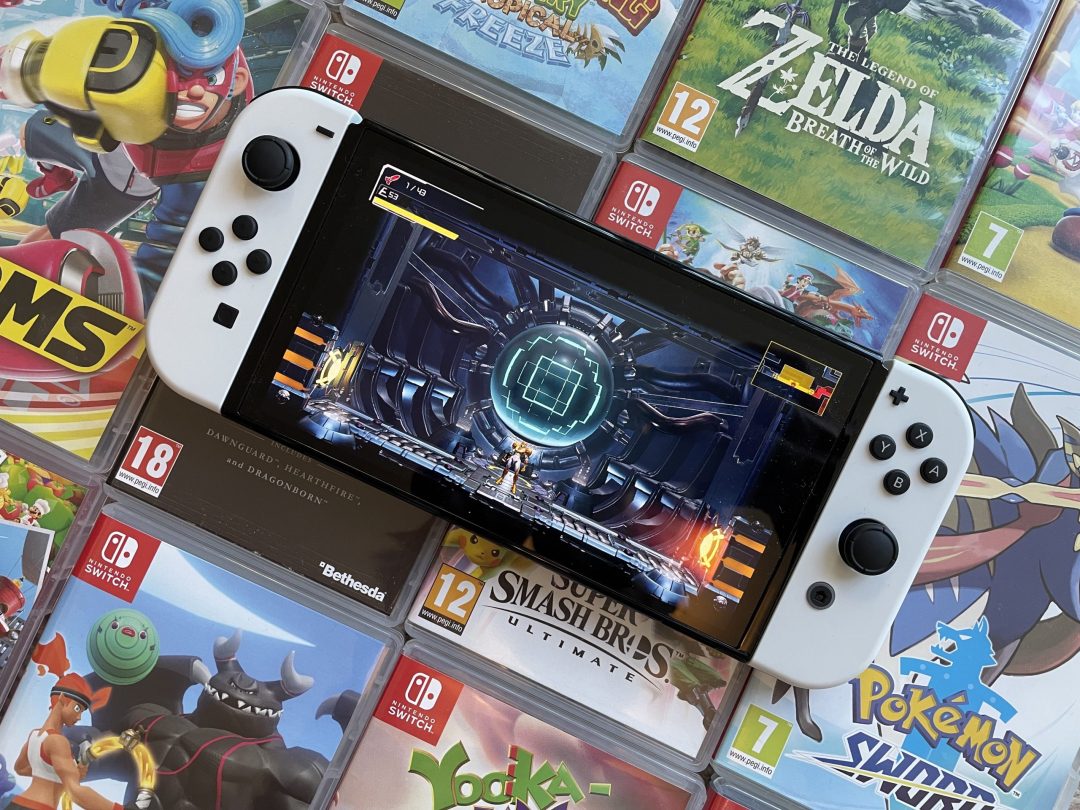 To say the Nintendo Switch has been a success story for Nintendo would be understating it and then some.
After the muddled mess of a console that was the Wii U, many were ready to write off the Japanese giant's future in the hardware business, but if the Switch's predecessor (barely) walked so it could run, then it was definitely worth all the ridicule.
Four and a half years and nearly 90 million shifted units later, Nintendo's masterstroke of a hybrid console has returned its maker to the top, but there's no denying that the Switch is starting to show its age a bit, and that's why bubbling rumours of a so-called "Switch Pro" on the horizon were easy to believe.
But when Nintendo confirmed its first significant Switch revision since 2017, it was not the Switch Pro we were expecting. 4K upscaling on the telly? Forget it. If we're talking raw power, the new Nintendo Switch OLED is entirely unchanged.
But, as the name suggests, it does bring something new to the table, namely that titular OLED display, as well as a handful of other hardware tweaks that frankly should have been there from the beginning.
If you're looking to buy a Switch for the first time then we'll come right out and say it: the Switch OLED is well worth the £50 price hike on the original. If you'd be upgrading then, well, you've got some thinking to do….
Design: same, but different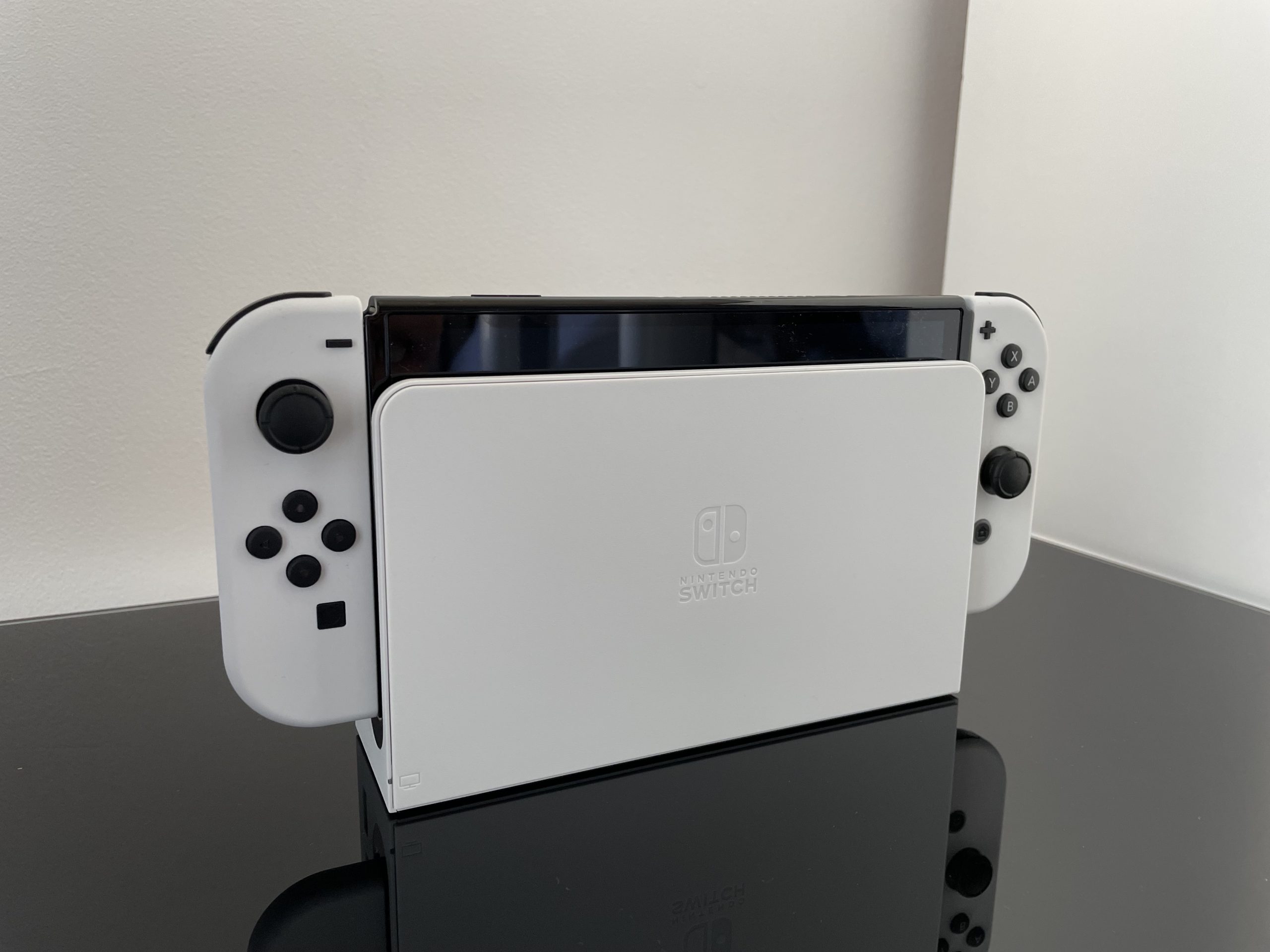 If you ignore those new and rather fetching white Joy-Con controllers, the Switch OLED looks very familiar to the original. The console itself remains a touchscreen tablet to which you can slide on a pair of controllers when you want to play in handheld mode. You can also play in tabletop mode with the detached Joy-Cons or a controller, and if it's big-screen Mario you're after, the Switch slides into a slightly redesigned but functionally identical dock, which you connect to the TV via HDMI before witnessing the picture near instantly transfer from the handheld to the gogglebox. It's a Nintendo Switch, then – an utterly fantastic invention that four years on has lost little of its magic.
But as a handheld, the Switch OLED quickly reveals itself to be a considerable upgrade on its forerunner, and that's primarily because of the display. We'll come onto the screen tech itself in a bit, but as well as changing the panel, Nintendo has also upped the screen size to 7in from 6.2, and it has done so by shrinking the previously chunky bezel, rather than increasing the overall size of the device (it is fractionally bigger, but it's barely worth mentioning). An increase of 0.8in in screen real estate might not sound like much, but it really does make a difference to handheld play, immersing you more in whatever it is you're playing, as larger screens tend to do.
The bezel around the bezel, if you will, which was matte before, is glossy now, which makes the Switch OLED look a bit more grown up while also making the whole thing more reflective. It didn't bother us too much but we're not sure we prefer it.
Flip the Switch around and you'll find the other significant improvement: a completely redesigned and mercifully now actually usable kickstand. Let's be honest: the original Switch's kickstand was a joke. It felt like it might snap off entirely every time you went to use it, and was so flimsy and impractically positioned that the slightest jog to your tray table was enough to plonk the console onto its face.
The Switch OLED's stand, though, actually does its job. Now as wide as the console itself, it props up the console with ease, while its adjustable angle means tabletop play can extend beyond the tabletop if need be. We were able to find a decent enough angle to play with the Joy-Cons off and the Switch on our lap while lying in bed, which probably looked a bit odd, but is nice to have as an option should the Switch OLED start to feel a bit heavy in your hands.
And it might well do. At 297g, the Nintendo Switch was already a bit on the hefty side for a handheld console, and the OLED model weighs in at 320g. With the Joy-Cons attached the whole thing is around 420g, and there's no doubt that you start to feel that eventually, especially if, like us, you've spent the last few years playing the supremely comfortable Switch Lite. The Switch still feels a bit too wide, too, but it's hard to see how Nintendo addresses that without losing the removable controllers that are a big part of its USP.
The Switch OLED's new stylish white dock features two USB ports and your HDMI-in, but the big new addition is a built-in LAN port. If you play a lot of online games that demand a consistently strong connection, the option of going wired in TV mode should make things more reliable.
The dock also feels less likely to scratch up that lovely display than the hard and harsh one that shipped with the original. The back flap now comes off completely when you need to access the ports, which we're not sure is better then the hinged original.
One other thing to note: we spent a good two or three minutes trying to find the Micro SD card slot, which allows you to extend the Switch's storage beyond the (improved) 64GB base. Before, it was located on the bottom of the console, but Nintendo has decided to move it to a very easy-to-miss location behind the stand.
Screen and sound: OLED by example
Here we are then. If you were in any doubt as to why Nintendo thinks you should be buying the new Nintendo Switch, just take a look at its name. Better kickstands and a LAN-enabled dock are nice-to-haves, sure, but the OLED display is what will push any potential upgraders over the edge.
As anyone who has owned a top-end smartphone in the last four or five years will know, the richer, more vibrant colours, deeper blacks and far higher contrast made possible by OLED really do make staring at your glowing rectangle of choice that bit more enjoyable, and it's no different on the new Switch.
It's not surprising that Nintendo opted to launch the Switch OLED alongside Metroid Dread, in which the inky blacks of the darker areas you explore look gorgeous alongside bright orange lava and the neon lights of the game's creepy alien space bases. We fired up Switch classics like Super Mario Odyssey and The Legend of Zelda: Breath of the Wild and there's no doubt that on an OLED display their already vivid worlds pop even more.
Burn-in, caused when static images remain on screen for too long, has been a long-held fear with OLED tech, but the Switch will very quickly go to sleep if left unplayed and it's rare that you'll have, say, a mini-map displayed for too long without refreshing the image. Time will tell of course, but it doesn't seem like a huge concern here.
It's not all good news, though. Nintendo might have increased the size of the Switch's display, but the resolution in handheld mode remains at 1280×720. When we first heard this we feared that a bigger screen with the same 720p resolution would result in a slightly jaggier, more pixelated image. It's not really noticeable unless you're trying to look for it, and it helps that Nintendo's games are usually more about art style than graphical fidelity anyway, but there's no doubt that the new Switch exposes more than any before it how outdated Switch games – incredibly pretty though many of them are – are beginning to look. Even if 4K on the telly was too big of an ask this time around, we do wish Nintendo had managed to give the handheld display a bit of a resolution boost.
The Switch OLED's speakers feature what Nintendo calls "enhanced audio", and they're definitely noticeably louder than before, which is great if you can't be bothered reaching for headphones. It's worth remembering, though, that Nintendo recently decided that – after four years of forcing us to use wired headphones or a dongle – Bluetooth headphones magically work with the Switch now. In terms of listening to games, Switch owners have never had it so good.
Performance and battery life: same, but…no, same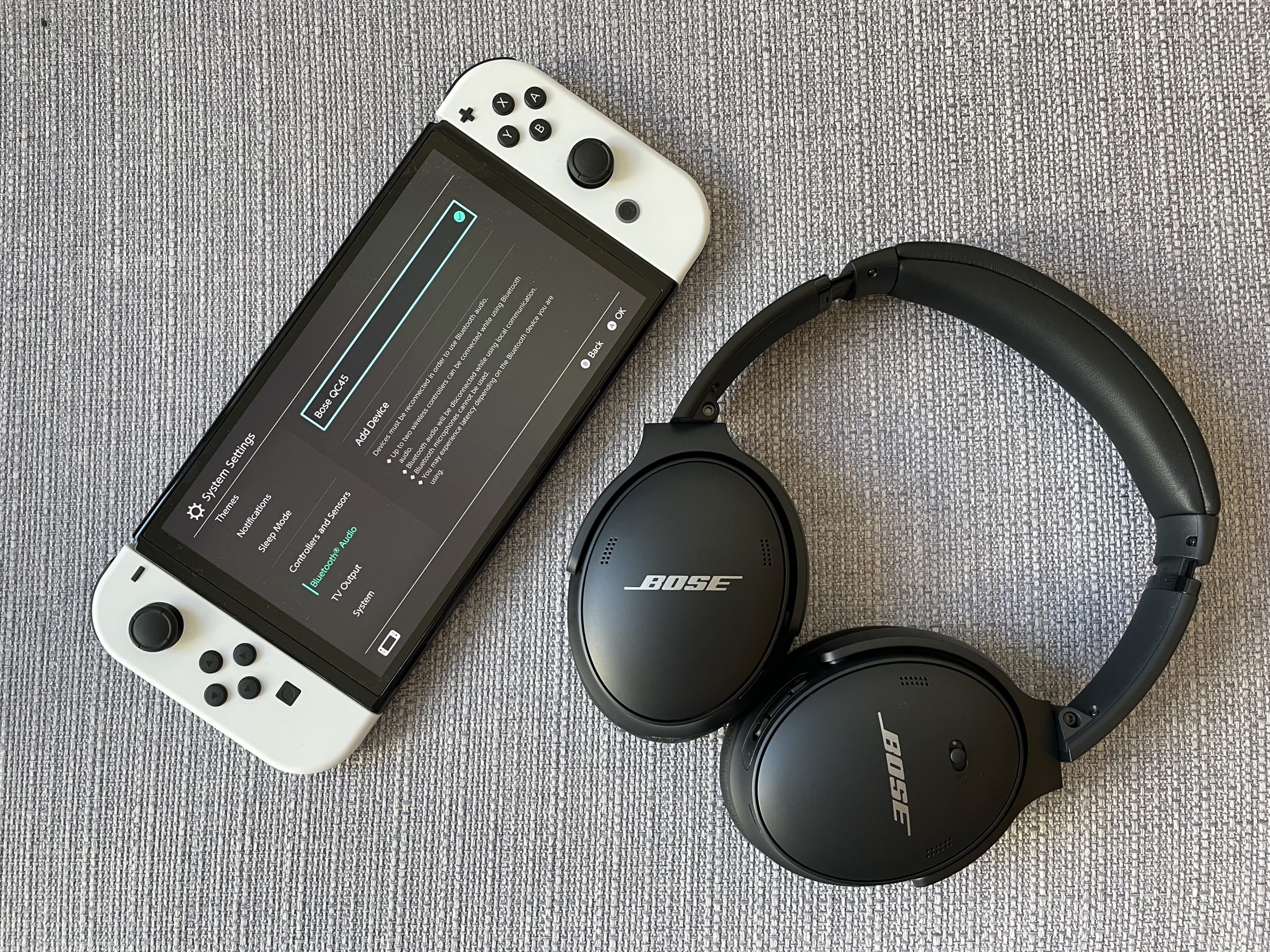 If you already have a Nintendo Switch feel free to skip past the first bit of this section, because performance-wise the Switch OLED isn't doing anything differently. Industry rumour-spinners continue to insist that somewhere in the world a more powerful 4K-ready Switch is slowly being readied, and may even already exist, but this one runs on the same custom Nvidia Tegra X1 as the LCD Switch before it, has the same amount of RAM (4GB) and has the same maximum resolution of 720p in handheld and 1080p when docked.
Nintendo's dev wizards can still make its games look pretty fantastic, but it's not unusual to see the Switch struggling to keep up when big 3D games get really busy, and in the age of the 4K 60fps PS5 and Xbox Series X, Nintendo is lagging very far behind where tech is concerned. The world is ready for a Switch Pro, even if its maker apparently isn't.
The copy and pasted innards mean that if you do the majority of your Switch gaming on the TV, you absolutely do not need to upgrade to the Switch OLED. There is no point. Games will look exactly the same. And if you really want white Joy-Cons or that new dock, they'll both be available to buy separately anyway. The handheld-first crowd will have to decide how much they value the benefits of OLED. All we'll say on that is that our Switch Lite's screen suddenly looks a teeny bit dull next to the OLED's.
Battery life as quoted by Nintendo remains a very unspecific 4.5-9 hours, meaning when your Switch conks will depend on various factors such as screen brightness, what you're playing and whether you're using Wi-Fi.
Game library: one of the best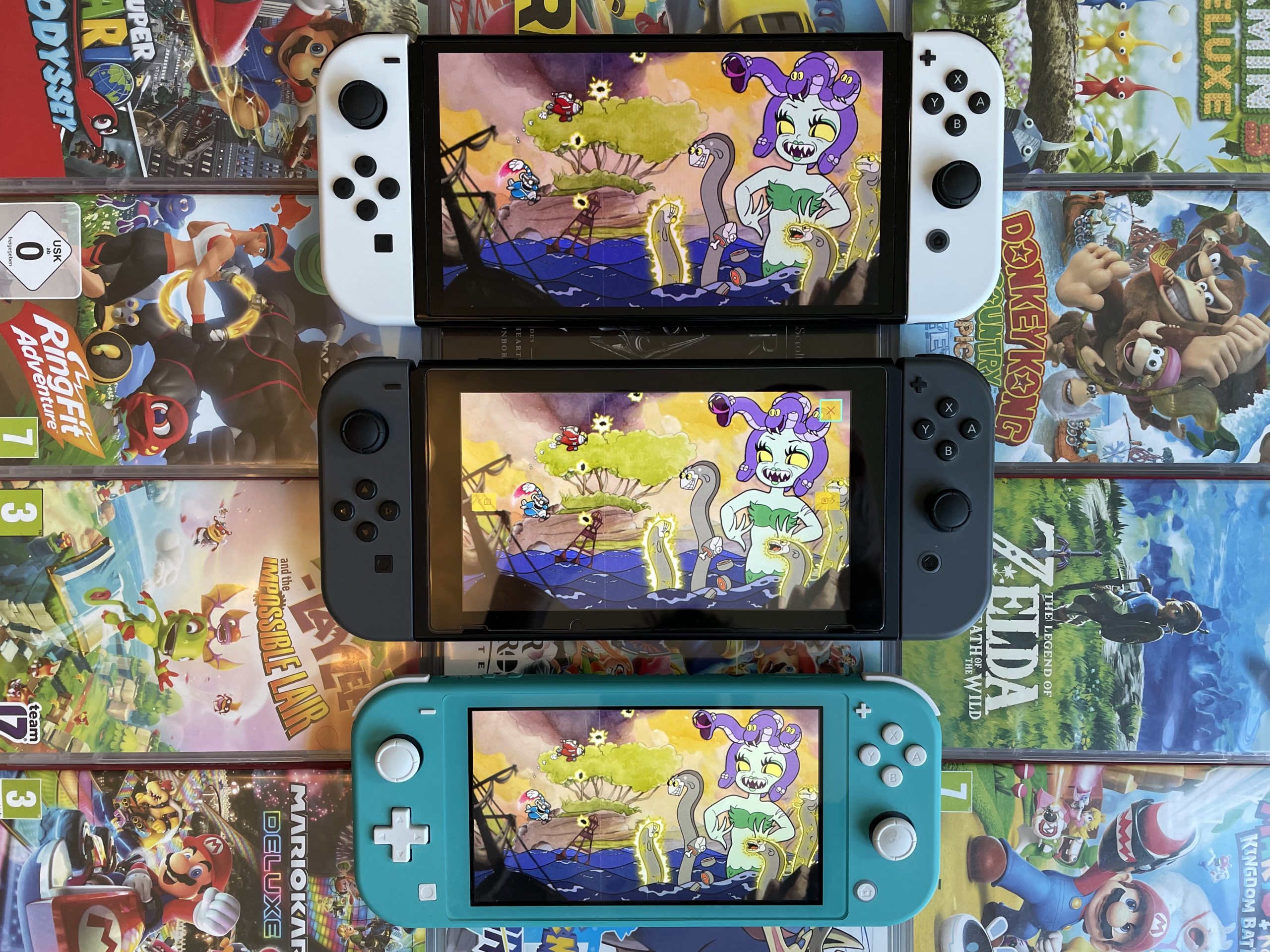 If you're upgrading from an old Switch, you can either wirelessly transfer your entire user profile from the outgoing machine to the OLED, which basically resets the old one, or alternatively connect to an existing Nintendo account and redownload the games you want. Nintendo Switch Online subscribers get cloud saves, which makes getting your save files on the Switch OLED a doddle.
A single Nintendo account can be added to multiple Switch consoles but you'll have to make one of them your primary machine, which enables anyone playing that Switch to access your digitally purchased games. On a non-primary machine other user profiles won't be able to do this, so choose wisely. Thankfully electing a new primary console only takes a second in the eShop, so nothing is permanent.
Once you've set the Switch OLED up you'll be presented with a superb library of games, from first-party staples like Mario, Zelda and Animal Crossing, to hundreds of diverse indie titles, a space Nintendo has admirably lent its support to throughout the Switch's lifespan to date. Nintendo Switch Online members have been able to explore Nintendo's storied back catalogue with a large and slowly growing selection of NES and SNES titles for the last few years, and Nintendo is about to start adding N64 games to a more premium tier.
The Switch might be lagging miles behind Sony and Microsoft when it comes to raw horsepower, but Nintendo's best games (even if it does like to drip-feed them to us) are peerless, and with the excellent Metroid Dread at launch and the sequel to Breath of the Wild hopefully on the way next year, the Switch OLED's arrival is the perfect excuse to hop on board if you're not already.
Nintendo Switch OLED model verdict
It'd be too easy and perhaps a little unfair to judge the Switch OLED on what it isn't, rather than what it is. It isn't the 4K Nintendo Switch of your dreams that'll comfortably last an entire long-haul flight in handheld mode, which is a shame.
It is, though, an already great console made quite a lot better by a stunning new display, louder speakers and a stand that actually does what it's supposed to. Sure it's still a little heavy and unwieldy in the hands, but we wouldn't want to sacrifice the Joy-Cons or that 7in display for something lighter. And if you do, the Switch Lite still exists, and it's a delightful little machine.
If you've been holding off on buying a Switch until now, we think the OLED model is well worth the extra 50 sheets. If you've had a Switch since day one and find yourself tempted by the upgrade, ask yourself how you use it. If the answer is mostly handheld and you can afford it, the OLED is a much nicer on-the-go gaming device. But it's not quite an essential buy, and there's no guarantee the more powerful Switch won't arrive in the next year or two.
It's perhaps not the Switch you wanted, then, but once you've seen Link gallop across Hyrule on that OLED display, it is quite hard to go back.
Stuff Says…
The Switch is starting to show its age, but there are enough improvements here to make the Switch OLED a tempting upgrade for handheld players
Good Stuff
OLED displays are simply much nicer to look at
Much, much improved stand
Decent speakers
More storage
Bad Stuff
Larger display only shows up the limitations of 720p more
Pretty heavy for a handheld
Unchanged performance and battery life
More reflective than before