Nintendo Switch Lite review
Feeling blue (but in a good way) - The Switch Lite is a full-time handheld and the true successor to the 3DS - is it worth it?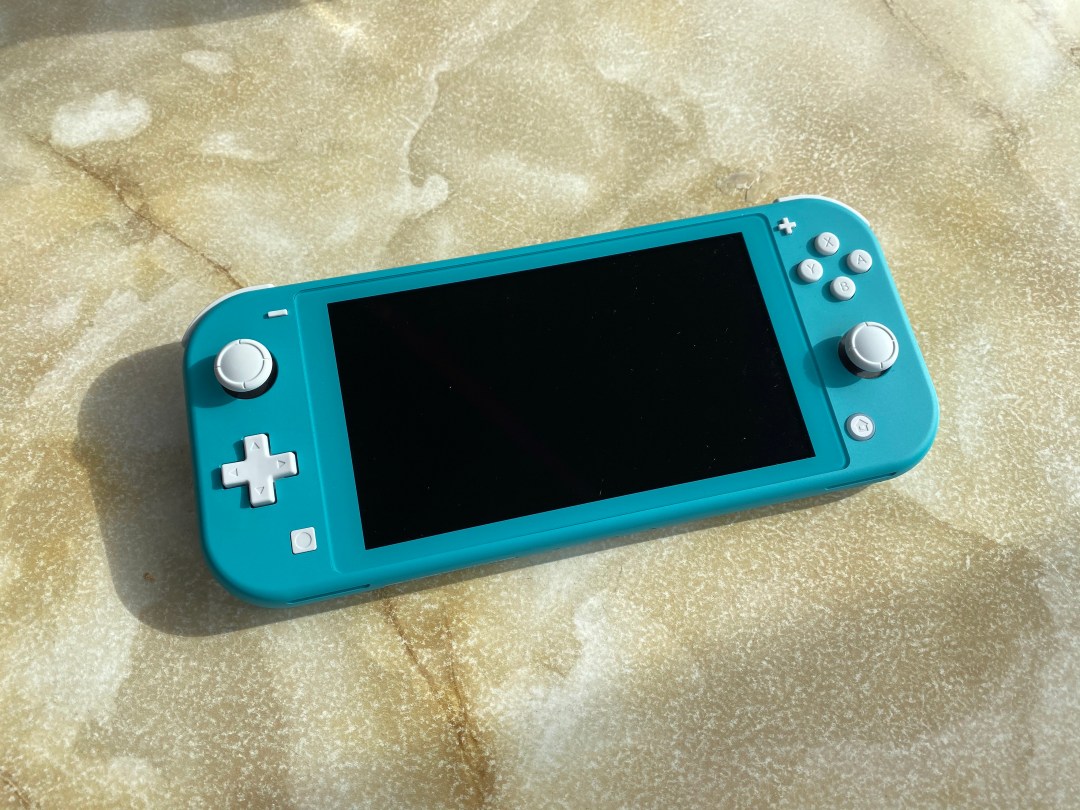 Many people wrote off the Nintendo Switch before it had even appeared on shelves. Not us though, noooo sireee. Definitely not.
But to say Nintendo has proved the naysayers wrong would be understating it somewhat. With a steady supply of excellent first and third-party games that are equally playable on a TV, the train and the toilet, it's not unreasonable to suggest that Ninty's comeback console – while far from perfect – has already earned its place in the company's hall of fame.
Which brings us to the Nintendo Switch Lite. While still sharing its bigger, comparably heftier brother's namesake, the Switch Lite can't actually switch. There are no detachable Joy-Con controllers here and no dock for big-screen gaming.
The Switch Lite, then, is a full-time handheld and the true successor to the 3DS, which presumably is now finally being put to sleep.
You can play nearly all of the same games on the new machine – and many of them are arguably better suited to it (practically any old-school platformer that requires a proper D-pad).
But by sacrificing the very thing that made the Switch unique in favour of portability and a lower point of entry, does the Lite lose any of the original console's charm?
Design: The Lite stuff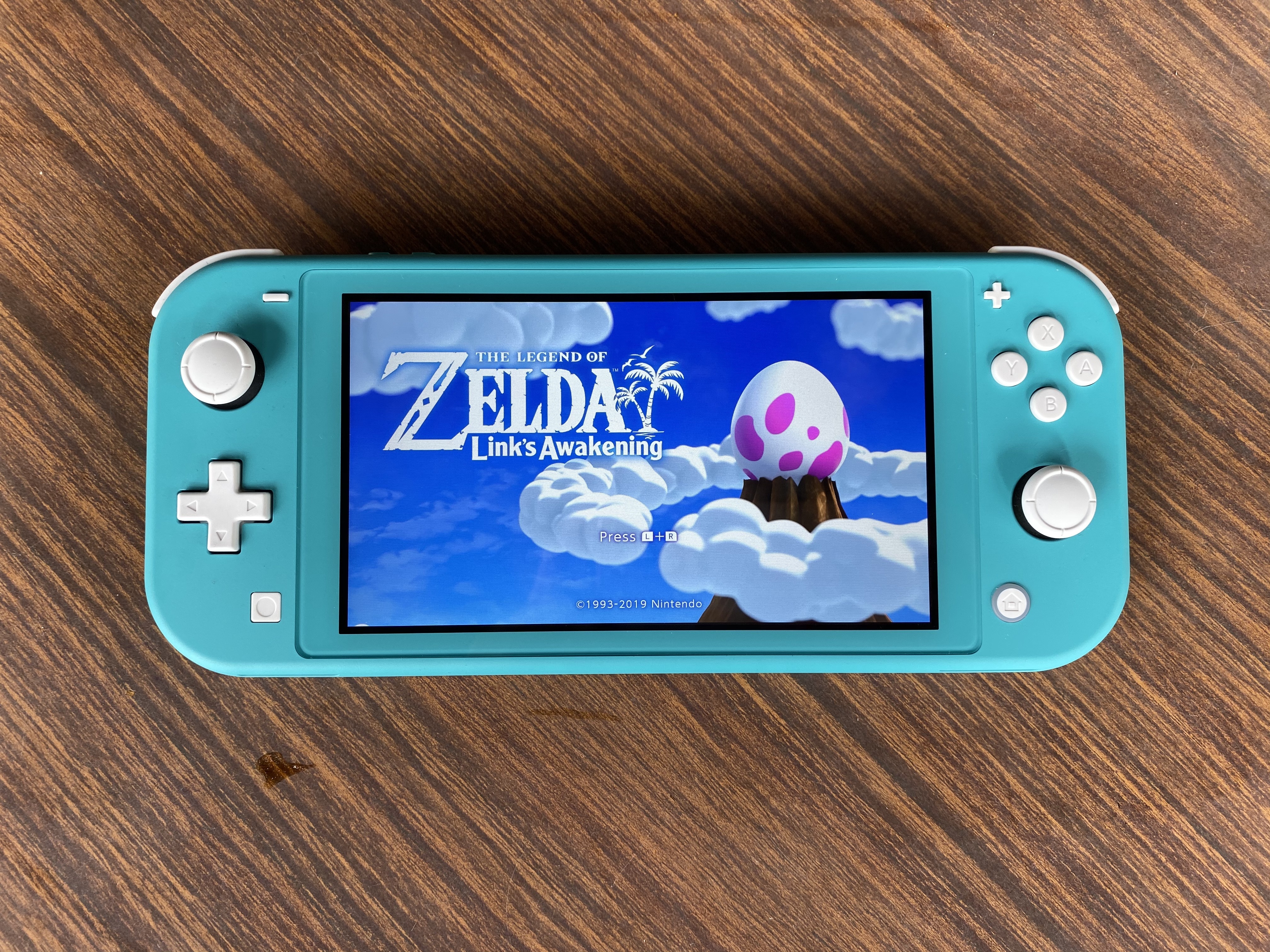 We love the Switch's Joy-Cons. Few noises are satisfying as the clicking sound they make after sliding into place. But moving parts also make the original Switch feel unnervingly breakable at times. The flimsy kickstand feels like it's going to ping right off every time you use it.
No such worries with the Switch Lite. Wrapped in a single piece of grippy matte plastic all the way around, the Lite just feels sturdier, and has a much cleaner, if slightly less premium, overall look.
It comes in three colours: grey, turquoise and yellow. The latter two, both painted in vibrant shades, are just plain fun to look at, but it's good that Nintendo has included a more muted option for those who'd rather not attract too much attention on the bus. And there are bound to be new colours and special edition tie-ins further down the line if none of the launch models are doing it for you.
Pick the 275g Switch Lite up straight after the full-sized machine and the difference in weight is quite something. You can easily hold it right up to your face during late-night sessions without feeling the strain on your wrists, and it's noticeably less of a presence in a backpack.
When I'm travelling from now on, there's no question which Switch I want with me, but I don't speak as someone with particularly large hands. The diddy Switch Lite could prove too small for some.
Button layout mirrors the first Switch in all but one very important way. Because the left-hand portion of the console no longer has to double up as a detachable controller, Nintendo was able to introduce a proper D-pad, which makes all the difference, particularly in side-scrolling platformers such as the majestic Celeste, where the slightest bit of imprecision can really punish you. It's not the best D-pad out there, but it's much better than four face buttons.
On the bottom of the device you'll find the USB-C charging port and a MicroSD card slot that you're definitely going to need if you plan on downloading more than a handful of full-fat games. On top sits the triggers, the on/off sleep button, a volume rocker, a still-far-too-fiddly game card slot and a headphone jack. The lack of Bluetooth headphones support is as head-in-hands annoying as it was first time round, but at least there are now credible workarounds such as SteelSeries' Arctis 1 Wireless headset.
Bear in mind, too, that while you still have a gyroscope and an accelerometer under the hood, the first Switch's HD Rumble feature is also gone. I haven't really noticed its absence, but you might.
Display: small victories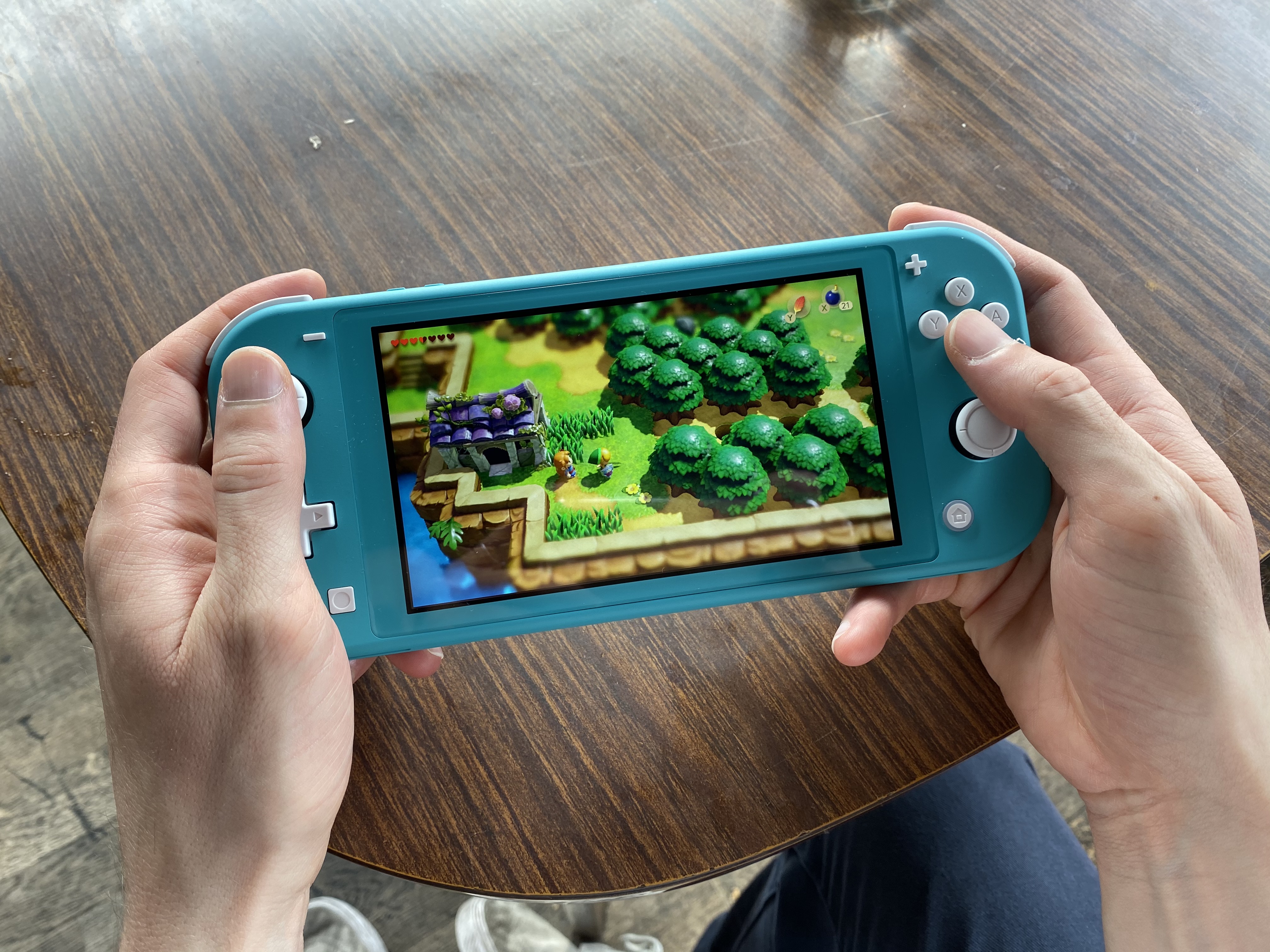 The Switch Lite's 5.5in display might be smaller than the 6.2in original's, but it retains the same 720p (1280×720) resolution. That means the Lite's slightly superior pixel density of 267ppi versus big Switch's 237ppi actually makes the screen a bit sharper, and it's noticeable when playing The Legend of Zelda: Link's Awakening side-by-side. In fact, it's no coincidence that the GBA remake was released on the same day as the Lite; the two are made for each other.
The Switch has never had the most high-res screen, but while we'd still love to see a more powerful OLED model at some point, most games still look great, especially Nintendo's own titles, which tend to favour art direction over pixel count anyway.
The Switch Lite does lose the original's auto-brightness function though, which means you're going to spend more time messing around in the settings to get the right brightness for your playing environment. It's mildly inconvenient rather than something you're going to punch walls about.
Its two proper analogue sticks mean there's rarely a reason to use touchscreen controls on the Switch, but the mini version is just as capable of letting you do so as the original.
Data transfers and primary consoles: a very Nintendo problem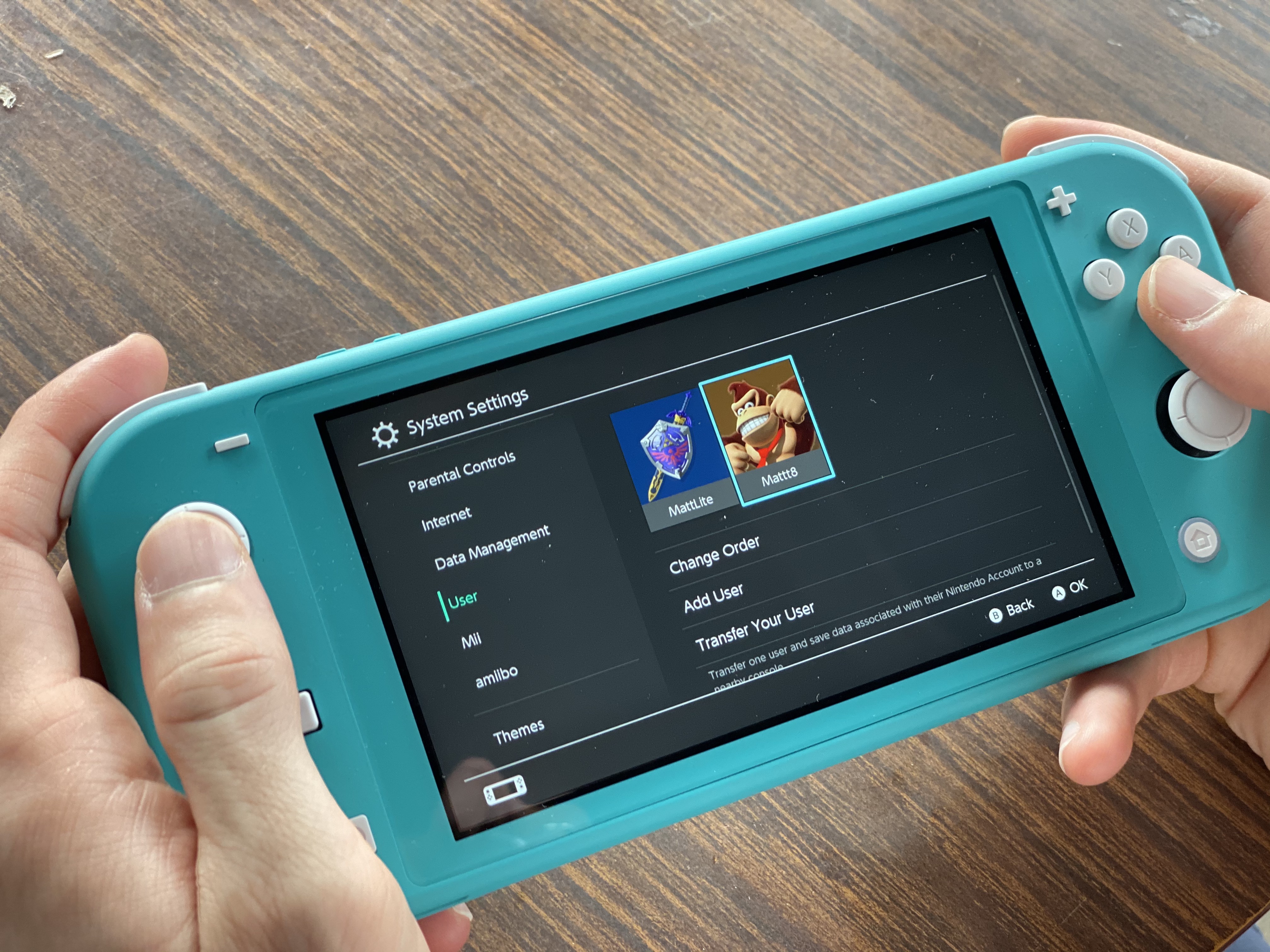 If you don't care about playing on the TV and haven't yet invested in a Switch, the Lite is the perfect entry point and you're going to have a brilliant time playing Breath of the Wild and drifting straight off a particularly fiendish Rainbow Road corner to your immediate death in Mario Kart 8 Deluxe.
But what if you already have one and are considering the Switch Lite as a second console? That's a bit trickier. You have the option of transferring your entire account to the Lite, but that totally wipes the first console clean, which won't be ideal for most people.
The alternative is adding the same Nintendo account to the Switch Lite and redownloading all your digital game purposes on the store. You're unable to swap any MicroSD cards between consoles without first formatting them, but game cartridges can be moved freely, making opting for physical whenever possible the simplest option.
Those wishing to use two Switches will want to invest in an annual Nintendo Switch Online subscription, which allows you to save game data to the cloud, but if you last played a game on one console and want to continue on the other, you'll need to manually download and sync the most recent save before doing so.
It's never simple with Nintendo, and it gets more complicated still. While you're free to add the same user profile to multiple Switches, one of them has to be designated the primary console. Both can access digital games and digitally buy new ones, but if the primary console is playing a game at the time, the non-primary Switch using the same account can't launch anything.
Even more annoying is that the non-primary console requires an internet connection to verify itself every time you play a game. That means if you take it on public transport or anywhere without Wi-Fi and don't have any physical games, it's about as fun as a plank of wood.
If you're planning to use the Switch Lite as your on-the-go machine, the obvious workaround is to make that console the primary Switch and the one that stays at home the non-primary, as it'll always be able to connect to Wi-Fi. Fortunately, that's easy to do in settings.
Game selection: getting better all the time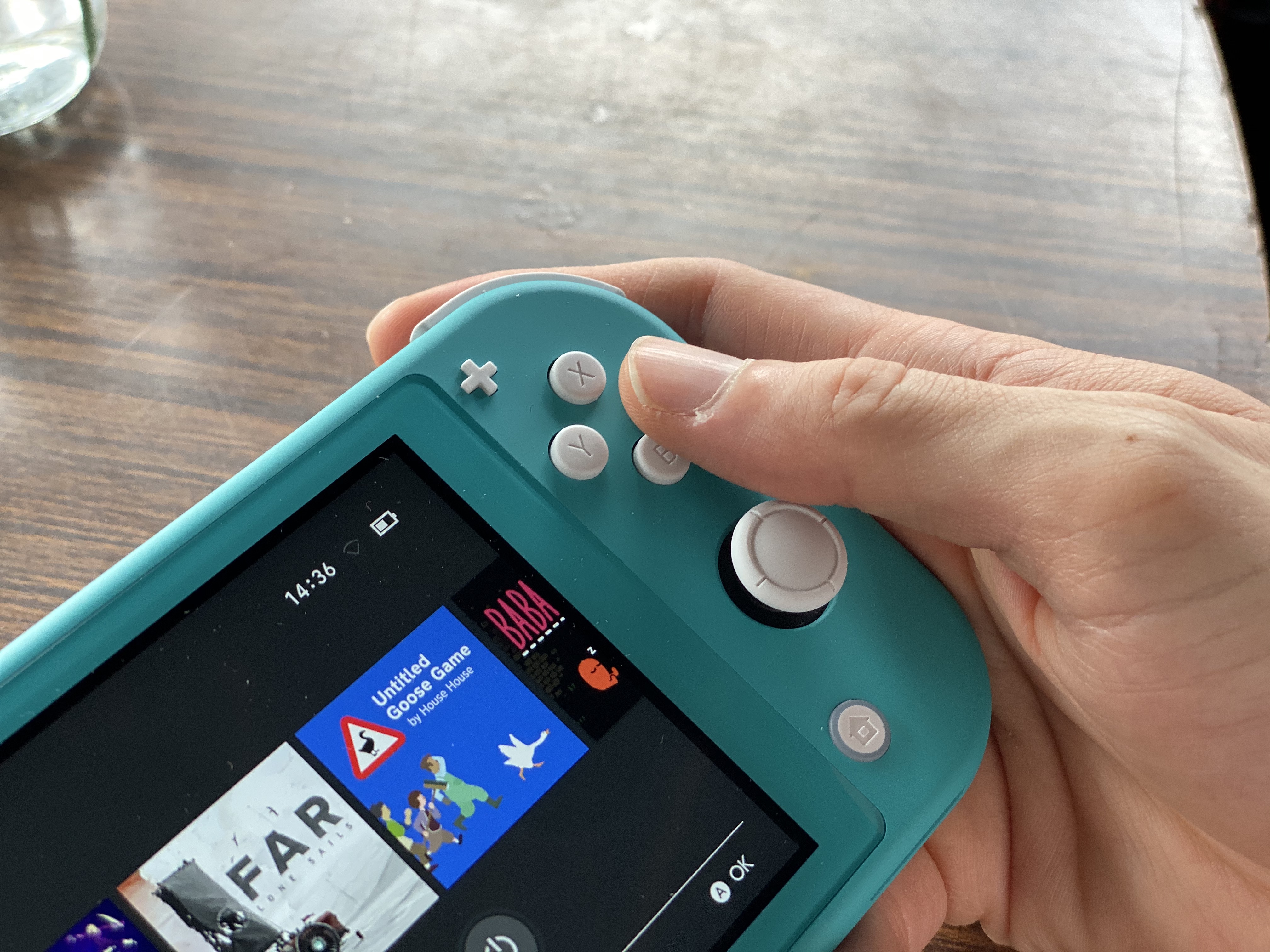 With that minor rant out of the way, let's concentrate on what the Switch excels at: games. Launch title The Legend of Zelda: Breath of the Wild has been bothering the greatest games of all time lists since its release, and since then Nintendo has maintained a consistent flow of great software.
Standouts this year include Fire Emblem: Three Houses, Super Mario Maker 2, Platinum's Astral Chain and the aforementioned Link's Awakening remake, with Luigi's Mansion 3 and Pokémon Sword and Shield still to come before Christmas.
But Nintendo's own stuff is always top-tier. The Switch has succeeded where the Wii U so spectacularly failed by garnering a lot more third-party support, be that new titles like Wolfenstein: Youngblood and next year's Doom Eternal, or ports of generation-defining classics like The Elder Scrolls V: Skyrim and The Witcher 3, the sprawling RPG which will, thanks to a ludicrous feat of technical wizardry, be playable in its entirety on the teeny Switch Lite when it launches next week.
And that's without mentioning the countless indie games that have found their natural home on Nintendo's console.
Performance and battery life: a bit more juice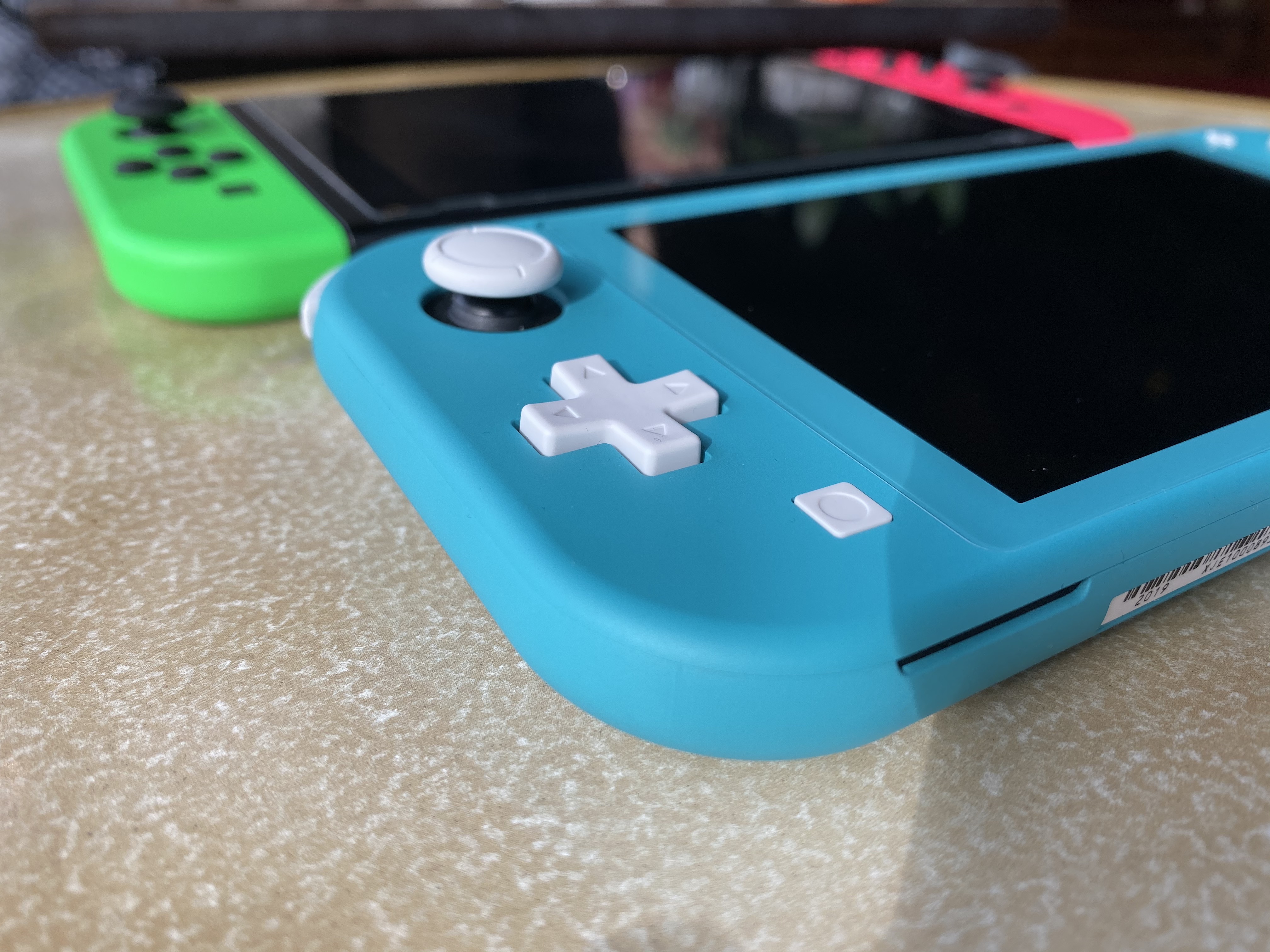 It should be noted, though, that a few existing Switch games such as Super Mario Party and 1-2-Switch aren't playable at all on the Switch Lite. They need to be played with the detachable Joy-Cons and HD Rumble for the proper experience, which the Lite can't do. Time will tell if Nintendo continues to make games that exclude the new console.
And there's no doubt that no longer having the option to play on the TV is a loss. Games that have a lot going on on screen can overwhelm the smaller display and therefore aren't as enjoyable to play in handheld. As someone who already played 90% of Switch games portably, it's not something that has bothered me much, but I wouldn't want to part with my hybrid console altogether in exchange for the added comfort of the Lite.
Battery life is rated at 3-7 hours depending on the game, a marginal improvement on the original model and a couple of hours fewer than what's on offer with the 2019 Switch refresh. Put simply, you're going to be charging this thing a lot and should always have a battery pack handy on the road, but a slight improvement on the Switch OG is better than most would have expected.
Nintendo Switch Lite verdict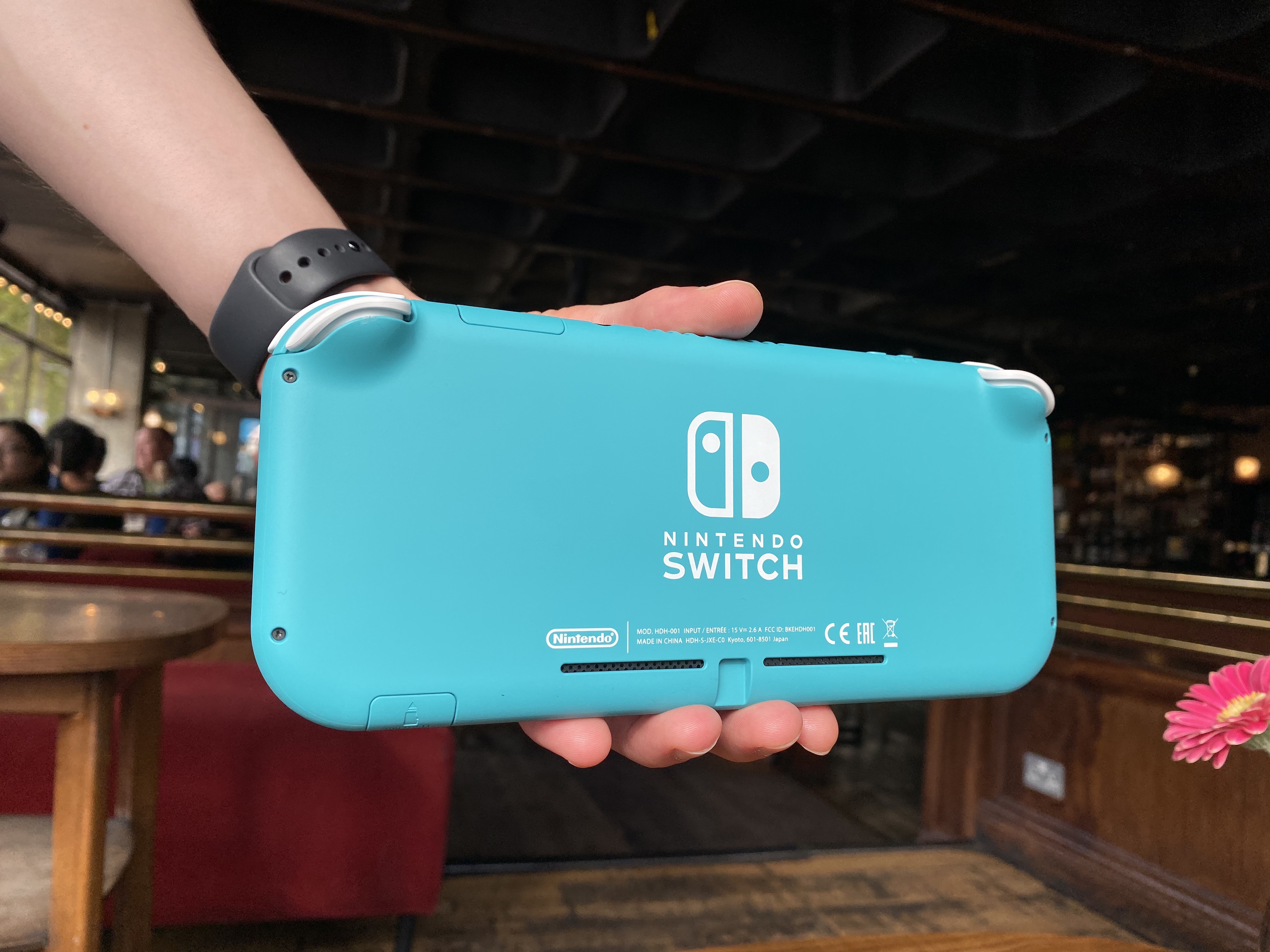 The bottom line is this: the Nintendo Switch Lite is a joy to play games on, and while it's a totally unnecessary luxury for owners of the more talented original console, it is a more desirable piece of kit to have in your hands.
Hardware-wise, I'd hesitate to call it a superior handheld to the OLED-toting and criminally under-utilised PlayStation Vita, but it absolutely trounces Sony's long since retired portable in the games department – and ultimately that's what matters. In Nintendo's long line of handhelds, the Switch Lite might just be the best.
It's just a shame that those who do want the Lite as a second console have to put up with more grief than is probably necessary.
If handheld gaming is all you're after and you don't mind trading a bit of functionality, it's hard to imagine the Switch Lite being anything other than your new favourite gadget.
Stuff Says…
Not as clever or innovative as its bigger brother, but the cheaper Switch Lite is probably the best handheld console Nintendo has ever made
Good Stuff
Great colour options
Sharp, colourful screen
Brilliant selection of games
An actual D-Pad
Very comfortable to hold (unless you have giant hands)
Bad Stuff
Primary and non-primary console faff
Battery life still isn't great
Some games need Joy-Con support
Should it even be called a Switch?
More like this: The latest addition to the Nintendo Switch Lite colours is blue, but we know what you're thinking