Abxylute hands-on review: head in the clouds
Sensibly-priced cloud gaming console nails the basics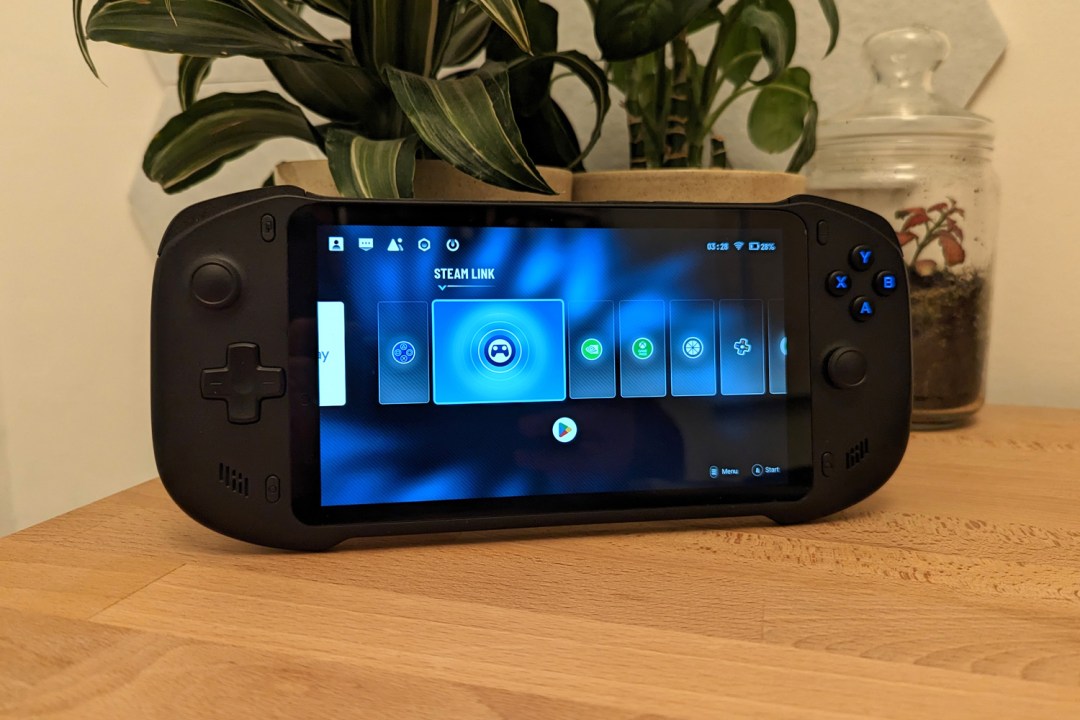 With the price of PC graphics cards having gone stratospheric and next-gen consoles not far behind, it's no surprise that cloud gaming handhelds are picking up steam. Big names like Razer and Logitech have had a go, and even Sony is rumoured to be getting in on the act – but newconmer Abxylute reckons it can deliver a similar experience for less cash.
The console has already smashed its Kickstarter goal, with a few days left at the time of writing. Once it hits retail, the $199 starting price is half what a Razer Edge will set you back. It also massively undercuts the Logitech G Cloud, while still packing Steam Link, GeForce Now and Xbox Game Pass streaming, Remote Play for PS4 and PS5, and Google Play access for local gaming.
Modest Android internals might be a stumbling block, though, and any kind of crowdfunded tech can feel like a dice roll. With shipping still a few months out, is there enough here to warrant a pre-order?
Design & features: pushes the right buttons
The Abxylute handheld has a similar design to its major rivals: a central display flanked by all the controls you'd expect, squeezed into a particularly pocket-friendly chassis. With smartphone-grade internals, it's significantly smaller than a Steam Deck, and slimmer than a Nintendo Switch. The black plastic construction feels suitably sturdy, with next to no flex.
Our pre-production Abxylute handheld arrived in plain brown packaging, with a protective carry case and USB-C charging cable included in the box. The 7in display also has a screen protector preinstalled, although all of that could change for the retail release.
It has all the controls you'd expect, with compact, Switch-style offset dual analogue sticks, a satisfyingly articulate D-pad, ABXY face buttons (the clue was in the name, wasn't it) and a long yet slim trigger/shoulder button combo at either side. Hall effect triggers and analogue sticks should prevent drift over time, and are a welcome inclusion given the keen pricing – as are the light-up face buttons, which can be customised to glow one of twelve different colours.
Sculpted grips build into the rear of the unit give you somewhere to rest your digits while playing, and the low 410g weight mean it's very comfortable to hold for hours at a time.
Screen & sound: HD hero
The 7in, 1080p display is the star of the show, with a game-friendly 16:9 aspect ratio, promise of 1000:1 contrast and very respectable viewing angles. It's a higher resolution panel than you'll find on a Steam Deck, so games should look that little bit sharper assuming your cloud gaming service of choice supports Full HD streaming.
It got bright enough that we could still see the onscreen action clearly while sat next to a window on an especially bright afternoon, even if the glossy panel finish can make light reflections a little tricky. It's also something of a fingerprint magnet, so you're going to want to use the physical buttons instead of tapping the touchscreen wherever possible. Touch inputs are responsive enough, at least.
The 60Hz refresh rate isn't a dealbreaker by any means, given most streaming services max out at 60fps. Nvidia's GeForce Now is the exception, but you pay extra for the privilege.
While the stereo speakers can sound a little sharp, and deliver next to nothing in the way of bass, they still get plenty loud enough for solo play. It's great to see a 3.5mm headphone port, as wired headphones don't have to deal with latency and audio/video sync issues like Bluetooth buds do – although wireless buds are of course supported and work just fine.
Interface: needs more speed
It's based on Android 12, but the Abxylute has its own bespoke UI that puts your most regularly used apps front-and-centre. It's easy to navigate using the D-pad or analogue stick, and ensures there aren't multiple apps hogging system resources by closing one down before you can launch a second.
The interface can feel sluggish at times, with the onscreen keyboard taking a second or two to appear when tapping on text boxes, and websites stuttering while scrolling using the built-in Chrome browser. Still, once you've loaded a cloud gaming app performance is absolutely fine. Official apps for Valve Steam Link, Nvidia GeForce Now and Xbox Game Pass are pre-installed, along with PSPlay for remote play from a PlayStation console, and Moonlight for playing non-Steam games from your gaming PC.
With full access to the Google Play Store, you can in theory download games to play locally when you've not got an internet connection, install video apps to binge on box sets, or play music through streaming services like Spotify. We found a few apps that weren't compatible during our testing, though, including big hitters like Netflix. And while YouTube installed just fine, it refused to load any videos. It's unclear if improved support will come later, once the Abxylute hits retail.
Based on the user agreements you're asked to sign during setup, the firm has support from Chinese gaming colossus Tencent, which bodes well for software updates later down the line.
Performance & battery life: keep it in the cloud
We used a 250MB cable connection and set of Amazon Eero mesh routers to test the Abxylute, and performance was superb. Input latency was low and the video feed was free of artefacts. You can absolutely feel the difference between playing locally and playing via the cloud, but we happily clocked up a playthrough of the Resident Evil 2 remake during our testing. Just keep in mind that with no Wi-Fi 6 on board you'll need to stick closer to your router for an interruption-free experience, and need a consistently quick internet connection for cloud gaming. Streaming from a local PC or console also demands a decent home network.
With a quad-core MediaTek 8365 CPU and modest 4GB of RAM, the Abxylute isn't an especially powerful device. That's just fine for cloud play, where all the heavy lifting is done by a server hundreds or thousands of miles away, but you're going to want to set your expectations low for local Android gaming.
Call of Duty Mobile defaults to its lowest settings, and showed a little slowdown in the most hectic parts of matches. Honkai: Star Rail became a slideshow, and that was just the title screen. Simpler games still run just fine, and it'll comfortably manage retro emulation (think 16-bit and older, rather than GameCube-era games). There are 32GB and 64GB versions of the handheld in the works, but both have microSD expansion for adding extra capacity if you have an extensive library of (ahem, legally obtained) ROMs.
Stick to remote play and the 5200mAh battery should last you upwards of eight hours of game time. We saw closer to six during our time with the handheld, but that's largely because we had screen brightness set to maximum while playing Capcom's especially dark zombie horror game. Even then it still comfortably outlasted both a Nintendo Switch and a Steam Deck.
Abxylute cloud gaming console initial verdict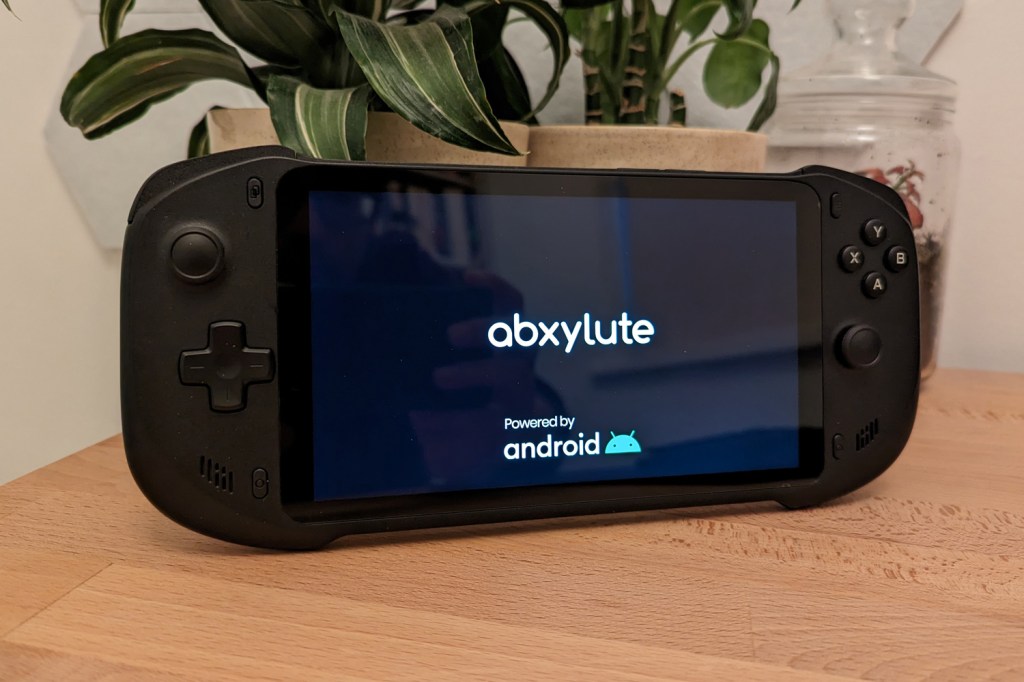 As an inexpensive entry into cloud gaming, the Abxylute gets a lot right. It's comfortable enough to play for an extended stint, with the battery life to match, and supports all the major gaming services. Seeing how it's based on Android and has access to the Play Store, it'll also be a cinch to add other cloud options should they arrive later down the line.
It can't cut it for local Android gaming, unless you're happy to stick to basic 2D titles, and the relatively low-power components also make the interface feel sluggish at times. But with price on its side, we can absolutely see the appeal over a Razer Edge or Logitech G Cloud.
Still, it's early days for the Kickstarter project. Shipping isn't expected to start for another few months, but fledgling companies often find large-scale production tricky. Abxylute does have big-name backing, though, so we're confident it can deliver on time.
Back Abxylute on kickstarter here until the 12th of May. After that, head to the Abxylute website for all the info.
Stuff Says…
A capable cloud handheld that undercuts big-name rivals. A sluggish UI and flaky local gaming mean it isn't perfect, but the Abxylute comfortably handles remote play.
Good Stuff
Comfortable build and mostly responsive controls
Bright, clear screen and punchy speakers
Great value compared to other cloud gaming consoles
Bad Stuff
Lacks power for demanding Android games
Interface can be sluggish at times
Analogue stick dead zones
Abxylute cloud gaming console technical specifications
| | |
| --- | --- |
| Screen | 7in, 1920×1080 LCD |
| CPU | MediaTek 8365 |
| Memory | 4GB RAM |
| Storage | 32/64GB on-board, microSD expansion |
| Connectivity | USB-C, 3.5mm headphone port |
| Battery | 5299mAh |
| Dimensions | 250x115x30mm, 410g |