Samsung Galaxy Z Flip preview: Everything we know so far
UPDATED: First leaked hands-on video!
Reaction to Samsung's innovative Galaxy Fold has been divisive, to say the least… and while we bet some early adopters are pleased, many have called the Fold a flop.
Still, Samsung isn't ready to give up on foldable smartphones, and leaks suggest that the company's next foldable design will debut in a matter of weeks. The rumoured Galaxy Z Flip looks more akin to the new Motorola Razr – a very tall phone that folds up into a more pocket-friendly size.
Here's a look at what all of the rumours and leaks are pointing to right now.
(Leaked images courtesy of WinFuture)
When will the Samsung Galaxy Z Flip be out?
Samsung has dated a Galaxy Unpacked event for 11 February, which we expect is where we will see the Galaxy S20 (the S10's successor) for the first time.
Rumours point to the Galaxy Z Flip being there, as well. Leaker Max Weinbach of XDA Developers suggests that the phone will go on sale very soon after, on 14 February.
Fact or fiction?
We do expect to see it on the 11th, and a release soon after certainly could happen.
How much will the Samsung Galaxy Z Flip cost?
Foldable smartphones are still a new concept, and they are very, very expensive. But at least it sounds like the Galaxy Z Flip won't be nearly as insanely pricey as the Galaxy Fold.
Weinbach points to a price around US$1,300, which converts to about £1,000. As you might recall, the Galaxy Fold is priced at US$1,980 but £1,900 in the UK – so the UK price is likely to be pretty close to the US price.
Fact or fiction?
While the rumoured four-figure price is lofty, it's still a lot cheaper than the Fold.
What will the Samsung Galaxy Z Flip look like?
The ever-reliable WinFuture has a treasure trove of seemingly official renders, and they show a foldable phone that's similar in approach to the Razr but with modern Samsung style.
It looks much like a makeup compact when closed, but when opened up, you get a huge, super-tall screen with a Galaxy Note 10-like punch-hole camera cutout at the top. The rounded frame has more of an iPhone-like look to it, though.
On the outside, the phone – which looks to be available in purple and black versions – has a pair of cameras and a small 1.06in screen for notifications and viewing the time. All told, it's minimal looking but we don't think that's a bad thing.
The video in the previous section comes from noted leaker Ben Geskin and seems to show a hands-on look at the real deal. It looks spot-on compared to the leaked renders, and gives us a good sense of what purpose the external screen will serve. Have a look!
Fact or fiction?
Given the source and the images, we believe they're real.
What about the Samsung Galaxy Z Flip's screen?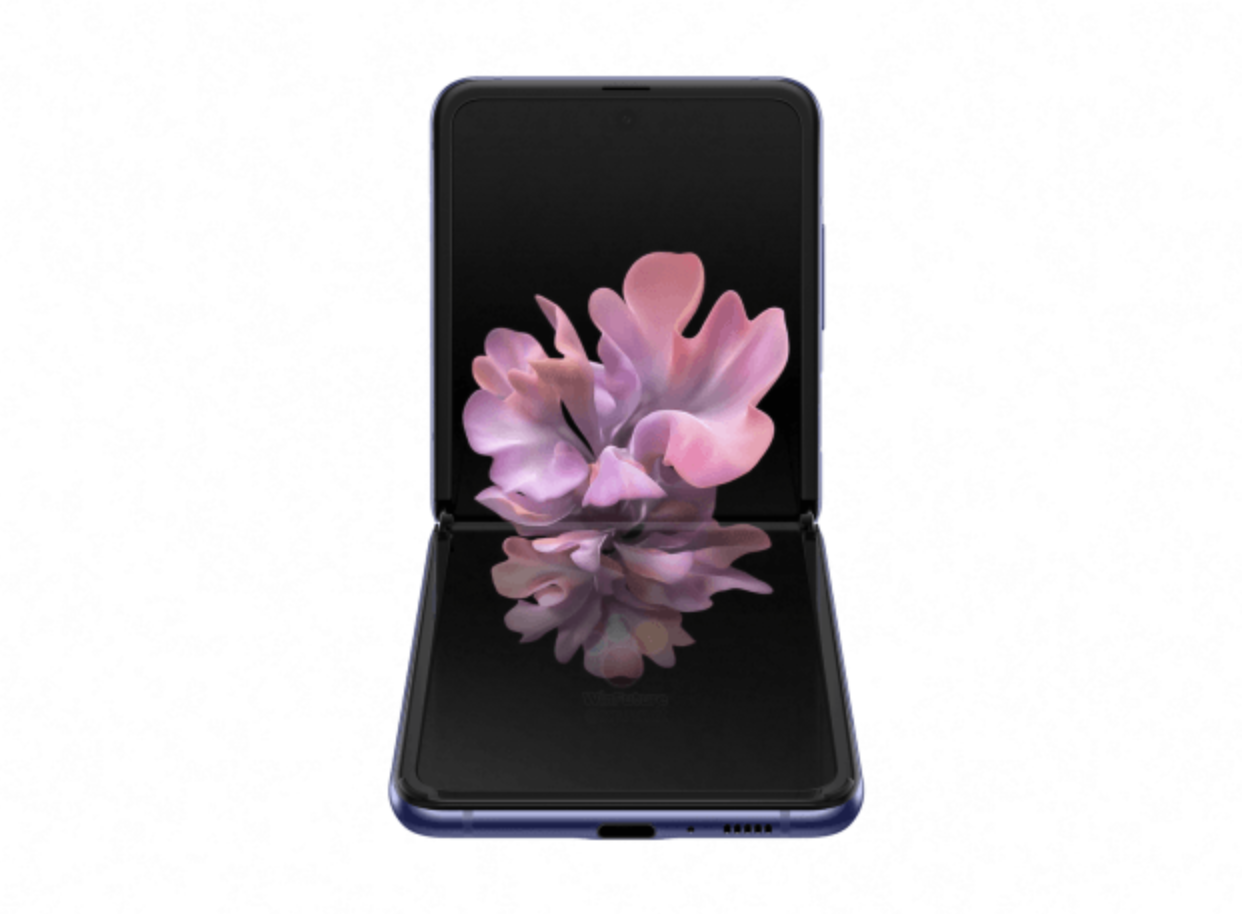 According to WinFuture, the Galaxy Z Flip has an "Infinity Flex" display that is 6.7in tall when full unfolded and has a staggering 22:9 aspect ratio – making it taller than Sony's recent Xperia screens, for example.
It won't be as high-res as Samsung's usual flagship panels, but at 1080p, it will at least be crisper than what the new Motorola Razr is rocking. WinFuture points to an "Ultra Thin Glass" cover for the screen instead of the Galaxy Fold's film, which will hopefully help keep it from getting creases and other visual blemishes from everyday usage.
Fact or fiction?
Sounds like it'll be large and in charge.
How much power will the Samsung Galaxy Z Flip pack?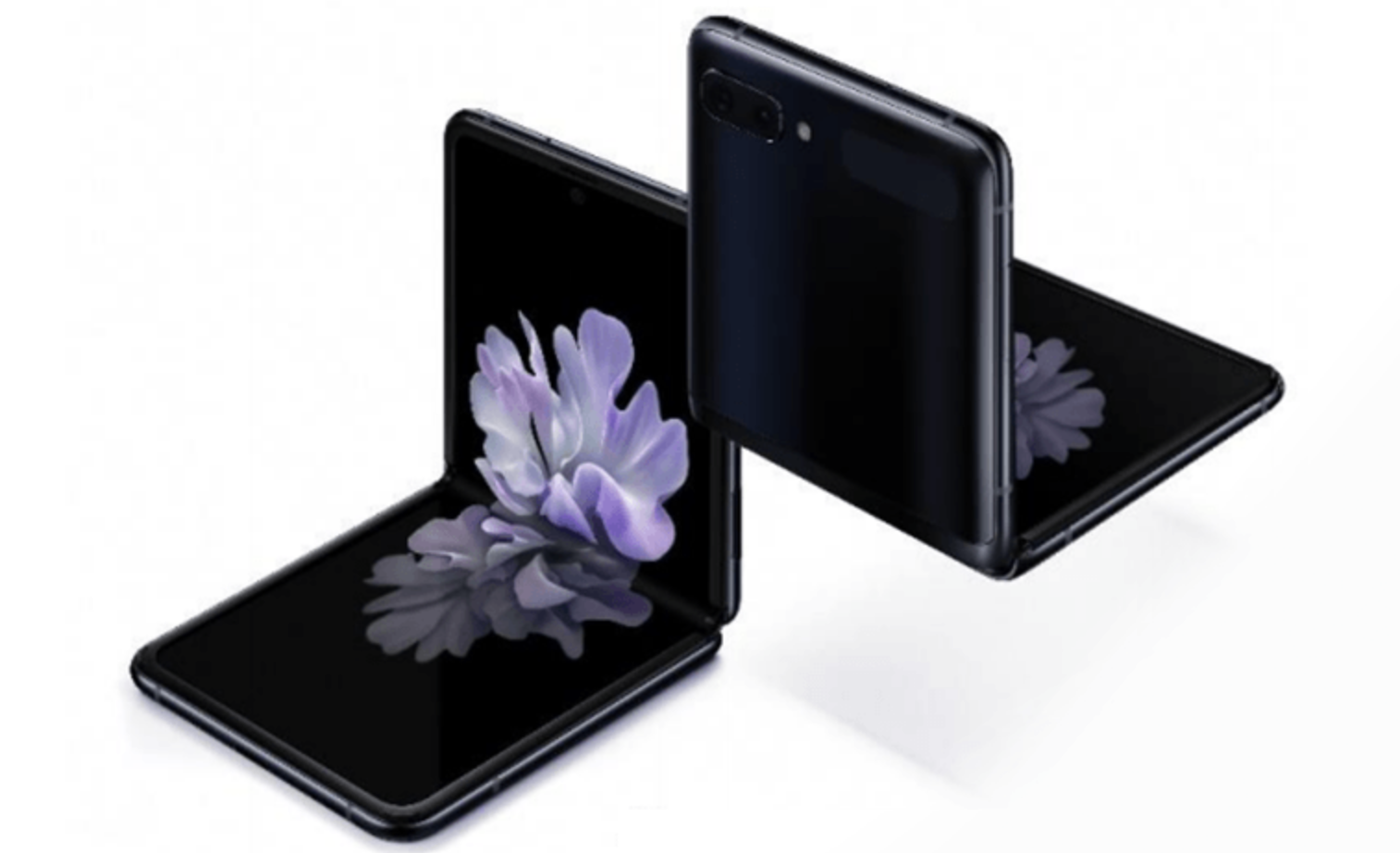 According to that WinFuture report, the Galaxy Z Flip is expected to pack the Qualcomm Snapdragon 855+ chip, which is cutting-edge as of right now.
However, the Galaxy S20 line is slated to feature the newer Snapdragon 865 instead, so the Z Flip could be slightly behind the curve by the time it launches. In any case, that's a speedy flagship level chip, so you should expect stellar performance and strong gaming capabilities as well. The 8GB RAM will help with all of that too.
Fact or fiction?
For a phone this pricey, we'd better get a top-end chip.
What kind of cameras will the Samsung Galaxy Z Flip have?
Don't expect as many cameras as the Galaxy S20 line, according to renders: the images here show two exterior cameras and one selfie cam integrated within the screen.
WinFuture says both outside cameras are 12-megapixel shooters, one standard (f/1.8) and the other a 123-degree ultra-wide-angle camera (f/2.4). The selfie camera is claimed to be at 10MP and feature auto-focus capabilities.
Fact or fiction?
Samsung makes stellar smartphone cameras, but that won't be the biggest hook of the Z Flip.
Is there anything else I should know about the Samsung Galaxy Z Flip?
There's a few more things we've gleaned from reports, including the lack of 5G support. The Z Flip will purportedly only be compatible with LTE networks.
Additionally, the unique form factor has apparently resulted in lack of a microSD slot for expandable storage, but the 256GB internal storage mentioned by WinFuture should do the trick for most users.
That report also suggests a total battery capacity of 3,300mAh split between multiple cells, and that the fingerprint sensor will be on the side-mounted power button.
Fact or fiction?
This all sounds pretty compelling, and hopefully the end result will be more appealing than the Galaxy Fold… but it will depend a lot on price too. If the rumours and leaks prove true, we should see the real deal in just a couple of weeks. Stay tuned.