Dyson Airstrait can dry and straighten your hair at the same time
Dyson's game-changing, time-saving Airstrait will dry and straighten your hair with powerful blades of air
Dyson has had a great deal of success with its haircare range since it launched the now-iconic Supersonic hairdryer in 2016 and followed up with the simply brilliant Airwrap styler and heavy but effective Corrale straighteners.
Now another product is joining the range – Dyson Airstrait. We're guessing the name came from saying 'hair straightener' really quickly but maybe not.
It can be used to straighten hair from wet to dry meaning it's significantly different from the Corrale, which is designed to be used on dry hair. Significantly, it doesn't use hot plates at all and therefore doesn't damage your hair through heat (the Corrale uses flexible plates to avoid heat damage). As you'd expect, powerful airflow is responsible for the drying and Dyson promises a "natural straight style with a smooth shiny finish". The proof, will of course, be in the straightening.
The Airstrait is on sale from today for $500 in the US and will also be available in Mexico and Canada. However, there is no UK or global launch currently, Dyson only says it will be available elsewhere "at a later date".
So how does it work? Two arms contain a hair tress which is dried and straightened from an angled blade of air ejected from two 1.5mm apertures. The downward blade of air is forced into the hair. The direction of the airflow works to align the hair strands to achieve a smooth finish. The Airstraight is powered by a 27mm Dyson Hyperdymium motor that spins a 13 blade impeller up to 106,000rpm – it can propel just shy of 12 litres of air through it per second.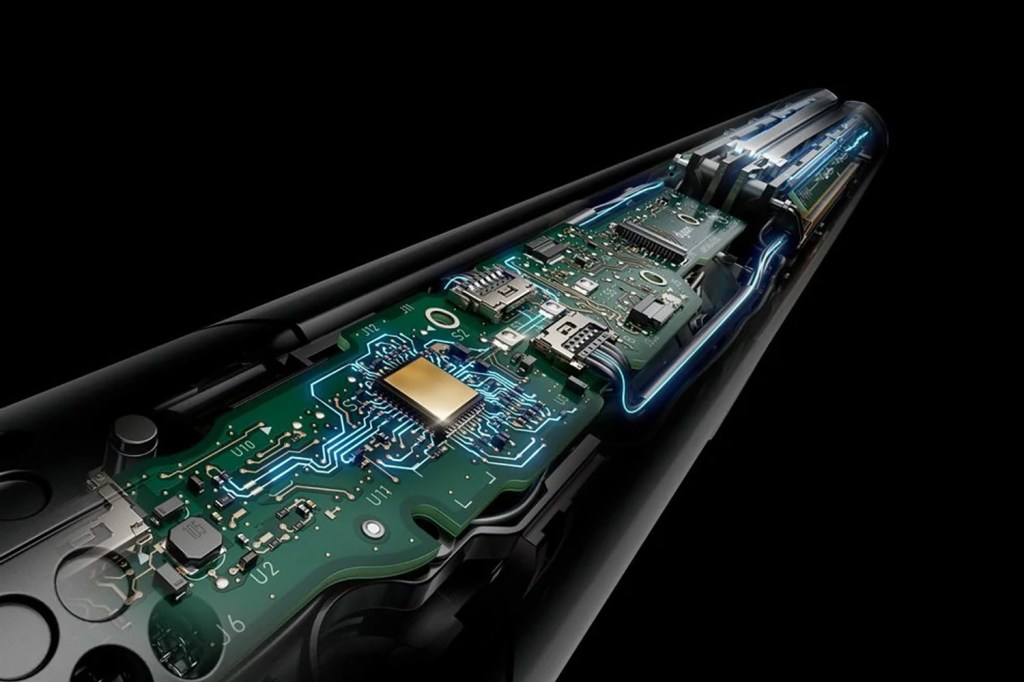 The Airstrait has both Wet and Dry styling modes that have different temperature presets. In Wet mode, you can choose from 80°C (175°F), 110°C (230°F), and 140°C (285°F). In Dry mode, the options are between 120°C (250°F) or 140°C (285°F). For airflow control, there are two speed settings, low flow and high flow, as well as a cold shot and root drying mode.