Dyson Supersonic review
The ultimate weapon against frizz - but with an ultimate price to match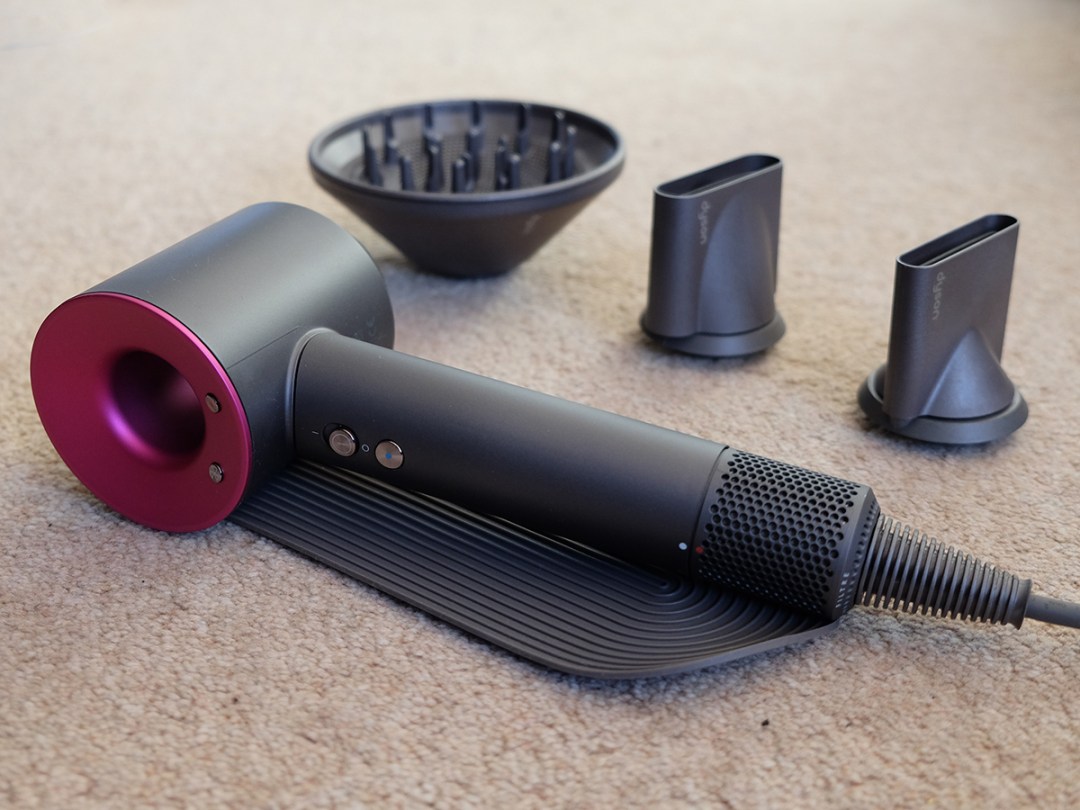 Dyson has jumped straight in at the deep end for its first foray into haircare.
It's packing the same kind of digital motor you'd find in one of its robot vacuum cleaners, the same bladeless, high-velocity airstream you'll find in its hot+cold fans, and a clever temperature sensor that's supposed to stop your hair getting damaged from too much heat.
But in the end, it still just dries your hair, right? It's like buying baked beans.
Stay with me on this one, I'll explain.
A tin of Waitrose's finest might cost three times the price of the ones you'll get from Lidl, but both fill you up. How can the £300 Supersonic be any better than a £20 basic dryer you pick up at the supermarket?
Then again, I've hardly got the luxurious, flowing locks to prove my point. That's why I handed it over to four generations of long-haired experts to find out whether the Supersonic could really blow them all away.
Dyson Supersonic design: the hole's the goal
Take one glance and it's clear the Supersonic isn't an ordinary hair dryer. For starters, it's missing the big, bulky motor where a regular dryer usually generates all its heat.
Instead, Dyson has shifted the motor into the grip, and left the nozzle completely unobstructed.
That does two things: first, it shifts the weight distribution to the grip, rather than the nozzle. After ten minutes with a regular dryer, your wrists are going to be feeling the strain, but that doesn't happen here.
Second, the brushless digital motor doesn't directly blow air at you: it travels up the grip and through the nozzle, which uses a smaller version of the air multiplier design found in Dyson's bigger fans.
That means the flow of air is gentler, smoother, and (somehow) able to leave your hair less frizzy. Oh, and should suffer less wear and tear over time, so should outlast a traditional dryer too.
No clue why the removable filter around it has the word "Filtre" etched onto it though – Dyson is British, not French.
Otherwise, the whole thing is deceptively simple, with just four buttons: power, a cool air button, heat and air-flow. The heat and air flow levels show up as LED lights. The styling concentrator, smoother and diffuser you get in the box are all magnetised, so you can pop them on and off the dryer in seconds.
Dyson Supersonic performance: hot stuff
It all looks impressive on paper, then, but how does it actually handle hair? In a word – brilliantly.
Let's be clear: the Supersonic doesn't actually dry your hair any quicker than a regular hair dryer – it just a lot better at it.
Ten minutes in front of a regular dryer can leave you hot and sweaty – not exactly what you want after just jumping out of the shower or bath. That doesn't happen with the Supersonic. Either the temperature sensor keeps things at a bearable heat, or moving the motor and using a more streamlined airflow means it's just your hair getting warm – not the rest of you.
The end results are a lot less frizzy, too. Two of our testers said they didn't need any extra serum to tame their locks after a blast with the Supersonic, and the others said their hair looked visibly smoother than with a regular dryer. In fact, it was thumbs up all round.
The only downside? The high-pitched whine from the digital motor. It is spinning at over 100,000rpm, after all – around five times faster than a regular dryer.
That really was the only real complaint when it came to using the Supersonic, and even the noise isn't overly unbearable. The bigger issue was price.
Dyson Supersonic verdict
When most hair dryers will set you back £50-100, it's tough to see exactly why the Supersonic costs a dizzying £300.
Sure, it's got the smallest digital motor Dyson makes inside it, and as the first of its kind the company can pretty much charge what it likes, but it means few people are going to be able to pick one up any time soon.
If the price came down, I could see this being one seriously in-demand dryer, but right now, it's a luxury. Dyson seems happy with early feedback though, so fingers crossed a cheaper model is on the cards.
Tech specs
| | |
| --- | --- |
| POWER | 1600w |
| ATTACHMENTS | Styling concentrator, smoother, diffuser |
| ADJUSTMENTS/BUTTONS | 3x heat, 3x air intensity, 1x cold air |
Stuff Says…
The Supersonic comes from the future – a future where hair is glossier, and we don't bat an eyelid about spending an eye-watering amount of money on hairdryers.
Good Stuff
Smart design, light weight
Leaves hair glossier than other dryers
Cools quickly after use, won't make you sweat
Bad Stuff
Seriously expensive
Actually pretty loud