The best iPad tips and tricks 2023: get more from iPadOS 17
Apple says iPadOS 17 is now even more capable. Power up your iPad with these tips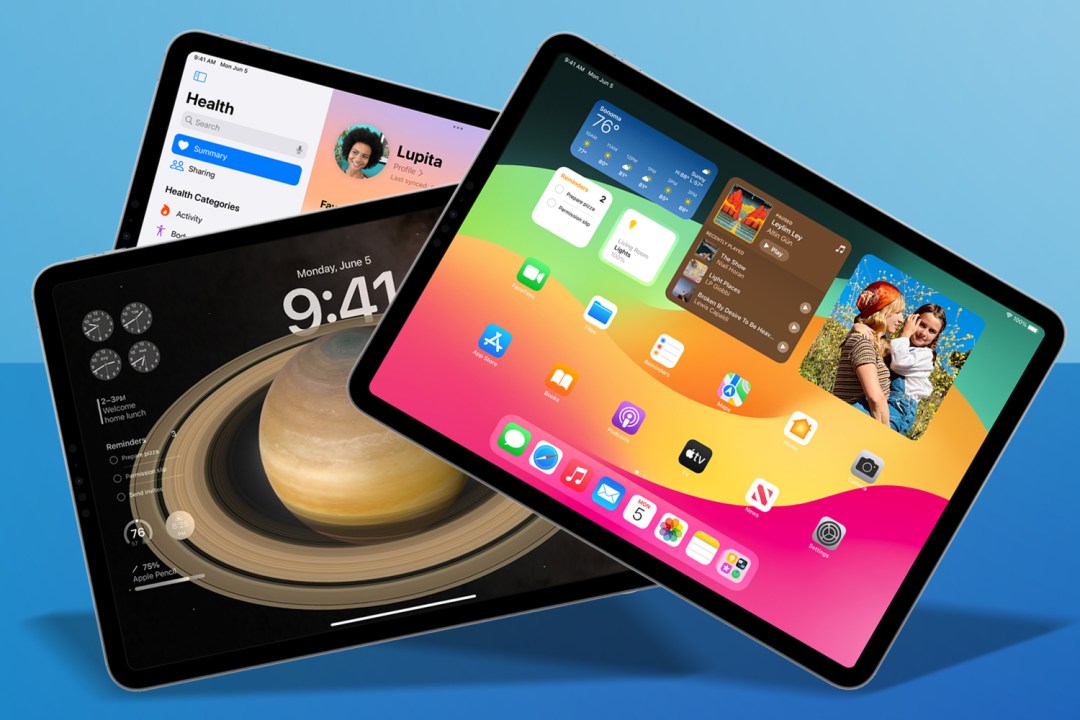 Got a new iPad and feeling guilty because it's still a blank slate? Excited at the prospect of making your existing tablet be even better, by way of some fab new features? Our iPadOS 17 tips will help, quickly getting you to the new stuff that really matters.
These iPadOS 17 tips were written using the latest beta, but the software is now fully available for download to your iPad. If you're not sure if your current iPad will run it, check out the iPadOS 17 system requirements.
Customise the iPad Lock Screen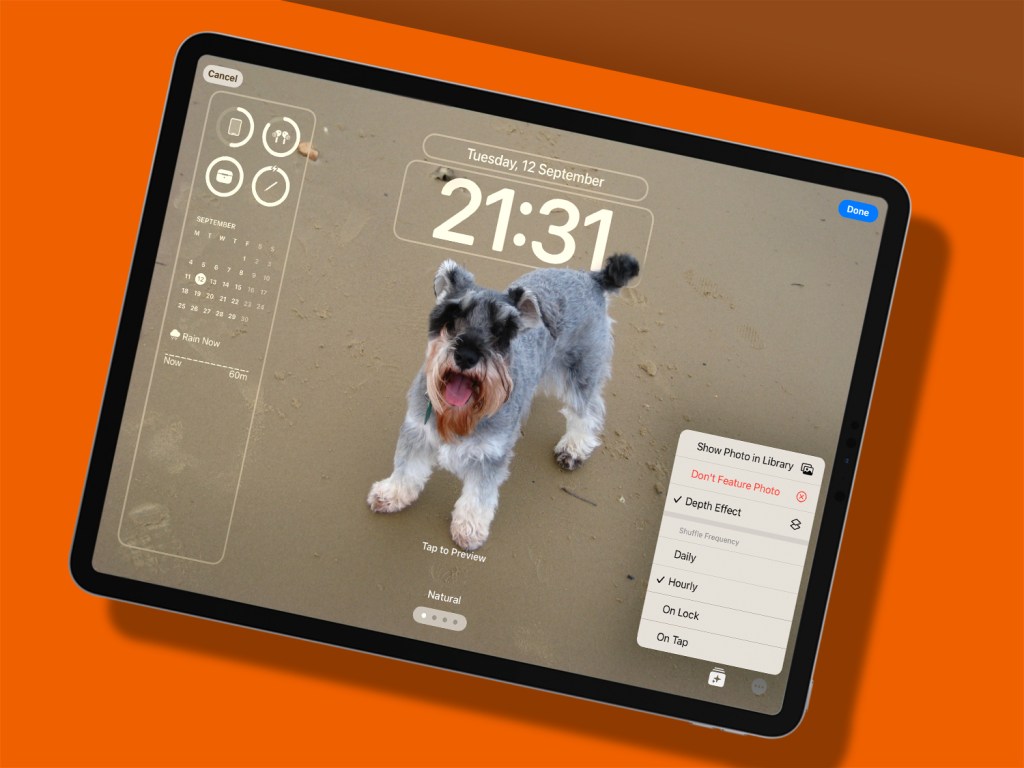 Pick a wallpaper
Tap-hold the Lock Screen and press + to create a custom Lock Screen. Select a new wallpaper from the provided options, which include everything from flat colours to sets of snaps from your photo library.
Separate your Home Screen
Tap Add and Set as Wallpaper Pair to use your wallpaper everywhere. If you prefer something less busy for your Home Screen, tap Customise Home Screen and create something bespoke for it.
Add widgets
Tap-hold an existing Lock Screen in the picker and Customise. Tap above the clock to add a widget. In landscape, add further widgets to the sidebar slot. Switch to portrait and add unique widgets for that orientation.
Manage your stage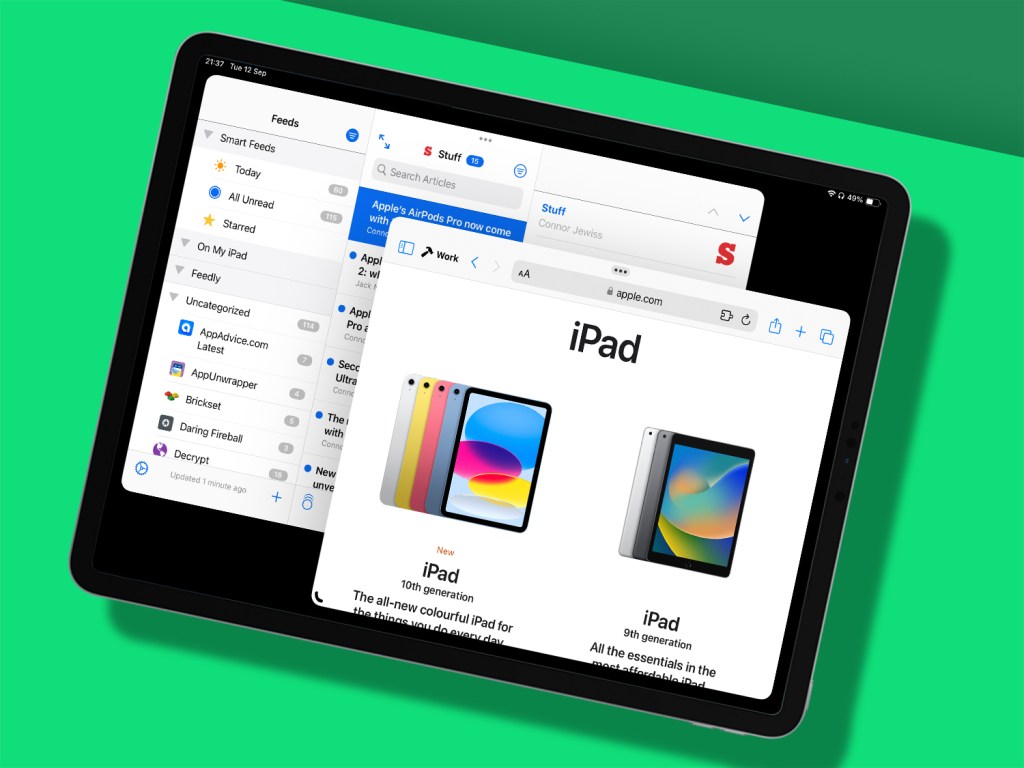 Resize windows
Stage Manager is improved on iPad. A more fine-grained grid makes resizing windows more fluid. Also: Shift-click an app in the Dock to bring it into the same space in Stage Manager, like on the Mac.
Use an external camera
When using Stage Manager with an external display, video calls were awkward, since they used your iPad's camera. Now if an external camera is connected (such as a Studio Display's), FaceTime and other compatible apps will by default switch to it.
Use Safari profiles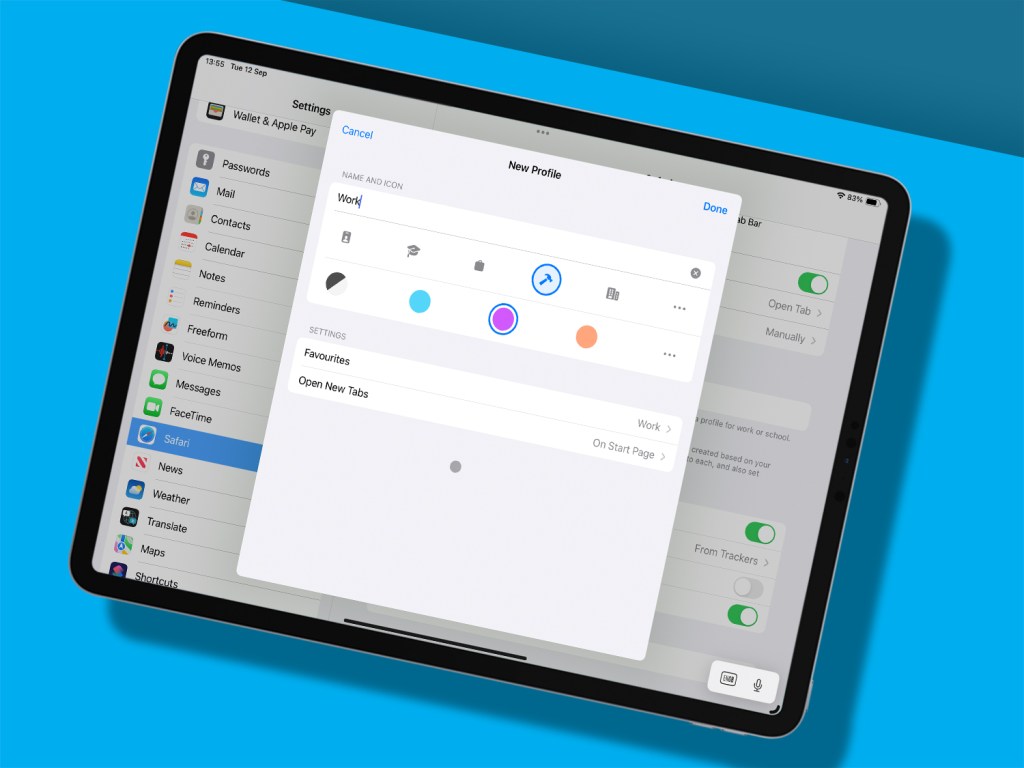 Alas, Safari profiles don't get us to iPad multi-user support, but they do at least finally make it viable to use multiple logins on the same device. To set up a new profile for, say, work, head to Settings > Safari > New Profile. Each profile can have its own name, icon and colour. Select any profile you've created from the Safari toolbar.
Look after yourself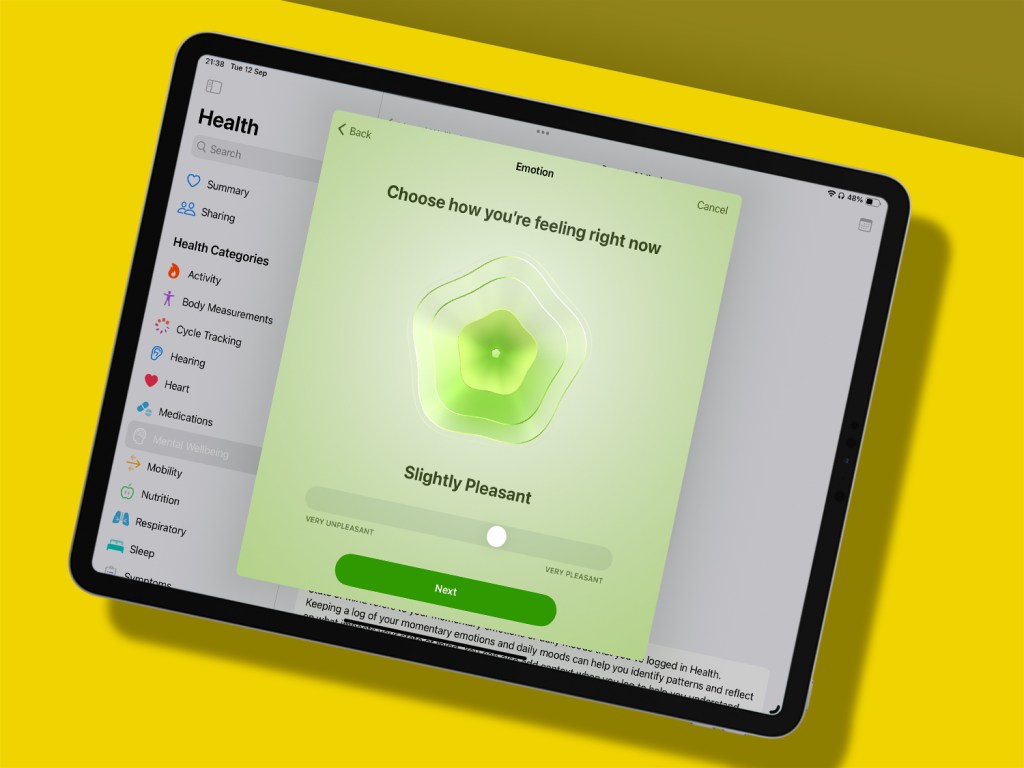 Browse health details
Open the new Health app on iPad and have it sync your data. You'll be notified on your iPhone and can later adjust sync options via Settings > [your name] > iCloud > Health. On iPad, the larger screen is like a dashboard – great for overviews.
Improve your wellbeing
The latest iPadOS and iOS have new wellbeing measures. In Health, you can take a questionnaire and log your emotions to build a 'state of mind' chart. Again, this works best on a bigger screen.
App it up
There are plenty of iPadOS 17 tips lurking in updates to Apple's stock apps. Specifically, these three…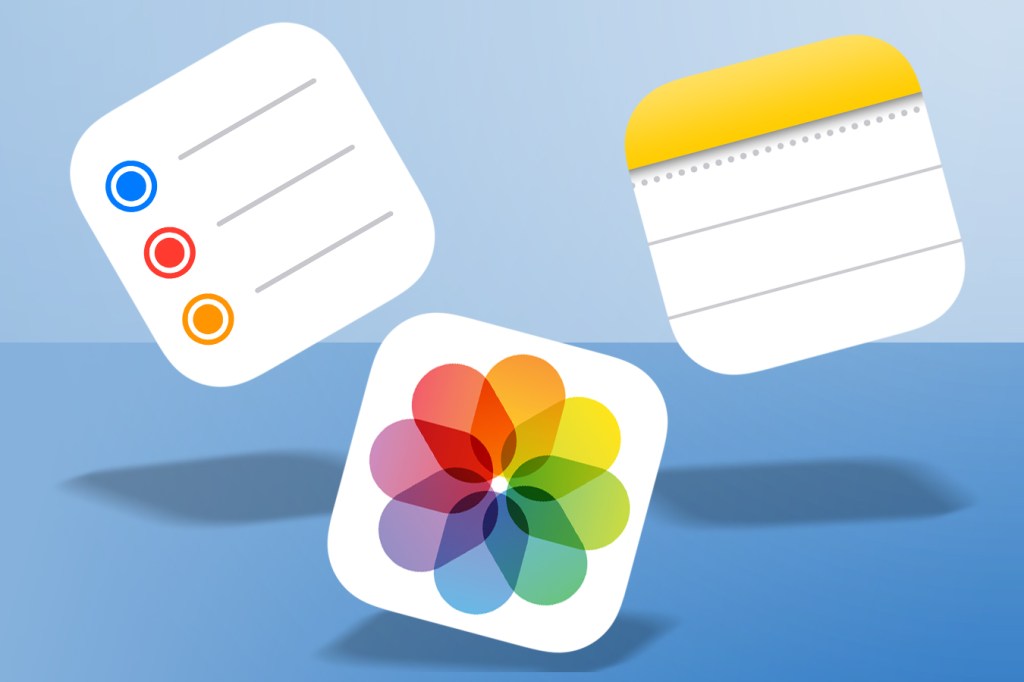 Reminders
This to-do app now organises shopping lists into categories and has interactive widgets. But the best bit is how you can group related reminders into a list. A new column view turns each section into a column, the result of which feels a lot like a stripped-back Trello. A touch cramped on iPhone but great on iPad.
Photos
The People album is now People & Pets, because Photos can finally detect furry friends. Memories have also improved: head into one and you can now add new photos to it and reorder those that are already there. And in a standard photo view, zoom a snap beyond the screen's boundaries and tap Crop to start a crop action.
Notes
Drop a PDF into Notes and it no longer stubbornly only displays the first page – you can now swipe to others. Select some text, choose Add Link from the contextual menu, and type a note's title to link your current note to it. Do this with enough notes and you'll have something akin to your own personal wiki.
Explore iOS 17's goodies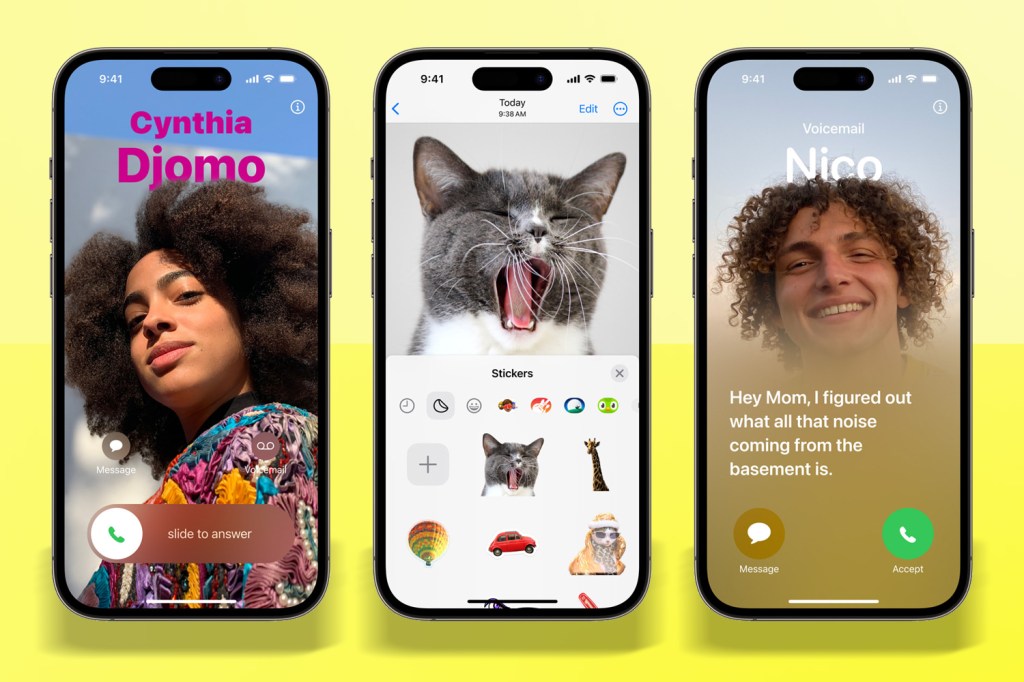 Many of the new features for the iPhone are also available for iPad. So check out The best iPhone tips and tricks: get more from iOS 17 to read all about AirTag sharing, FaceTime messages, interactive widgets, map downloads, Personal Voice, Spotlight improvements, and more.