Apple Studio Display (2022) review: lovely but not completely loveable
The apple of our eye? Not quite – despite wonderful design, this monitor has a few flaws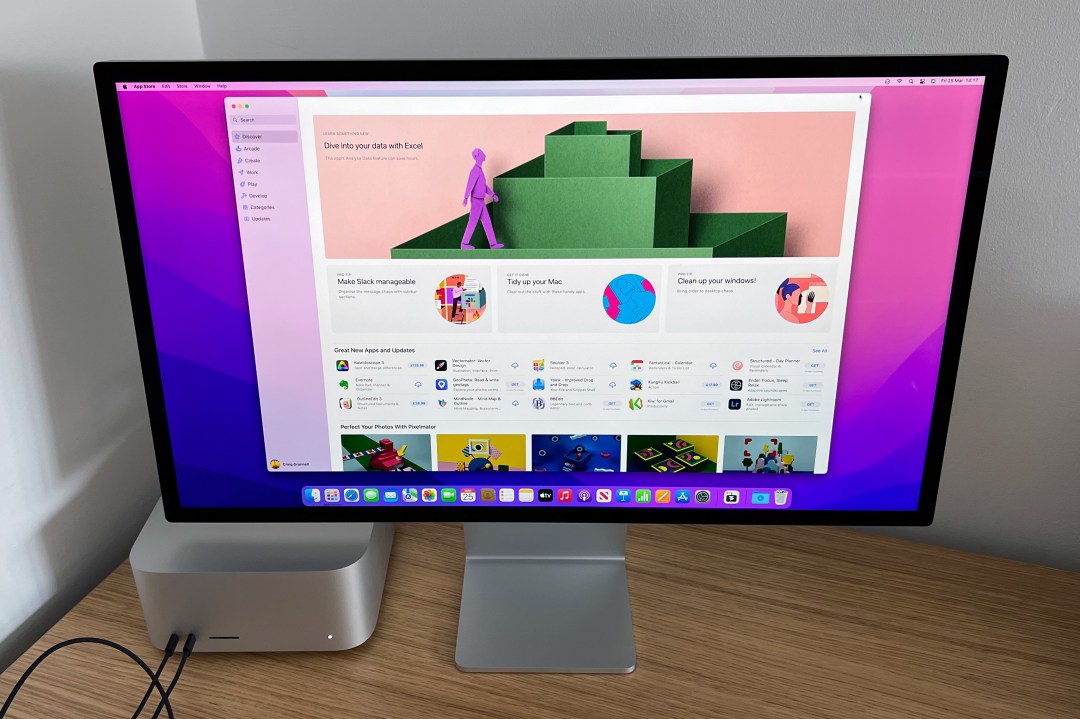 For years, we wanted Apple to saw the chin off of a 27in iMac and sell what remained as a standalone display. We weren't expecting the company to take that almost literally. Here's our Apple Studio Display review.
With the Studio Display, you get the now-discontinued 27in iMac's panel in something resembling a newer 24in iMac-style frame, along with speakers, mics and a webcam.
Note this is Apple's sole display if you're not made of money, what with the pro-grade 32in XDR costing £4599 – and that's before you add a stand. The Studio Display's a comparative bargain – but still pricey.
So is it worth splashing out for the display of your dreams? Or will the Studio Display turn out to be a bit of a nightmare? Let's find out…
Design: Of the times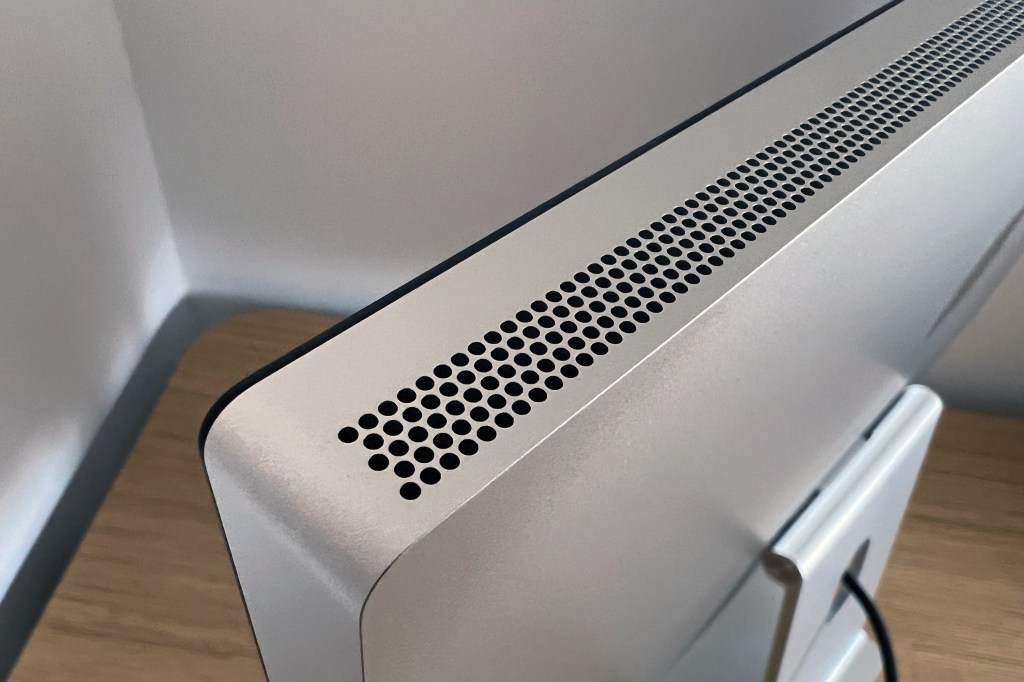 You'd need to be a design philistine to not like what Apple's done here. The Studio Display is like the XDR and 24in iMac had a baby. The stand is solid. The frame is sleek. There's no wobble.
Perforations at the top and bottom edges recall Apple's pro kit, and the front is distraction-free, showcasing Apple's confidence. There's no logo to grab your eye – just a thinnish black bezel that frames content and keeps your focus.
Bad bits? Height adjustment costs an extra 400 quid(!), and the proprietary power cable that plugs into the back is not user-removable – although at least it's 2m long. We'd have preferred iMac-style MagSafe and a power brick, even if that goes against Apple's simplicity obsession.
Display: Old, faithful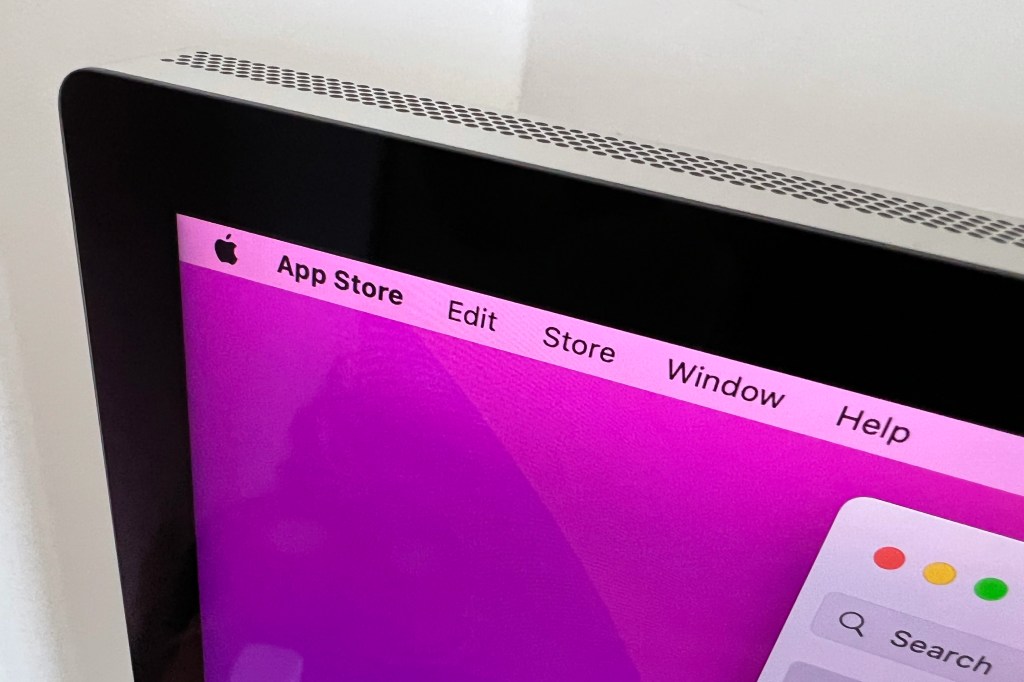 If you've gawped at a 27in iMac, you'll know what to expect. This display is a smidge brighter (600 nits vs 500), but is essentially the same panel. In one sense, that's good. It's clear and bright, with great colour accuracy. The 5120×2880 resolution at 218ppi is tailor-made for macOS, meaning everything's pin-sharp and there are no scaling issues.
But we've also been clamouring for this display for years now, and the panel feels like yesterday's technology rather than the future. The single-zone backlight makes blacks more like dark greys in dark rooms. It's 60Hz, which means no ProMotion, despite some rivals offering something similar. And there's no HDR – a blow if you want to watch or edit HDR content.
Camera and speakers: a mixed bag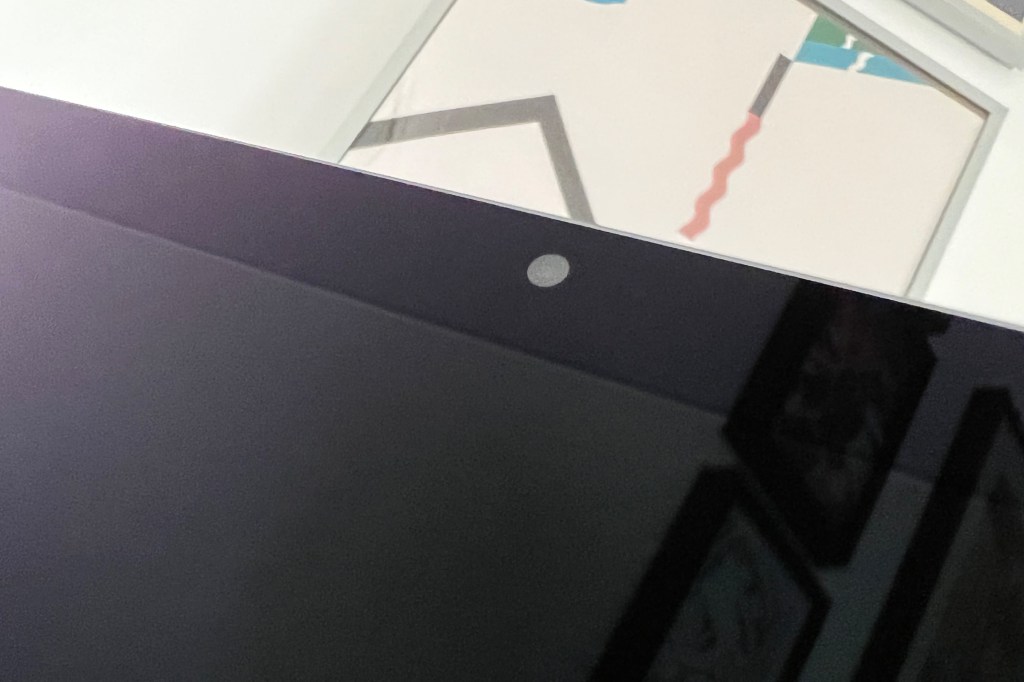 This display has an A13, running iOS. Don't get excited – that doesn't turn it into a sneaky iMac; it's intended to improve the speakers and video calls. Apple got one of those things right. To our ears, this display's sound output rocks, with solid bass and good range. Audio can get a touch thin and fatiguing at the highest volume levels, but otherwise it's as good as we've heard from any Mac – and gave our desktop Ruarks a run for their money.
Video calls? The mics are good, but Apple should stop calling them "studio quality" – you won't record a top-ten hit (or a podcast) on them. The camera… is just bad. The picture is noisy and washed out. It's like Apple's gone back a generation, with the picture not even matching what you get from 2020's MacBook Air. Compared to a 24in iMac, it's poor; compared to an iPad, it's embarrassing.
Apple has said the camera is not behaving as expected and improvements will arrive in a software update. But we can only review what's in front of us and wonder how the camera shipped in this state.
Random observations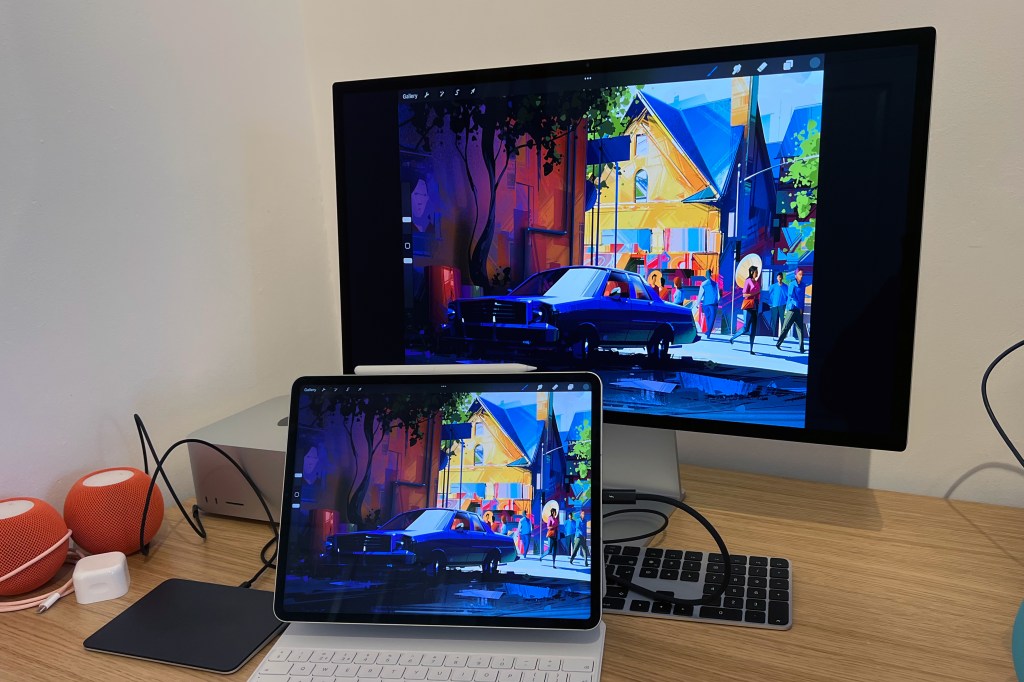 Around back, you get three USB-C ports and a Thunderbolt port with 96W of power, to charge a laptop.
You get a fancy 1m Thunderbolt cable in the box – yay! At least, if you don't want your Mac too far from your Studio Display.
Got a PC? Forget it – this display works with PCs, but you won't get Centre Stage and Spatial Audio, and might run into other hiccups.
Got an iPad and reckon this'd make a great display for it? Us too. But Apple's iPadOS still makes for a miserable experience.
We found the Spatial Audio effect from the speakers barely noticeable.
Verdict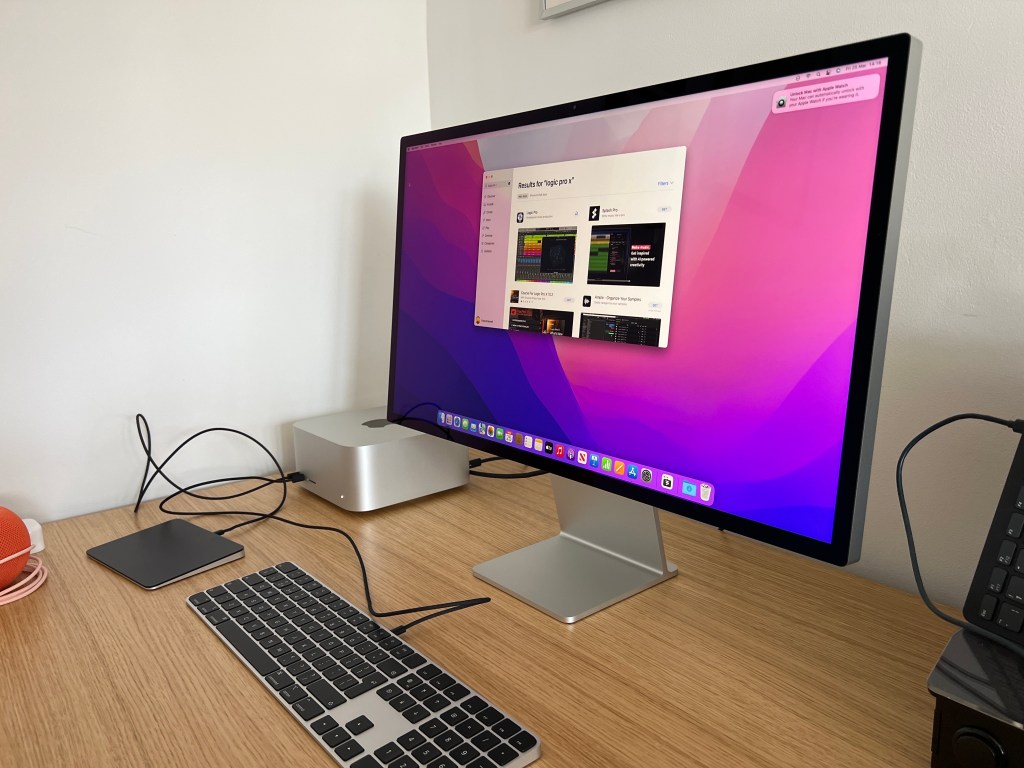 Be careful what you wish for – or at least when it's delivered. A few years ago, we'd have been kinder. But at this price point – especially when demanding 400 quid for height adjustment – and in 2022, the Studio Display is less appealing.
Don't get us wrong: the Studio Display isn't bad. There's an objectively good panel inside, and the lack of ProMotion and multi-zone didn't bother us too much during testing. But displays stick around for a long time, and this is expensive kit. So if you do jump in, carefully consider whether the display fits your use cases – and if you're willing to make the investment.
Stuff Says…
A good display for Mac owners with deep pockets, but with too many niggles to be considered a great buy.
Good Stuff
Excellent Mac integration
Impressive speakers
Lovely design
Bad Stuff
Woeful webcam
Panel tech hardly cutting-edge
Expensive
Tech specs
| | |
| --- | --- |
| Screen | 27in 5K Retina 5120×2880 at 218ppi with P3 and True Tone |
| Camera | 12MP ultra wide, ƒ/2.4 with Centre Stage |
| Audio | Six-speaker system with force-cancelling woofers |
| Connections | 1x Thunderbolt 3 upstream, 3x USB-C |
| Dimensions/weight | 62.3×47.8×16.8cm, 6.3kg (tilt-adjustable model) |