Samsung Galaxy S21 vs Google Pixel 5: Which is best?
Glossy flagship or sensible mid-ranger? Two Androids enter the ring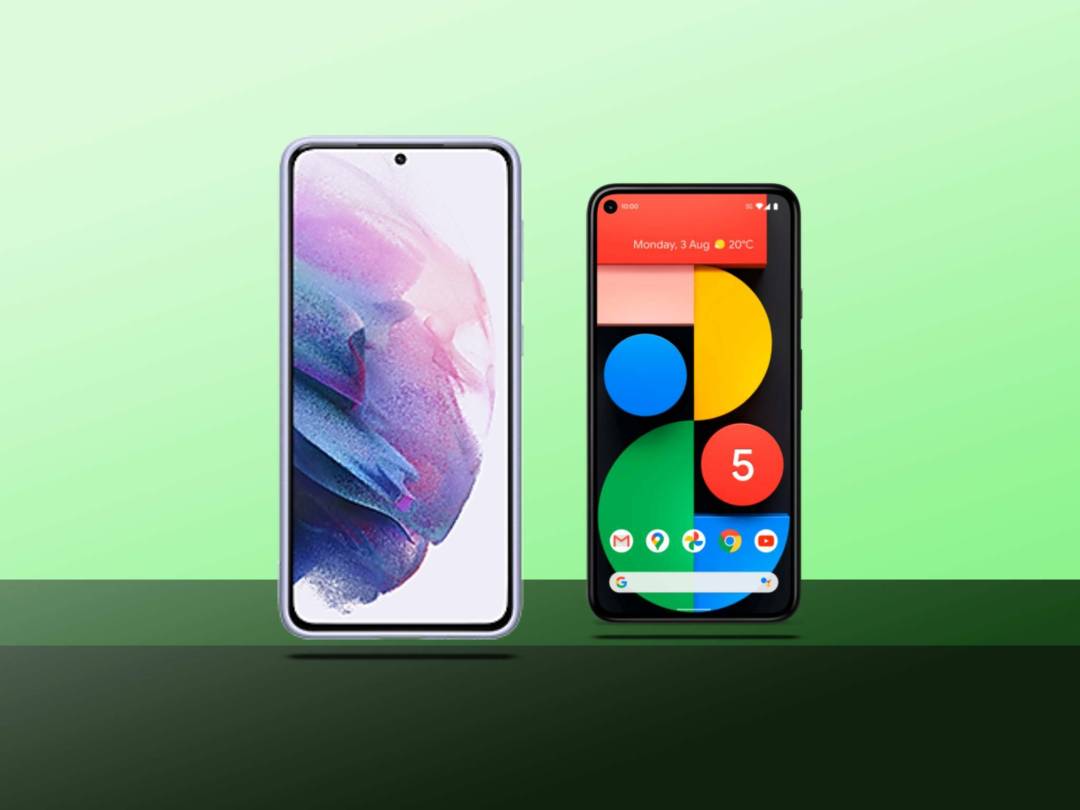 If you're eyeing a feature-rich Android right about now, then Samsung and Google are sure to be amongst your top options. But the Galaxy S21 and Pixel 5 aren't all that similar.
Well, they're not as similar as past models may have been. Google opted for a mid-range processor this time around, scaling back its flagship ambitions for something more affordable, yet still highly capable. We explore if the Google Pixel 5 is still worth it in 2021. Samsung also trimmed back a few perks from last year's Galaxy S20, but the Galaxy S21 still packs massive power and a much more appealing design.
All things considered, which handset is the one worth spending your cash on right now? Here's what we think, based on our reviews of both Androids.
Design: Beauty or bland?
Although both phones opt for the familiar punch-hole camera cutout seen on most of today's top Androids – upper left on the Pixel, top-center on the GS21 – there are huge differences when it comes to the overall design.
The Galaxy S21 is a looker, thanks to the distinctive, new, almost jewellery-like camera module. Plastic backing feels like a step down from the S20, admittedly, but the phone still stands out compared to the competition. Meanwhile, the Pixel 5 takes a blander overall approach, with a plain-but-textured backing that's metal with a resin finish. Google opts for function over form, and that's definitely true with this dull-looking device.
Verdict: Samsung Galaxy S21
Screen: Barely a difference
Both of these are stellar screens. It's 6.2in on the Galaxy S21 and 6.0in on the Pixel 5, but both are AMOLED screens at 1080p resolution with a faster-than-normal refresh rate for silky smooth animations.
It's 90Hz on the Pixel 5 and a steeper 120Hz on the Galaxy S21, which is really the only big functional difference between these screens. We would argue that there's barely a difference at all… but if we're getting down to specs, ultimately the S21 just barely prevails.
Verdict: Samsung Galaxy S21
Camera: Sizzling snappers
Even Google's cheaper mid-range phones have packed excellent cameras, so it's no surprise that this upper mid-range Pixel 5 still has a stellar snapper. It has two, actually: standard and ultra-wide cameras, both of which are pretty stellar and mostly consistent. As ever, Google's software ensures great results the vast majority of the time.
As usual, Samsung's cameras deliver slightly punchier results, which likewise impress the vast majority of the time. There's an added benefit, too: a third telephoto camera alongside the standard and ultra-wide shooters. It captures zoomed shots better than the Pixel's purely digital zoom, and while you might prefer the look of one phone's shots over the others, that's one clear benefit that can't be matched.
Verdict: Samsung Galaxy S21
Performance: Smooth or smoother?
Look, the Pixel 5 isn't slow. Even with a mid-range Qualcomm Snapdragon 765G chip instead of a flagship flamethrower, Google's phone feels smooth and responsive.
But when it comes to benchmark tests, the Galaxy S21's Exynos 2100 (or Snapdragon 888 in the States) showcases significantly more processing grunt onboard, and you'll see it in top-end game performance as well. Samsung takes this one, but the Pixel is no slouch.
Verdict: Samsung Galaxy S21
Battery and perks: Mixed bag
You know, looking at the battery capacity, you might not expect much difference between the Galaxy S21's 4,000mAh cell and the 4,080mAh pack in the Pixel 5. But using is believing, and the Pixel 5 routinely proves to be much more resilient. Google's phone can easily make it through a full day without breaking a sweat, while the S21 cuts it close by bedtime some days, and may require an early evening top-up if you're planning a late night out.
Sadly, the Galaxy S21 doesn't even come with a wall charger, while the Pixel 5 still does. Both phones can be wirelessly charged (the resin backing on the Pixel 5 makes it possible), and both handsets let you "reverse" charge wirelessly-chargeable devices to share your juice with accessories or your mates' phones.
The Pixel 5 comes with 128GB standard, while the Galaxy S21 is available in 128GB and 256GB options. Neither phone supports expandable storage – a surprise for Samsung given pretty consistent past microSD support – so that's a bummer on both ends.
Verdict: Google Pixel 5
Verdict: Give us the Galaxy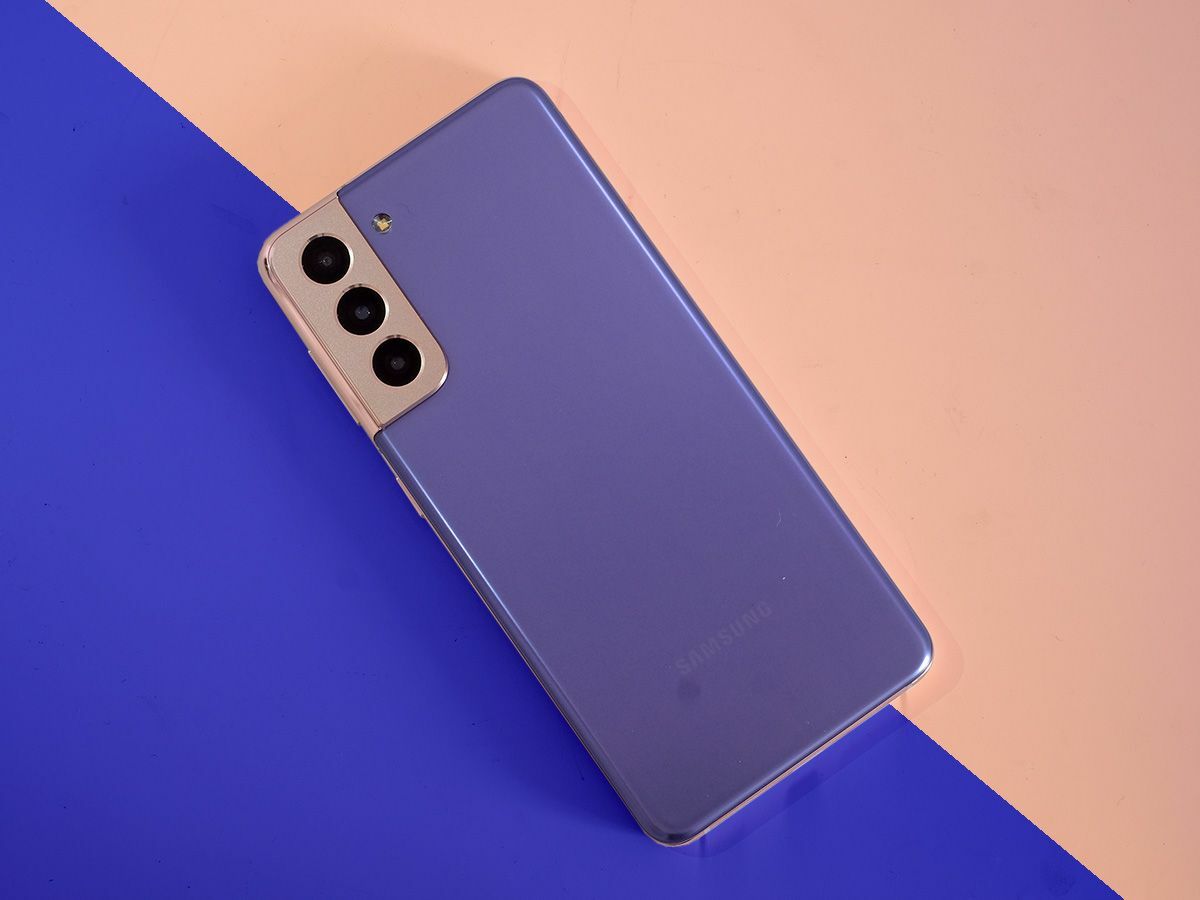 The Pixel 5 is a well-rounded, reliable, long-lasting phone that lacks any kind of wow factor. At £599, cheaper than past full-bodied Pixels, that's reasonable – but if you're looking for something head-turning and exciting, you won't find it here. It's incredibly sensible.
For some, that might be preferred. But we'd still rather have the added power and pop of the Galaxy S21, which packs in improved high-end performance, has a welcome telephoto sensor for zoomed snaps, and is the much more appealing-looking phone.
At the launch price of £769, you might think twice about whether the Galaxy S21 is really worth paying that much extra for. But given that we've seen the price already creep down near £600 at Amazon, the advantages over the Pixel 5 shine a bit brighter with barely a price gap.
Winner: Samsung Galaxy S21