Ikea smart lighting guide: the best Ikea lights to buy
Would you like some clever lighting with your flatpack meatballs?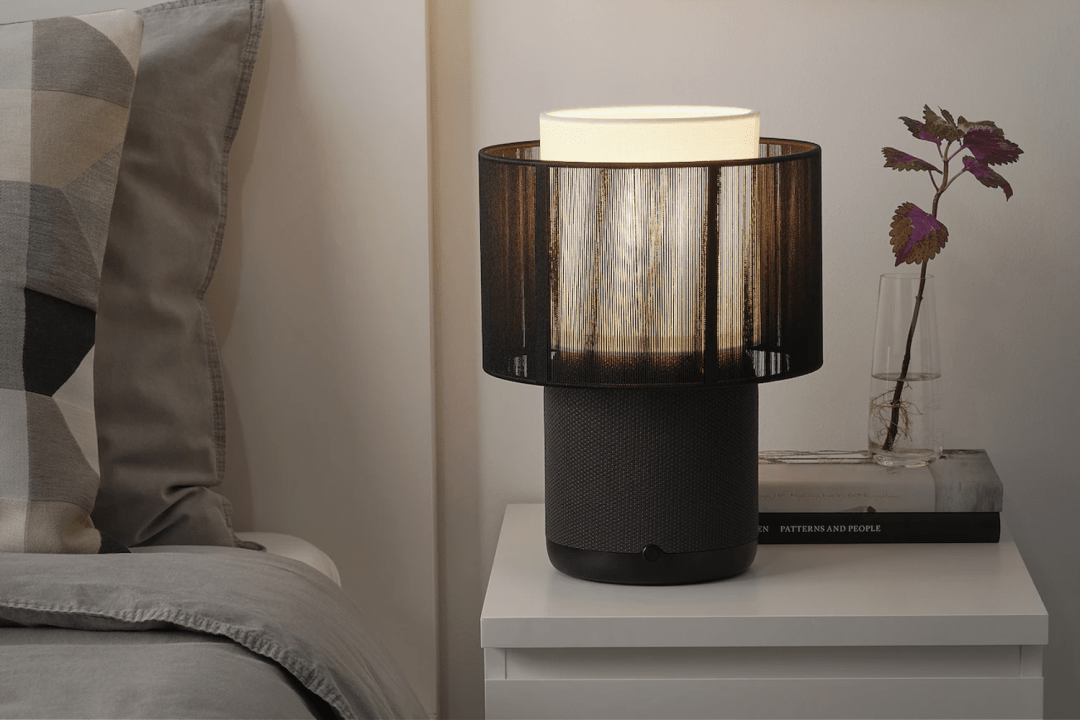 Here's our essential guide to Ikea smart lighting. Every Ikea smart lighting product has an Ikea Home symbol on it – that way you know it's compatible with the system. It's based on Zigbee, not Wi-Fi or Bluetooth.
Check the type of bulbs you're buying. Dimming is one thing, but if you want changing colours you'll need to look for lights that are capable of doing that. Many aren't.
Don't forget to look at the various kits in Ikea's smart lighting listings. These bundle products together and often give you a good entry point into the Ikea smart lighting system.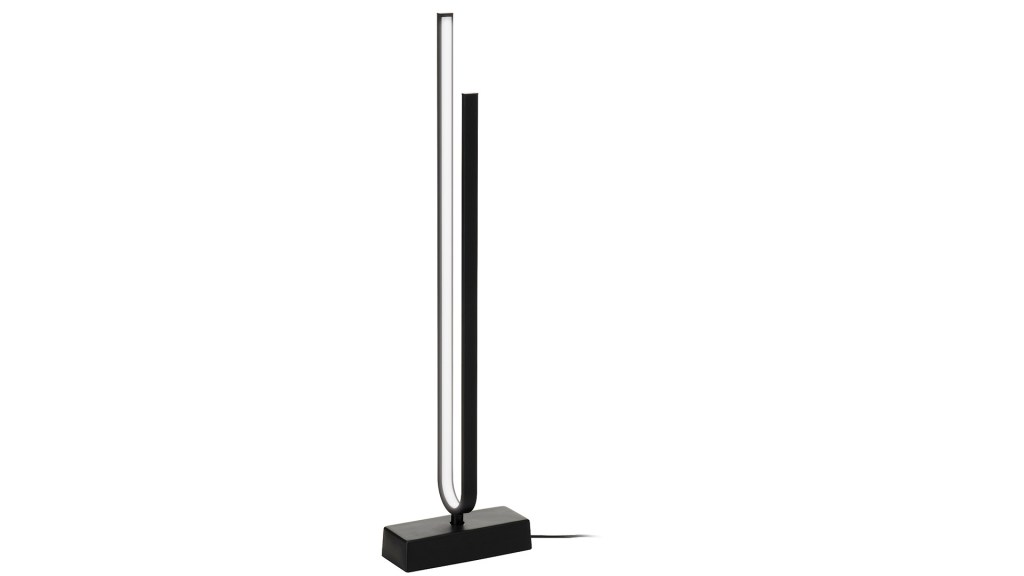 Ikea Pilskott Floor Lamp
f you're after something that'll start conversations when people come over for dinner, but without putting too big a dent in your wallet, this floor lamp should do the job.
Guests will ask why you've got a gigantic tuning fork or a two-pronged theremin positioned in the corner of the room… but rather than instigating a pre-dessert sing-song, this device will illuminate your post-dinner activities in a way that your clumsy conversational skills never could.
Standing just over a metre tall, this U-shaped light can be controlled using Ikea's Home app and Tradfri remote control, allowing you to dim it gradually as the night goes on. With a maximum brightness of 700 lumens it's ideal for creating a relaxed evening vibe. And LEDs don't just consume less energy than incandescent bulbs – they also last much longer, and Ikea reckons this one will keep shining for up to 20 years.
The weighty concrete base should keep it standing upright if you accidentally kick it (although your toe might not fare so well), and a 2m power cable means you'll have plenty of flexibility over where you place it. In true Ikea style there is some assembly required, but nothing that'll have you Googling electricians.
If you like the look but need something to hang over the dining table, there's also the Pilskott Pendant Lamp that's just under a metre long, can be controlled in the same way, and will give you 1100 lumens.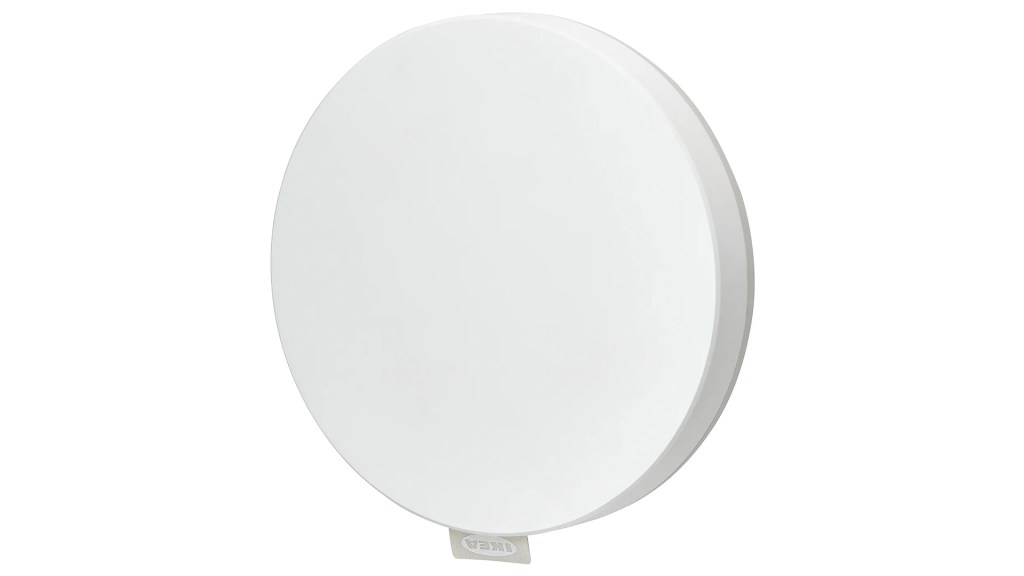 Dirigera Hub
You can tweak Ikea's smart lighting gear with remote controls, but to get the most out of it you need to add a hub. With this little white disc in place, you can use Ikea's free Home app to run everything. It also means you can use Alexa, Google Assistant and HomeKit with your Ikea lights.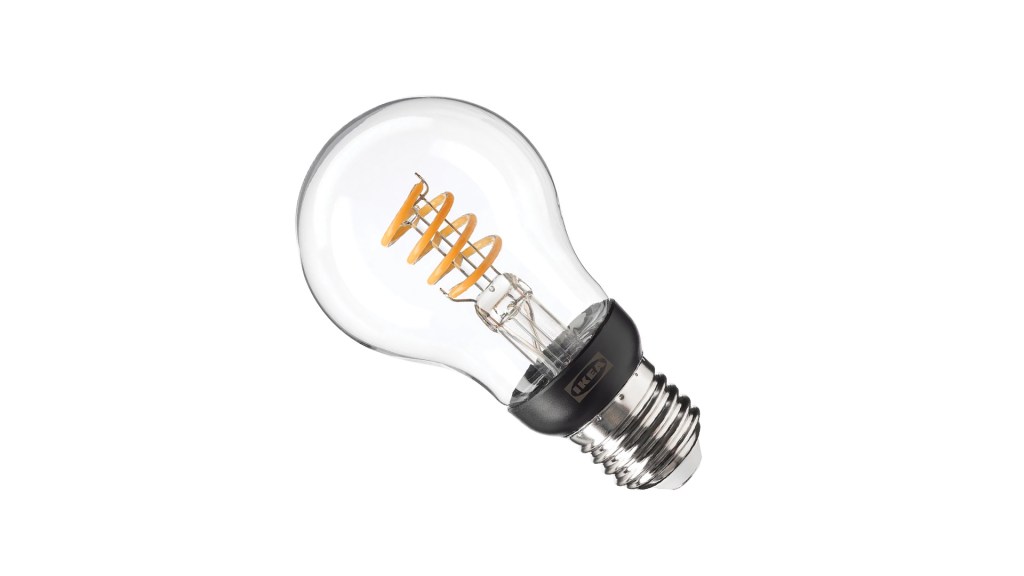 Tradfri LED Bulb E27
As you've probably noticed by now, LED lightbulbs are great for saving energy. This one consumes up to 85% less energy and lasts 20 times longer than an incandescent bulb. Add a remote control and you can also choose between nine colours and white tones, and control up to 10 bulbs simultaneously.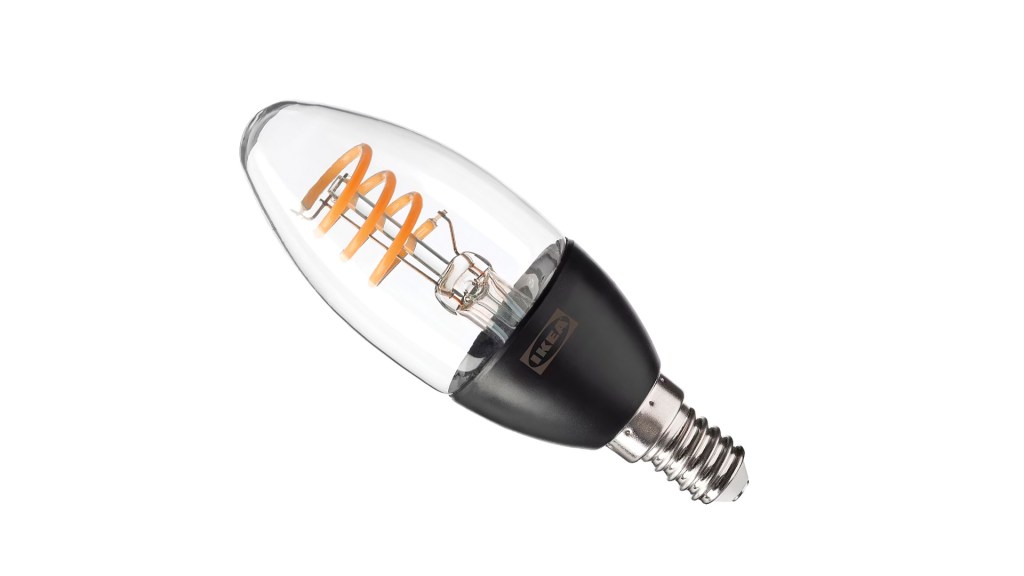 Tradfri LED Bulb E14
Candle-like bulbs look great in the right sort of chandelier, and this one's no exception.
It uses an E14 (small screw) fitting, and if you add a remote control it can be dimmed to create just the right mood for your room. Don't like looking at filaments? Like the E27 bulb above right, this model comes in clear or white glass.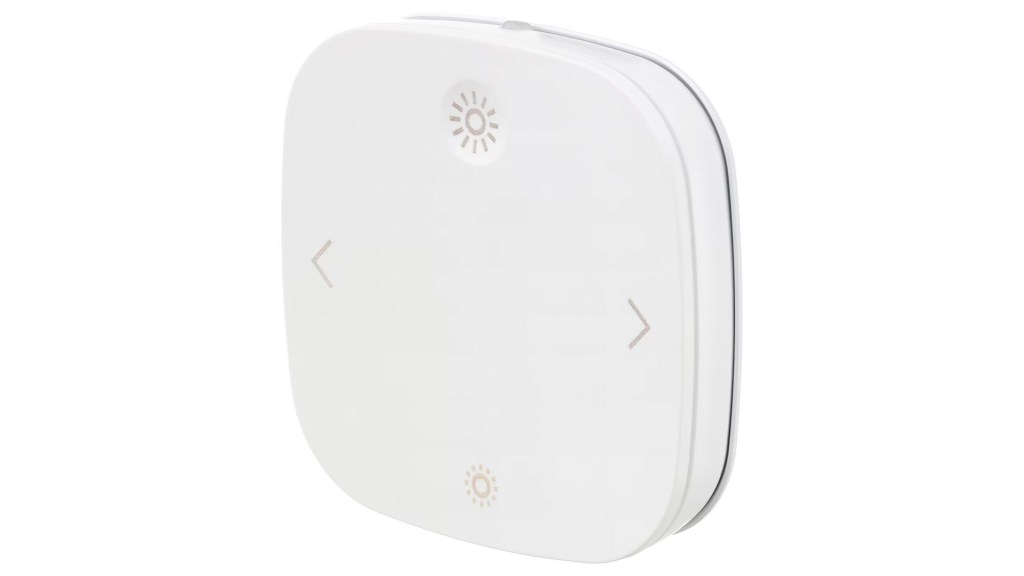 Styrbar Remote Control
Available in white or stainless steel, the Styrbar Remote Control can operate up to 10 Ikea smart lighting products at the same time – just the thing if you have, for example, a ceiling light and twin alcove lamps that you like to switch on and off together. You'll need a couple of AAA batteries.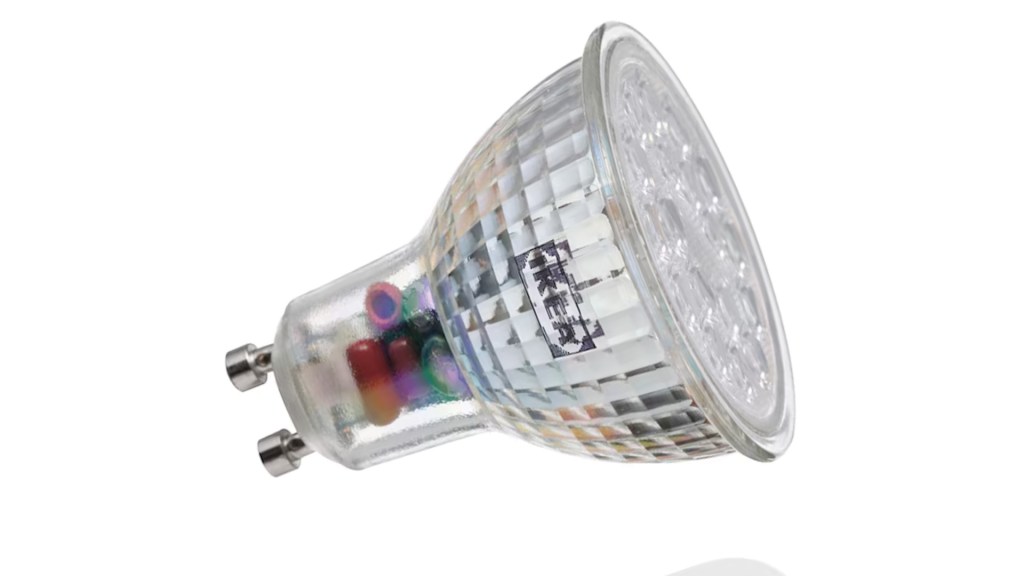 Tradfri / Styrbar GU10 Started Kit
This kit contains a single GU10 bulb and a remote controller. Both are suitable for bathroom use.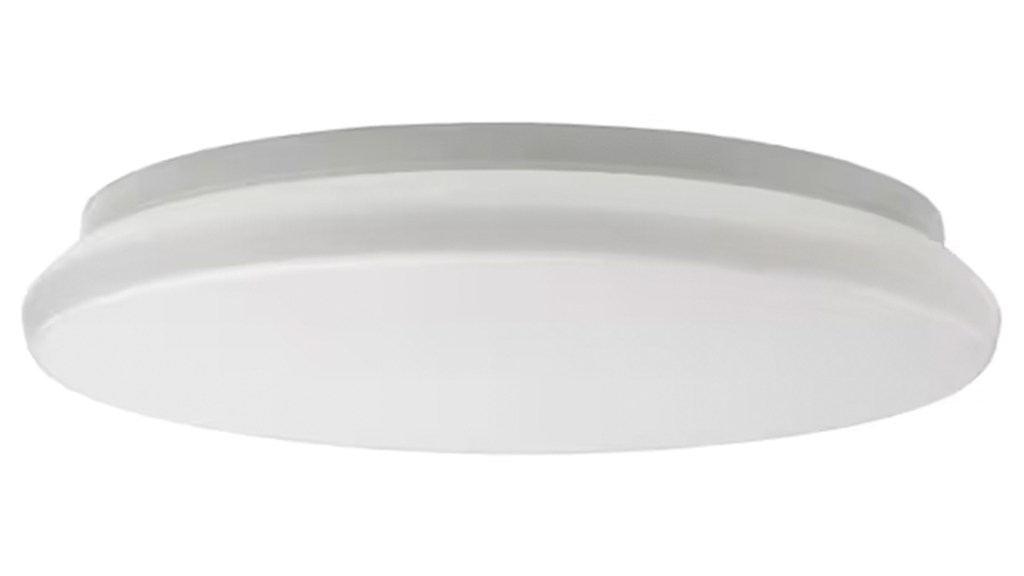 Stoftmoln LED Lamp
This moon-like white light looks great on any ceiling or wall – and if you have a Tradfri Wireless Dimmer you can dim it too.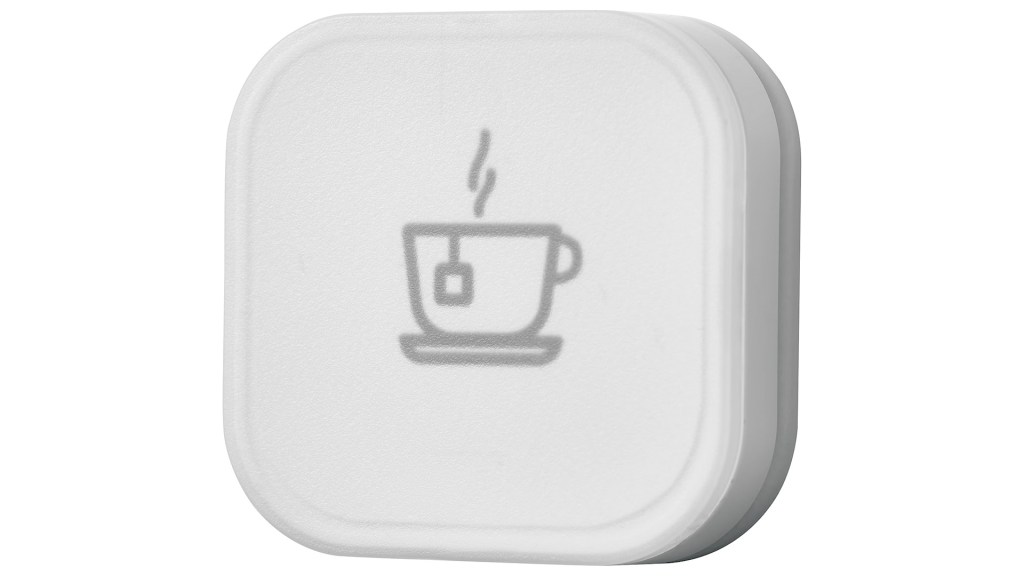 Tradfri Shortcut Button
Set this up with the Dirigera Hub and you can trigger commands to your Ikea lighting with a single prod.