Home improvements: the 11 best IFTTT applets for your smart home
Get your connected pad in gear with these easy automation assists
Got a flat full of smart devices? Good. Managed to link some of them up together? Great. Now it's time to make them even smarter.
Smart home devices and appliances help make our lives safer, more comfortable, or just plain cooler, but they're not always that intelligent when it comes to interacting with each other. Or doing some rather outside-the-box abilities, despite their top tech innards.
IFTTT can help. The "If This, Then That" platform helps bridge the gap between various smart home gadgets and unlocks new features that you didn't even know existed. You can experiment and make your own IFTTT applets/recipes, but luckily, the free service is already jam-packed with proven options. Try on a few of these and unlock your flat's true brilliance.
1) Turn your thermostat into a security cam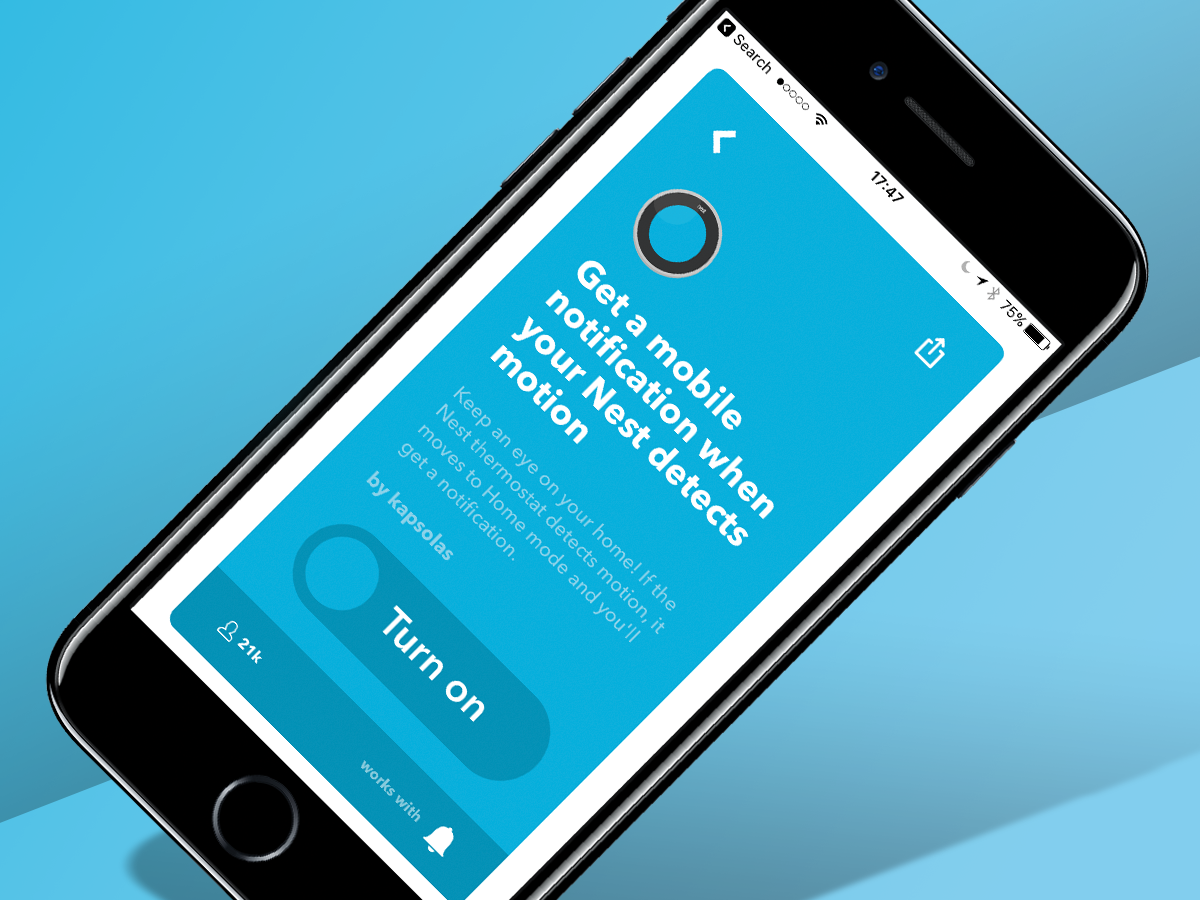 Nest has its own security cameras, of course, but did you know that your smart thermostat can pull double duty? It's not really a camera, per se, but the Nest thermostat's motion detector can be harnessed in a unique way with this IFTTT applet.
Just throw it live and you'll get a smartphone notification via the IFTTT mobile app anytime someone walks in front of your Nest. That's a handy trick if you live alone and don't want to invest in a camera setup, although perhaps troublesome if you have flatmates or pets that can get in range of the Nest's sensor.
You will need: Nest thermostat, IFTTT app
2) Get an auto-locking front door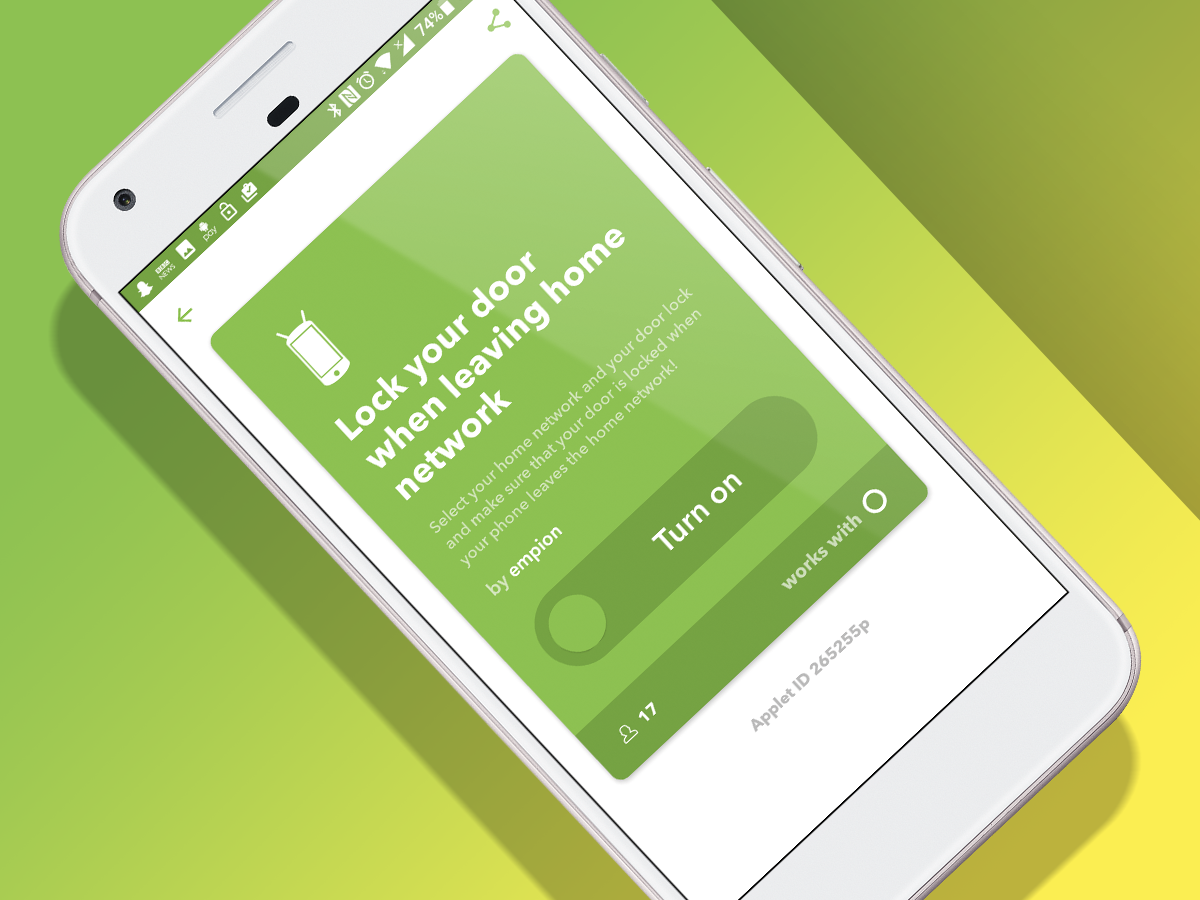 Ever forget to lock the door when you leave your flat? It happens to the best of us – but if you have a SmartThings-compatible door lock, you won't need to worry about it anymore with this handy ability.
This IFTTT applet lets you pair your Android phone with your home Wi-Fi network, and anytime you leave the network's range, the door will automatically lock. We can see how connectivity issues could throw a wrench into this one here and there, but hey, it's better than being robbed.
You will need: SmartThings lock, Android phone
3) Find your phone… with your light switch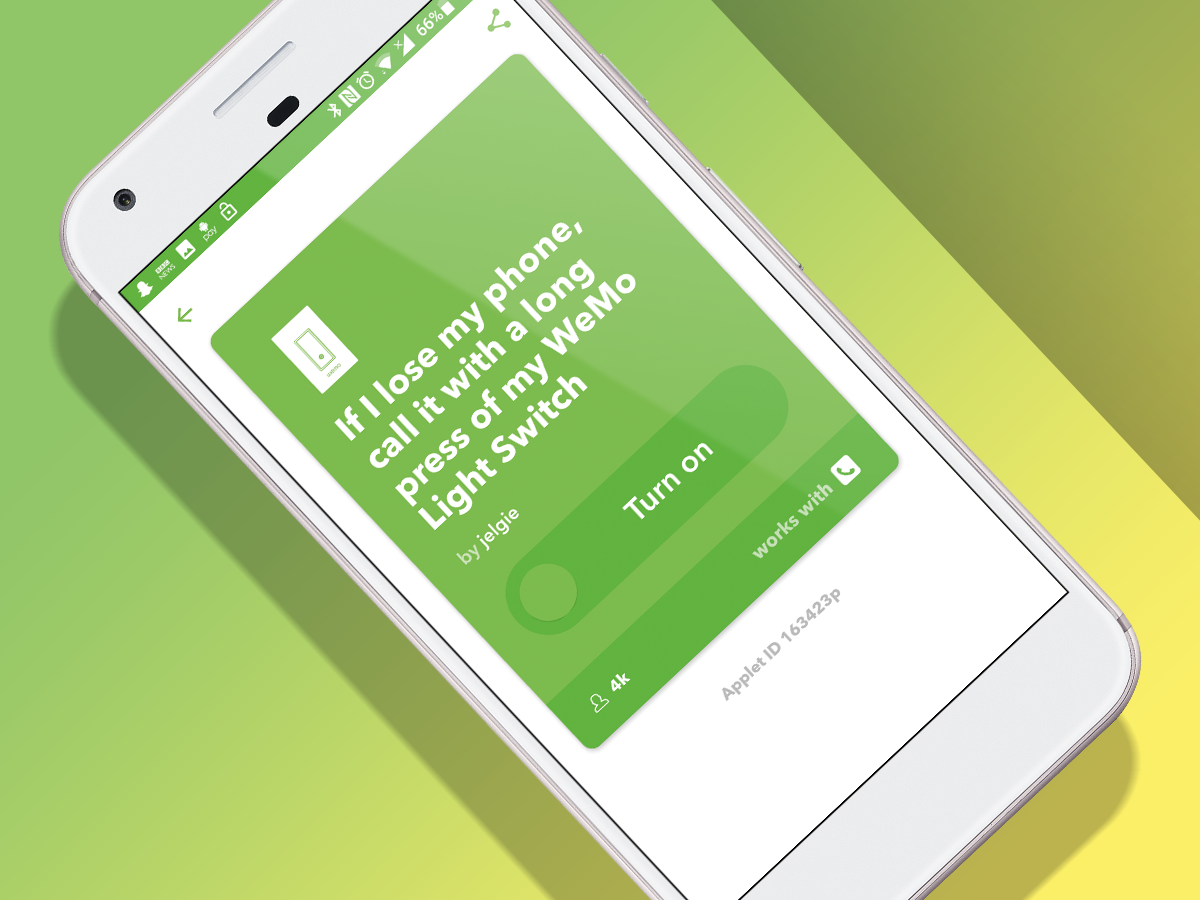 Light switches are traditionally pegged with simple tasks: flick up for lights, flick down for darkness, and maybe toss a dimmer in there if you're fancy. But if you have a WeMo switch, you can do something rather unexpected: call your phone.
With this applet, you can simply give a long press to your WeMo light switch and have a call placed to your U.S. phone number, helping you find your smartphone in a hurry. Actually, you can do the same thing with Alexa on the Amazon Echo, if you please.
You will need: WeMo Light Switch
4) Purple Rain: Hue lights change with the weather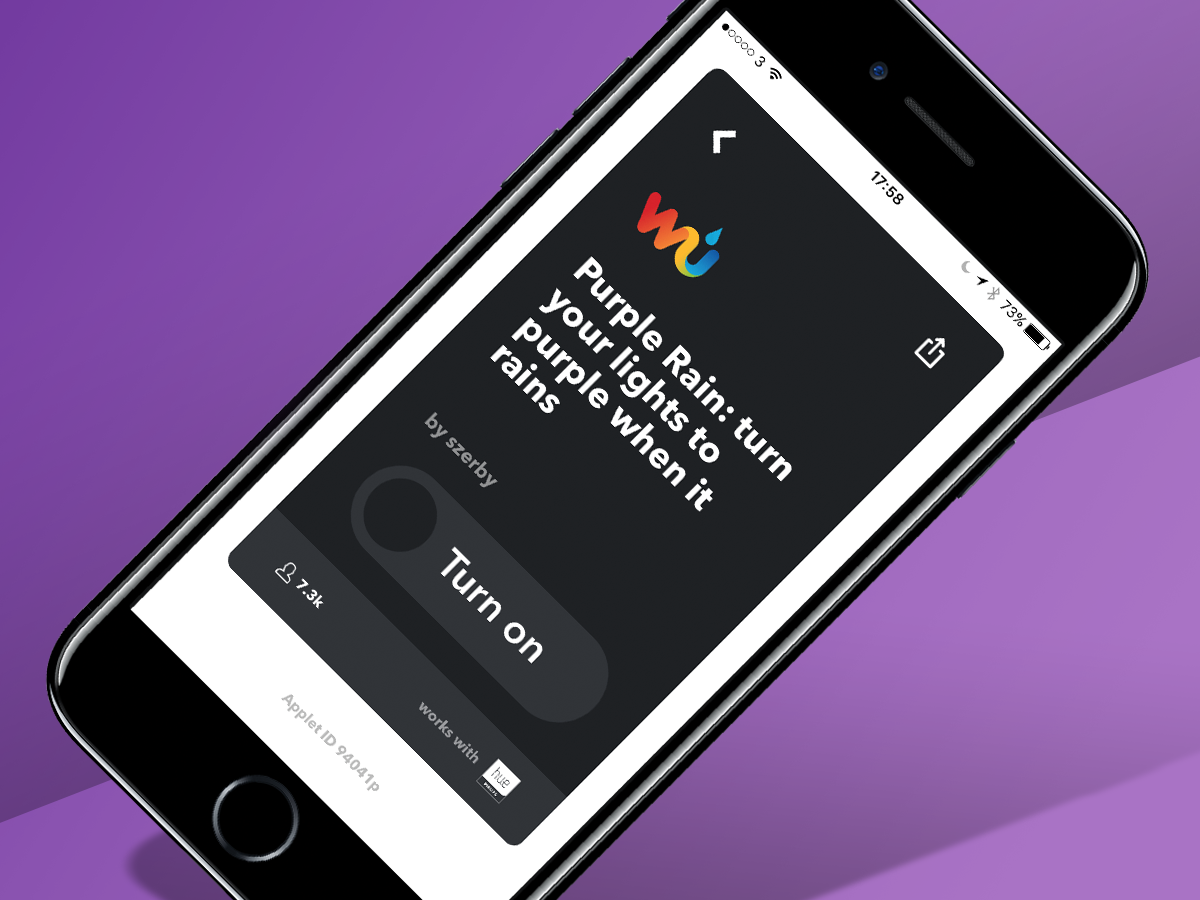 Prince's legendary music lives on after his untimely death last year, but you can take it to the next level with IFTTT and colour-changing Philips Hue lights. Using this wonderfully creative applet, you can have your lights automatically change to purple anytime that rain is nearby.
The Hue app already has some geolocation abilities for sensing when you're home or away, but nothing as cool as this! You'll have to provide the soundtrack… or maybe try and make your own IFTTT applet and bring a streaming service into the mix, too.
You will need: Philips Hue
5) Have a robo-assistant on call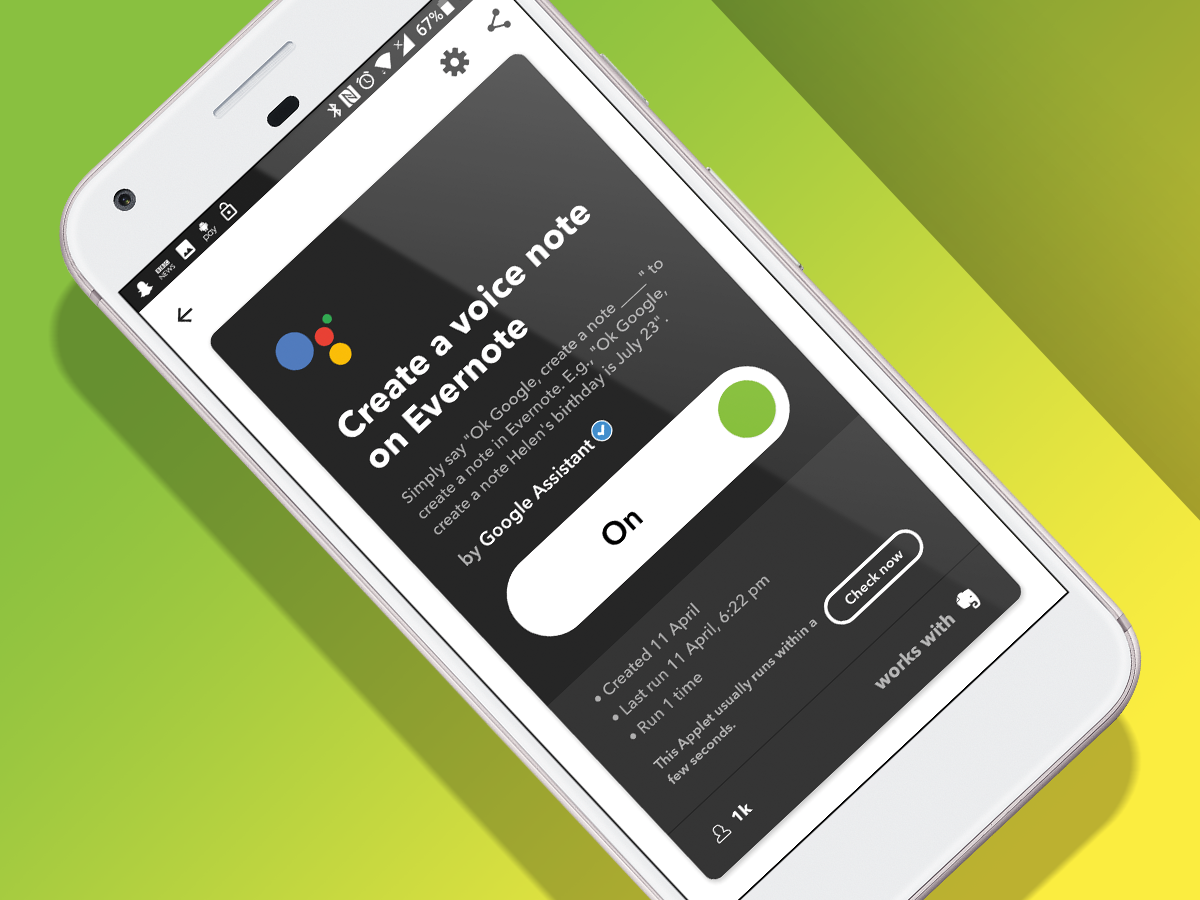 If you're forgetful, have trouble keeping tabs on to-do lists, or simply prefer to dictate your notes, then this applet might be for you. If you have the Google Assistant handy, ideally via Google Home or a Nougat-packed Android phone could do, check it out.
Once equipped, simply say, "OK Google, tell Evernote…" and continue your message, and then the note will be punted up to the cloud note storage system. It's a perfect way to take down any thought in an instant and have it saved for easy access anywhere.
You will need: Google Home or phone with Google Assistant
6) Wake up to a perfect sunrise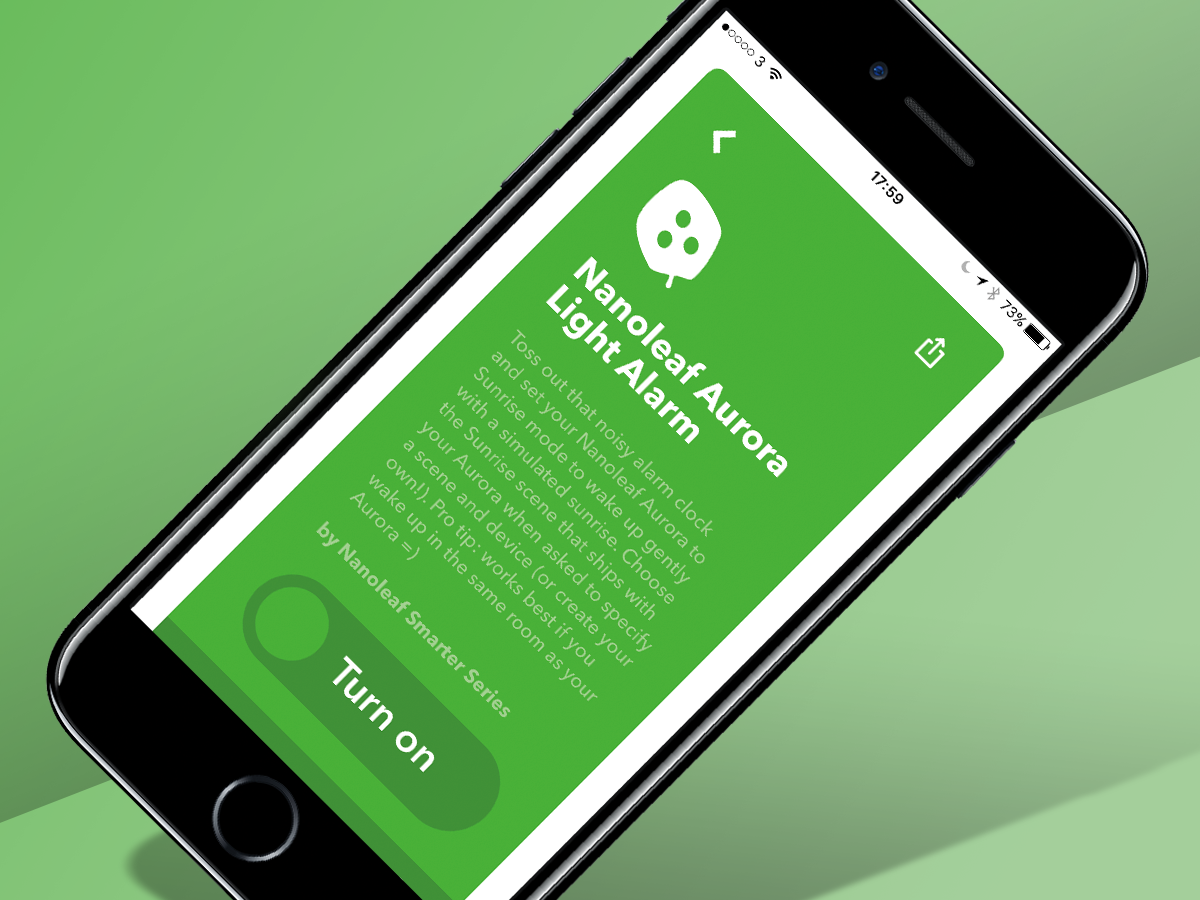 Your sleep schedule may not always line up perfectly with that of the sun, especially if you don't want to wake up at… well, the crack of dawn. Fair enough. Why not simulate the sensation on your own time, then?
That's what this IFTTT applet can do with the super-cool Nanoleaf Aurora modular light panels, which come as triangles that you can align however you please. Pick a time and the panels will gradually recreate the sensation of the sun rising to rustle you out of bed. Even if it's really mid-afternoon.
You will need: Nanoleaf Aurora
7) Build an automated pet feeder
Got furry things running around your flat? Keeping them fed can be a hassle at times, especially if you're out and about a lot, so you might need a helping hand – and we're not talking about a friend or neighbour.
Why not build your own automatic feeding apparatus? Yes, this project is quite a bit more complex than the simple applets on this list, but it's still powered by an IFTTT applet that sets the time for each daily feeding. You'll need a few LittleBits devices and some crafting ability, but the company's own tutorial can walk you through it all.
You will need: LittleBits CloudBit, Servo, and USB Power devices
8) Make your house wake up with you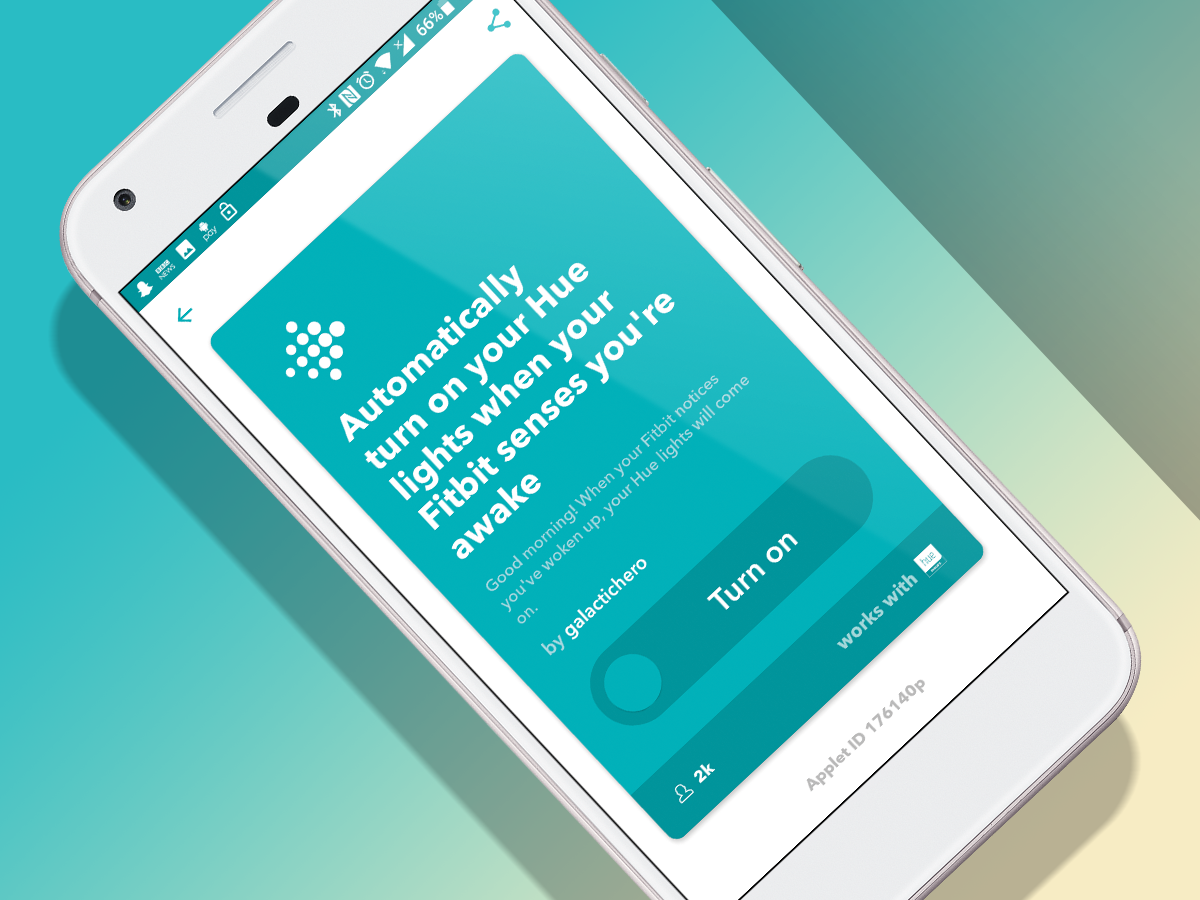 If you greet each new day with a burst of energy, why not have your flat do exactly the same thing? If you have a Fitbit and Philips Hue lights, you can put this inventive applet to use to trigger your lights when you roll out of bed.
The Hue lights actually trigger once Fitbit records a new sleep in your account log, which means starting the day will also flip the switch for your smart lights as well. And that's true of naps, too, so long as you're wearing the Fitbit during any fit of slumber.
You will need: Fitbit, Philips Hue
9) Turn an old phone into a security camera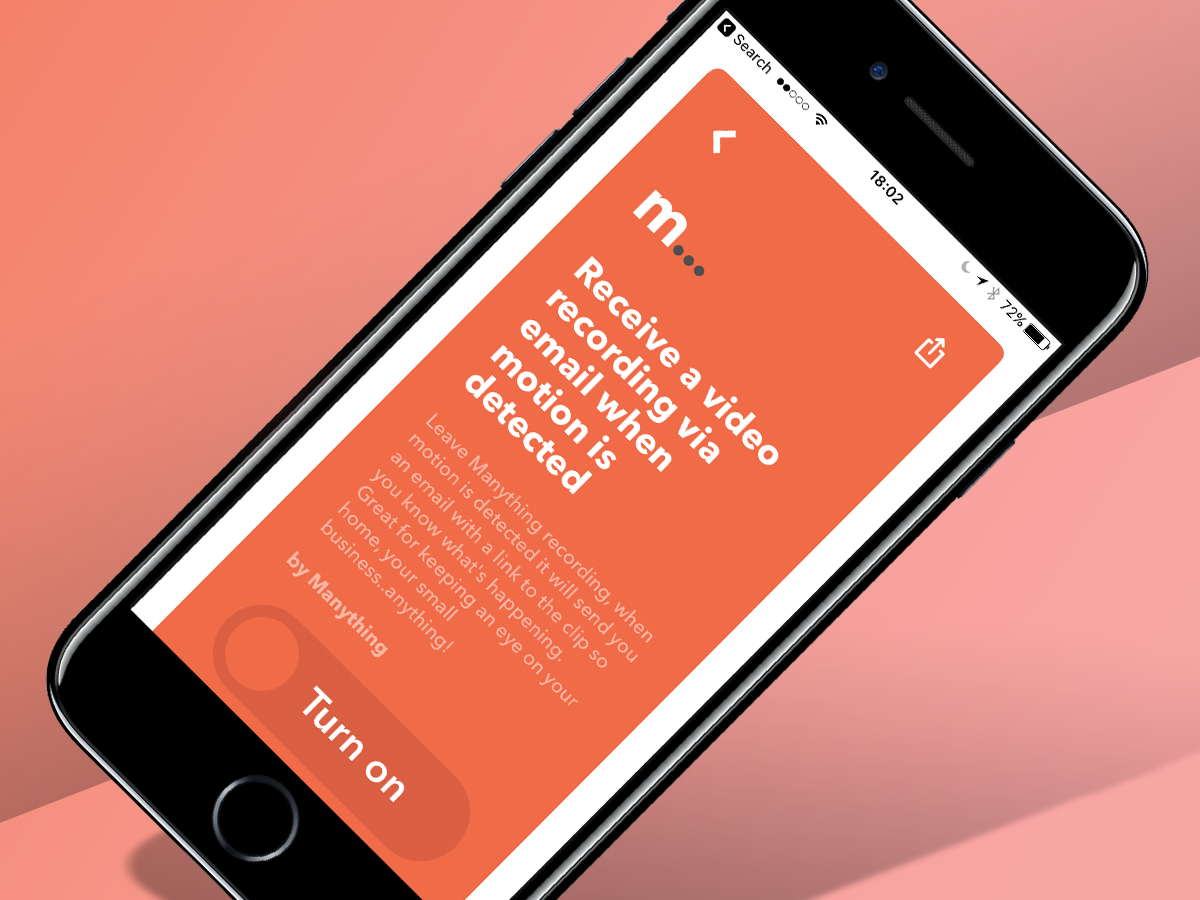 Unlike the cool Nest hack up top, this IFTTT applet actually does give you a proper security camera… and you might already have the tech you need at home. Manything is an app that lets you use an old iOS or Android device as a makeshift security camera, and IFTTT plays a critical role here as well.
With this IFTTT applet, you'll get a video clip sent via email anything movement is detected, letting you check out what's happening in your flat. It's perfect for keeping an eye out for intruders, snooping on flatmates, or checking on the pets from afar.
You will need: Smartphone/tablet, Manything app
10) Make your dumb lights location-aware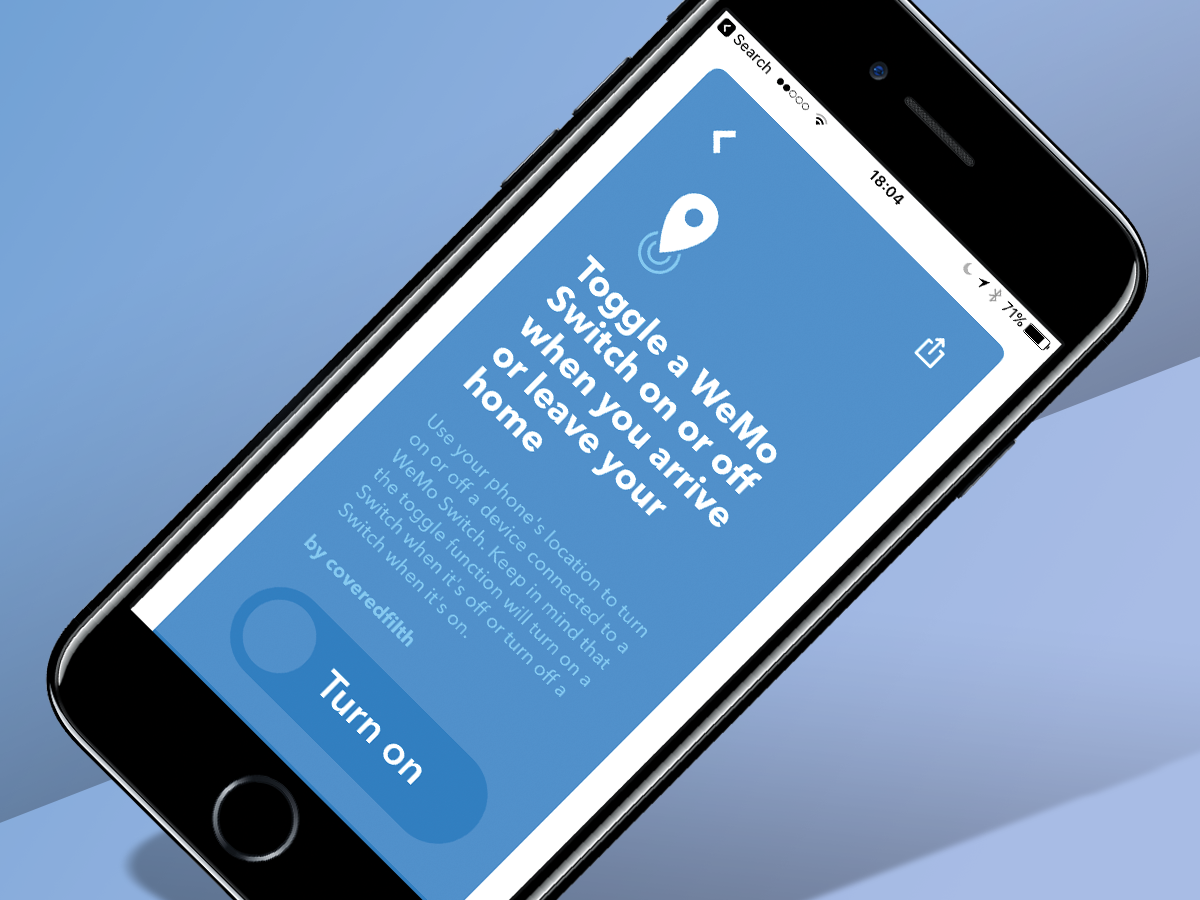 Maybe you haven't made the leap to smart lighting yet. That's fair. It may have cool perks, but those smart bulbs cost a lot more than the standard LED options. Luckily, you can still add a bit of smarts to your simple, low-tech bulbs.
Thanks to this applet, you can add location awareness to any blubs plugged into a WeMo switch. When your phone enters or exits the set location (i.e. your flat), the switch will trigger on or off, either giving you a grand entrance or saving some energy while you're away.
You will need: WeMo Switch
11) Have Alexa print your shopping list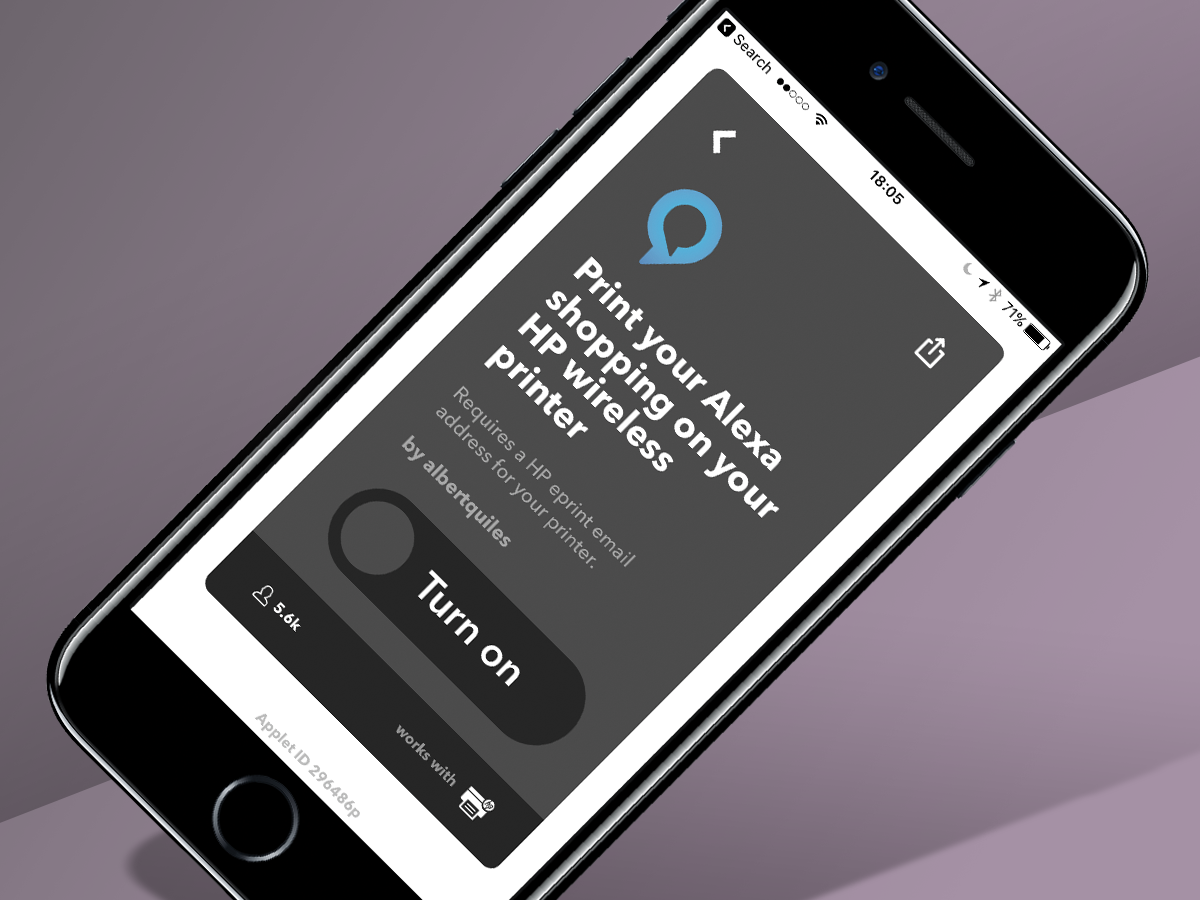 Even if your home is loaded with digital devices, you may still feel better about hitting the grocery store with a proper list in hand. No worries. If you have an Amazon Echo and a recent HP printer, then you're well equipped to do this with ease.
Just dictate your shopping list to Alexa, and when you're ready to hit the shop, ask her to tell you what's on the list – with this applet equipped, it'll also be sent to your HP printer's email address, and then printed out in a jiffy. Ta-da! Digital meets physical.
You will need: Amazon Echo, HP Print app, compatible HP printer