The best Star Wars Lego sets to celebrate May the 4th
Construct your own Lego takes on scenes from a galaxy far, far away - whatever your budget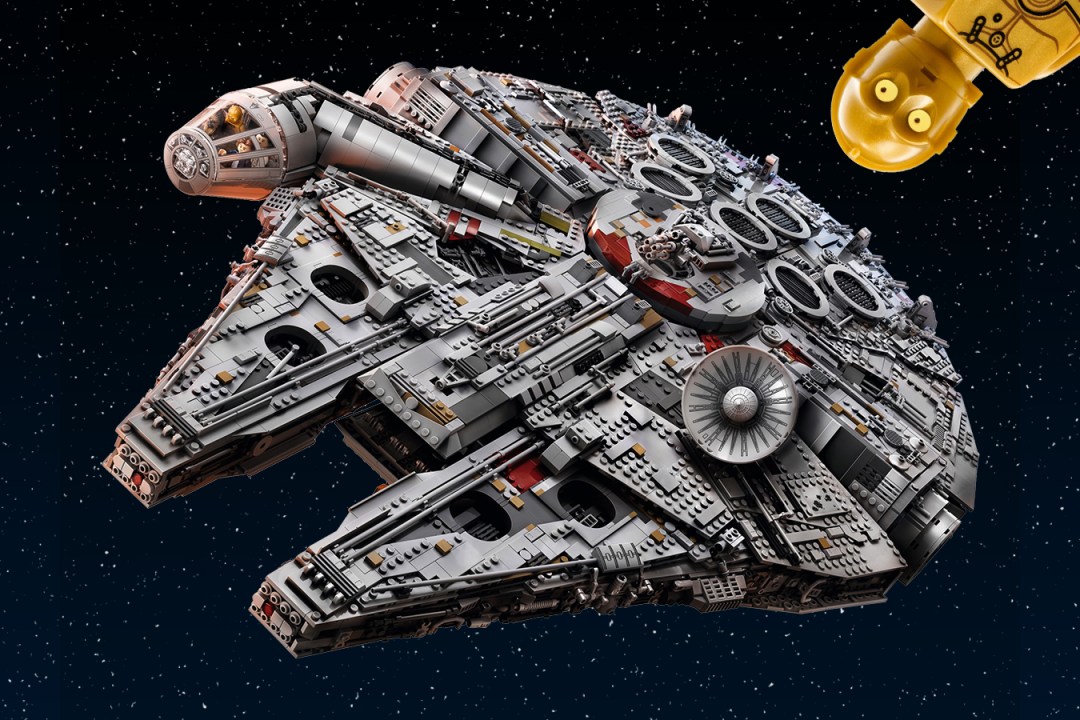 Star Wars Day 2023 – May the 4th – is an excellent excuse to splurge on the best Lego Star Wars sets. There's certainly enough out there to cater to every type of Star Wars fan, from original trilogy purists to the current crop of Disney+ spin-off bingers.
We've rounded up our favourites, so you can make your own blocky versions of top moments from the ever-expanding Star Wars universe. There's behemoth spaceships and star destroyers, tiny Baby Yodas and Darth Vader in block form. Whatever your budget may be, there's a Star Wars set for you.
May the 4th be with you.
---
Star Wars Lego ships for display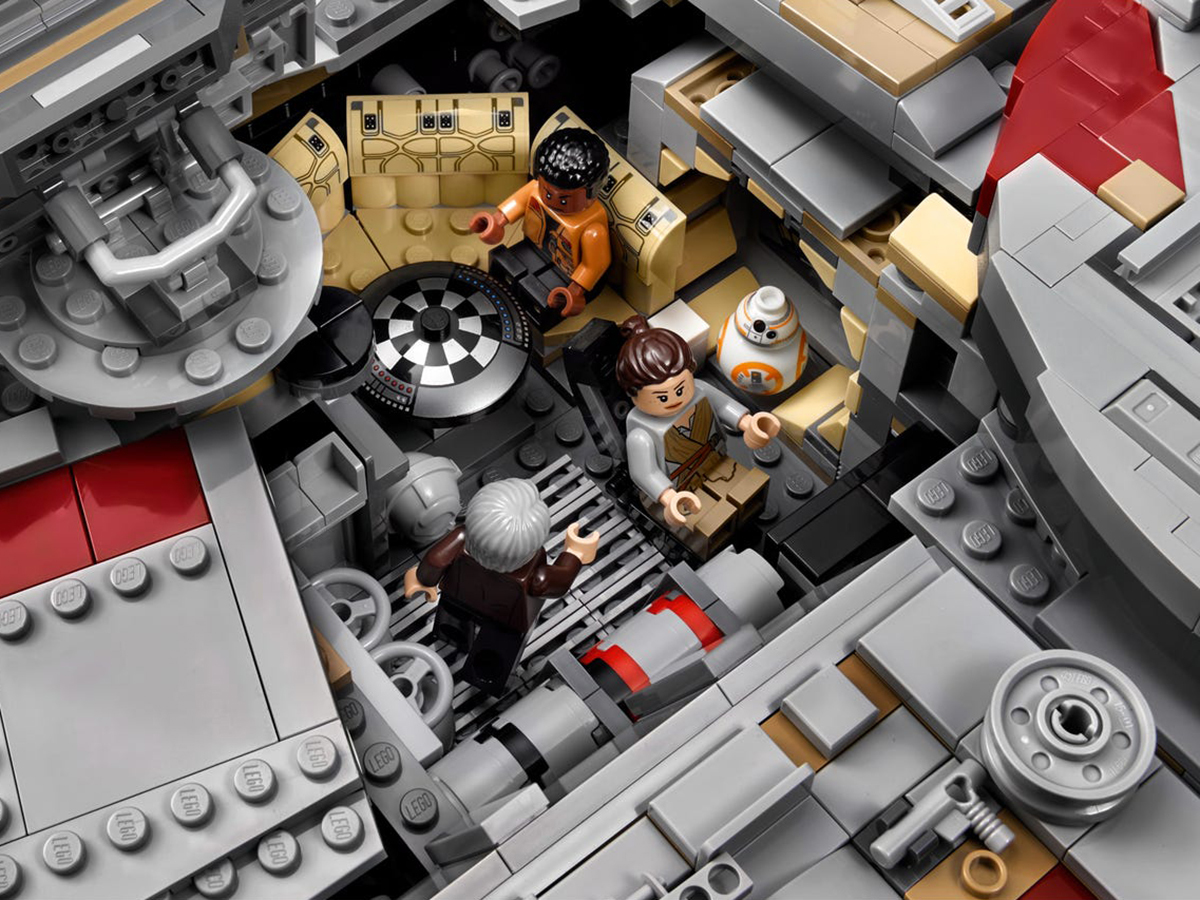 If you're going to splash out on a Lego kit that costs as much as a phone, choose the Millennium Falcon (7541 pieces, $849.99/£734.99). The iconic ship is reimagined as a whopping 83cm long Lego model, and is packed with detail.
Although primarily a display piece, there are minifig-scale areas for miniature adventures. Removable hull panels give original trilogy and episode VII–VIII crew (both are included) access to the cockpit, main hold, engine room and gunnery station.
X-Wing Starfighter (1949 pieces, $239.99/£209.99) is the latest highly detailed Star Wars Lego ship. You can position it in flight or attack mode, and – according to Lego – "start a new Trench Run". This assumes you're mad enough to whoosh $200/£200+ of Lego through the air…
Naturally, there are minifigs too. Red Five (Luke Skywalker) can 'stand by', in out-of-scale form. Meanwhile, R2D2 can be plopped inside the craft and prepare to blow up nearby moon-sized weapons platforms. Your Lego Darth Vader will be quaking in his little black boots on seeing this one.
Should your allegiance lie with the Empire, try AT-AT (6785 pieces, £849.99/£734.99). A mountain of grey parts forms a colossal stompy metal beast filled with evil Empire types. But if your wallet's now having palpitations that are nothing to do with nearby Sith doing a hand-squeeze trick, check out the affordable Executor Super Star Destroyer (630 pieces, $69.99/£59.99). It even includes two dinky Star Destroyers.
Away from the Empire – but equally grey – there's The Razor Crest (6187 pieces, $599.99/£519.99). It starts out looking like how the Mandalorian's ship ended up. But when built, you get a detailed interior, accessed by removing sections. There's even a brick-built blurrg. And finally, one Ultimate Collectors Series kit gives us a dash of colour: Luke Skywalker's Landspeeder (1890 pieces, $239.99/£209.99), which is an impressive brick-built take on Luke's battered X-34.
Minifig masterpieces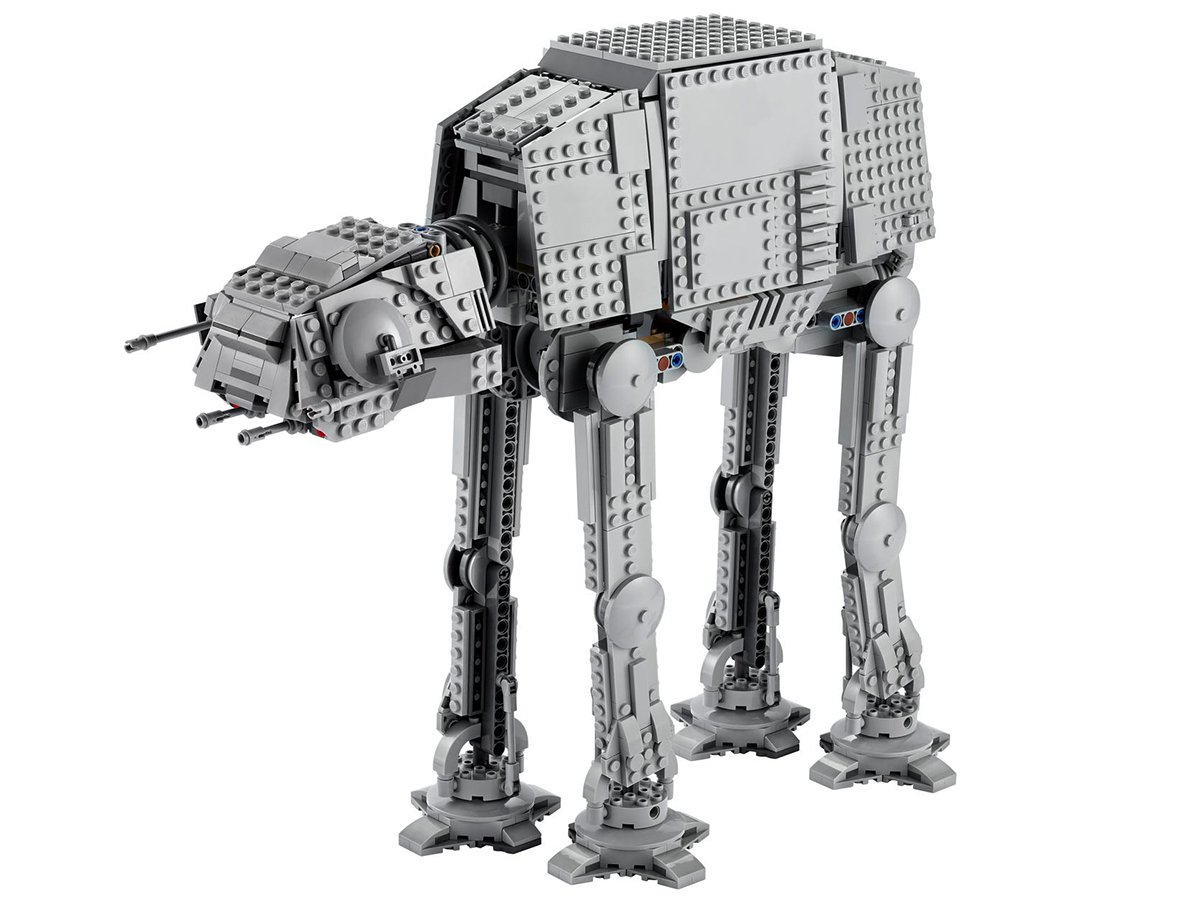 The Ultimate Collectors Series AT-AT is one of the best Star Wars Lego sets ever. But it'll trample your bank account into oblivion. Fortunately, the smaller scale AT-AT (1267 pieces, $169.99/£149.99) is also a piece of stompy magnificence. Along with Empire types, you get Luke Skywalker – and a speeder bike the minifigs can squabble over.
There's also a cheaper take on Han Solo's iconic ship. Millennium Falcon (1353 pieces, $169.99/£149.99) is based on The Rise of Skywalker's take, but looks fab. Prefer your Lego on the ground? Get yourself a wretched hive of scum and villainy with Mos Eisley Cantina (3187 pieces, $399.99/£344.99), where Han and Greedo can both fire first. Or something.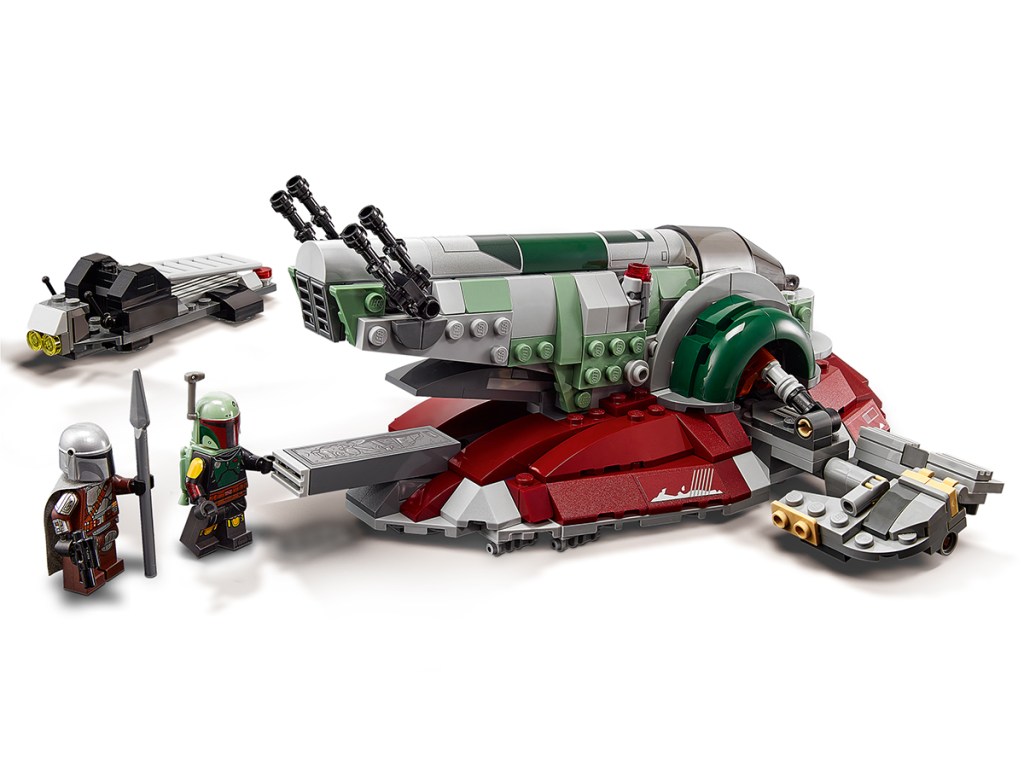 Need more swoopy greatness? Boba Fett's Starship (593 pieces, $49.99/£44.99) nets you the famous bounty hunter's craft in its Disney+ Madalorian incarnation. Although you can pretend it's the original trilogy version by hiding the Mandalorian minifig down the back of the sofa.
Similarly aiming for those whose hearts lie with the original trilogy, you can get your swoosh on with Imperial TIE Fighter (432 pieces, $44.99/£39.99) and TIE Bomber (625 pieces, $64.99/£59.99). And when you want to get your stomp on again, AT-TE Walker (1082 pieces, $139.99/£119.99) looks good. Although we don't fancy the chances of the three included Battle Droids.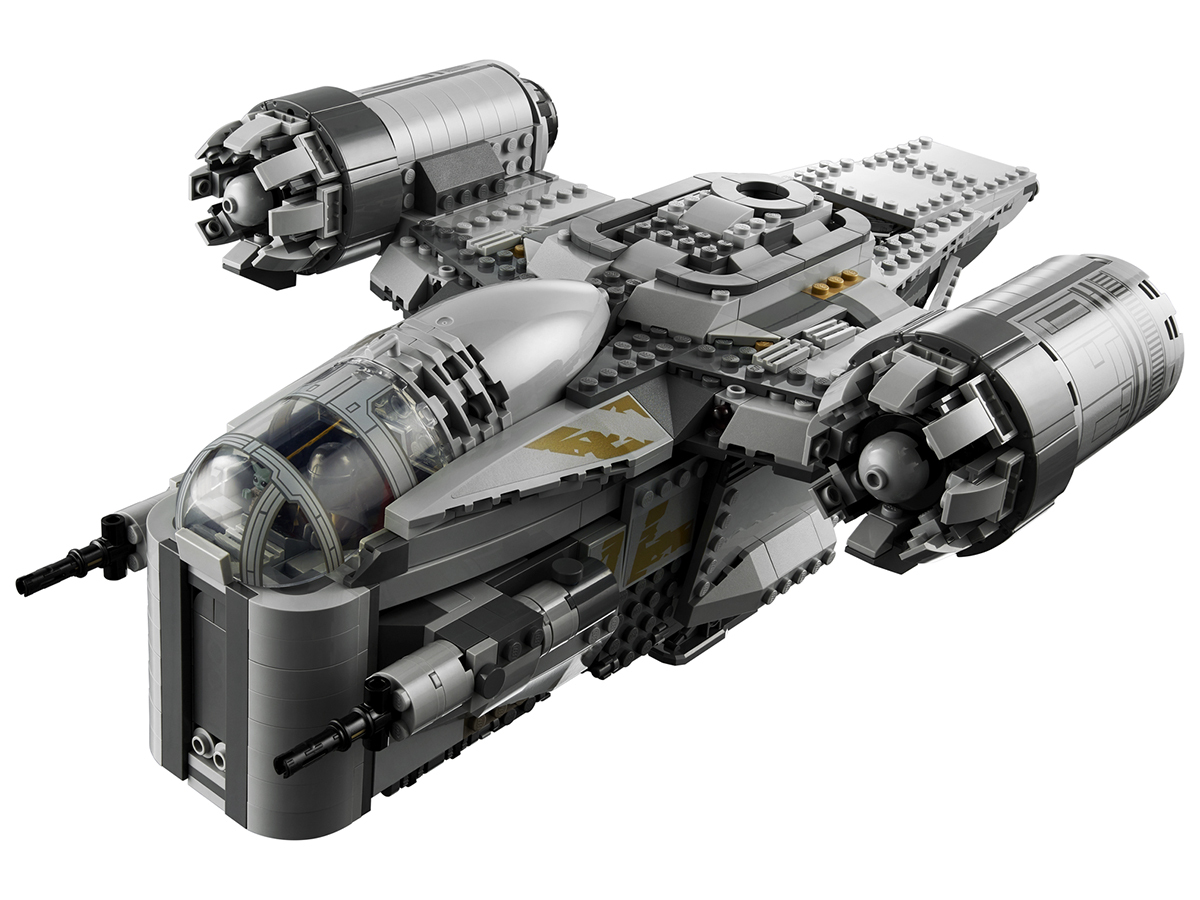 Back to The Mandalorian, and we get a more affordable take on the lead's ship: The Mandalorian Bounty Hunter Transport (1023 pieces, $139.99/£119.99). However, if you prefer its sleek replacement, there's The Mandalorian's N-1 Starfighter (412 pieces, $59.99/£59.99). You can then spend happy times recreating that grin-inducing moment from the end of The Book of Boba Fett.
Hoth AT-ST (586 pieces, $49.99/£44.99) returns us to the original trilogy, for a brick-built take on Empire's 'blink and you'll miss it' chicken-walker appearance. Chewie's included, apparently thinking he can take on an entire armoured vehicle with a hand-held weapon. That's confidence! Give him some back-up with Luke Skywalker's X-Wing Fighter (474 pieces, $49.99/£44.99).
Delightful dioramas
Death Star Trench Run Diorama (665 pieces, $69.99/£59.99) is the best Star Wars Lego set diorama. These are undeniably pricey kits, aimed at folks captivated by the original trilogy upon its release – and who are now all grown up with money to spend. But they do look great. Here, you get lots of dinky grey pieces to make a chunk of Death Star. Centre stage is Luke Skywalker's X-Wing, with a trio of TIE fighters in hot pursuit. The force will be strong with this one – assuming you don't drop it on the floor.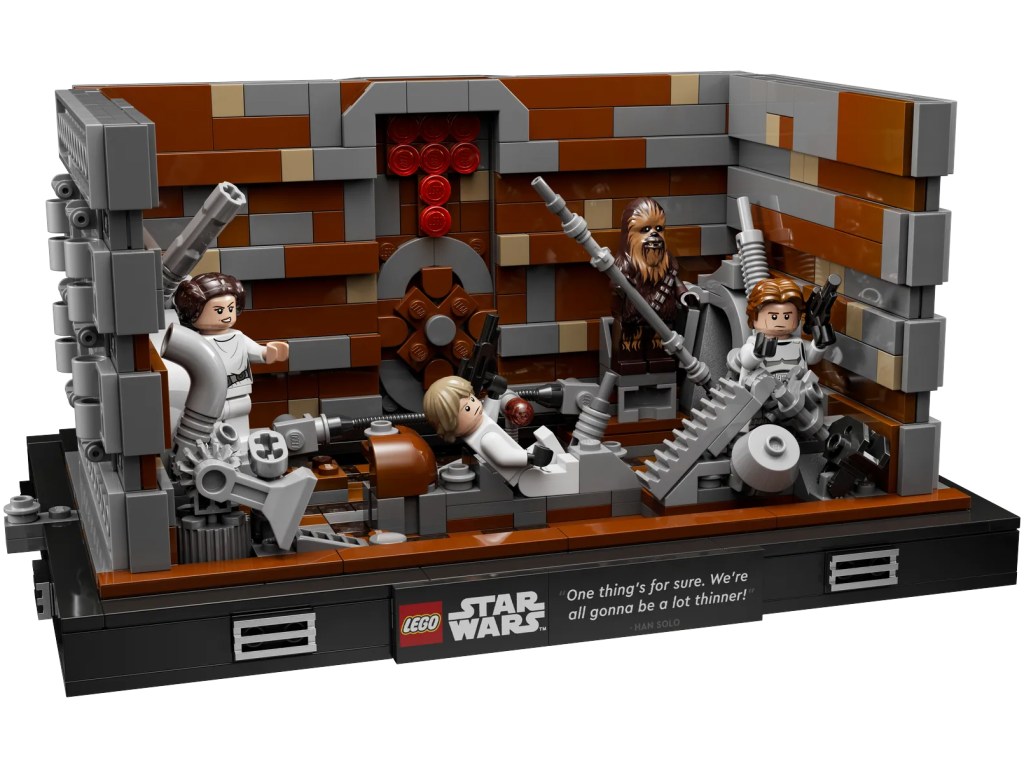 The best of the rest kicks off with Death Star Trash Compactor Diorama (802 pieces, $89.99/£79.99). From an earlier point in A New Hope, the set lets you sadistically crush minifig Luke Skywalker, Han Solo, Chewbacca and Princess Leia Organa, while C-3PO and R2-D2 squabble on the sidelines. Dagobah Jedi Training Diorama (1000 pieces, $89.99/£79.99) fast forwards to Empire. It features Yoda supervising Luke while he hangs upside down and whines about training. R2-D2 looks on, wondering if he could get that sunk X-Wing into the air and zoom off, for a quiet life.
Emperor's Throne Room Diorama (807 pieces, $99.99/£89.99) lets you recreate the famous climactic scene from Jedi. You even get stashable lightning bolts for The Emperor. Alas, there's no massive Lego pit for Vader to drop him in. Elsewhere, Dark Trooper Attack (166 pieces, $34.99/£29.99) isn't part of the diorama wave, but has similar vibes. It lets you have an older, wiser, 'uncanny valleyier' CGI Luke slice up some baddies. Run, Lego Dark Troopers, while you still can!
Brick-built figures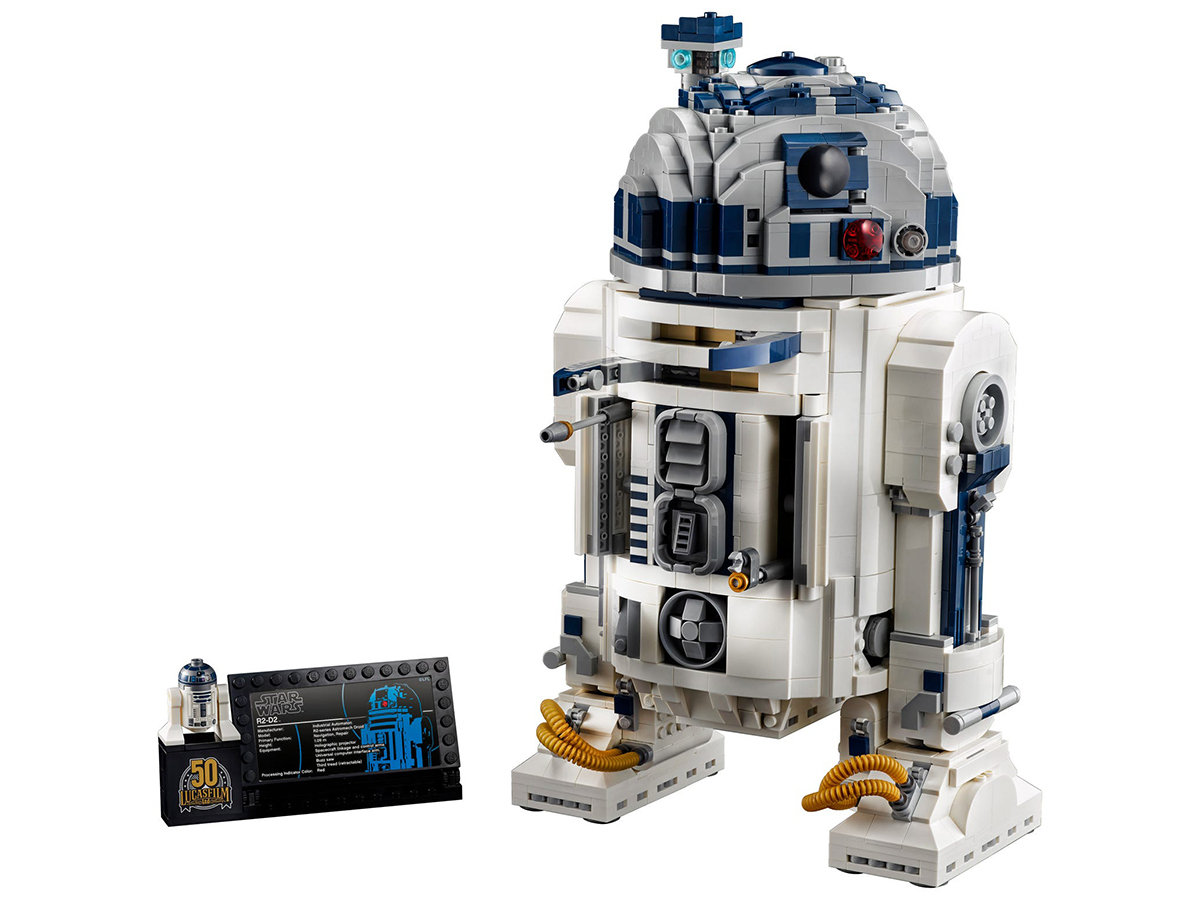 R2-D2, it is you – it is you! Well, in brick form. R2-D2 (2314 pieces, $239.99/£209.99) is the most impressive and detailed Lego recreation of everyone's favourite Star Wars droid (sorry, C-3PO). It also comes with a standard R2-D2 minifig – which presumably has a massive inferiority complex.
BD-1 (1062 pieces, $99.99/£89.99) gives you a much less famous robot. But its bipedal form is accurately recreated, and it also comes with a dinky mini-me. Finally, while no Lego Yoda anymore, there is, his distant cousin (possibly), The Child (1073 pieces, $89.99/£79.99), remains in the range. Just don't make him angry, otherwise he'll bounce you off the ceiling.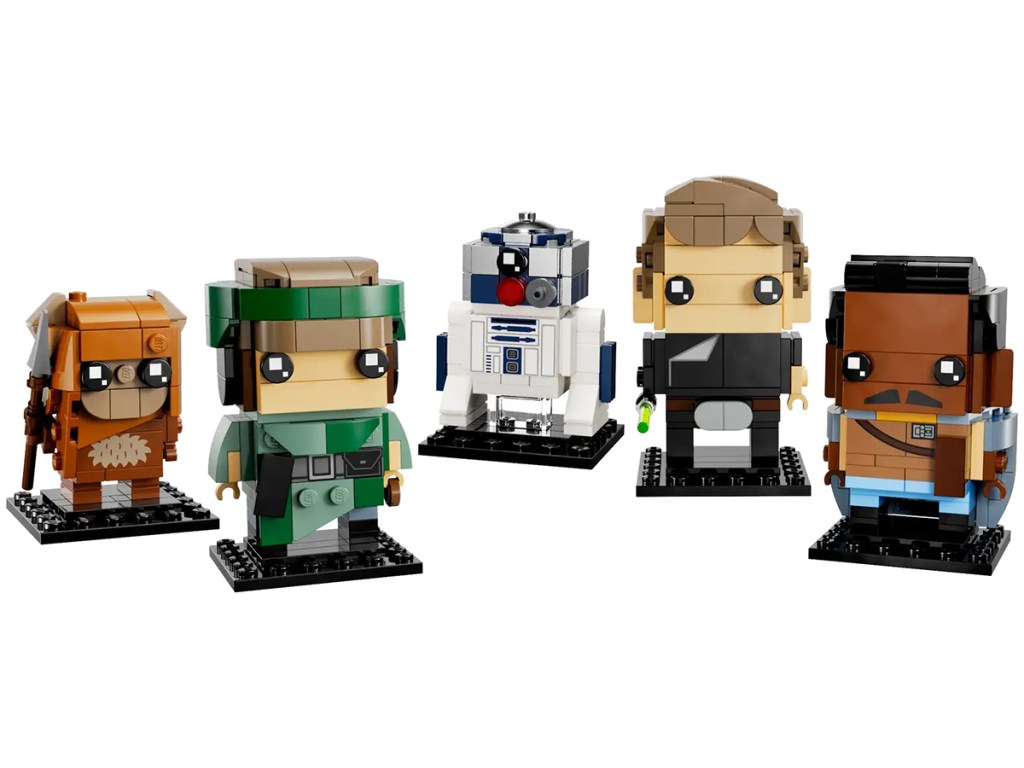 An even chunkier set of heroes form Battle of Endor Heroes (549 pieces, $39.99/£39.99). This Brickheadz pack nets you blocky takes on Luke Skywalker, R2-D2, Lando Calrissian, Wicket and Princess Leia in their Jedi garb.
But should the notion of building entire humanoid figures not click with you, there's always Lego's helmet range…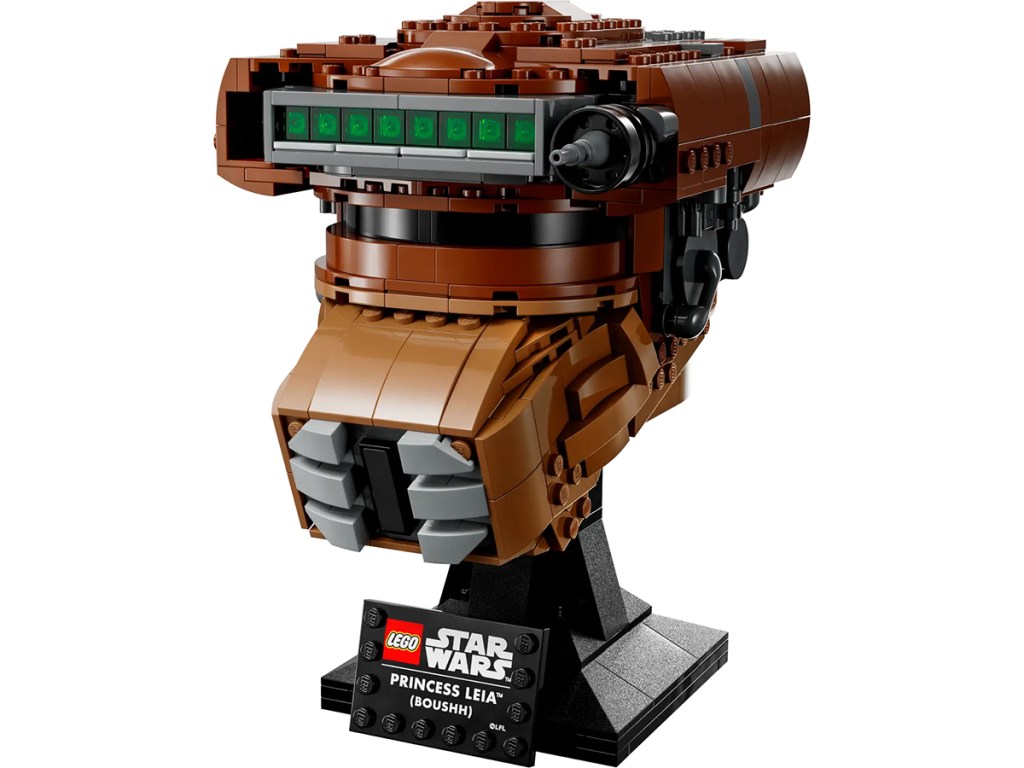 Our favourite is the imposing Darth Vader Helmet (834 pieces, $79.99/£69.99). Of the rest, the detailed Princess Leia (Boushh) Helmet (670 pieces, $69.99/£59.99) wins out. Although we rather like Luke Skywalker (Red Five) Helmet (675 pieces, $69.99/£59.99) too. Plus it looks more like a helmet on a stand than a head on a pike from a much darker incarnation of Star Wars.
Pocket money perfection
Lack deep pockets – or deep shelves? Here are the best Star Wars Lego sets for under thirty bucks.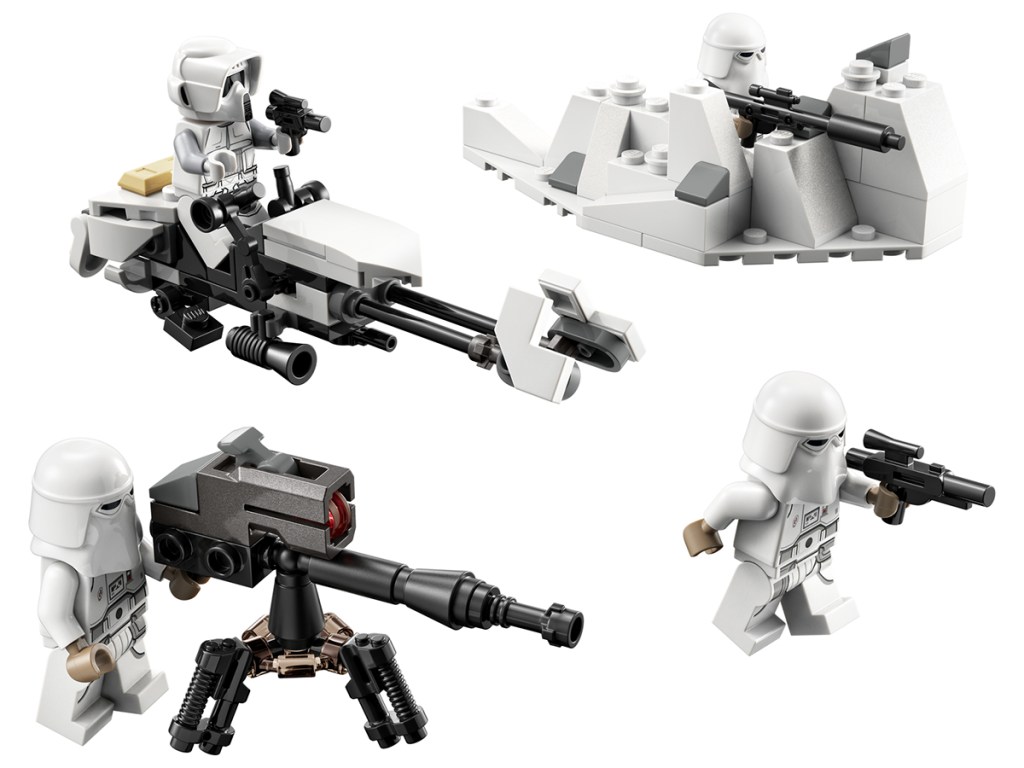 Snowtrooper Battle Pack (105 pieces, $19.99/£17.99) takes us to snowy climes, with a set that includes four minifigs, a huge gun, and a speeder bike – and that goes very nicely with either of those AT-ATs we featured earlier. Obi-Wan Kenobi's Jedi Starfighter (282 pieces, $29.99/£29.99) features a younger Obi-Wan with a swooshy ship, the long-necked Tan We, and R4-P17, who looks like the combination of R2-D2, a tin of red paint, and a terrible mishap.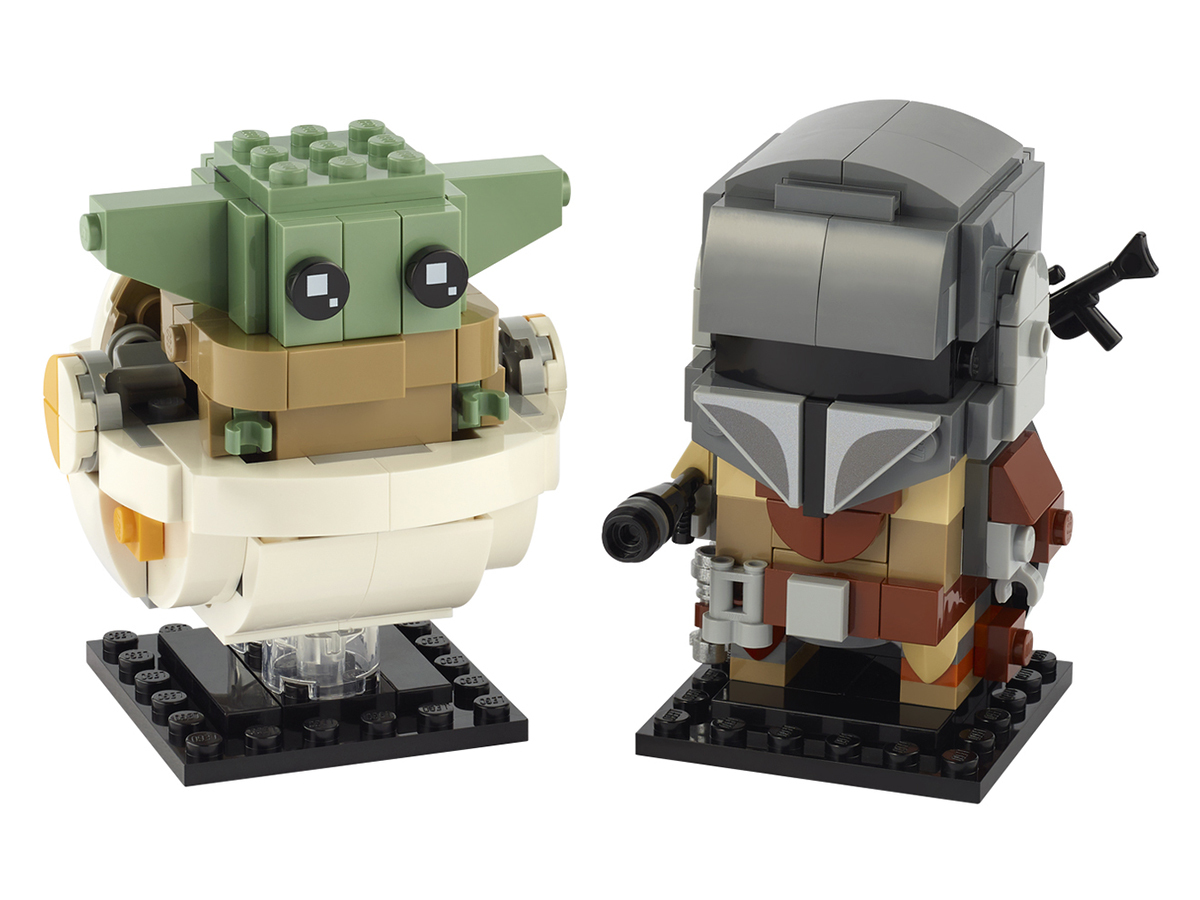 Heading back to 'Lego does cute' territory, you can grab two sets of affordable Brickheadz. The Mandalorian & the Child (295 pieces, $19.99/£17.99) is an adorable brick-built take on the leads of the hit Disney+ series. And Obi-Wan Kenobi & Darth Vader (260 piece, $19.99/£17.99) lets you play out that famous scene. (The one that won Least Convincing On-Screen Sword Fight 1977.)
Finally, Lego's microfighters have long taken cute in the direction of budget-friendly Star Wars vehicles in miniaturised form with exaggerated features. Boba Fett's Starship Microfighter (85 pieces, $9.99/£8.99) is the latest. It's fab – and surprisingly authentic, given the small piece count. Although good luck trying to cram a Han Solo frozen in Carbonite in there.