Oraimo's clever open-ear headphones let you enjoy your music while remaining aware of your surroundings
Provide a rugged, sweat-resistant, workout-friendly soundtrack to your life - and you'll never miss another train announcement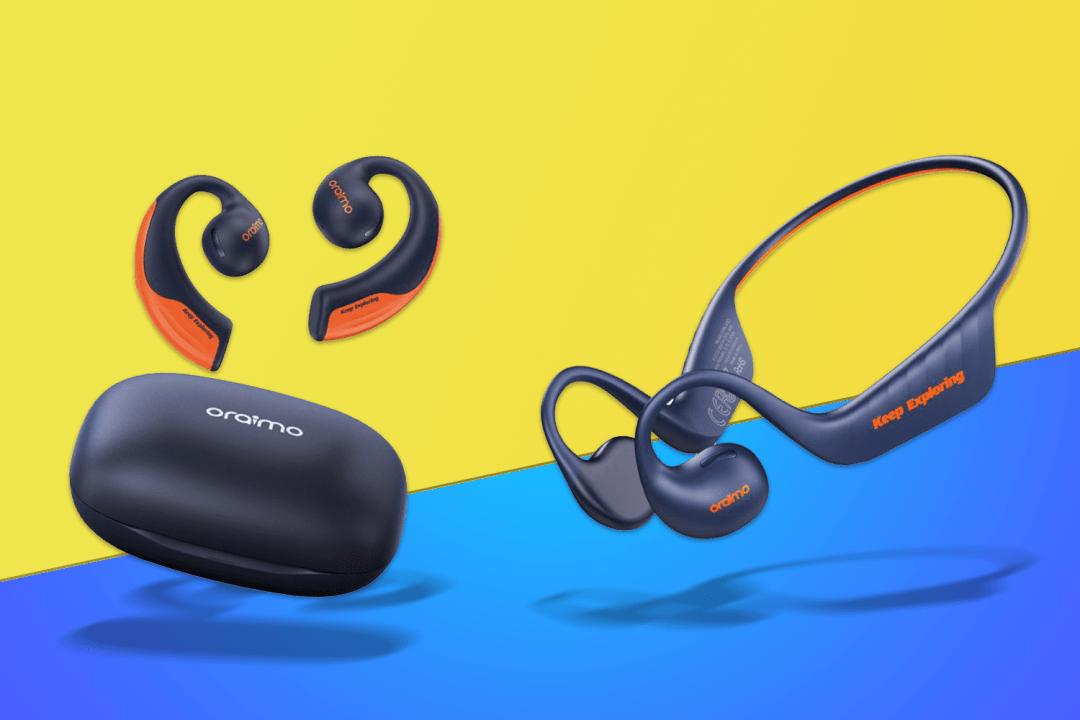 If you've ever had the panicked displeasure of realising that everyone has mysteriously disappeared from your train carriage due to a platform change announcement (which you completely missed), then you'll be more than a little familiar with the pitfalls of in-ear, over-ear, and noise-canceling headphones.
While they have their benefits, there are plenty of moments when isolating yourself from the outside world can be a detriment. Missing a train announcement is one thing, but not hearing the frantic shouts of a renegade cyclist or the roar of an approaching vehicle while you're walking or running can actually make for a downright unsafe experience.
Enter oraimo, and its range of cleverly-designed, open-ear headphones driven by air-conduction technology. Its OpenPods and OpenCirclet Bluetooth headphones, to give them their full names, have been specifically created to let you enjoy your music, podcasts, and audiobooks, while still being aware of your surroundings.
How do they work?
The secret lies in the headphone drivers themselves, which, unlike traditional headphones, sit outside of your ears. Not only does this let you hear both your audio content and your surroundings, but it offers plenty of other benefits too.
For starters, it's more comfortable than having something jammed in your ears for hours at a time, putting an end to sore ears for good. It'll keep you cooler too, and the fact that your ears are free to "breathe" at all times means that you're safe from any potential ear canal bacteria from breeding — not to mention, having cleaner headphones in general. And, of course, there's a substantial amount of protection from hearing damage too, which is something that cannot be overstated.
Whether its the sound of surrounding traffic during your commute, an approaching bull on a peaceful hike, or even someone asking you if you could spot their bench press at the gym, there are plenty of moments in life where it pays to be aware of what's going on around you, and this clever external driver design lets you have the best of both worlds.
Tuned to perfection
There's no point having external drivers if it sounds like you're listening to tin cans. Thankfully, oraimo's engineers have strived to ensure that sound quality remains uncompromised. Both the OpenPods and OpenCirclet headphones are powered by beefy 16mm dynamic drivers, delivering high-quality acoustic precision and immersive, thumping bass.
Better yet, the company's HavyBass algorithm tunes and boosts the bass further letting you hear the woofer clearly at different volumes. Ultimately, this lets you continue harnessing the motivation powers offered by your bass-laden gym playlist, despite having external drivers. Clever stuff.
It's good to talk
No pair of Bluetooth headphones would be complete without the ability to make and receive calls, and oraimo's offerings are no exception. In fact, they go above and beyond, with clever tech designed to offer the crispest of comms, even when you're out and about in loud areas.
Both the OpenPod and OpenCircle headphones feature advanced mic noise reduction (two mics for the OpenCirclet, and four for the OpenPods), powered by a beamforming array and AI deep neural network algorithm. In other words, clever AI-powered software analyses the input of built-in microphones to determine what the distracting environmental noises are, before muting them.
That means if you're walking through a busy station, or on a road with traffic, all of the hustle, bustle, and engine noises will be magically removed, making for a much clearer call. Not only that, but specially designed, optimised air ducts also work to reduce wind noise during outdoor activities, making for even clearer calls.

Life-proof
There wouldn't be much use for headphones designed for an active lifestyle if they pack it in at the first sign of rain. Thankfully, both the OpenPods and OpenCircle are more than prepared for life's surprises, thanks to an IPX5 water and sweat-proof rating. 
Combined with a slick silicon finish, this makes them perfect for runners, gymgoers, and anyone who spends plenty of time in the great outdoors. And, thanks to their open-ear nature, they're lightweight and comfortable too.
Super stamina
Worried about longevity? Don't be — oraimo's OpenPods are built to last in more ways than one, thanks to an impressive 40-hour total battery life, which includes the multiple charges offered by the handy storage/charging case. With a caseless battery life of 10 hours, it'll easily outlast a typical working day, while laughing in the face of long-haul flights to boot. Throw in a fast-charge function that sees 30 minutes of charging time provide up to 600 minutes of playback, and you've got yourself a pair of headphones that'll outlast even the most enthusiastic listeners.
The OpenCirclet headphones offer a very respectable 16 hours per charge, while a mere 10-minute charge is good for another 54 songs. If you've ever forgotten to charge your headphones before a long trip, this feature will be a godsend. With both sets of headphones using USB-C cables, they're convenient and easy to top up too.
Open your ears
With their traditional hooked earbud design, the OpenPods are an ideal choice for those looking to blend the slick form factor of traditional sporty wireless in-ears, with all the benefits of open-ear technology, along with oraimo's clever software wizardry.
If you're rocking a phone with Android 6.0 or newer, they support Google's Quick Pairing too, for a hassle-free setup. In addition, you can also use the Bluetooth connection to make your earbuds ring if you happen to lose them, ensuring that you'll never be thwarted by couch cushion crevasses again.
If you fancy something for even more extreme action, then the OpenCirclet's secure, wraparound design makes for an ideal companion for those needing the most stable, uncompromised fit possible. Its silicon-coated memory wire is not only comfortable but also makes it resistant to twisting, even in extreme situations.