Samsung Galaxy Watch 4 hands-on review
Samsung shifts to Wear OS, but keeps the Watch 3's best bits
At a glance, Samsung's Galaxy Watch 4 may look like just another Samsung smartwatch. But it isn't.
Samsung teamed up with Google to make this thing, booting out the Tizen software it's used since 2014's Samsung Gear Live. Yes, this is a Wear OS watch – and it's the first one in years that won't leave you with a sinking feeling in the pit of your stomach.
See, while Wear OS has long been a dull, stagnant system, everything changes with the Galaxy Watch 4. First impressions suggest it could be the first Google-affiliated premium ticker in absolutely ages that we're able to unreservedly recommend…
Samsung Galaxy Watch 4: versions and variants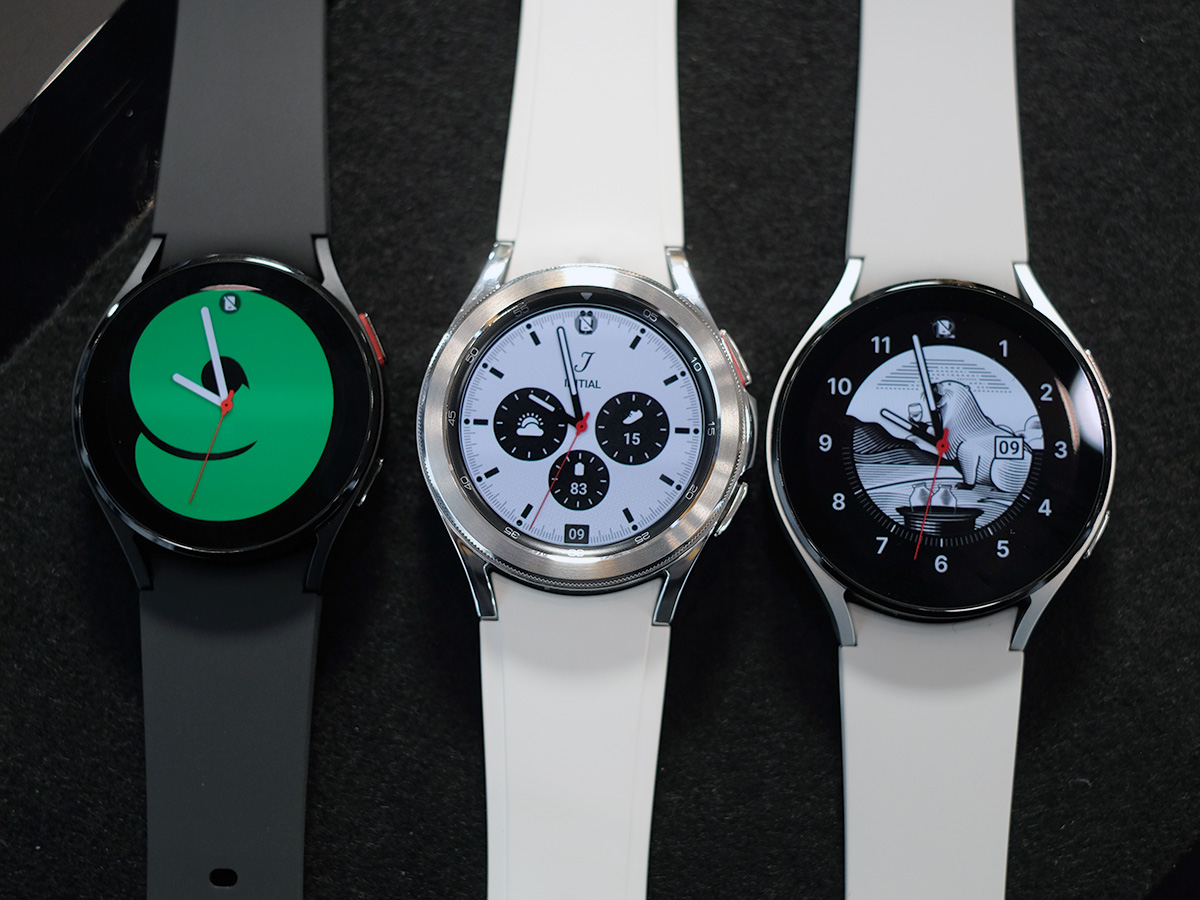 Or rather, tickers plural: there are four variants of the Galaxy Watch 4. If you were familiar with the Galaxy Watch 3, then you'll know the drill.
The standard Galaxy Watch 4 features a flat glass top and ships in 40mm (£249) and 44mm (£269) sizes.
Then there's the Watch 4 Classic, with an analogue-style bezel and slightly larger 42mm (£349) and 46mm (£369) sizes.
In all cases you can bung an extra £40 in for 4G mobile internet, which uses an eSIM rather than the physical nanoSIM found in your phone.
The Galaxy Watch 4 is a sportier replacement for the Galaxy Watch Active 2, while the Galaxy Watch 4 Classic is the direct successor to the classy Galaxy Watch 3.
Samsung Galaxy Watch 4: design and display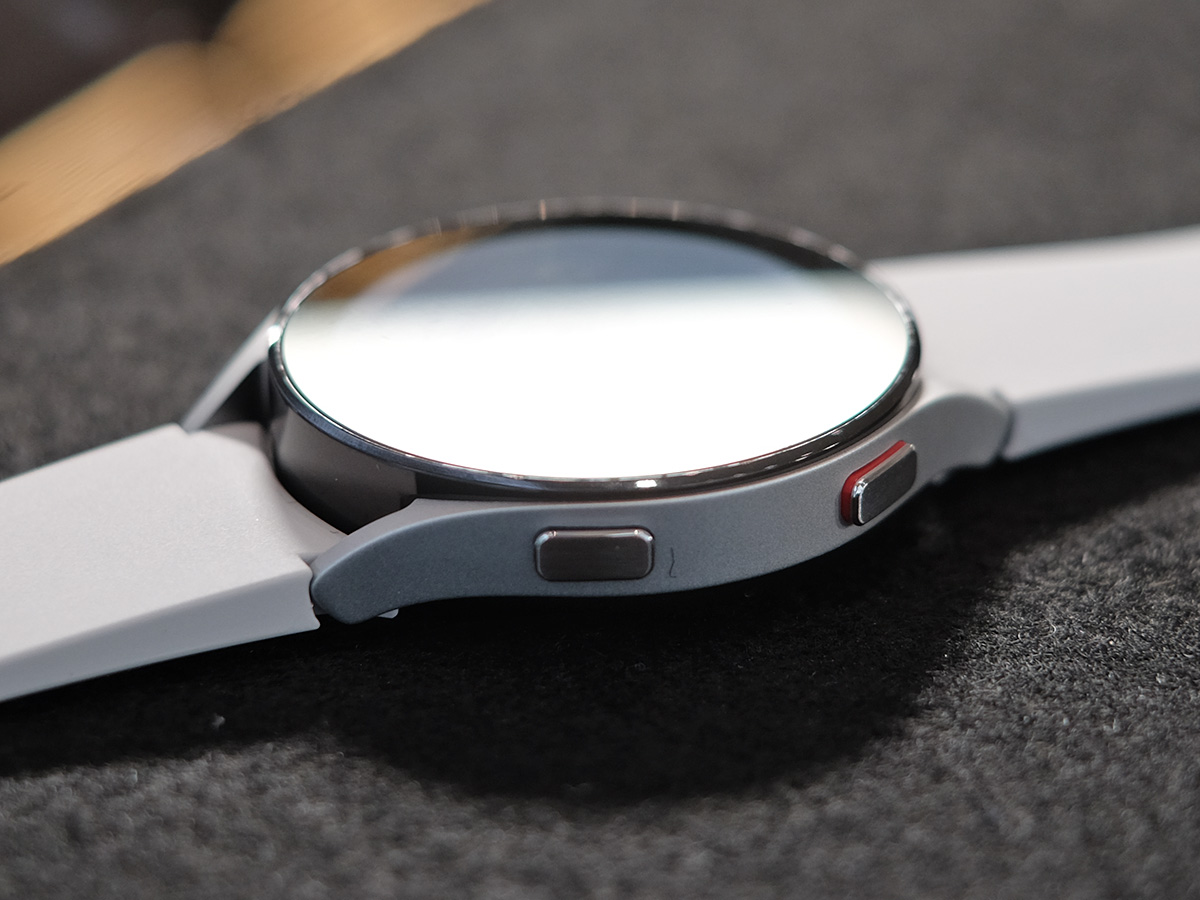 How do you pick between these four options? That's a tricky one. Even after a couple of hours handling all of the watches, we're still not entirely sure which we'd pick.
The biggest difference – and the justification for the hefty £100 price hike demanded by the Classic models – is a rotary bezel. As with the Galaxy Watch 3, the Samsung Galaxy Watch 4 Classic's outer ring rotates. It's the main control method, even more so than the touchscreen or the two side buttons. And it feels great to use.
It is essential? No, but if they were the same price we'd choose the Classic – even if the vanilla version may seem sleeker in certain respects.
All four have stainless steel bodies and toughened glass screen coverings. Our demo units had silicone straps too, although you'll certainly be able to get hold of leather or third-party imitation bands for the Classic, if you like to rock that 'real watch' aesthetic.
We didn't have resolution specs to hand when we tried out the Galaxy Watch 4 family, but the specs are largely academic: all four watches have extremely sharp displays. Samsung says the pixel-count goes beyond the last-gen Galaxy Watch 3's 360 x 360 – but we're long past the point of diminishing returns when it comes to pixel density.
Samsung Galaxy Watch 4: interface
Our first observation about the Samsung Galaxy Watch 4 sounds negative, but it's not: the interface is very similar to the Galaxy Watch 3's.
When you swipe from the watch face, or rotate the bezel of the Classic models, the screen runs through pages that act as shortcuts to key info screens and watch features. These pages, the green colour scheme, how the watch feels – it's all very Galaxy Watch 3.
What's not yet clear is how much of this user experience is specific to Samsung's OneUI software. While the Galaxy Watch 4's interface is built on the new Wear OS 3 – which represents the merger of Tizen and Wear OS – Samsung is currently the only manufacturer making watches which run it. So we don't know if OneUI is the definitive version of Wear OS 3 or, more likely, whether a 'stock' version will appear on Google devices down the line.
In any case, the collaborative software effort should mean a more diverse and interesting future for smartwatches. It finally unifies the world of non-Apple Watch wearables, which will be a huge relief to developers. Rather than making separate apps for Wear OS, Tizen and Fitbit OS – which can hardly be justified when audiences are rarely willing to spend more than 49p on an app – software studios will now be able to make a single cross-platform app for all Wear OS 3 devices. Or they will very soon.
The real test for this watch is a long-term one. Will devices like the Galaxy Watch 4 reignite app developers' interest in Wear OS? And will we finally get an app library to rival the Apple Watch's?
Right now, we just don't know. But the Galaxy Watch 4 looks like it will be a great watch regardless. All four watches look and feel smart, you can store offline Spotify playlists to play to your Bluetooth headphones, phone free, and it already has the health and fitness angle sorted…
Samsung Galaxy Watch 4: fitness features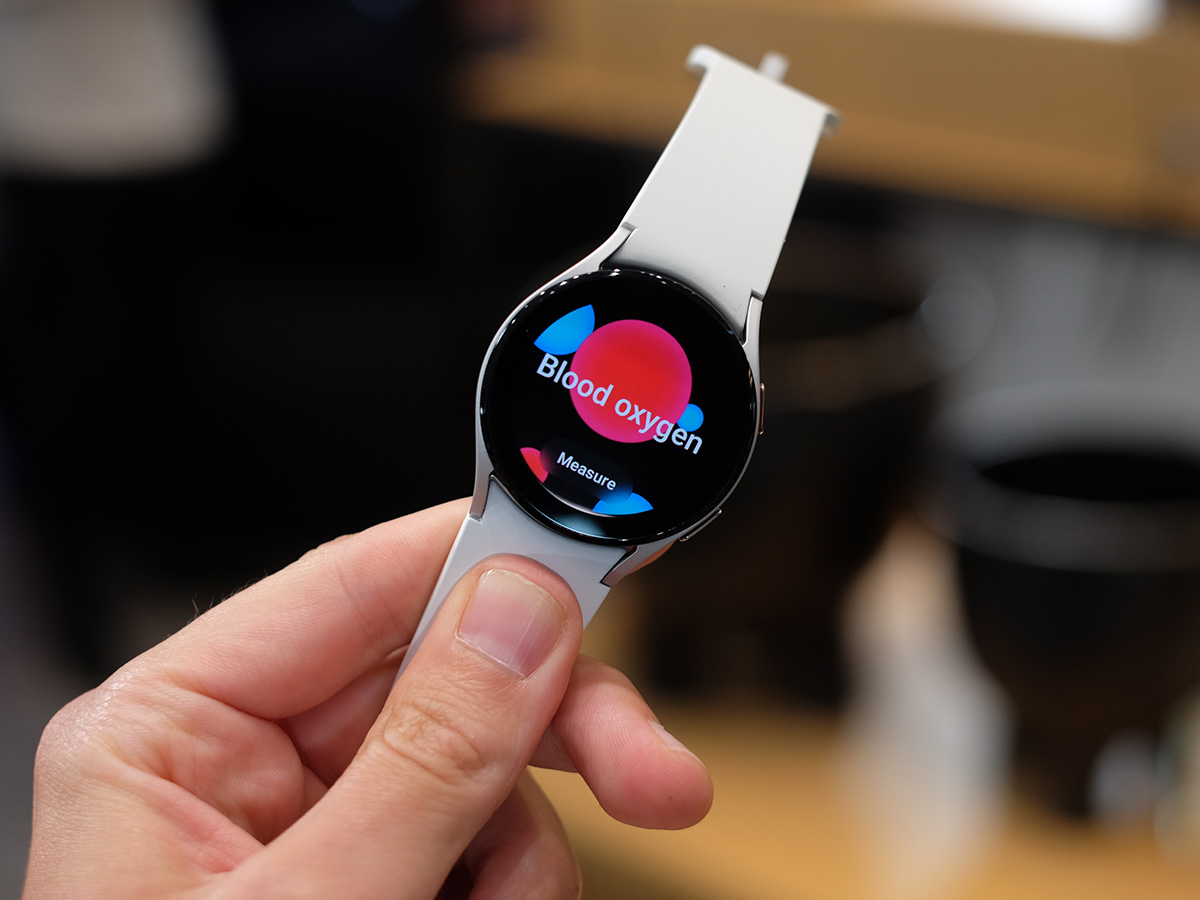 Even if the next big Fitbit device – which is already confirmed to use Wear OS – ends up with similar-looking software, you still get plenty of Samsung specific extras with the Galaxy Watch 4. Samsung Fit is probably the highlight.
This offers a huge array of workout modes and, from our brief tour, it looks like there's a lot of great stuff. The running mode has some gait analysis (as seen on the Galaxy Watch 3), you get a Running Coach and a proper rep counter for wannabe weightlifters. We'll look deeper into this in our full review, but first impressions point towards a strong contender for best exercise smartwatch.
Body Composition is one of the headline arrivals. It works a bit like a smartwatch ECG: you put two fingers on the metal side buttons, which forms a circuit as there's another point of contact on the watch's underside. Wait around 30 seconds for the Galaxy Watch 4 to do its calculations and you'll see a readout of your body fat composition, how much water weight you're carrying and how heavy your bones are. This works much like a body fat scale, sending tiny electrical signals around your body.
We tried running it a half dozen times. While the water and bone weight figures varied quite a bit, the body fat ones, to our shame, stayed pretty consistent throughout. There's definitely some potential to get a bit too obsessed with this figure, but it's a much better way to see the results of a lifestyle changes than simply weighing yourself every week. Weight and BMI don't tell you the whole story. But weight, BMI, VO2 Max, resting heart rate and body fat percentage? Now we're getting somewhere.
Samsung also says the Galaxy Watch 4 will let you take part in workouts streamed to your TV, complete with on-screen health metrics like heart rate. We could have seen this Apple Fitness+ copycat coming a mile off. We haven't tried it yet, but Samsung is going to have a tough job coming up with something as good the Cupertino solution. Fingers crossed.
If battery life to trample the Galaxy Watch 3 was top of your list, you may be disappointed. Samsung says the watches will last up to 40 hours, but we don't yet know whether this figure will vary for smaller models. It usually does.
Samsung Galaxy Watch 4: comparisons
From the outside, the Samsung Galaxy Watch 4 and Watch 4 Classic look quite a lot like the Galaxy Watch Active 2 and Galaxy Watch 3. Round face? Smart appearance? Steel casing? Check, check, check.
A similar interface masks the different systems underneath. OneUI gives the Galaxy Watch 4 a much better chance at long-term updates, unless this whole Samsung-Google smartwatch crossover is a massive failure.
The body composition monitor is perhaps the most substantive new feature. This uses electrical signals to estimate your body fat percentage. Still, we have a suspicion the older Galaxy Watch 3 will last longer off a charge, so don't feel too bad if you own one.
The Apple Watch Series 6 is the clearest competitor and sells at a similar price. This is your tried and tested alternative, guaranteeing you all the best smartwatch apps, a good heart rate sensor and advanced features like ECG (also present in the Galaxy Watch 4).
It doesn't have a body composition feature, though, and even from our brief hands-on time we think the Galaxy Watch 4 may have more baked-in features for fitness enthusiasts. Of course, the Apple Watch can fill some of these holes with future updates.
Samsung Galaxy Watch 4: initial verdict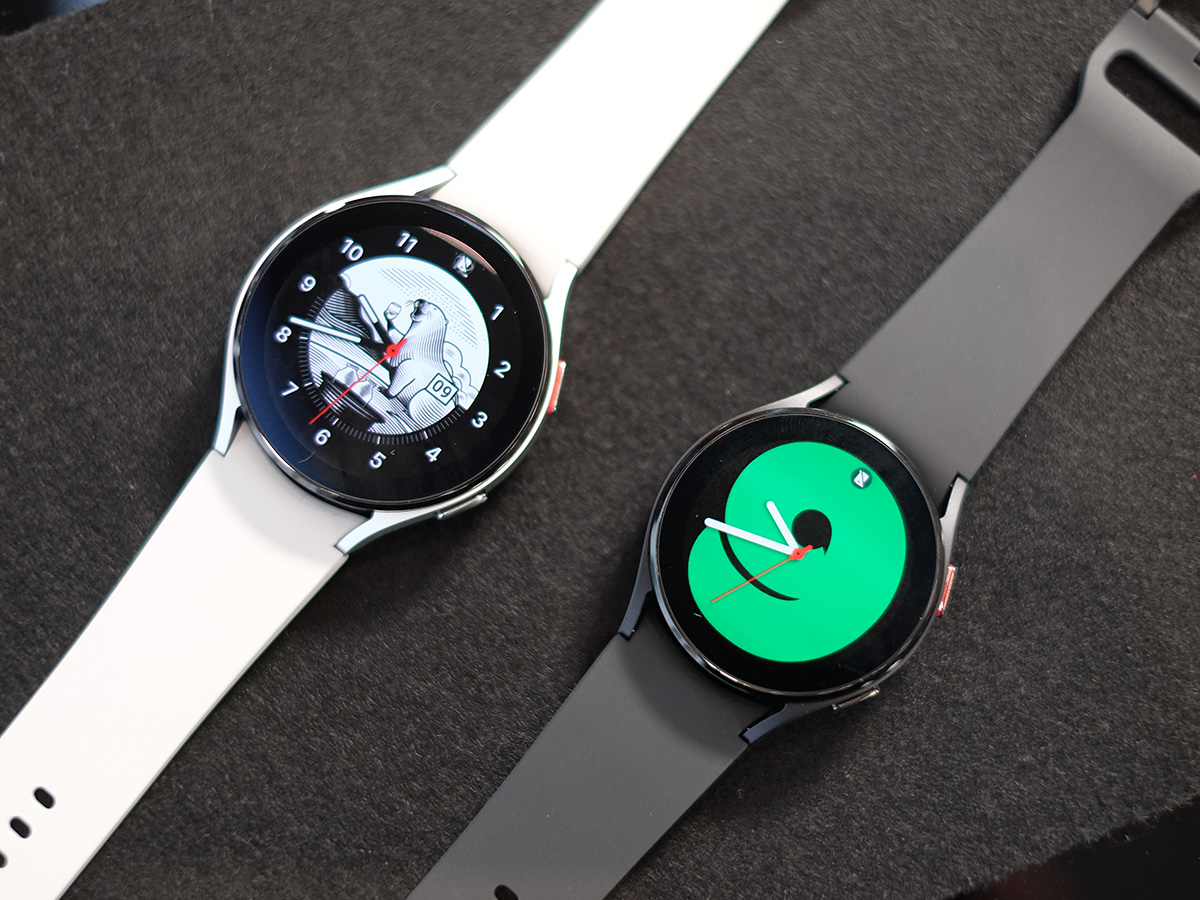 Samsung has done a great job of smoothing the transition from its long-standing Tizen watches to the Galaxy Watch 4 and this new era of Wear OS.
You get all the appealing components of classic Tizen Samsung Watches, including great-quality hardware, intuitive software and an optional rotary controller, with a potentially brighter future for third-party apps.
Should you buy one instead of a Galaxy Watch 3? Probably yes, unless the price drops through the floor. Should you be a bit miffed if you bought a Galaxy Watch 3 three months ago and now find yourself living with a (probably) dying smartwatch platform? Definitely.