Apple Watch Series 6 review
Packing in even more sensors, this time it's out for your blood
It's been five years since the Apple Watch came to be and the world's biggest selling timepiece has caused a cavalcade to strap one to their wrists.
Since then, they've slimmed down, spruced up, sped along and generally incrementally got better with every iteration. You can't ask for more, right?
Whether you did or not, it hasn't stopped Apple packing the Series 6 with even more sensors.
Every smartwatch needs a headline feature. The Apple Watch S4 detected falls with potentially life-saving consequences, the Apple Watch S5 was 'always-on', you know, like a regular watch, and the S6? It detects blood oxygen levels and measures your sleep.
You see, SpO2 is the new buzz-term we've seen entering the wearable vernacular this year. It's a measurement of blood oxygen levels and can detect symptoms such as sleep apnea – a potentially deadly disorder that could cause you to stop breathing during the night. The S6 isn't the first wearable to offer this and it comes with no official medical certification, but the Apple Watch does have a great record when it comes to health tracking – perhaps aided by the data from its sheer number of users – and what the inclusion of SpO2 does do is bring it to widespread attention.
So are the health updates significant, or is it a case of The Emperor's New Clothes?
Design and screen: The way you look tonight
Placed next to an Apple Watch 4, it's indistinguishable.
That's not necessarily a bad thing because we loved the design and build of last year's wrist wear. Available in 40 and 44mm size options with a square face, always-on OLED display, a black and sapphire crystal backing and that reassuring digital crown with haptic feedback.
If you were eagle-eyed, you might be able to see that the OLED display on the S6 is a notch brighter, by 2.5% when your wrist is lowered. This means it's easier to see the screen in sunlight. Viewing angles were always good when outdoors at any time of day from our experience, so albeit incremental, it's a bonus.
It's waterproof up to 50 meters and to remove any water from the watch post swim, simply twizzle the crown until all the water is withdrawn. It's very satisfying.
The Apple Watch Series 6 has some fresh threads to entice you. S6 introduces a new blue and (PRODUCT) red aluminium model, plus there's stainless steel silver and graphite options, plus titanium in silver and black if you want to really splurge. We weren't sent one to see in the flesh, but the new Solo Loop and braided Solo Loop were of poignancy during the launch. They eliminate any fastenings, making it one simple pull-on bracelet.
Features: Got view under my skin
Like its predecessor, the Apple Watch S6 supports Apple Pay and has all the same health-related features including ECG monitoring. But the headline feature is the ability to perform blood oxygen tests. There's a new heart rate sensor too.
When taking a heart reading, you'll see two green lights on the back of the watch, as opposed to one on Watch S5. More on that later. Let's be clear here, the SpO2 is not medically certified, so this isn't a watch to replace your doctor, however it can be a good indicator to any respiratory issues.
Blood oxygen saturation in healthy people is between 95-100%, so anything which falls short should be checked out. The SpO2 sensor tracks blood oxygen by shining a red LED onto the blood vessels on the wrist, with photodiodes measuring the amount of light reflected. The colour of your blood is indicative of the amount of oxygen present. As well as taking background measurements throughout the day, you can also take a SpO2 reading at any point in the day.
To take a reading, select 'Blood Oxygen' on the watch and a 15-second countdown will begin and a cool animation of blue and red wispy lines dancing on screen until it's finished. Measurements were sometimes unsuccessful; this is due to the incorrect placement of the watch. The sensors can't guarantee accuracy if the watch isn't flush against your wrist, or if it's at an angle. This is reassuring if anything.
This feature doesn't come to the cheaper Apple Watch SE. More sensors. More dollars. Other reviewers claim that it matched some other medically certified SpO2 finger sensors, and when we tested it alongside the Withings Scanwatch Sp02 sensor, the results were often the same or 1% either side.
The results from SpO2 readings are tucked away in the Apple Health App under the 'respiratory' section where you'll see daily averages, from when you're sleeping, and the range which your bloody oxygen levels fluctuate. It's a lot of information within the app, and for most people, it's overkill.
It can also be a source of worry to the user. For instance, I saw that last week my blood oxygen level dipped as low as 78% which looks like an anomaly, but still has succeeded in making me a little paranoid. Unfortunately, the watch couldn't offer the insight I needed – Is that normal? Am I dying?
The ECG adds to the watch's medical prowess. To perform a test, hold your finger on the crown and measures electrical sensation to your heart to look out for signs of atrial fibrillation. This is nothing new to Apple watch, but it's just another feature which showcase the S6 as an ambitious wellness companion.
Sleep tracking makes its debut with Apple Watch Series 6 and it's interesting to see where you heart rate dips and rises as the watch will continue to monitor this once the lights go out. It would be valuable to see is a bit more detail on the type of sleep, whether it is light or deep as that's crucial to understanding the quality of your kip.
The schedule feature is a bit of fun sponge too – you roughly schedule your bedtime and wake-up, and if you're not in bed before, you'll be curtly reminded. Who goes to bed at exactly the same time every night? Tim Cook probably does, which is probably the key to his success.
And of course, all the usual features are on board too: The trusty activity rings, steps taken, calories burned, fall detection, menstrual tracking and monitoring of LOUD NOISES. And WatchOS 7 brings us hand-washing countdown to make sure we're scrubbing properly, so you don't need to rely on the coronavirus hand-washing playlists on Spotify.
Performance: It's a long way to the top
It's what's inside that counts – so it's music to our ears that the S6 chip in the Apple Watch S6 is based on the A13 Bionic in iPhone 11 and is 20% faster that the last one.
Apps launch more speedily and its ability to go from 0-100% charge in 1.5 hours is a big feat, given that it's now joining us in bed. The 18-hour battery life seems to be a conservative estimate and charging quickly in the morning is easily something we can fit into our morning routine, especially when working from home.
You'll be reminded when the watch is running out of battery, and ready to stick it on its small white charging puck.
GPS is swift and you'll be fed directions on your wrist from Google Maps which is brilliant for cycling. But it would be handy if the Apple Watch would be able to automatically detect when you start exercising.
WatchOS 7 tracks VO2 Max but again it doesn't quite offer the detail you'd get from a more serious fitness tracker from the likes of Garmin. But it's the smart stuff that has always made Apple Watch such a catch. Especially for iPhone users.
You can pick and choose what you want notifying about too. Siri's even had a welcome brain boost, where you can raise your wrist and ask Siri a question without having to say 'Hey Siri'. We asked Siri all manner of language-based questions; 'Jeg elsker ost' is I love cheese in Norwegian for those wondering.
Another feature which comes to the Series 6 is the altimeter, good for climbers and hikers showing elevation in real time. Again, this quite a niche feature which isn't all that useful to most people wondering what the elevation is on the journey from their house to Lidl.
We're looking forward to the launch for Fitness+ later this year and are wondering what kind of impact that'll have on battery life.
Apple Watch Series 6 Verdict: Everybody wants some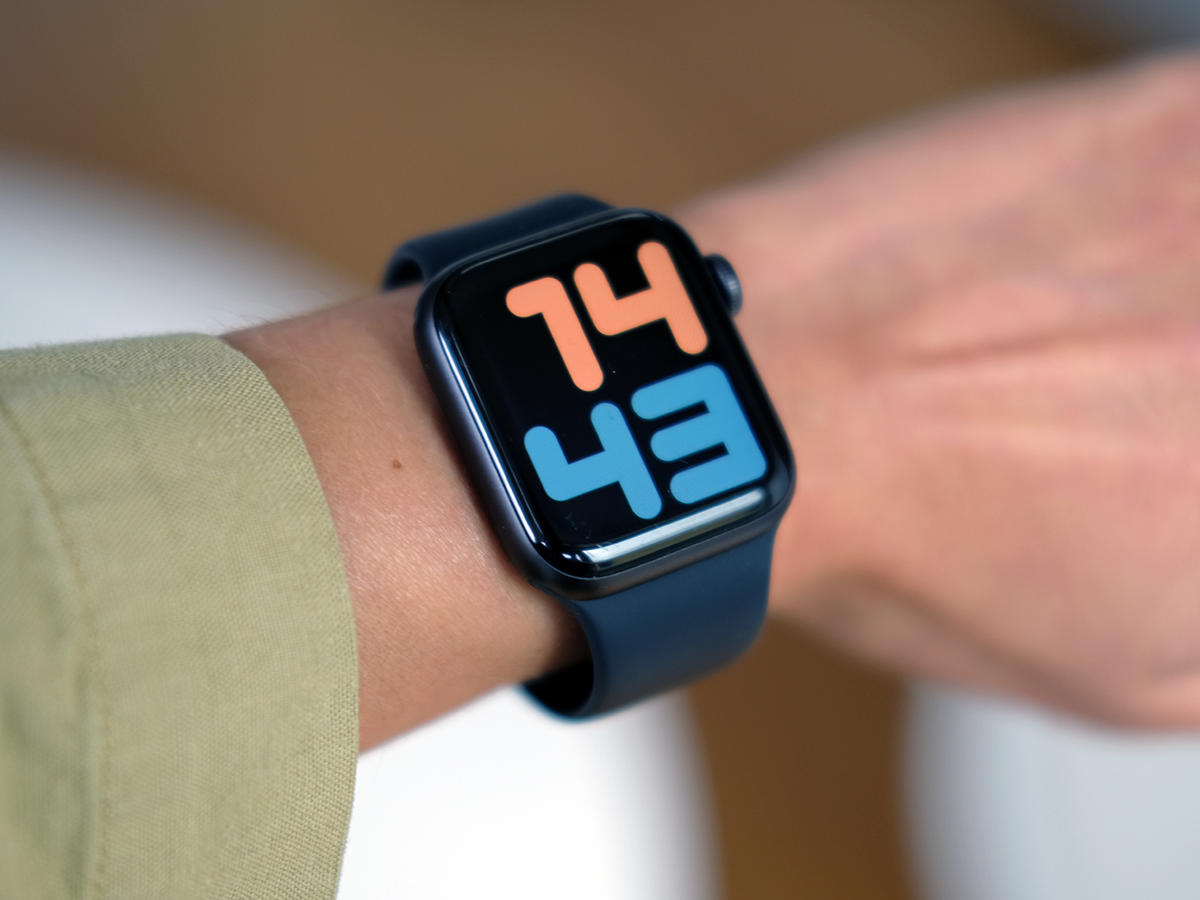 Overall, the Apple Watch Series 6 is a good fitness watch and an excellent smartwatch with lofty ambitions to be a total wellness numen.
The myriad of new sensors is useful to a degree, especially for those who worry about respiratory and heart issues, but by no means is it vital for most wearers.
The new features very much pitch it as the wearable of 2020 and beyond, and WatchOS will continue to improve and offer more services.
For a £100 less there's the Watch SE which isn't afforded the new blood oxygen monitoring, nor does it have an always-on display – but it's 64-bit dual-core S5 processor will assure it's just as speedy, so this might be the better option, espeically if you're new to Apple Watch.
But if you love the new colour options which aren't available elsewhere, have health concerns or just want all the latest tech paired with brilliant design, choose 6.
Stuff Says…
The Apple Watch S6 is the best all-rounder smartwatch on the market, especially for iPhone users, but there are better deals to be had.
Good Stuff
Brighter display
Zero lag
Comfortable (even when sleeping)
Faster charging
Bad Stuff
Could do with more use cases for bloody oxygen function
Battery life could be better
In reality, not a huge jump from Apple Watch Series 5