Apple iPhone SE (2020) review
Smartphone brilliance, but we need more juice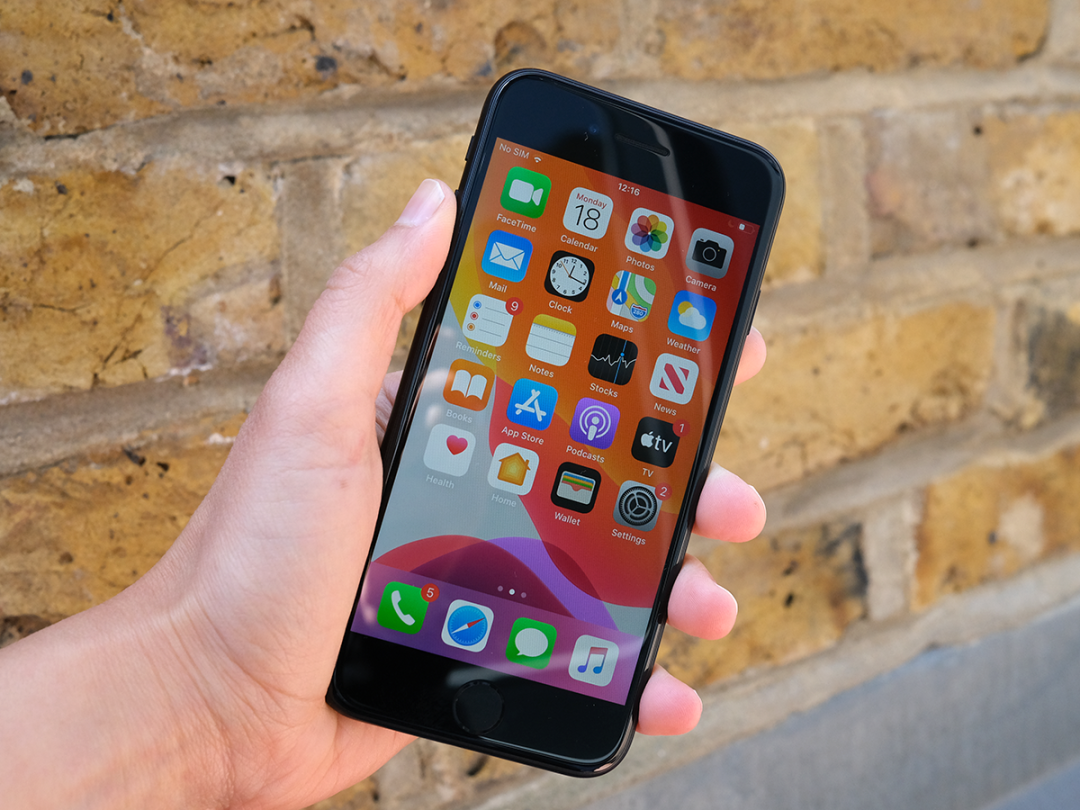 There are many who would scoff at paying over £1,000 for an iPhone, so the sub-£500 SE is a most welcome addition to the iPhone line-up.
But how is it possible we hear you cry? Simple. You take some of the components from the flagship model and squish them into a smaller body.
Compromises are made: a mediocre display, just one single camera, no Face ID and no full screen wow-factor we see on the iPhone 11.
What does remain is the A13 Bionic chip, the very same one powering the iPhone 11 Pro, plus you get access to the cornucopian riches of the App store. Oh, and speedy charging is on board too, taking you from 0-50% in 30 minutes.
At this price point, it might even lure in a few Android users looking for a change, but if you're in dire need of an upgrade from your iPhone 8 and want a slice of Apple? Step right this way.
Design and display: Home sweet home Button
It looks like an iPhone 8 – 4.7in frame complete with chunky bezels top and bottom, and a return of the Home Button.
It's refreshingly light too, weighing only 148g. Through the years, iPhones have seriously bulked up, as they're been upgraded with bigger batteries and extra cameras. The behemoth that is the iPhone 11 Pro is barely pocketable.
There's no headphone jack, which is totally fine by 2020 standards, plus you get a neat pair of EarPods in the box which use the phone's lightning connecter.
The bubble gum colours of the iPhone 11 are nowhere to be seen here and the SE ships in black, white and (Product) red. Until 30th September 2020, all proceeds from (Product) red purchases will be redirected to the Global Fund's COVID-19 response.
The haptic Home Button is strange to use at first when you've become so acclimatized to Face ID, but the fingerprint scanner is incredibly quick and feels natural almost instantly.
The slight circular indentation looks like something from the past (because it is) but it does the job. There's no fancy OLED display here, but what you get is an LCD 'Retina HD'. The iPhone 11 also rocks an LCD screen but is slightly sharper, however they both have the same pixel density. Indoors the screen is bright and clear, but outside in direct sunlight, even when ramping up the brightness is can be difficult to view.
The IP67 water resistant certificate means that the SE can dake a dunking in water up to a metre deep, but don't push it.
Camera: Daytime friends
If you thought we were over making comparisons to the 2017 iPhone 8, think again buddy.
The 12MP single sensor matches that of the iPhone 8, but that was a very capable and still is – only the competition has heated up in, in fact it's blown up.
As we've learned, the sensor is only half the story and Apple's A13 chip is going to be doing a lot of the leg work when it comes to advanced image processing. So the photos taken with the iPhone SE are superior, with better colour reproduction and improved low light photography, and that's what matters.
Photos taken during the day are pleasing and realistic, with brilliantly balanced exposure and glorious colour which is something Apple has always nailed.
Without the additional depth sensing lens, Portrait Mode isn't as effective, but you can get some great results in bright light and so long as you don't have stray hairs flying around your noggin, as it's likely they'll get the chop and ruin the overall effect. The only thing worse than an over tuned Portrait shot is one with blurry edges.
For the honourable cat, dog and gerbil mammas and papas, Portrait Mode won't detect the snouts of your beloveds, but neither would the iPhone 11. Shame.
The front facing camera is 7MP and is also capable of Portrait Mode. During Zoom conferences and FaceTime calls, the front facing camera is clear enough and doesn't feel hugely different to the iPhone 11.
Video-wise, you can shoot 4K up to 60fps, but it does have a somewhat weird smoothing effect to it, you can always stick to HD video which is ample unless you want something of a really high production value, where you probably wouldn't use an iPhone SE.
Software and performance: Computer Love
Thanks to the A13 Bionic chip, which is 40% faster than the iPhone 8, performance-wise it's on a par with Apple's most top-end slab, the iPhone 11 Pro.
It zips through tasks and between apps with grace and speed and the Fingerprint ID is instant. Editing images and video, Airdrop, connecting AirPod Pros etc. were all a doddle and a reminder that you were still getting the latest Apple experience.
Plunder the App store to your heart's content and the Neural Engine is equipped to process AR apps which is certainly a bonus.
We didn't notice any lag when playing games and using multiple apps simultaneously.
There is one quite grave issue. Battery life. Being that slim comes at a price and with heavy use it might not ever last you 'til teatime, let alone bedtime.
Sure, we're used to charging our phones throughout the day, but having to charge it multiple times seems excessive. Even when not using it, we noticed the battery drop significantly. On the flip side, it does support wireless charging.
We'd also like to see the iPhone jump to USB-C ports like the new iPads and MacBooks, but sadly that's still an update away.
IPhone SE (2020) verdict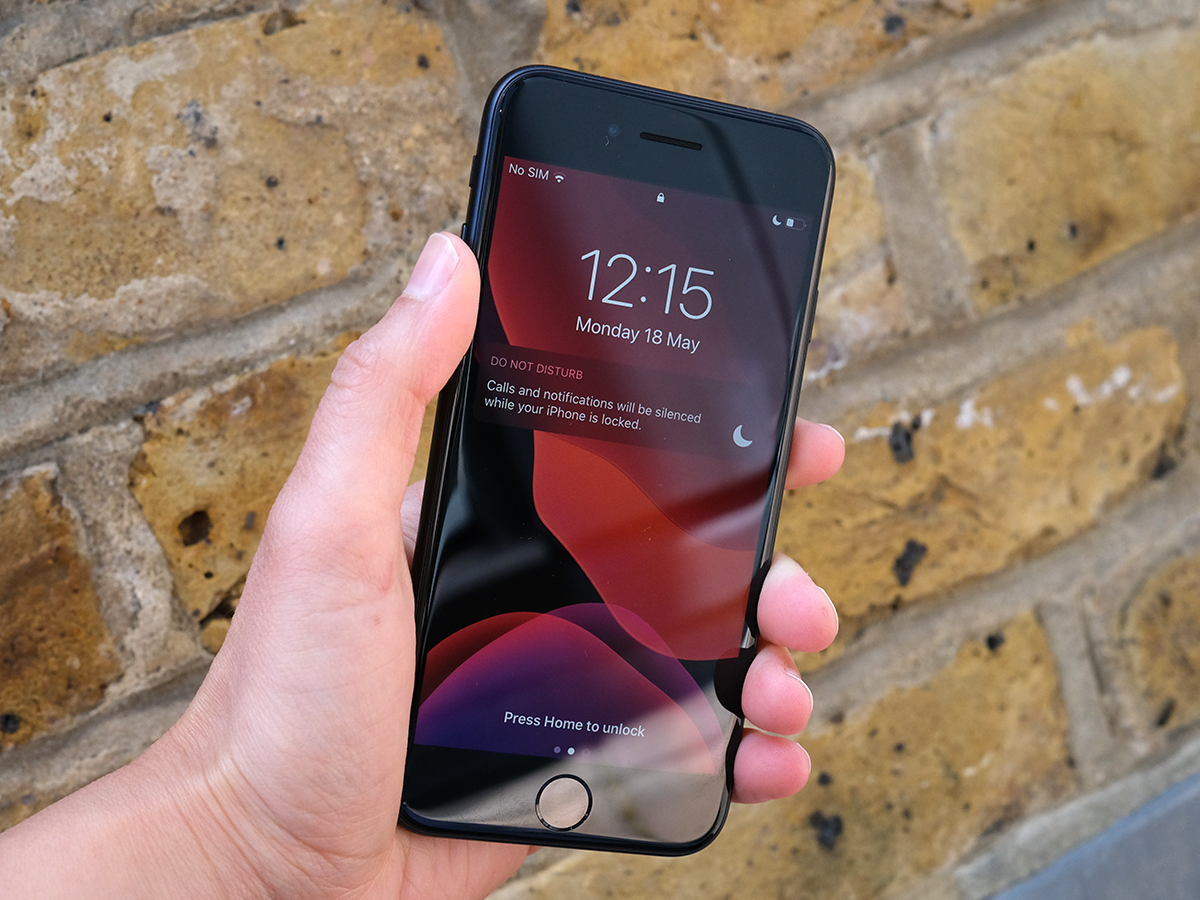 The iPhone SE is an accomplishment – a sub £500 iPhone with a superior brain.
It's incredibly compelling if you've been stuck with an iPhone 8 or anything earlier and don't wish to pay an arm and a leg.
We can forgive the camera downfalls, yet we can't ignore rival smartphone manufacturers like Oppo and Realme offering silly camera specs at similar prices. The lack of FaceID is no problem either. The mediocre screen is a surmountable. None of this gets in the way of function.
The one issue is the battery – it just doesn't provide enough juice and it certainly won't get better over time. It's workable if you're always in the office or at home (so all of you, for now) and are never without a charger. But what about those weekends away? And those times when you forget your portable charger?
This Apple is missing one big juicy bite.
Stuff Says…
A perfectly fine iPhone which lacks a few flagship features, with serious performance capacity slightly hindered by poor battery
Good Stuff
App store
Smooth operating
Bad Stuff
Battery life isn't great