Microsoft Xbox Wireless Headset review
Best on a budget?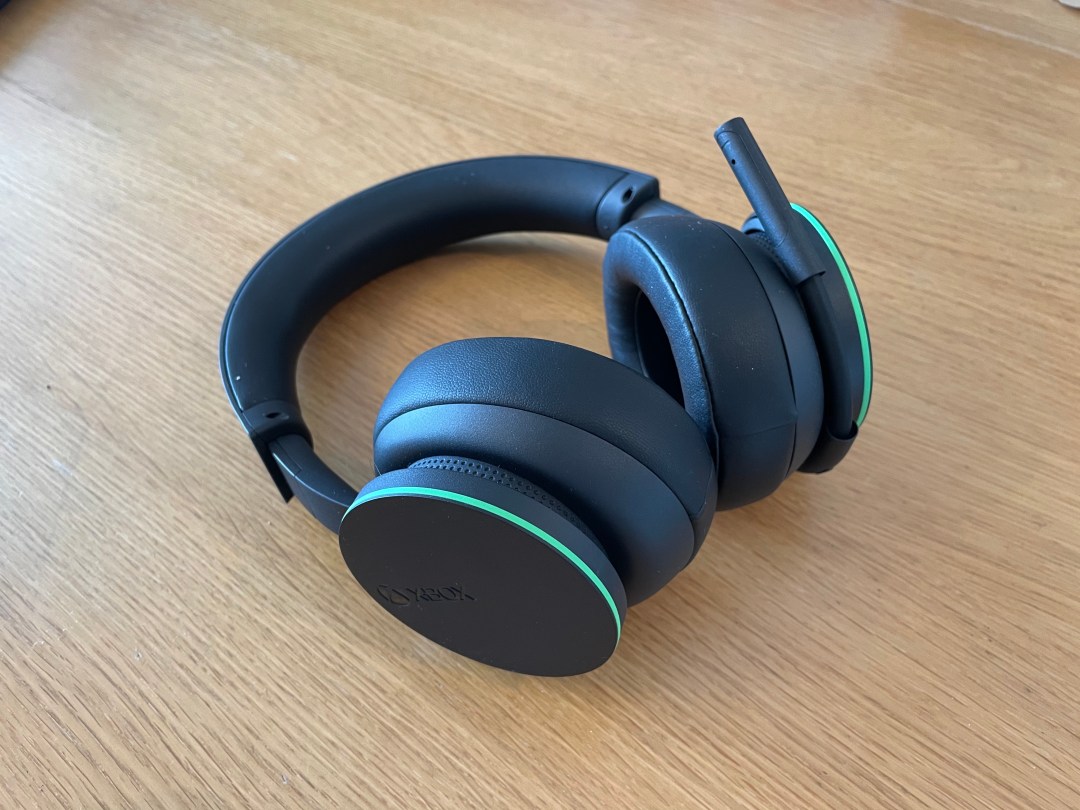 For all the futuristic ambitions of the Xbox One, Microsoft decided not to release a first-party wireless headset for the entirety of the console generation it belonged to, opting instead for a still decent but somewhat old-fashioned wired stereo headset.
It's not like Xbox gamers were short of third-party alternatives, but we did wonder when the Redmond giant would once again make one of its own (the Xbox 360 did have a wireless headset) , especially given everything it has learned from the Surface Headphones in the last few years.
Well, it turns out the time is now (or a few months ago), following the launch of the Xbox Series X and S at the back end of 2020. New generation, new Xbox Wireless Headset (though it works just fine with the Xbox One too), and spoiler alert: for £90 you'll struggle to find a more impressive gaming headset than this one, first-party or otherwise.
Design: surface appeal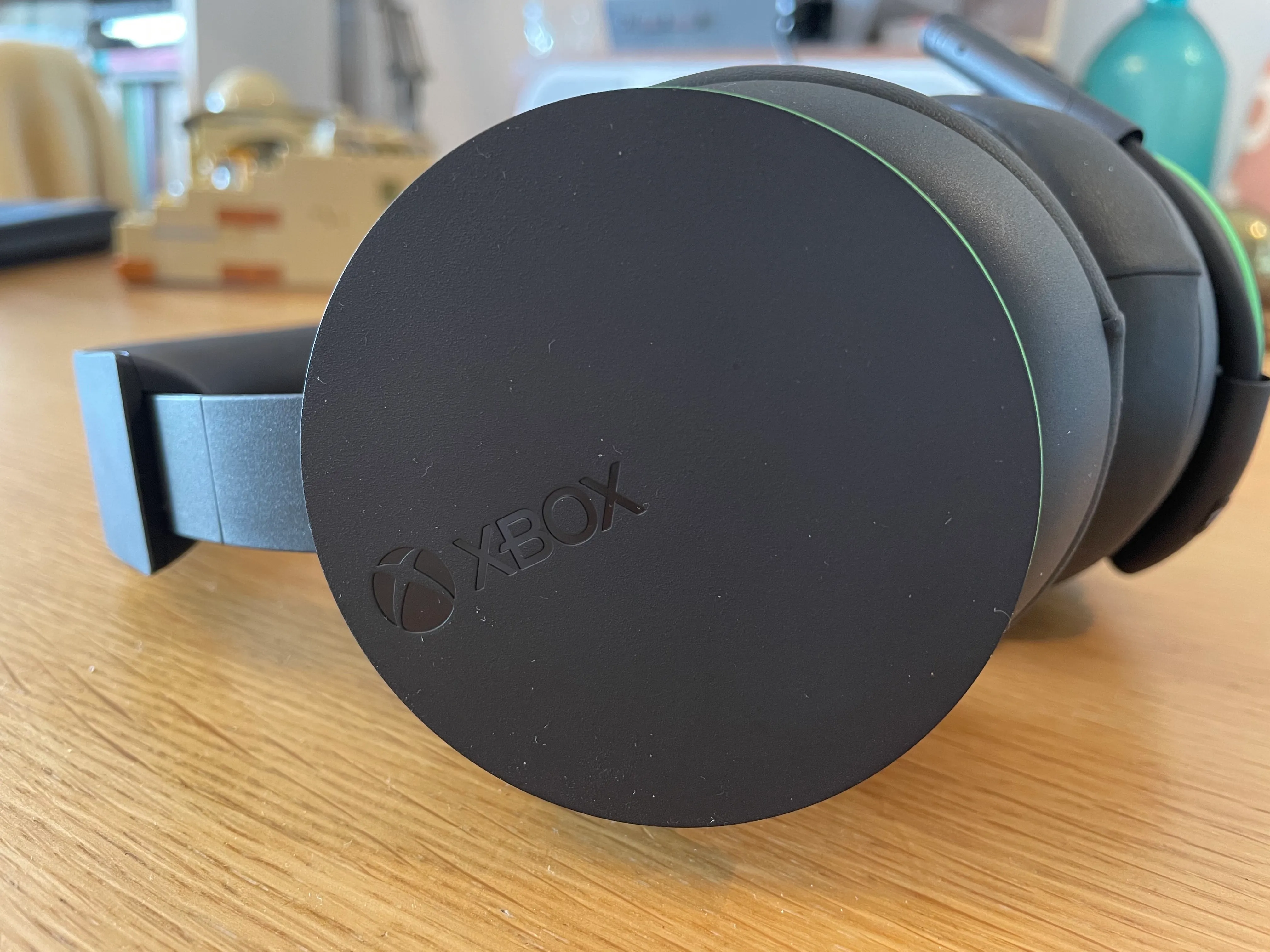 Gaming headsets are often busy-looking things decorated with lights, nobs and rarely attractive logos. Thankfully, Microsoft has decided to keep it simple with the Xbox Wireless Headset. The matte black plastic exterior is broken up only by some unmistakably Xbox green accents on each side, making it the perfect partner for the similarly un-shouty Xbox Series X.
An Xbox logo is subtly engraved on the faceplate of the right dial, which actually looks pretty great. And if you look closely between the sizeable faux leather ear pads and the dials, you'll see lines of little sunken holes, which don't appear to do anything but, again, look nice.
And let's talk about those dials, because they're up there with the new headset's best features. When you first inspect the Xbox Wireless Headset you'll notice that it's low on buttons. That's because Microsoft has attached a rotating dial to the side of each ear cup, which will be familiar to anyone who has used either iteration of the Surface Headphones. They work fantastically well, with the right dial allowing you to precisely adjust the volume, and the left your connected audio feeds (more on that in the next section). It's a really intuitive system that we're surprised hasn't been pinched yet by Microsoft's competitors in the general-use headphones space.
There are two buttons on the headset, which are your mic mute and power/pairing button, but otherwise everything you can control using the headset itself is done using the dials. Unlike the Surface Headphones, though, you won't find any touch-sensitive controls here, so there's no way of play/pausing music or skipping a track, or taking a call on the headset.
The Xbox Wireless Headset is more than comfortable enough, but your ears will definitely heat up under those cushions during longer gaming sessions. The steel headband doesn't feel heavy on your head (the whole thing weighs in at a relatively lightweight 312g), and while we'd prefer it if the ear cups swivelled like those of obvious rivals from the likes of SteelSeries, we reckon the headset will still fit most head shapes. The sidearms require a bit of effort to adjust too, so they won't do so while you're wearing them, which is good. The bendable boom arm is also well designed, allowing you to easily flick the mic away from your face and out of the way when not in use.
There's only one port, which is USB-C for charging, and no headphone jack.
Features: multi-love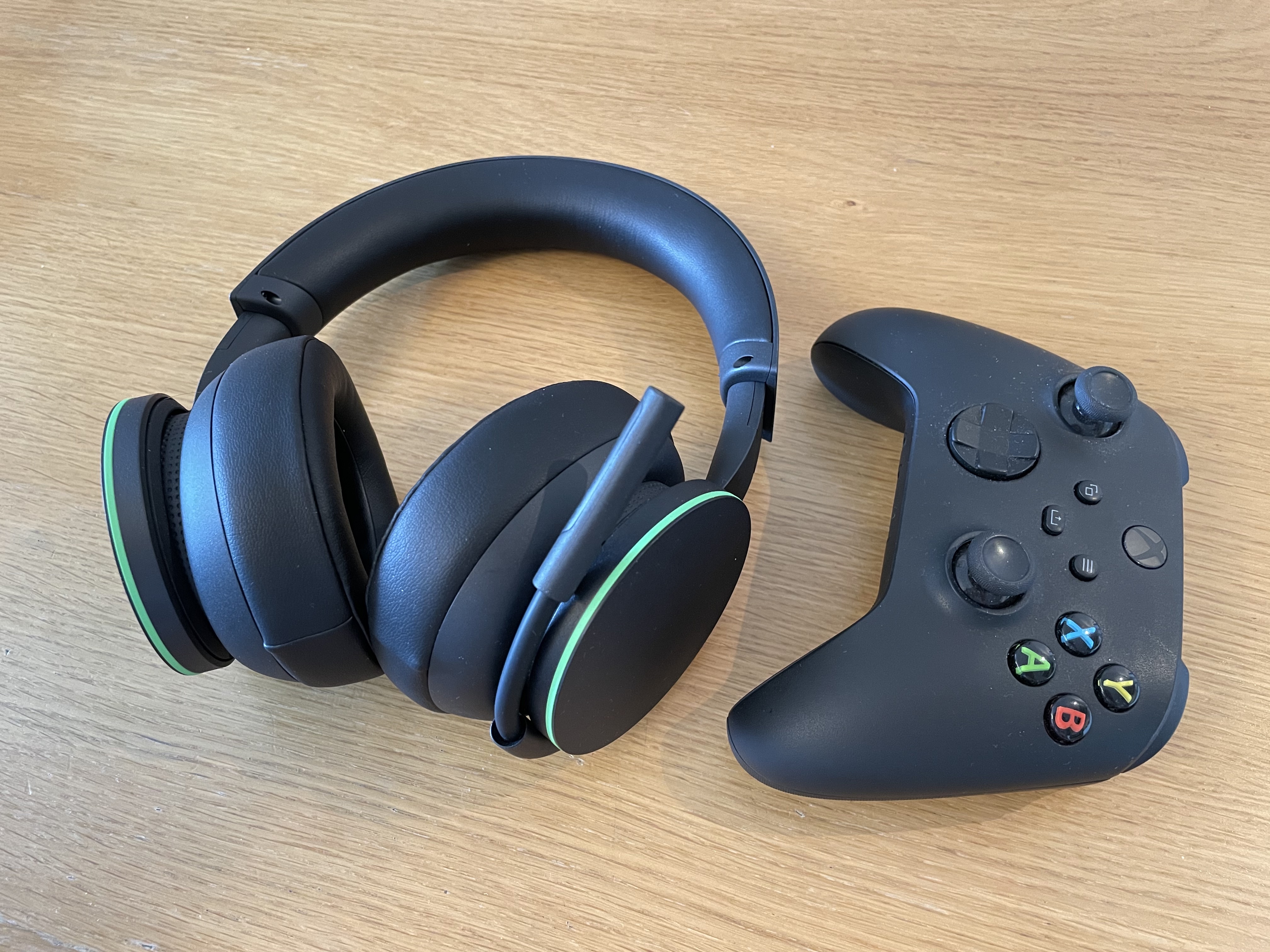 The Xbox Wireless Headset's other standout feature is its multipoint connection. The headset connects wirelessly and near instantly to your Xbox Series X|S or Xbox One via the brand's own wireless protocol (you simply hold the pairing button on your headset and then do the same on the console), but it's also Bluetooth 4.2-enabled, which allows you to have a simultaneous connection with your phone or tablet.
This makes it possible to listen to music or a podcast while you're whizzing around in Forza Horizon 4 without losing the in-game audio feed, or chat to friends on Discord while you play. You're able to adjust game audio and chat using the left dial, so it's very easy to fine-tune. This is hardly a revolutionary feature, but it's handled fantastically well here, and really impressive given the sub-£100 price tag.
Microsoft talked up surround sound gaming a fair bit in the leadup to the Xbox Series X's launch, so it's no surprise that the Xbox Wireless Headset supports a trio of spatial audio standards, including its own Windows Sonic tech, Dolby Atmos and DTS Headphone:X. For the latter two you'll need an app on your console and a running subscription, but there are free trials, and we can definitely appreciate the added immersion of Dolby Atmos-supported games like Ori and the Will of the Wisps and Gears 5, even if the sound placement is all happening virtually.
If you head to Xbox Accessories app on your Xbox or Windows 10 PC you'll find a multi-mode EQ with a bass boost function, although as we'll get to in a second, you probably won't need it.
The app also lets you adjust the sensitivity of an auto-mute function on the mic (you can just mute yourself with the button if you prefer), as well as the mute light's brightness and own voice monitoring.
One more thing to note: when paired with your Xbox and within range, the headset will turn the console on when you power it up, which can be more than a bit annoying when you're not planning to play it. At the time of writing, we're yet to work out whether this can be disabled.
Performance and battery life: playing with your noise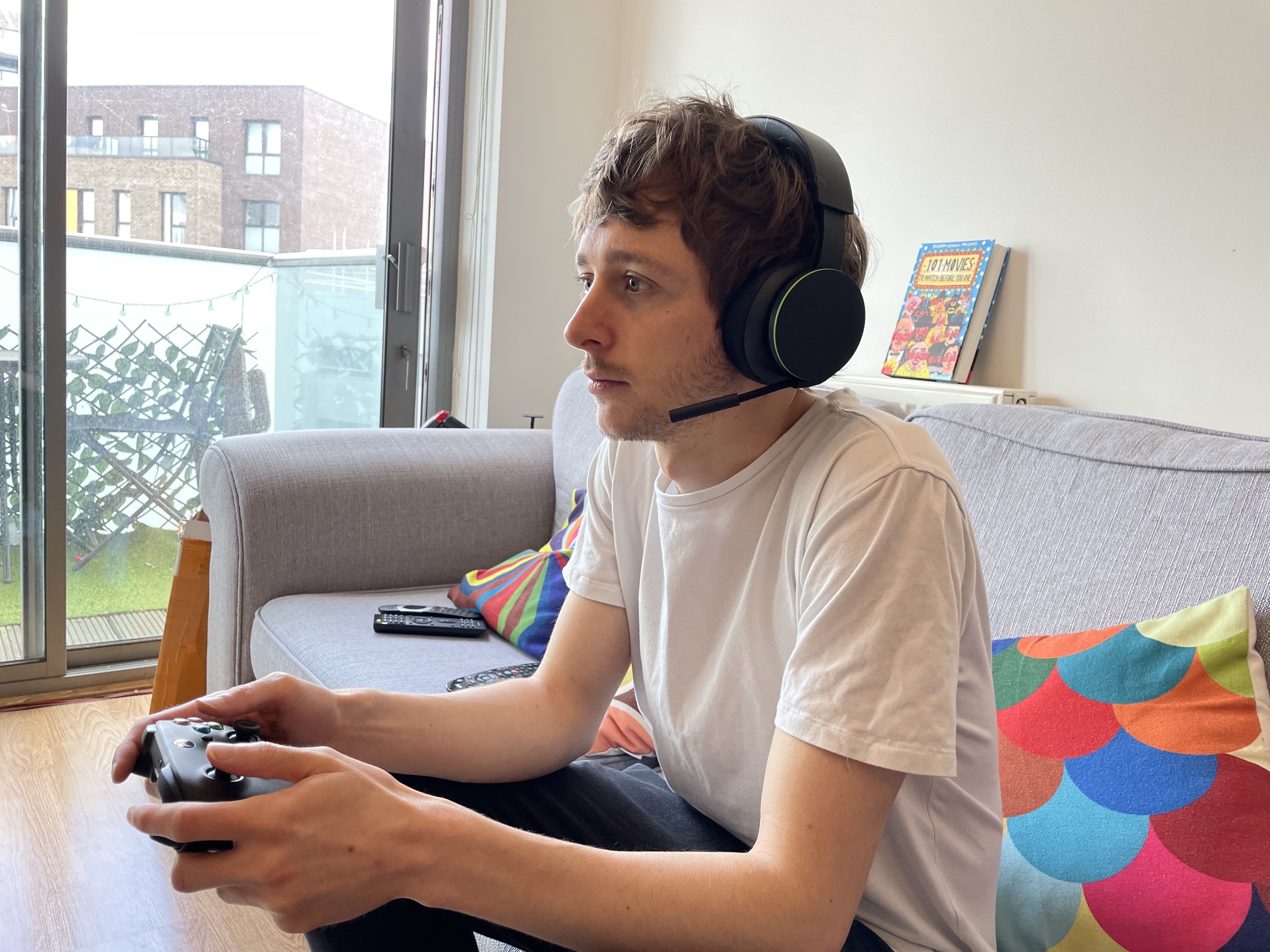 For £90, you'd be forgiven for expecting the Xbox Wireless Headset to underwhelm on the audio front, but you might be surprised at just how much thump the 40mm drivers in this thing are packing. The low end really punches, which is great in action-heavy games, even if we find the bass a bit too thick to really enjoy music away from gaming. Switching to the 'Music' setting in the app seems to provide a bit more balance as you move up the frequency range.
As mentioned previously, spatial audio is a mixed bag and you'll need to do a bit of hopping between the supported standards to find out what works best for you, but in a game like Forza Horizon 4, virtual surround sound really does enhance the experience, as it does in shooters like Warzone, where being able to place footsteps amid all the gunfire and explosions is quite handy.
There's no noise-cancelling tech on board, but the headset does a pretty good job of blocking out external sounds, so it's not a major issue. The microphone is also a pretty good performer, and it's good that you can customise the reactiveness of the auto-mute feature.
Battery life is rated up to 15 hours on a full charge, which seems accurate. If you do happen to spend half a day caning Halo and want to get back at it ASAP, you can get four hours of battery back with a 30-minute charge, with a full charge asking for about three hours plugged in.
Microsoft Xbox Wireless Headset verdict
We've had to wait a while for an official wireless headset from Xbox, but it was well worth it. Great-looking, decent-sounding and rammed with features, for 90 quid the Xbox Wireless Headset is very difficult to knock.
It's definitely for Xbox and PC players only, and while you absolutely can use it in place of headphones for day-to-day listening, we probably wouldn't. It's naturally tuned for gaming and you'll probably find yourself wishing for a multifunction button of some sort. There's no case either, which suggests that Microsoft expects you to keep the headset in the house.
But if you've just splurged a load of cash on an Xbox Series X and like the sound of keeping the accompanying headset outlay below three figures, look no further than the Xbox Wireless Headset.
Stuff Says…
A first-party gaming headset done right
Good Stuff
Clean, minimalist design
Simultaneous connection to Xbox and a Bluetooth device
Spatial audio widely supported
Excellent dial controls
Bad Stuff
No headphone jack
No playback controls on the headset