The Rolls-Royce Amethyst Droptail features a unique dashboard watch built by Vacheron Constantin
Equipped with a bi-axial tourbillon and double retrograde display, housed securely in the dashboard
Imagine having so much money you can get whatever you want. Now imagine you really like cars and watches. Of course what you really want is a unique Vacheron Constantin timepiece built into the dashboard of your coachbuilt Rolls-Royce.
Vacheron Constantin has developed this single-edition Les Cabinotiers Armillary Tourbillon timepiece. It's intended to perfectly complement the Rolls-Royce Amethyst Droptail. The watch was included at the request of a very lucky client who collects both luxury cars and fine watches.
The dash itself is finished in Calamander Light open-pore wood veneer, and the watch is housed within a fully integrated, yet removable, holder. This piece was created by Vacheron Constantin's Les Cabinotiers department – which specialises in crafting bespoke timepieces.
The timepiece is equipped with the Calibre 1990. That's a hand-wound in-house complication movement with a bi-retrograde display and instantaneous return of the hours and minutes. It's designed to be reminiscent of traditional motor car speedometers featuring sweep hands. This display makes room for the armillary tourbillon. This evokes the interlocking circles and armillas (graduated metal discs) of the famous scientific instrument modelling the celestial sphere.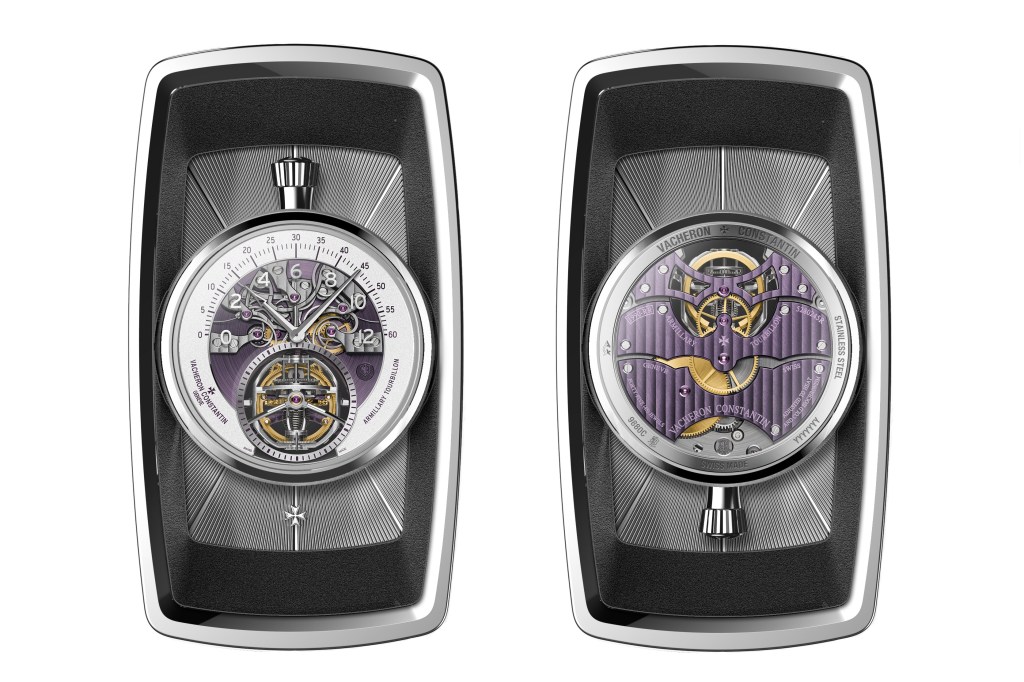 This is one of the rare occasions a tourbillon is actually fully justified, as the watch will spend most of its time in a vertical position on the car dashboard (and the tourbillon compensates for the effects of gravity).
The sapphire dial of the timepiece reveals the full beauty of Calibre 1990, including a mainplate featuring a mauve- coloured NAC galvanic coating with a circular satin finish – an original shade matching the hue of the Rolls-Royce Amethyst Droptail's leather seats.
Patent heavy
Rolls filed four patents for the technical innovations featured in Calibre 1990. First, there is the instantaneous retrograde system, the patented titanium escapement collet, the architecture of the tourbillon carriages, and the diamond-coated silicon pallet lever, which offers greater resistance to wear and an optimised friction coefficient.
The crown has been deliberately oversized to make winding easier and ensure a 58-hour power reserve. Positioned at 12 o'clock, it is reminiscent of vintage hand-wound chronometers, just as the minutes track recalls traditional speedometers.
The two luxury houses worked closely together to ensure a seamless integration of the timepiece into the Rolls-Royce Amethyst Droptail's fascia panel. The idea was that the shapes, materials and colours of the timepiece were in perfect harmony with its environment.