Motorola Xoom 2 and Xoom 2 Media Edition arrive
Moto's outed the Xoom's successor with an entertainment-friendly sibling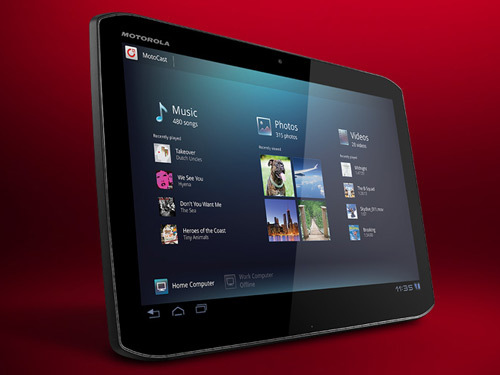 Motorola has announced the Xoom 2 and Xoom 2 Media Edition, hot on the tails of the RAZR's launch, and we're going hands-on today at Moto's secret briefing. Until then, here's the specs for the latest shiny Android tabs.
The 10.1in Xoom 2 is running Android Honeycomb – no Ice Cream Sandwich just yet – and packs a 1.2GHz dual-core processor with HD display. There's 1GB of RAM, 16GB storage and a pair of snappers – 5MP on the rear with LED flash and 1.3MP up front. Weighing in at 558g, Moto's flattened the corners to make it easier to hold and is serving up the tab with Wi-Fi for now.
The Xoom 2 Media Edition is a smaller beast but just as powerful. With its 8.2in display and weighing just 386g, Moto reckons you'll be able to use it with one hand on the move – and buy your train tickets (or scoff a donut) with the other. Also coming with Wi-Fi, the Xoom 2 Media Edition totes the same dual-core processor, two cameras and Honeycomb OS. Where it differs is the addition of 'virtual surround sound' to get that bass down, improved graphics for gaming and a wide, 178-degree viewing angle.
Both tablets will be available as soon as mid-November but we don't know prices yet. Before you smash your piggy bank, look out for our hands-on photos and verdict later today.
You may also like
Motorola Xoom 2 hands on review
Motorola Xoom 2 Media Edition hands on review
Stuff Gadget Awards 2011 winners announced
Sony Ericsson Xperia Studio launches
Sky Movies companion app announced