LG G8 ThinQ preview: Everything we know so far
UPDATED: The new OLED screen will vibrate for an audio boost
It's been a good few years since LG had a flagship in the spotlight. The G5's modular accessories were a misfire, the G6's bezel-trimmed approach was outclassed by the Galaxy S8, and the notched LG G7 ThinQ just didn't stand apart from the crowd.
What about the LG G8 ThinQ, then? LG has already confirmed the device, and while a first glance at leaked and concept renders (based on current leaks) suggest an incredibly familiar-looking device, rumours point to a pretty big twist that might help LG combat the coming tide of foldable phones.
Will the G8 ThinQ restore the LG flagship brand? Here's everything we've heard so far about what could be LG's most compelling handset in years.
(Above leaked render via Evan Blass)
When will the LG G8 ThinQ be out?
LG had a history of announcing its new flagship at Mobile World Congress, but last year opted to hold tight on the LG G7 ThinQ and hit late spring instead. Not this year!
Confirming previous reports, LG has confirmed that the LG G8 ThinQ will debut at Mobile World Congress in late February. Prior to the announcement, LG has sent an invite to publications with the above YouTube video, which hints at potential interface changes for the device in question. It's not specifically identified as the G8, but that's what everyone expects.
Fact or fiction?
It's official: we'll see the LG G8 ThinQ at MWC 2019 later this month.
How much will the LG G8 ThinQ cost?

The LG G7 smartly undercut a lot of the flagship competition with its £599 price, but we're not sure that LG will go that route again. In fact, one purported leak suggests that the LG G8 could aim a fair bit higher on the price scale.
A Reddit user shared what's claimed to be an image of a retail inventory system from a Canadian store, and it shows an £1,199 CAD price tag. That equates to about £699, but a straight conversion seems unlikely if true. In fact, the CAD price comes to about US$900, and given that we'd expect a UK price more in the £800-900 range. LG's recent V-series phones have been $900 in the US, so that kind of pricing window certainly isn't out of the question.
Note that the image above suggests 128GB for the model, and it's unknown whether that's planned to be the base storage or a step above. If it's the latter, then the base price could ultimately be more palatable.
Fact or fiction?
Given the rumoured and confirmed upgrades in the mix, the LG G8 ThinQ might be able to justify a higher price… but it may also make it more difficult for LG to compete with this spring's other incoming flagships.
What will the LG G8 ThinQ look like?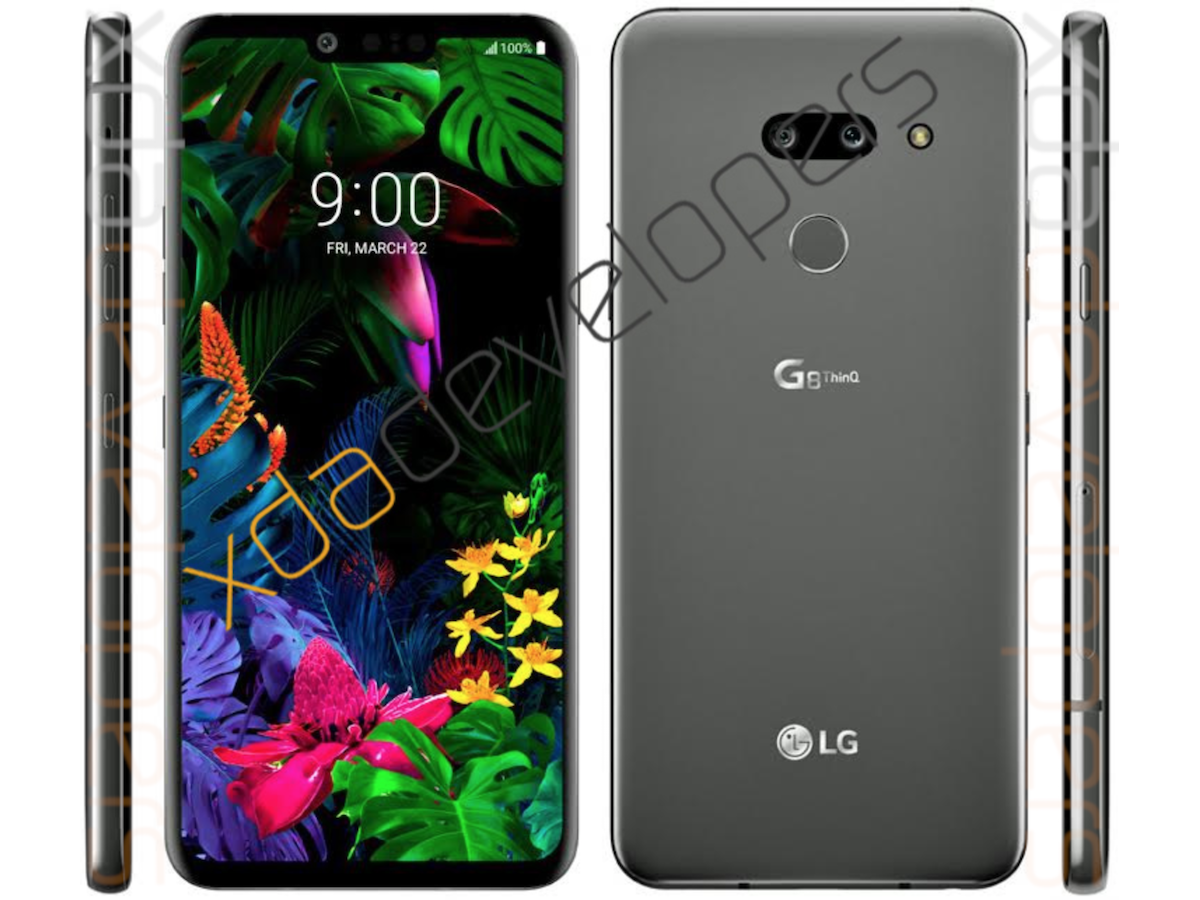 What you're seeing above is a purported leaked press render of the LG G8 ThinQ via XDA Developers. It pretty closely matches earlier leak-inspired concept renders developed by prominent leaker OnLeaks and shared via 91Mobiles (below).
And it's nearly identical to the LG G7 ThinQ, aside from the camera setup on the back. No, that's not terribly exciting.
But there's something we're not seeing here: CNET reports that LG will release a second screen case attachment, allowing you to open up the case and effectively double the size of the display. It's like a foldable phone that can also be… well, fully normal. How that will work and how much it'll cost remain to be seen, but it certainly is a unique premise.
A little further below, you'll see a matching render from Evan Blass that also shows the top and bottom of the frame.
Fact or fiction?
If true, sticking with last year's core design is a bit boring – but we need to see how the reported second-screen attachment looks.
What about the LG G8 ThinQ's screen?
While the premise of a second-screen attachment is still just a rumour, we do know a few key details from an official LG press release – and they are very compelling.
Unlike the LCD-packing LG G7 ThinQ, the G8 will officially use an OLED display; so we ought to get deeper blacks and excellent contrast. The panel has a neat trick, too: the phone uses the display as a diaphragm and sends vibrations along it to create sound.
It's called a Crystal Sound OLED, and it's said to create serious volume and enhance clarity. You can also get two-channel stereo output using the dedicated bottom speaker and the top of the display. That's clever.
Fact or fiction
We don't know the size yet, but bumping up to OLED sounds great – and this OLED could literally sound great, as well, thanks to LG's unique audio tech.
How much power will the LG G8 ThinQ pack?
An LG flagship launching in 2019? Yeah, that almost certainly means the new Qualcomm Snapdragon 855 will be in tow.
The latest top-end Snapdragon will soon be rolling out in an array of new handsets, and promises more speed and A.I.-crunching capabilities than before. With Android 9.0 undoubtedly onboard, it's sure to be a super-fast smartphone.
The LG G7 ThinQ was fairly adequate with battery life thanks to its modest 3,000mAh cell, but it sounds like LG has a bit more in store for the G8 ThinQ. Mobielkopen shows a battery pack from Brazil's Anatel certification, and it notes a 3,400mAh capacity. That won't put it near the top of the flagship pack, but it ought to provide a couple of extra hours of daily uptime.
Fact or fiction?
Leaks suggest that the Snapdragon 855 won't top benchmark leaderboards, but it ought to be plenty capable all the same.
What kind of cameras will LG G8 ThinQ have?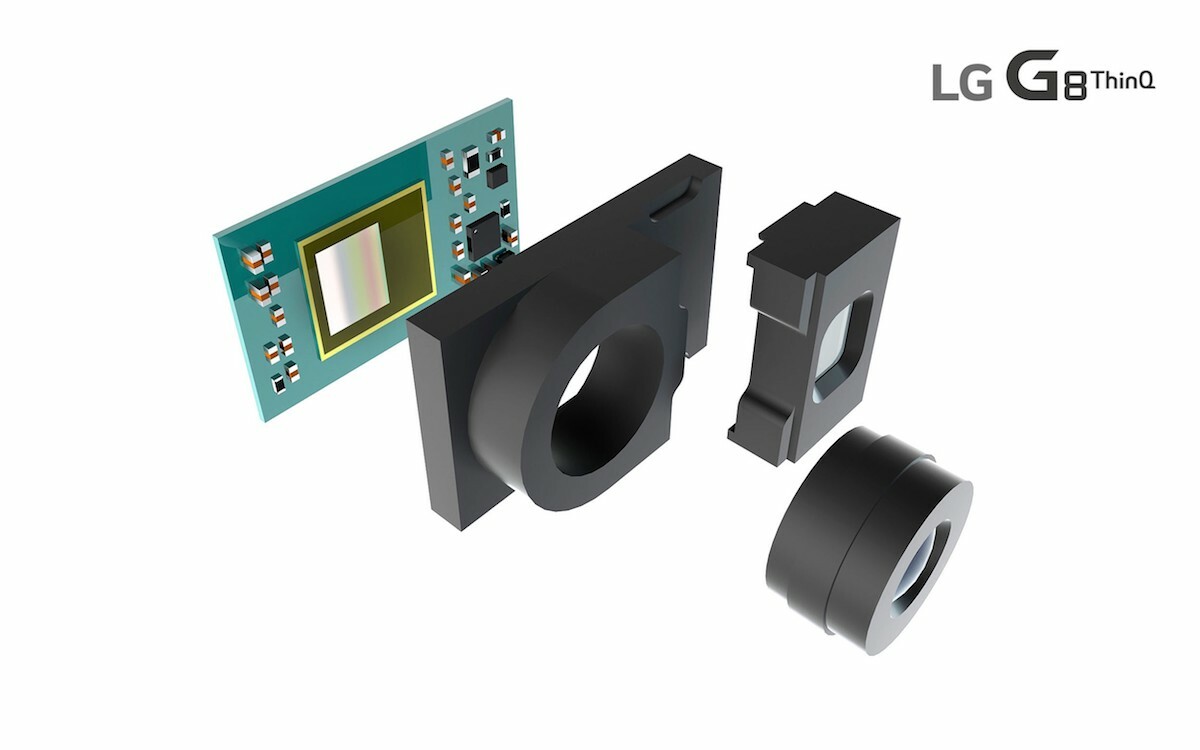 What kind isn't yet clear, but how many… well, we might know that and it's frankly a bit of a surprise. The OnLeaks renders point to two back cameras. Last year's LG G7 had three on the back.
Scaling back always seems like a no-no in a market defined by incremental upgrades, plus flagship makers are expected to add more cameras this year rather than pull back. Could it be a cost-cutting measure to trim the price tag, or might there be multiple models?
LG has announced that a 3D time-of-flight camera from Infineon "will play a key role in the front-facing camera of the LG G8 ThinQ." The time-of-flight system measures infrared light as it bounces off of the subject, providing accurate depth measurements. It's likely to be the backbone of a Face ID-like facial security system on the G8 ThinQ.
Fact or fiction?
We'd be surprised to see LG cut back on this year's flagship specs without a pretty compelling reason.
Is there anything else I should know about the LG G8 ThinQ?
5G will be one of the biggest things in the smartphone world this year, but not on the LG G8 ThinQ. ETNews suggests that LG will reveal its first 5G-capable handset separately, however we've also seen rumours that suggest an MWC reveal for it.
The LG G8 ThinQ will undoubtedly run Android 9 Pie, but LG's MWC invite tease (video up top) suggests some kind of gesture-based interface that doesn't require you to actually touch the phone. We imagine touch controls will still be used for most everyday tasks, but we're curious to see what kind of innovation LG is teasing here.
Note also that the leaked Blass renders above show a 3.5mm headphone port, so it looks like dongle-haters will be in the clear with the G8 ThinQ.
And beyond the audio that emanates through the vibrating OLED display, the LG G8 ThinQ will also offer DTS:X 3D Surround Sound for emulated 7.1 surround sound with or without headphones, plus the handset has Hi-Fi Quad DAC, Master Quality Authenticated (MQA) support, and the same kind of cool Boombox Speaker design as the G7 ThinQ.
Fact or fiction?
Based on the current leaks, the most interesting part of the LG G8 ThinQ equation sounds like the secondary screen attachment… which we haven't seen yet. But the leaks are sure to keep coming, so stay tuned for more.