HP's first smartwatch offers more style than an Apple Watch
The MB Chronowig is compatible with both iOS and Android devices and goes on sale this Friday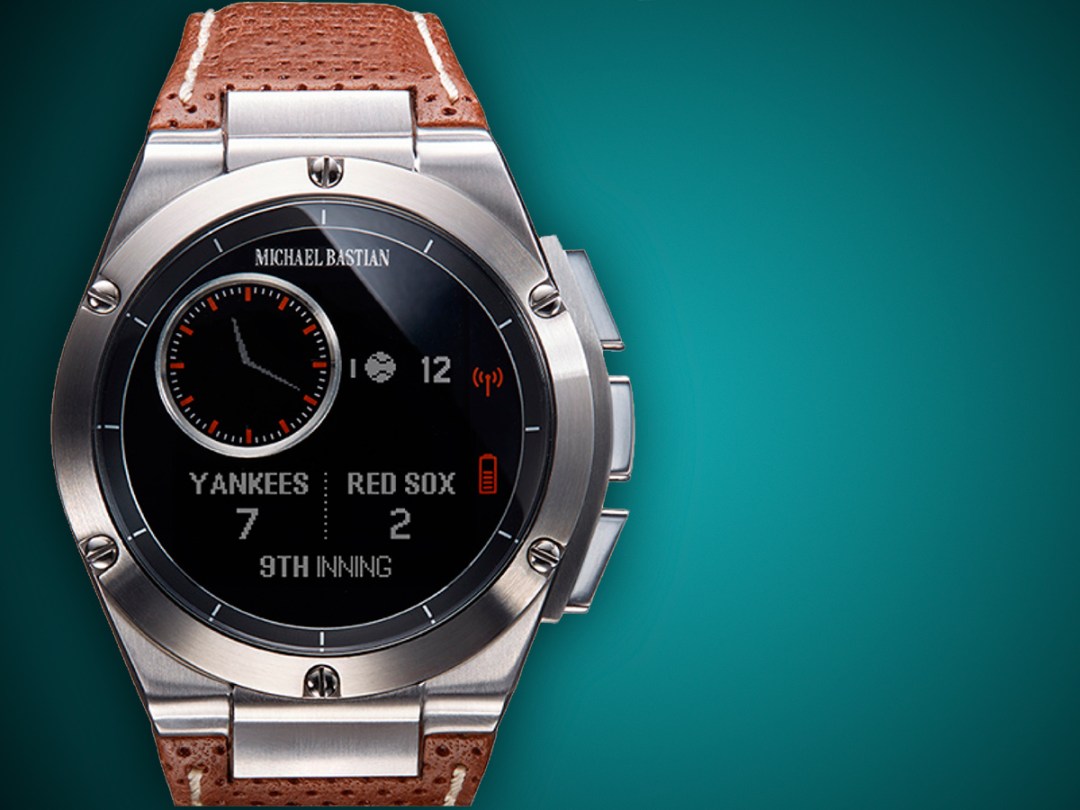 HP may be best known for its printers and chunky-but-reliable laptops, but its first smartwatch is among the most stylish we've clapped eyes on.
The company has teamed-up with Gilt Group designer Michael Bastian to produce the just-announced MB Chronowig, which will go on sale from 7 November.
There are plenty of good and a few bad bits to the HP MB Chronowig: let's start with the good. 
The good bits
First, it looks like a normal watch, not a proof of concept no-one short of a lover of the socks-and-sandals combo would wear. "I wanted to create a wearable device that looked like a cool watch, first and foremost," says designer Bastian.

Mission accomplished, although the MB Chronowig is clearly a pretty male-centric design; all you'll see on its website are moody-looking blokes with designer stubble.

Next up on the list of pros, the watch lasts for up to seven days off a charge. Take that Apple Watch, which reportedly only lasts for one full day before needing a top-up.

The MB Chronowig is designed to work with plenty of devices too – it's compatible with iPhones from the iPhone 4S up and Androids running Android 4.3 and newer.

As well as looking like a normal watch, the Chronowig should also feel like one: it uses normal watch-style straps in leather, nylon or rubber, and from the pics we've seen it doesn't look to be any thicker than some metal wrist-burdens that don't offer any phone smarts at all.

After all the fuss about whether the iPhone 6 would get a Sapphire glass display, you may also be interested to know that the HP watch has a Sapphire Crystal top plate: it's harder than nails. Unless those nails are made of diamonds.
The Bad (but certainly not ugly)
So what's the catch? Well, the MB Chronowig is smart, but not that smart.

It doesn't run Android Wear or another known operating system, but instead seems to offer fairly basic smart features that all take place using Bluetooth. The front's not even a touchscreen – can a smartwatch already be retro?

You get email alerts, calendar notifications and can control music from the watch. But you're not going to be playing games, measuring your heart rate or tracking your runs. There are 10 smart features in total, just a fraction of what's possible with most other smartwatches. Simple is the order of the day.

It does have a share tracker function, though, which seems apt because this watch does not come cheap. It's expected to cost between US$350 and US$650.

And making a UK conversion is a bit pointless when, with just 300 MB Chronowig watches being made, they may not be too easy to get hold of anyway. Still, check out the Gilt website from November 7 if you fancy a particularly pricey stop-gap until the Apple Watch turns up next year.
READ MORE: Hands on with the Apple Watch