First purported photo of the HTC One M10 leaks
Reliable leaker shares an image of a very iPhone-looking handset
Last week, we heard a small treasure trove of leaked possible details about the HTC One M10 – codenamed "Perfume," reportedly – from frequent leaker Evan Blass (@evleaks), who teased that it would be a very iPhone-like device.
Now we have a photo, it appears, and well… the man wasn't lying. Embedded in full below (left), the photo again comes from Blass, who tweeted it with a link to his VentureBeat report from last week about the device. At a glance, it's much akin to last year's HTC One A9 (below right), which is probably the most iPhone-esque Android phone on the market right now.
As the photo shows, the familiar HTC logo is apparently nixed from the front, along with front-facing speakers. Instead, we get a physical home button that doubles as a fingerprint sensor, and up top is a large phone receiver opening alongside a front-facing camera. The volume rocker and textured power button, meanwhile, are found on the right side of the phone.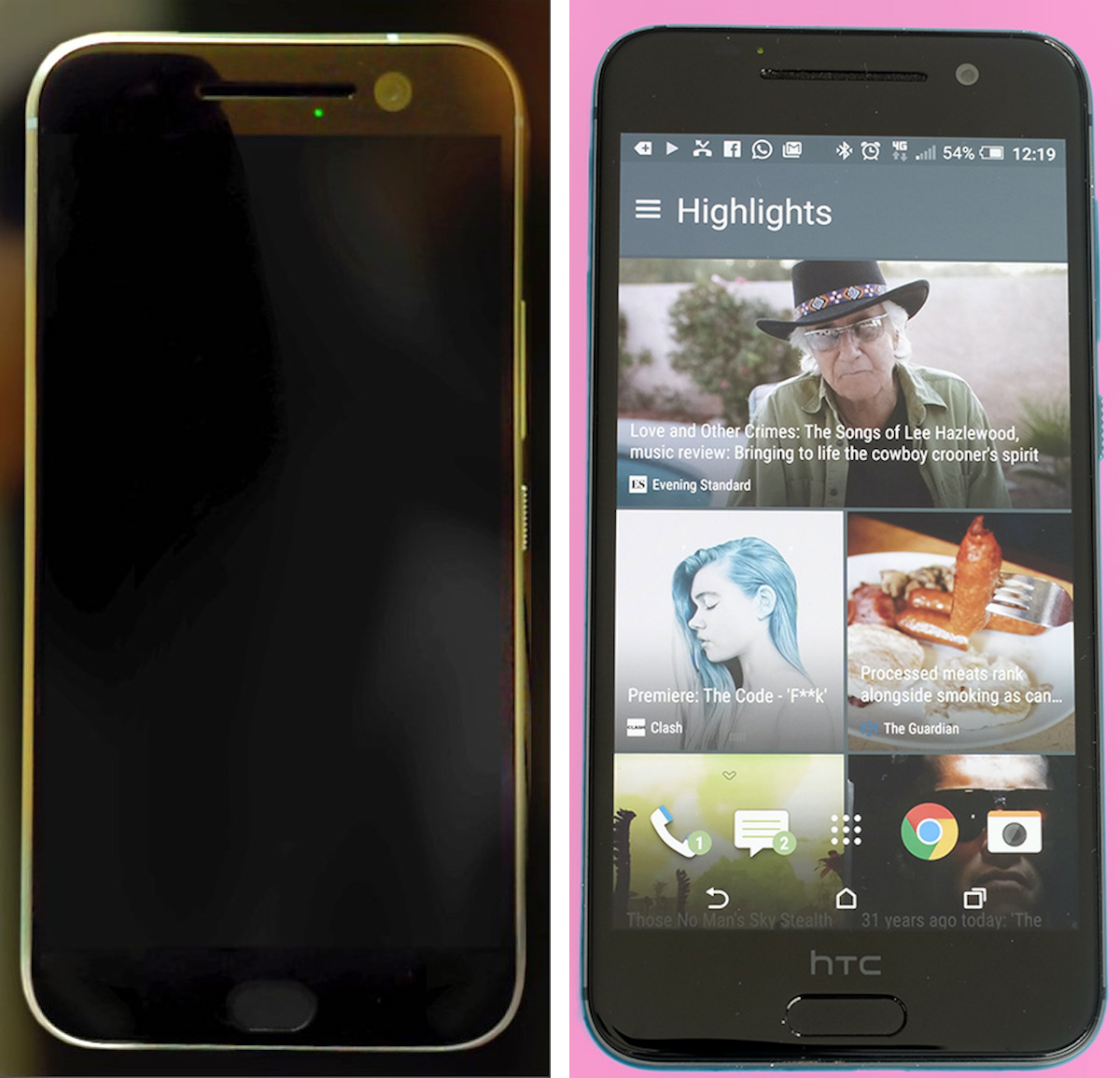 It's very similar to the One A9 from this angle, although the home button is a slightly different shape and the HTC logo is missing, although that means the HTC One M10 will lose the distinctive look of its predecessors if this is legitimate. That's disappointing, given the great praise given to the build of the HTC One (M8) in particular, although considering HTC's continuing losses, the ongoing Apple homage isn't so surprising.
Last week's report suggested the One M10 will have a Quad HD (1440×2560) 5.1in AMOLED display, putting it on par with the Samsung Galaxy S6, and pack a Snapdragon 820 chip with 4GB RAM. Expect 32GB internal storage (it's unclear if larger capacities will be available as well) with a microSD slot available, and reportedly a 12-UltraPixel back camera rather than the 20-megapixel offering on the One M9.
According to last week's report, we won't see HTC try to fight it out for supremacy at Mobile World Congress 2016 in a couple weeks. Samsung's Galaxy S7 and LG's G5 are both expected to debut on 21 February, but HTC may hold off and stage its own standalone event to showcase its next big handset. If Blass' latest leak is correct, this ought to be the phone we see whenever HTC is ready to share it.
[Source: @evleaks]