25 most iconic guitars ever
Six-strings don't get more recognisable than these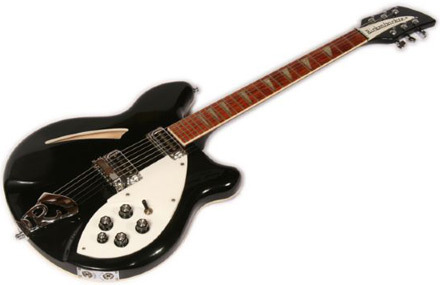 Design icons, or made iconic by the history of rock? Either way, this is the definitive list of classic guitar design.
Gibson Les Paul Standard (1958)
If there's one guitar that can claim as fine a pedigree as Fender's Strat, it's the Les Paul. There was no ergonomic styling here – just a gorgeous solid-body design. As Jimmy Page and Slash will both attest, it's best played at knee level with the bridge humbucker feeding into a wall of Marshall amps.
The player
Although he's often associated with his double-necked Gibson SG, Jimmy Page lorded over the Les Paul like few others. Sometimes with a violin bow.
Steinberger L-Series (1980)
Originally designed as a lightweight bass guitar, the Steinberger's headless design – along with the keytar – was rocking the '80s zeitgeist and a six-string was quick to follow. It appeared everywhere for a decade, then disappeared. Probably because of the elusive double ball-end strings that were a chore to hunt down.
The player
Everyone had one in the 80s. That was the rules. We've gone for chameleonic strummer David Bowie. Just because of the matching '80s fringe.
Fender Telecaster (1949)
Initially launched as the Broadcaster, the Tele has barely evolved since Leo Fender bolted the first neck on. It's been tweaked and tuned – not to mention sprayed with all number of unbecoming paint jobs – but the original's classic look and tone still rule.
The player
Who says girls can't rock? Chrissie Hynde of The Pretenders may not have made her fingers bleed, but she had a Telecaster and buckets of attitude.
National Style O (1930)
Not content with inventing the resonator guitar, which housed an amplifying cone in its body, National went on to create the Style O, fashioned from "German silver" (actually white brass) and emblazoned with a Hawaiian scene. Son House played a Style O at times, but everyone knows it from the cover of Dire Straits' 1985 Brothers In Arms CD.
The player
Better known for playing Strats, Dire Straits frontman Mark Knopfler made the Style-O famous with that album cover. But he'd already rekindled its famous tone with the fingerpicked intro to Romeo and Juliet.
Rickenbacker 360 (1958)
Instantly recognisable by its singular, straight-cut modern f-hole and oversized headstock, the Ricky was the backbone of jangly '60s pop. It was among the first electric guitars to get a 12-string edition, the 360/12.
The player
In the 1960s, everyone had a Ricky. Not all of them did as well as George Harrison, guitarist to a well-known four piece from Liverpool.
Kramer Frankenstrat (1983)
Like many guitarists, Eddie Van Halen made his own axe. He wanted the comfort and lightness of a Strat, with the ballsy tone and high output of Gibson's humbucker pickups. The distinctive paint job was also Eddie's own and, while many companies have since replicated it, Kramer was first to do so with EVH's blessing.
The player
Eddie Van Halen double-handedly tapped his way to greatness on his own garage-built axe, but he's the only person we can rightly attribute with the success of the Frankenstrat.
Gibson Flying V Robot (2007)
We'll get flack for not including the original 1958 Flying V Hendrix rocked the Isle of Wight with (and also for snubbing the SG), but Gibson's self-tuning Robot series (which also includes the SG, Les Paul and Explorer) deserves a mention. And it in no way detracts from the V's totally impractical, space-age form.
The player
Few players used a V as their regular guitar, but almost every guitarist with rock blood coursing through his veins had one. Marc Bolan's sold for over £50,000.
Ovation Balladeer (1966)
Developed by a helicopter rotor engineer, the research that went into the roundback design of the Ovation Balladeer probably cost more than the R&D costs of every other guitar on this list. Not very rock 'n' roll, perhaps, but it's still a massively desirable guitar.
The player
The word fusion might bring you out in a rash, but Al Di Meola's best work is seminal. A Friday Night in San Francisco with John McLaughlin and Paco de Lucia is a good place to start.
Vox Phantom (1962)
Like the Flying V, the Phantom presented problems to guitarists who wanted to sit down. But that didn't stop its pentagonal oddness appealing to (usually) fringe band stringsmen who couldn't look anything as mundane as a Les Paul in the face.
The player
Joy Division's Ian Curtis was a singer, really, but when he decided to get his own guitar, he invested in a Phantom Special IV. Sensible fellow…
Ibanez Jem 777 (1987)
Co-designed by nutty shredder Steve Vai, the original Jem had a distinctive carry handle and came in acid green, lemon yellow or hot pink with pink pick-ups. Later editions offered further touches, such as a flouro-puke explosion finish and a seventh string.
The player
Steve Vai, the wizard of weird, was weaned in Frank Zappa's band. Which explains a lot.
Gibson ES-335 (1958)
The 335's plummy yet cutting tone quickly established it as an essential weapon in the jobbing bluesman's arsenal. Freddie King made his scream, while BB King is still coaxing licks from the world's most famous 335, "Lucille". The double f-holes come as standard, but go for block inlays over the cheaper "Dot" design on the neck.
The player
He names all his guitars Lucille. He wrote a song called Lucille and put it on an album called Lucille. Ladies and gentlemen, BB King.
BC Rich Mockingbird (1976)
Sharply angular axes like the Bich and Warlock might define BC Rich's catalogue more effectively than the earlier and more fluid Mockingbird, but the latter laid the road for a more adventurous future and you have to suspect it'll be treated more kindly by the history books.
The player
He's better known for hanging a Les Paul between his knees, but if you want to see some properly self-indulgent soloing, search YouTube for 'Slash jamming on a BC Rich Mockingbird'. Rork, etc.
Martin D-28 (1934)
CF Martin & Co established the dreadnought shape and cemented its place at the top of the mainstream acoustic food chain. There are too many intricacies to pick a single guitar from Martin's history, but when Elvis played his last Vegas gig, he packed a D-28. Enough said.
The player
Elvis got us all shook up with his outrageous dance moves and loping southern vowels. And guitarists should claim him for one of their own at any opportunity.
Danelectro DC (1959)
Danelectro made guitars for US department store Sears, one of the reasons so many kids had one when they turned up on stage at their local bar. Luckily, they also looked cool, thanks to a design borrowed wholesale from 1950s carmakers. The chromed "lipstick" pickups are still the highlight.
The player
When a young man called Jerry Garcia got his first guitar, it was a Danelectro. Little did he know he'd lead The Grateful Dead to hippie stardom and inspire a flavour of ice cream.
Fender Stratocaster (1954)
Hendrix set fire to it, Clapton bought six at once and Pink Floyd's Dave Gilmour owns serial number #0001, but the world's most copied guitar transcends all these (and many more) Strat facts. The headstock has morphed over the years and it gained a five-way pick-up switch in 1977, but the essence – and that timeless dual-horn design – remains unchanged.
The player
Believe it or not, the Strat wasn't always a fashionable axe. Thanks to Jimi Hendrix that will never be the case again. 'Scuse us while we kiss this guy.
Gretsch 6120 Chet Atkins (1954)
Gretsch had a solid catalogue that included the Duo Jet, Country Club and White Falcon. But it was Chet Atkins' signature that got its guitars to sell, not least to Duane Eddy. For best effect, combine it with a Bigsby trem and some tasty country chicken-picked licks.
The player
"I'm confessin' that I never took a lesson, all my notes are a matter of guessin'." Don't believe a word Chet Atkins says.
Dobro (1928)
There's a habit of calling all resonator guitars Dobros, even though National came first. But it was the Dobro that cracked amplification with a single cone, making it cheaper. Since musicians rarely come into contact with large sums of money, that was enough to cement its reputation.
The player
Ry Cooder used a Dobro to cut through the stomp on Taj Mahal's eponymous second album. He also nicked that solo on Statesboro Blues straight off Elmore James. Tsk…
Parker Fly (1993)
If practicality was paramount, the Parker Fly would top this list. It can switch from regular magnetic electric guitar pick-ups to a bridge mounted piezo acoustic pick-up, theoretically doing away with the need for a seperate acoustic instrument. The reality's a bit more prosaic, but the Parker's bold angler horn design still makes it a contender.
The player
There wasn't much of a fight for the top spot here. King Crimson's Adrian Belew is the only guitarist of note to regularly finger a Parker Fly as far as we know.
G&L Broadcaster (1985)
Another Telecaster? Nope – but not a Broadcaster, either. This picture's actually a G&L Asat, but it isn't easy to find a Broadcaster. Only 869 were ever made and they were individually signed (under the neck joint) by Leo Fender. After that, they became Asats, which aren't nearly as cool. If you find a Broadcaster, let us know…
The player
Are you joking – didn't we just say they were as rare as hen's teeth?
Guild BM01 (1993)
Brian May built his own guitar, but the design was licensed by Guild who produced a bad copy (the BHM1), followed by a decent replica of the Queen riffer's axe – this one. You'll have to call the Royal Mint if you want to emulate his sixpence plectrum tone, mind.
The player
Poodle-haired stargazer Brian May, of course. He might spend his days peering down a telescope now, but he could shred all over a groove in his day. And play the national anthem from the roof of Buck House.
Stella (from 1899)
The Stella was designed to be one thing above all else: cheap. As a result it was a hit with poor black musicians living in the American Deep South. You know, the guys who invented the blues. Robert Johnson and Leadbelly both played a Stella. And you don't get better references than that.
The player
While it's hard to imagine Leadbelly's massive hands leaving the tiny Stella intact, it was perfectly suited to Robert Johnson's wiry fingers.
Gibson Explorer (1958)
When the Explorer first hit the market it was a flop. The body shape might have been too edgy for the nascent rock scene of the '50s, but it later gained cult status, notably in the hands of ZZ Top's Billy Gibbons. That headstock would become a staple of thrash metal guitar design when it was nicked wholesale by Jackson.
The player
U2's The Edge played one, but this guitar was designed for real rock. Enter Billy Gibbons of ZZ Top with a particularly tasteful custom finish.
Music Man Silhouette (1986)
There's a reason for the Silhouette's name; it stood firmly in the shadow of its Leo Fender-designed big brother. The Music Man Stingray bass it was modelled on pioneered the three-plus-one headstock design (which became four-plus-two on the Silhouette) and lent the six-string its soft, beguiling curves.
The player
Bearing in mind it took all its good looks from a bass, we're going to cheat and give the honours to a bassist. Drawn from a hat. Er, Flea. OK, we're done here.
Fender Jaguar (1962)
Although Dick "king of the surf guitar" Dale played a Strat, most surf musicians went for the Jaguar's kooky asymmetrical design and floating tremolo. That trem also graced the Jazzmaster and Mustang, but only the Jag had a "strangle switch" for surf's warbling treble notes. There was also a '90s indie revival.
The player
So he lied about not having a gun, but when Nirvana's Kurt Cobain belted out Smells Like Teen Spirit on his Jag, it was textbook grunge riffage.
Burns Marvin (1963)
He may not be cool now, but Hank Marvin was a rock god before anyone had thought there might be deity in pop music. Accordingly, Burns produced a guitar for him, and persuaded the Shadows' axeman to put aside his Strat. Proudly British, very cool, and the guitar wasn't bad looking, either.
The player
No awards for guessing that this goes to the Shads stringman, Hank Marvin.
More gadget lists
Movie lists
5 of the best future sports movies
Gaming lists
25 best PlayStation games ever