Smartphone supertest: Samsung Galaxy S7 Edge vs LG G5 vs iPhone 6s vs HTC 10
This year's four most important flagship phones go head-to-head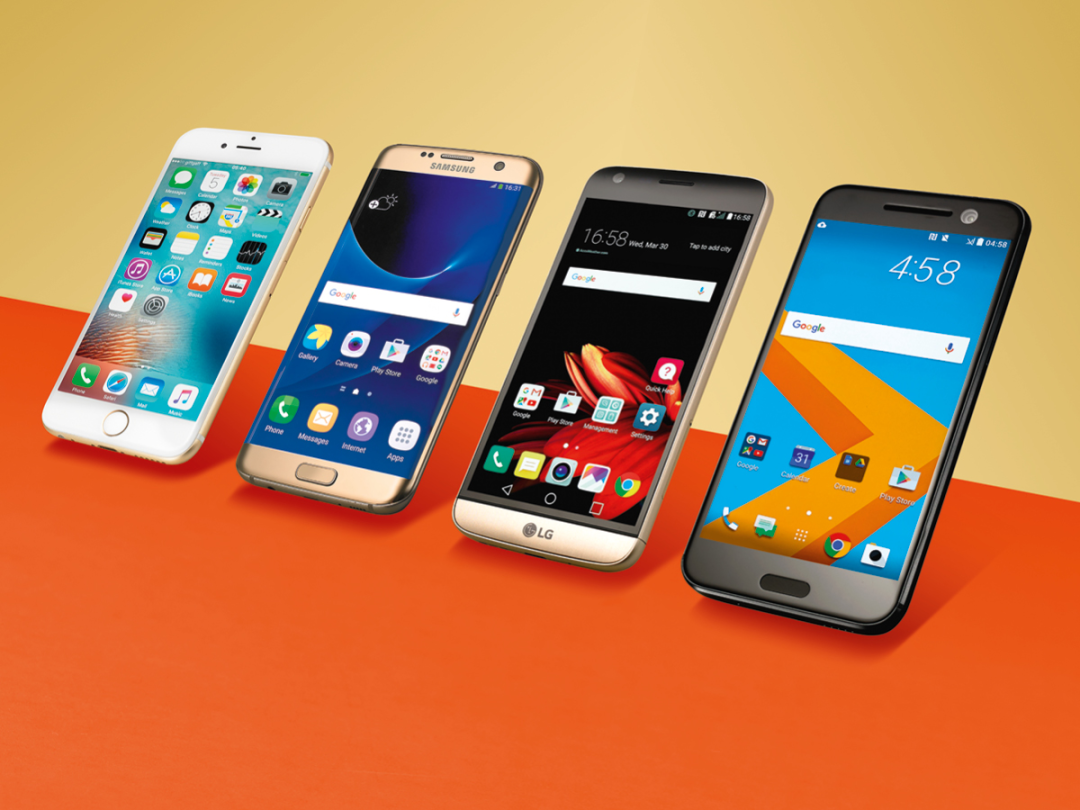 Bad news, dear reader. There's never been a better time to buy a smartphone. Honestly, it's a total nightmare.
Not for you, of course. For you, choosing between the flagships from Apple, Samsung, LG and HTC is easy. You can walk into any phone shop and stride out with the best handset you've ever owned.
Spare a thought for your Stuff reviews team, though. Thanks to the LG G5, HTC 10, Samsung S7 Edge and iPhone 6s, we've got it bad. That's because we can't just tell you all these phones are fantastic and be done with it. Oh no, we've got to let you know which one is the best. The undisputed champ. The one you've got to live with for the next two years. Thanks to an abundance of infuriating excellence, that task is tougher than ever before.
There's the iPhone 6s, which is like iPhone 6, but better. In such a tight contest, will 3D Touch, a faster processor and an improved camera be enough to seal it for Apple's bestseller? Or there's the Samsung Galaxy S7 Edge. Our Gadget of the Year for 2015 now has waterproofing and microSD storage. Plus, it zips along like a supercar.
Or perhaps we'll prefer the LG G5: the smartphone, reinvented. LG's latest is modular, so you can swap out its parts for customisable add-ons. Nifty, right? Finally there's the HTC 10, which is a bit like the M9, but without a rubbish camera. HTC needs the 10 to be a hit, so it's rebuilt its predecessor from the ground up without any Fancy Dan extras.
Which one to go for? The struggle is real, but don't worry – we've got you covered with this dedicated flagship supertest.
LG G5 (£500)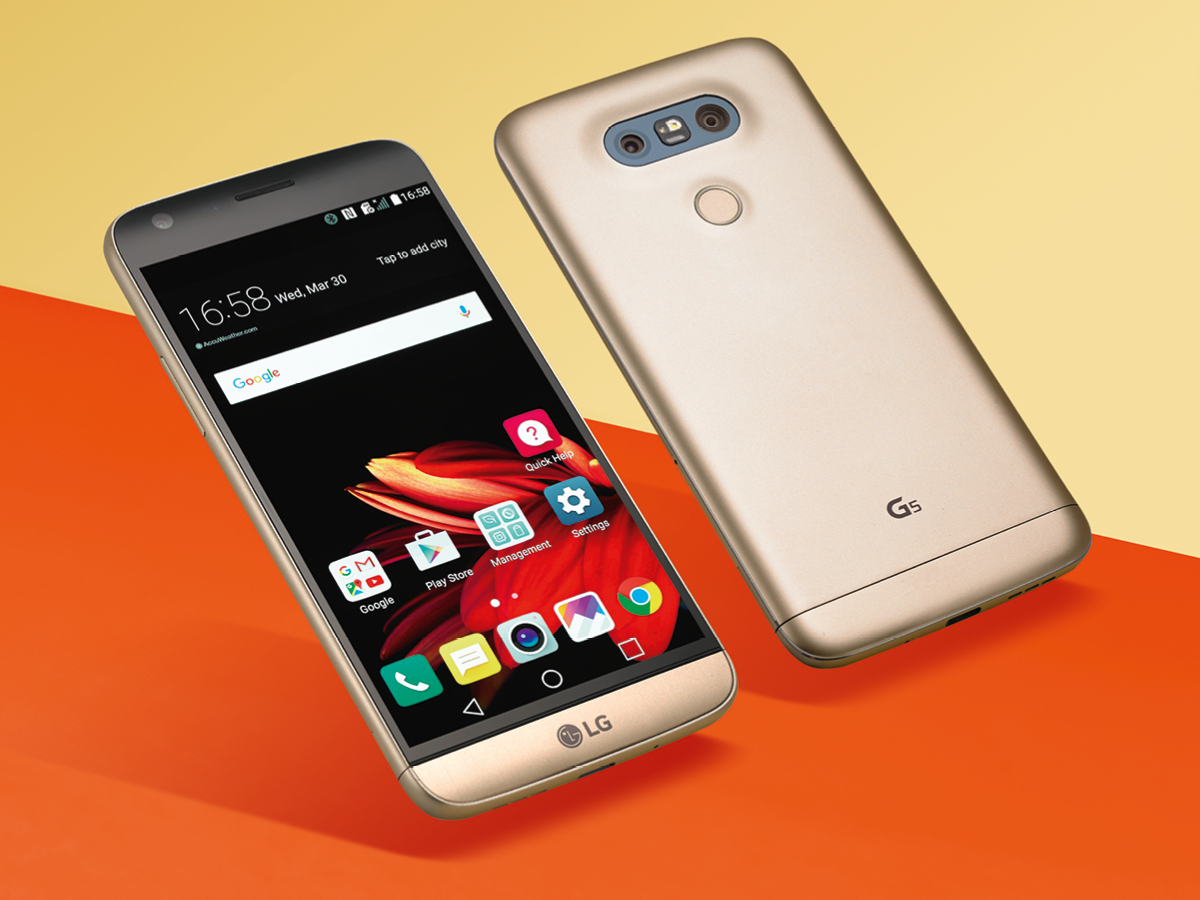 Think all smartphones are the same? LG's G5 takes that idea and obliterates it, like the Death Star annihilated Alderaan. Granted, the G5 does look like most smartphones with its lush QHD screen, metal unibody and rear fingerprint scanner. Only a new dual-lens camera gives away the fact that this handset is a bit special.
Why? It's modular. Press a button on the G5's bottom corner and its rump mechanically detaches. Then just plug a new module in its place to give the G5 greater battery life, physical camera controls, even better audio. And that's just the start of this revolution. LG has opened up the G5's modular design to other manufacturers. They're free to take the concept and run with it. Make no mistake, this is thoroughly exciting stuff…but you'd probably like to know about how this phone performs in the here and now.
Thankfully, the G5 doesn't shirk its fundamentals. Its Snapdragon 820 processor is wickedly quick when multitasking and doesn't succumb to overheating either. There's also an absence of bloat chomping up this LG's 32GB storage, while battery life is good enough to see you through a full day of strenuous use. There's no waterproofing, though, and you'll often find yourself squinting at its dim always-on LCD display. Nevertheless, these quibbles don't dampen the thrill of holding the future in your hands.
Design – 8/10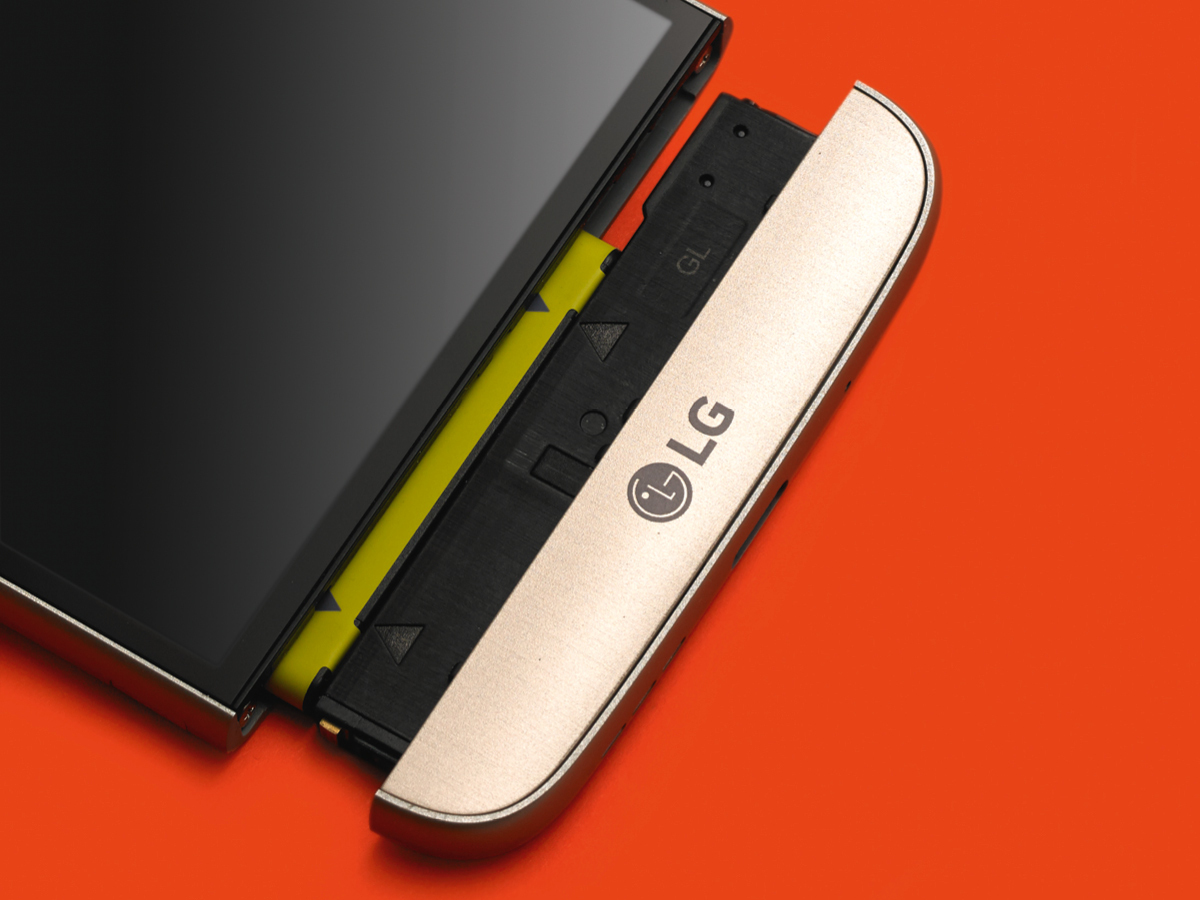 Despite its modular smarts, the LG G5 isn't all that attractive. It's yet another all-metal handset in a world that's already flooded with such phones. And although its 5.3in screen is smaller than the S7 Edge's, this phone is actually chunkier than Samsung's effort. If you've ever set eyes on Google's humongous Nexus 6P, then that's the kind of heft you're dealing with. That said, the G5's modular ethos does absolve a lot of these sins and swapping between the add-ons themselves is simply done in the space of 30 seconds.
Display 8/10
You may quibble with its design, but the LG G5's display is downright pristine. Daredevil looks suitably vicious, with flecks of rain and fire leaping out from Hell's Kitchen, while footage from Barcelona's tonking of Arsenal looks equally brutal. Elsewhere, text is crystal clear and easy to read.
Camera 9/10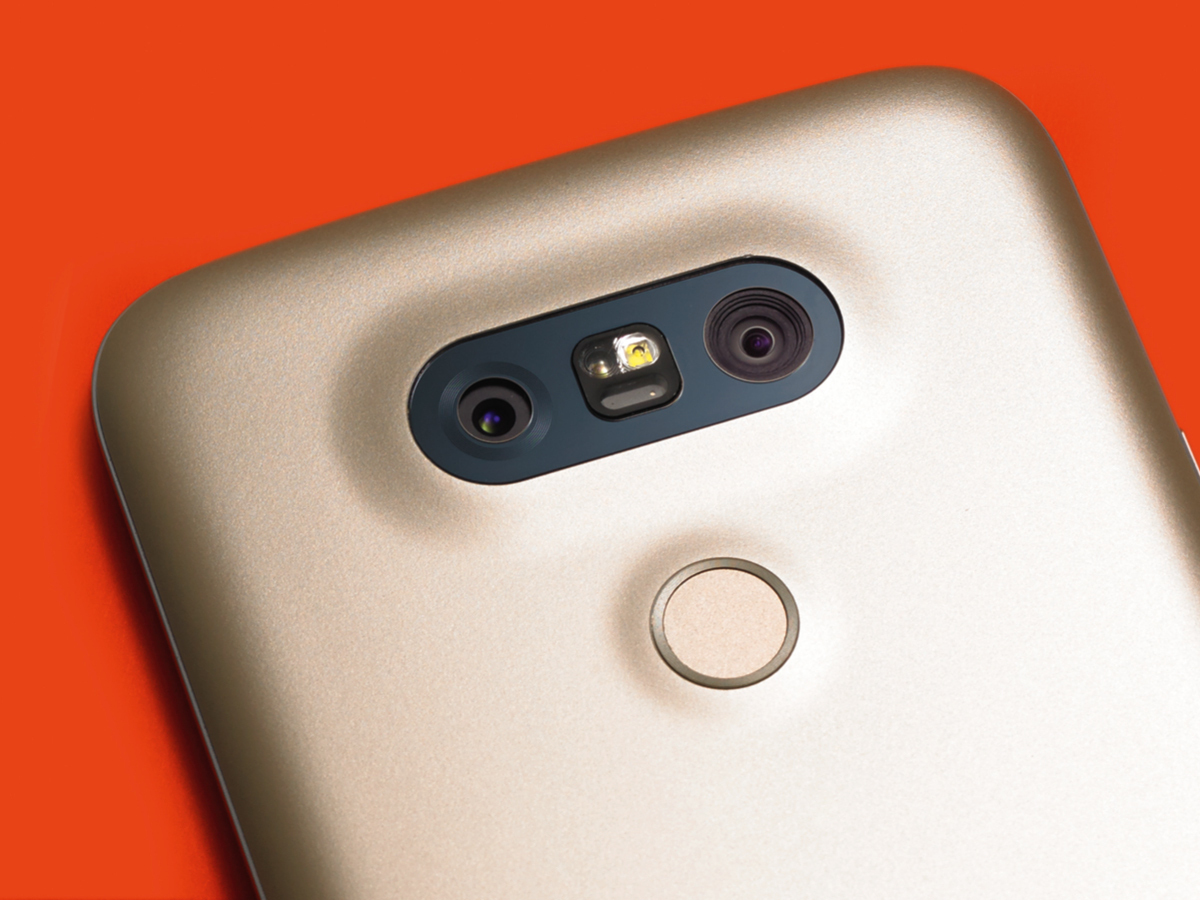 Much like Apple's rumoured iPhone 7, the LG G5 features a dual-lens camera that can take 16MP standard photos and 8MP wide-angle shots. Whether you want to capture a big group snap or plenty of scenery, it's a handy bit of tech. In fact, that second lens has a whopping 135° field of view. As for the snaps themselves? They're bright and full of detail. If there's a trade-off to the G5's pictorial trickery, it's that sweeping daytime shots have been prioritised over low-light imagery. At night, photos tend to take on a washed-out hue, while there's noticeably more graininess in shots than those taken on the S7 Edge.
OS and apps 7/10
LG's take on Android Marshmallow is hardly inspiring. In fact, with no apps drawer menu it can grate – especially when swiping through home screens to find a download. That said, the overall OS experience is slick and user-friendly. And you can always jazz it up with by downloading a third-party skin.
STUFF SAYS: ✭✭✭✭✭
The LG G5 is a fantastic and unique smartphone. And it only gets better once you stick a module in it.
Read our in-depth LG G5 review
Samsung Galaxy S7 Edge (£640)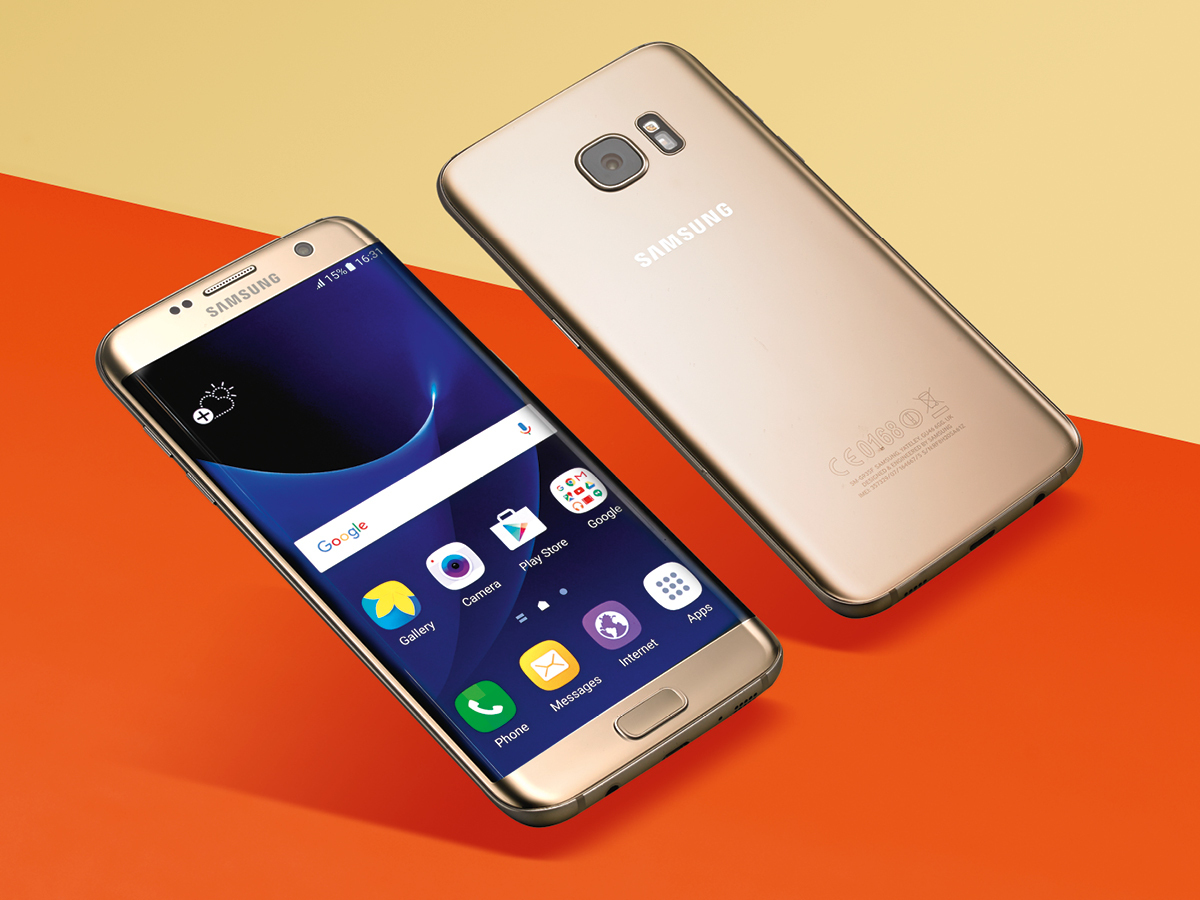 The Galaxy S7 Edge is a gloriously vain smartphone. Costing around £100 more on contract than the already splendid Galaxy S7, it gives you a bigger, curved-edge 5.5in screen… and that's about it. But if you have the spare cash to hand, then this is undoubtedly the S7 you should be getting.
That extra-spacious display is a dream when it comes to skimming through Facebook and it's even better for video. Netflix and YouTube clips come to life with vibrant colours and sumptuous flecks of detail. Despite its phablet-sized design, the S7 Edge never feels uncomfortable to hold. A curved back makes it easy to grasp this phone, so you'll rarely worry about it slipping out of your fingers.
Granted, Samsung's Edge apps haven't improved much since the S6 Edge. Swipe at the side of the screen and you'll be greeted with an array of widgets listing stuff like your favourite contacts, apps and weather. One of them is a compass, which pretty much sums up their usefulness.
In truth, the Edge's greatest attribute is that it just looks good. Really good. In a Stuff staff poll to choose 2016's most dapper smartphone, the S7 Edge won by a landslide. And with the return of IP68-certified water-resistance and microSD support, as found on the old Galaxy S5, this phone ain't just a pretty face. Simply put, the S7 Edge is a phenomenal all-rounder.
Design 10/10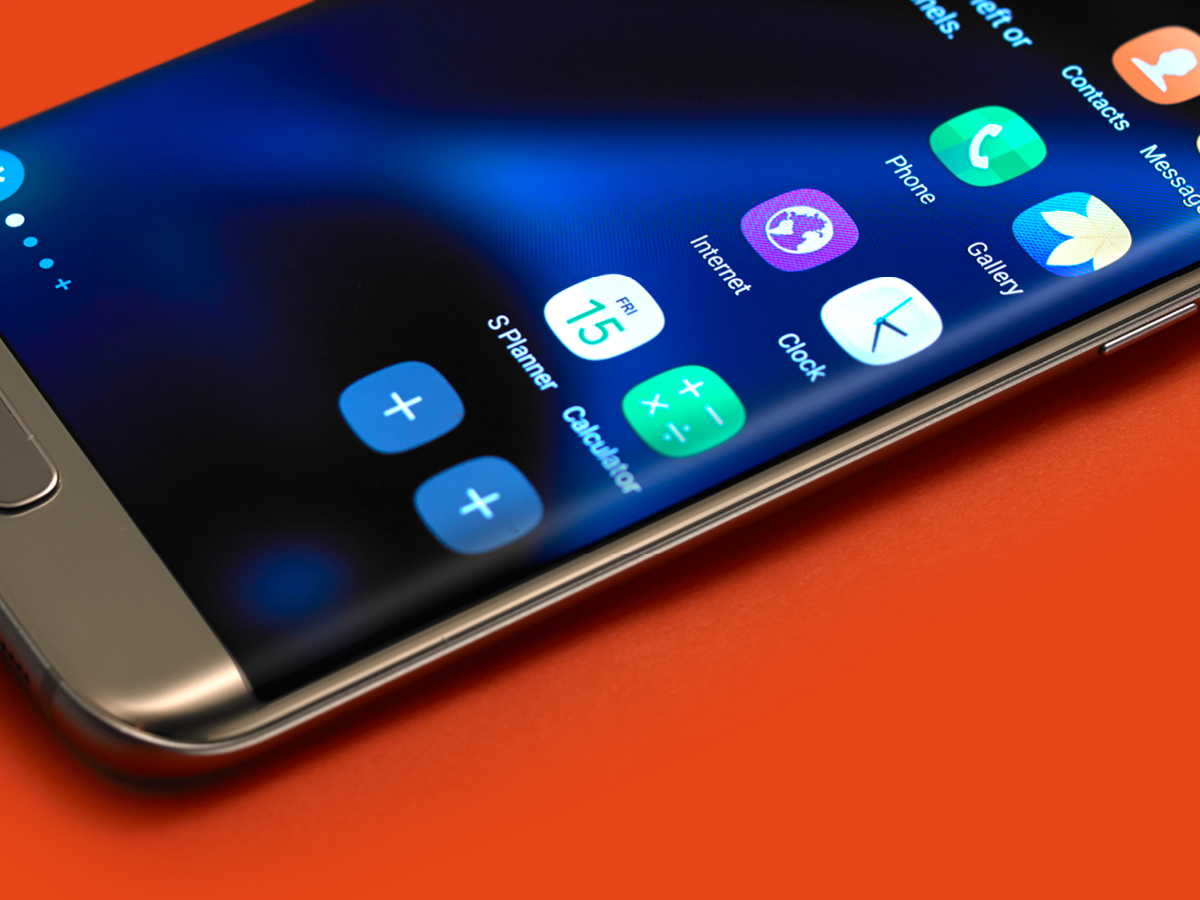 As well as looking the part, the S7 Edge is immensely practical. With a huge 3600mAh battery, its stamina trounces almost every other smartphone. As long as you don't pummel it with too much video, you can squeeze almost a day and a half's use out of it.
Display 9/10
The same 1440×2560 resolution as the standard S7 means the Edge technically offers fewer pixels per inch due to its larger screen. You're unlikely to notice the difference, though. What will grab you are the Edge's vivid shades, which pop off its screen.
Camera 9/10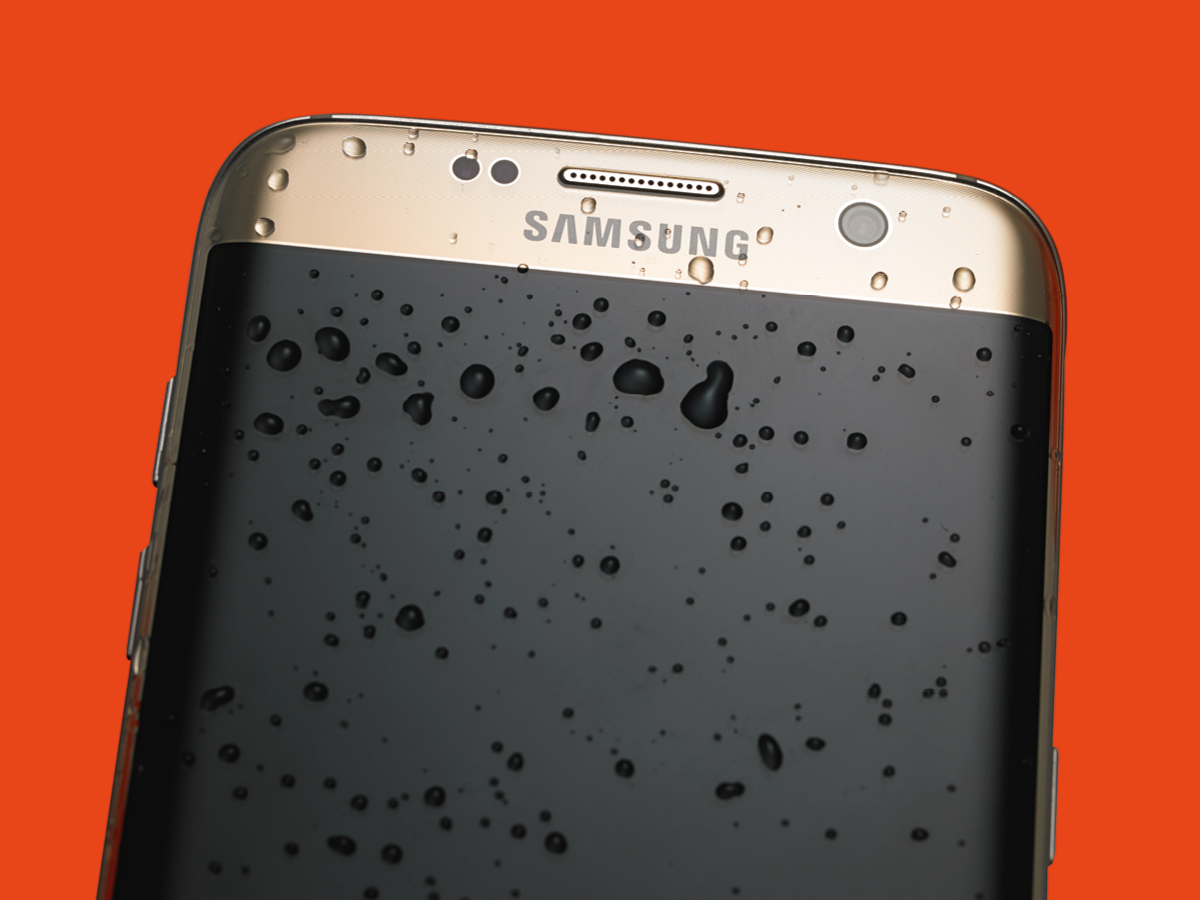 Galaxy phones have long been famed for their cameras, and the S7 Edge is no exception. Its rear-facing snapper has been given a wider aperture and bigger pixels to take particularly great photos in low light – even more so than the S6, which was no slouch.
OS and apps 8/10
Running on Android 6.0 Marshmallow with Samsung's TouchWiz UI, there are lots of options for customisation here. You can use Samsung's widgets, such as the new Game Tool software, or drop almost all of them for Google's Now Launcher.
STUFF SAYS: ★★★★★
Don't let the price put you off: the S7 Edge is truly a smartphone to lust after.
Samsung Galaxy S7 and S7 Edge tips and tricks
Apple iPhone 6s (from £540)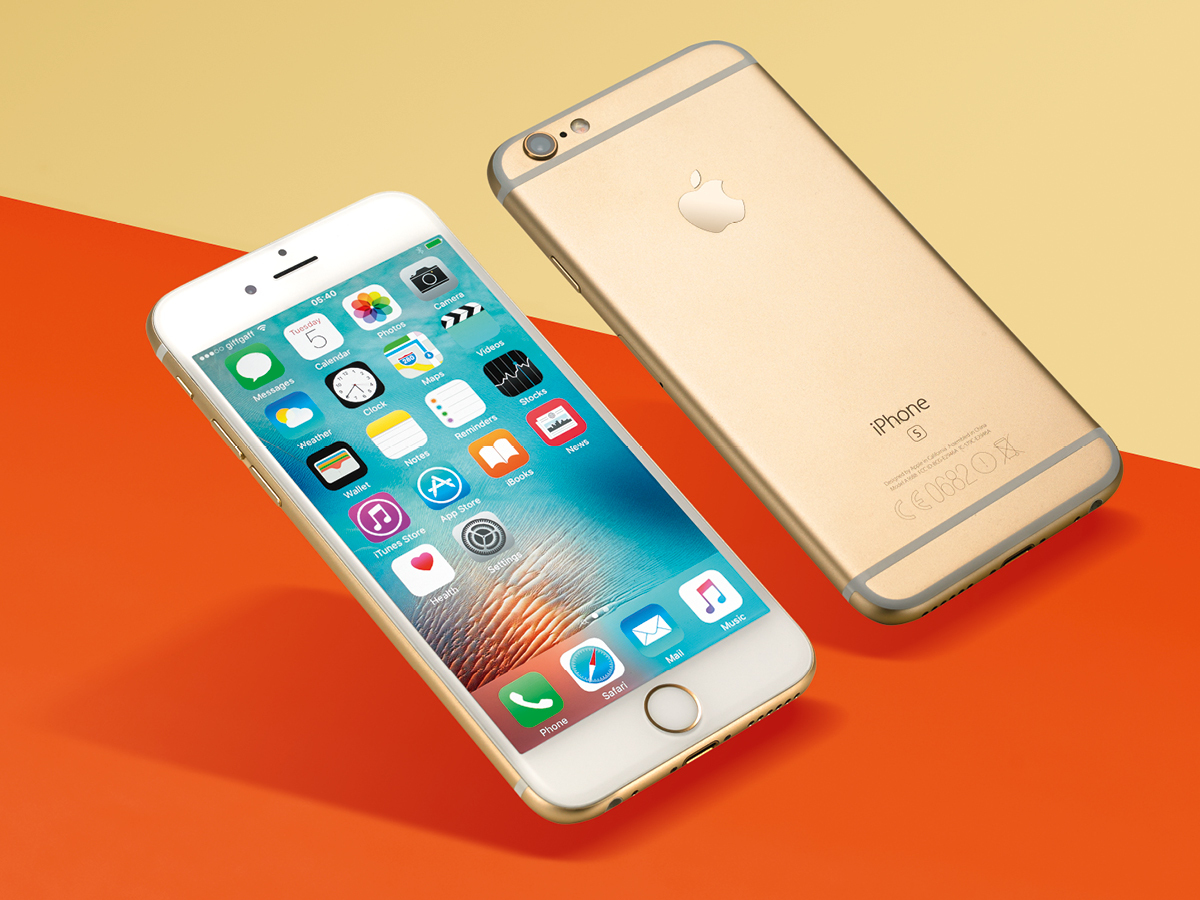 Having first launched eight months ago, the iPhone 6s is officially getting on a bit. Well, in smartphone terms anyway. Fear not, iFans. Thanks to its 3D Touch tech, Apple's flagship has actually improved with age.
That's because more app developers are supporting this feature, so its use isn't restricted to quickfire access to emails, web pages, and creating GIF-like Live Photos. Now you only have to press firmly on the 6s's homescreen to get directions home from Google Maps, pen a Facebook status or Shazam a song on the office stereo. This kind of nifty innovation is only achievable thanks to Apple's all-encompassing control over its App Store.
In comparison, the 6s's Android competition has to bend to Google's will when it comes to software. That means they're all stuck waiting for Google Pay to launch in the UK, when nearly every iPhone with a fingerprint scanner has had wireless payment since July 2015. When you've survived an entire night out on Apple Pay – including the 3am Uber home – going back to cash feels seriously old-fashioned.
So iOS is what gives the 6s its edge, but this phone is no slouch on the hardware side. Apple's A9 processor absolutely flies through any app you throw at it, while new-found battery efficiency ensures this handset will see you through most days without having to scramble for a socket. More than the sum of its parts, the 6s is still a superb phone.
Design 8/10
Unless you're rocking a Rose Gold (pink) model, putting your new one next to a mate's old one could spark a case of mistaken identity. The 6s retains the iPhone 6's ultra-slim 7.1mm design and you'll struggle to spot the difference. Unlike Samsung's S7 Edge, the iPhone 6s isn't water-resistant; but its internals are coated with a special material to help them survive an accidental dunk.
Display 8/10
The iPhone 6s sports the same 4.7in Retina display as its predecessor so it'll only do 720p, not the Full HD you'd expect. Regardless of its make up, the display is crisp and clear. Blacks are deep, colours are vibrant… but not Willy Wonka over-exuberant.
Camera 8/10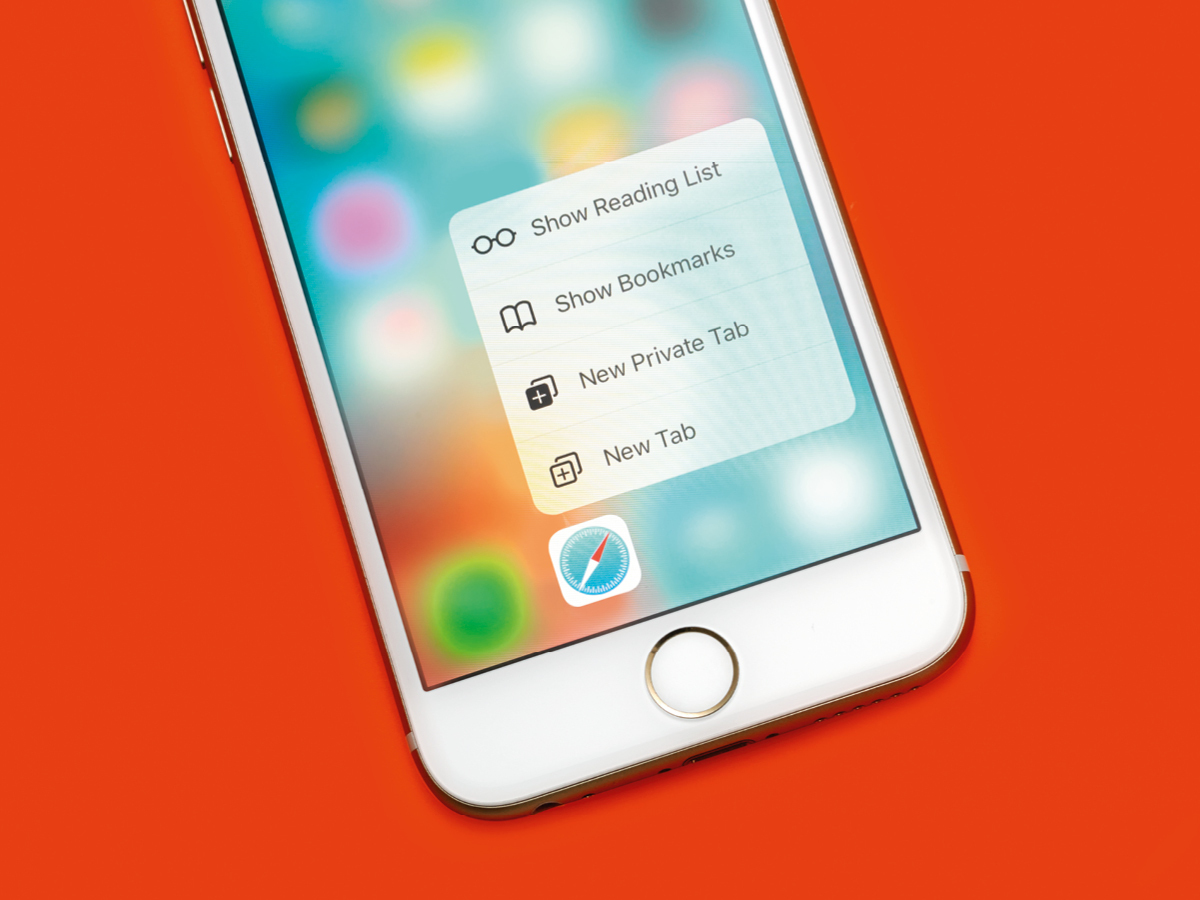 The 6s's camera sensor is Apple's first to benefit from a resolution jump from 8MP to 12MP. Alas, it still lacks the optical image stabilisation and laser focusing from other smartphones that help you take sharper shots. Despite this, it still takes a great photo.
OS and apps 10/10
In many ways, iOS is the iPhone 6s's saving grace. Apple's operating system trumps Android for simplicity, and it gets the latest apps first. Often in a superior configuration. Granted, Google's OS has caught up in recent years, but a chasm remains between the two.
STUFF SAYS: ★★★★★
Within the 6s' familiar body lies a surprising amount of innovation.
iPhone 6s tricks and tips
HTC 10 (£570)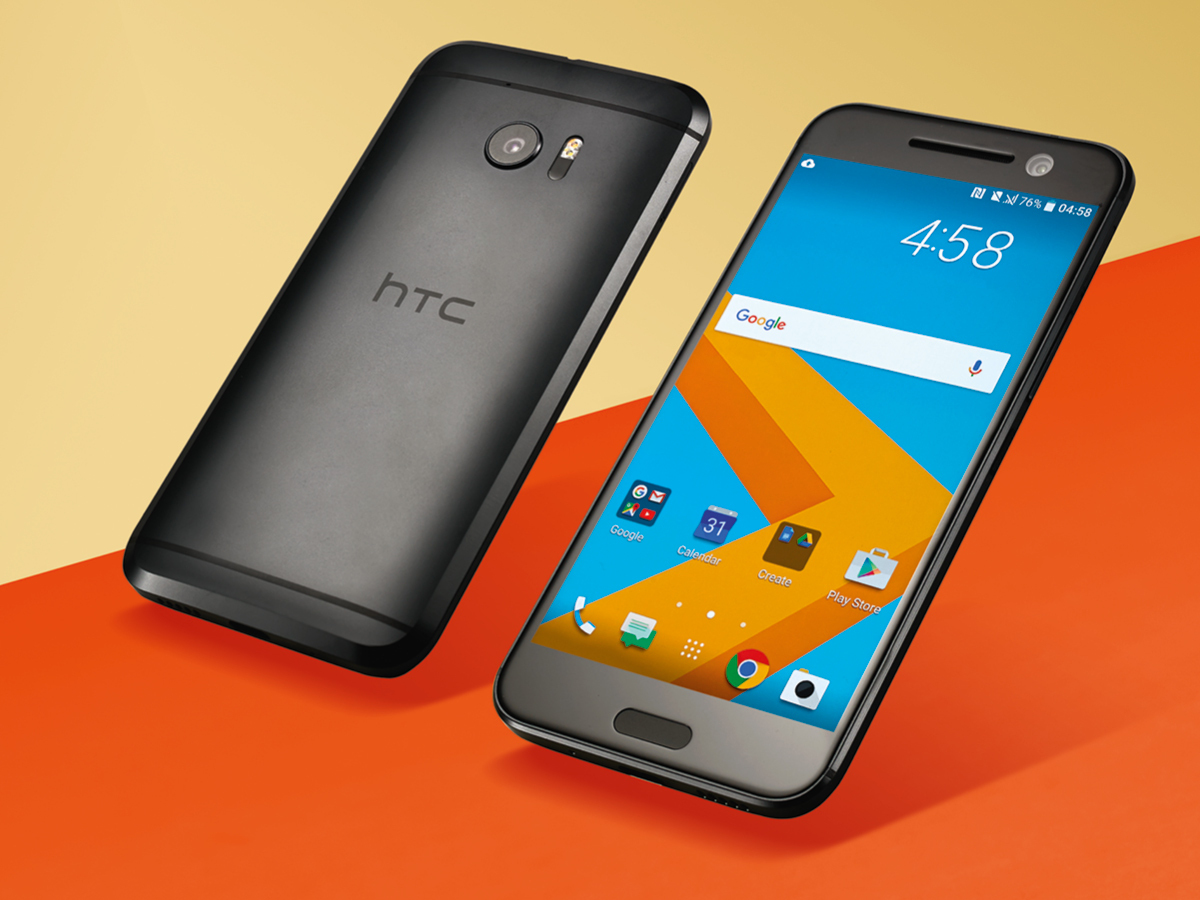 The HTC 10 is a marketer's worst nightmare. What's it good at? Pretty much everything. What's special about it? Erm, battery life. Yup, wake up hungover on a Sunday with this HTC fully charged and it'll see you through until midnight the next day without conking out. How do we know this? Bitter, whisky-soaked experience, friend. Stamina may be the least sexy of smartphone features, but that mini rush of euphoria you get from knowing the 10 has enough spare juice to survive an impromptu pub trip feels pretty damn good.
These little jolts of pleasure are the story of HTC's latest flagship, really. It doesn't have a headline-grabbing design, always-on display or any water protection. Like Andrea Pirlo at the peak of his powers, this phone does the simple stuff impeccably well. By pairing the latest Snapdragon 820 processor with a refreshingly bloat-free edition of Android Marshmallow, the HTC 10 proves to be as slick as a Texas oilfield.
Unlike the S7 Edge and LG's G5, you don't get duplicate apps for calls and messaging. Even HTC's own Sense user interface has been pared right back. If it's razzle dazzle you're after then the HTC 10 will quickly come a cropper; as an exercise in all- round execution, this handset barely puts a foot wrong.
Design 9/10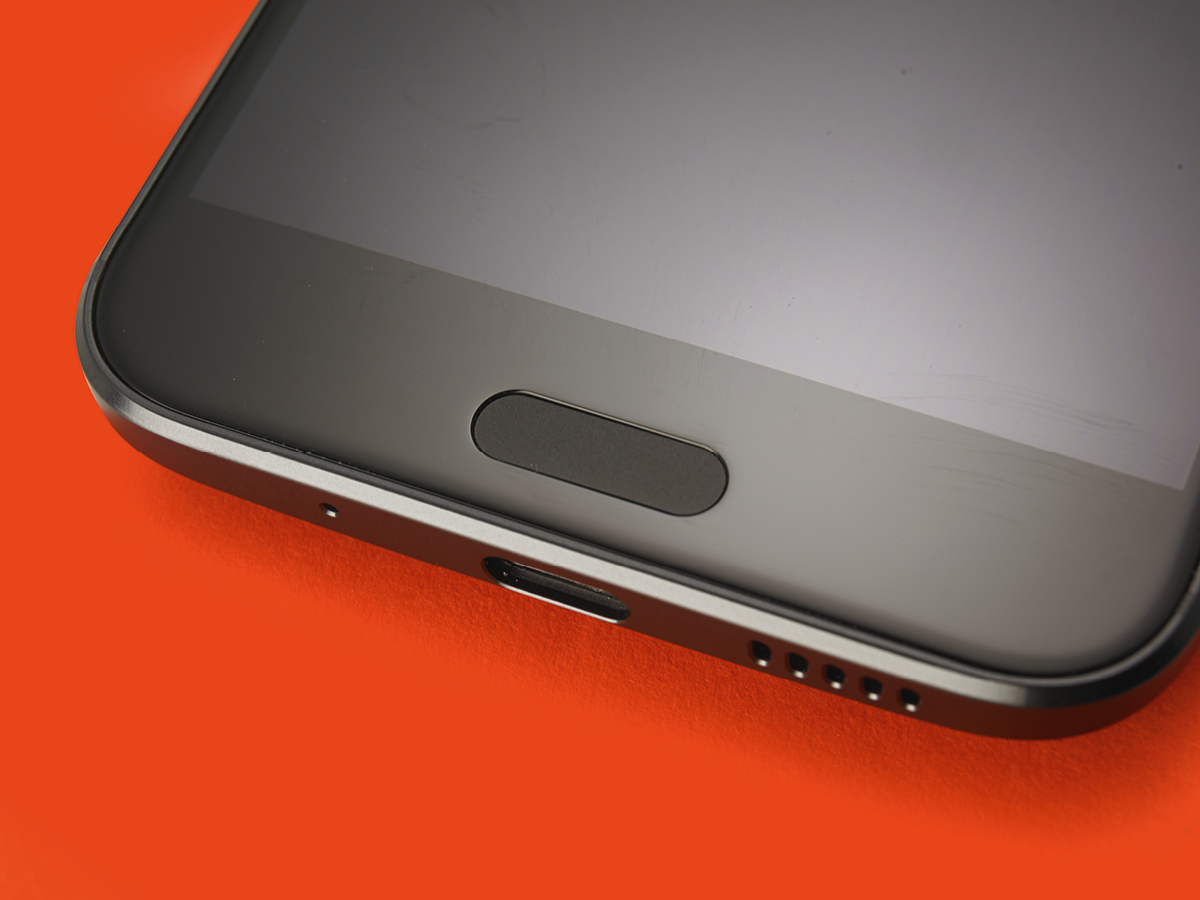 The HTC 10 is a tad heavier and chunkier than the other handsets here, and that added heft translates into a really pleasing handset. Its chamfered edges are gorgeous to behold and, more importantly, easy to grip. Granted, HTC phones haven't switched up their all-aluminium aesthetic since the One M7, but that's because it's a classic. One that's been updated with a blisteringly quick fingerprint scanner/home button that'll unlock your phone at first touch. HTC's usually-front-facing BoomSound speakers have been separated out to emphasise treble from the earpiece and bass/mid-range from the bottom edge. Forget the familiarity – this is a very well made handset.
Display 8/10
The HTC 10's 5.2in display is bright and accurate, delivering great footage. Star Wars: Rogue One's trailer is bristling with colour, while photos aren't needlessly oversaturated. This screen is certainly on par with the LG G5's LCD equivalent, although the S7 Edge's OLED effort just pips them both for detail.
Camera 8/10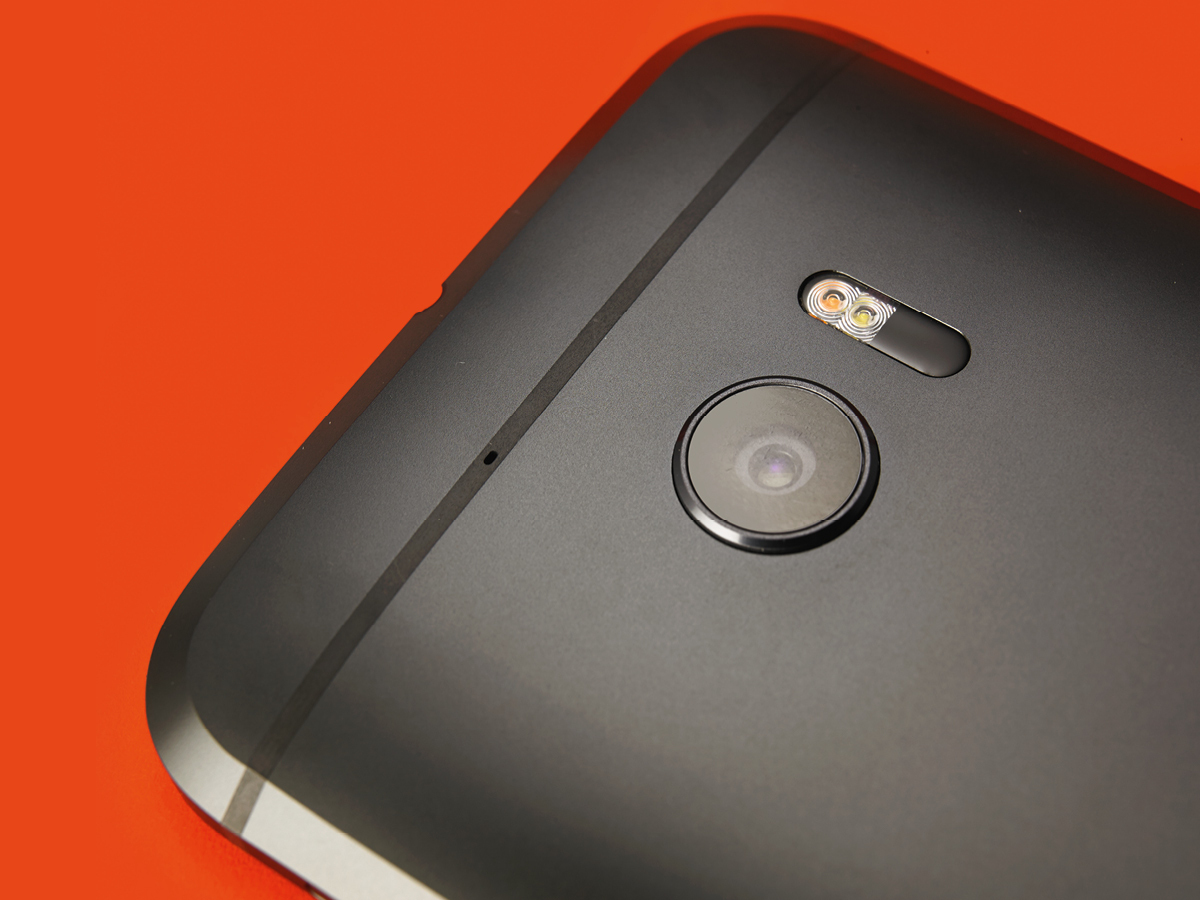 HTC's One M9 really struggled to nail exposure. The 10 returns to HTC's UltraPixel tech, where larger pixels capture more light, so doesn't come a cropper anywhere near as often. In low light, Samsung's S7 still has the Edge; we found strong light sources flummoxed the 10's white balance. That said, the HTC's point-and-shoot pics are punchy and lifelike, while selfies are among the best to ever grace our Instagram, with optical image stabilisation to cure shaky hand syndrome. As comebacks go, this is a good 'un.
OS and apps 9/10
Taking a Nexus-like approach to Android, the 10 offers the purest third-party take on Marshmallow, with the Flipboard-like Blinkfeed being one of few concessions to own-brand software. In fact, we were so taken with HTC's OS that we stuck with it during testing, instead of loading Google's Now Launcher.
And the winner is… Samsung Galaxy S7 Edge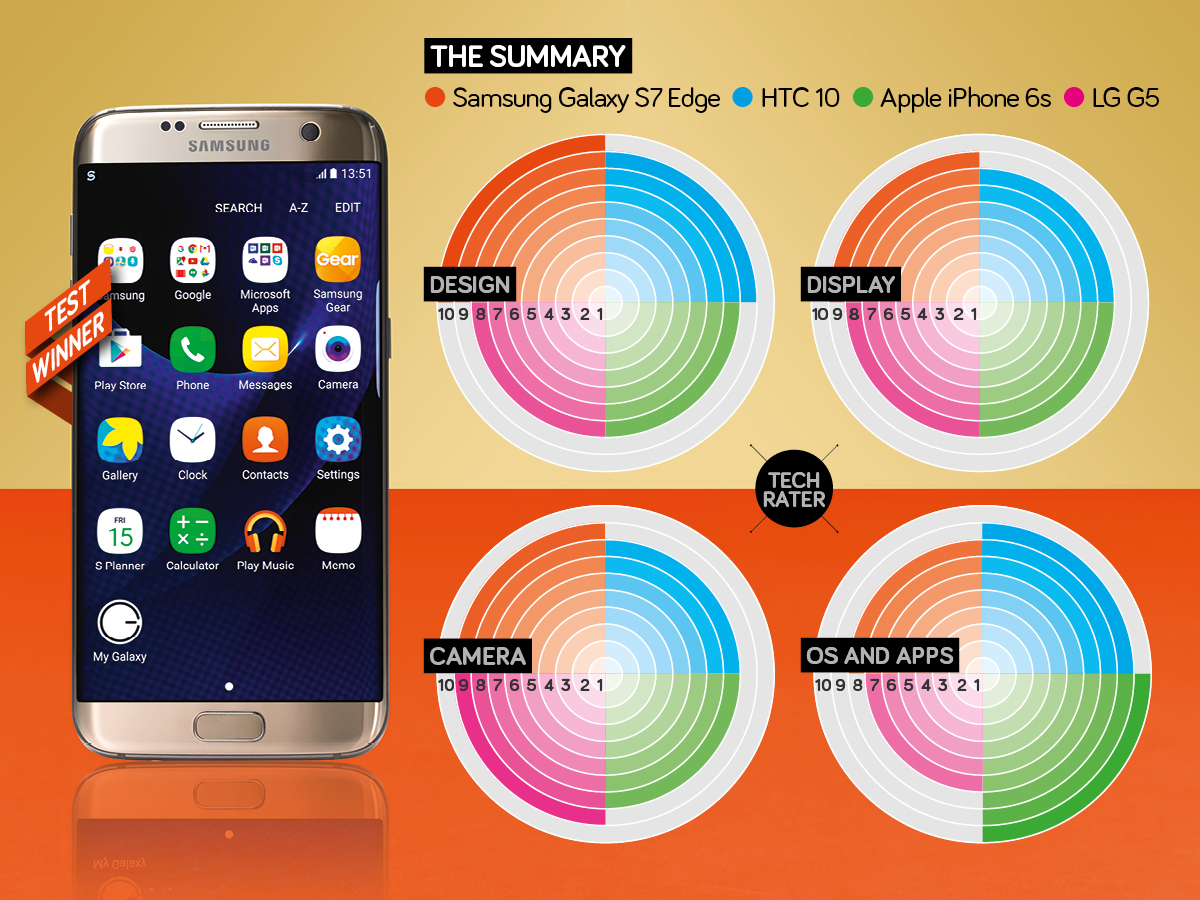 Far from getting too comfy on its laurels when following up our favourite phone of 2015, Samsung has retained everything that was already great about the Edge and sprinkled it with a dash of added brilliance. This flagship feels better in the hand than ever before, while its new water-resistance and microSD storage are both truly useful extras.
Of course, this has been a supremely close contest. If you yearn for the simplicity of Apple's iPhone 6s, the innovation of LG's G5 or the slick design of the HTC 10, don't feel bad about it. They are all splendid smartphones that we could happily furnish our pockets with for a couple of years. But given the choice, we would rather spend that time with the magnificent Galaxy S7 Edge.
The final rankings
1st: Samsung Galaxy S7 Edge
A phenomenal combination of form and function, the S7 Edge is Samsung's best phone yet. Granted, it's not the most innovative handset here, but it works better than any of the competition and looks fantastic too.
2nd: HTC 10
By limiting its ambitions to a polished set of smartphone fundamentals, this device might not wow you at first. But a stellar battery life and silky smooth Android performance ensure it's a worthy runner-up.
3rd: Apple iPhone 6s
Anyone who's already invested in iOS needn't worry about sticking with the iPhone 6s. Android is more user-friendly than ever, but this is still the safe pick of the bunch. The iPhone 7 needs to up its game.
4th: LG G5
As the first of a new type of smartphone, it's no surprise that the G5 isn't quite perfect. If this blower's modular potential gets your tech senses tingling, then it's well worth owning ahead of the the competition here.