Samsung Galaxy S6 Edge+ vs iPhone 6 Plus: the weigh in
Can Apple's monster phablet fend off Samsung's edgy offering?
While Apple's 6s Plus (or 7, depending on Apple's preferred moniker) is rumoured to be making an appearance very soon, gadgeteers looking for a super-sized slab of smartphone class right now have a fairly straight choice: iPhone 6 Plus or Galaxy S6 Edge+.
Which would we back in a feature phone fight? Until we've had some serious time with the S6 Edge+ we can't say for sure, but stacking up the specs gives us a very interesting starting point.
Plenty of real eye-state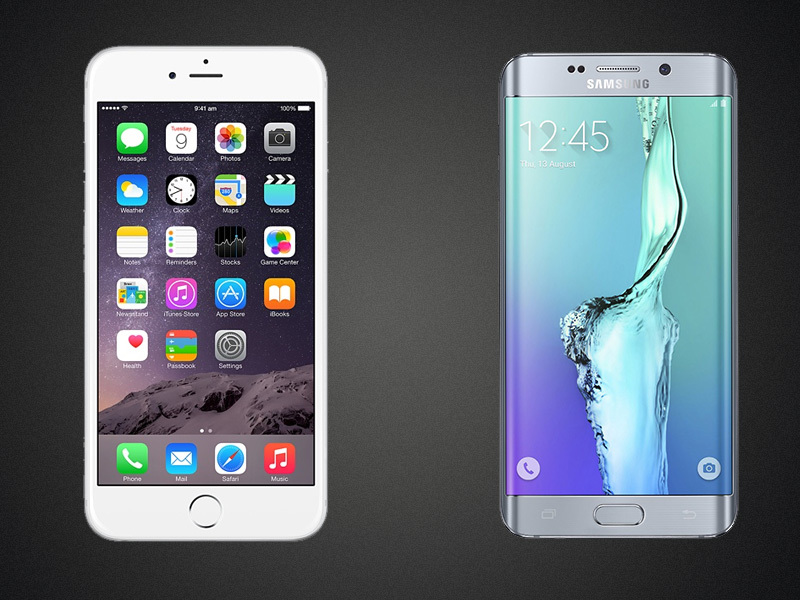 Side-by-side, the handsets aren't all that dissimilar, at least on specs alone.
The Edge+ packs a 5.7in Quad HD Super Amoled, up from the Edge's 5.1in, with a sharp 518ppi pixel density and that now-famous wraparound element at its extremities.
By comparison, the 6 Plus is stacked with a 5.5in display putting out a comparatively lowly 401ppi. Will you be able to tell the difference? Perhaps, but only if you try quite hard.
If you want to stream 4K you might feel the Edge+'s extra pixels are well worth it, but for most day-to-day use you'd be hard pushed to put anything but a hairline between the two.
That said, the Galaxy pips the iPhone on two fronts: firstly, those curved edges give the feel of an endless display, where the 6 is still plagued by Apple's belief in broad bezels; secondly, on the screen brownie points scale the Edge+'s latest software update delivers People Edge, to go with Apps Edge, giving instant, customisable access to key contacts and favourite apps.
The 6 Plus' screen is still a display of beauty, but the additional functionality offered by the Galaxy, taking the edge from passive plaything to interactive interface, together with the uniquity of its curved corpus, just give it the edge over the Apple offering.
Shiny packages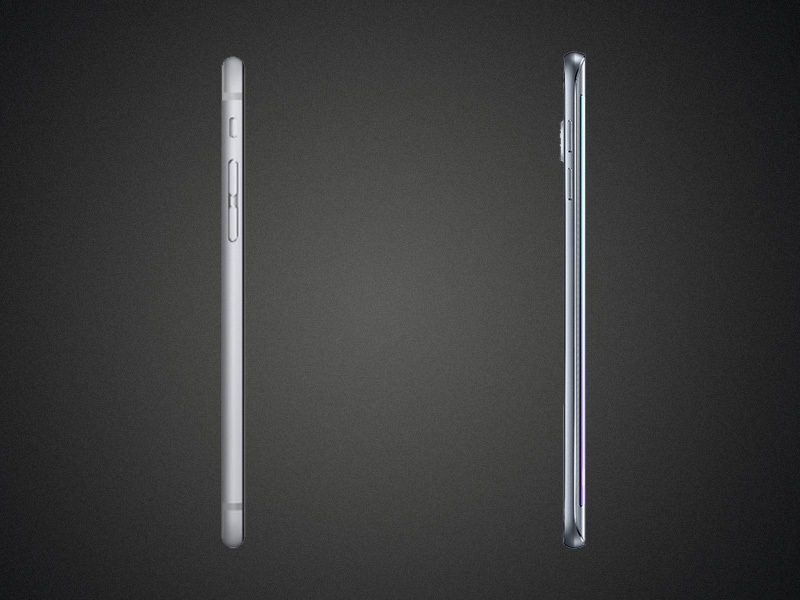 In terms of build quality, it's hard to fault either phone. The Apple-synonymous aluminium of the iPhone is outstanding, delivering an ultra-premium feel, and with the 6 Plus just 7.1mm thick, despite its giant screen (though we're well aware of those screen-flex issues), it manages to feel sleek, too.
As for the Edge+, it ain't no brick. A glimpse thinner than the 6 Plus at 6.9mm, the Galaxy carries over the beautiful build of the S6 Edge, with Gorilla Glass front and back banded by aluminium. It might fill butterfingered browsers with fear, but the Edge+ is a lesson in how to build a premium phone.
Style is, of course, subjective, but at a push we'd go with the Galaxy over the iPhone: a recent Apple patent suggests it'll be doing away with the plastic strips for the 6s/7, but they're all there on the 6 Plus and somewhat spoil its otherwise smooth lines. Sure, wrapping almost the entirety of the Edge+ in glass, however tough, is risky, but it definitely delivers in the ultra-sleek sweepstakes.
Pushy performance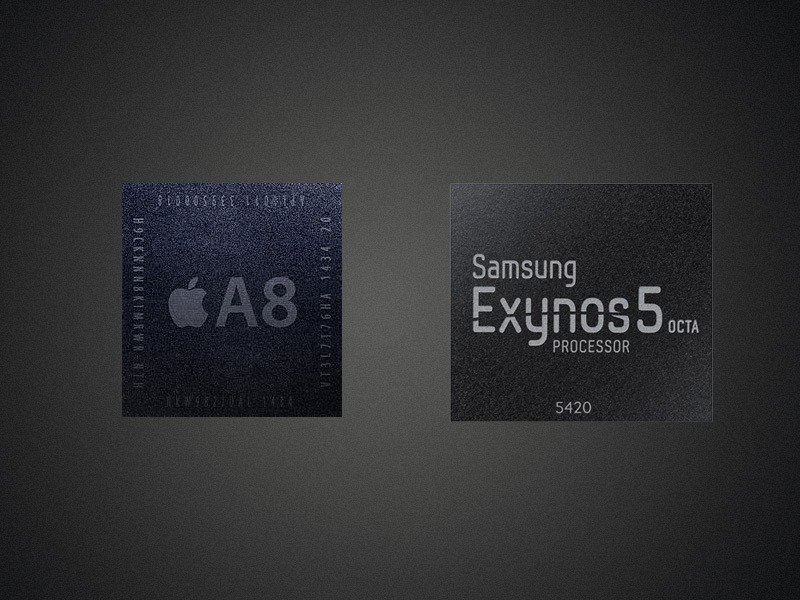 Looking at what's under the hoods of the two powerhouse phablets, neither are layabouts.
The Edge+ draws on Samsung's octa-core (2.1GHz quad in partnership with a 1.5GHz quad) Exynos processor and 4GB of RAM, whilst the 6 Plus packs in Apple's 1.4GHz A8 chip, complete with M8 motion co-processor and 1GB of RAM.
Whilst the iPhone's specs might look to be well and truly trumped by the South Korean superphone, as with every Apple product its highly-tuned, homogenised internals mean it more than delivers on the performance front.
Until we've had chance to put both handsets through their paces side-by-side, it's not a dead cert which will be the quicker; however, the Galaxy does pack a chipset almost a year younger and with spades more cores than the iPhone, so it might not be a stretch to think it'll be at least a little speedier (until the iPhone 6s/7 arrives with A9 power).
Power in the bank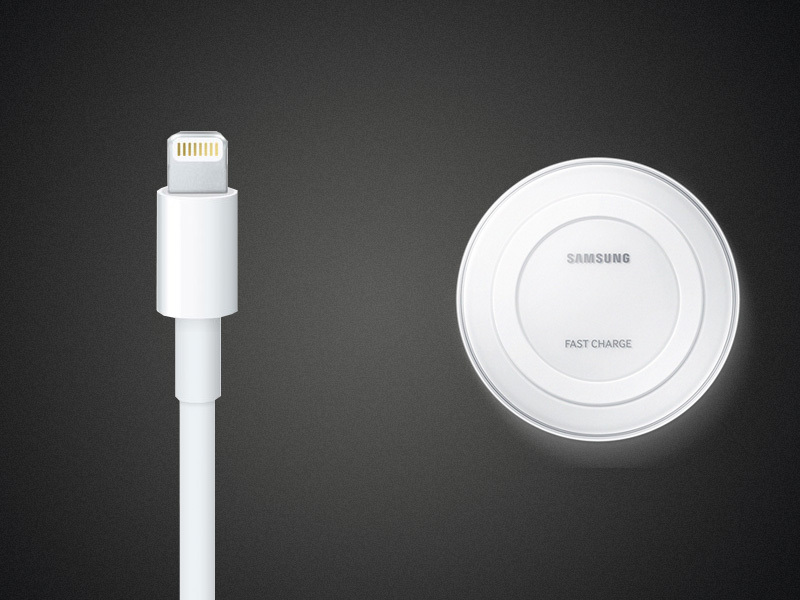 Hour-for-hour, it's hard to guess which handset will outperform the other: Apple's flagship rides on a 2915mAh pack, whilst the S6 Edge+ relies on a slightly higher-capacity 3300mAh battery.
Neither model has (or is likely to have) game-changing energy efficiency, particularly with such big displays and heaps of tech stuffed into such slim bodies.
However, the Edge+ has an ace up its sleeve: Apple might have hailed the reversible lightning cable as the future, with no such option on the Edge+ (Samsung choosing not to fit USB type-C despite its availability), but the Galaxy's wireless charging capability can supposedly zap the phablet from flat-to-full in 2hrs. Yep, a whole charge in 120mins.
Neither device has a removable battery, meaning, if you keep either long enough to see its juice-pack performance degrade, the Samsung may well be the mobile of choice, given that you shouldn't be twiddling your thumbs for too long before it's good to go again.
Personal space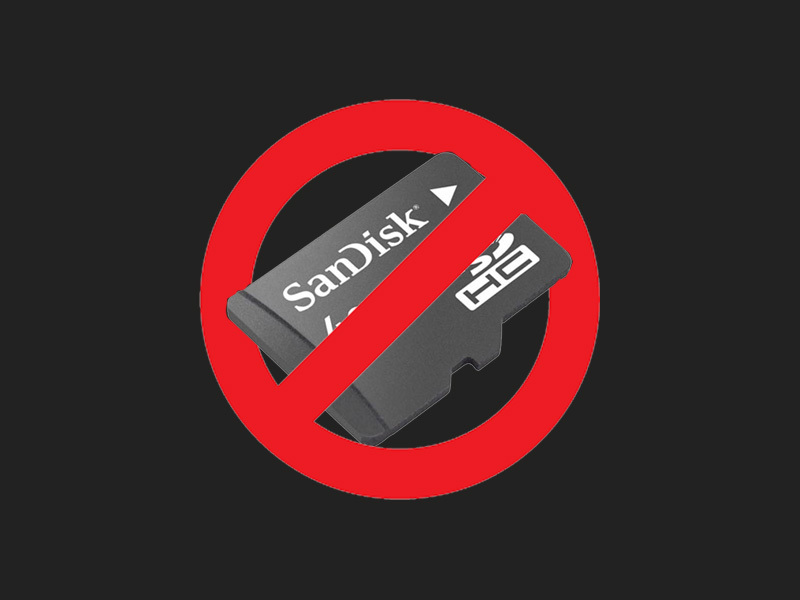 Talking of removable items, Samsung and Apple are apparently united in their rejection of expandable memory: neither handset offers a microSD slot.
Whether to encourage upselling or to aid with packaging all of the internal tech (and there's a lot of it), the lack of expansion space on offer goes against the grain of gadgeteer demand.
Given that the iPhone comes in 16GB, 64GB and 128GB, whilst the Edge+ offers only 32GB and 64GB, variants, if you're a lossless audiophile or gargantuan gamer Apple's largest offering might be the only one you're interested in.
Dapper snappers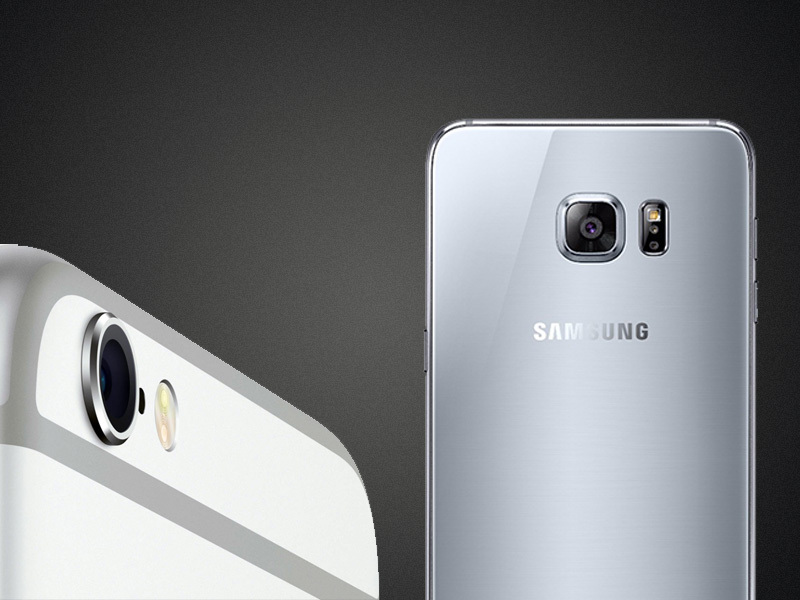 Still, even if you have to rely on cloud backup with that limited space, you shouldn't struggle with reluctance to get shooting on either handset.
The Edge+ sticks with the same superior lens tech as on the S6, namely a 16MP f/1.9 rear camera (with upgraded optical image stabilisation skills) and 5MP selfie cam, producing incredible results in almost all conditions.
Apple, on the other hand, kept the 8MP resolution now stock on iPhones (unless rumours of a 12MP snapper on the iPhone 6s/7 Plus emerge to be true). Despite the low-sounding pixel count, it delivers decent results, also packing OIS, and the stock camera interface is a joy to use.
The iPhone's 1080p video skills are also mighty impressive. Until, that is, you look at what the Edge+ has to offer: 4K shooting and live streaming capabilities, letting you broadcast Periscope-esque direct to YouTube. If that's as impresive in action as it is on paper, the Galaxy has aced it.
Softly does it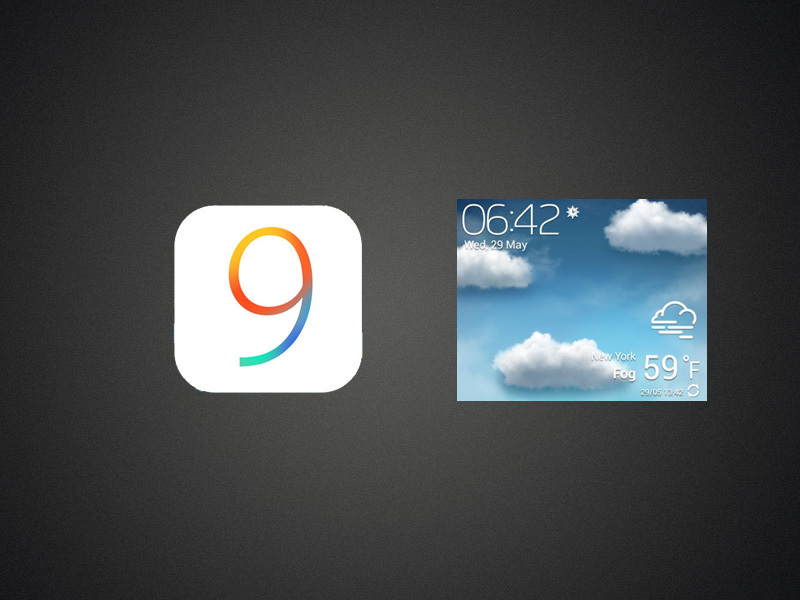 As for software, it's a matter of preference.
Samsung's Android-based TouchWiz interface remains a slick operator, running quicker than ever on the Edge+'s upgraded under-bonnet hardware.
IOS runs equally as well on its iPhone host, though the lack of widgets remains a niggle for us. That said, with iOS 9 right around the corner, complete with smarter Spotlight and Siri, transit directions for Maps, and tweaks to the keyboard, Apple Pay and other core functions, the 6 Plus isn't likely to be left for dust on the software front.
Of course, the Edge+ packs those aforementioned neat software tricks to make use of its curved edge screen, in the form of Apps Edge and People Stack; but iOS isn't a slouch either, with Siri remaining a unique Apple selling point, as well as the landscape mode on the 6 Plus offering highly-functional expanded views in the Messages and Mail apps.
Preference here is principal, and without us having tested the Edge+ in detail we couldn't possibly call it either way.
War and Pays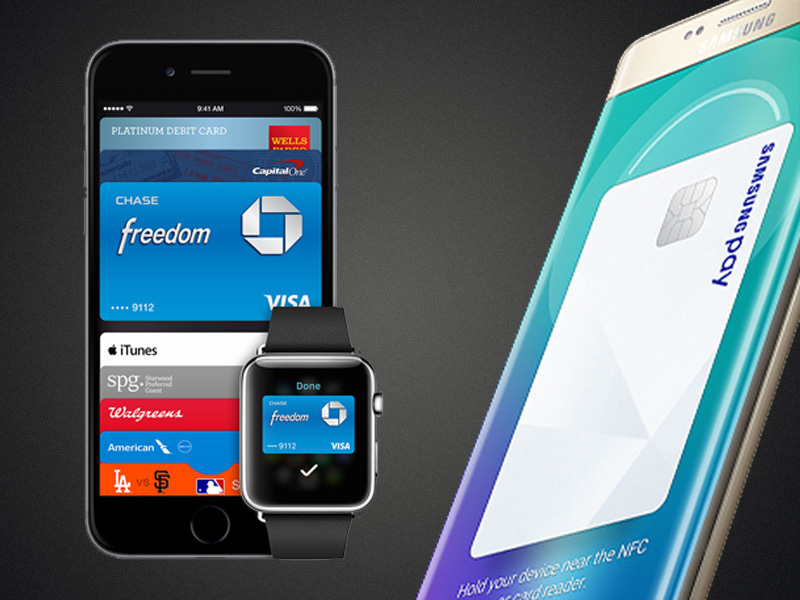 One of the key announcements at Samsung's Unpacked event last week was its introduction of Samsung Pay, taking the fight directly to Apple Pay and the enhanced payment interface due with Android's M update later this year.
Both devices feature NFC and fingerprint sensors, enabling secure wallet functionality; however, the Edge+ has the enhanced feature of being able to simulate a magnetic stripe as on cards of old.
But, with Apple having already rolled out its pay infrastructure across the UK, has Samsung arrived at the party too late? Only time will tell who will be the victor in this battle of bank-busters.
Verdict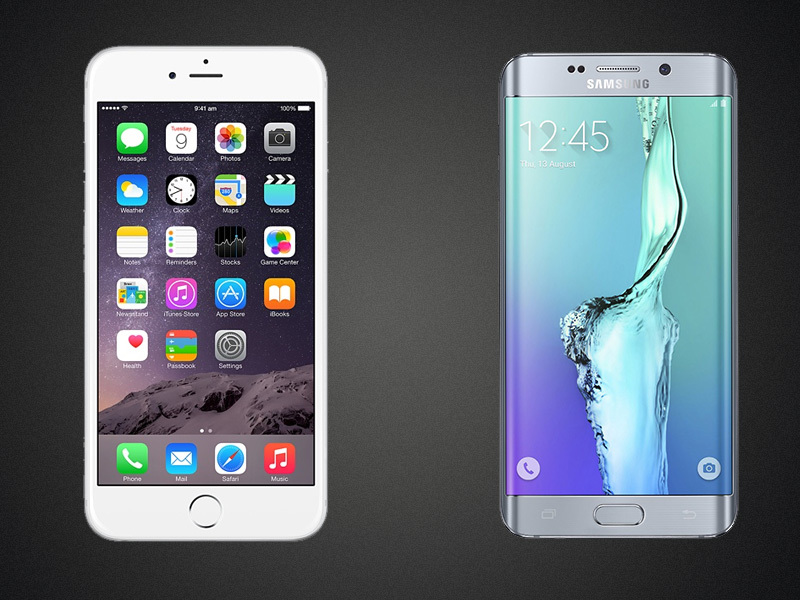 At this stage, you might be forgiven for thinking that the Edge+ will walk all over the 6 Plus, given its updated tech, higher specs and the geek-chic appeal of that wraparound screen.
But forget at your peril the continued draw of Apple products, which have long been the symbol of peak premium phone production. Similarly, the imminent arrival of the iPhone 6 Plus' successor (whether called the 6S Plus or 7 Plus) may actually instigate a re-birth for the older model, in light of an almost inevitable price drop and update to iOS 9.
Still, as it stands now, the Edge+ is arguably doing premium better than the experts; taking its fight to Apple Pay as it does so might be a risky move, but it's a statement of intent from the South Korean manufacturer that it still knows how to innovate (and hold a press conference).
Stay tuned for our full, official verdict as soon as we get our hands on a final review sample of the Edge+.