Motorola Moto 360 vs LG G Watch R
Two great Android Wear smartwatches - but which should we be saving up for?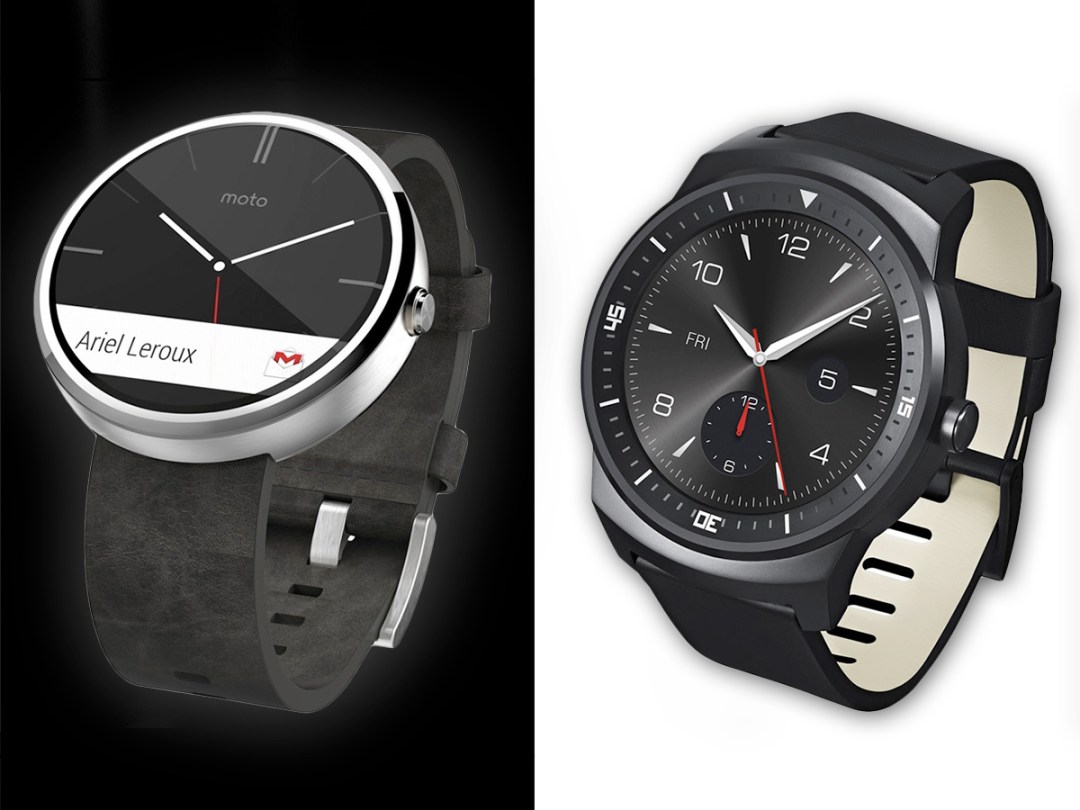 The smartwatch revolution is now in full flow. Pretty much all of the major smartphone players have turned their, er, hand to making wristputers this year, with the likes of Samsung, Apple, Sony, LG and Motorola all announcing or releasing their own devices.
Google's also thrown its hat into the ring, developing the Android Wear operating system as a means of giving the fledgling market some consistency.
Two of our favourite current smartwatches, the LG G Watch R and Motorola Moto 360 both run on Android Wear, and they also share classy circular designs and £200-odd price tags. Unless you prefer the not-quite-so-flashy Pebble Steel, they should both feature on your Christmas list.
Then again, it would be stupid to have both on it. So which should you buy?
Design: Casio vs Cartier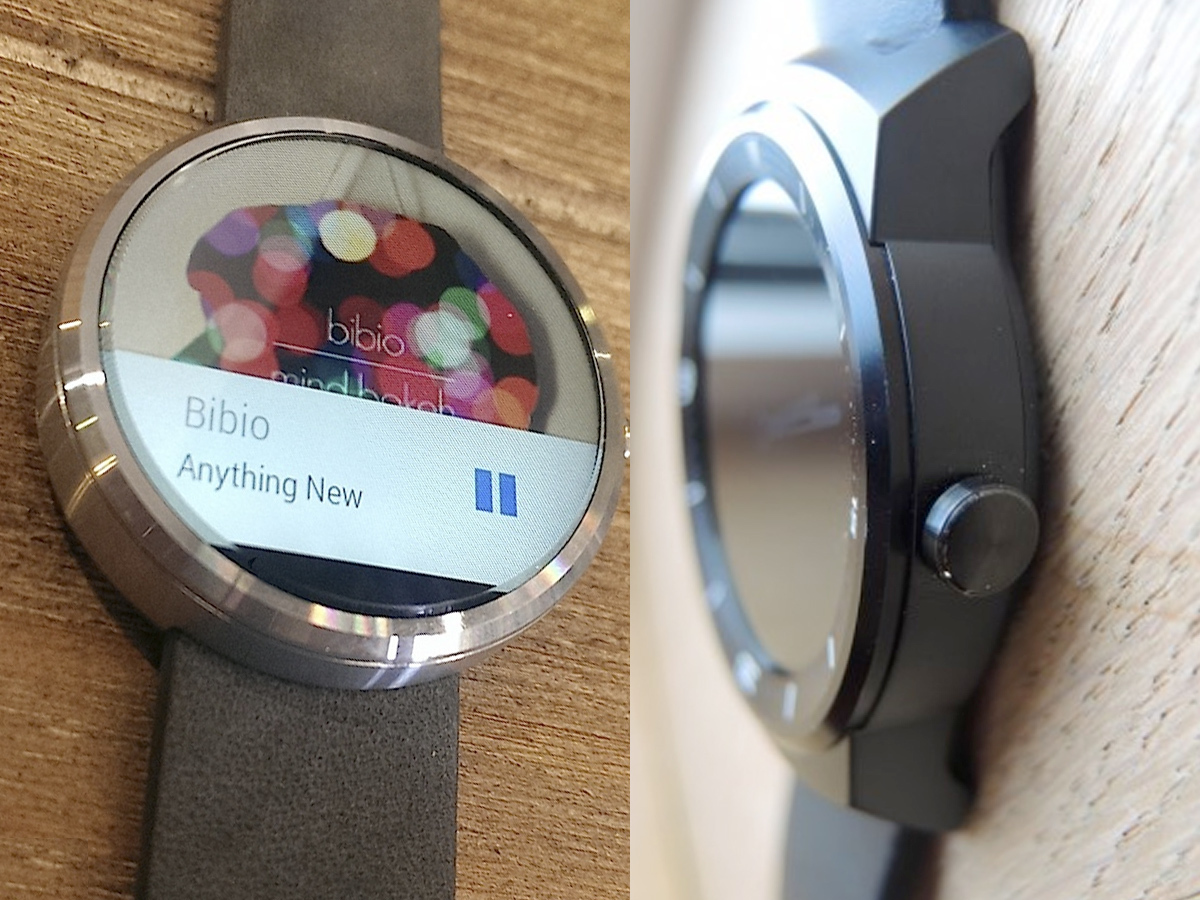 Looks matter in a smartwatch. This is something you're going to wear on your wrist, most of the day, every day.
Both the Moto 360 and G Watch R have gone for a slightly more natural look than many, with a circular face. Most of the square or rectangular smartwatches we've seen are that bit too geeky-looking.
LG has tried pretty hard to make the G Watch R look like a normal watch – complete with fake winder dial and a screen surround with minute markers. In photos, it looks pretty great. However, in person there's a whiff of the try-hard to the LG G Watch R. The more it attempts to look like a standard watch, the clearer it becomes that this really isn't one. It's that bit too clear you're looking at an LCD display, not a real watch face.
The Motorola Moto 360, on the other hand, embraces the 'new technology' vibe. Its screen surround is bright metal, offering a more up-to-date look.
Will it age more quickly, style-wise? Possibly, but the tech in this area is moving so fast that it's not just something that affects the design. We're in early adopter territory, folks.
If you want a watch that's going to impress, there's only one right choice here: the Moto 360.
It's thankfully not too eye-catching, though. It attracts attention, rather than demanded it. You can still get pretty normal-looking and feeling straps for the Moto 360 too. And you can choose between metal links and a leather strap, although leather straps seem to be more widely available.
Exactly the same strap options are on offer with the LG G Watch R too: metal and leather.
Judging by the watches we've seen so far, a round face is the way forward. However, the Motorola has the courage of its design convictions. And that extra confidence shows.
For the spec lovers among you, the Moto 360 weighs 49g while the LG G Watch R is 63g. Both have fairly chunky watch faces too.
The Moto's is 46mm diameter by 11.5mm tall, the LG G watch R 46.4 by 11.1mm tall. There's not a great deal in it.
Both offer IP67 water resistance. This means you can drop them in water for a half-hour without ill effects, but we don't recommend submitting them to more than a heavy downpour. Google even warns you not to take the Moto 360 out swimming, on the Google Play page. Don't say we didn't warn you.
Winner: Motorola Moto 360
Screen: Cut that out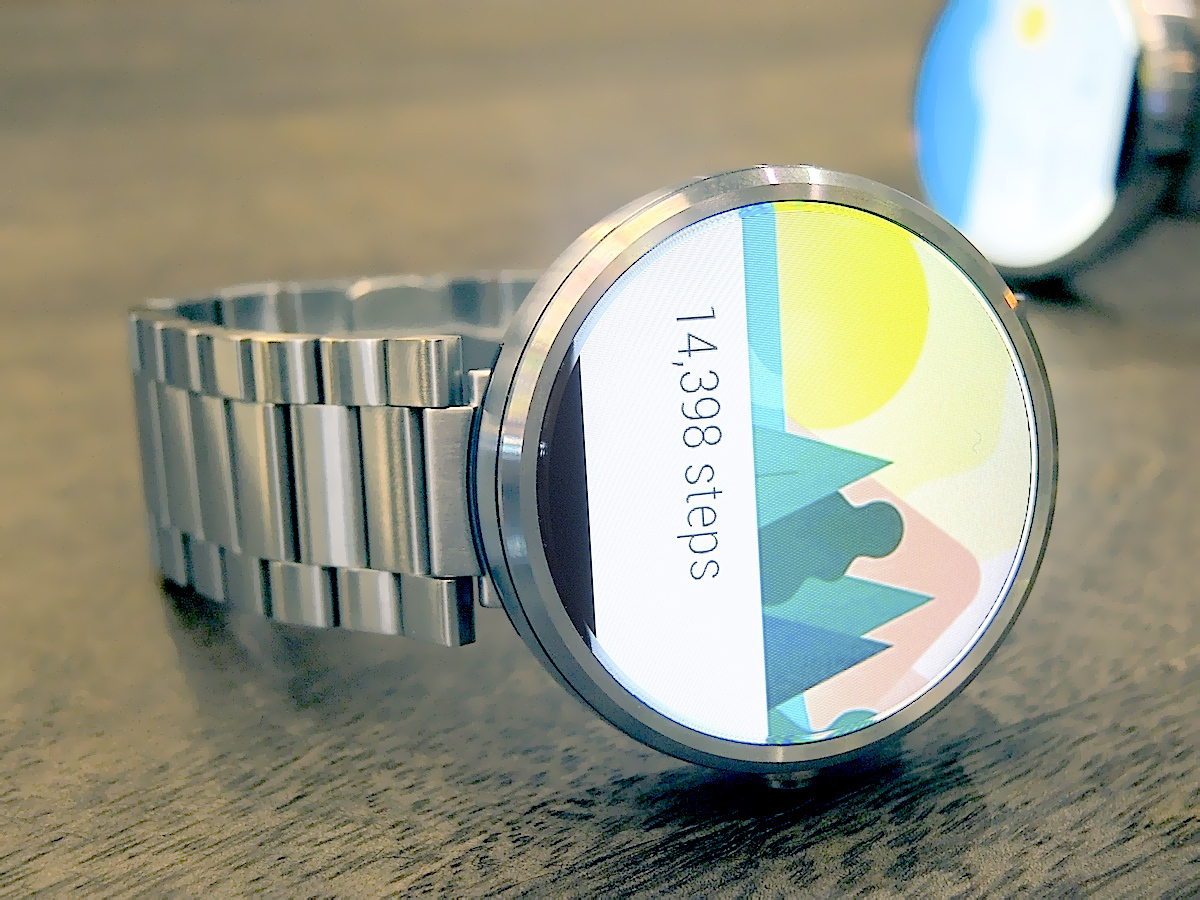 The Motorola Moto 360 and LG G Watch R both have circular screens. But one is more circular than the other.
Confused? Just check out the very bottom of the Motorola Moto 360 display: there's a little blank section, which is where the display driver has to go.
It's a real shame, and something that chips off some of the glossy look. It's also something people might not notice when just researching to buy one. Take note.
The LG G Watch R display is fully rounded – no weird chips or cut-outs.
It also offers more impressive-looking display tech. Where the Moto 360 uses a fairly standard LCD screen, the G Watch R has an P-OLED (plastic organic light emitting diode) display, capable of providing black levels that LCDs just aren't capable of. When the watch face wants to look black, it really is black – aside from whatever ambient light might be reflecting off the surface.
Unfortunately the Moto 360's LCD display also highlights that there's a bit cut out of the display, as you can see the difference between the back of the surround and the imperfect black of the display. Roll on Motorola Moto 360 MK II? Kinda.
Both watches offer similar resolutions, with 320 pixels across the display, cut down to 290 pixels in one direction in the Moto 360 because of the screen indent. As the screens are pretty small, that's enough pixels to make the screens pretty sharp. Once again, the LG G Watch R has the advantage, if only because its 1.3-inch display is smaller than the 1.56-inch Moto one.
Will you get used to the slightly strange Moto 360 screen shape? Of course you will, but it's slightly at odds with the otherwise pristine design.
Winner: LG G Watch R
Battery: Totally Phone-y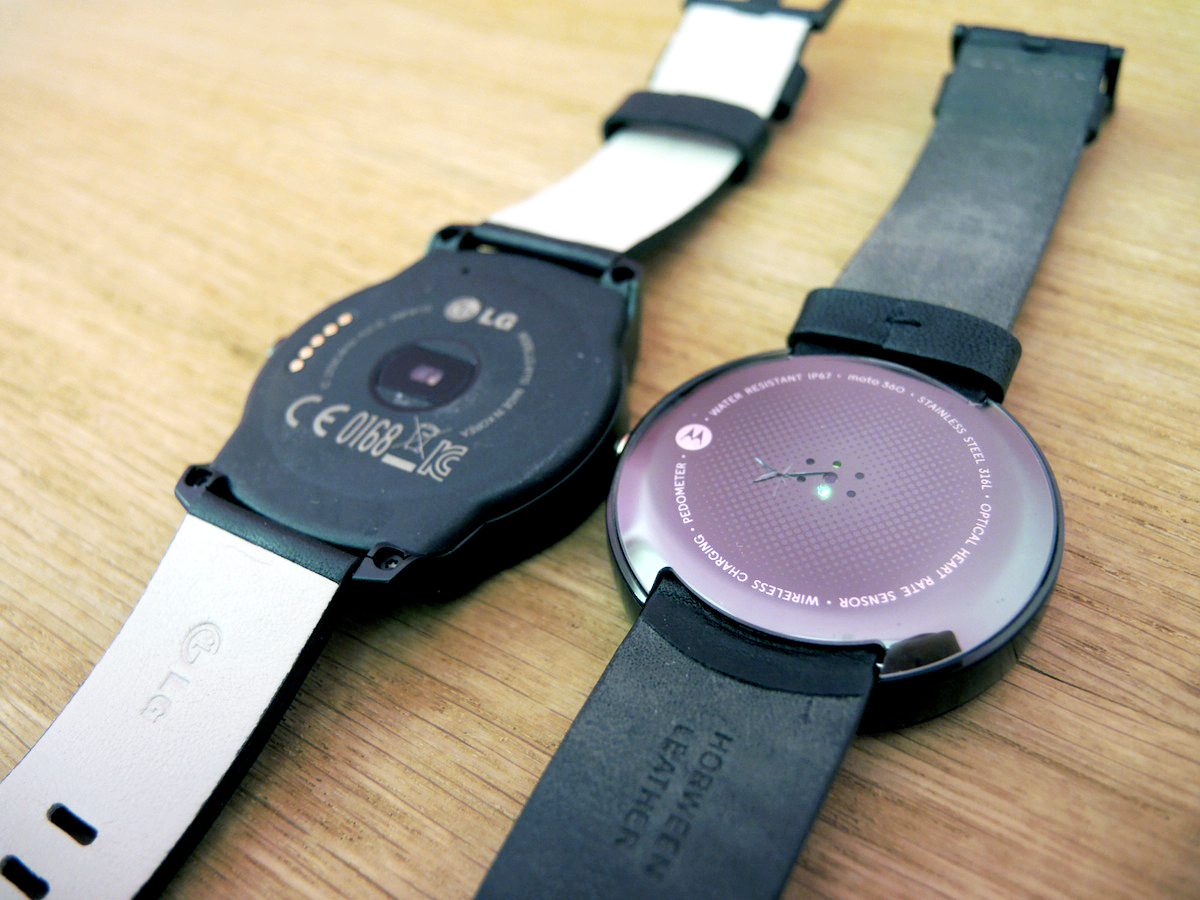 If you've not looked into smartwatches too much yet, we have bad news: 95% of them don't last too long off a charge. If you're hoping for weeks or months of use, you're dreaming.
Both the LG G Watch R and Motorola Moto 360 offer stamina that's similar to that of a phone.
Once again, this is one area where the LG Watch R wins a victory, but it's a slighter one this time.
At release, the Motorola Moto 360 had really quite terrible battery life, but after a few smart software updates you'll be able to get a solid day and a half's use off a charge.
The LG G Watch R can be pushed to a full two days if you're very careful and don't go using the watch too much. We're in the same league here: if you want a much longer-lasting watch, check out the Pebble. There's just that bit of extra buffer in the LG.
So why does the LG last that bit longer? There are several reasons. The simplest: it has a larger battery. Where the Motorola Moto 360 unit offers 320mAh capacity, the G Watch R has a 410mAh battery.
The LG Watch also offers a more up-to-date processor, using the same Snapdragon 400-series chip you'll find in the Motorola Moto G. You might assume a lower-power chip like the Moto 360's single-core TI OMAP 3 CPU would be more frugal, but that's not the case: it's older and not as efficient as the LG chipset.
The G Watch R screen technology is also a massive win here. As P-OLED screens use light emitting pixels rather than a backlight like the Moto 360's LCD screen, the watch is able to use just a fraction of its usual power when displaying just a small amount of stuff onscreen. It does this in an 'Ambient Mode' that kicks in when the watch hasn't been used for a few seconds.
You get such a mode with the Moto 360 too, but it's not as efficient.
As we noted earlier, now that Motorola has fixed the early battery issues, the stamina of the two is not worlds apart. And you charge them in similar ways: each comes with a little charge dock.
However, what's going on behind the scenes is actually quite different. The LG Watch R uses little metal contacts that directly interface with the dock while the Moto 360 supports Qi charging. This is the most common wireless charging standard these days, and means you'll be able to use the Motorola smartwatch with a bunch of third-party wireless chargers. Nice.
Winner: LG G Watch R
Performance: Snapdragon power wins out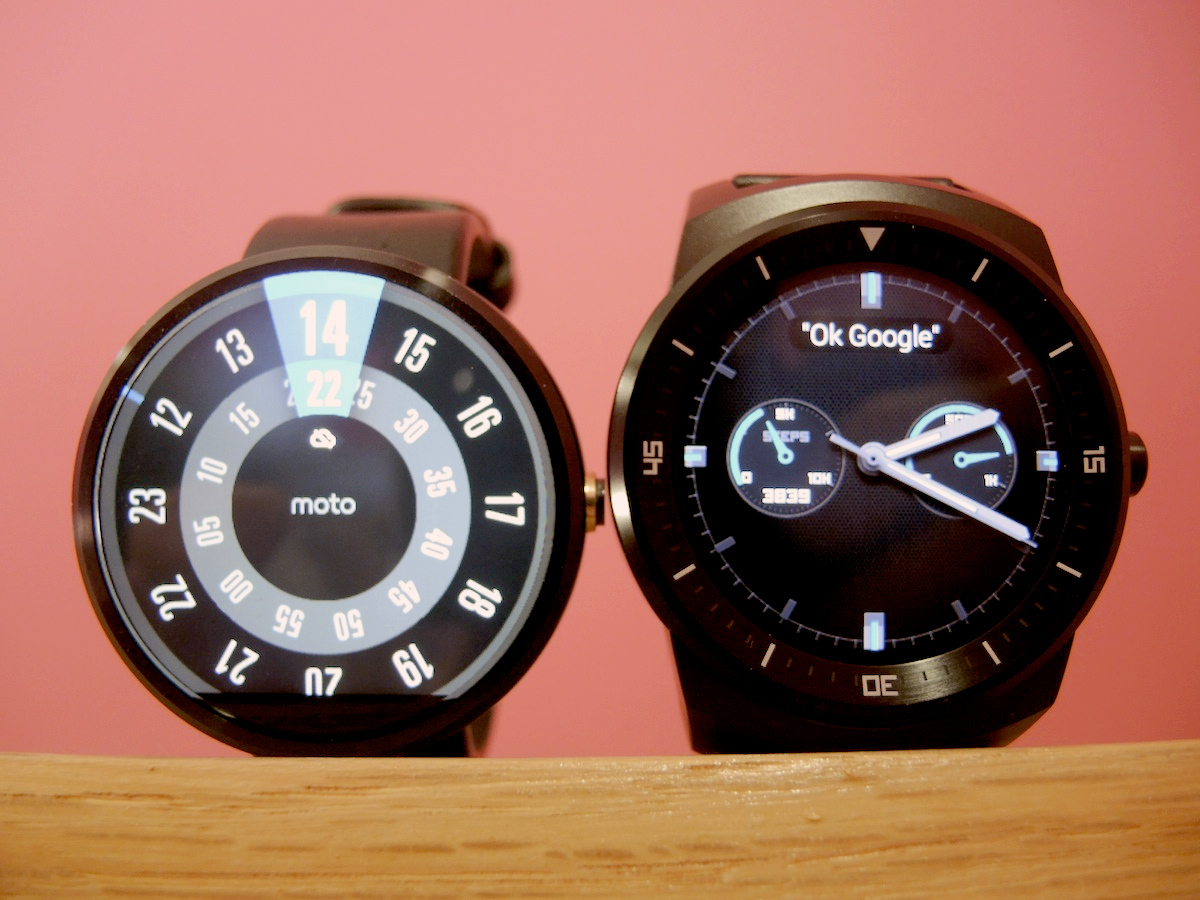 As well as having a more efficient processor than the Motorola Moto 360, the LG G Watch R is also more powerful. It offers four 1.2GHz cores against the Moto's single 1GHz core.
There's more to it than that if you deep-dive into the tech, but still: there's no contest.
In use, we found that there were little laggy moments in the Moto 360 that were cleared-up in the LG G Watch R. Motorola may be able to patch some of this up in future updates, but you can't patch-up the use of an older processor.
If you can stomach the odd little bit of slow-down, the two watches are capable of completely the same things. They both run Android Wear, Google's smartphone OS, both have a heart-rate sensor, microphone and operate using a Bluetooth 4.0 connection with your phone.
Neither has a camera – something that has sensibly been demoted as a bit of a gimmick in a watch.
We're still waiting to see what the Android Wear future is going to look like, but with a bit more power on tap, the LG G Watch R feels more primed for its arrival.
Winner: LG G Watch R
Verdict: Style matters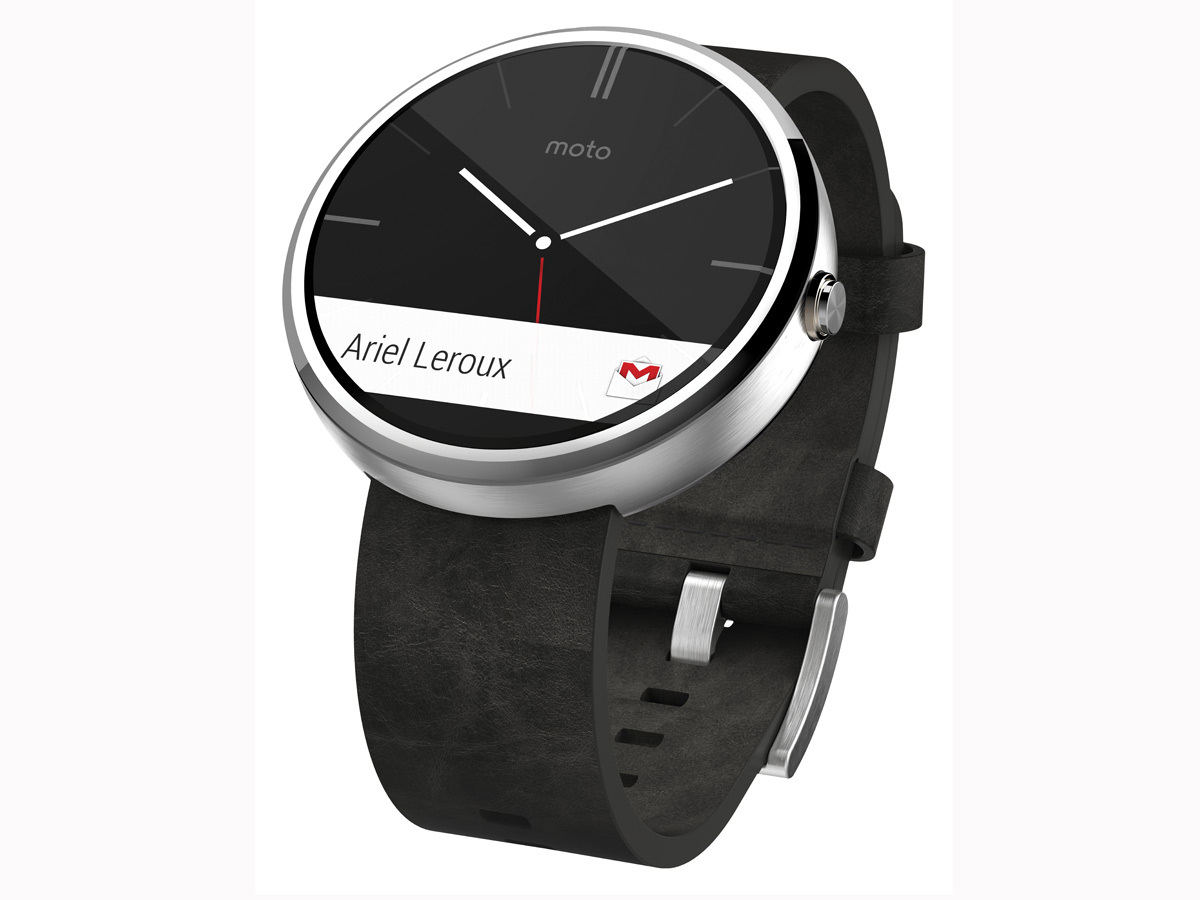 If you've read through our whole comparison, you may well have come to the conclusion that the LG Watch R is the clear winner. We have a surprise for you: it's not.
While the LG G Watch R can claim a series of small victories, we don't think they eclipse the design superiority of the Motorola Moto 360.
There's a lot to be improved in a successor, and there are still improvements to be made in the software for this generation. But the Moto 360 is a watch you can feel proud to wear. That matters an awful lot in the watch world, and in comparison the LG G Watch R just seems a bit… normal. It also helps that the Moto 360 is available for £20 less at £200, while feeling like the more expensive device.
That said, if you want the absolute best performance in a smartwatch then the LG G Watch R is still the better choice. It's marginally faster, the screen isn't notched and the battery life is superior. But in this office, we feel that design is such an important part of a smartwatch's appeal that overall we'd still go for the Moto 360. It's a mighty close thing.
Winner: Motorola Moto 360