HTC U12+ vs LG G7 ThinQ: Which is best?
Eyeing a brand new Android? Here's how these two compare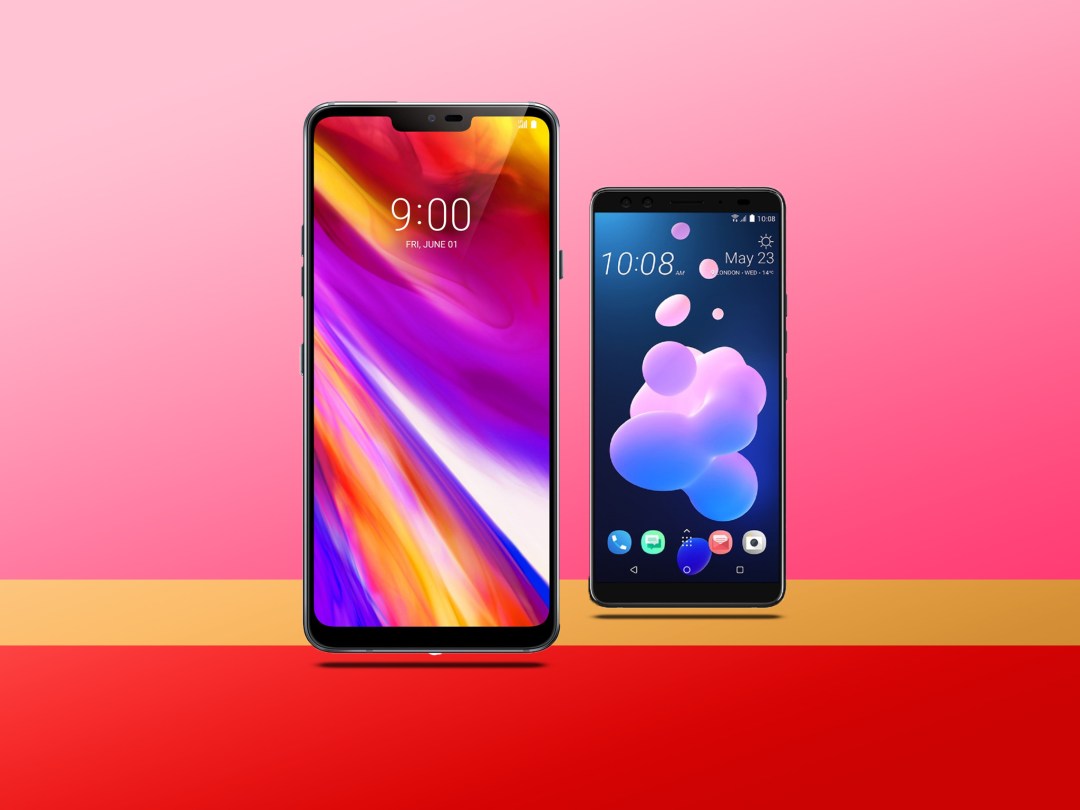 Late spring has proven to be an unexpectedly busy time to launch a big smartphone, thanks in large part to HTC and LG opting to sit out the usual early spring, MWC-launch window.
Alongside the scintillating OnePlus 6, the HTC U12+ and LG G7 ThinQ have just released, and both phones try to bundle in unique perks to set them apart from other pricey flagships. The U12+ emphasizes its pressure-sensitive sides and haptic non-buttons, for example, while the LG G7 ThinQ has a clever new speaker setup and other quirks.
Which of these two phones is the better buy? Here's what we think now that we've given both of these handsets a hearty, in-depth review.
Design: They're OK
Let's be honest: we're not really all that excited by the look of either of these phones. Both are premium, glass-and-metal beasts, but lack distinctive character – something like the curves and small bezels of the Galaxy S9, the dazzling gradient colour backing of the Huawei P20 Pro, or the original notch and no chin of the iPhone X.
The HTC U12+ is here for the notch-haters this spring, offering up a pretty plain-looking face: an 18:9 screen with a regular ol' block of bezel on the top and bottom. The "Liquid Glass" finish on the back is nice, but the U12+ lacks the panache of many other 2018 flagships.
Meanwhile, the LG G7 ThinQ gets a bit lost in the recent notch-and-chin trend of Android phones, including the OnePlus 6 and Huawei P20, and the glass backing doesn't pop as much as it does on the U12+.
But it does have one really cool feature: a "BoomBox" speaker that vibrates the back of the phone to resonate sound through any surface it's laying on. That might sound absurd, but it produces some surprisingly strong results – enough to be a truly unique and special perk.
Verdict: LG G7 ThinQ
Screen: Brighter is better
Both of these phones resisted the Android flagship urge to use OLED screens, which means you'll find a Quad HD resolution LCD on both. On the HTC U12+, it's a 6in 18:9 display at 2880×1440, while the G7 ThinQ goes for a 6.1in 19.5:9 display at 3120×1440.
They're both pretty nice and very crisp displays, although you might want to tweak the colours on both – and in any case, they don't compare to the punchy blacks and killer contrast of OLED.
In this comparison, the U12+ just doesn't get as bright as we'd hoped, making it difficult to see in direct sunlight. The G7 ThinQ, on the other hand, has a brightness boost option for when you need it most. That's enough to give LG the leg up here. And you can hide the notch via a software setting, as shown in these photos.
Verdict: LG G7 ThinQ
Camera: Snap decision
Comparing the cameras reveals a mixed bag of benefits swinging in both directions. Both phones have two cameras on the back, with the U12+ housing a 12-megapixel (f/1.7) main sensor and 16MP (f/2.6) secondary one, and the G7 ThinQ opting for two 16MP shooters, the main at f/1.6 and the wide-angle at f/1.9.
With the U12+, we found really impressive HDR processing and better overall image quality. It's not the best of the best when it comes to low-light photos, but overall the results are very good. Just watch out for the unexpected shutter lag along the way.
The G7 ThinQ's biggest benefit is the wide-angle lens, which lets you squeeze more into a shot, but the phone has a bad habit of blowing out highlights. The U12+ handles that better, but the G7 ThinQ does benefit from solid nighttime shots and the super-bright screen makes it easy to see what you're shooting even in direct sunlight.
Neither of these is a world-class shooter on the level of the Huawei P20 Pro or Google Pixel 2, but the U12+'s image quality comes out ahead more often than not.
Verdict: HTC U12+
Performance: Pretty even
Like a lot of top-end flagships right about now, these phones share pretty similar specs. They both boast a new Qualcomm Snapdragon 845 chip as the brains of the operation, which means they're both super fast and able to handle any games, apps, or media sent their way.
The HTC U12+ ships with 6GB RAM, while the base LG G7 ThinQ has 4GB and a pricier model bumps up to 6GB RAM. But we didn't notice any real difference between the 4GB in the G7 and the 6GB in the U12+. We prefer HTC's Android skin over LG's, but ultimately they're both plenty speedy.
Verdict: Draw
Battery and perks: Mixed bag
The 3,500mAh battery pack in the HTC U12+ should impress, but we found ourselves easily blitzing through a whole charge in a day – or less if we went hard on streaming media and more. Looks like HTC needs to have a think about further optimisations.
On the other hand, the 3,000mAh pack proved totally decent, leaving us about 30% left in a charge most nights. And it supports wireless charging, to boot.
Both of these phones offer 64GB in the base model and 128GB in a pricier edition, and both support microSD cards for expandable storage. So that's wonderful.
As mentioned, the HTC U12+ brings back the pressure-sensitive Active Edge sides from the U11 models, which means you can squeeze the phone to launch the camera, Google Assistant, or something else. You might find that particularly useful, but we just found it occasionally frustrating – we triggered it on accident more than we intentionally used it.
On the other hand, the G7 ThinQ just has a simple button for the Google Assistant, much like Samsung's top phones have a Bixby button. We'll take the button over all that squeezing, thanks.
Also, the LG G7 ThingQ keeps the 3.5mm headphone port, while the HTC U12+ banishes it. Yeah, we'd say this category swings pretty strongly towards LG.
Verdict: LG G7 ThinQ
Verdict: ThinQ about it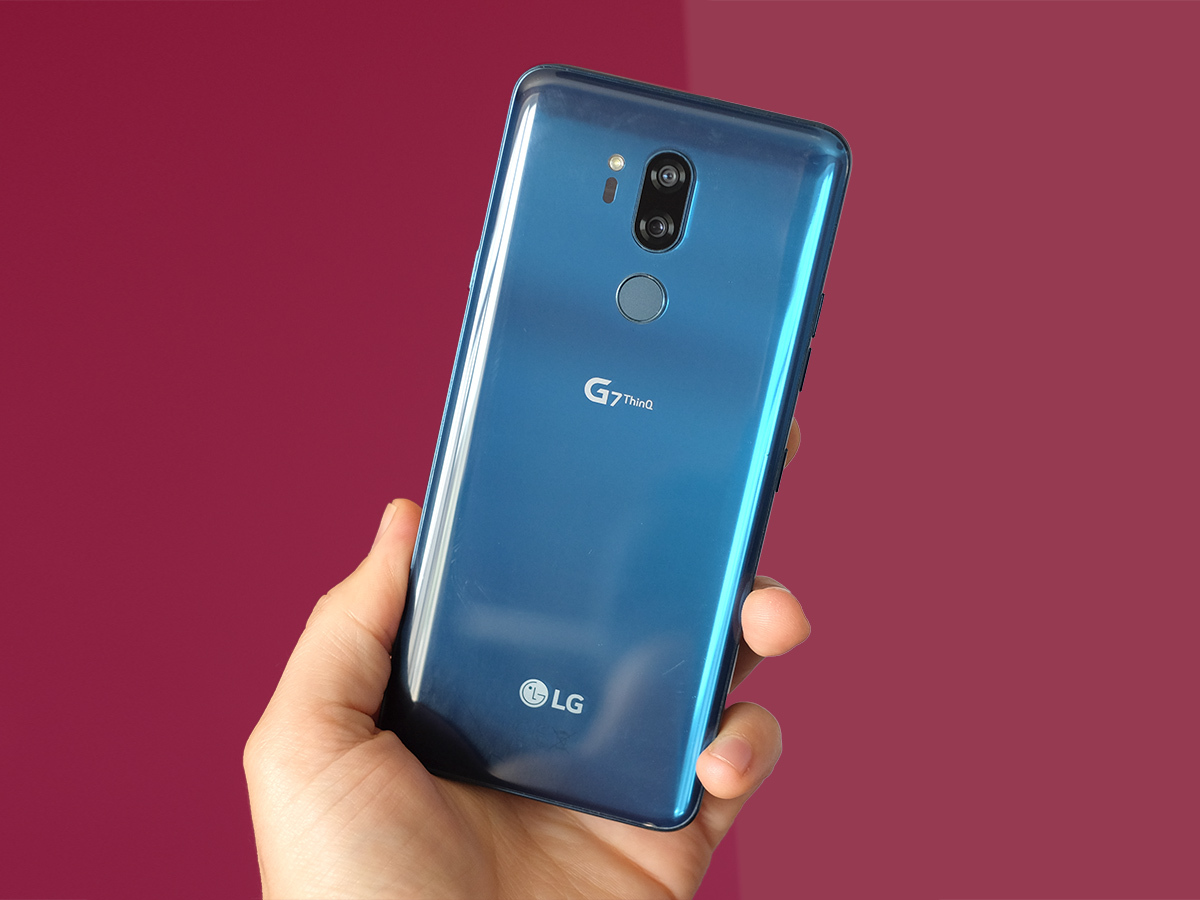 Despite their differences, these phones aren't worlds apart in quality – but we see advantages for the LG G7 ThinQ when it comes to things like design, screen quality, and battery reliability. The U12+ takes slightly better snaps, and these phones are even when it comes to performance.
And when you consider that the £599 LG G7 ThinQ comes in £100 less than the £699 HTC U12+, it's a pretty easy verdict in favour of LG. We'd still point you towards other Android phones ahead of either of these, but if your decision comes down to LG or HTC, we say LG this time around.
Winner: LG G7 ThinQ