Best Xbox headset 2023: Xbox One and Series X|S options reviewed
All the best Xbox gaming headsets for gaining the edge in Fortnite or losing yourself to a spooky thrill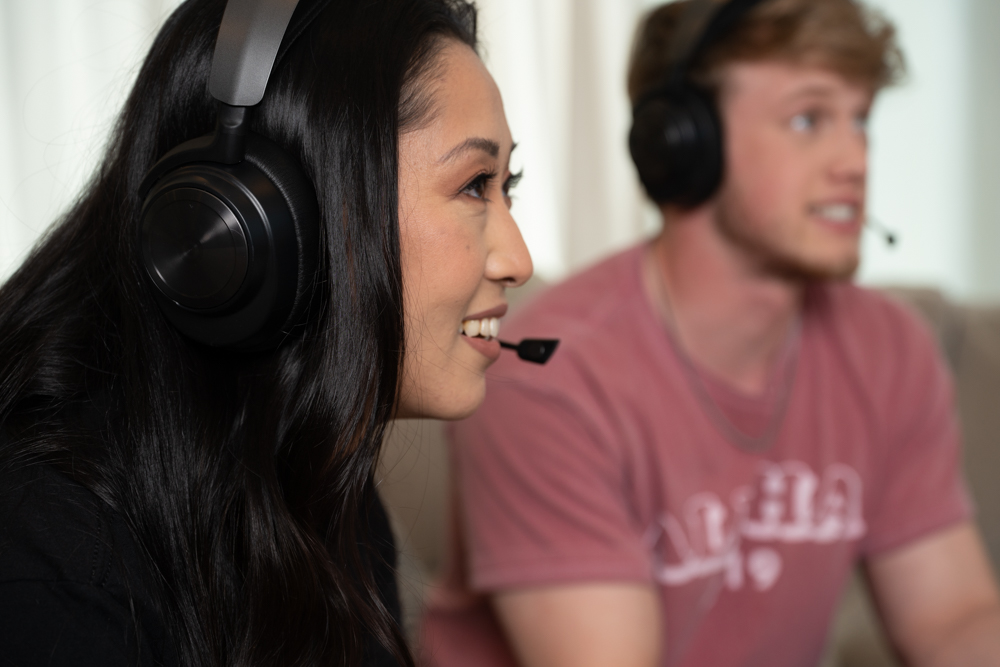 Picking up one of the best Xbox headsets can truly enhance your gaming. A good gaming headset is unrivalled even compared to a great speaker system. It's all so much more personal.
Being able to hear an enemy coming around a corner in Call of Duty: Warzone could give you an advantage in a split-second battle. Similarly, listening out for something creepy coming your way in Resident Evil 4 or Dead Space is the ideal way to unnerve you substantially but also make you feel more part of the experience.
When it comes to wireless headsets, Xbox compatibility with headsets can be a little finicky compared to simply finding one to hook up to a PC. That's we've picked out a mixture of wireless and wired ones with all the ones listed below compatible with your favourite console. Whether you're looking for one that works with your Xbox One or your Xbox Series X/S, we've got your back.
Which is the best Xbox gaming headset for you?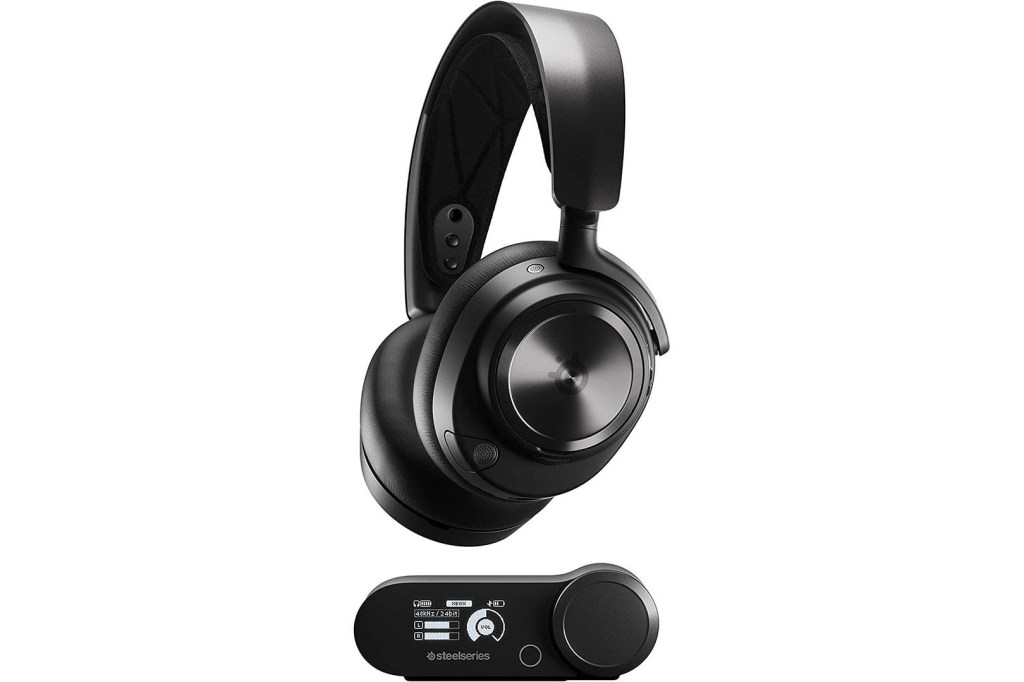 1. SteelSeries Arctis Nova Pro Wireless
Stuff Says…
A premium headset in every way, the SteelSeries Arctis Nova Pro Wireless are worth the investment if you want the absolute best.
Tech spec:
Driver size: 40mm Weight: 337g Battery life: Up to 44 hours
The SteelSeries Arctis Nova Pro Wireless a pricey headset but to be fair, it does come with two batteries and its own DAC aka USB sound card. While many headsets skip surround sound support for the Xbox, this one is fully compatible with Microsoft Spatial Sound for Xbox so you get truly immersive sound for spotting that villain just as they round the corner.
Throughout, sound is crisp and clear no matter what you're playing. It draws you in just how you want it to. Alongside that, if you do need to return to the world, you can have the SteelSeries Arctis Nova Pro Wireless hooked up to two devices at once. Want to mix in two audio connections at once? This is the headset for you allowing you to use Bluetooth for calls or music while still hearing the game through the 2.4GHz connection. Even the mic sounds great too.
2. Turtle Beach Stealth 700 Gen 2 Max
Stuff Says…
Superhuman Hearing may sometimes be divisive, but the Turtle Beach Stealth 700 Gen 2 Max is never less than good quality.
Tech spec:
Driver size: 50mm Weight: 454g Battery life: Up to 40 hours
Turtle Beach likes offering quirky but effective sounding features like the Turtle Beach Stealth 700 Gen 2 Max's Superhuman Hearing button. It elevates some sounds so you can more sharply hear an enemy coming or a footstep in the distance. It takes some adjustment and won't suit every game but disabled, you'll still appreciate how the Turtle Beach Stealth 700 Gen 2 Max sounds
. As with the Arctis Nova Pro Wireless, you can enjoy music through your phone at the same time as listening to the game. It's extra comfy too thanks to gel-infused ear cushions plus there's a flip-down mic to add to the convenience. We'd err on the side of the Turtle Beach Stealth 700 Gen 2 Max being best for first-person shooter fans over someone looking for atmospheric sounds, but everyone is going to like the 40 hour battery life and a 15 minute quick charge that gives back 8 hours.
3. SteelSeries Arctis 9X
Stuff Says…
An established headset that continues to hold up admirably against newer but weaker competition.
Tech spec:
Driver size: 40mm Weight: 370g Battery life: Up to 20 hours
The SteelSeries Arctis 9X has been around a while but it's a testament to its quality that it's still one of the best Xbox gaming headsets. There's a typically green Xbox hue on the headband to remind you of your console choice but otherwise, it's a subtle yet classy headset. Even better, you can connect wirelessly without bothering with an additional dongle aka the thing you end up losing too easily.
Audio quality is excellent and far punchier than you'd expect from 40mm drivers. Spatial audio certainly helps matters. There's also good noise-cancellation here so you always sound clear while you can always mix in music to what you're listening to if you prefer to multitask. 20 hours of battery life demonstrates the SteelSeries Arctis 9X's age but really, who needs their headset to last longer than that in one chunk? We'll take it in exchange for strong sound.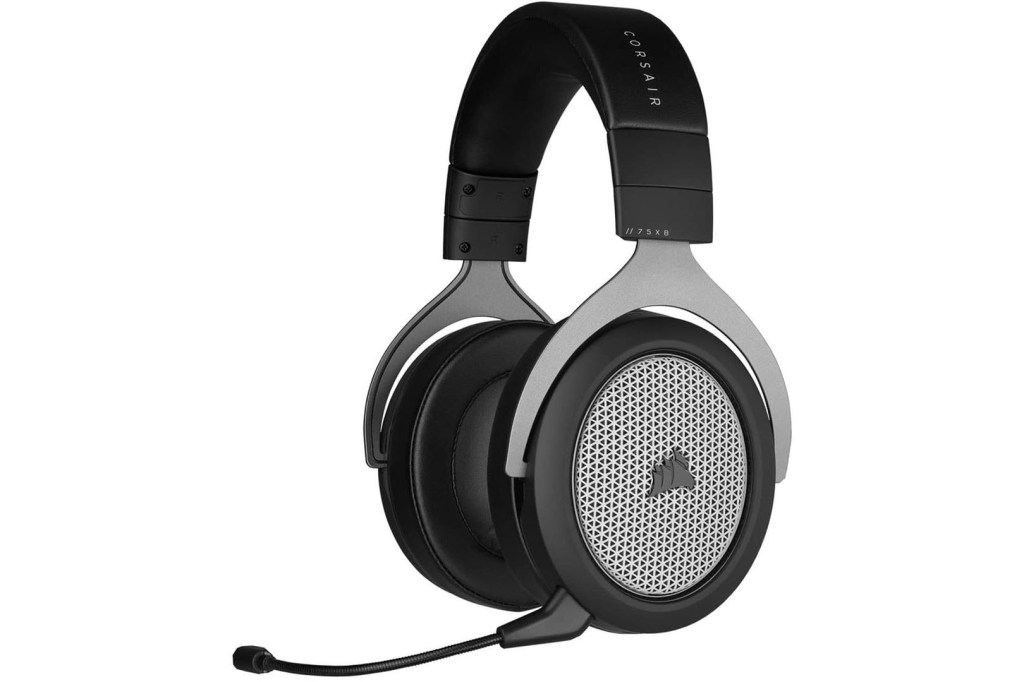 4. Corsair HS75 XB Wireless
Stuff Says…
It may be bulky, but the price is worth paying for a steady connection and good sound.
Tech spec:
Driver size: 50mm Weight: 330g Battery life: Up to 20 hours
A little bulky around your head, the Corsair HS75 XB Wireless are worth the heft. For one thing, they're lighter than you'd think but also the 50mm drivers provide powerful sound as you explore the in-game world. Crucially, the headset offers Dolby Atmos support which is always useful for supported games. There's also no need for an extra adapter with the Corsair HS75 XB Wireless working out of the box wirelessly. The connection remains stable and strong too although we'd like to have seen more than 20 hours of battery life.
Still, this is a good-sounding and good-looking headset. It even offers audio presents and equaliser settings access so you have more control compared to most other options. The mic isn't the most attractive looking but it offers noise-cancellation and you can easily detach it for single-player gaming.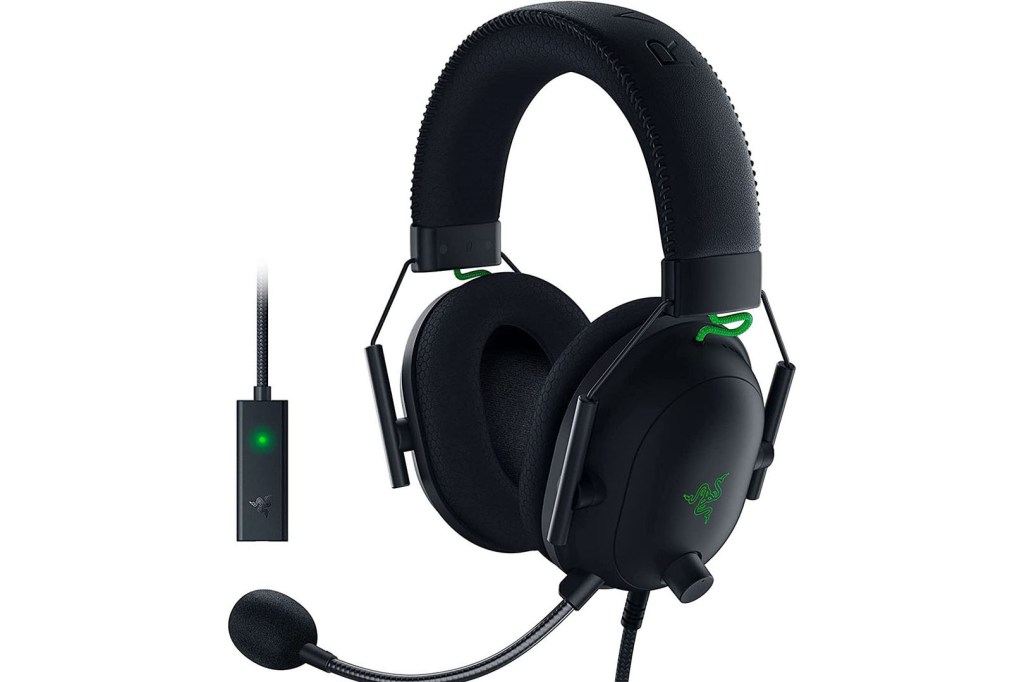 5. Razer BlackShark V2
Stuff Says…
Sounding great while similarly well priced, the Razer BlackShark V2 remains a consistently good choice for all plans.
Tech spec:
Driver size: 50mm Weight: 262g Battery life: Up to 24 hours
An option of either wireless or wired is a nice choice to make for anyone considering the Razer BlackShark V2. We prefer the wired ones for Xbox users as it's a little cheaper, plus you get a USB sound card to hook up to your console. From there, you gain advanced voice capture and mic controls but really, the Razer BlackShark V2 sound great without any tweaking.
Some fancy work directed at the 50mm drivers mean you get clear sound every time, whether playing a fast-moving shooter or something far moodier. There's only passive noise cancellation but that's usually enough. Elsewhere, the mic is detachable if you prefer to go without while the memory foam cushions feel good around your ears and the foam of the headband is a comfier fit than anything that could clamp down. It's a solidly reliable set of features.
6. Microsoft Xbox Wireless Headset
Stuff Says…
The official article makes sense for the straightforward approach, so it's fortunate that the Microsoft Xbox Wireless Headset sound better than you'd expect for the price.
Tech spec:
Driver size: 40mm Weight: 312g Batterylife: Up to 15 hours
There's a safe reliability to sticking with the official headset but fortunately, the Microsoft Xbox Wireless Headset is worth that loyalty. It's well priced while still offering excellent features. There's support for Windows Sonic, Dolby Atmos, and DTS Headphone:X with Dolby Atmos being the highlight for Xbox players. There's a nice and wide soundstage here with reliable surround sound across the board and bass that is strong while never causing distortion.
The mic is easily moved aside if you don't need it while there's auto-mute and voice isolation to ensure it's a worthwhile inclusion. It's all pleasantly convenient so you can simply get straight to playing without excessive tweaking or adjustments. The only notable downside is the 15 hour battery life but as long as you remember to charge it, this really won't be an issue. It's also best suited for smaller heads rather than those with larger craniums.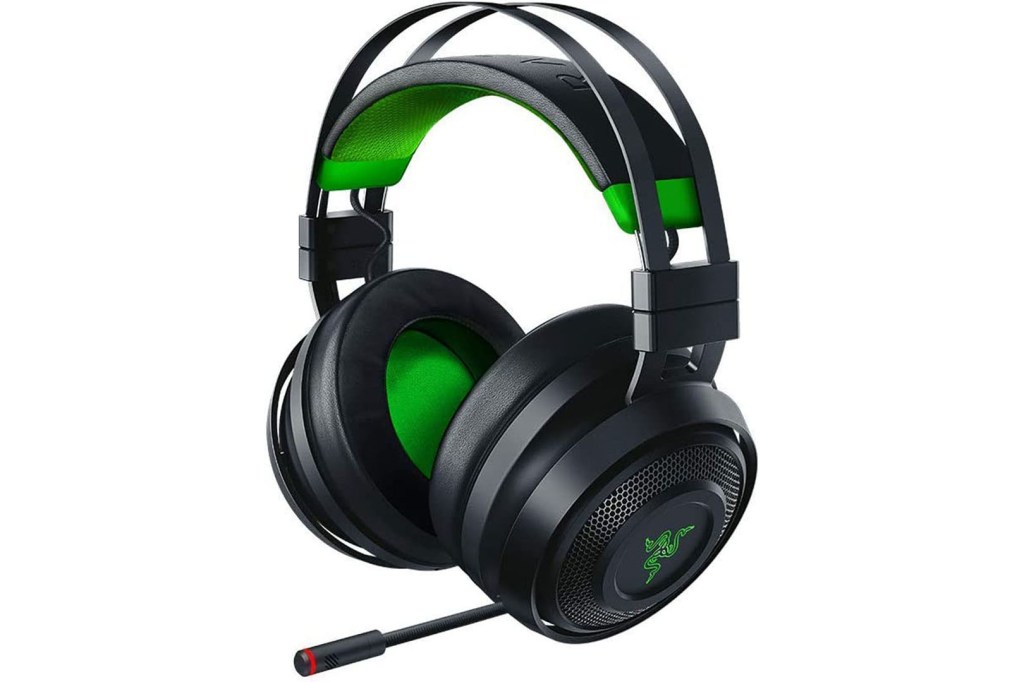 7. Razer Nari Ultimate
Stuff Says…
With a unique form of rumble, the Razer Nari Ultimate are like little else out there and all the better for it.
Tech spec:
Driver size: 50mm Weight: 432g Battery life: Up to 20 hours
Remember when a vibrating controller seemed innovative? The Razer Nari Ultimate is a gaming headset with rumble functionality. It sounds gimmicky but it works very well. Mostly because it gives you feedback relating to the direction an explosion, gun shot or similar is coming from. Initially, it's a strange feeling but you soon come to appreciate it and feel more part of the action. There's Windows Sonic support too which works well at providing powerful audio.
You get balanced sound with only bass losing a little strength at times but more so during orchestral moments than environmental sounds. Cooling gel-infused memory foam ear cushions keep you comfy while there's an auto-adjusting headband which works better than it sounds. For pure sound quality, you may wish to go elsewhere but for something a little special, the Razer Nari Ultimate does a good job of providing something original.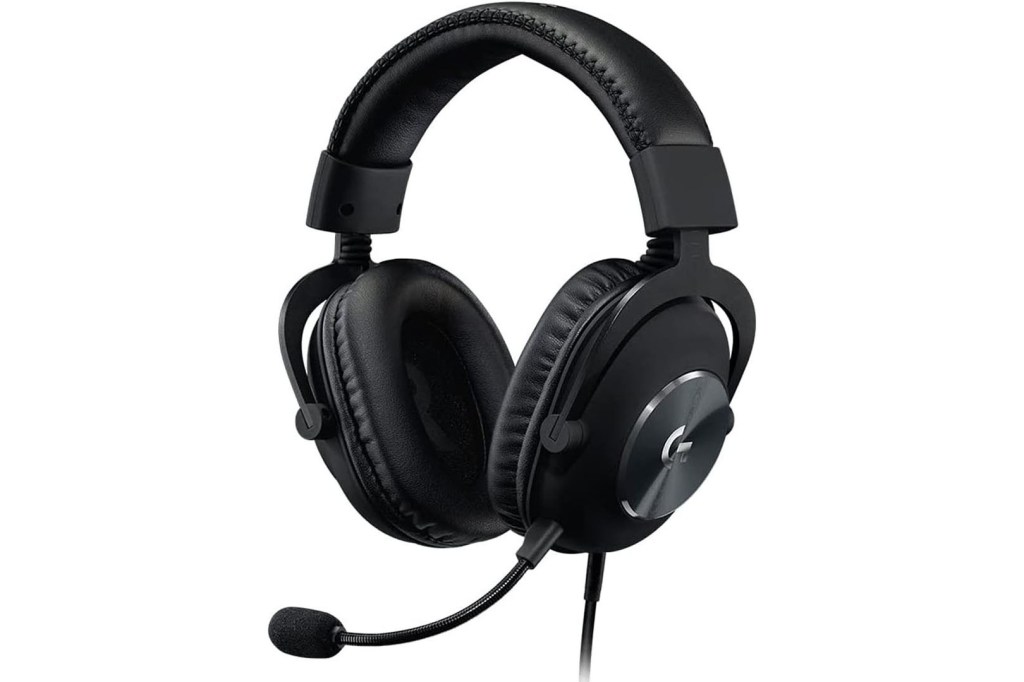 8. Logitech Pro X
Stuff Says…
Doubling up as a perfect headset for work, the Logitech Pro X covers all the bases with a sleek style to boot.
Tech spec:
Driver size: 50mm Weight: 320g Battery life: Up to 20 hours for wireless version
Stick with the Logitech Pro X wired variety and you have a highly versatile headset. Its 50mm drivers mean you get good audio quality while you play, whether that's listening out for someone in the distance in Fortnite or taking in the atmosphere of a Resident Evil game. You're also going to sound crystal clear to anyone listening.
The headset includes a detachable microphone that can tune your voice in real time, ensuring you sound professional at all times. That's why we also think the Logitech Pro X doubles up well for any conference calls you might need to make with the headset looking pretty smart and business-like too. A durable steel and aluminium construction means they'll last while memory foam padding means your head feels comfortable too. An included USB sound card means you can change up some equaliser profiles accordingly too, although you'll need to do that on the PC rather than your Xbox.
9. Razer Kaira Pro
Stuff Says…
Giving you some control over how things sound, the Razer Kaira Pro has the Xbox in mind at every turn.
Tech spec:
Driver size: 50mm Weight: 293g Battery life: Up to 50 hours
Often, the disadvantage to headsets on consoles is your lack of control. Typically fairly plug n play, it's refreshing to see the Razer Kaira Pro offer up different EQ settings. Tapping twice on the pairing button makes you through your options with a FPS mode that's perfect for Call of Duty: Warzone while a Bass Mode is appropriate for trying to hear something in the distance. It makes a good difference, enhancing already excellent sound quality courtesy of the 50mm drivers.
A choice of either wireless or Bluetooth connections further add to your options with an onboard sound/chat balancer getting things just how you like them. Besides the obvious detachable mic, you can also use a second hidden mic that's perfect for the odd conversation rather than dedicated online play. It's all delightfully flexible and far better for the price than most.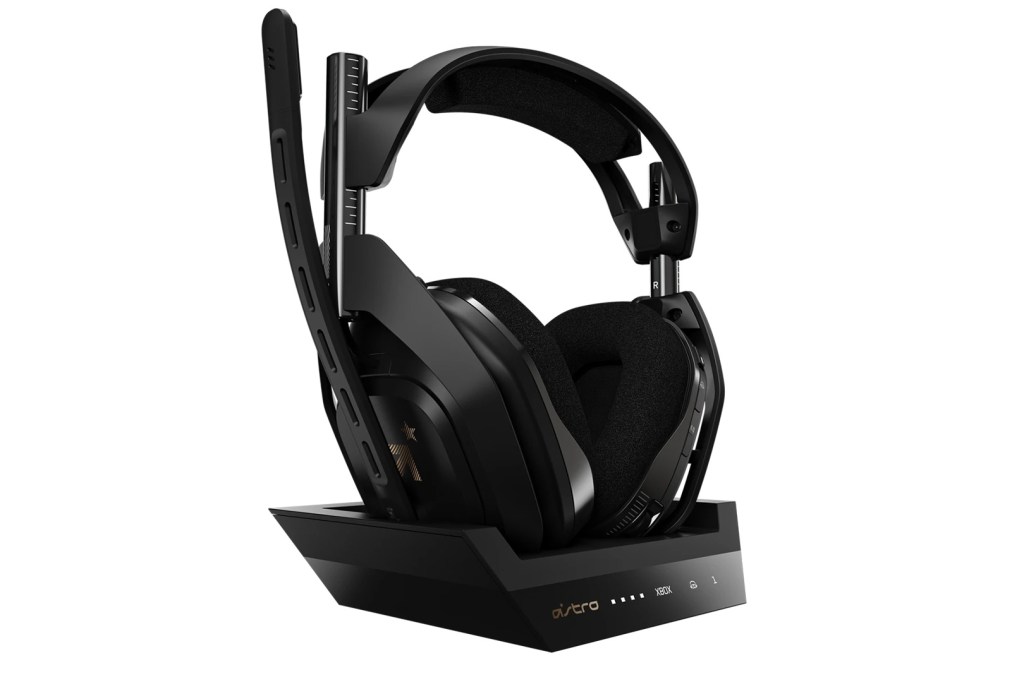 10. Astro A50
Stuff Says…
All about sound quality but lacking some key features, we still love the Astro A50's focus.
Tech spec:
Driver size: 40mm Weight: 380g Battery life: Up to 15 hours
If you simply want fantastic sound quality and you're not too fussed about great battery life, you'll love the Astro A50. The headset sounds brilliant. Even at the highest volume our ears could take, we didn't experience any kind of distortion. Neither should it given how expensive the Astro A50 is, even despite its growing age. Xbox players miss out on some nice tweaks that are available to PC players but for sheer oomph, the Astro A50 still perform admirably.
There are nice extras too like mod kit support if you want to make this your own headset. A flip-to-mute mic is always good to see too. So where's the fault besides the price? The Astro A50's battery life is showing its age at about 15 hours. Granted, you won't be playing solidly all that time but you will find yourself charging them more often than some rivals. At least there's a nice and very green base station to store them.