Microsoft Xbox Series X review: it's getting better all the time
Microsoft's top-end console is a 4K monster, with Game Pass making it an appealing all-rounder. Here's our fully updated Xbox Series X review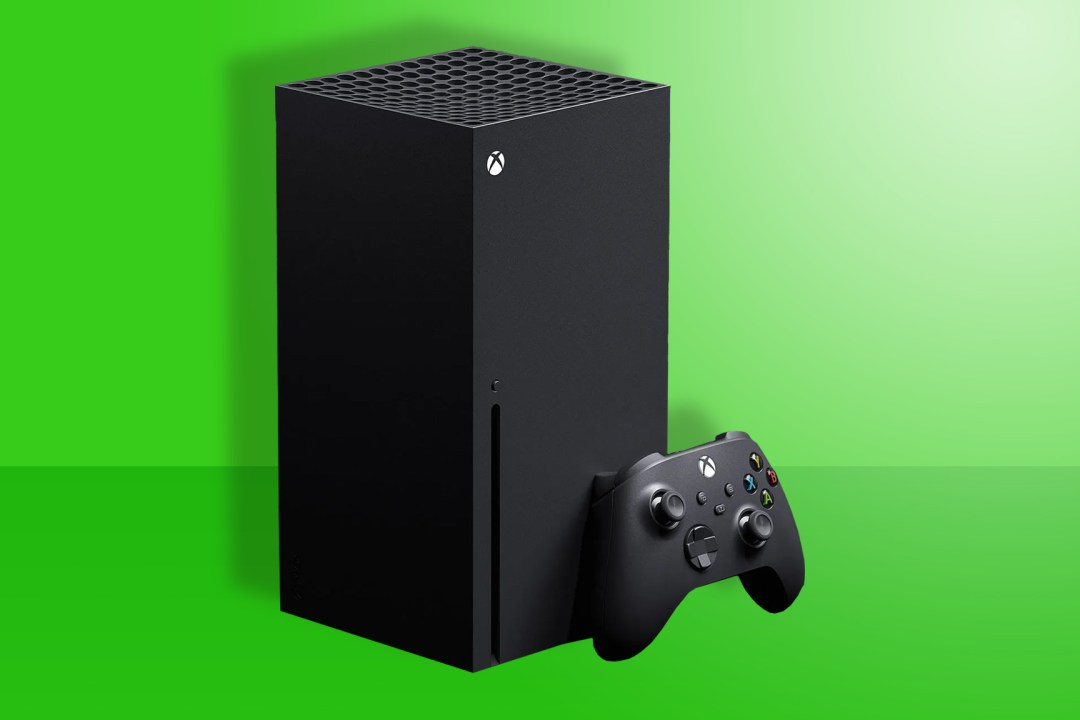 Stuff Verdict
A beast of a next-gen console that's fully future-proofed, while Game Pass is the best value video game subscription service by a mile.
Pros
Hellish load times a thing of the past
Quick Resume is great (when it works)
Ridiculously powerful
Makes old games look better
Game Pass is only getting better
Cons
Not many optimised titles at launch, and even fewer new ones
1TB SSD will fill up fast
Not the most attractive design
There's nothing that excites quite like the dawn of a new console war, and the current one is now in full swing. Here's our fully updated Xbox Series X review.
After Sony's PlayStation 4 dominated the previous generation from a sales point of view like a peckish lion dominates the savannah at lunchtime, it was pretty clear that Microsoft needed a change of strategy this time round.
So while the company did more than its fair share of boasting about frame rates, SSDs and teraflops in the run-up to next-gen, it's pretty clear that it wants the Xbox ecosystem to be as far-reaching as possible.
And that's before we get to Game Pass, the subscription service that has been Microsoft's ace card for quite a while now.
Got a smartphone? Get yourself a Game Pass Ultimate subscription and a decent Wi-Fi connection and that's an Xbox. Your PC? That's an Xbox too. Can't afford to move on from your dusty Xbox One just yet? No worries. Many new games continue to launch on the old hardware too. And in a bold move, Microsoft didn't initially launch any next-gen exclusive Xbox games. (That strategy has shifted somewhat since, but we'll get to that.)
The Xbox Series X, then, is just the most powerful of all the Xboxes designed to live under your TV. The emperor Xbox, if you will. It's rammed with tech, faster and quieter than any console before it, and vows not just to make new games look and run better, but near enough every Xbox game that has ever existed.
You certainly aren't short of stuff to play on the chunkiest Xbox yet, but has it lived up to its promise so far?
Original review published on 5 November 2020
Design: say hello to the fridge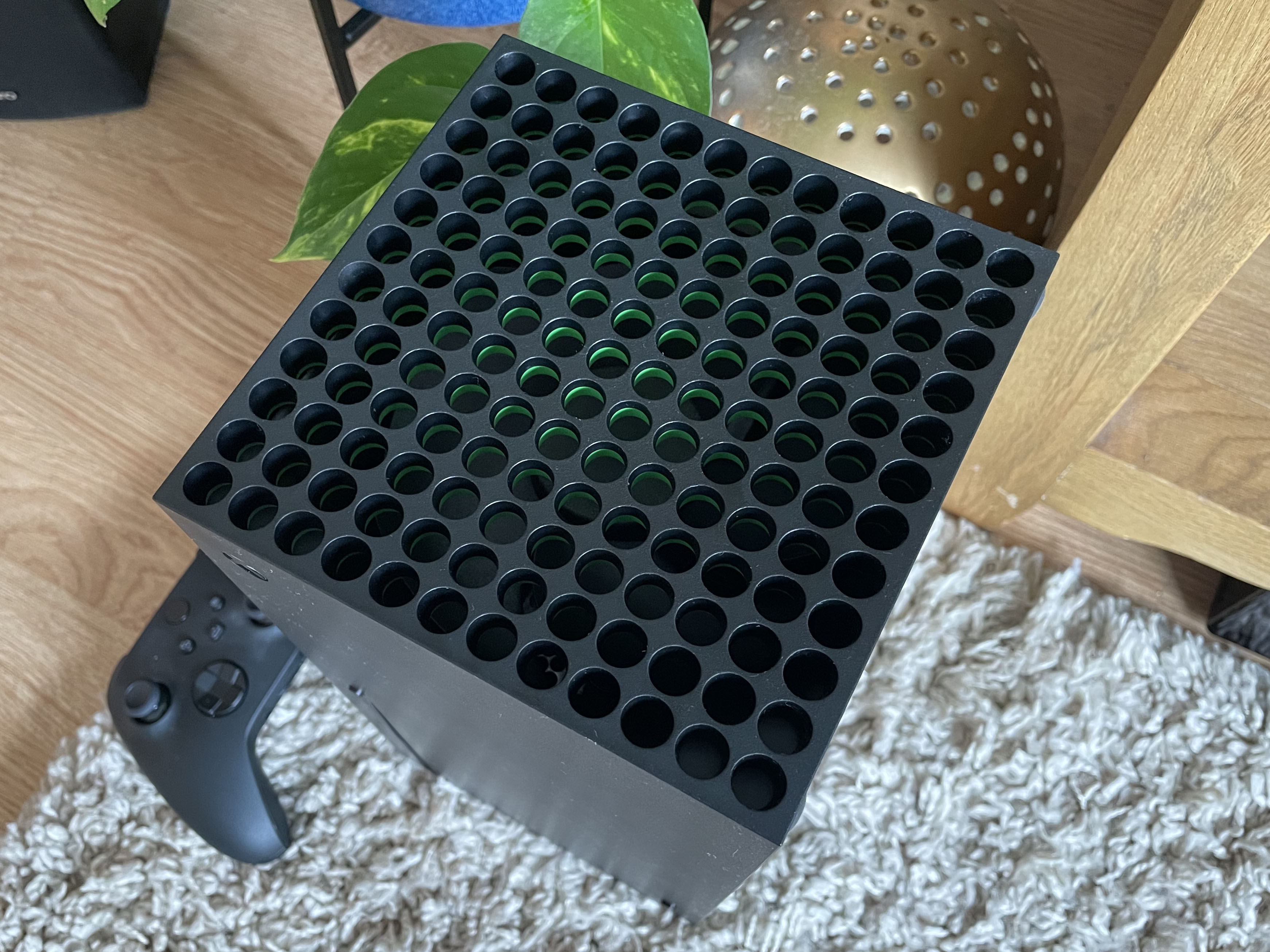 You have to hand it to Microsoft; rather than turning a blind eye to the internet immediately deciding that its chunky new console looks not dissimilar to a fridge, it embraced the Series X's new nickname – so much so that it built Snoop Dogg an actual fridge styled like an Xbox Series X, and a mini fridge replica of the console you can actually buy eventually followed.
So yes, the Series X is a big matte black fridge that isn't going to compete in any fashion shows, but its minimalist, PC-like aesthetic also means it quickly blends in on the shelf under your telly (unlike another console we won't mention here), with the disc drive all but hidden and the only colour coming from the illuminating power button and a layer of Xbox green under the ventilation holes on top of the console. Although, if your Series X is on its side like ours is, you may never notice the latter.
Wherever it's going to live, you'll need a fair bit of room. Measuring 15 x 15 x 30cm and weighing just over 4.4kg, the cuboid Series X isn't quite as large or heavy as your fridge, but it's a beast in every sense of the word, and as you can see from the pictures, only just about slots into our reasonably wide shelf.
Still, we'll forgive the heft when you take into consideration everything under the hood (more on that stuff shortly), including a fan system that's remarkably quiet, and given that we haven't felt the console get hot yet, seemingly effective. On the back you've got an HDMI 2.1 port, essential for hitting the 4K/120fps gameplay the Series X is technically capable of, three USB 3.1 ports, Ethernet, a power port and a slot for one of the Seagate-made 1TB storage expansion drives. Next to each port you'll also find Braille bumps, in another win for Microsoft's commendable drive towards more accessibility in gaming.
As for the controller, batteries are still required to power it out of the box and it looks very similar to the Xbox One's pad. That's not a criticism though, as that pad was near flawless, and the Series X evolution gets textured grips and triggers, an updated D-pad and a new share button that lets you easily upload clips and videos to your social media accounts. And in keeping with Microsoft's forward compatibility philosophy, older Xbox One controllers work just fine with the new machine.
A quick word on storage. Of the 1TB of memory the Series X affords you, you can only use 802GB, with Microsoft pinching some for the UI and SSD features. This fills up very quickly indeed when you're downloading 4K titles. It means you may well find yourself shelling out for one of Seagate's proprietary expansion cards, which start at 512GB and max out at 2TB. These remain the easiest way to expand your storage, and for a long time were the only way. Western Digital recently released its own range to rival Seagate, so you have a choice.
An external USB drive is still an option for moving and storing older games, but optimised games leveraging the Xbox Velocity Architecture won't play ball with USB storage. The new generation is going to cost you.
Performance: teraflop til you drop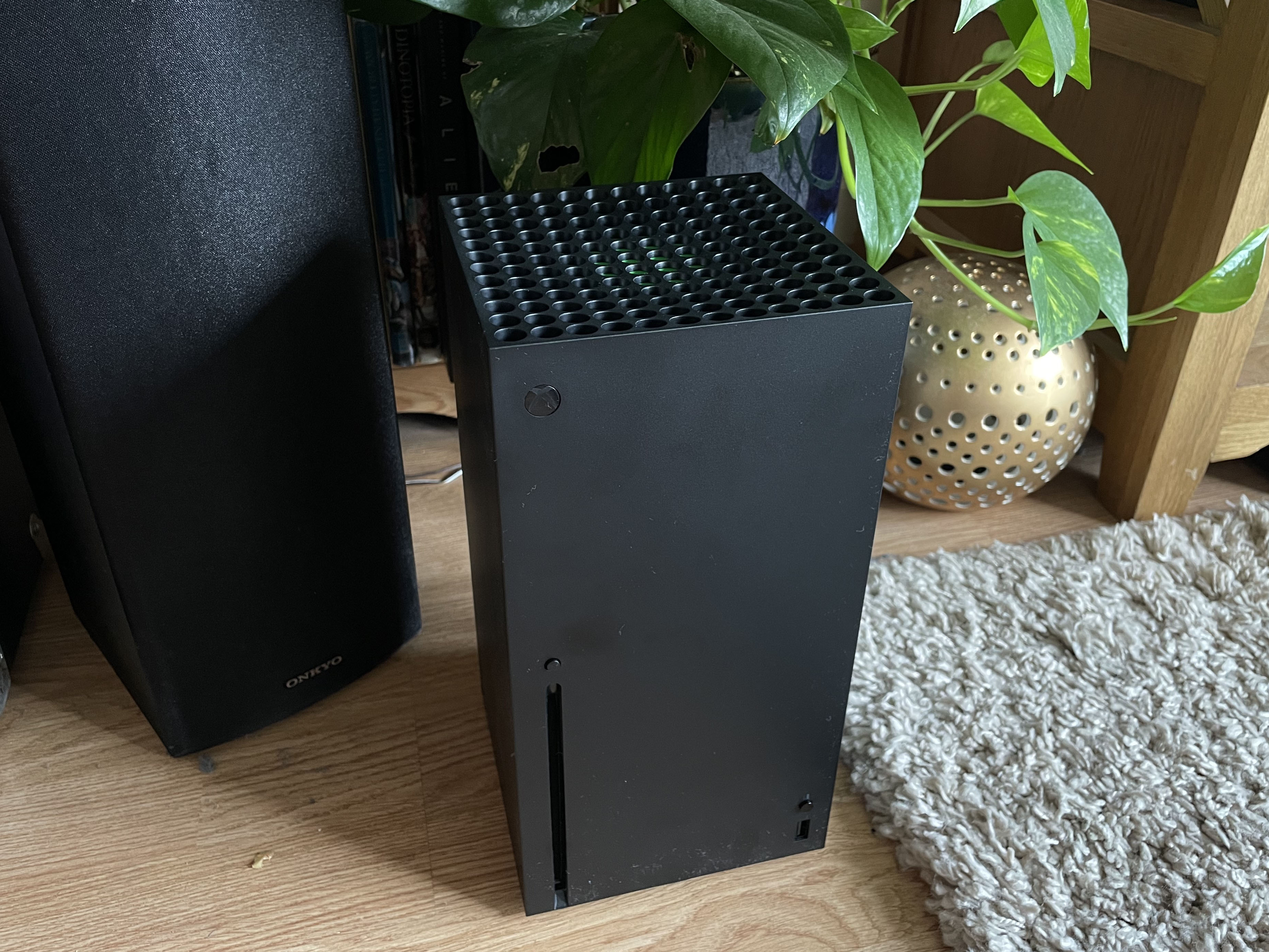 The Series X uses a custom-designed system on a chip (SOC) which includes an AMD Zen 2 CPU and an RDNA 2 GPU, as well as 16GB of GDDR6 RAM. The former promises 4x the CPU power of the Xbox One X, while the GPU's 12 teraflops of raw graphics-processing grunt is double that of Microsoft's outgoing flagship console and about 1.7 teraflops more than what the PS5 is capable of. The processor also facilitates new graphics features like variable rate shading (VRR), Auto HDR and raytracing, a rendering technique that produces more accurate light and shadow in games. All of this is supported by a new 1TB NVMe SSD, which can massively speed up your experience of playing games.
On the audio side, the Series X supports Dolby Atmos and DTS:X out of the box, so you can expect more immersive spatial sound in future games that implement it.
Phew, that's the information overload dealt with. You won't be the only one wondering exactly what a teraflop is when it's at home, and how much all of the above is actually going to impact your day-to-day gaming.
Well, some of the Xbox Series X's improvements are instantly noticeable, the most obvious of which being load times. Working in tandem with the CPU, the SSD massively cuts down the amount of time you'll spend waiting for a game to load, often to just a matter of seconds. We fired up Forza Horizon 4, to our mind always a tediously slow loader on our Xbox One S, and barely had time to refresh our Twitter timeline before we were unleashed upon rural Britain in a garishly decorated supercar. On pretty much any game we played during testing it was the same story: loading times dramatically faster than what console gamers have become used to.
Then there's Quick Resume, another SSD-assisted new feature that enables multiple games to be left in their frozen state in storage memory until you want to play them again. You could, for example, play a game of FIFA 21, then hop onto Watch Dogs: Legion for a mission or two, before relaxing to some Tetris Effect and rounding off your session with another virtual kickabout, all without waiting for any of the games to boot. A number of titles we were given access to during the review period had Quick Resume disabled ahead of launch, but when it's working it's brilliant, and could completely change our gaming habits.
But perhaps our favourite Series X performance-related feature is backwards compatibility. Microsoft already started work on making Xbox 360 and original Xbox games playable on the Xbox One, but with the Series X it goes a step further. Not only will a huge amount of your old games work on the Series X, but they'll often also look and play better, with smoother frame rates, faster loading times, improved resolution and HDR applied automatically to formerly SDR games. 2003's SSX 3 plays like a dream on the Series X, with races loading in an instant and colours noticeably popping. Revisiting the 360's Fable 2 was great too, with the game running buttery smooth. With the much-anticipated new entry likely still years off, the Series X makes replaying the series seriously tempting.
What of the new games? Well, that's where it gets a bit complicated. A technology Microsoft calls Smart Delivery ensures that when you carry your Xbox library over to a new console, it will automatically update it to deliver the best version possible on the hardware. Games that take advantage of the Xbox Series X's next-gen advancements, whether built natively for the hardware or rebuilt and updated from their last-gen form, are badged as 'Optimised for Xbox Series X|S' in the Xbox store.
During the review window only five had been optimised: Gears 5, Gears Tactics, Forza Horizon 4, The Touryst and Sea of Thieves. Gears 5 looks absolutely stunning (and disgusting) running at full 4K/60fps, and those with a TV that supports it can crank it up to 120fps. While the aforementioned Forza Horizon 4, already a showpiece game on the Xbox One X, looks better than ever, especially on a TV that possesses the HDR wizardry to do it justice.
The lack of any next-gen exclusives during the Xbox Series X's launch window made it difficult to really gauge just how powerful the machine was, but what about now, nearly three years later? Well, it's no surprise that first-party titles like Forza Horizon 5 and Microsoft Flight Simulator are the ones you'll want to fire up if you want to be wowed, while Ori and the Will of the Wisps (an Xbox console exclusive until a Nintendo Switch version arrived later) is probably the most visually impressive 2D game we've ever played. When it's firing on all cylinders, the Series X is quite something.
But just as we said about the PS5 in our recent update of that console's review, the native 4K/60fps dream we were sold at the beginning of this generation is rarely the reality with more graphically intensive games. When it comes to third-party titles, you usually choose between a performance mode that aims for smooth framerates at the expense of the highest possible resolution, or a quality mode which focuses on fidelity at a lower framerate. Pretty standard stuff that PC gamers have been used to for years. Sometimes a game will struggle to run particularly well in either mode, though, such as this year's Star Wars Jedi: Survivor, which we also highlighted in the PS5 review, as the performance is the big mark against what is otherwise a really great game. And won't even talk about Redfall, Microsoft's big first-party release for the first half of 2023. Just read the review.
On the whole, you can expect your games to look and play better than ever on the Xbox Series X, but don't expect every AAA title to deliver buttery smooth 4K gameplay out of the box. 4K/60 was always going to the gold standard (and on less visually intensive games it really is glorious) rather than the default. Adjust your expectations and you'll usually be very happy.
As for the bits in between the games, you can read all about Microsoft's slick new UI over on our Xbox Series S review, but know that's a big upgrade on the head-scratching puzzle that was navigating the Xbox One. Game Pass is front and center of the experience, it's easy to find your streaming apps, and recently played games are listed in the sidebar when you press the Xbox button – handy for Quick Resume. A recent firmware update has improved the experience further, making it easier to find the game you want to play, and leaving more screen space for your backgrounds behind the floating tiles.
Game library: still all about Game Pass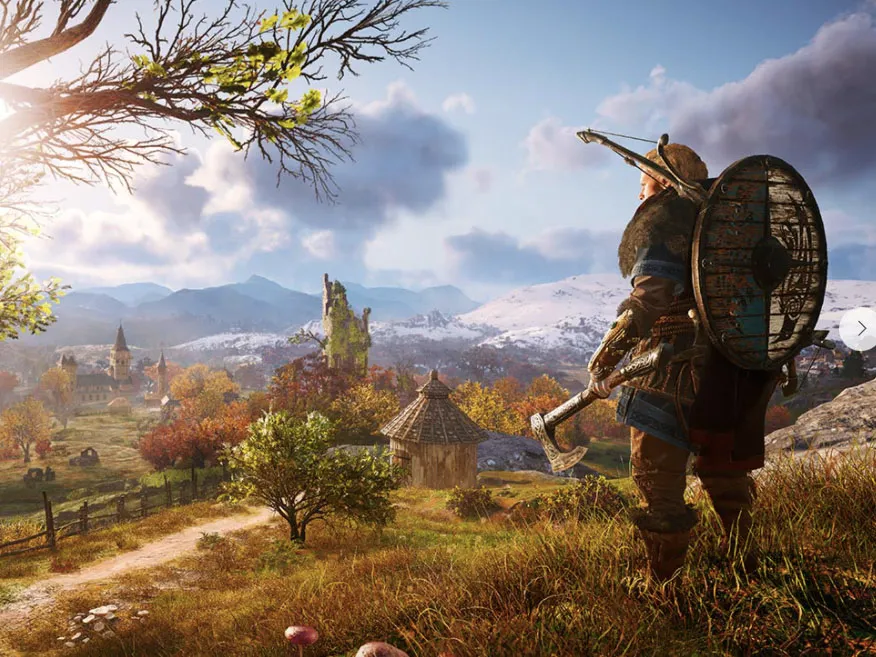 There's no getting away from it: the Xbox Series X launching without a shouty exclusive that really showcased the hardware did seem a bit off at the time, no matter how many times Microsoft explained the reasoning behind it.
In the years since we've had the likes of Forza Horizon 5, Microsoft Flight Simulator and Halo Infinite, all big hitters in their own way, but Microsoft's strategy this generation has very clearly been centred around two things: studio acquisitions and Game Pass.
The most high-profile company the Redmond company has hoovered up is ZeniMax Media, which means it now owns every developer under its roof, the biggest of which being Bethesda. Arkane Studios, id Software and Tango Gameworks are all now part of Xbox too. Microsoft still also intends to acquire Activision Blizzard, which would make it the owner of probably the biggest video game franchise on earth in Call of Duty.
Right now, every first-party Xbox game is on its Game Pass service from day one. Essentially the most convincing answer the video games industry has to Netflix, a Game Pass Ultimate subscription nets you Xbox Live Gold and over 100 games to play, with new ones added on a regular basis. A few years ago Game Pass also merged with EA Play, offering discounts and free-of-charge access to EA's vault of titles.
It's still astonishingly good value and not something Sony has yet offered a true competitor to, even after revamping its PS Plus service last year. Game Pass serves up something interesting to play most months, and with the long-awaited Starfield, every Game Pass subscriber could play it at no extra cost from day one.
It's been a slow year or two for first-party Microsoft games, but that looks set to change in the coming years based on the company's impressive Summer Game Fest showcase. It's also worth remembering that if you have a smartphone or tablet, you can take Game Pass with you everywhere you go thanks to Xbox's ever-expanding cloud gaming platforming.
Microsoft Xbox Series X verdict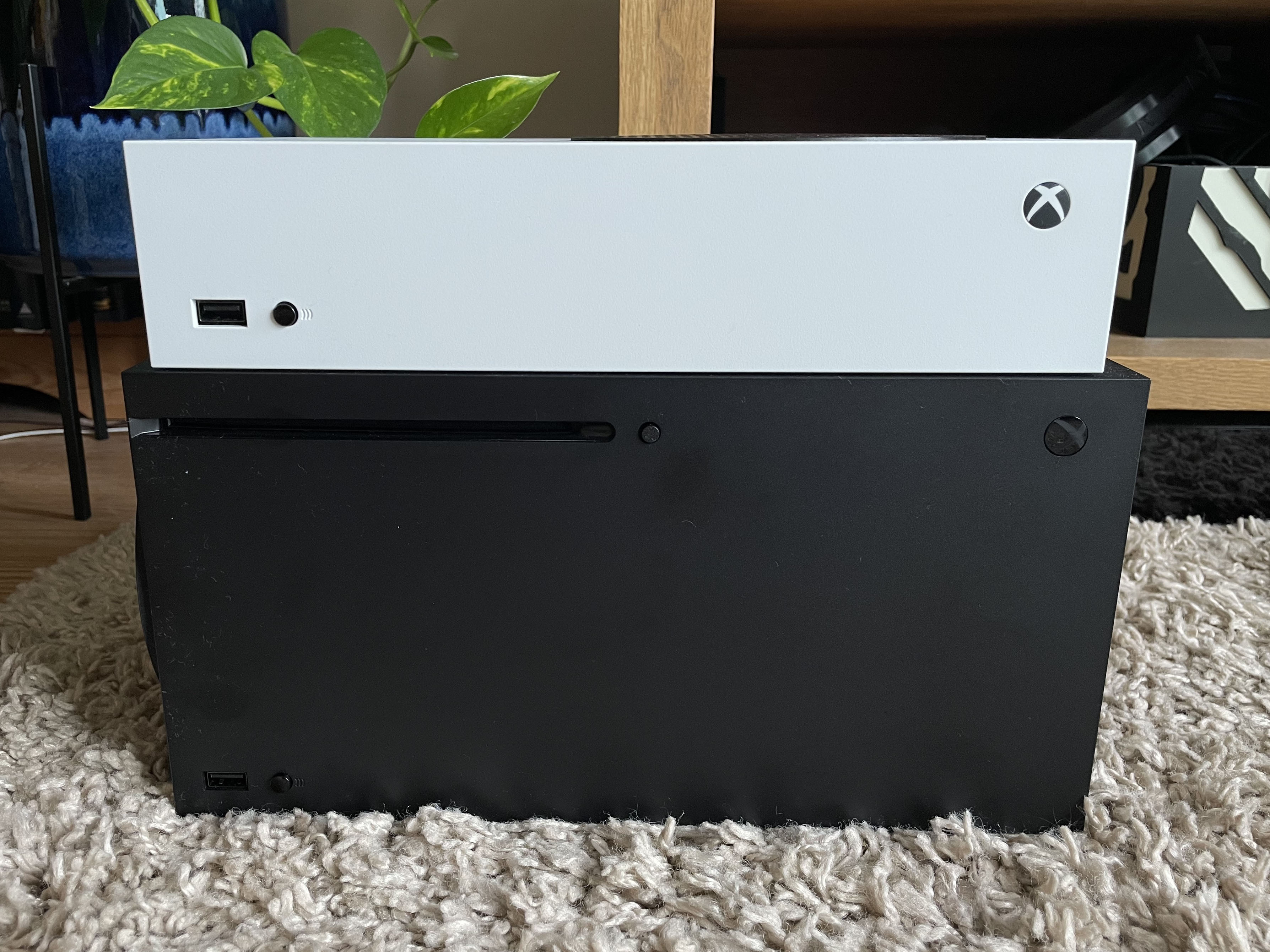 The Xbox Series X has now been a permanent fixture in our entertainment setup for several years and the things we loved about it at launch remain the things we love today. We can't get enough of the crazy-fast loading times, Quick Resume and the upscaling of older games, but we're keen to see all those teraflops employed on a few more first-party titles, too.
Of course, you don't need to spend so much on a new Xbox if you don't have the gear. The Xbox Series S can do many of the same party tricks at a lower resolution, so if you're still happy with your non-4K telly, take a look at that. We've used one extensively alongside the Series X and can confidently say that it's a big step up from the Xbox One S it replaces. And you don't need to upgrade at all if you don't want to, with all the brilliance of Game Pass still available to the Xbox One crowd. Although at this point, we'd probably recommend doing so for fear of being left behind with new game releases.
Though there was something slightly underwhelming about the Series X launch – it being positioned as more of an evolution than a revolution, with Microsoft keen to move away from the idea of exclusives – this is a monstrously powerful machine that at its best feels truly next-gen to use. And in the next few years, you can bet that gobbling up all those developers will start to pay off for Microsoft, not to mention Game Pass subscribers.
Stuff Says…
A beast of a next-gen console that's fully future-proofed, while Game Pass is the best value video game subscription service by a mile
Pros
Hellish load times a thing of the past
Quick Resume is great (when it works)
Ridiculously powerful
Makes old games look better
Game Pass is only getting better
Cons
Not many optimised titles at launch, and even fewer new ones
1TB SSD will fill up fast
Not the most attractive design